Leaving behind the hustle and bustle of Leh, as you drive past the Indus Valley and over the Khardungla pass (18,379 feet), you'll be rewarded with some of the most stunning landscapes of the trans-Himalayan region. Then, when you start descending towards Nubra Valley, you'll be intrigued by the breathtaking views of nature, unfolding its beauty right in front of your eyes!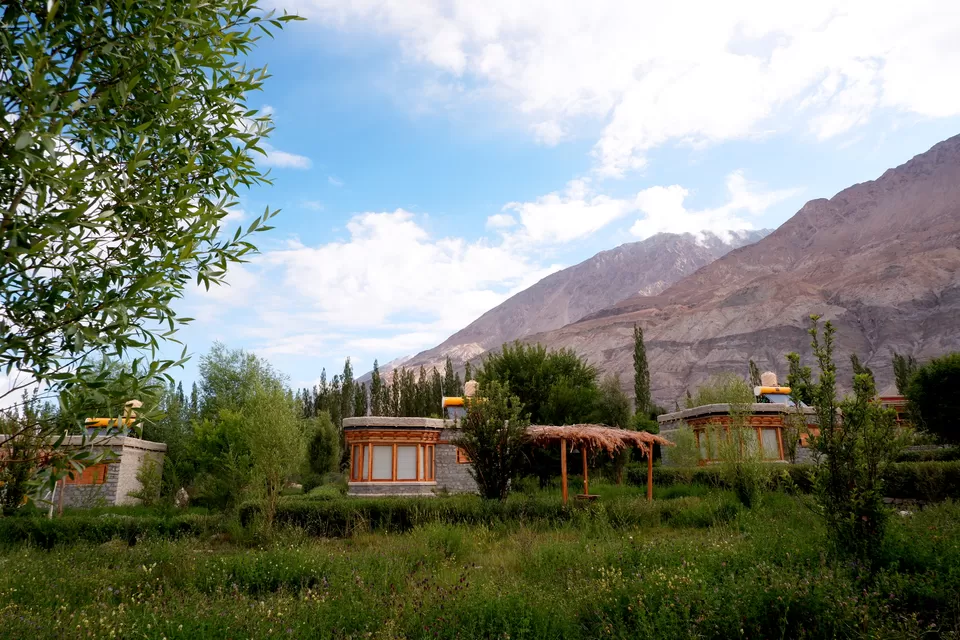 Finding Our Way To Lchang Nang Retreat:
While Nubra Valley is mostly known for its vast stretches of sand dunes and the rugged Karakoram mountains, there's also a lush oasis on the banks of the Nubra River. As the deserts pass by, drive down a narrow lane covered by a canopy and it'd lead you to the gorgeous Lchang Nang Retreat – a quaint resort set amidst an orchard of elm, apricot, and apple trees.
The name - 'Lchang Nang' means 'The House of Trees' - and you'd only realize how apt it is, once you are there!
Owned by the Kalon Family who have been living here for decades, this boutique property has been built on their ancestral grazing land and now, it's run by Rigzin, who's the humble host to respond to all your queries and will ensure that you get to enjoy a relaxing stay at Lchang Nang.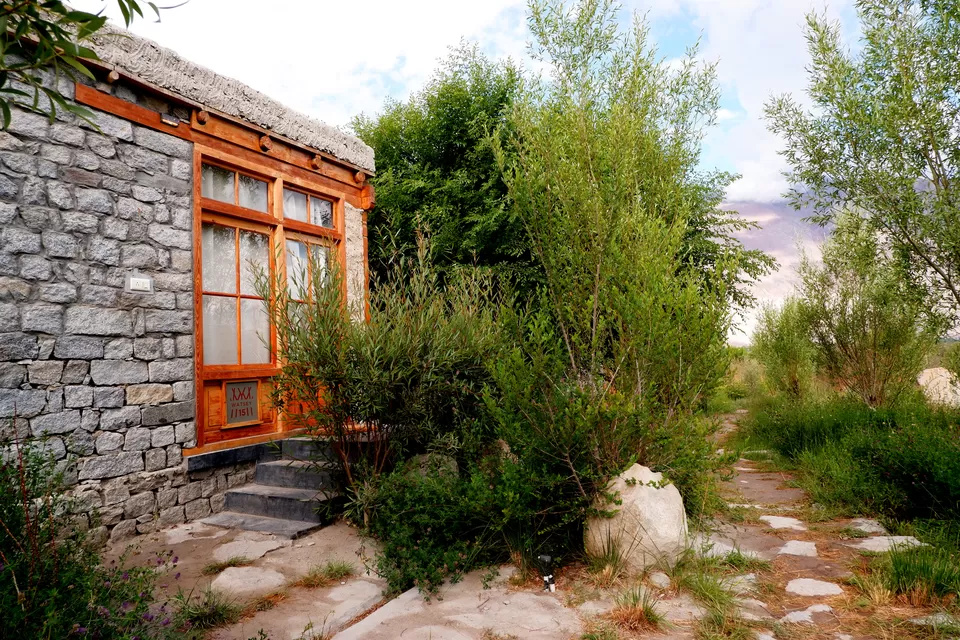 Running entirely on solar power (with a power back-up generator just in case) and making the best use of glacial water, the property has a sympathetic approach towards nature and hospitality, promoting eco-tourism. There are seventeen traditional Ladakhi style cottages sprawling across seven acres of verdant grounds, interconnected with cobblestoned pathways, lined with flowering plants & trees bearing fresh fruits. Tranquility lingers in the air here. A true paradise for birdwatchers, you'd surely get to spot a sunbird, a rose finch or a pheasant.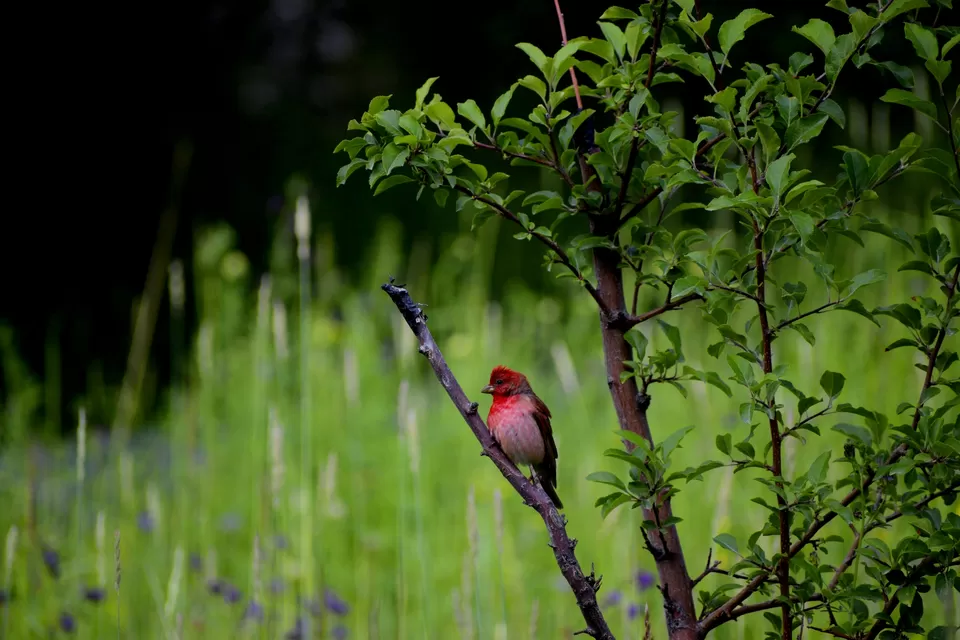 Accommodation At Lchang Nang Retreat:
Inside the cottages, minimalist décor will win your heart - with the whitewashed mud walls and exposed poplar beams creating a rustic look, with retro fabrics and furnishings giving the interiors a homely touch. Stylish slate bathrooms add a modern accent to the entire set up.
Each cottage connects to a private garden and sit-out area, where you can enjoy your morning cup of tea, gazing at the mountains or spend hours at night, spotting the Milky Way!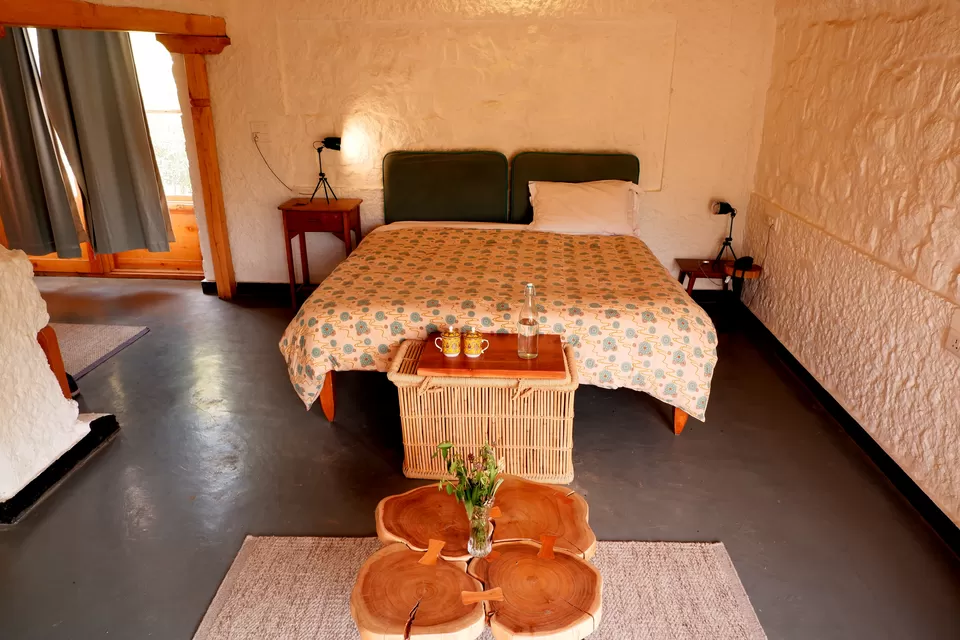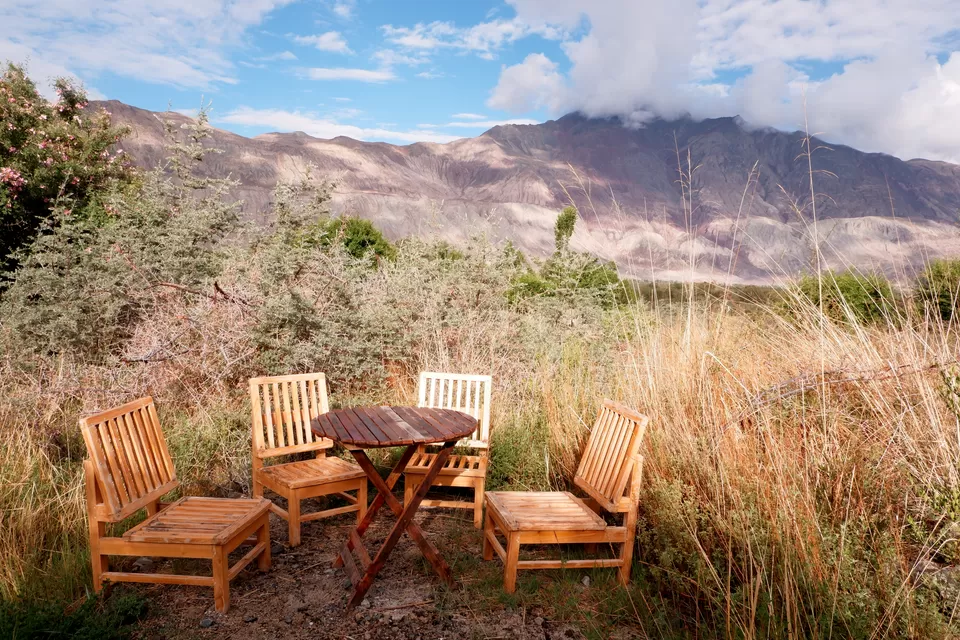 Dining Hall: The property serves a mix of Ladakhi, Indian, Chinese, and Continental dishes, updated each day based on the ingredients available in the garden and local area. Since there aren't much options around, it'll be good to have all your meals here.
Sun Room: If you wish to get cozy reading a book or chill with your folks & play board games, then this is the place for you! As the name suggests, there's ample of sunlight peeping into this space. Yoga classes also happen here and you can sign up for a session, if you feel like!
Tea Station: Set out in the open, under the trees, is the Tea Station where you can soak in the beauty of nature while sipping some Noon Chai.
Bonfire Area: Considering the chills at night, sitting by the fire wouldn't be a bad idea! There's a huge bonfire area, where you can warm yourself around the dancing fire and watch the stars.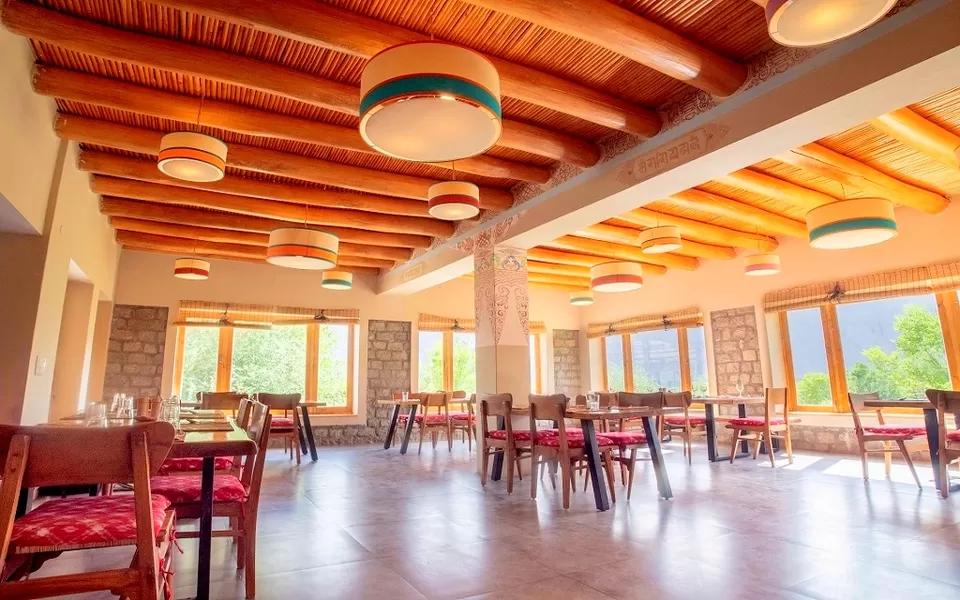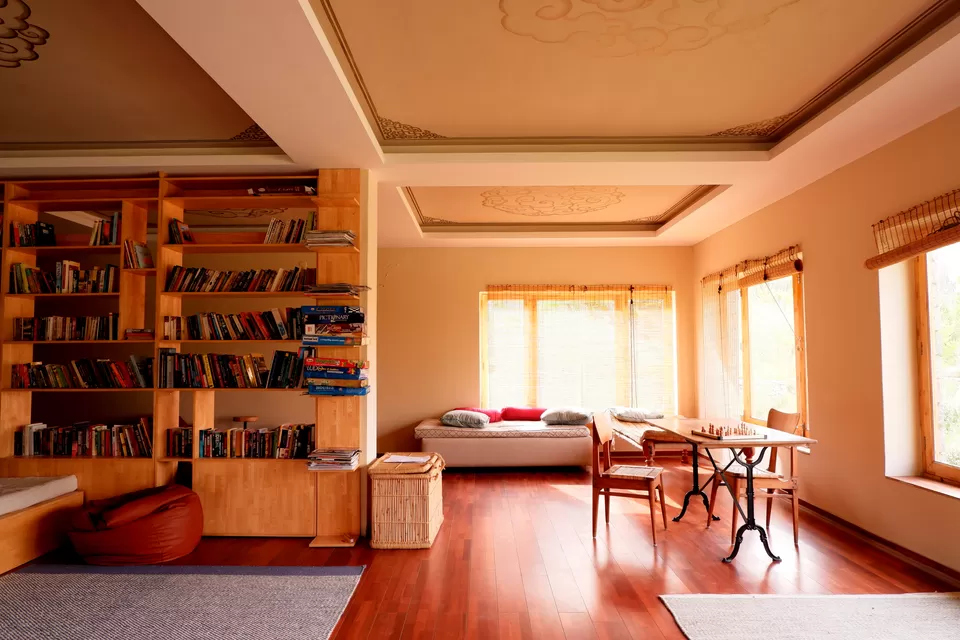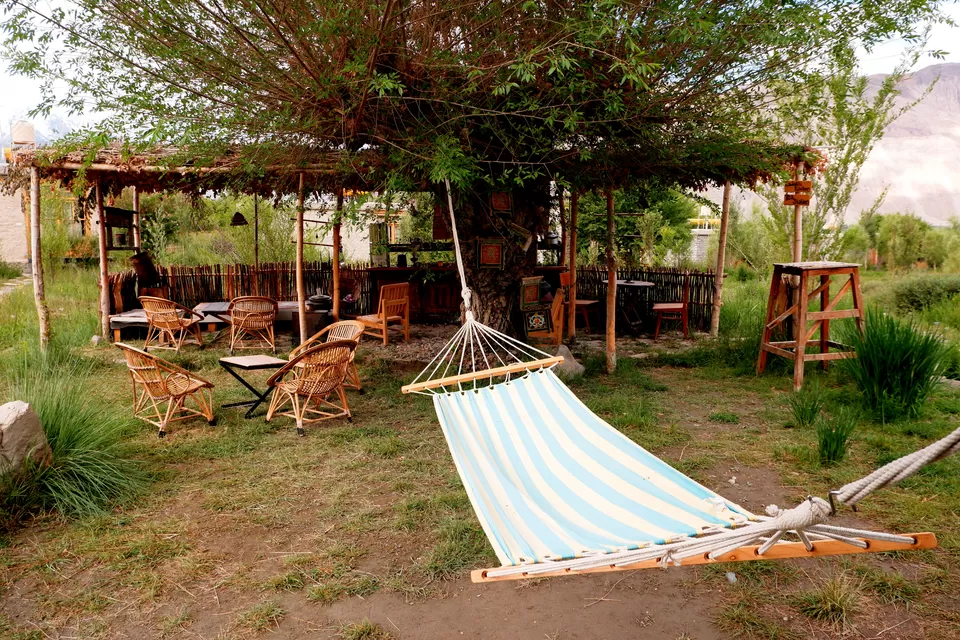 Things To Do:
While your Ladakh trip will be all about epic adventures, your stay at Lchang Nang will be more about calming your senses and unwinding amidst the freshness that linger in the air.
Sway on the hammocks hanging from century-old elms, pack a picnic basket and sit by the gurgling river, or just curl up with a book in your porch - and time will pass by the wink of an eye!
The resort is also ideally located for some great day trips, with destinations like the Sumur Sand Dunes, Hunder Sand Dunes, Diskit Monastery, Turtuk, Lohan Tso and Panamik Hot Springs nearby.
You can also ask the manager to arrange for activities like cycling trips, walks by the river, nearby village visits, birding trips etc.
How To Reach:
From Leh, you can get a cab or a bike to Nubra Valley which will take around 5 to 6 hours, crossing Khardung La. Once you reach the Nubra Filling Station (a petrol pump located at a T-point), take the Sumur-Panamik Route. Crossing the Nubra River, drive straight for around 40 minutes, and you'll hit the road leading to Siachen. Once you reach Teggar Village on that route, take a left until you find the property.
Google Maps might not be very reliable, so you can call up Rigzin (+91 80823 88552) and he'll guide you.
Things To Note:
- While network connectivity is poor in this region, the property provides WiFi facilities.
- Only the postpaid BSNL mobile network will work in Nubra Valley.
- For Indian Nationals, Inner Line Permits are required to travel to Nubra, which you can get here.
- In the present situation, the property requires a mandatory RT-PCR report (tested before reaching Leh) along with ID proof. The property will also check the reports, so make sure you have it with you.
Cost for 2: 14900 INR + tax (including Breakfast)
If you plan to visit Nubra Valley during your next Ladakh Trip, unwind amidst luxury at Lchang Nang Retreat and embrace the best of nature that's there in store for you!
Think we missed out on something? Tell us about it in the comments below. Share your stories on Tripoto's Clubhouse channel!
Follow Tripoto on Telegram to get early access to top travel stories every day.