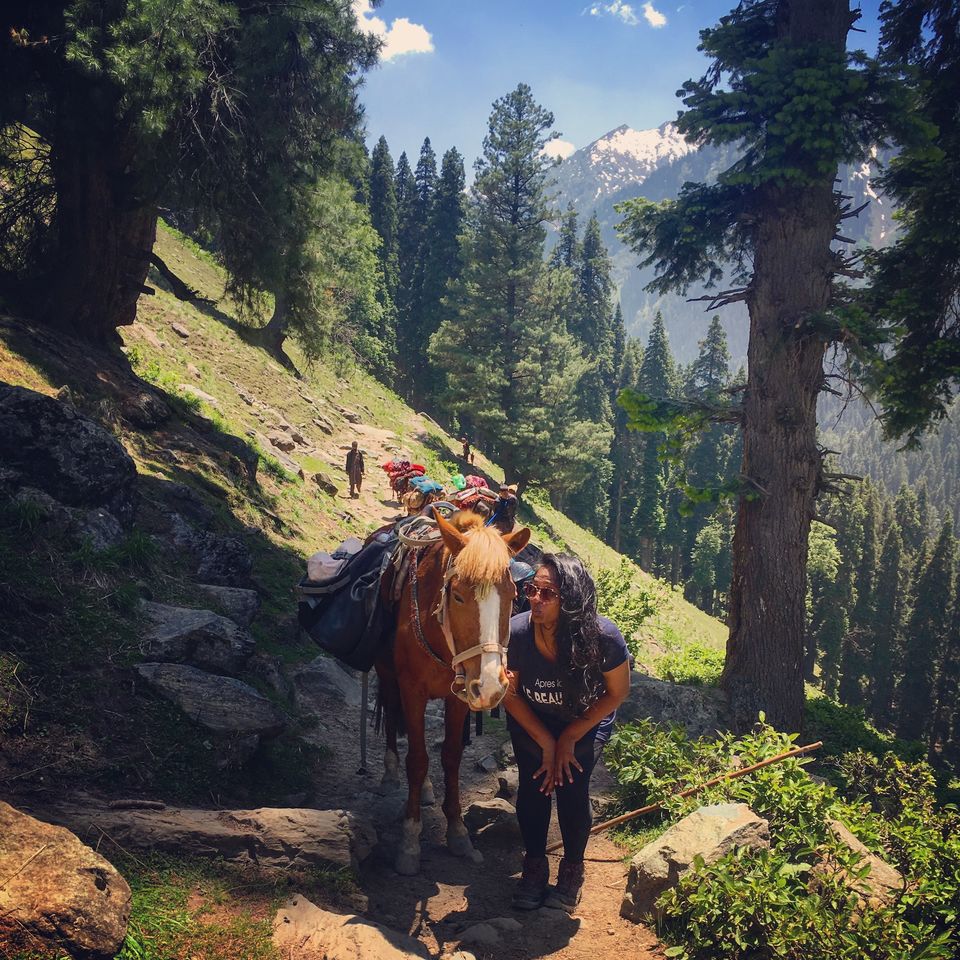 "What if I told you there is a hike in Kashmir that can make you experience the valley's true essence within 24-hours?"
Lidderwat in Kashmir was a happy accident, the trek I had no plan of taking. The trek I chose to take because I snapped my back before I was to leave for Tulian Lake in Pahalgam. But in retrospect, it was a good choice because I loved it so much that I went there twice in the same trip.
"What's meant to be, will always find a way"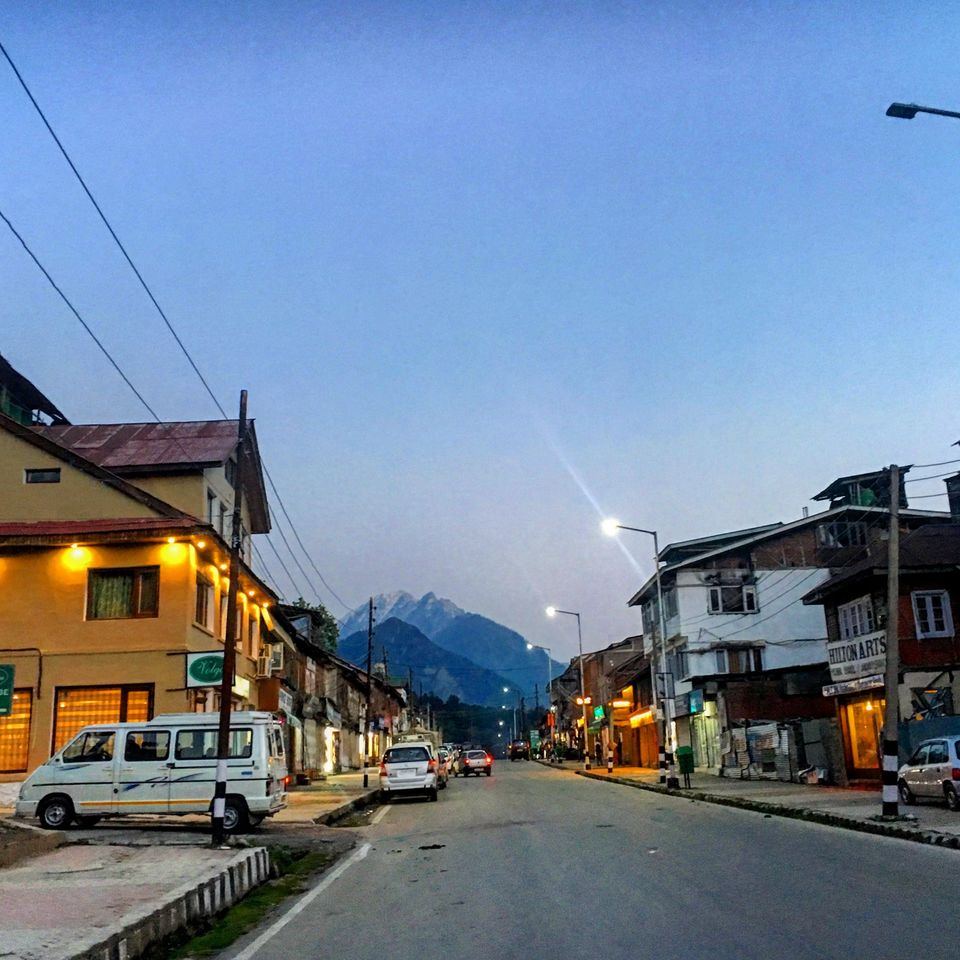 Reaching Pahalgam the first time was a pleasant surprise. When I sat in a cab from Dal Gate to leave for Anantnag, I noticed how quickly Srinagar recovered after being shutdown for more than a week. You can read more about it on my previous blog here.
It was pulsating with energy and the Kashmiris looked pleasantly optimistic about the days to come. The road out of the city was heavily guarded but the journey was uneventful. Soon after I reached Anantnag, I got a connecting cab to Pahalgam and was on my way to the first stop on this trip. Pahalgam was a regular affair with not much for me to do because I don't like to see touristic areas. So I just sat by the river, read my book, engaged in some trout fishing and did my thing.
My purpose of coming here was to do the Tulian Lake trek which is located approximately 16 kms from the town and takes 1 or 2 days (depending upon your stamina and number of days available). I was certain that I wanted to do the trek and Bashir Bhai, the hotel owner in Pahalgam, offered to arrange all the logistics.
My first taste of Noon Chai and local hospitality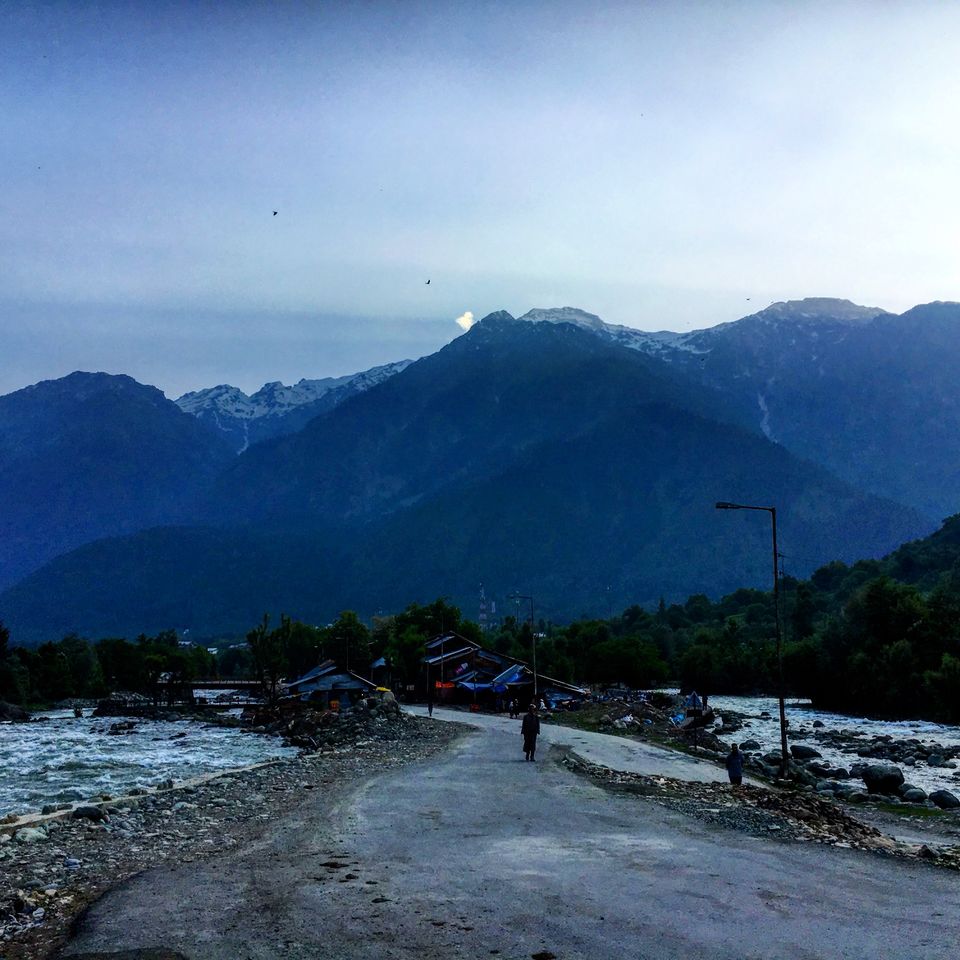 Bashir Bhai and I arranged to meet the guide at his home. We walked along the Lidder River and up a steep hill to reach at his doorstep. As we arrived, he invited us inside for a cup of tea. If there is one thing I love about Kashmiri homes, it is their kitchen. It almost always has a view out the window. I sat there looking at the snow capped mountains as they made noon chai for me. Noon chai is a traditional tea served in Kashmir that is made of salt. It has a very peculiar taste and feels more like soup than tea.
But as we were discussing the logistics, I was having second thoughts about the trek because of my lingering backache that has been bothering me all day. Just when I thought it was nothing more than a muscle pull, I was faced with a steep walk up to the guide's house that was like a rude awakening. This walk aggravated my backache and made me rethink my decision to trek up to the lake. Still in between sips of tea and snowcapped mountains, I told them I will confirm if I want to leave next morning. As we started walking towards our hotel, my walk became a limp and my doubt became a certainty. For now, Tulian Lake will have to wait.
Aru – A Hidden Village Within Spitting Distance of Pahalgam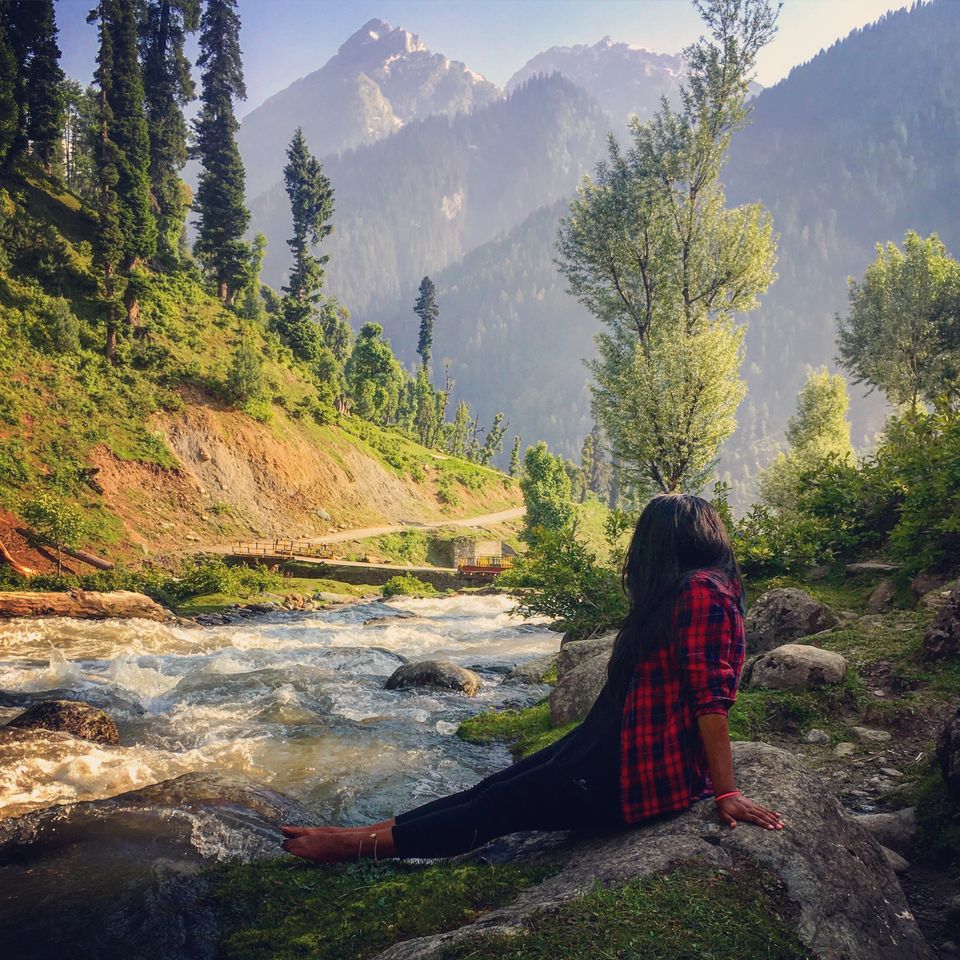 As visibly disappointed as Bashir Bhai was at the lost business opportunity, he did recommend Aru and suggested that I connect with his brother-in-law living in the village for any help. We exchanged numbers and I decided to leave next day.
Aru is only 8 kms from Pahalgam and the road is undeniably scenic. I had a great time sitting by the window, soaking in the views and happy about sudden change of plans. For all I knew, I was to spend a day in this village, walk around a bit and take it as it comes.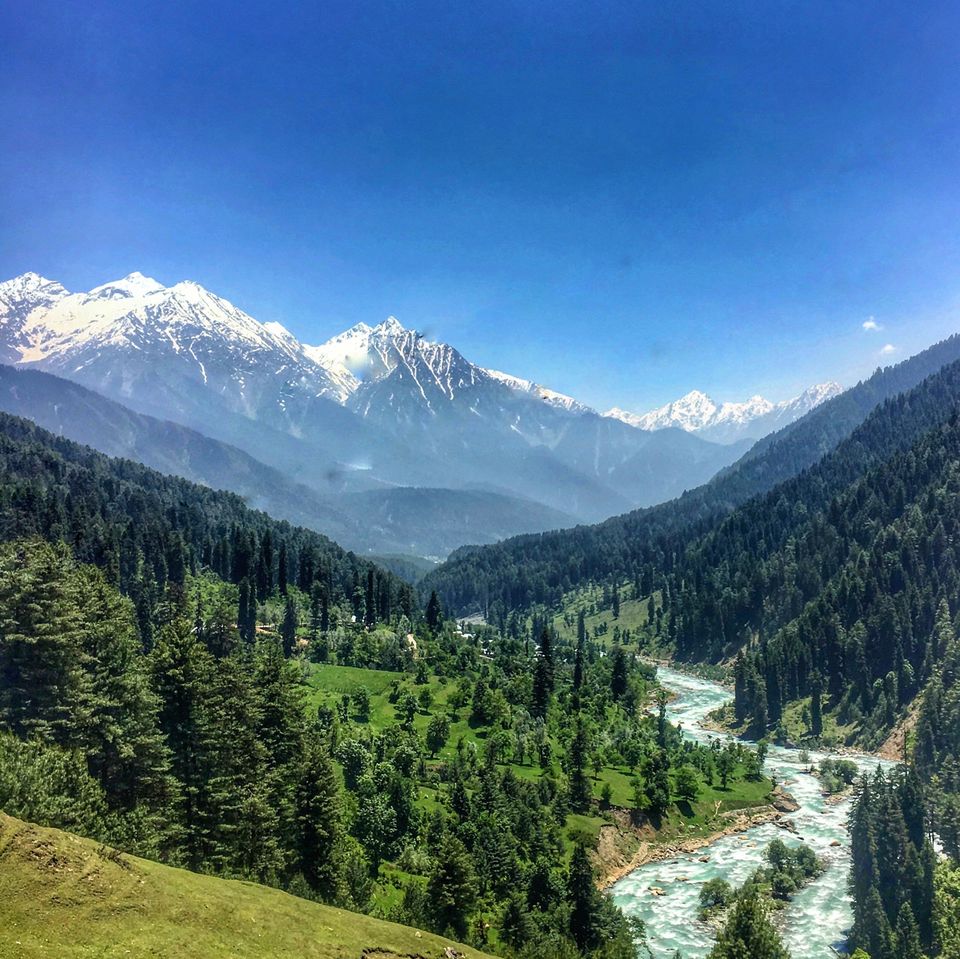 When I reached Aru, I was met by Bashir bhai's brother-in-law, Imtiaz, and he helped me find a place to crash. The hotel was amazing and I struck a bargain with the hotel owner to give me and another traveler a room for measly Rs. 700. I don't know if it was low season or the owner's infatuation for me (he confessed his feelings for me later that day), but I think I struck gold!
"I like these uncertainties on the road. You will be amazed to see what you can or cannot do, when faced with certain situations."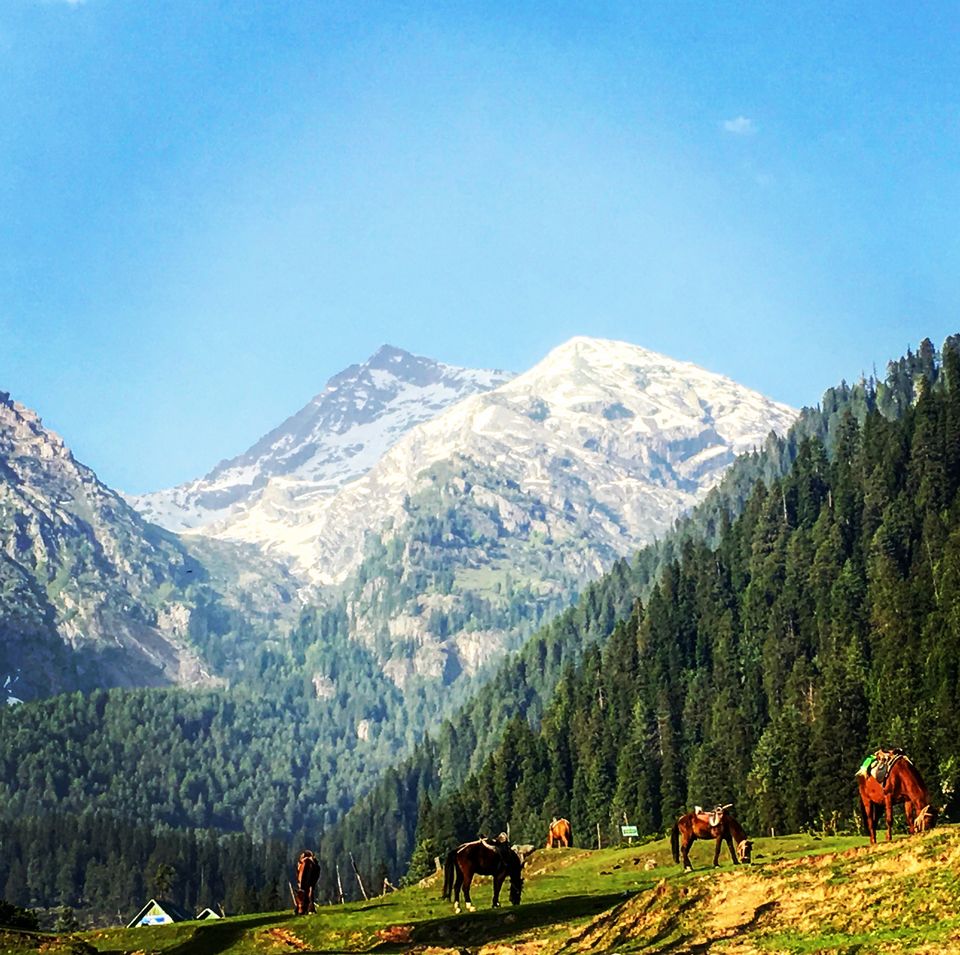 Aru is magical in the sense that it is quaint, tiny and so picturesque. You can easily and lazily spend a day walking around, simply doing nothing. As I was prodding Imtiaz about things to do around here, he casually mentioned about Lidderwat Trek. He immediately had my attention. As it turns out, he is also a guide and can help me do this trek in a day. He invited me home later that evening after Iftiyar to discuss it further.
Another home visit and a tryst with Pheran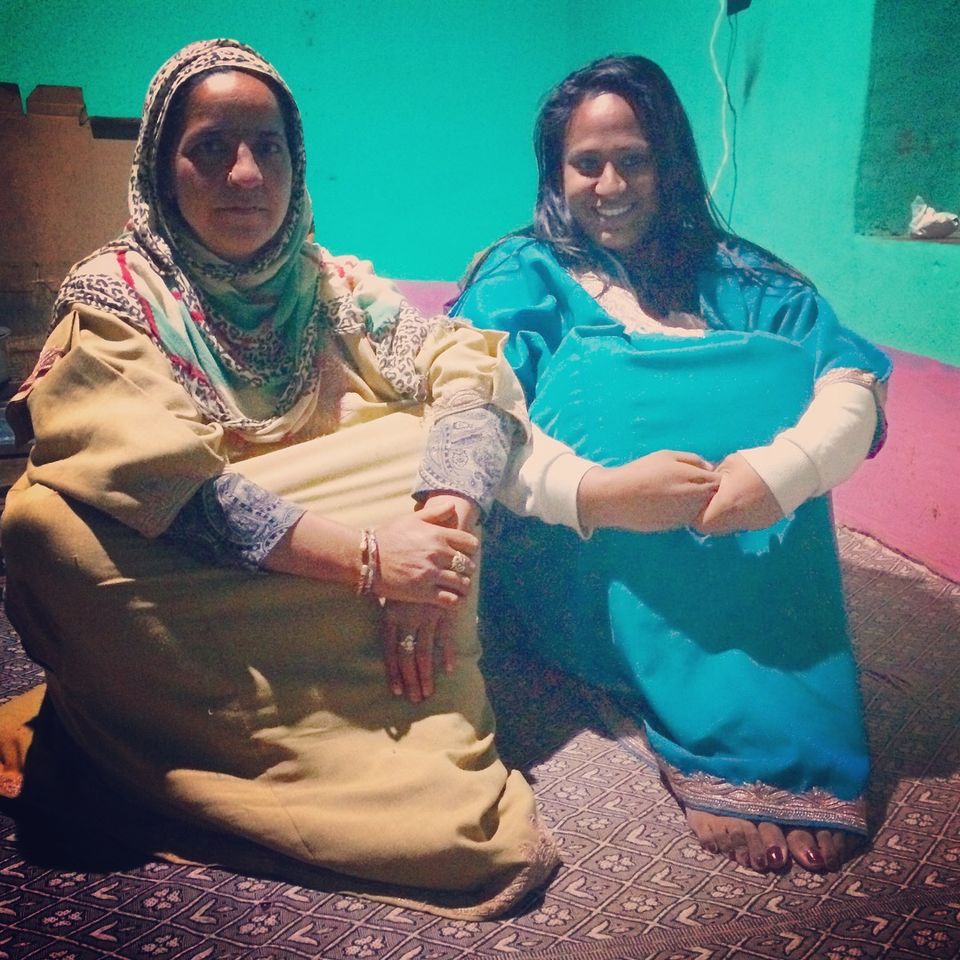 I walked to the village and found his humble little abode where his wife waited for him after sunset to break the fast. Did I mention it was Ramzan season? She did not speak any hindi and I don't speak any Kashmiri. But when did women need language to talk? We started discussing pherans, her wedding to Imtiaz, her life at home and soon enough we became friends. By the time Imtiaz came, I was sporting her favorite pheran and warming up to Kangri (a Kashmiri vessel that is filled up with hot coal to keep you warm in extreme winters). Imtiaz and I ironed out the details and decided to leave for the trek the next day.
I woke up in the morning feeling excited about the prospect of doing what I love most, being in the mountains, and Lidderwat seemed like a good choice. We started from Aru at around 10.30 AM with his horse Raja and all the stuff loaded on him. My trip in Kashmir had officially begun.
Lidderwat – Packing a Powerpunch of Kashmiriyat and its landscapes in a 24-hour flash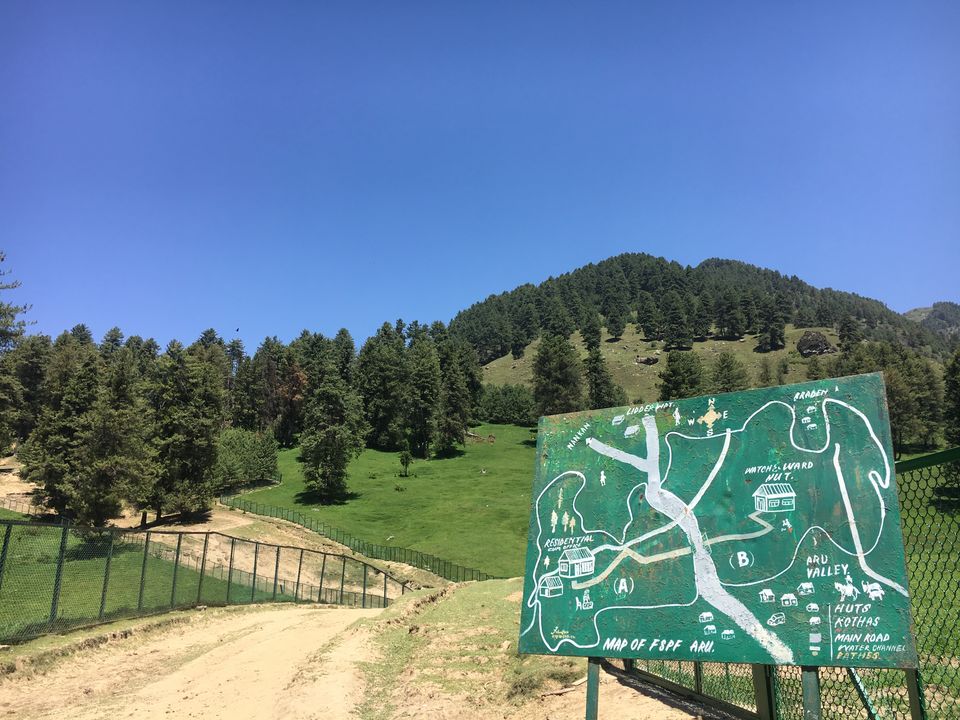 The trek starts with a very steep climb for about 500 mtrs and then another steep climb of 1 km. After you cross these two stretches, you are basically walking on a very easy gradient for the next 10kms. However, the beauty of this trek lies in its changing landscapes. One minute you are walking in thick forest; the next minute you are trudging in the open valley. The change of scene is so quick and so drastic that you can never really know what to expect. Since the hike is very easy, you will be able to enjoy so much more of it than huffing and puffing your way to the top.
For someone who hasn't trekked in a while, the last one being in November in Nepal, I was unprepared for the mountains and Lidderwat proved to be a perfect hike to flex those muscles. I loved the gradual walk, the way scene changed as we moved higher up, the nomads who gawked at me and my attire and the fair shepherd maidens who were fascinated by my skin color.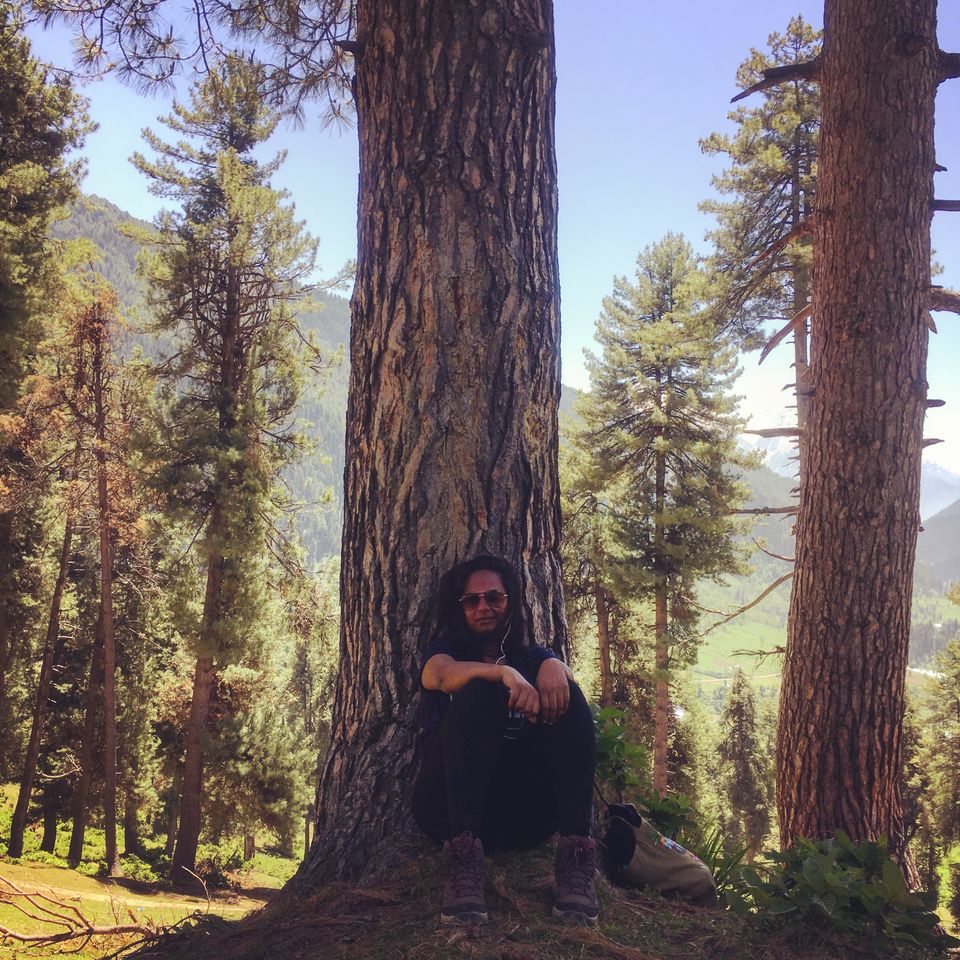 After hiking for about 2-3 hours, we reached an open valley that was to be our place to rest and eat lunch. I was famished from all the walking and totally attacked my packed lunch with both my hands. Once I was done eating, I drank water from the streams and decided to sleep for a while.
"The sun was playing hide and seek, keeping me cool and warm at the same time. I had the best power nap on a soft bed of grass by the riverside."
As I woke up, I noticed the shepherd kids looking at me oddly and the women calling me to join their horde. I got up, curious to see what they were doing, and decided to joined them for a cup of tea. If there is one thing Kashmiris know like the back of their hands, that is to make freaking good tea! Be it noon chai, Kahwa, or the regular tea, they ace it like a boss and for a tea drinker like me, it is nothing short of pure bliss.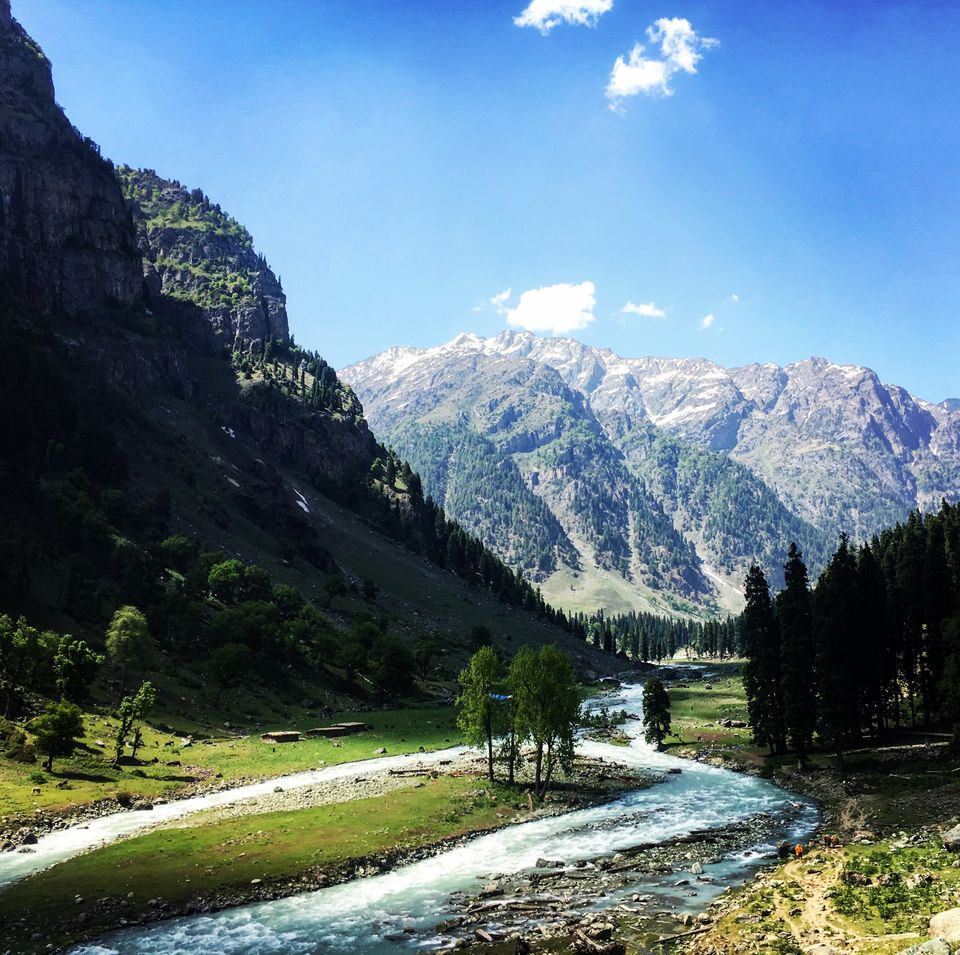 As if that tasty tea wasn't enough, they also offered me a dish of haak (spinach cooked in tomatoes and garlic) and rice. I have to admit I have never tasted something half as good! I was sitting and enjoying my time with these locals and their beautiful 15-year-old daughter, Ishrat, who grew really fond of me. She kept touching my face and hair in disbelief. For her, it is unthinkable for a woman to not cover her head and roam around freely in the mountains. But to be fair, she was also quite happy being herself, the one thing that struck the right chord with me.
"Lidderwat is so close to my heart because it gave me a glimpse of Kashmiri culture in all its entirety in a very short span of time. From sharing meals to sharing thoughts, experiencing kindness to love, seeing beautiful valley and beautiful people, and that too all within 24-hours makes it truly special."
Reaching the valley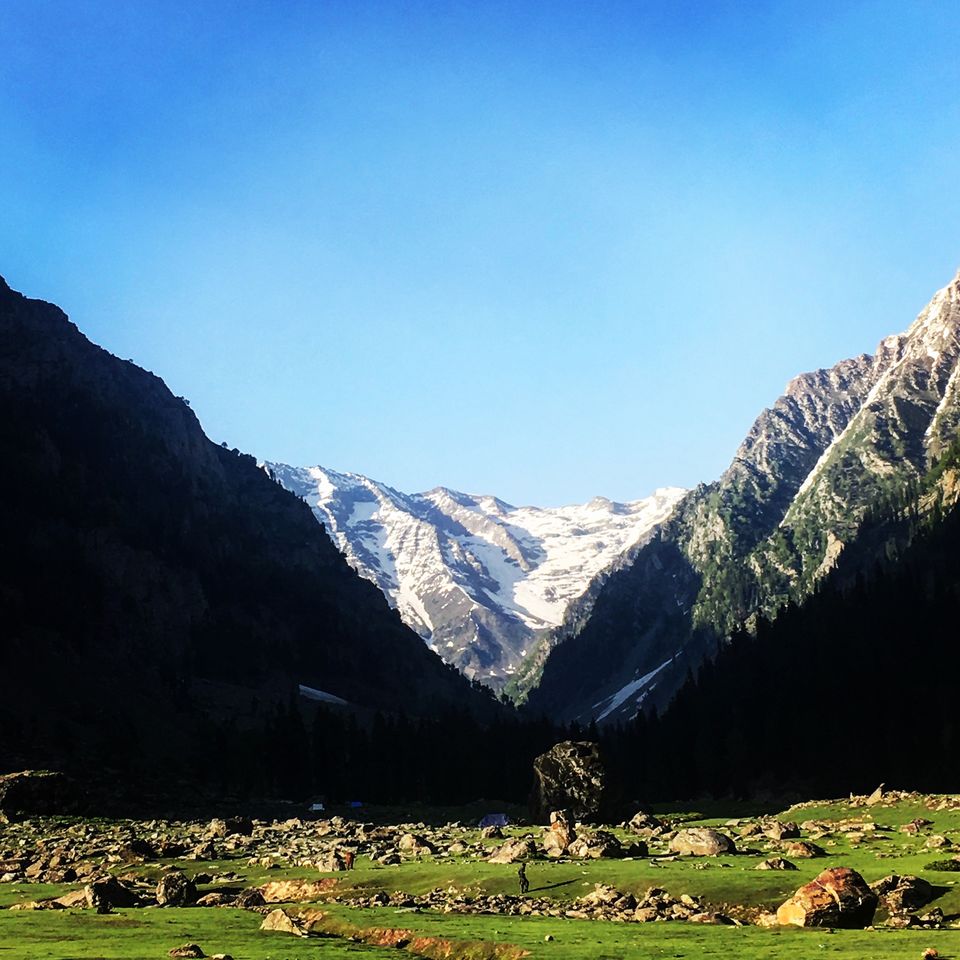 As much as I would have loved to spend more time with that nomadic family, I still had miles to cover. Me and Imtiaz continued our trek into the valley and reached Lidderwat after walking up and down for a little over an hour.
"The valley was speckled with sheep, population of perhaps just 10-20 shepherds and infinite beauty."
We were to stay in a PDA resthouse that was nothing more than a wooden structure, just enough to spend the night comfortably. Me and Imtiaz drank rum to warm us up in freakish cold. We also cooked our dinner of Maggi and soup on an open wooden fire that had a smoky aftertaste. It was such a long, beautifully exhausting day. The rum worked wonders in helping me sleep like a baby. Next morning, I woke up to the rising sun and all set to make the journey back to Aru.
"Lidderwat serves as a basecamp for Kolahoi glacier and Tarsar Marsar lake. I really wanted to go all the way up to the glacier, but we were neither prepared nor equipped to go any further. So we decided to trek down and I promised to return for the glacier later."
Lidderwat Round 2 – A complete Outdoor Experience and a failed glacier attempt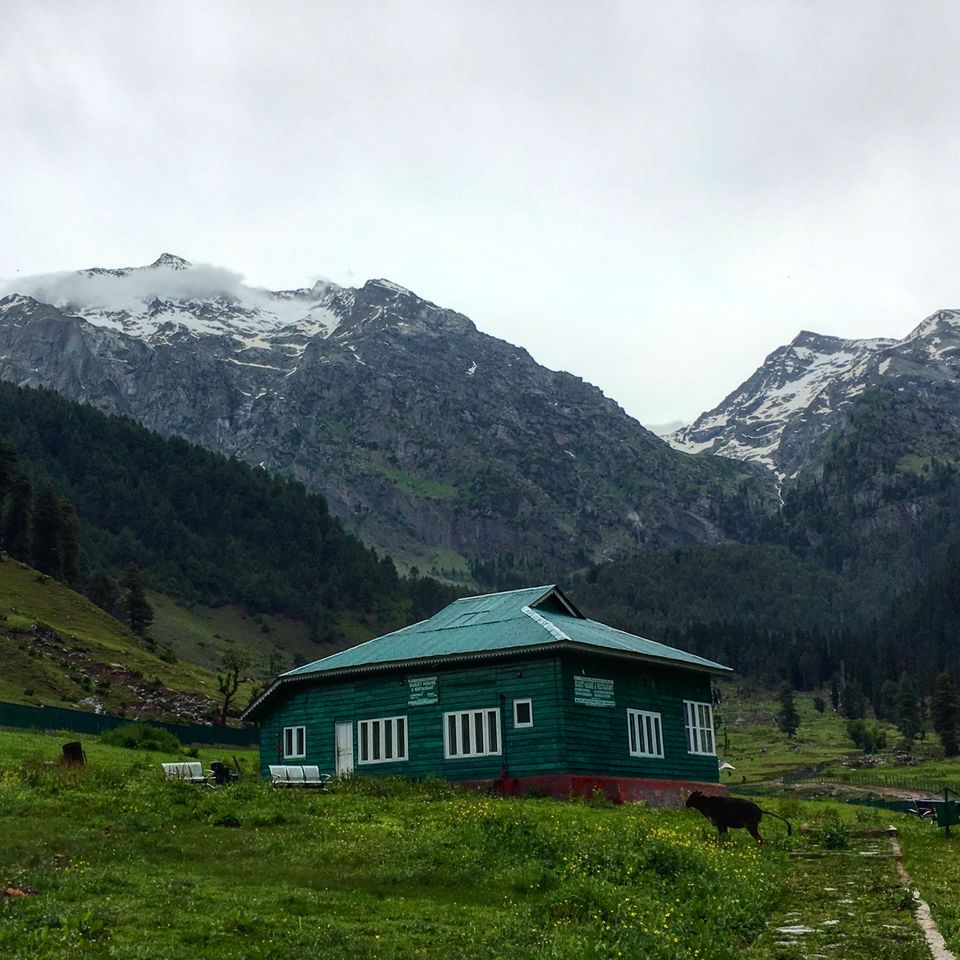 As promised, I came back to Aru and this time better prepared for the glacier trek. By this time, I had completely placed my trust in the hands of Imtiaz. He met me in Pahalgam and drove me to Aru where I met his friend and owner of a guesthouse, Ibrahim. It was such a pleasure to spend the night in his cozy little place with plush interiors and breathtaking views. Because I am a backpacker, he offered to host my stay and also promised to help me with my trek to Kolahoi glacier.
Ibrahim was kind enough to cook me some lamb for starters as we enjoyed a few rounds of rum, discussing inane travel stories. I enjoyed our conversations and planning for the trek next day. Me and Imtiaz decided to do this for 4-days this time and camp along the way. It was very exciting and just the kind of experience I was looking for. Later that night, Imtiaz took us home for dinner of succulent lamb and rice that was served to us with lots of love and hospitality.
Next morning, I woke up to sun rays filtering through my room and the valley lit up. After eating a lip-smacking breakfast of banana oats porridge, prepared by Ibrahim, I was ready and all powered to go up again. We started the trek from the same steep 500 mtr and then 1-km steep climb to reach the top of the plateau. Once I crossed that dreaded stretch, I walked like I owned the trail because I knew it well by now.
After sometime, Imtiaz signaled me to come up to a shepherd's home where we sat for lunch. They gave us 10 freshly boiled eggs and a cup of tea. During this time, I had very interesting conversations with a 14-year-old boy, Bilal, who studied till class 10th but was smarter than most boys his age. He seemed quite receptive of the fact that I am traveling alone and that too with a man (Imtiaz) who isn't my husband.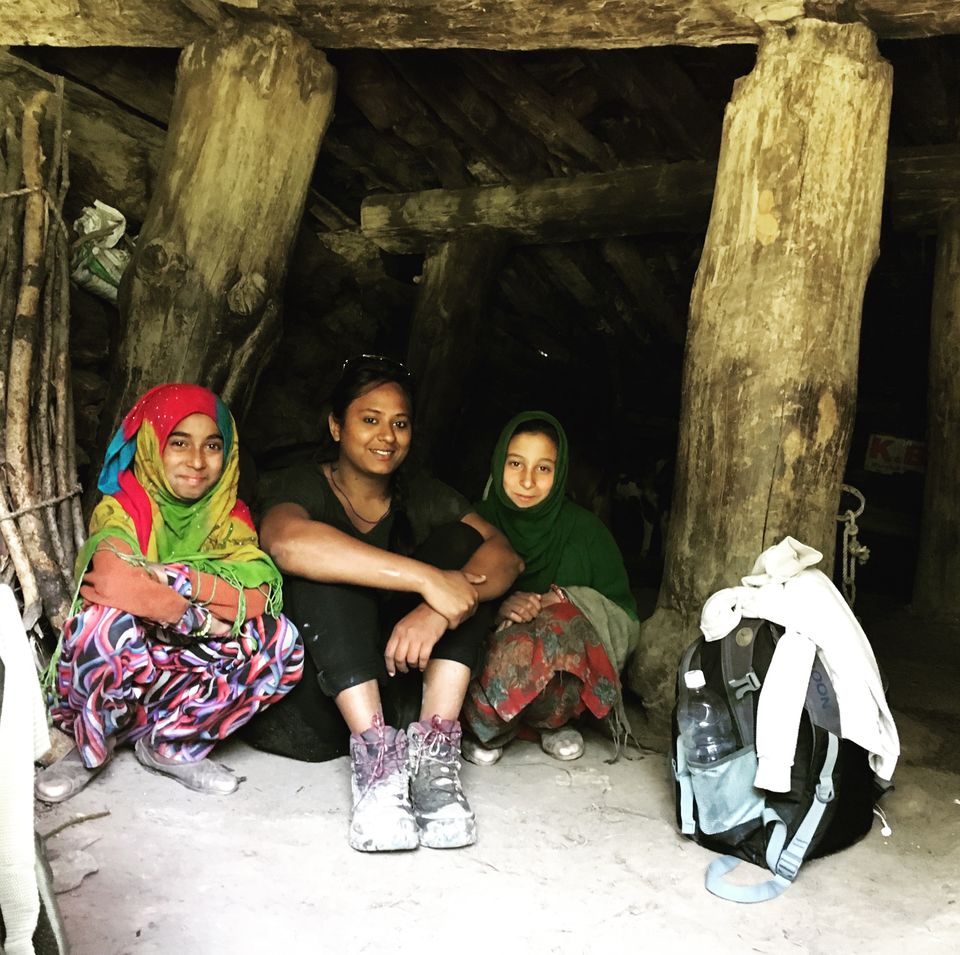 "It is funny how these people still untouched by urbanism are so accepting and non-judgmental. It was almost like a breath of fresh air to engage in intense conversations with these people who did not pass any judgments."
Then the accident happened
We continued on our journey because we had a long way to go and wanted to cover more ground today. But as the luck would have it, while I was crossing the small patch of snow that connected one mountain with the other, I slipped and bumped my knee on a jutting rock. I was lucky to have arrested the fall with my trekking pole or I would have gone sliding down into the river. What freaked me out more was that there was no one there at that time. Imtiaz was walking way ahead of me, thinking that I already knew the way. I was still thinking what to do when a few shepherds came and pulled me back up. They also held my hand as I slipped again while crossing that patch.
"By this time, I had hurt my knee, my spirit and everything that came with it. I was scared and shaken at what just happened."
I kept walking, looking for Imtiaz. Thankfully he stopped ahead when didn't see me following him for a while. I came wobbling at him but didn't tell him what happened. I was still dealing with the fact that I may not be able to continue this trek.
My Failure and Blatant Lie to Save Face
I had a hard time accepting that this will be the second time I was at the base of Lidderwat and unable to go all the way to the glacier. I wanted to reveal my defeat but with dignity. I wanted to break it to Imtiaz that we will camp here tonight and leave the next day. When I didn't find the voice in me to speak the truth, I lied that we cannot continue further because I think I am getting my period.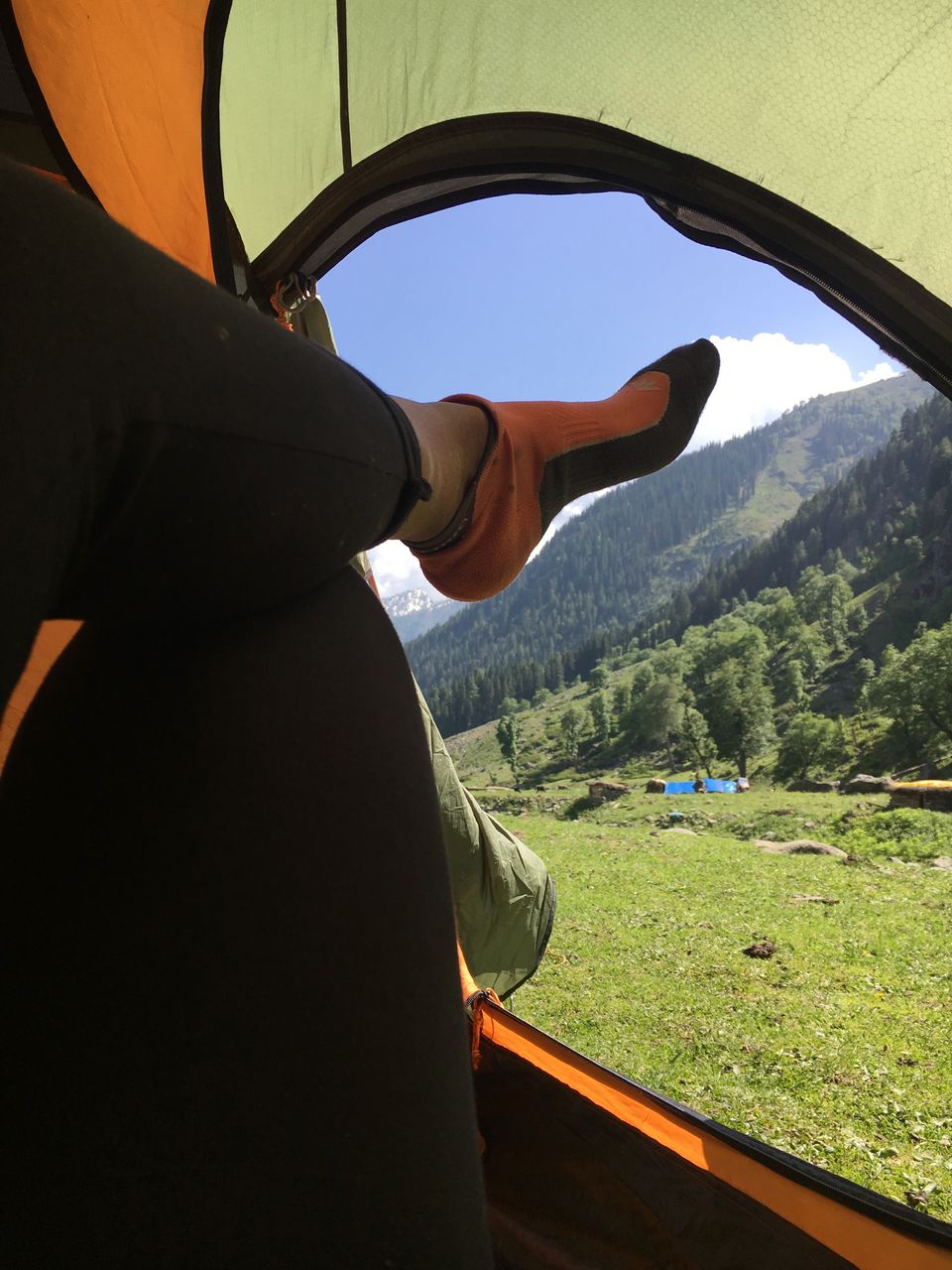 I still remember the look of bewilderment on Imtiaz's face when I openly discussed my ladies' problem with him. He didn't know what to do so the first thing he did was to take my backpack from me and insisted that I walk freely. I felt horrible because I had lied and he already had 20 kgs load on his back. In that moment I insisted that we camp there itself. He simply agreed, put down our backpacks and got to work.
We quickly dismantled the tent and put it together. The next thing he did was made me a cup of hot tea accompanied with Kashmiri bread. I curled up to a book, trying not to think about the events, just preparing myself mentally that my trek has come to an abrupt end. I told Imtiaz that we will have to leave next morning, something he readily agreed, given my "situation."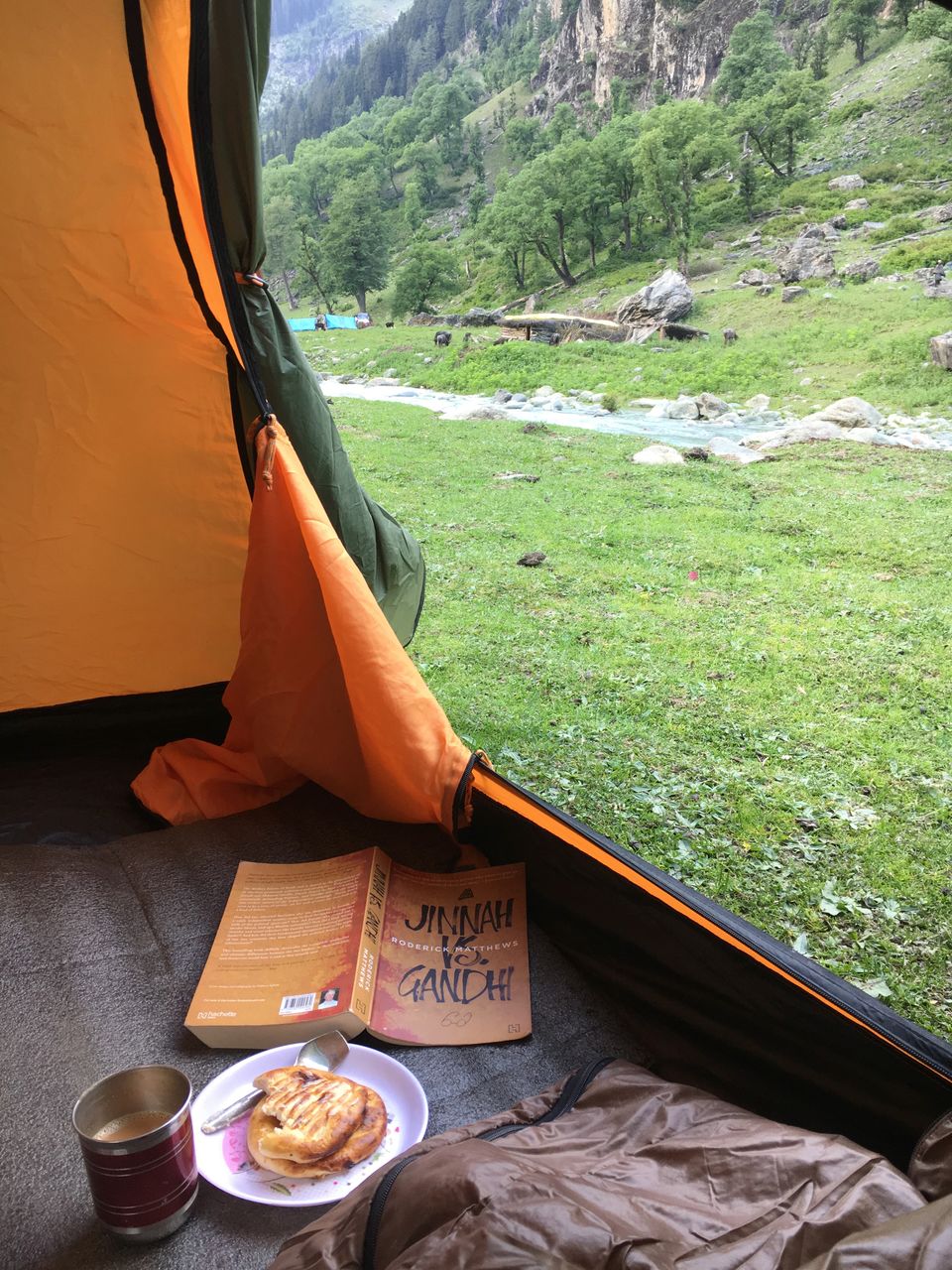 My moment of truth and self loathing
I couldn't wait to get back to Aru and then to Srinagar. Sometimes failures are hard to accept. I was too proud and stubborn to admit that an injury to my knee has prevented me to trek further. Instead, I cooked up a stupid lie and had to live with it the entire time. I just couldn't bear to think that someone who dreams to be a mountaineer someday is chickened by a minor incident like what happened at that snow patch. I don't know what would have happened if those shepherds didn't come or if I didn't jam my trekking pole into the ice on time.
My trek to Lidderwat was a series of "what-ifs." I was challenged more mentally than I was challenged physically. If this trek was easy, effortless and enjoyable, it was also a microscopic look into Kashmiri nomadic culture, their hospitality and kindness. It is amazing how you can experience all of that and more within a day. After Lidderwat, my resolve to explore Kashmir had only strengthened. I was ready to give it my all. This trek exposed to me the possibility of all the good or bad things that can happen to me in the mountains and how I will always have a Kashmiri watching my back!