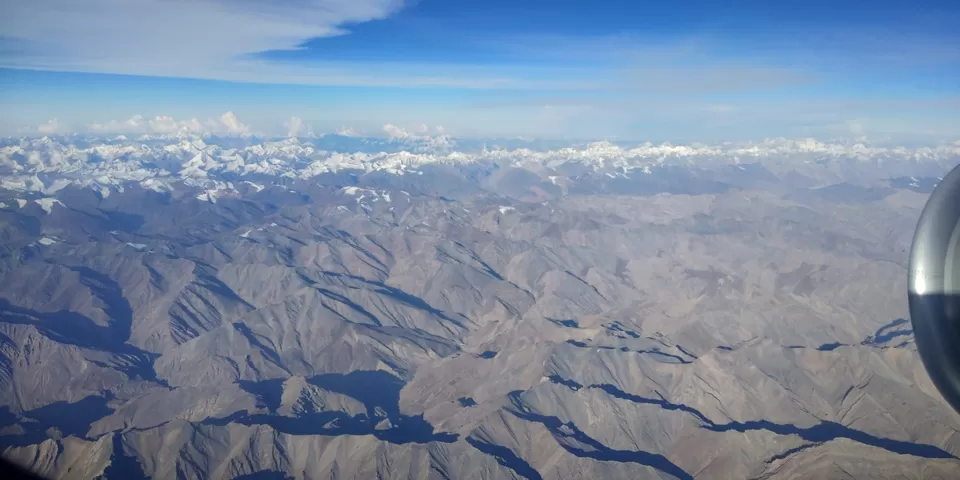 We took a direct flight from Delhi to Leh and landed around 8am.. The weather was awesome with bright sun and cold breeze..
We did not book a hotel in advance, so took a pre-paid taxi to Leh main market.
This was when we realized how super friendly people were here.. The taxi driver dropped us to a restaurant where I waited and had breakfast while my husband checked a few hotels around.. This was Gesmo Restaurant on Old fort road.
We later checked in to Hotel Tso Kar, 2 mins away from Gesmo.. We rested for a couple of hours to acclimatize and get ready for the evening.. During this time, we had spoken to a guy who sent a bike on rent to our hotel itself.
People are so good in Leh that they ensure you take only good memories back... Around 3 pm, we has lunch in hotel itself and moved out to get some air and loosen up.. Rode the bike back forth from Sangam(confluence of Indus and Zanskar rivers) stopping at Magnetic Hills, Gurudwara Pathar Sahib and Hall of Fame.
Reached back to Leh by 6 and spent the evening watching mesmerizing sunset at Shanti Stupa..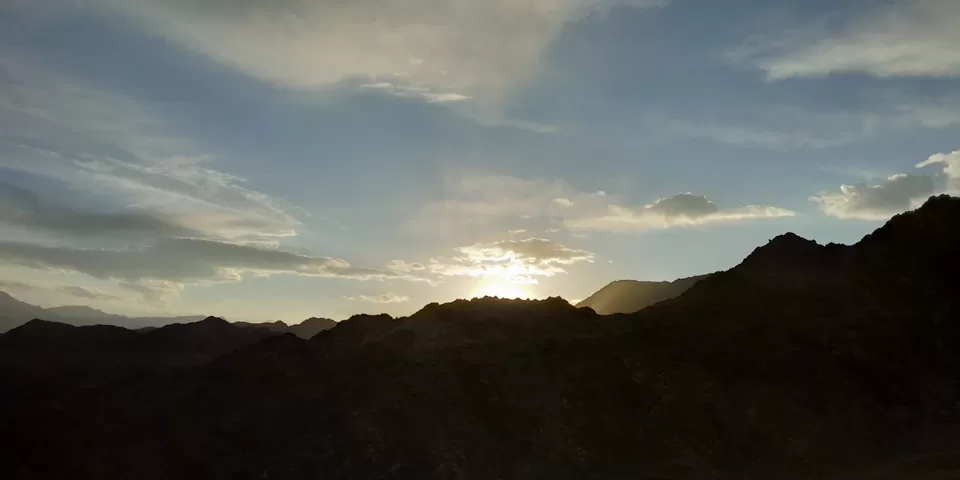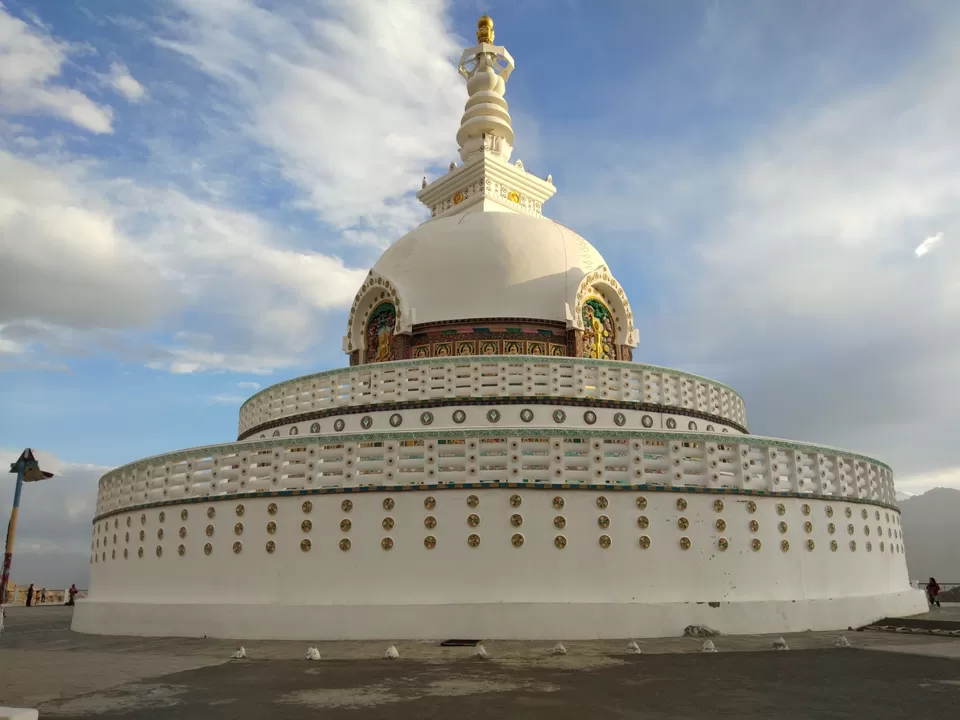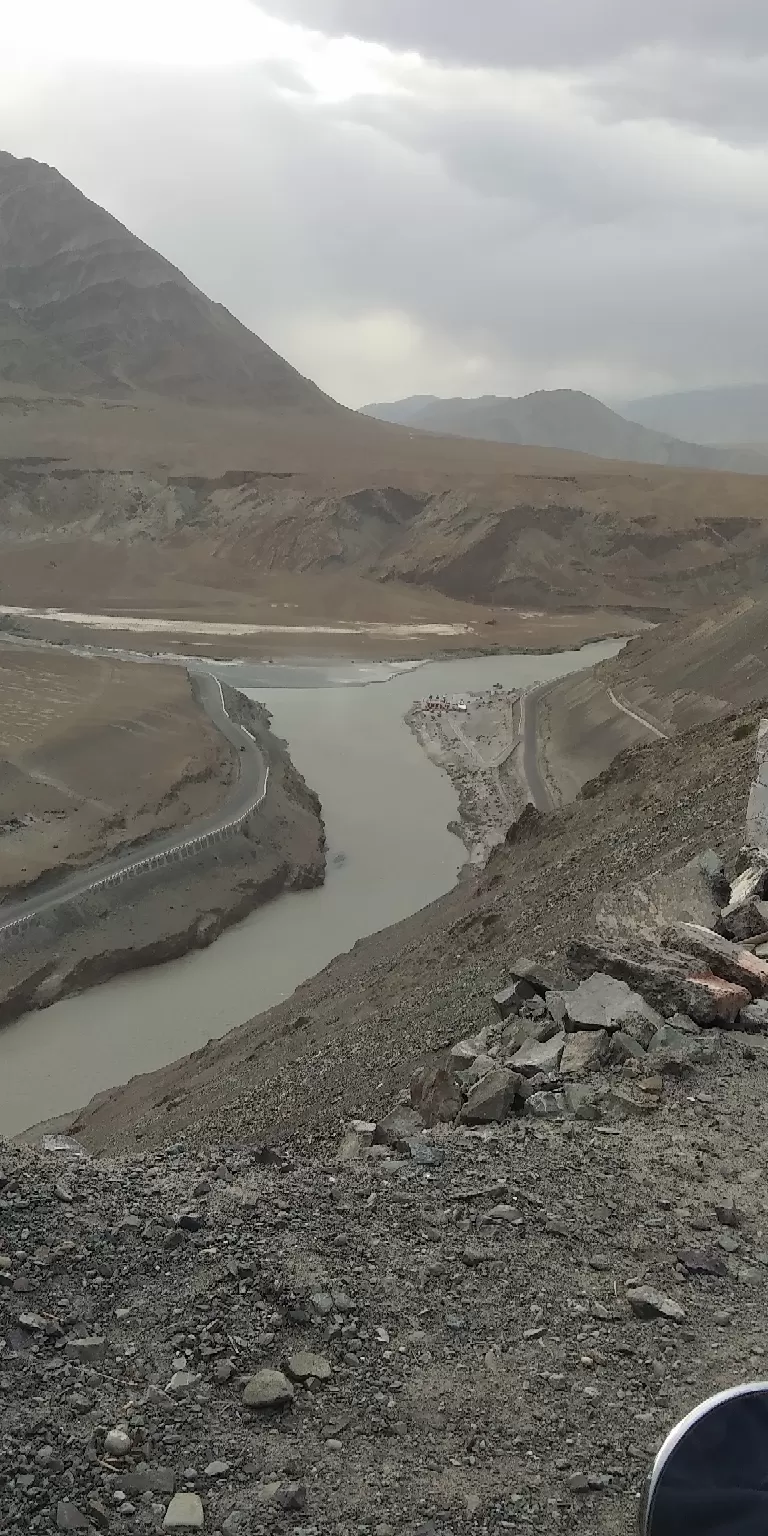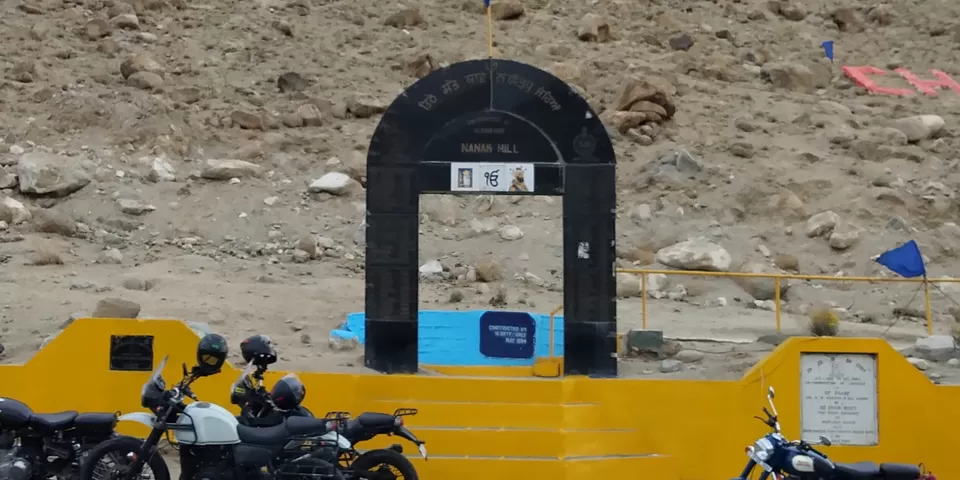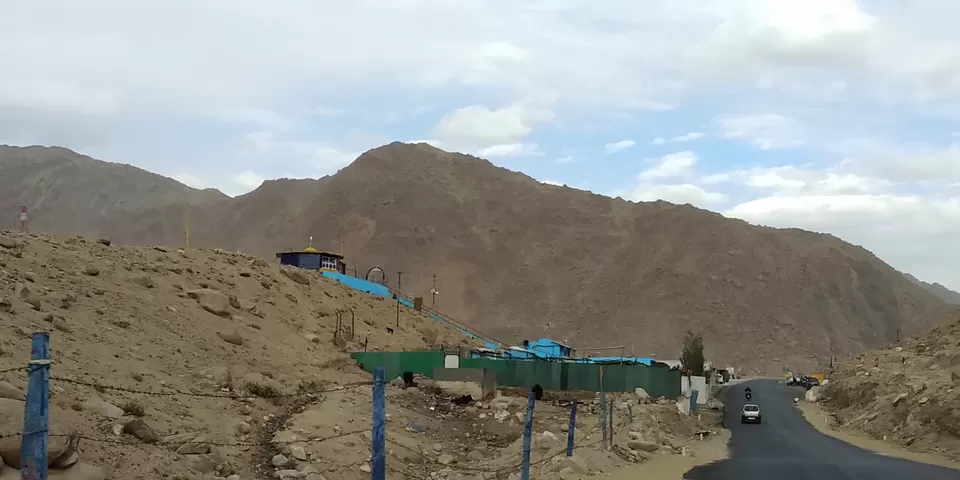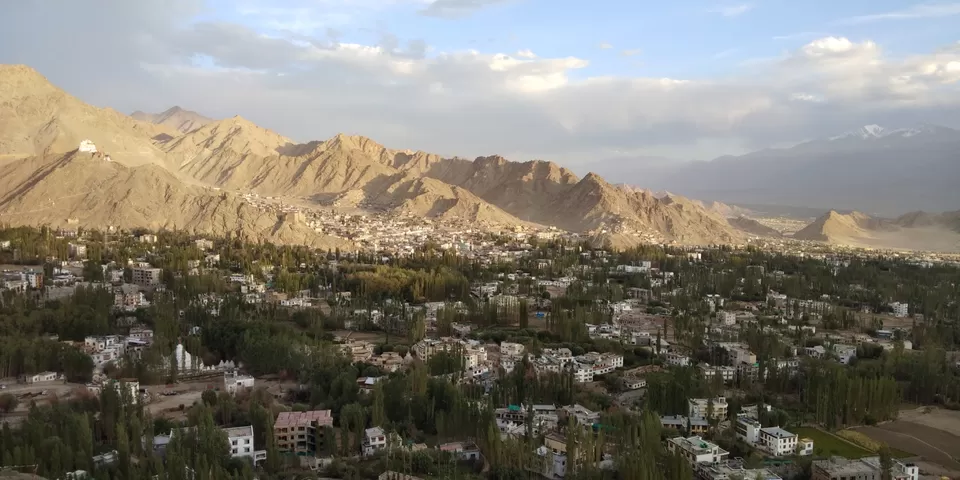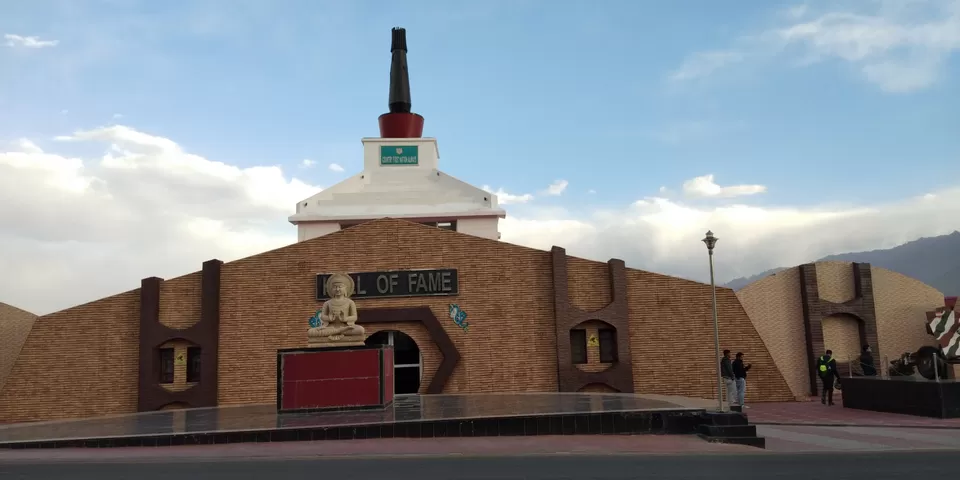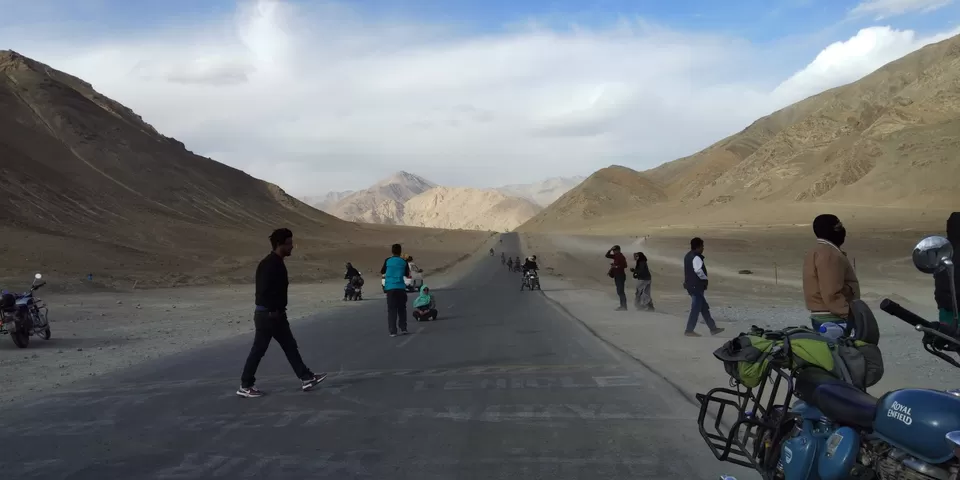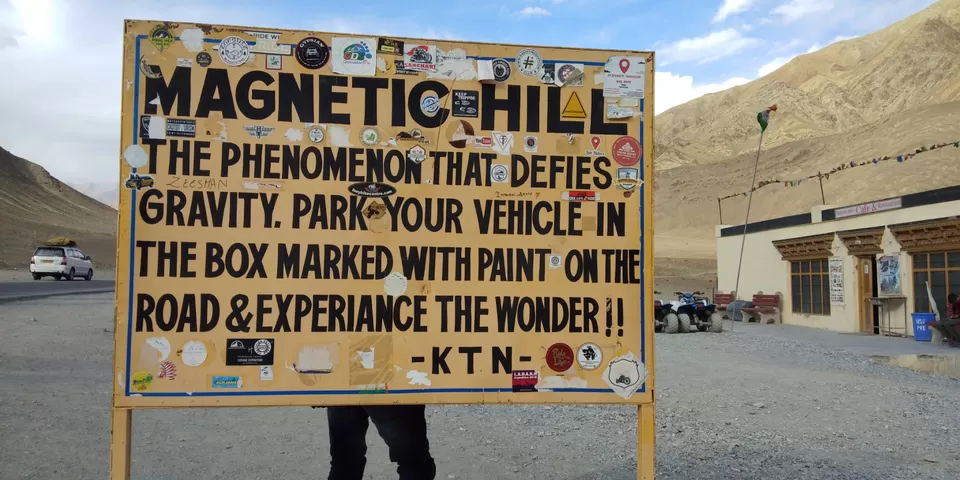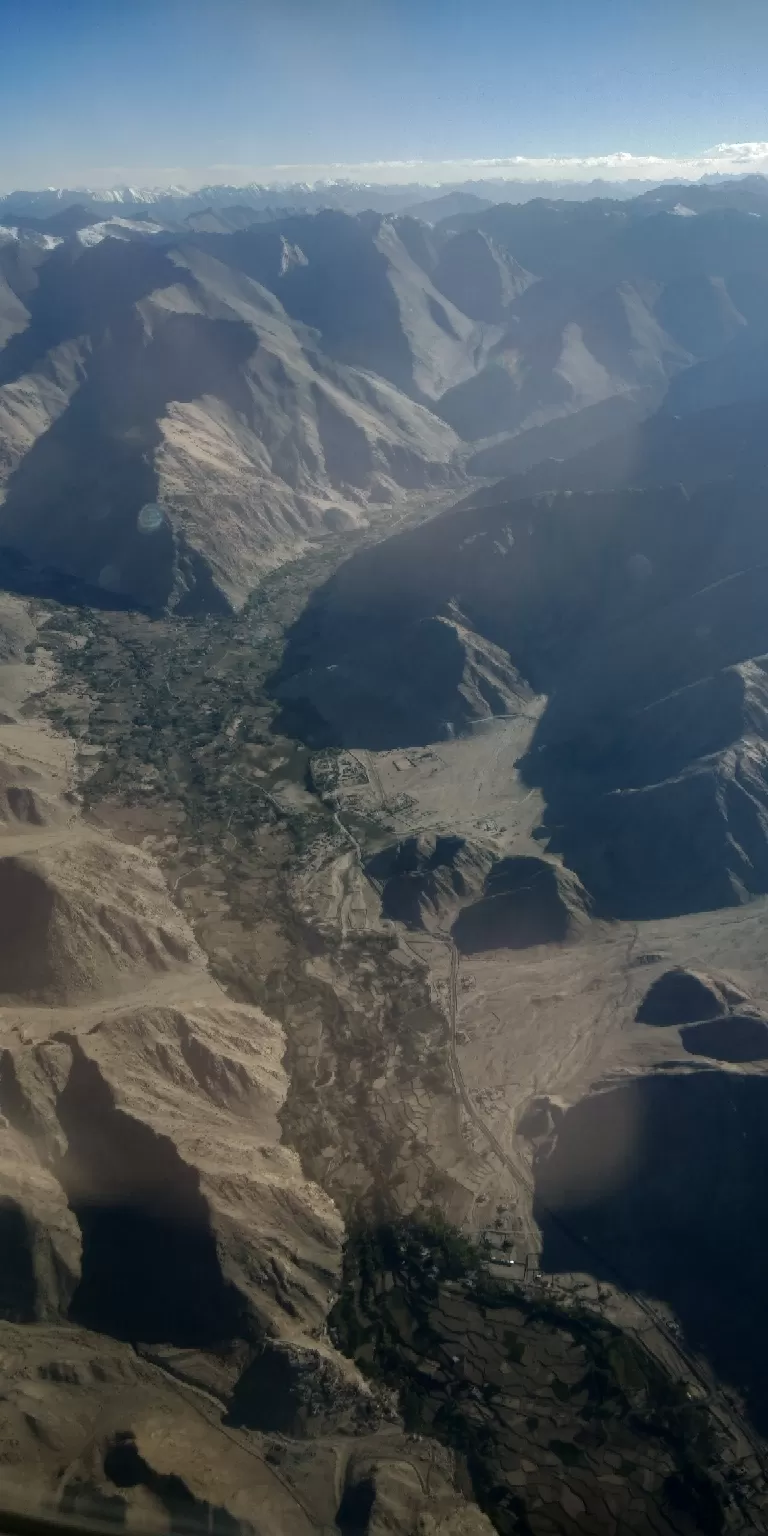 Achieving great heights!!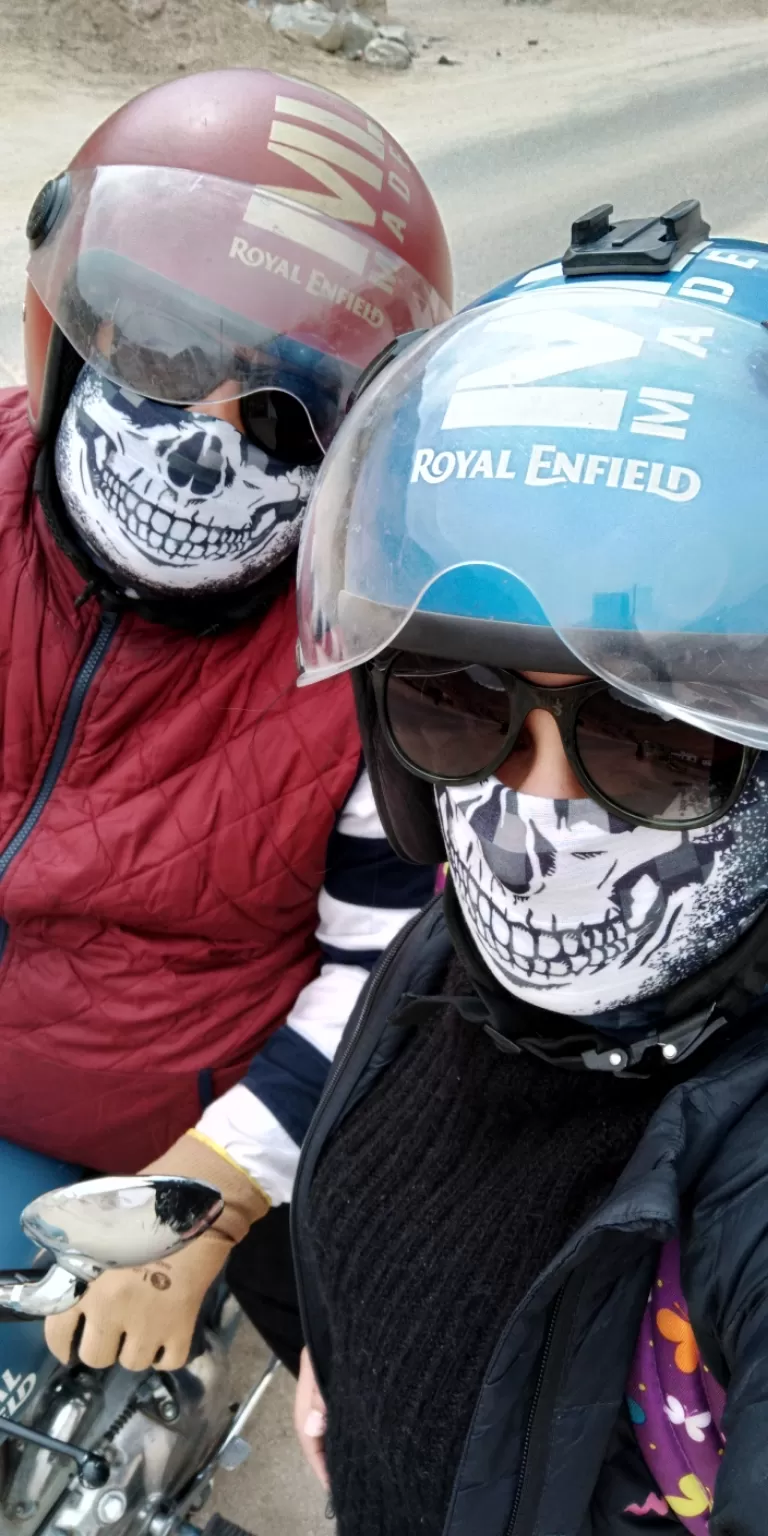 Started the day around 9 am as the hotel guy suggested that it had snowed at Khardung La the day before.. So we should let the sunlight help in melting the ice on roads.
To our surprise, it started showing while we were half way through to Khardung La.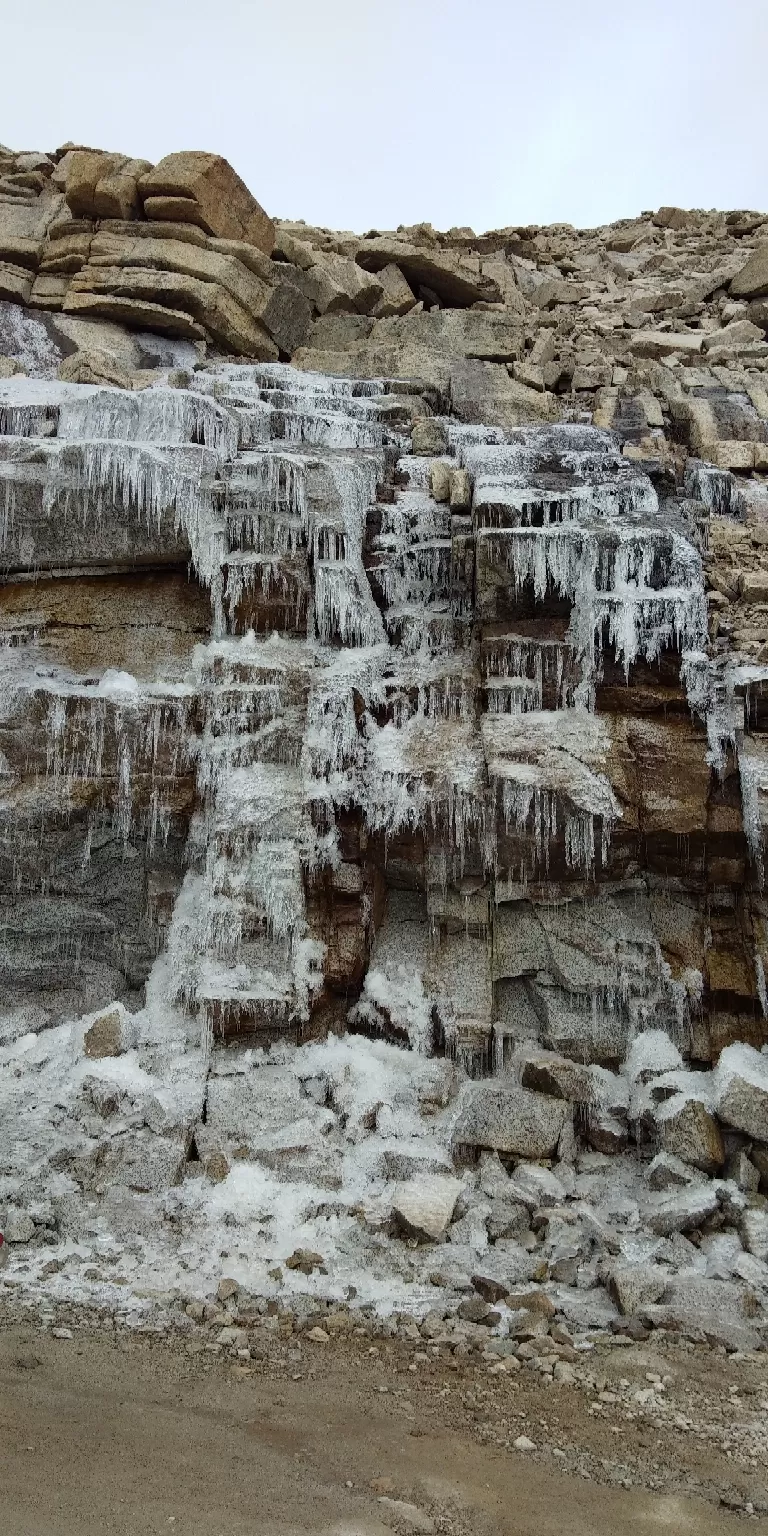 Saw this amazing frozen waterfall on the way and realized that it's not gonna be a cake walk..
The roads were in a bad shape a few kms before and after the pass.. And it was snowing..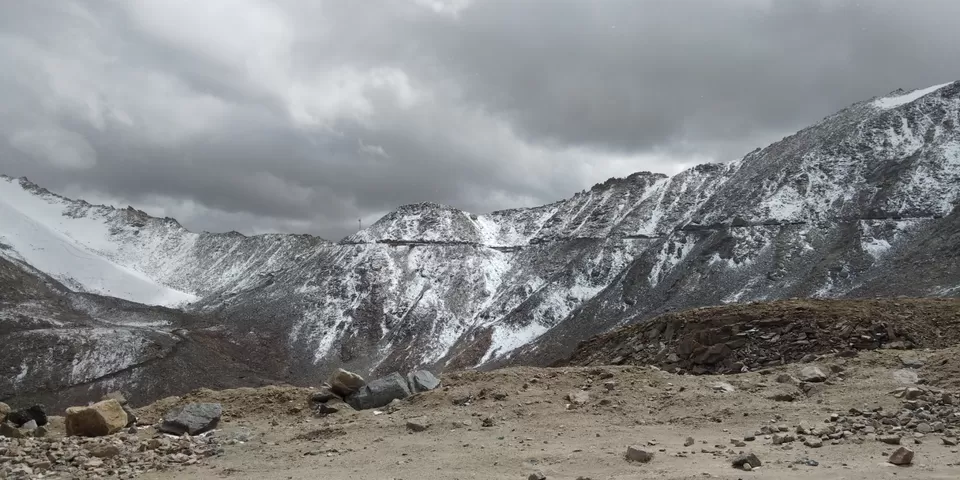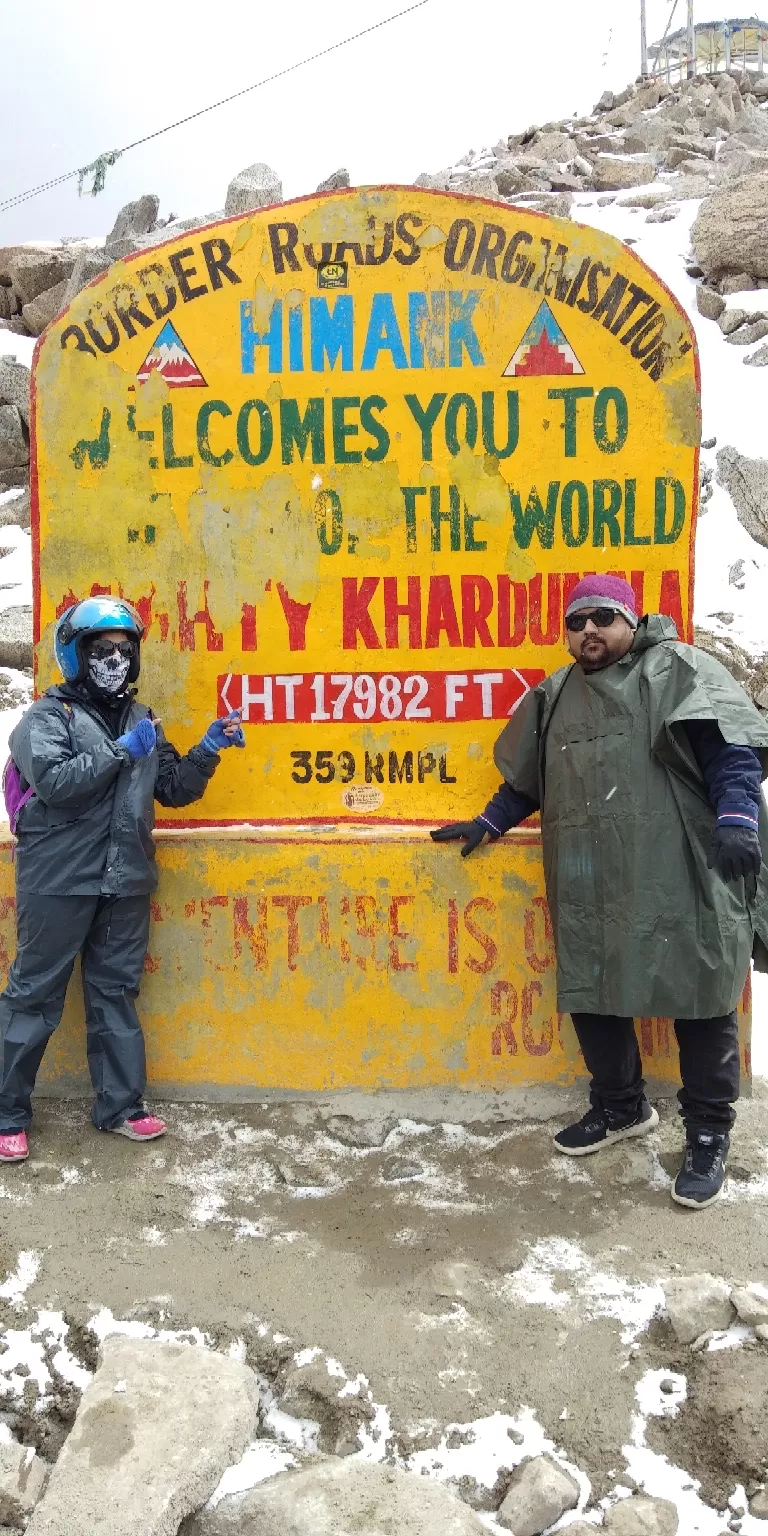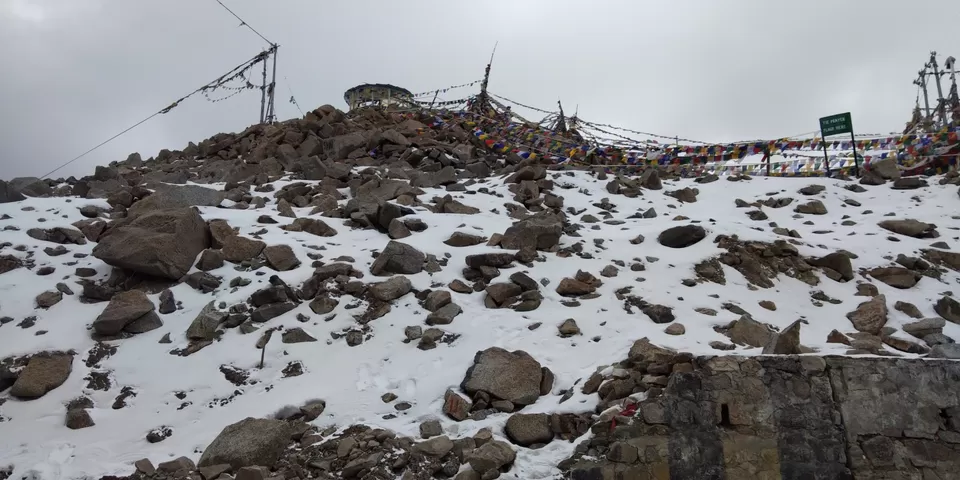 Next stop was Nubra Valley.. Nubra is a high altitude cold desert. Vast areas of barren land.. Dust storms.. Rafting camps on the shores on Nubra river..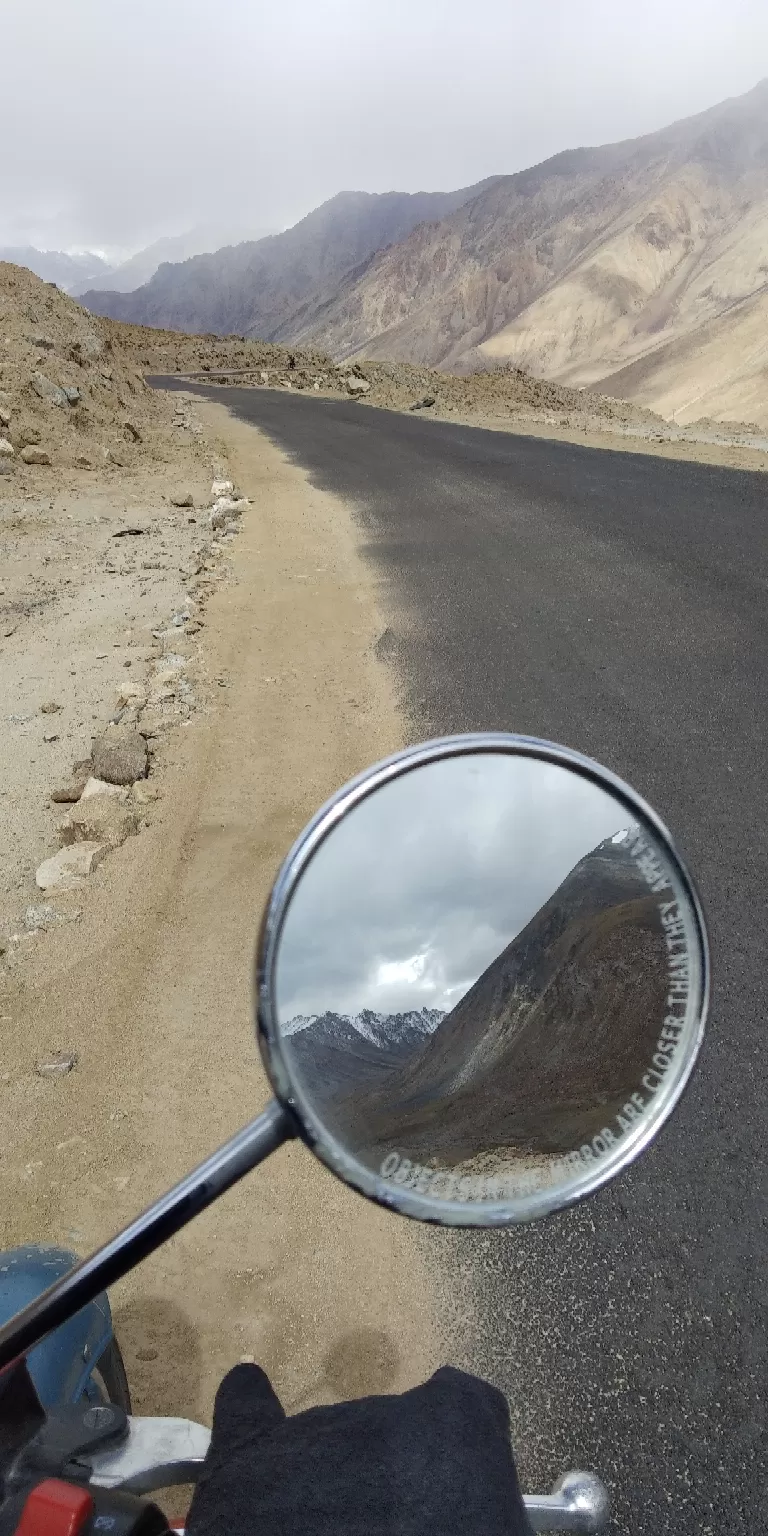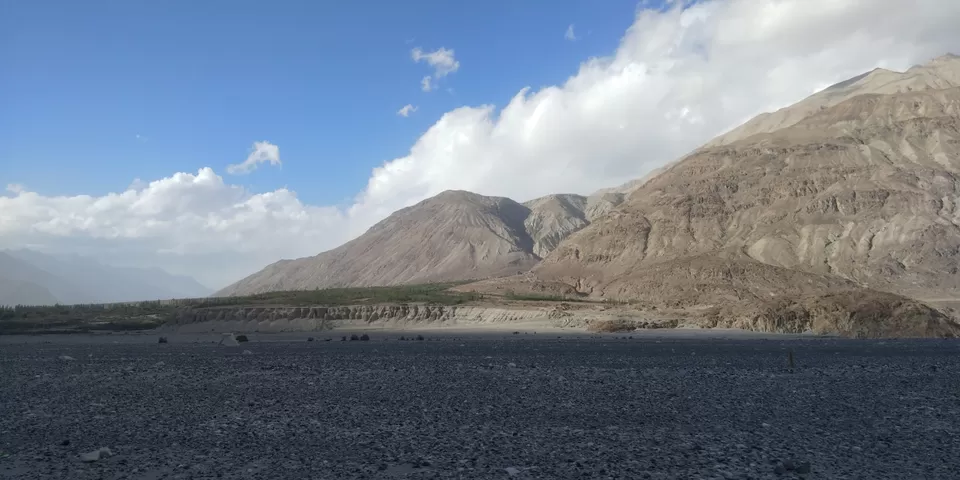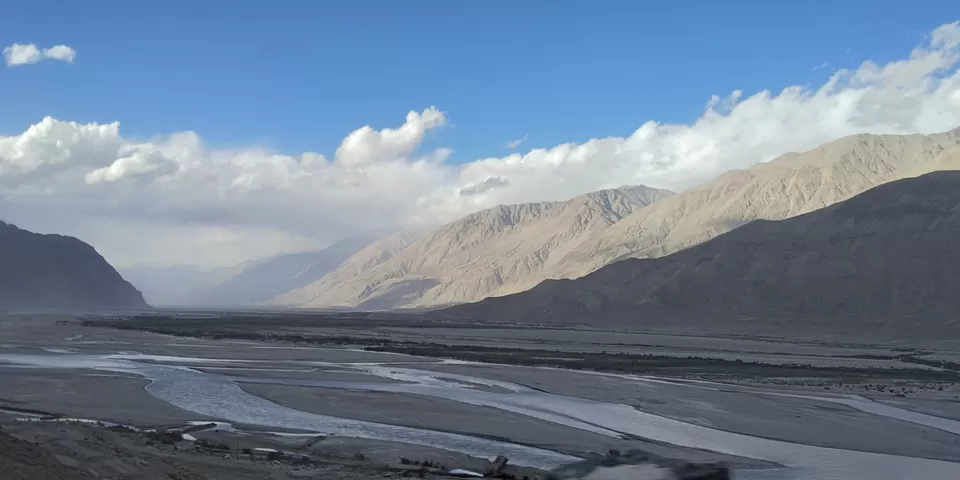 Situated on the banks of river Shyok, Diskit has many home-stay and guest house options.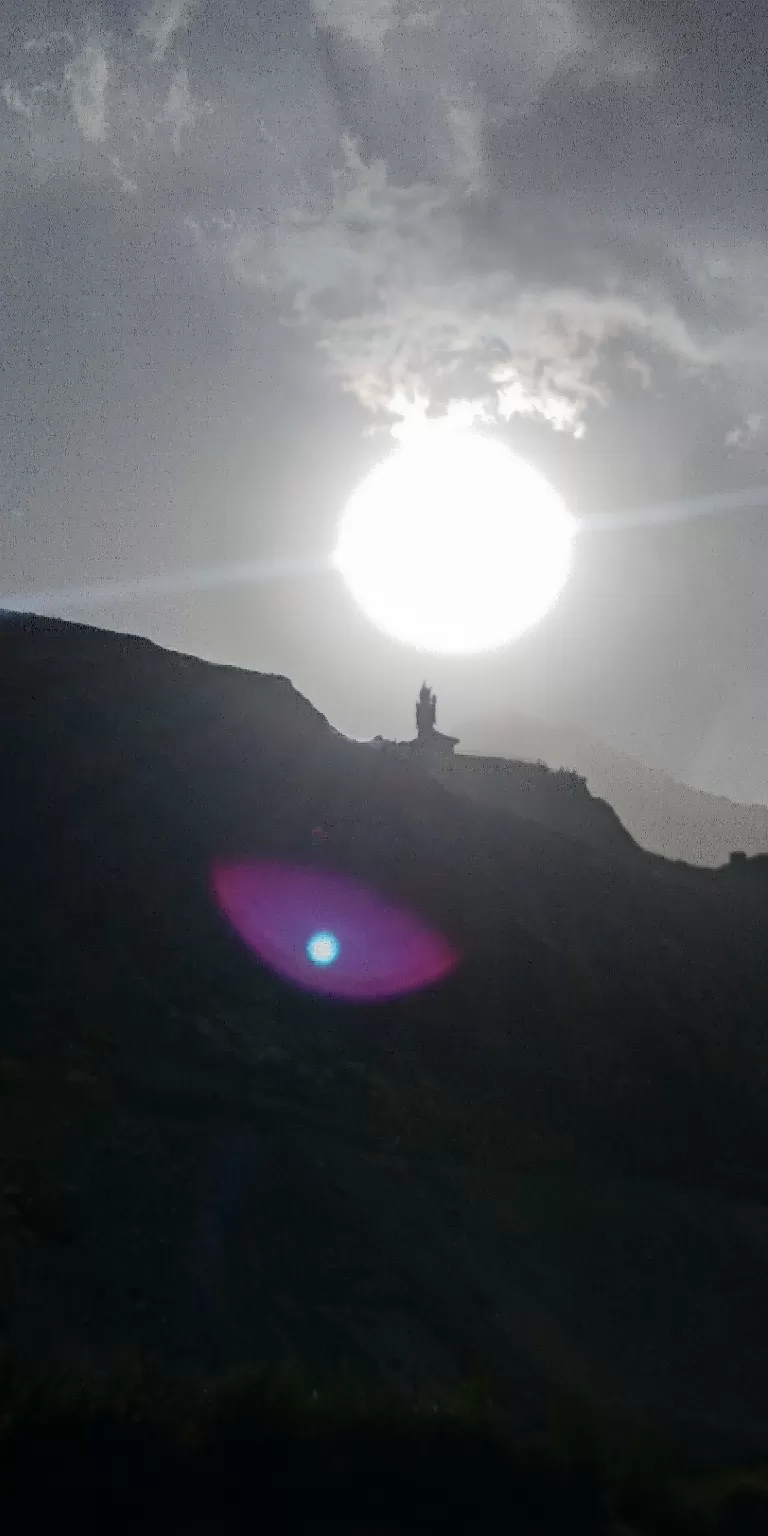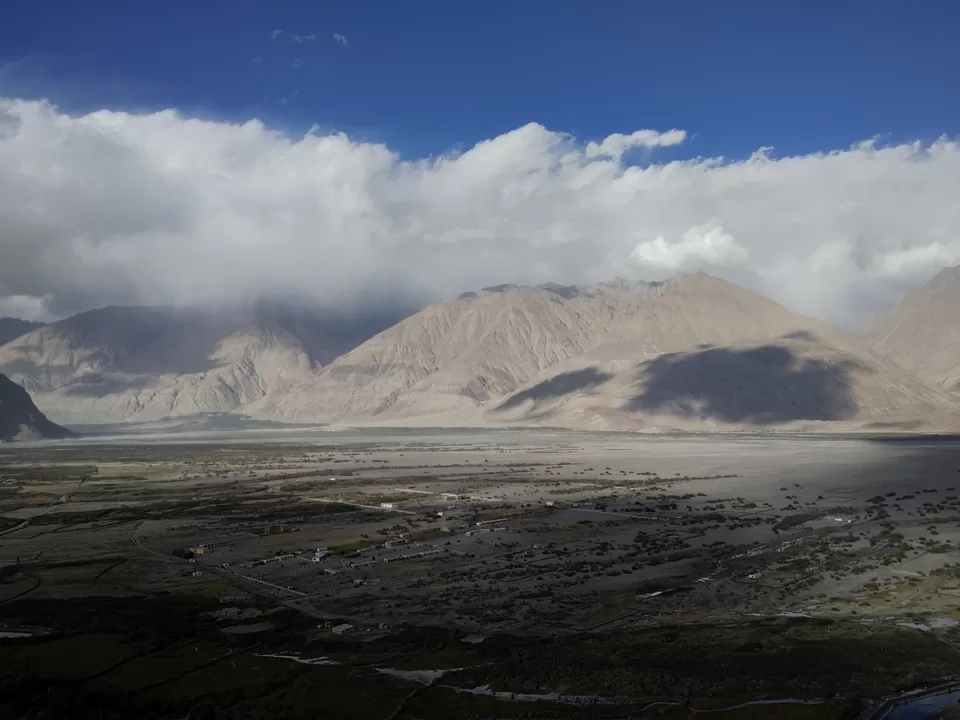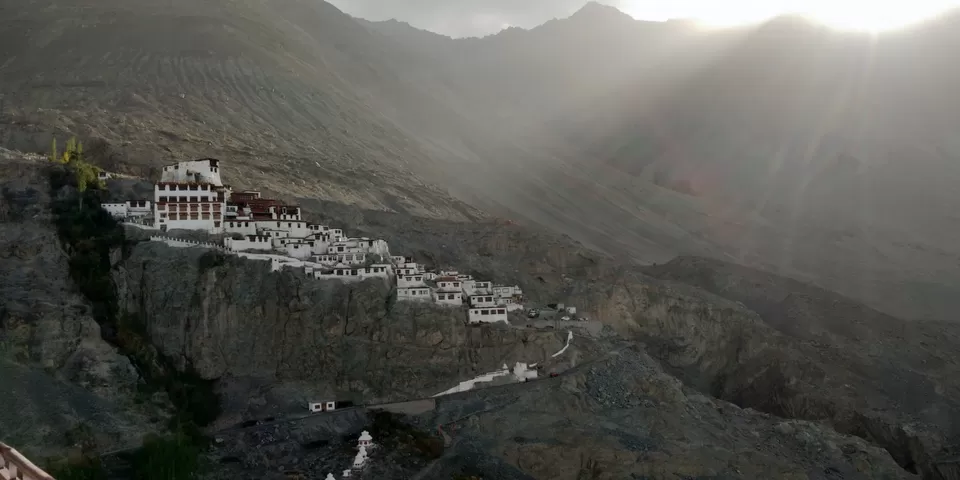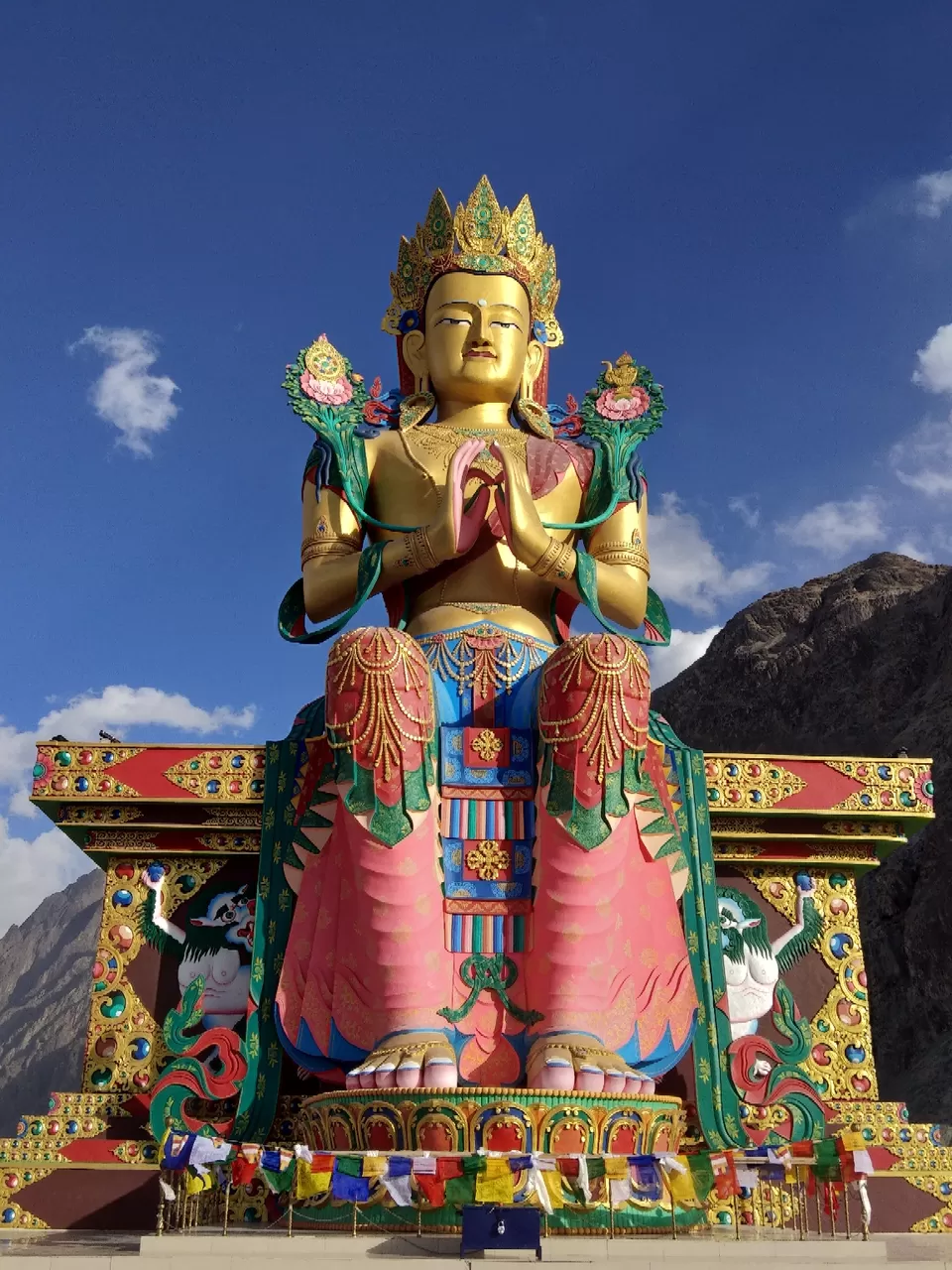 The high altitude desert, with rolling expanse of sand dunes and barren landscape is the USP of Hunder village.
Joyrides on the Bactrian camel through the sand dunes is a must do for the tourists who visit Hunder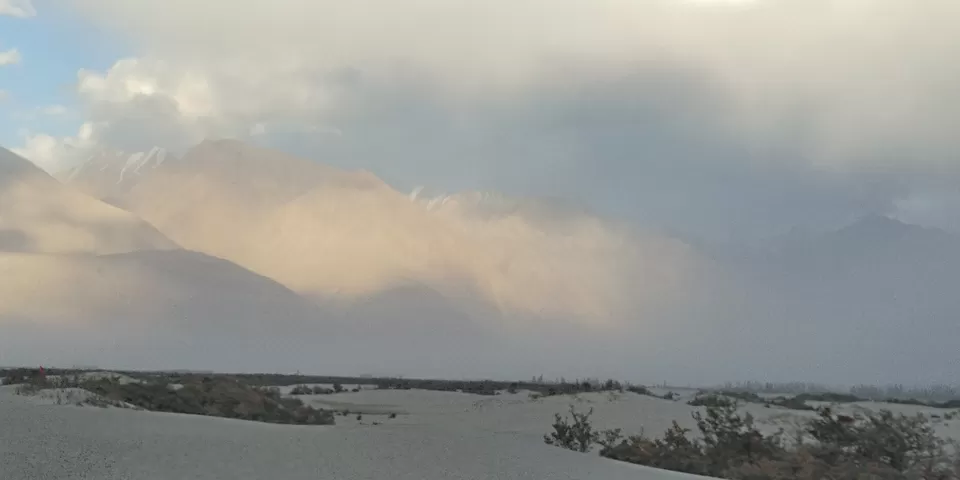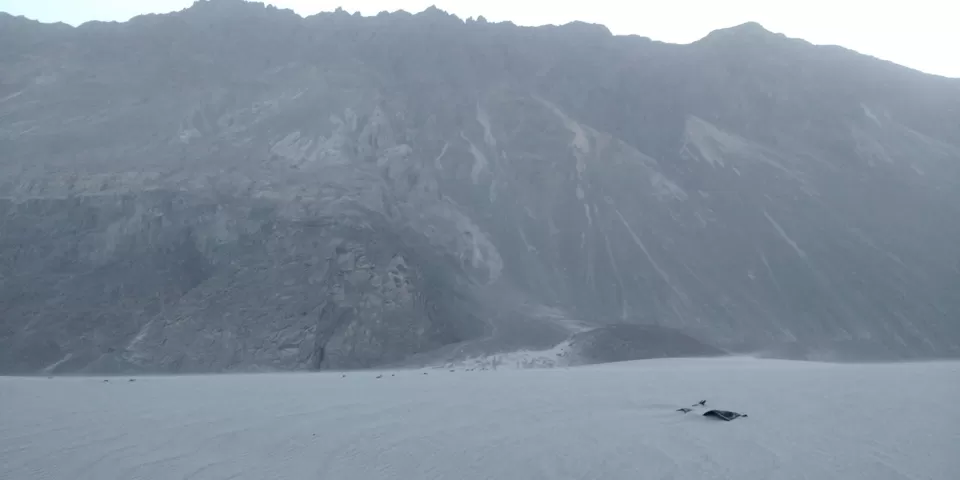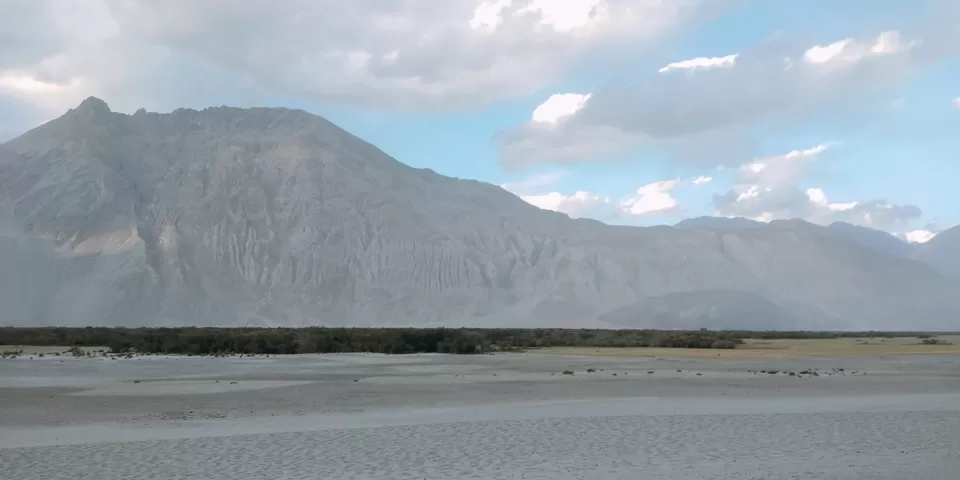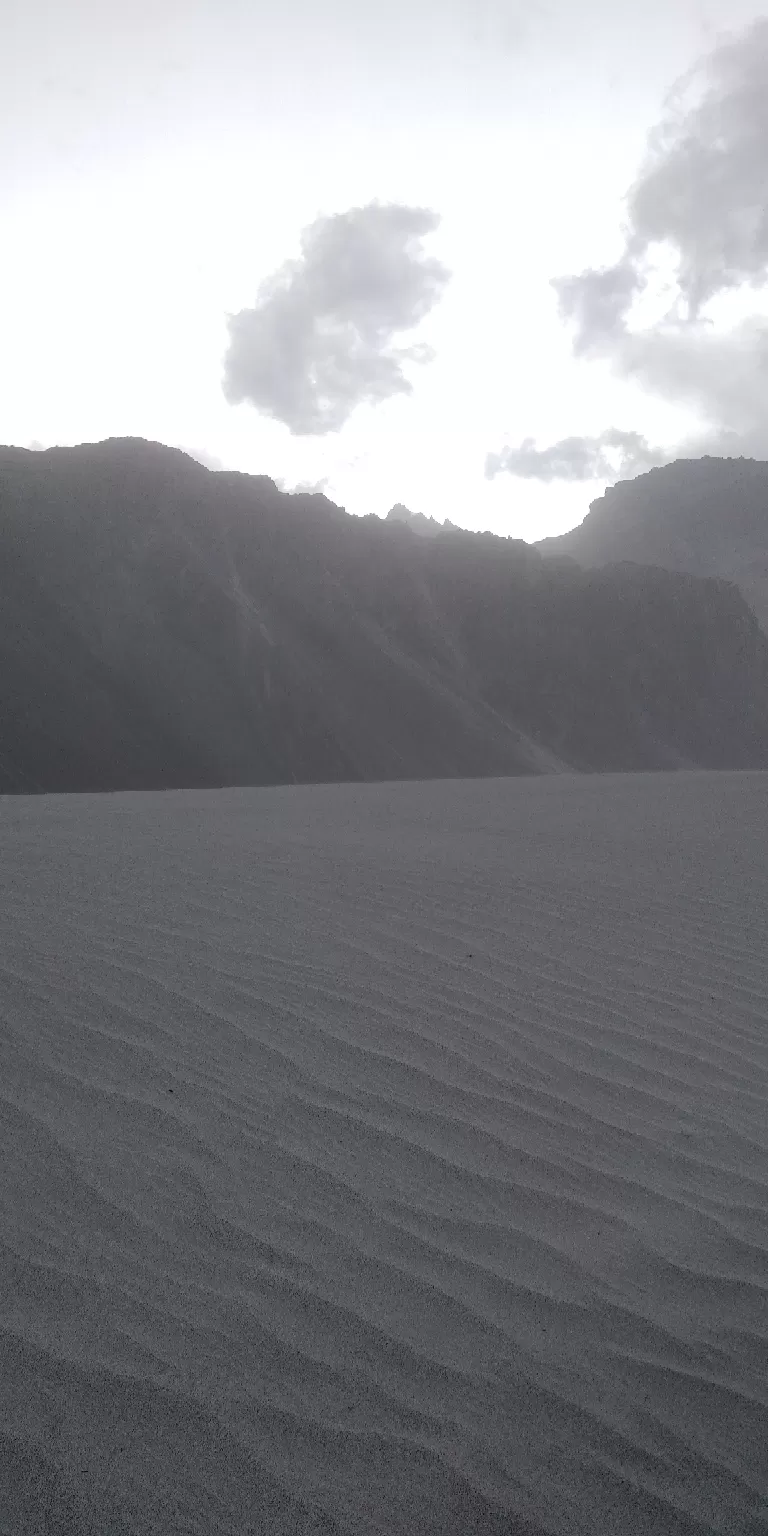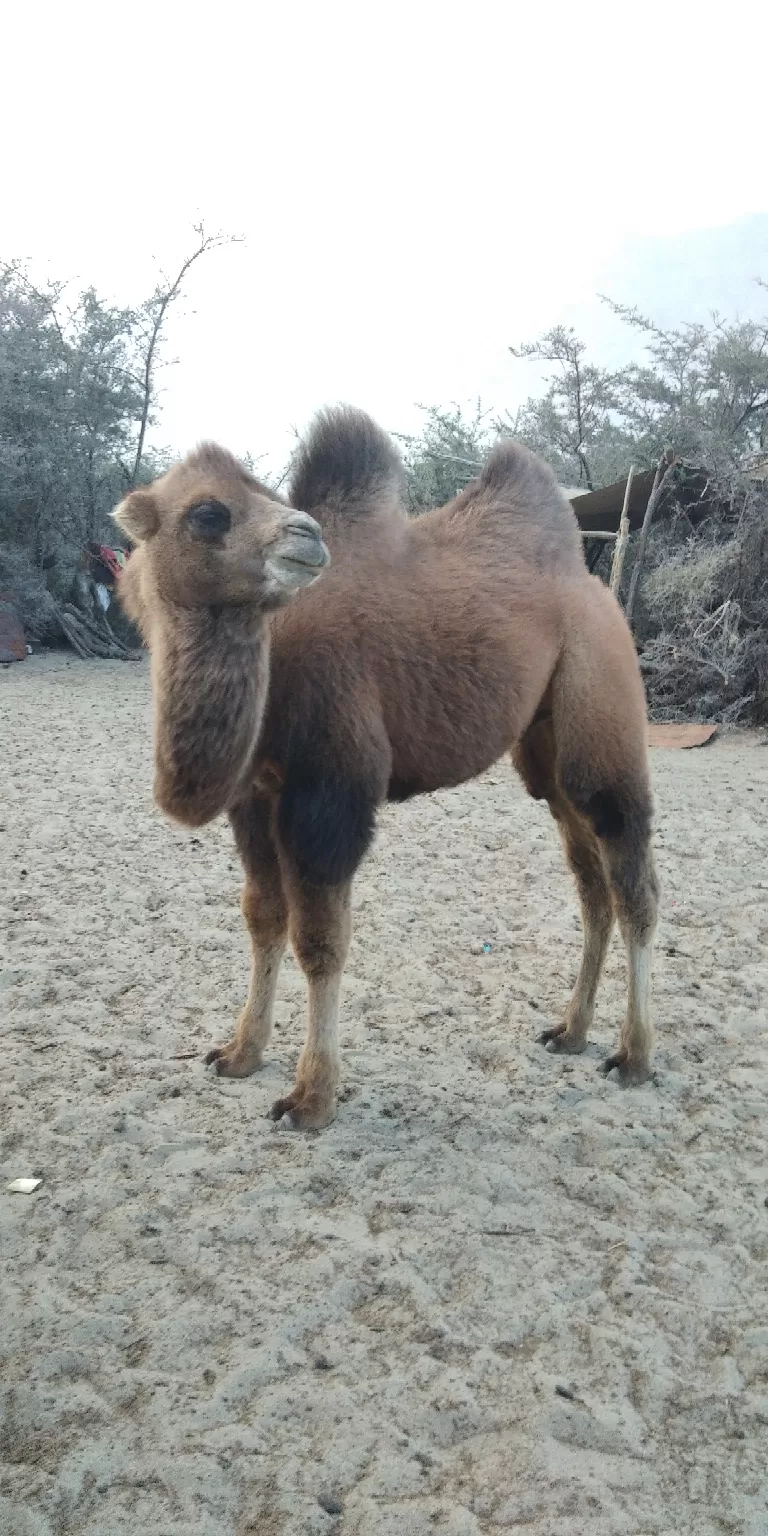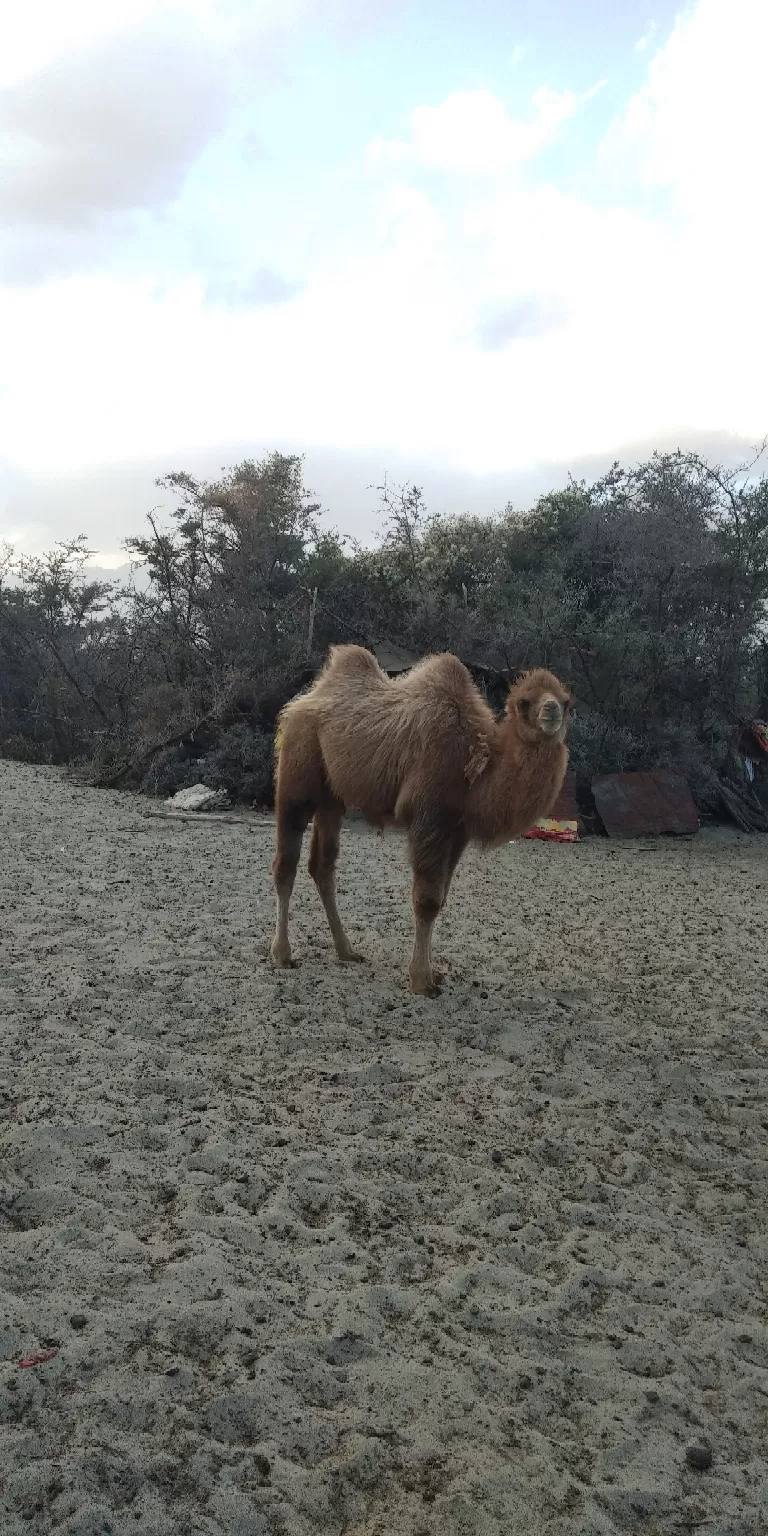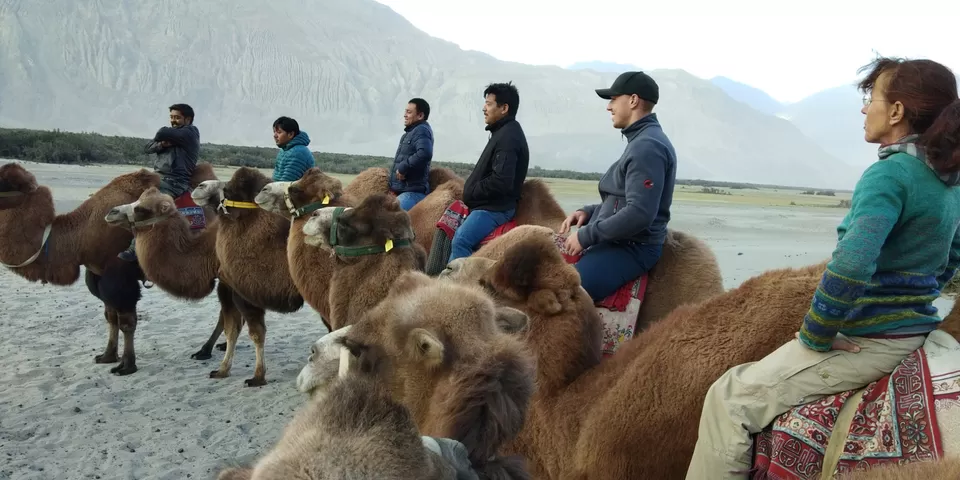 We returned to Diskit for our overnight stay at Hotel Sand Dune owned by an amazing gentleman David.. We spoke to him over the dinner and understood how difficult the life was in that part of the land!! 🙁

We started early for Pangong Lake from Diskit bidding adieu to this beautiful place..
Little did we know what mesmerizing beauty awaited on our journey ahead..
The road from Diskit to Pangong via Shyok was majorly a bumpy ride. On our way we stopped for food at Durbuk and after this place, the landscape changed completely..
We went through the Tangtse village which is also an Army base..
Throughout this way, we had a small snake river flowing with us which also helped paint the picture green on its banks..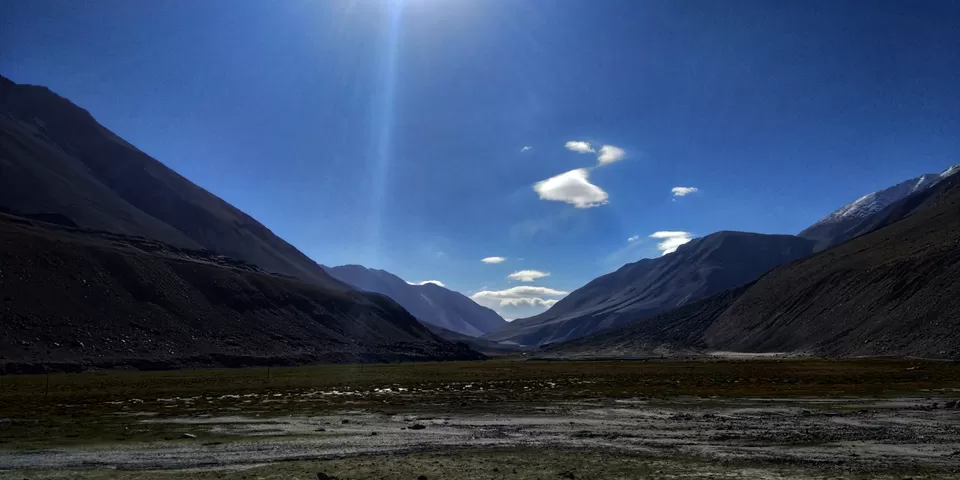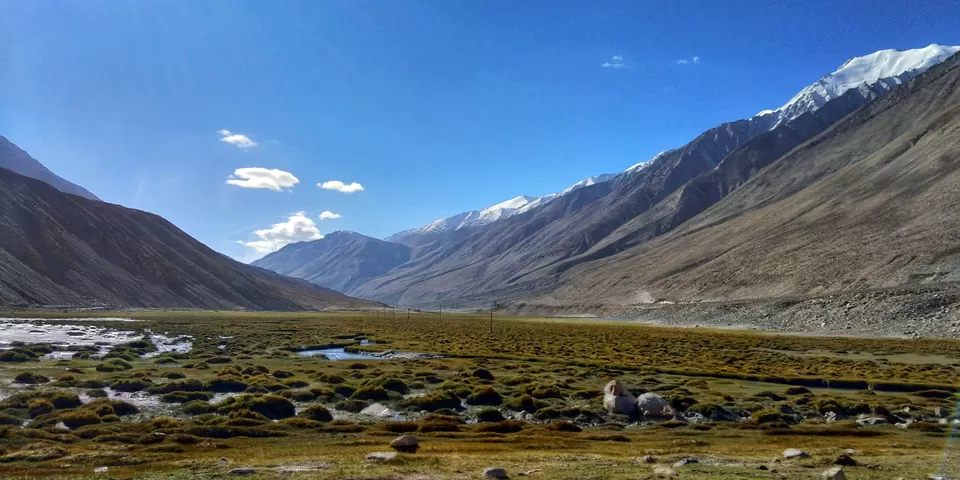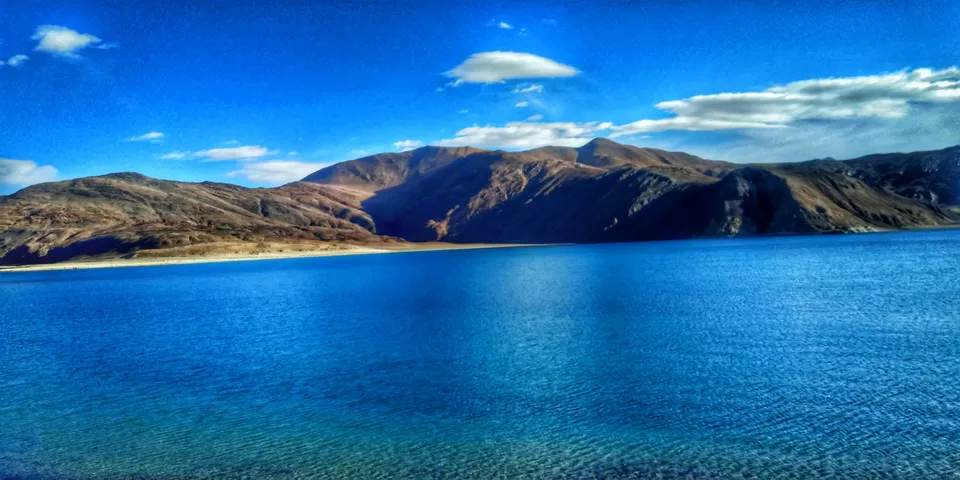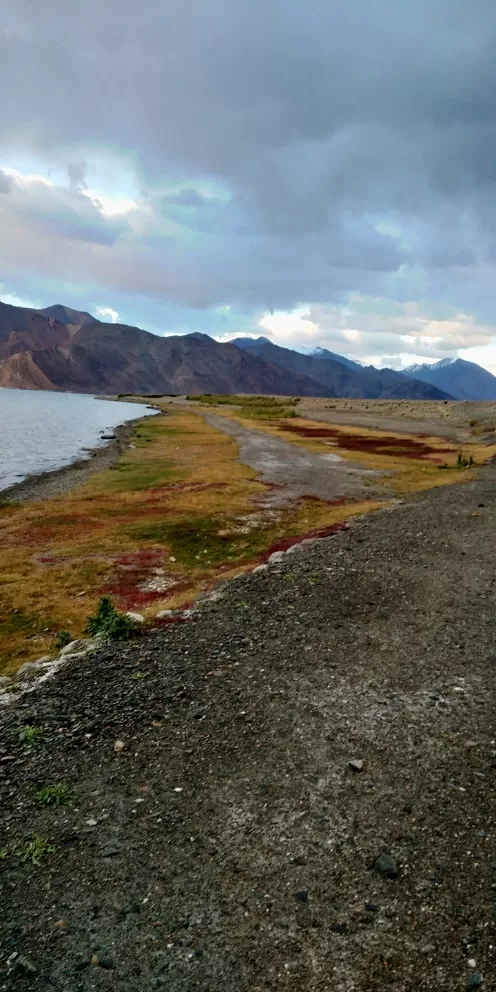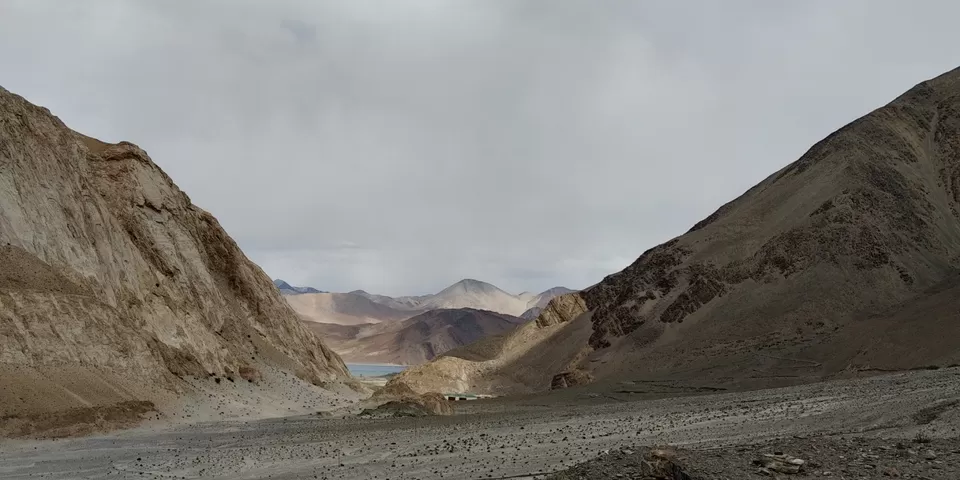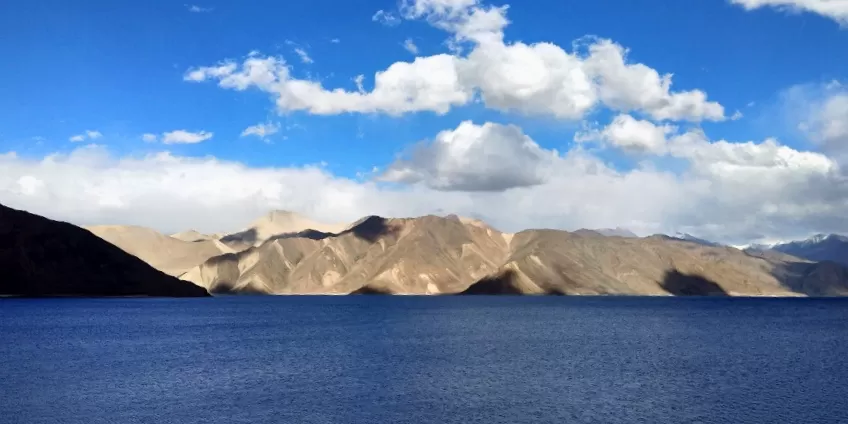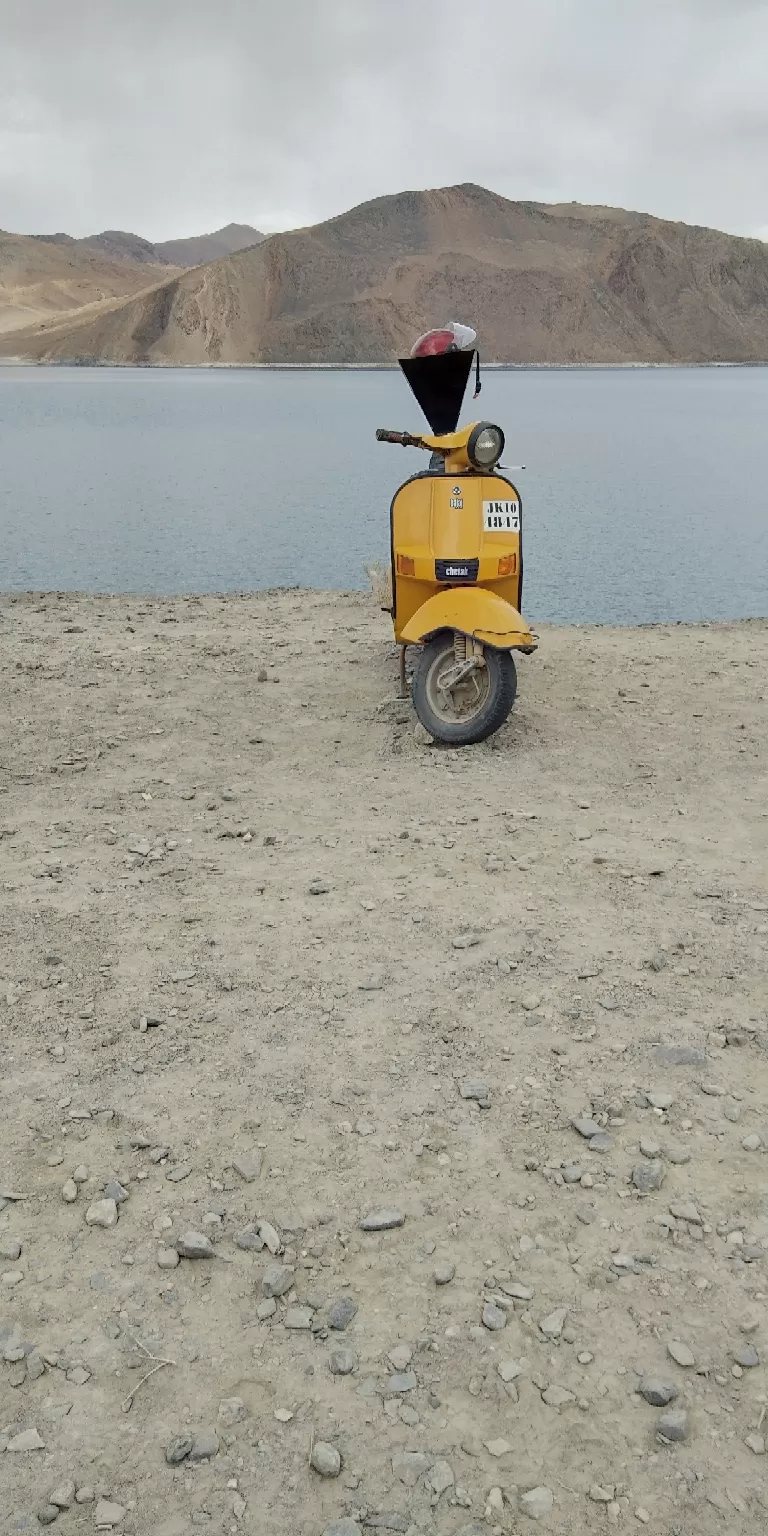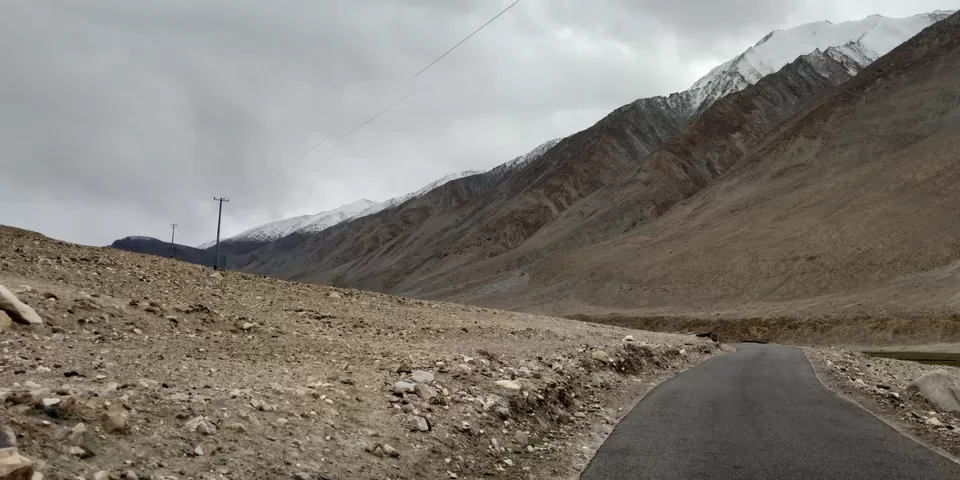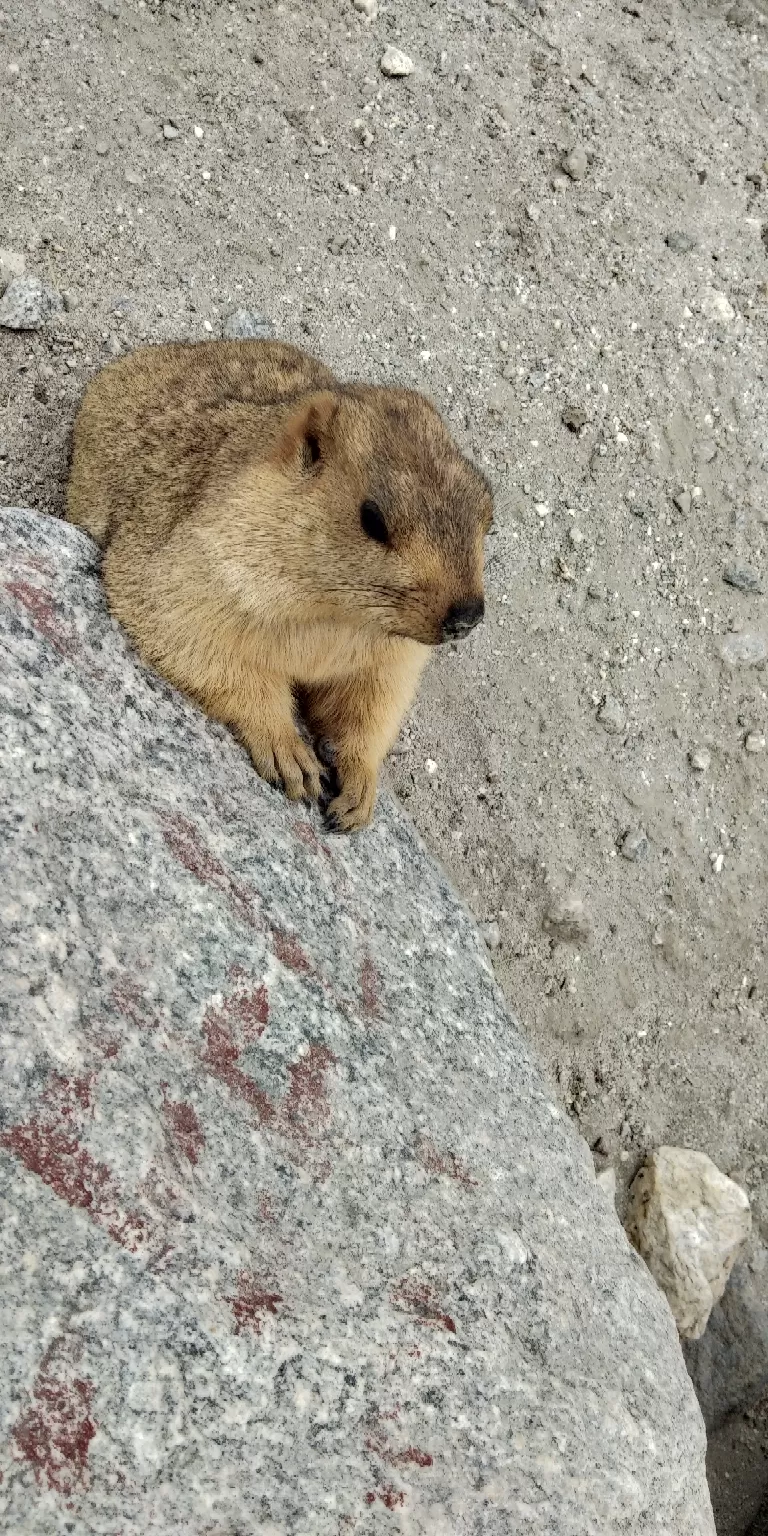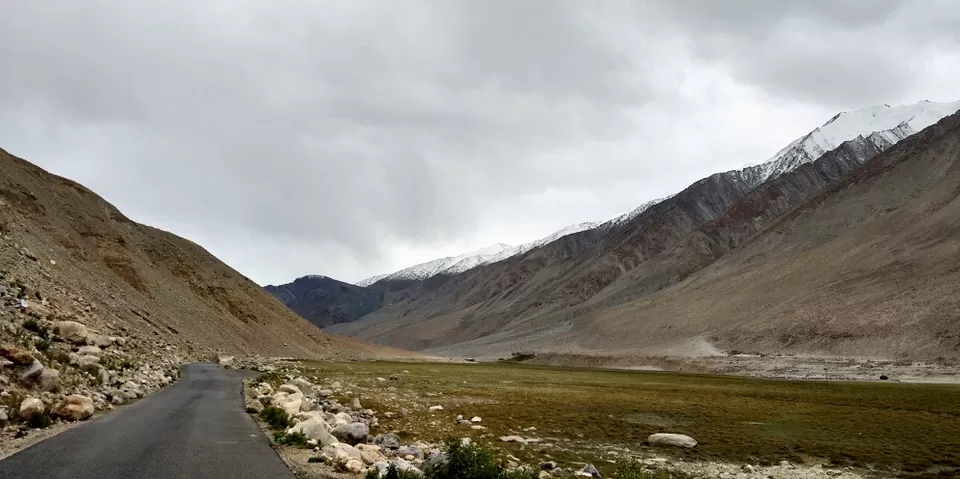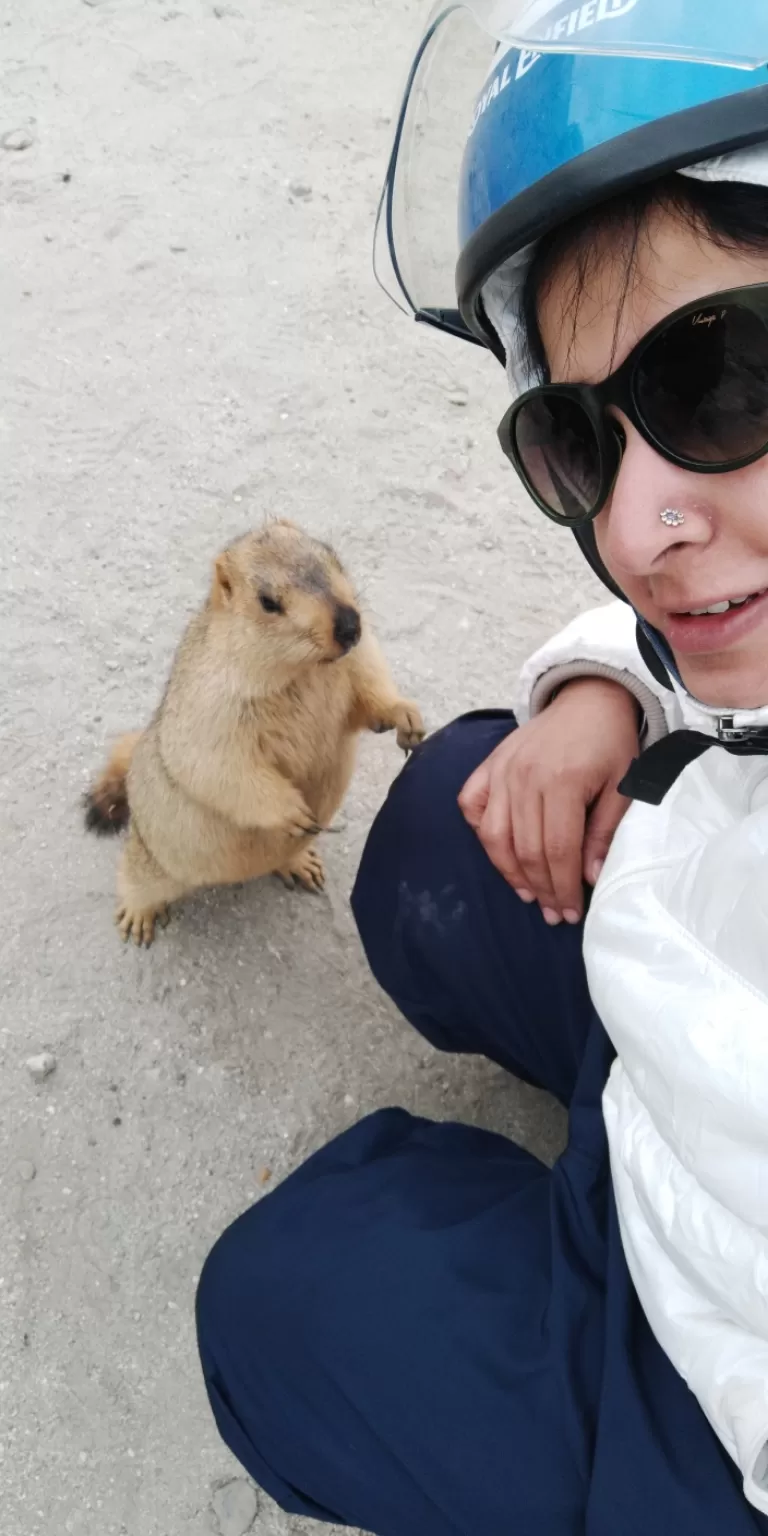 We started early for Leh via Chang La however, stopped mid way for a couple of hours as a local driver asked us to.. He suggested that the water drains/falls will be frozen and the bike will slip, hence it was a better idea to delay than get stuck or hurt..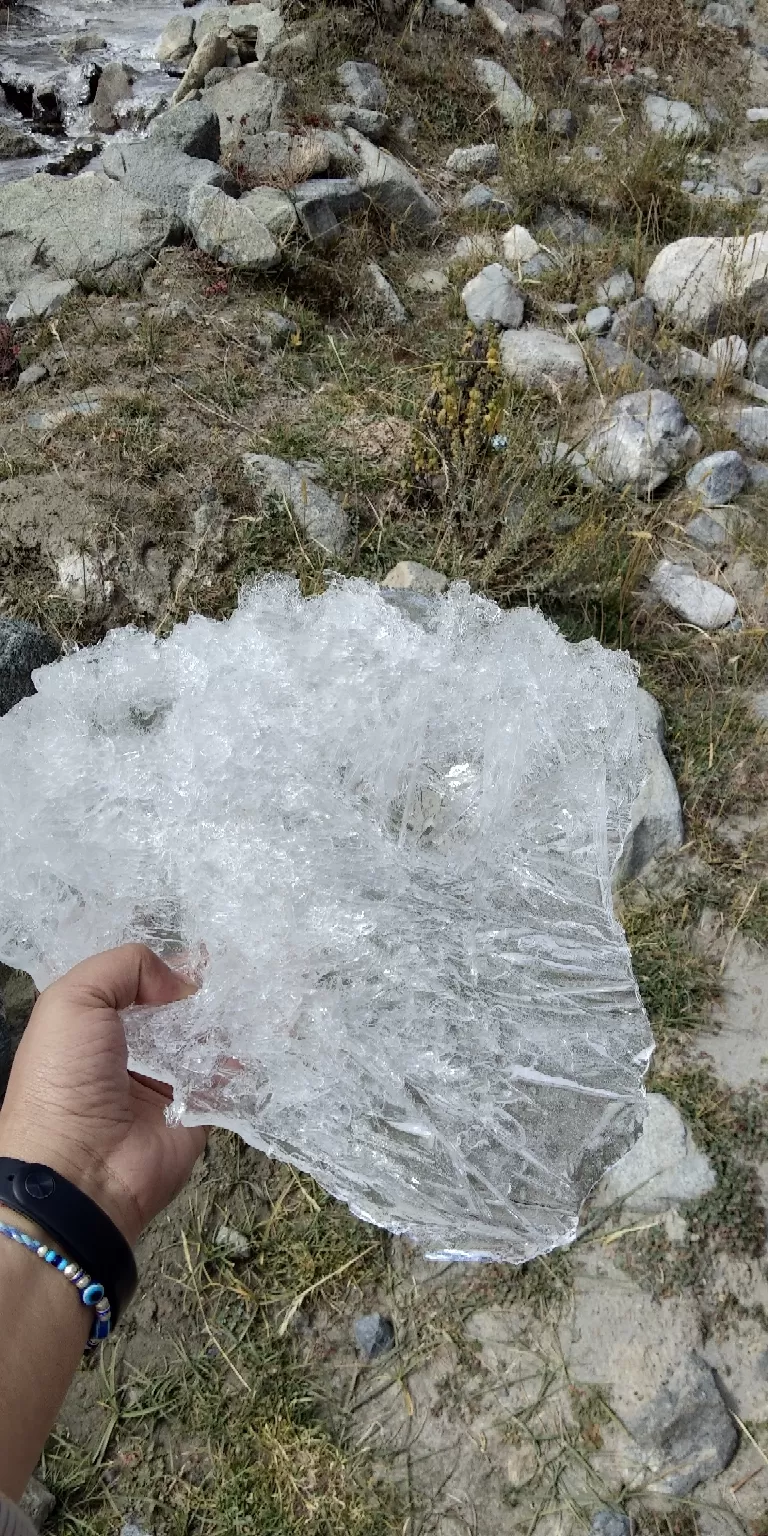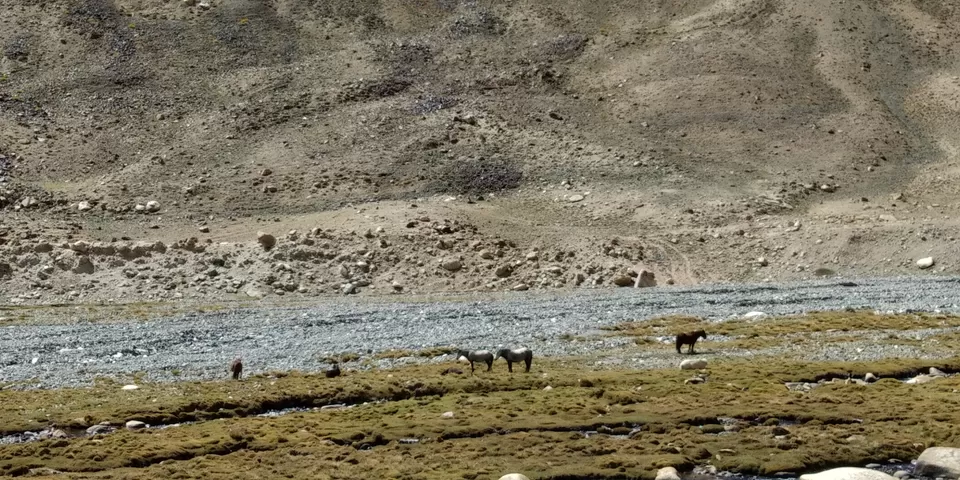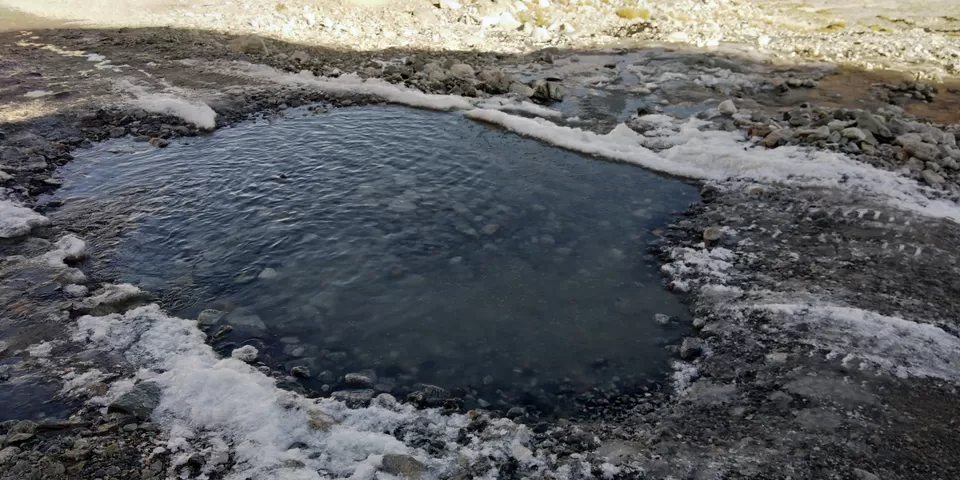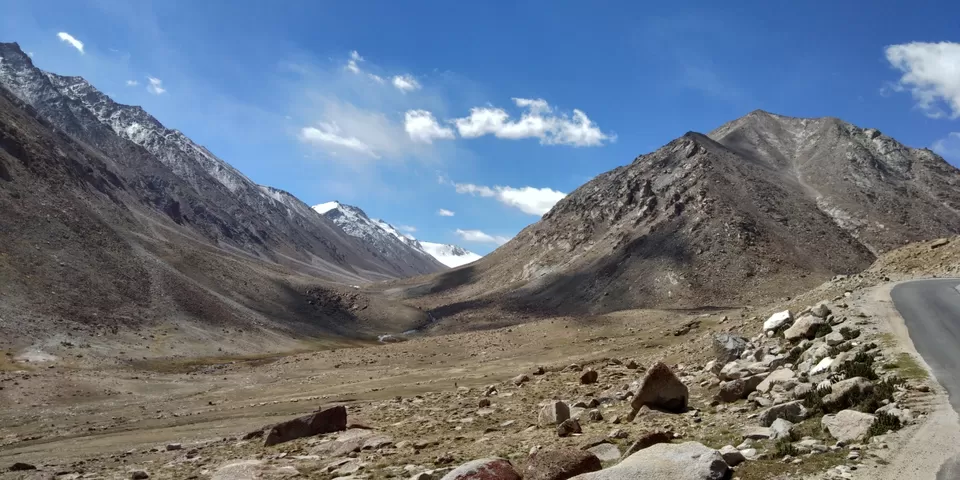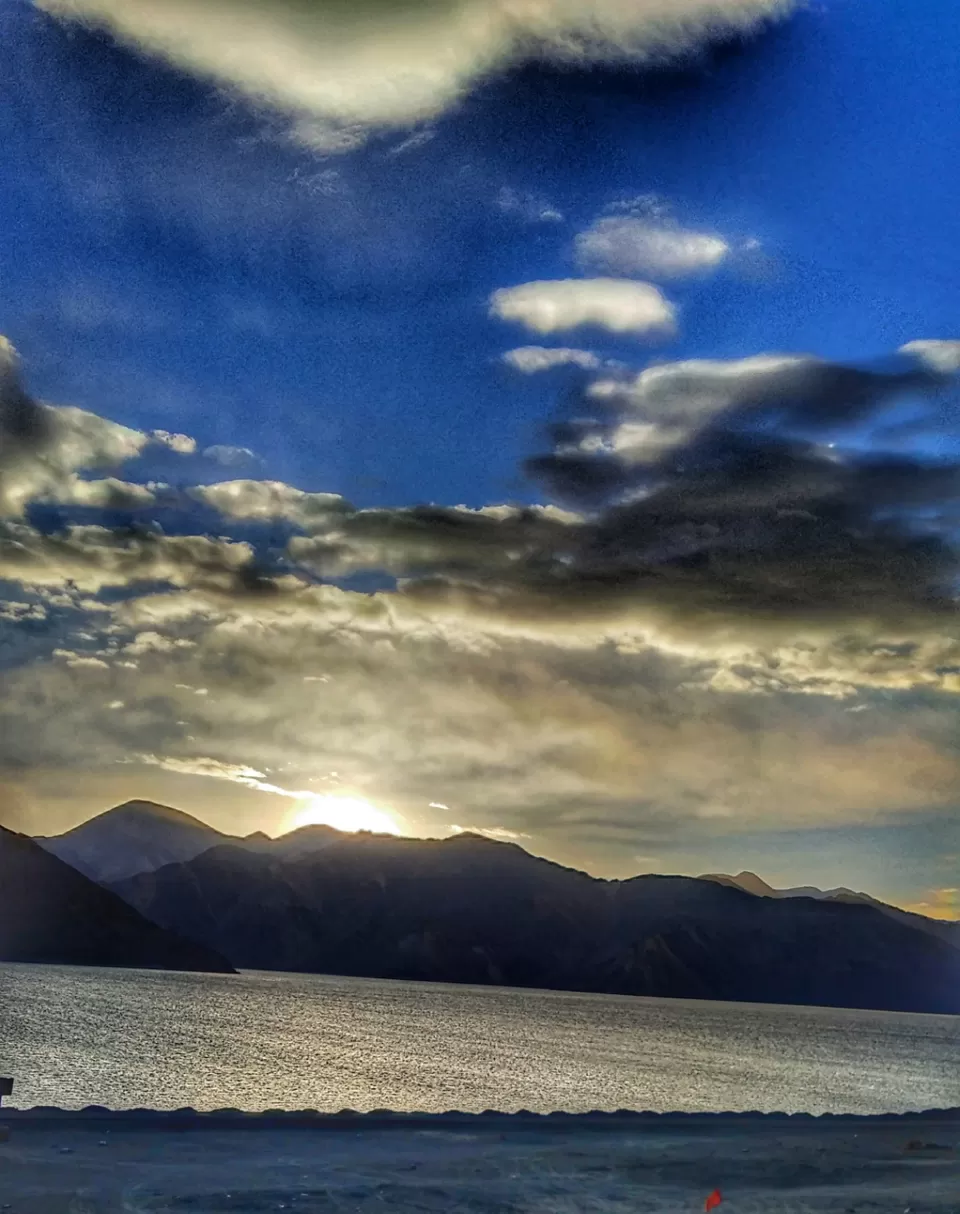 The road to Chang La was way more cold and difficult than road to Khardung la.. Hands and nose were completely frozen and with scarce oxygen making it nauseating..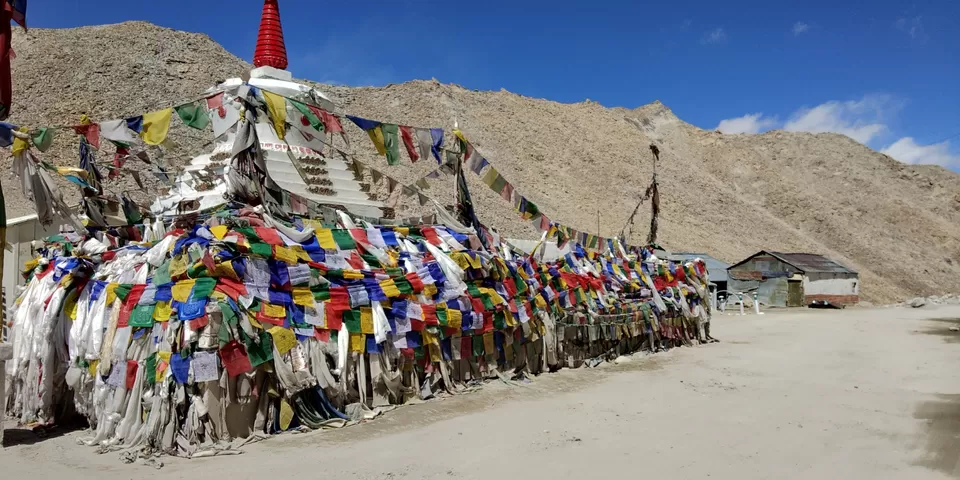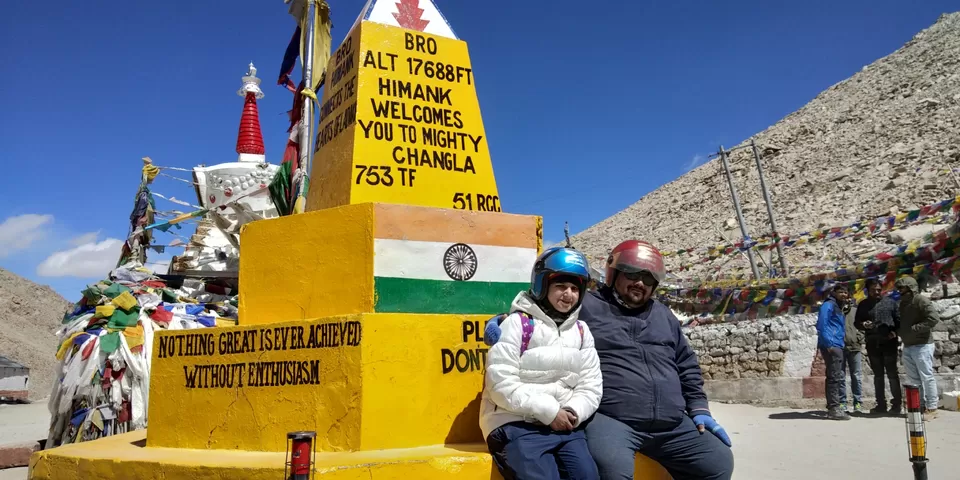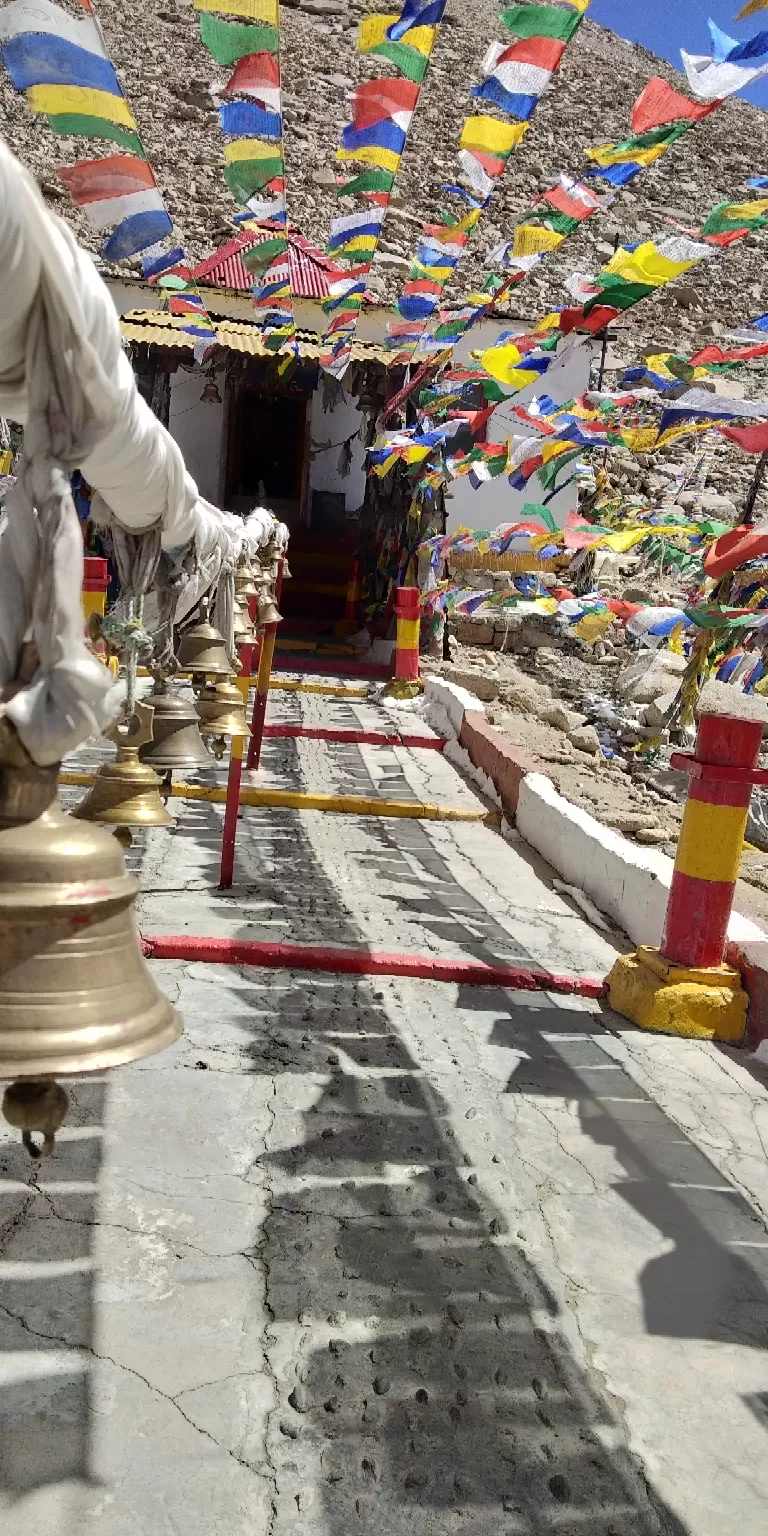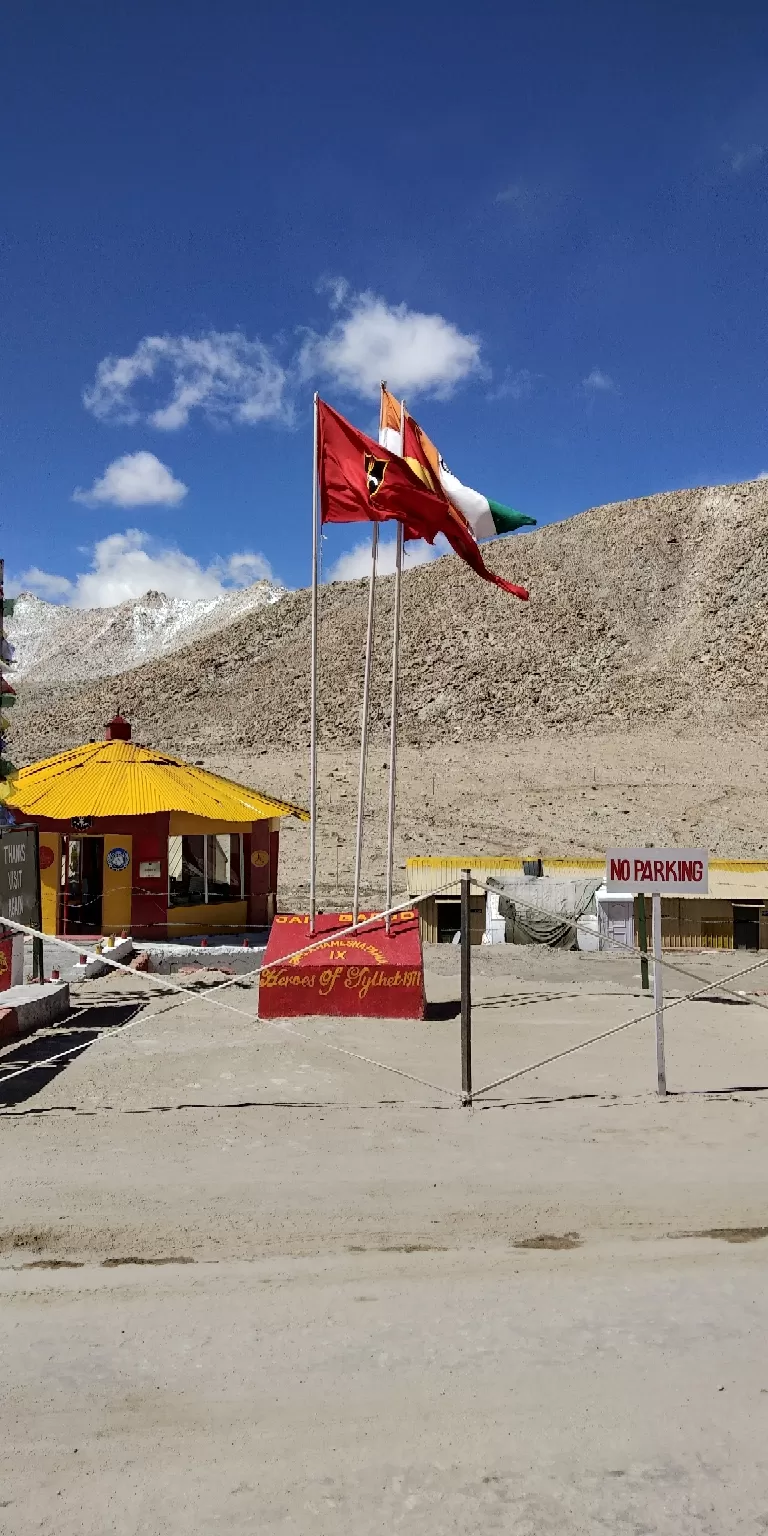 Coming down from Chang La was a herculean task as the air was freezing cold and there were literally no roads.. Off road is a more appropriate term here.. With icicles on the way, and Himalayan range at a distance, the road was at least picturesque!!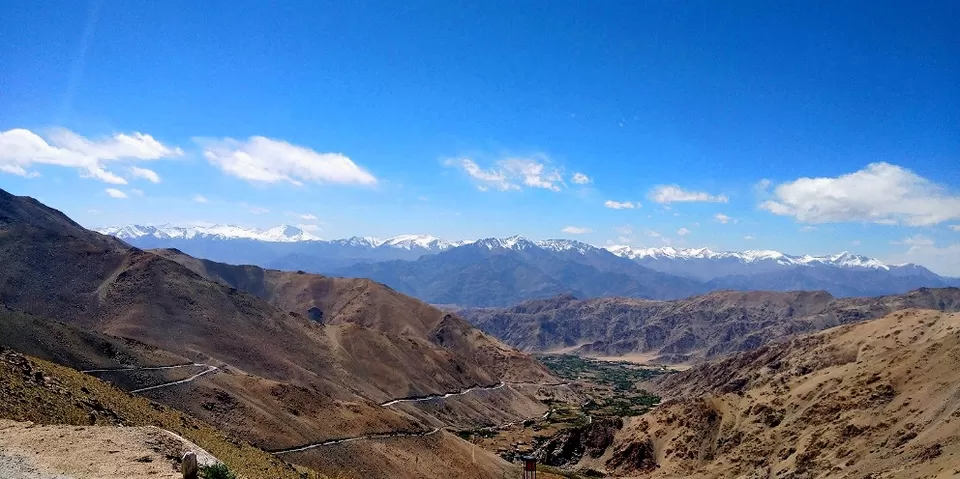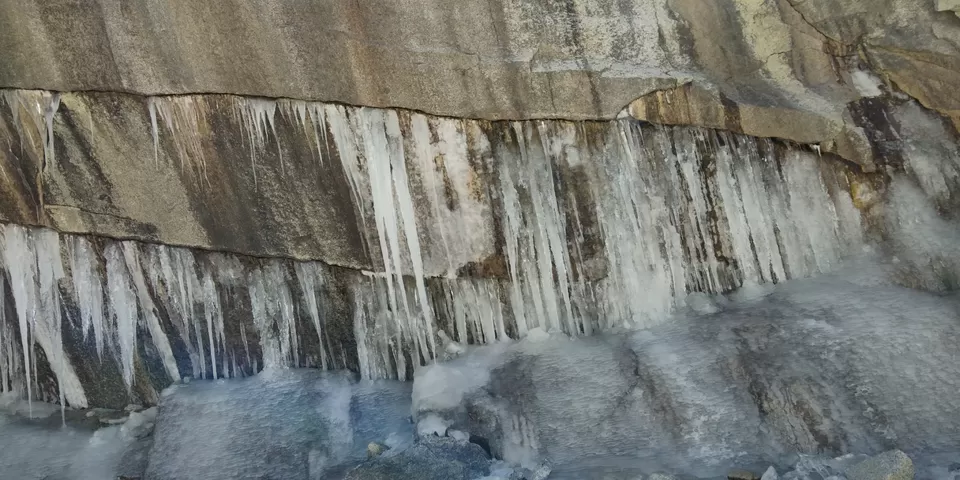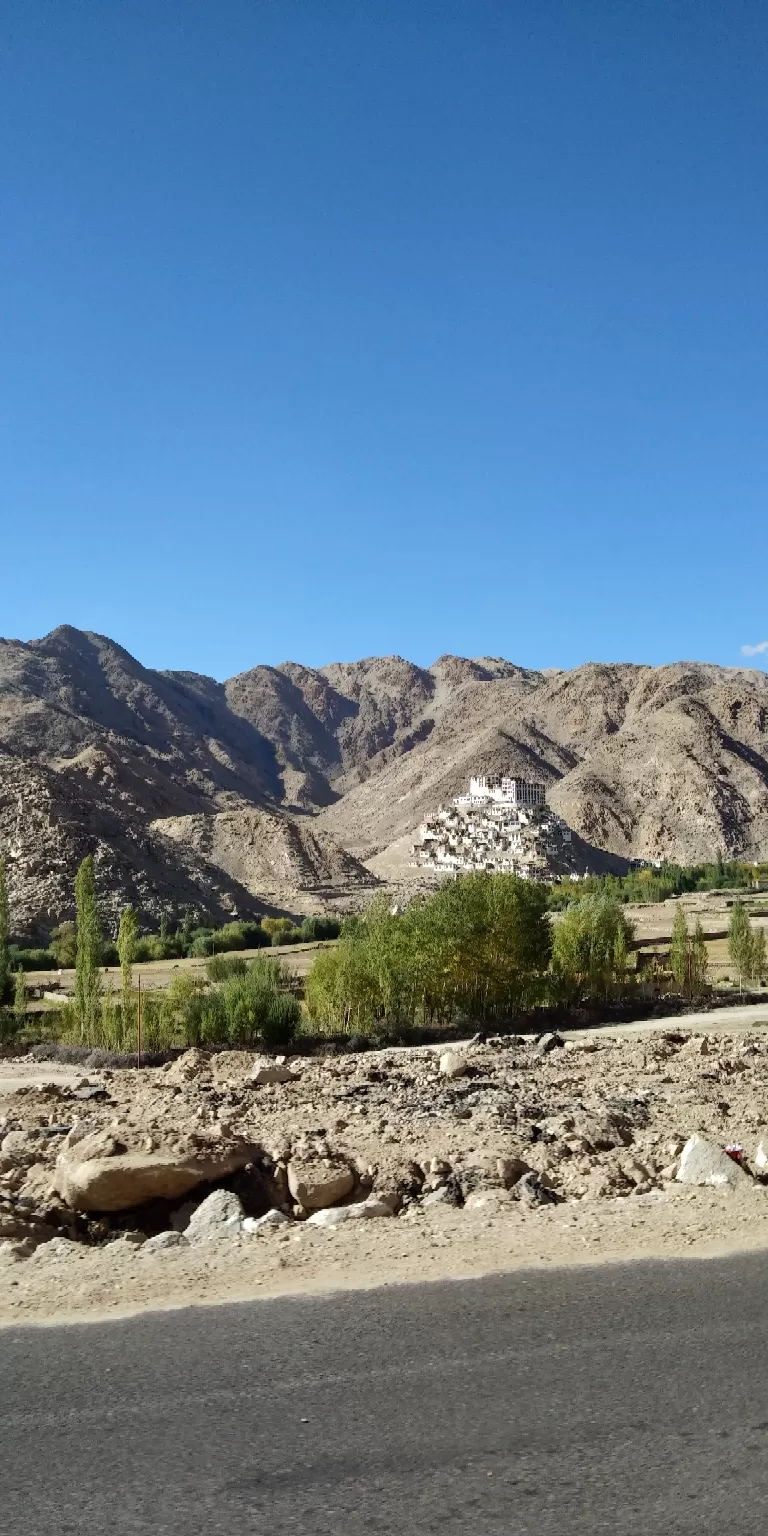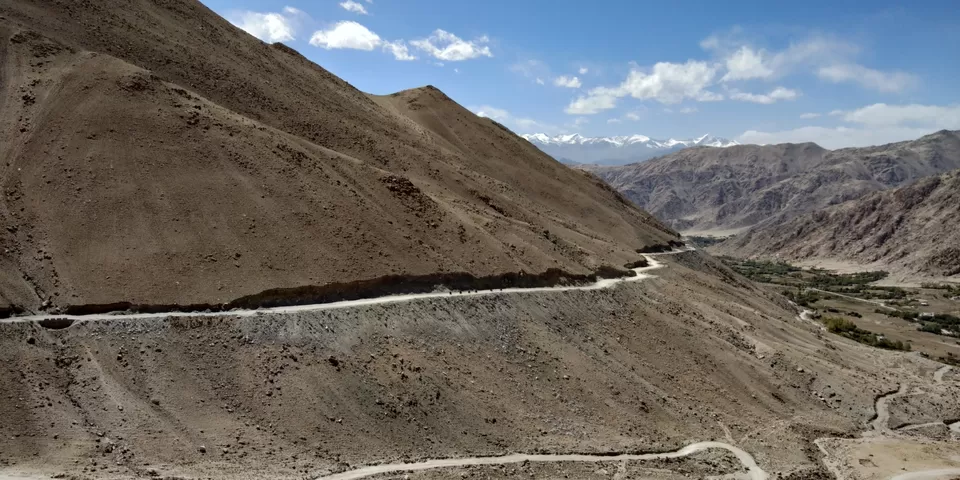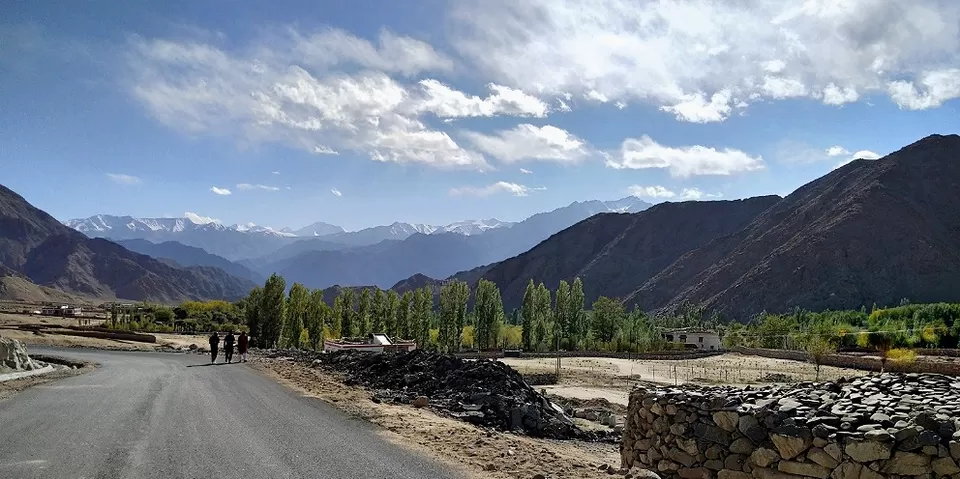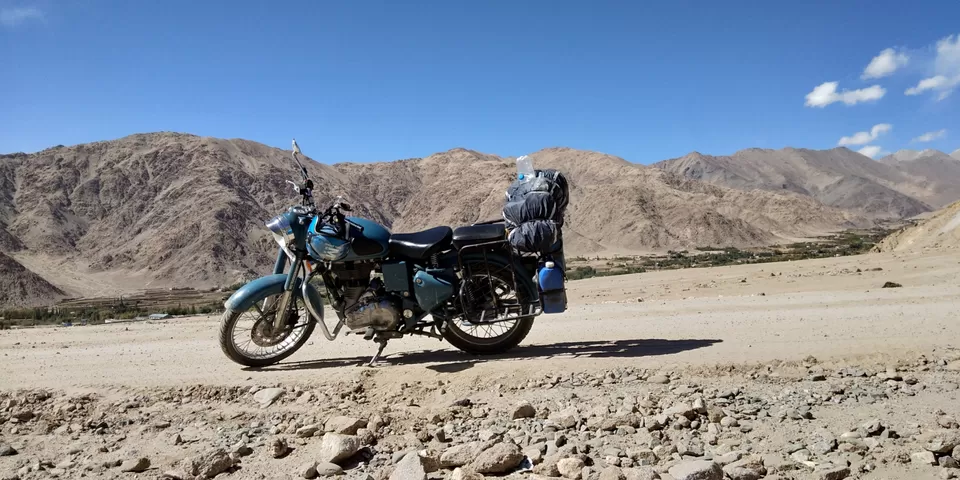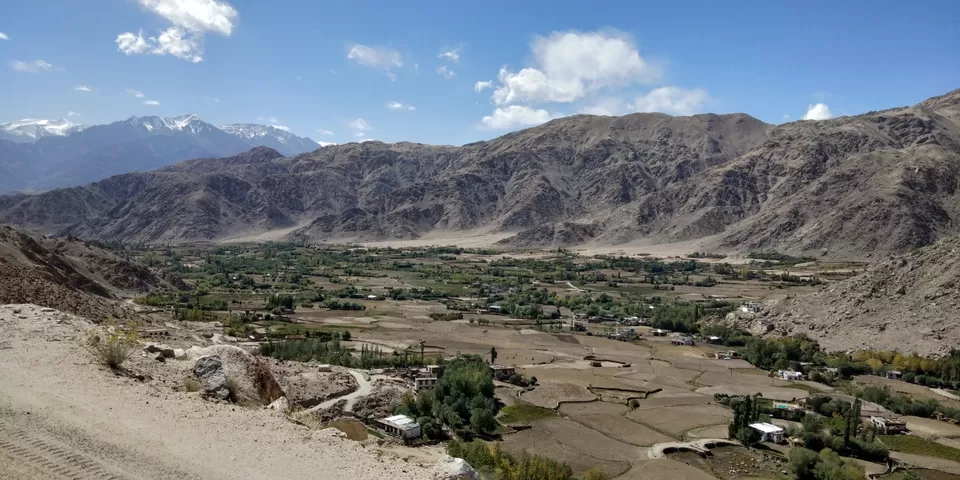 On way back we stopped at Hemis Monastry at Karu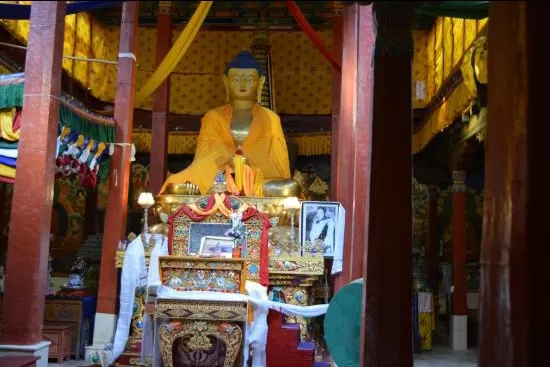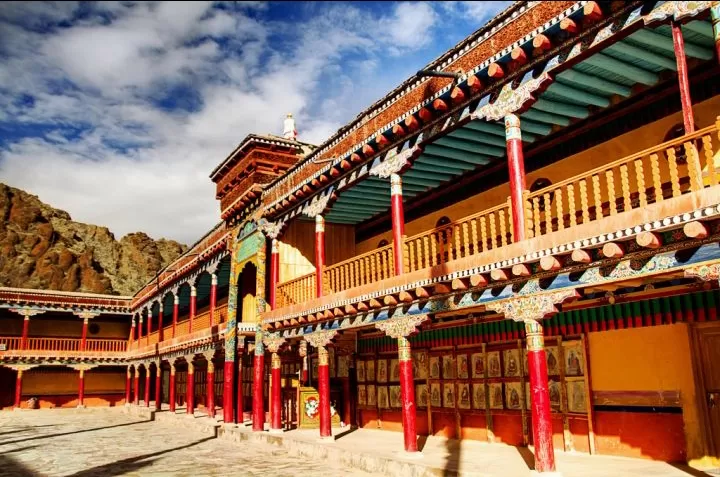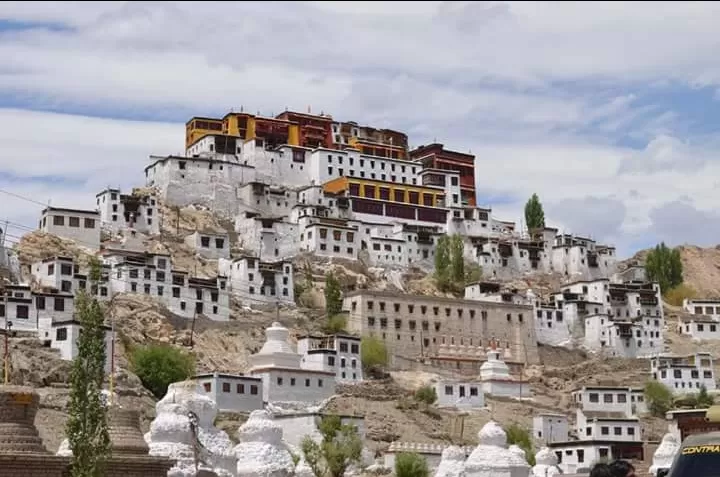 We finally reached Leh via Karu around 6 and called it a day!!
We spent the morning in bed, recovering from the 3 day bike ride and had brunch at our favorite Gesmo Restaurant..
Later visited Leh Palace which is now in rumbles and falling apart..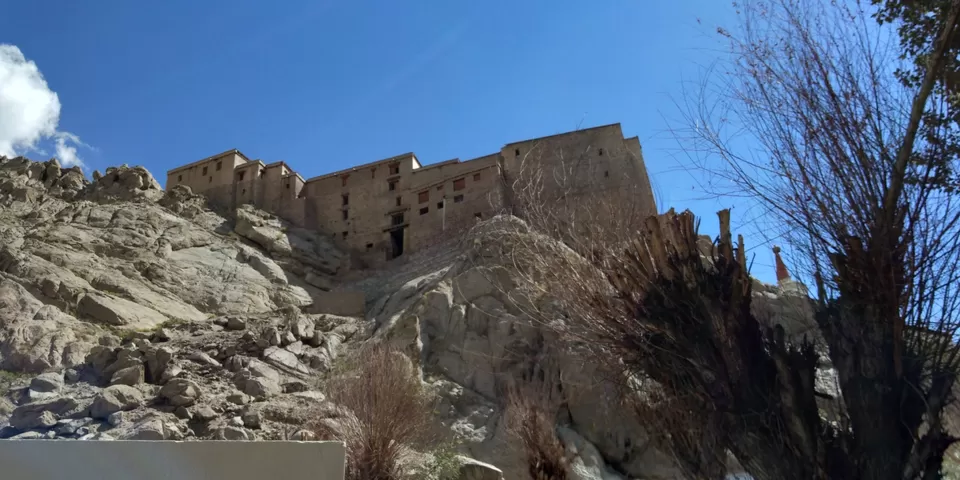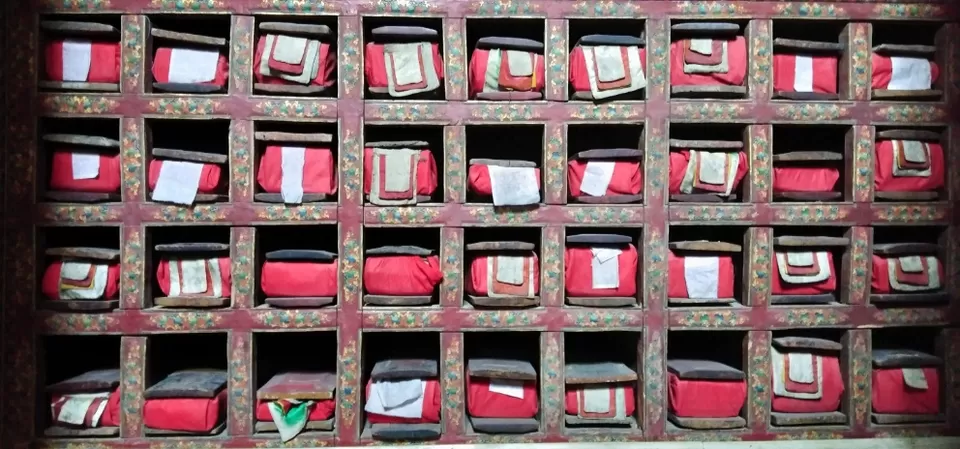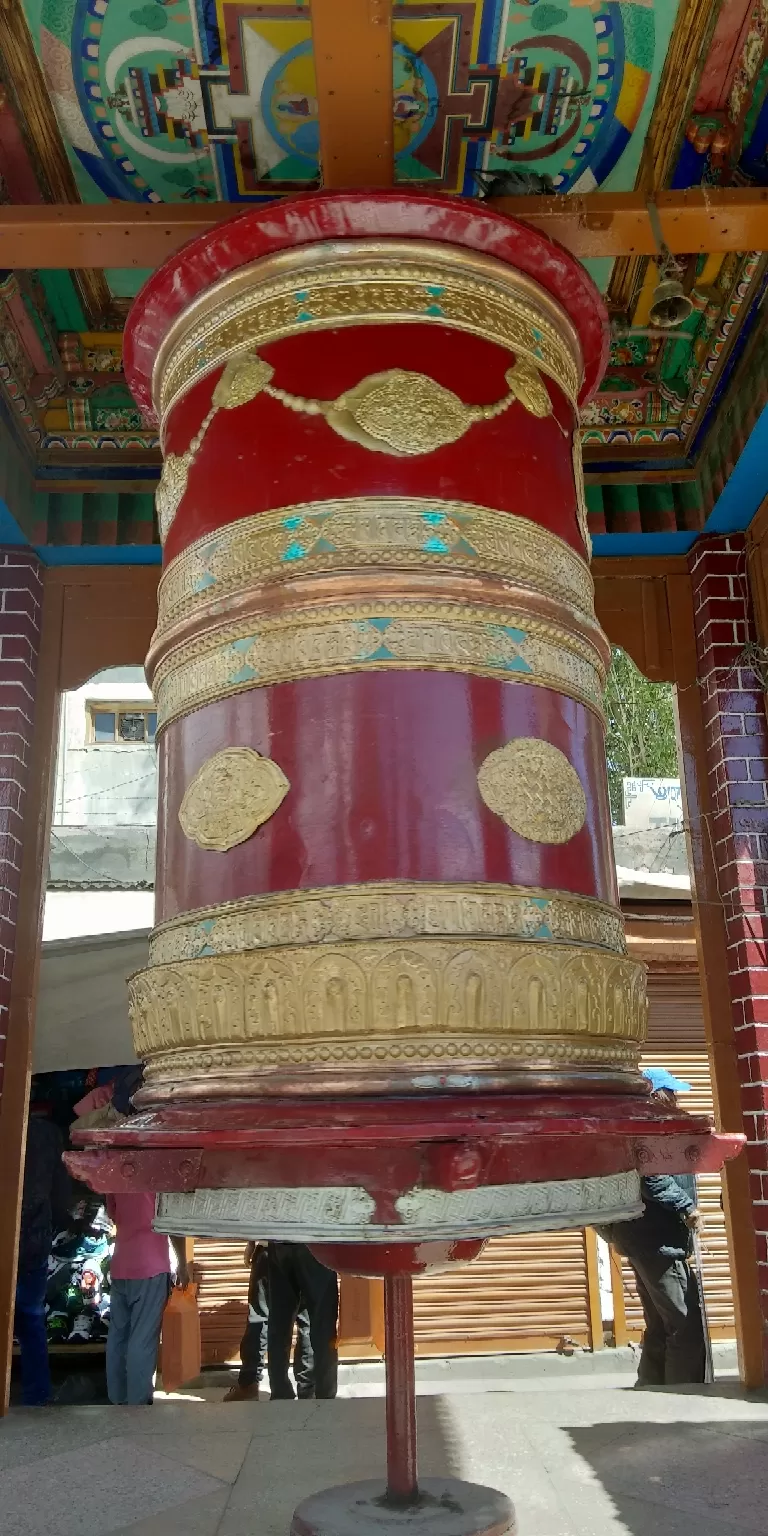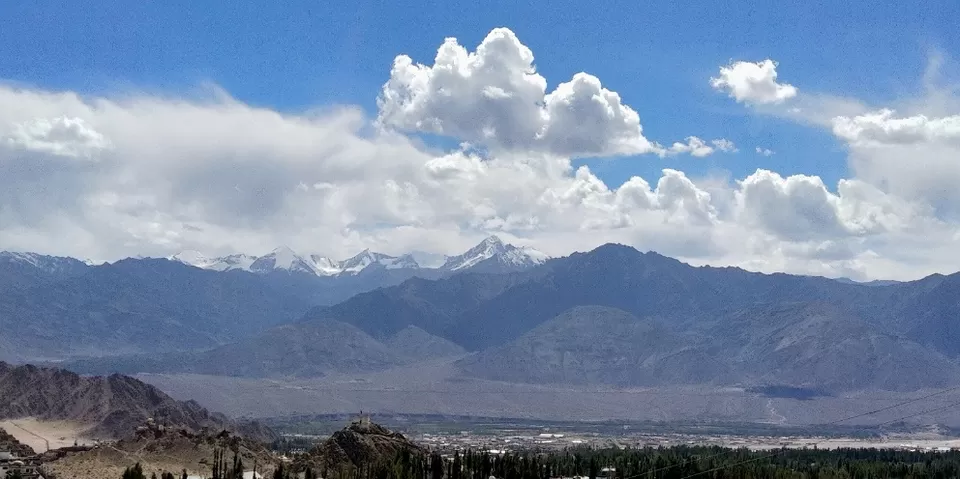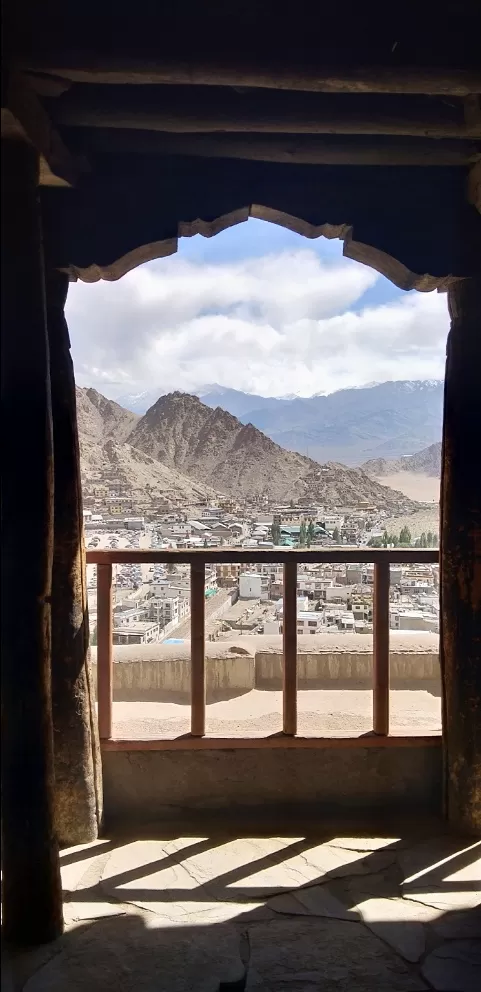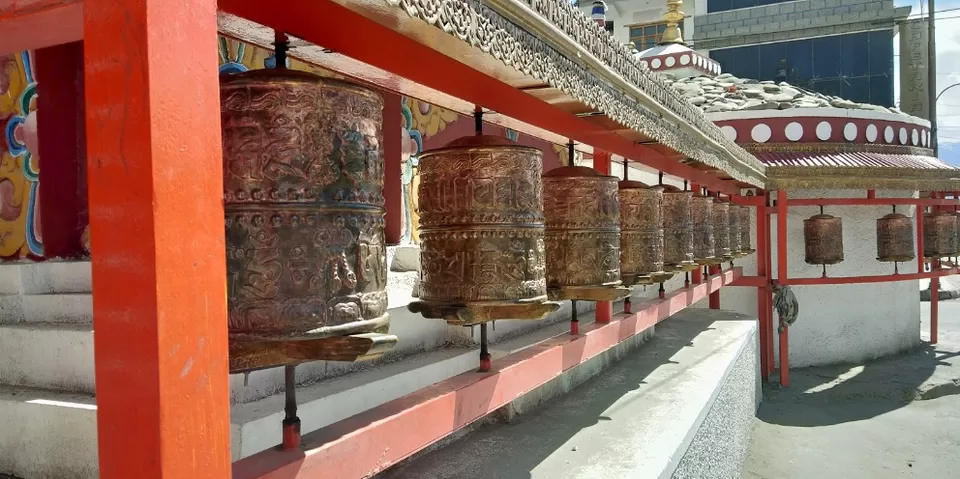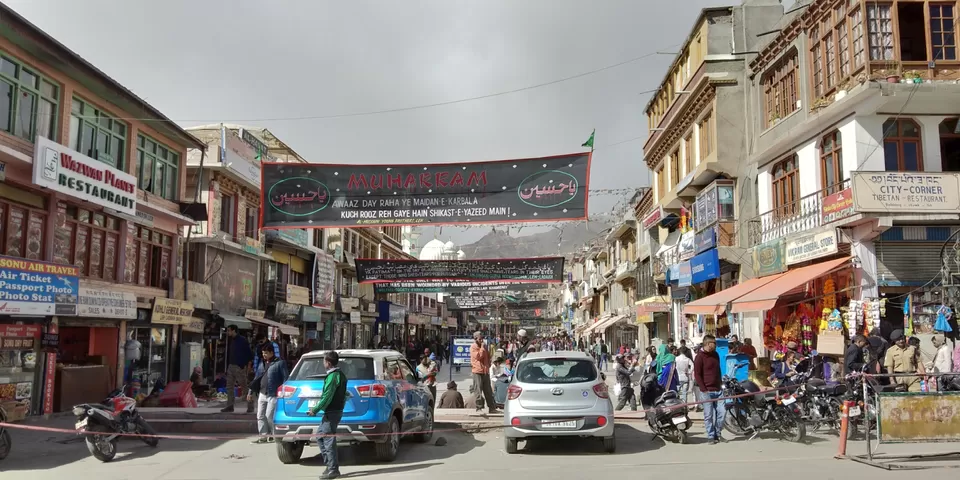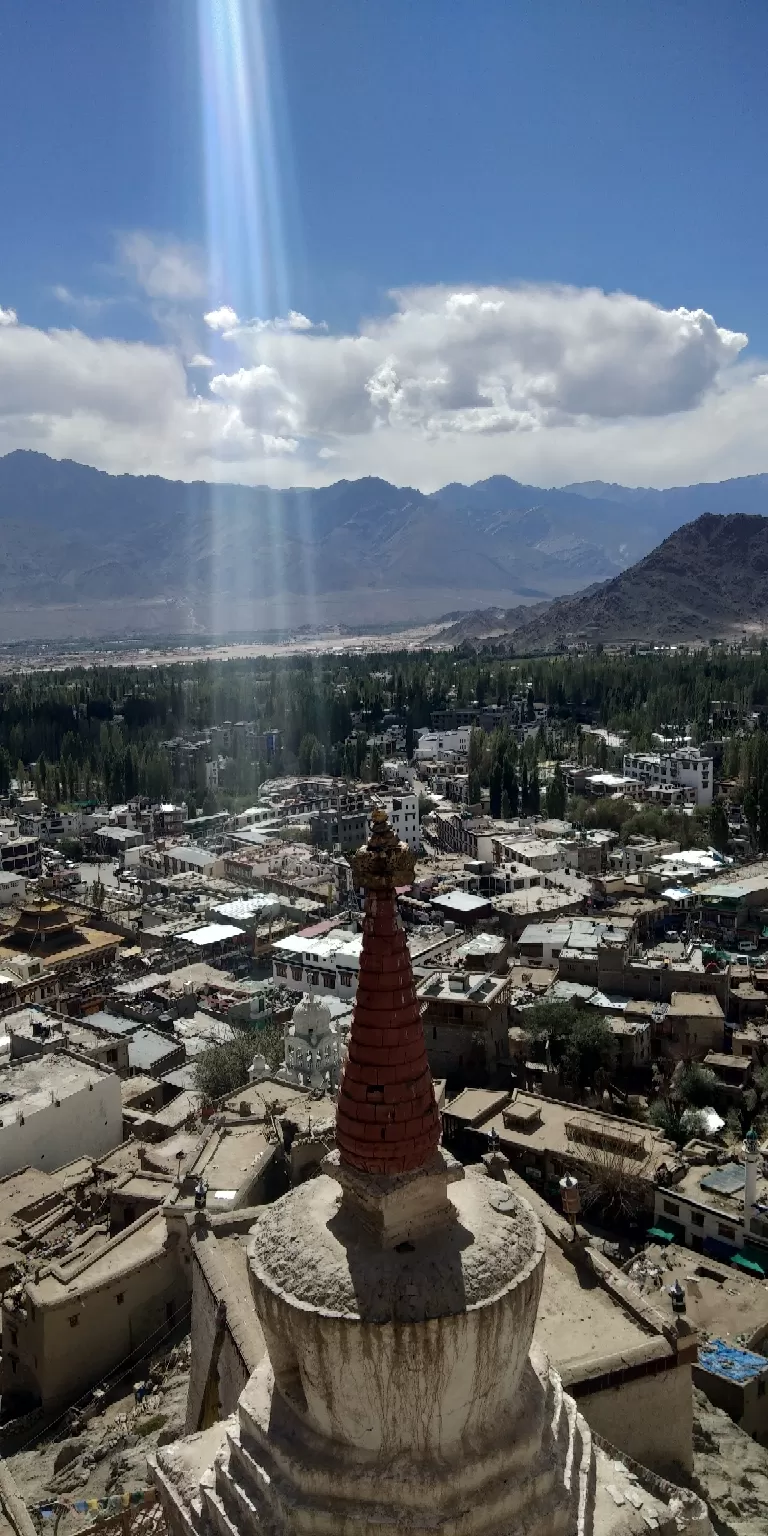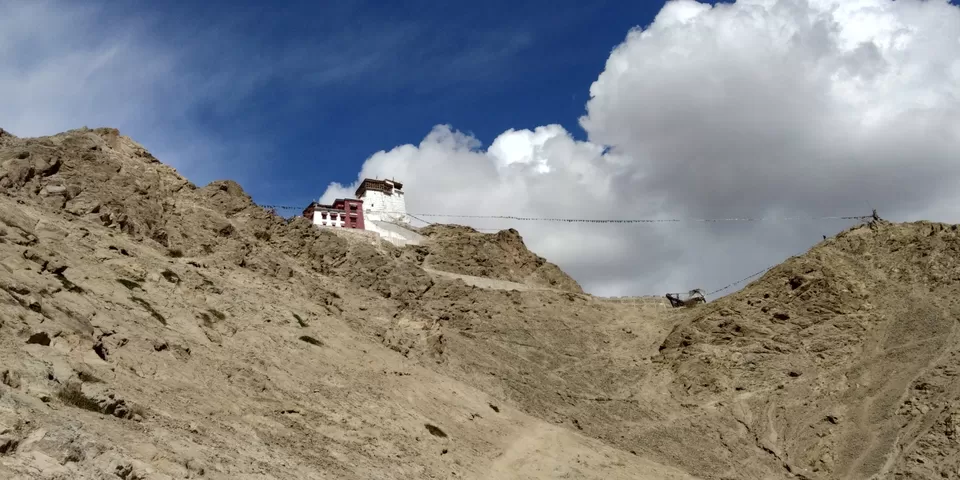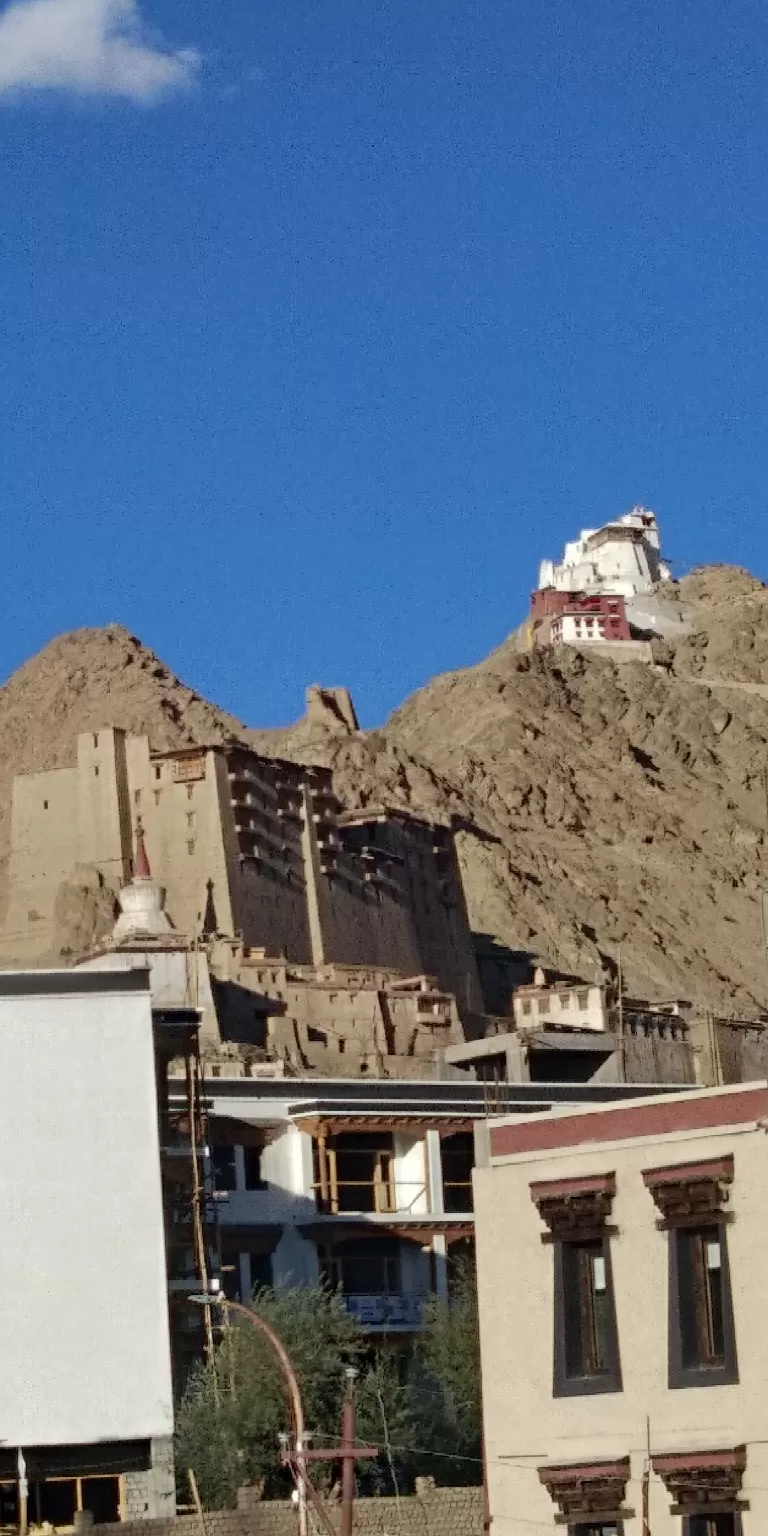 Later we had a relaxed evening at our hotel at a temperature of -1 and packed our stuff for morning flight next day..
Had breakfast at around 8 and left for Airport.. Bidding Adieu to this heavenly place.. Only to return again..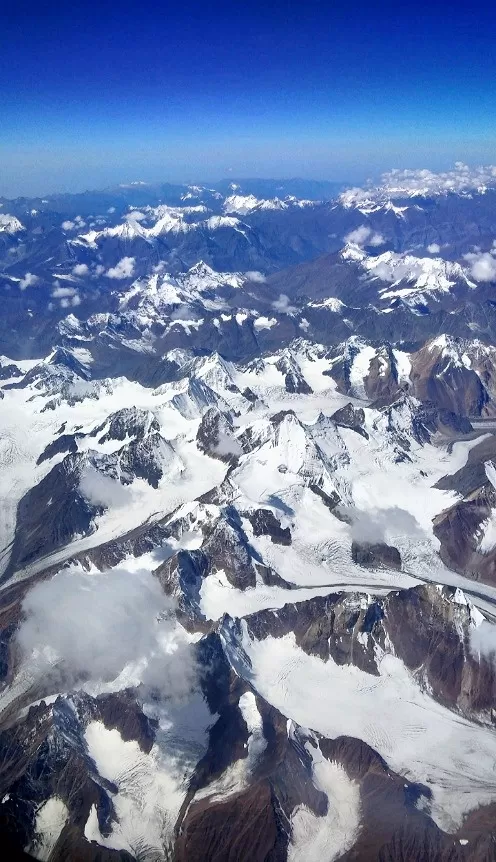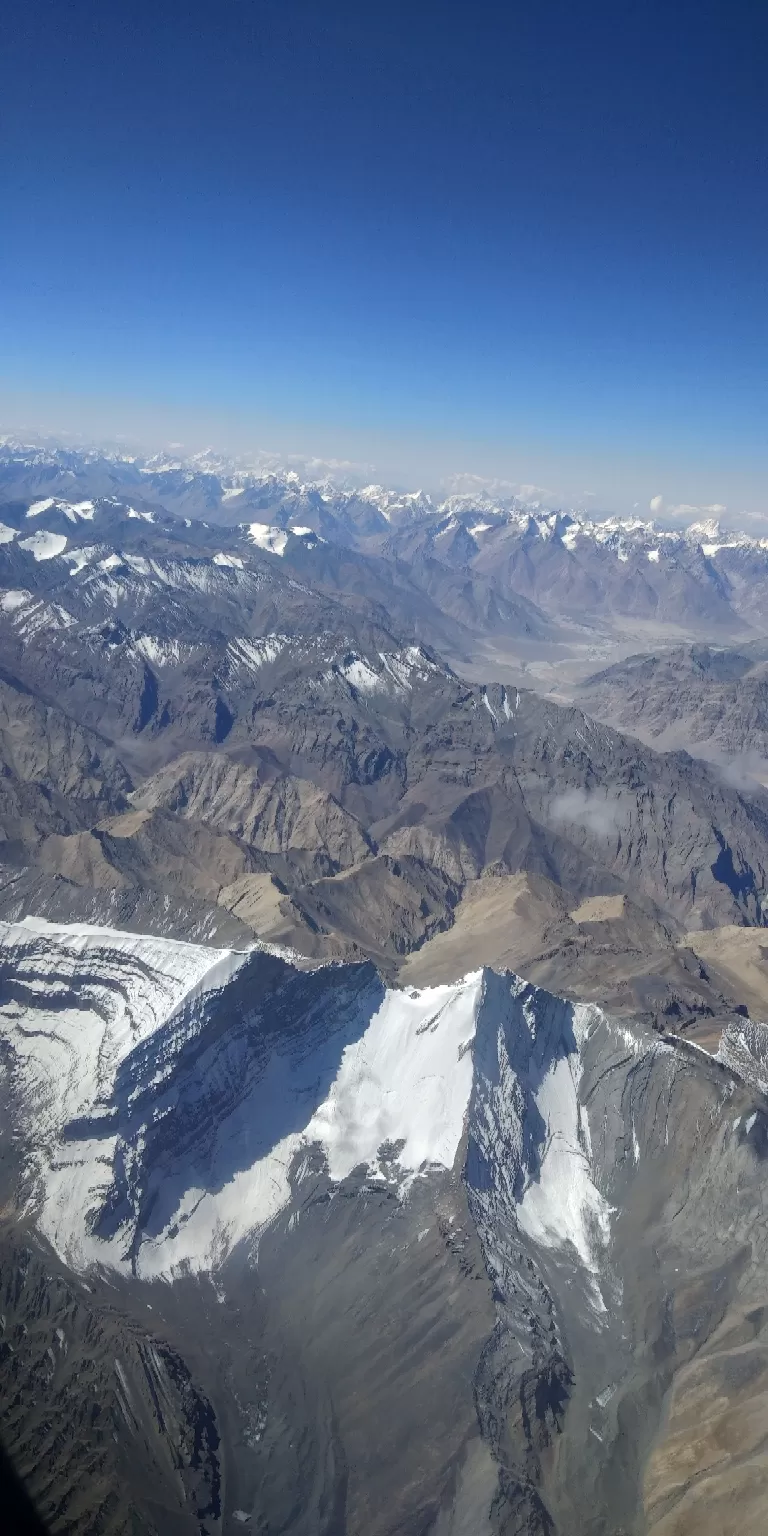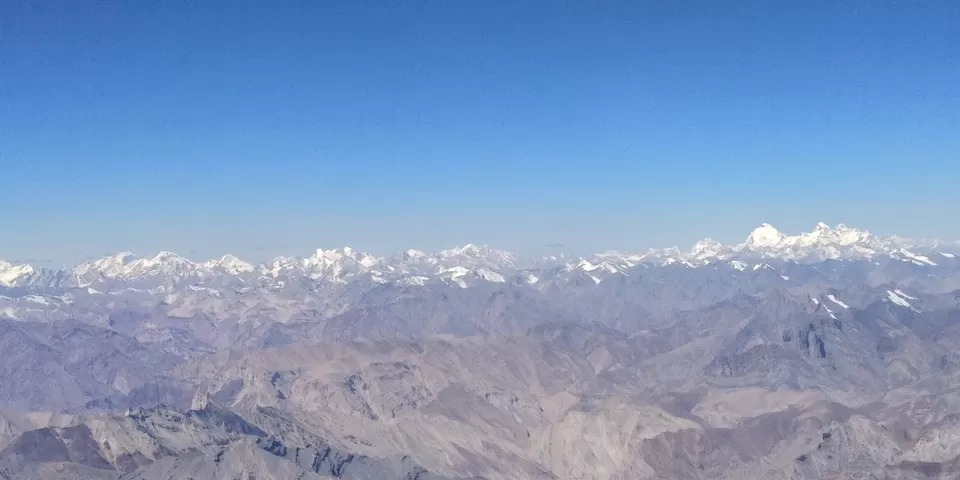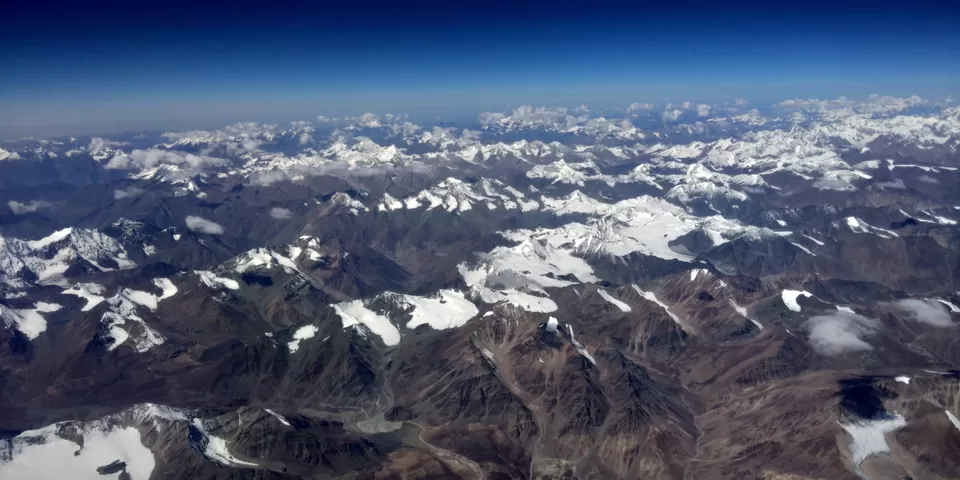 And the fresh snowfall over Leh and Himachal added to the beauty of my picture collection!!