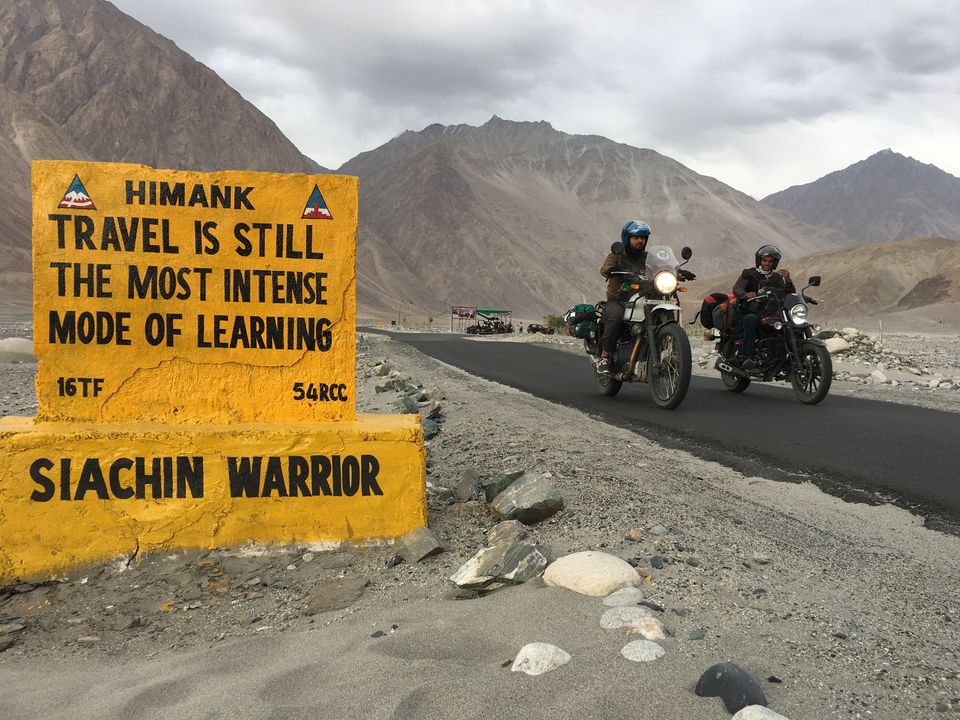 Ladakh; a traveler's dreamland with massive lakes, high altitude passes, beautiful valleys and scenic trails. The "land of high passes" is also known for facilitating the best adventure sports in Ladakh, the dream land for bikers. No other destination comes close to when talking about the thrill and excitement that is on offer at Leh-Ladakh.
Ladakh offers various adventure activities like biking, trekking, river rafting and camping, and trust me each and everything you are going to try will give you goosebumps. Each mountain range you are going to pass through, will give you a different landscape view.
The road trip to Ladakh was also in our minds since we returned from valley of flowers, and we started to prepare itinerary for our travel. As always we wanted to cover most of the destinations and also wanted to feel the place.
Preparation for the Journey:
Unlike our other plans, preparation of Ladakh was full of drama, cancellation and hours of discussion, because some other friends also wanted to join us. We all wanted a road trip to Ladakh via Manali-Leh Highway.
Drama:
Firstly we tried to book Isuzu for all our Leh trip from Himalayan Brothers, but this plan was dropped because we were more than 4 people who were joining the trip. In the end when all the people backed off and we were only 4 people to join it, we tried to book it but we couldn't as Isuzu was already booked. Ahhhh.
Initially our plan was to leave on Friday night to Manali and start our journey to Leh, but because of all this drama it would have been taken more time for us to reach Leh. so we thought to add few more days to our trip and we booked our tickets of volvo bus to Manali from Delhi (Cost around 1500/person) of 14th June.
Now everything was looking sorted and here we go, some more drama into the story. One of the person was not able to get the leave from office for extra two days. Aaaah not again man. So we booked one flight ticket for him of Sunday morning on 17th June he was going to meet us there in Leh and cancelled his ticket of bus (Cancellation charges of bus : 150, Flight ticket 6300).
Travel Tip: Do not book all your tickets from one account, try to book it from different accounts, firstly you will get discounts on all the tickets secondly you can cancel any ticket if any of your group member is backing out.
Next day we also thought to book Flight tickets so that we can discover more of the Ladakh as we were already covering Manali to Leh highway on our return from there.
All the flight tickets were booked for 14th June of early morning.
We also booked bikes (1 Himalayan and 1 Bajaj Avenger) for 9 days with Ladakh Bike rentals.
Cost of the bikes : Himalayan : 2000 per day, Avenger : 1000 per day.
Date: 14th June 2018
Lets Get Leh'd
"JULLEY"
We packed our bags with all out camping stuffs and was ready to take this journey, a lifetime to red mountains. We took early morning flight from Delhi to Leh and reached the Leh Airport around 8 AM in the morning.
We thought that it would be boring and to go via flight and we are going to miss that beautiful journey from Manali to Leh, but actually we were not that much disappointed as you can witness beautiful view of Rohtang range and Zenskar range from the flight so if you are going via flight do not forget to take window seat.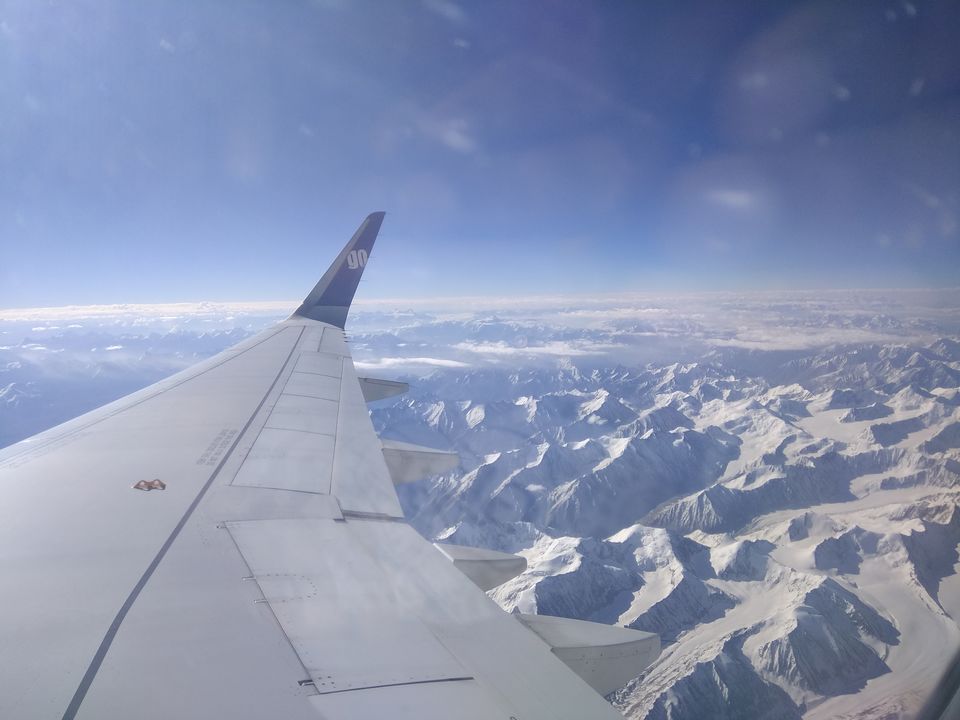 We contacted Gurmat who was the owner of Ladakh Bike Rentals, his team is a gem, they helped us in everything we needed to know about Ladakh. They were ready with our bikes which were in the great condition they also helped us to load our backpacks on bikes.
we thought to get all the paperwork done be it a inner line permits or anything else. After all the payments to Gurmat we went to get our ILP, which was easy to get for us as there was not much of rush as we reached there on Thursday.
After lunch we started our journey to get Leh'd to cover Alchi Monastery and Gurudwara Patthar Sahib first. We reached Alchi Monastery at 6:00 PM via Magnetic Hill and Gurudwara Patthar Sahib. We were to0 late to reach the monastery and it was already closed, we started searching for accomodation as we were too tired to pitch our tents. We found one home stay there for Rs. 500 for one night.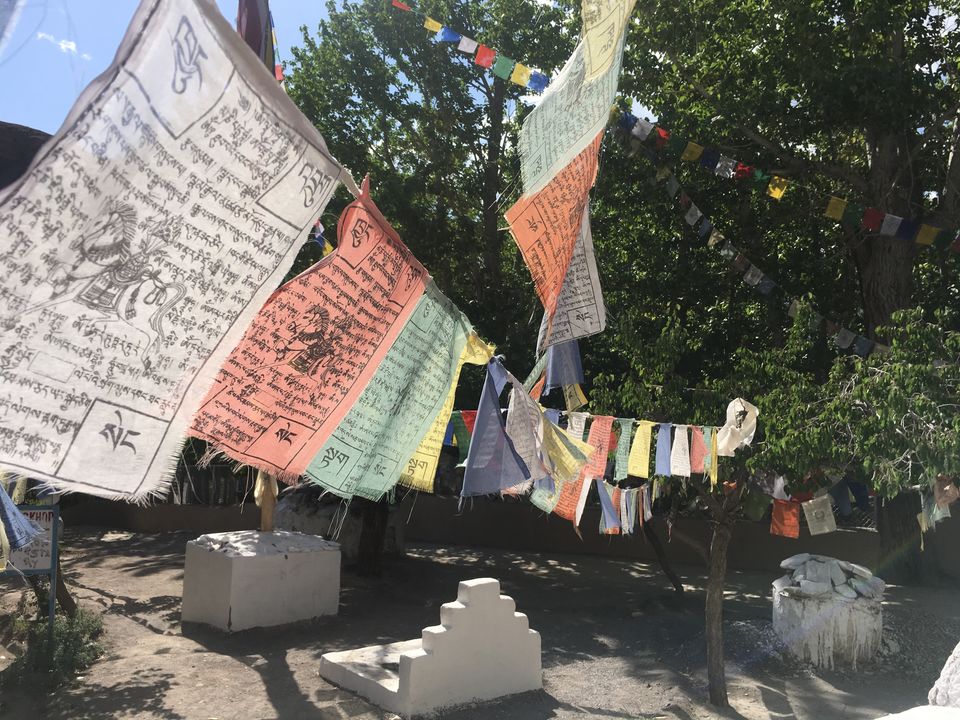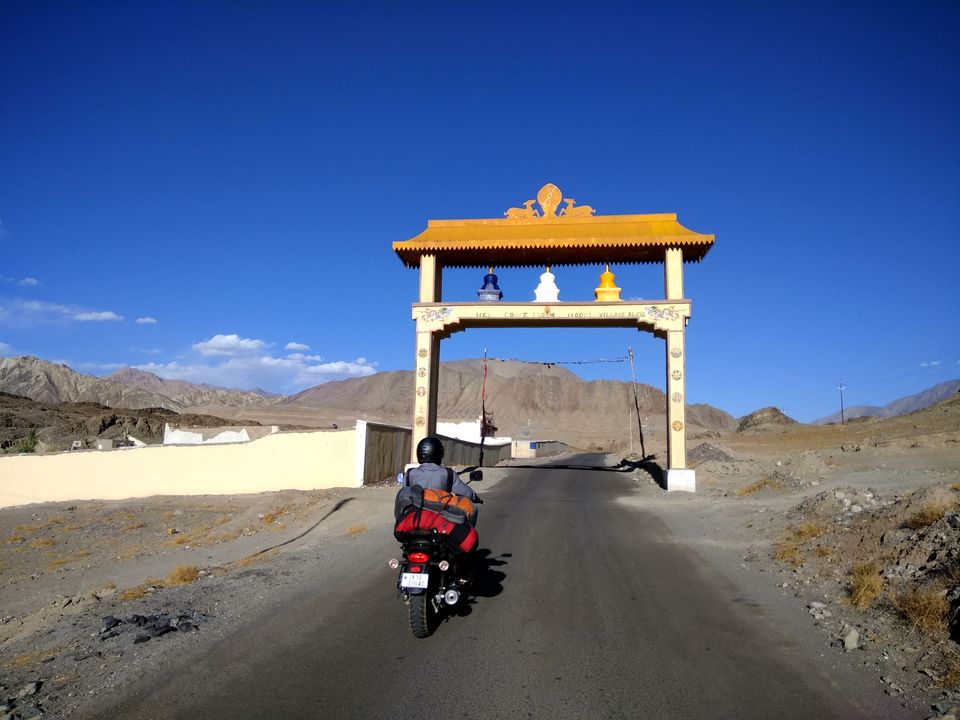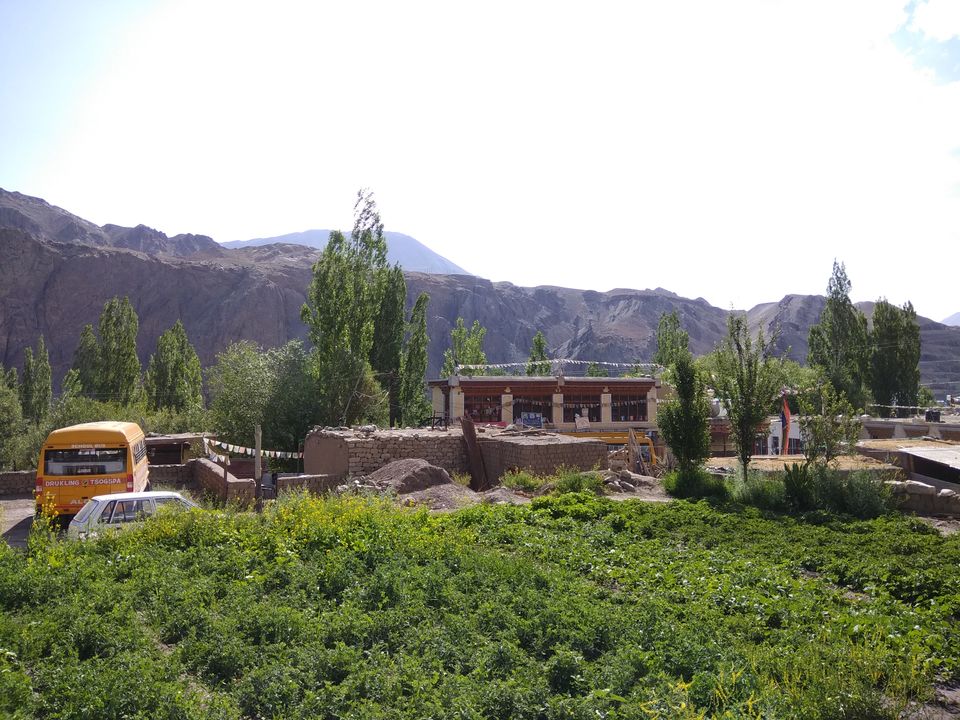 Date: 15th June 2018
Nubra Valley
It was going to be the big day, as we were going to start our journey to Nubra Valley.
We got up early, explored Alchi Monastery and had our breakfast near to Alchi Monastery. A must try was Apricot Juice, that was really awesome.
We started our journey to Nubra from Alchi at around 9:00 AM we knew that we are running late as we need to cover around 180 Kms today.
It was a nice journey we reached Hunder (Nubra Valley) via Khardung La (world's highest motorable pass). Most of the roads were good except some part of the road near to Khardungla (Approx 30 Kms).
It was great feeling to be on the Top of the world.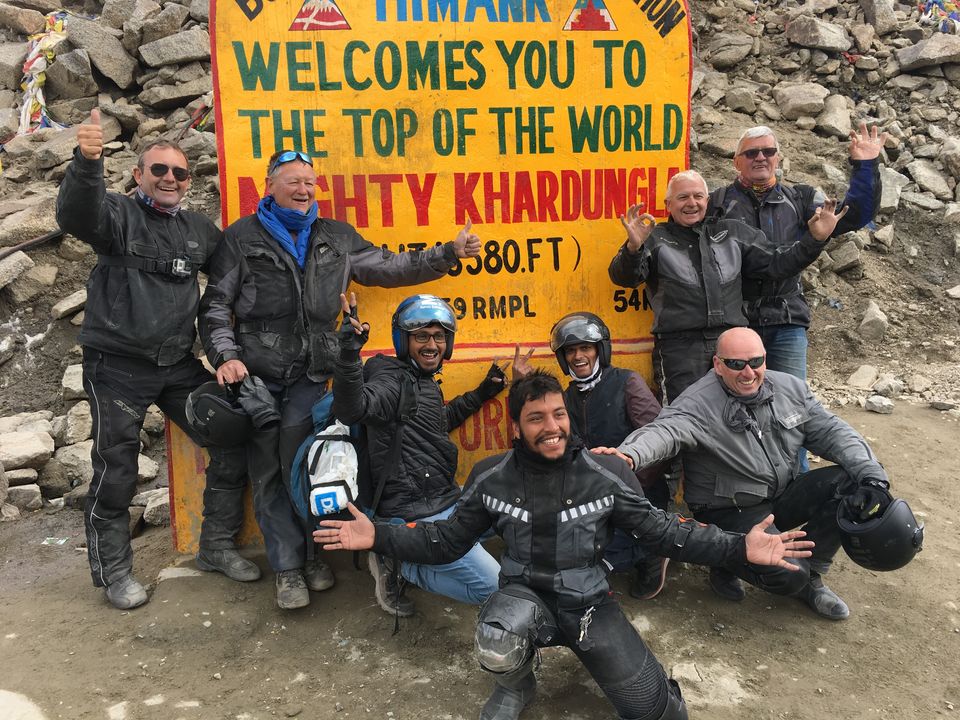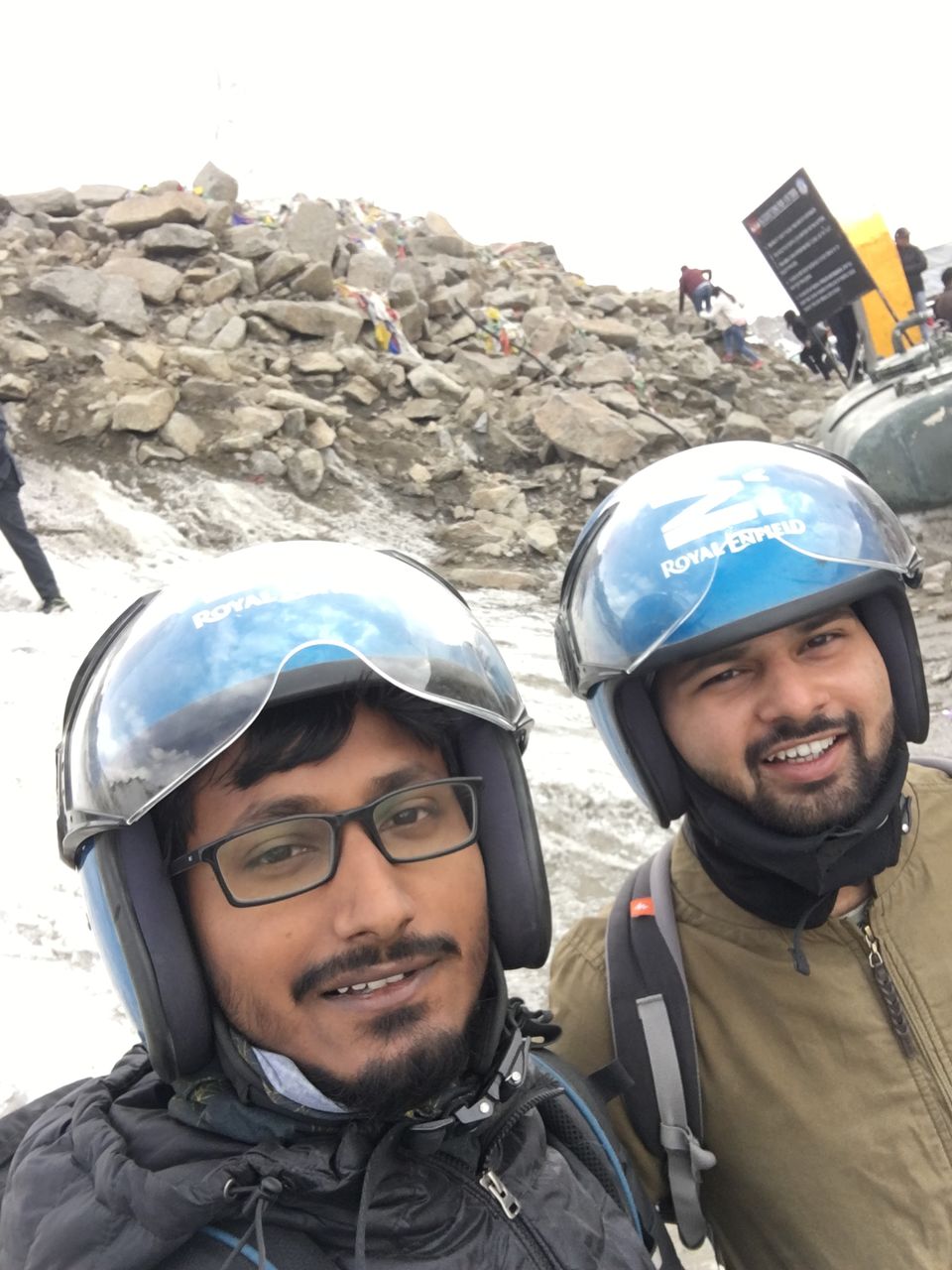 Journey to Nubra Valley was the best in Ladakh, as you get a chance to see lots of different landscapes and a beautiful valleys around you, and can fall in love with.
We reached Hunder around 6:00 PM and went to sand dunes. We thought to pitch our tents there but unfortunately it was not allowed. So we started searching for space to pitch it and found the one in the garden area of a Bar.
Yes there is a Bar in Hunder, but it was too crowded.
Date: 16th June 2018
Explore The Nubra
This was the day when when we were going to explore the Nubra valley to the fullest. We could not make to to Turtuk as we needed to leave early morning next day to receive one of our friend who was going to come on sunday. So we thought to explore Nubra valley.
This was a big day we explored :
Hunder Sand Dunes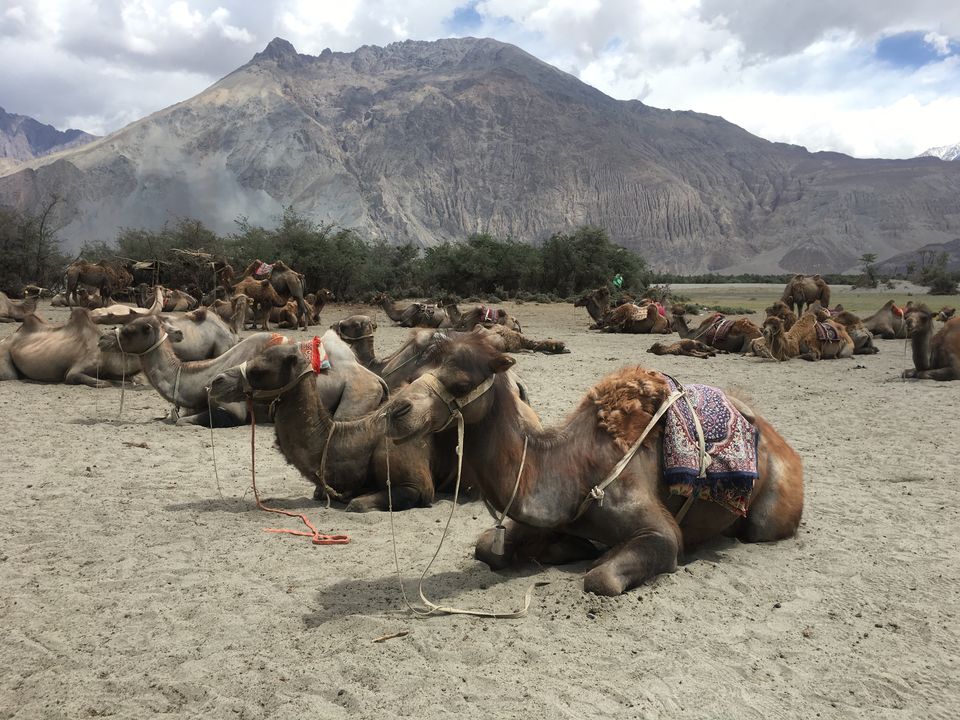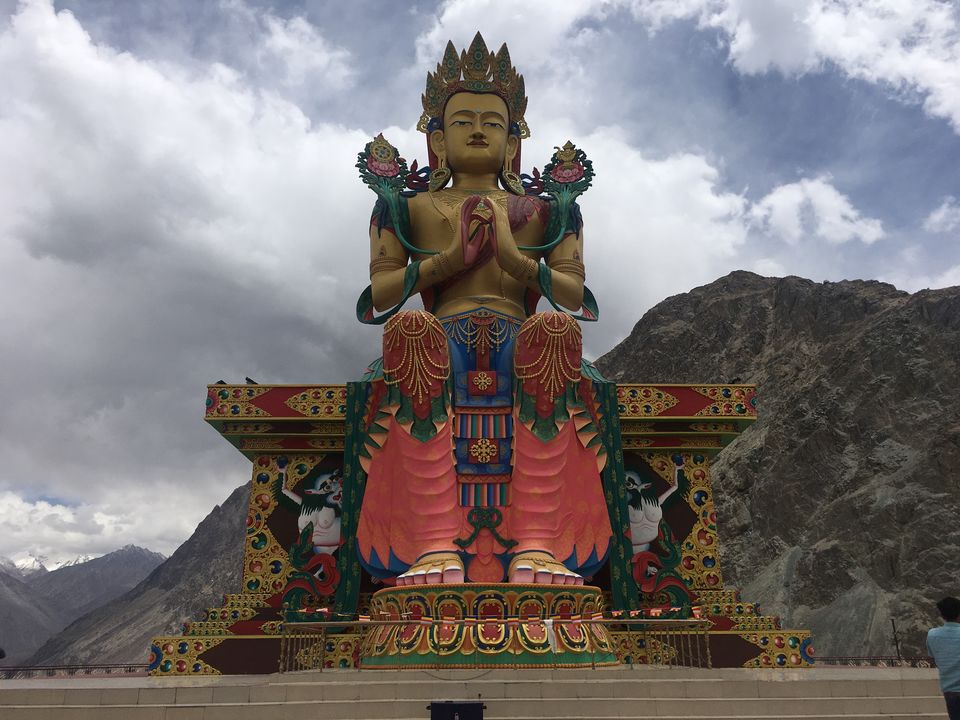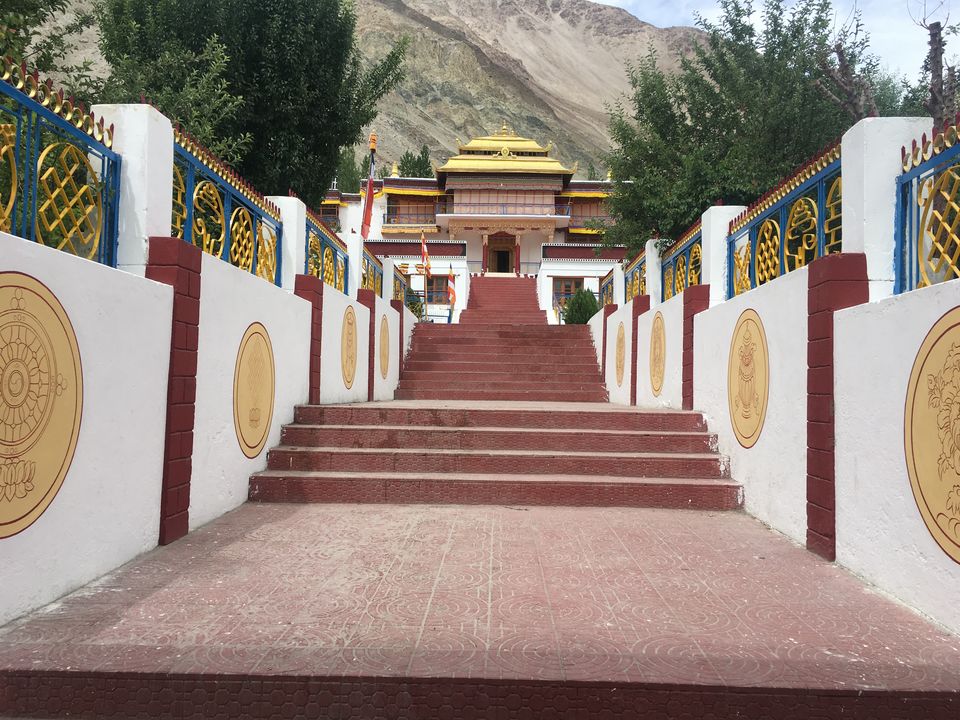 Yarab Tso Lake: hidden lake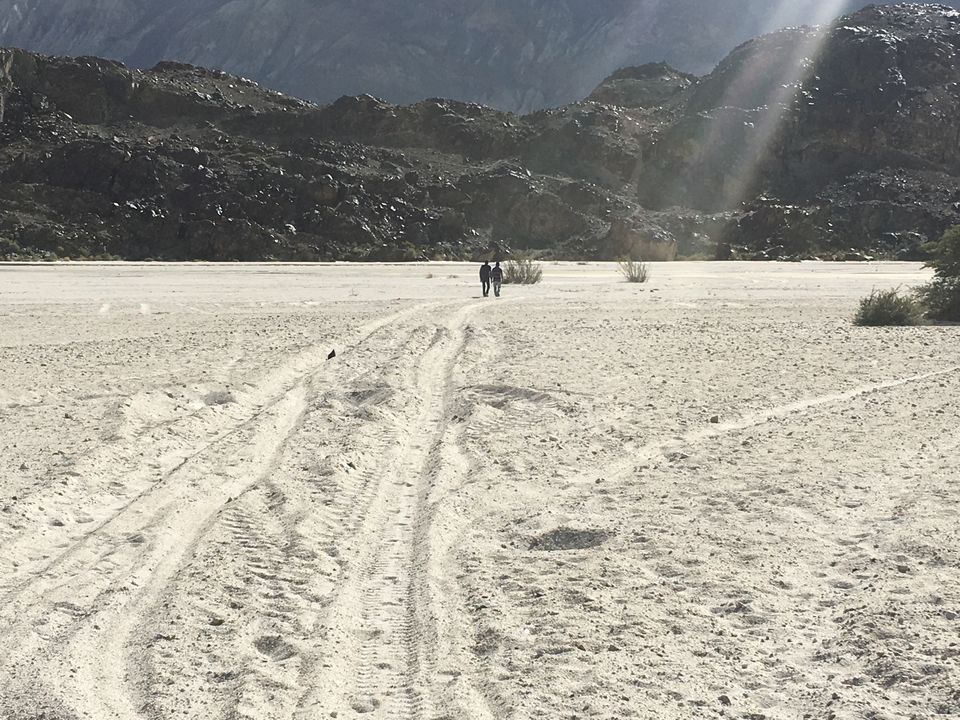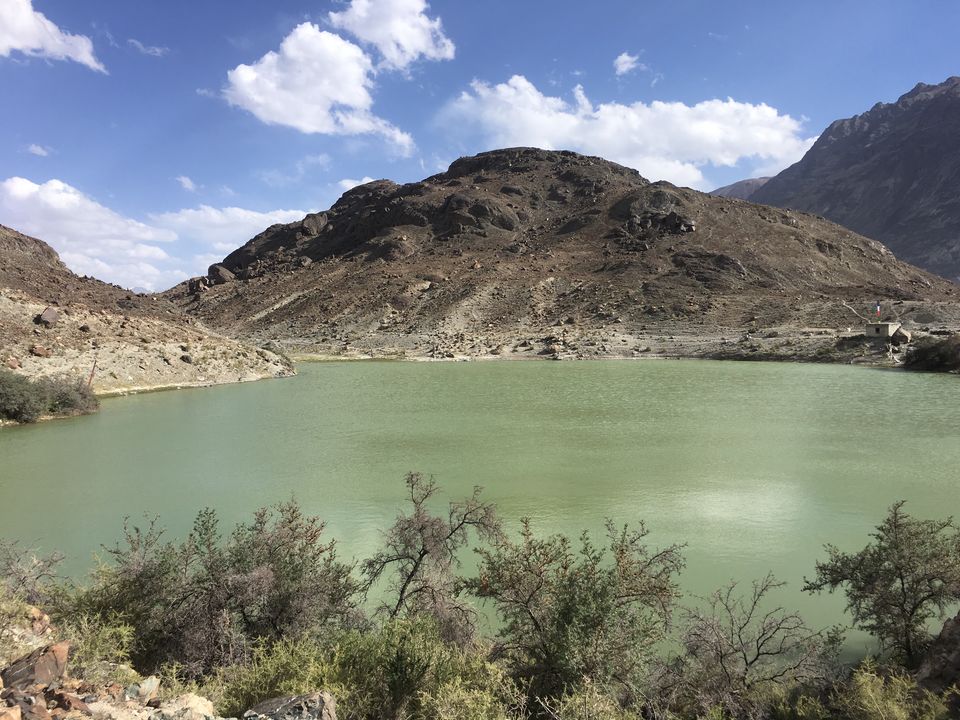 Panamik hot water springs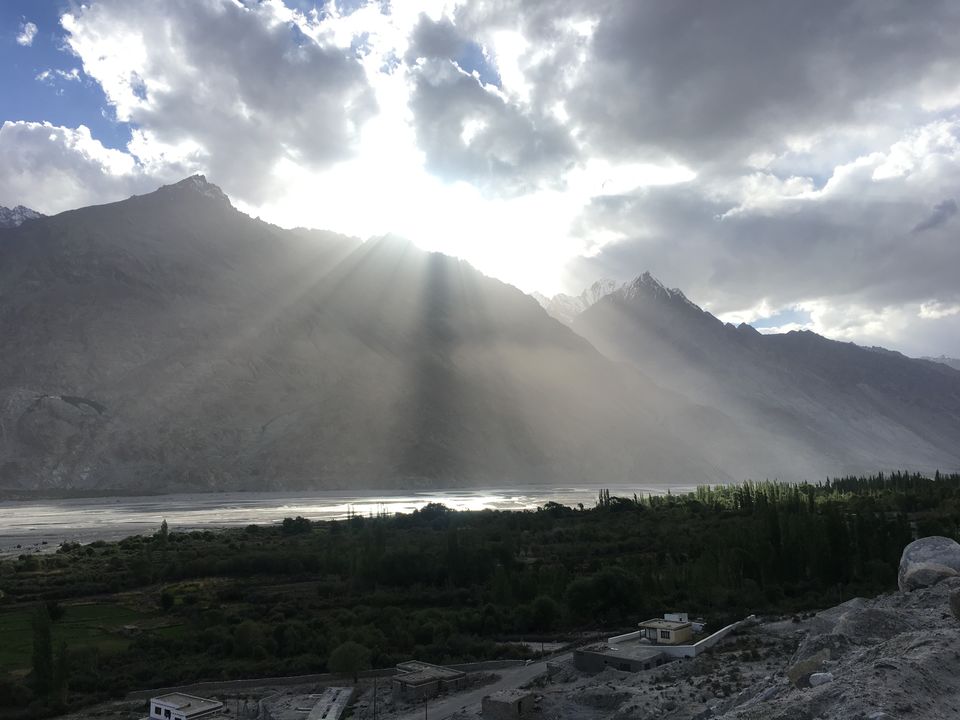 Last but not the least
Intsa Monastery
Intsa monastery was a hidden gem in Nubra Valley. Around 10 Kms from Panamic on mountain top. When you reach there you will get to witness the beauty of it.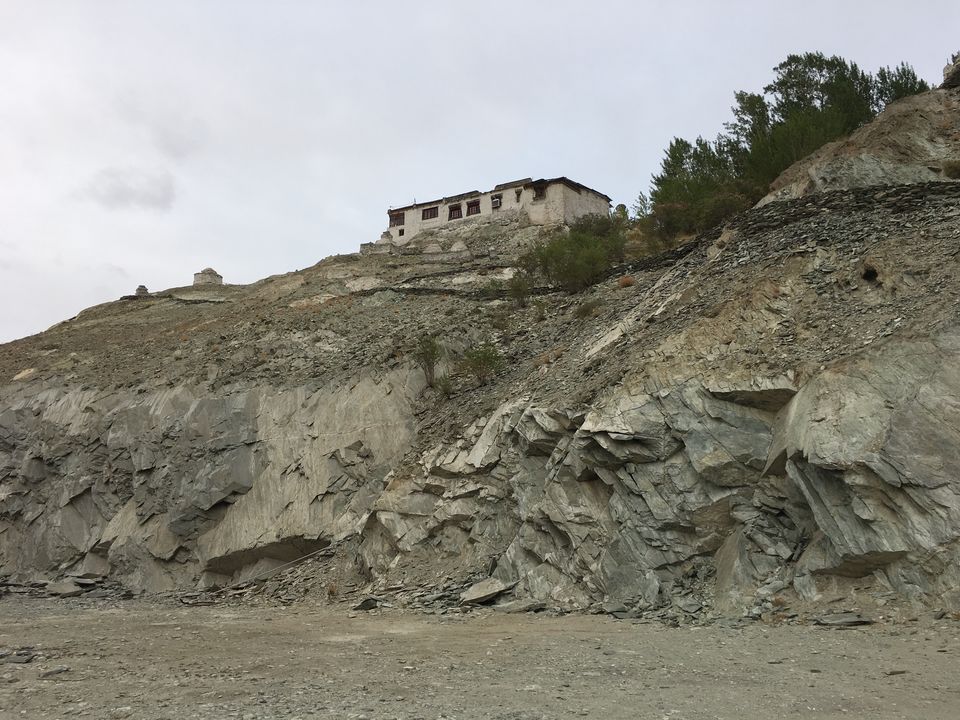 As we were already late, we asked the monk in the monastery to give us accommodation to stay in the monastery but nothing was available there. So we came back and pitched our tents in the parking space available near to the Monastery.
Date: 17th June 2018
SECMOL
We got up early morning that day at around 4:00 AM, got ready and left for Leh Airport back to receive one of our friend who was going to join nest of the journey.
We reached airport at 11:30 AM, received him and after lunch we thought to explore SECMOL school which is around 30 Kms away from Leh.
It was Sunday and SECMOL was off for the visitors that day, but luckily we met Numroo, student of SECMOL there who helped us to explore SECMOL. Thanks to Numroo.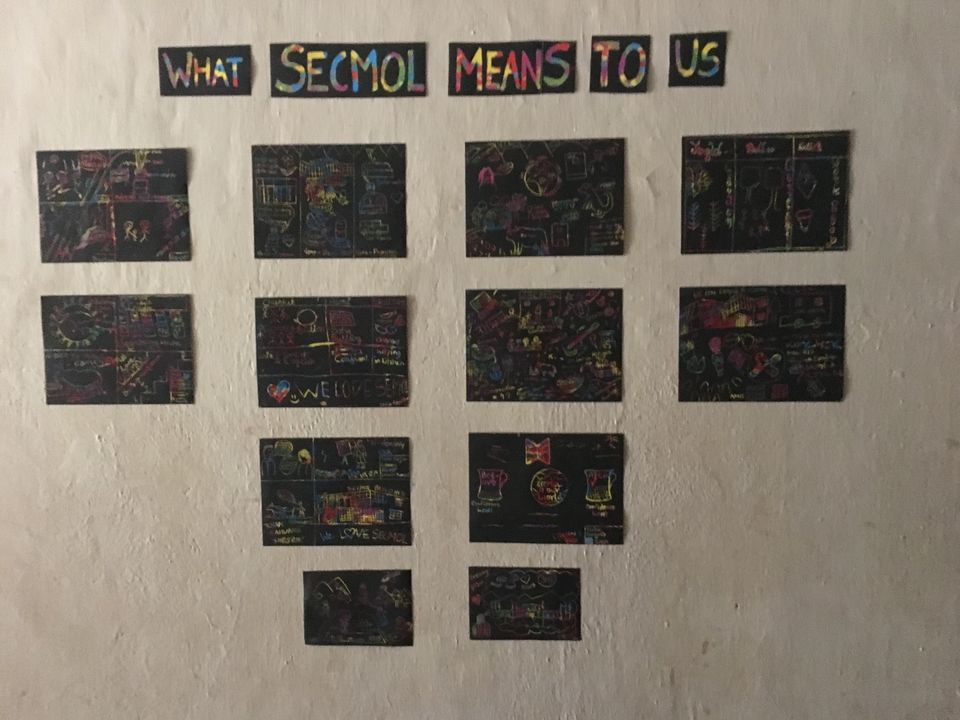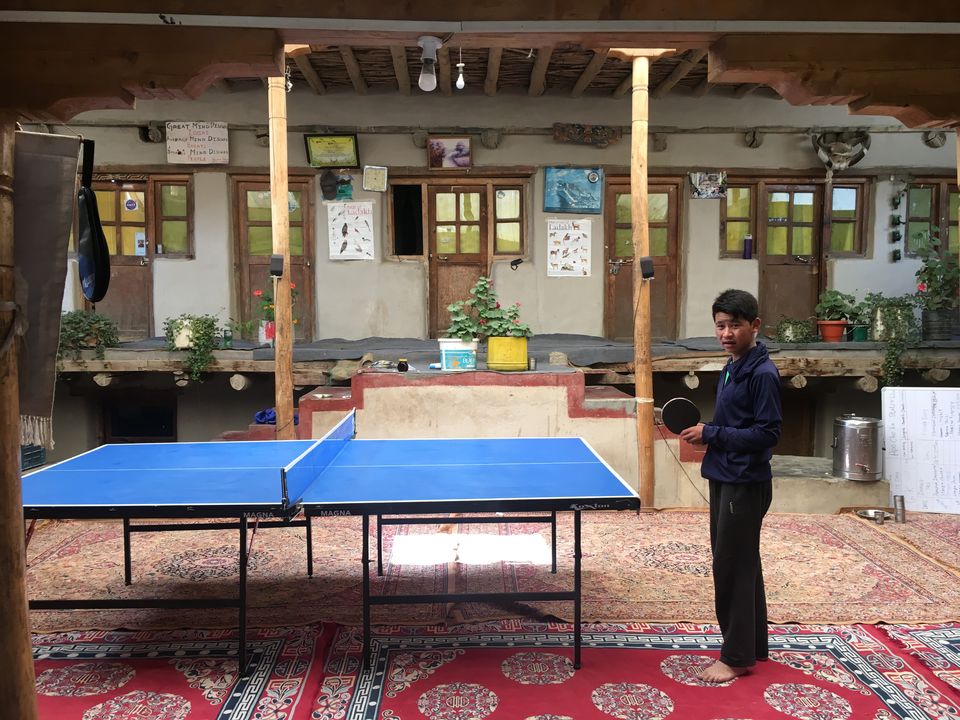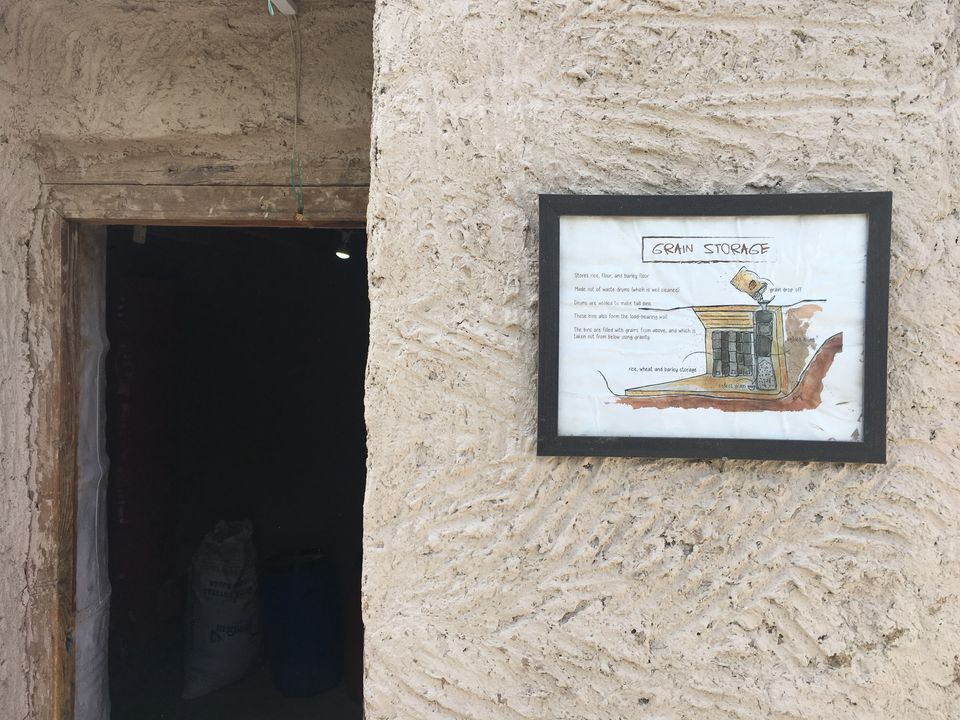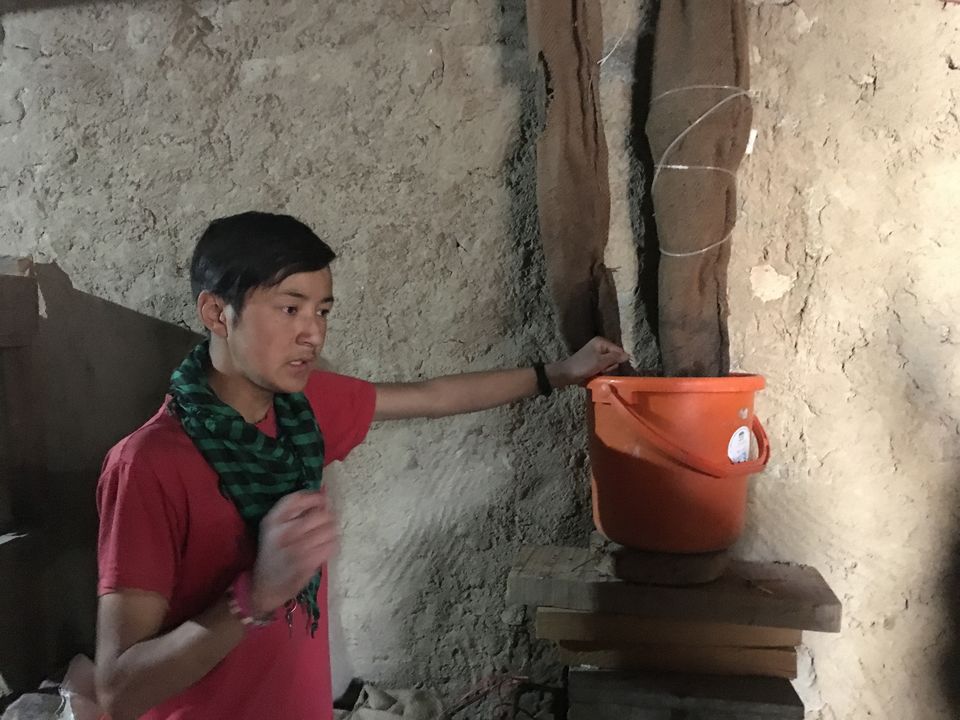 We left from SECMOL at around 5:oo PM to Ladakh Bike rentals, as this was the only place we could have relaxed for some time and started searching accommodation for our stay in Leh. Thanks to Gurmat again he introduced us to Mr. Sonam Gyalson, who is owner and host of Gyal Residency a homestay in Leh. We booked a room for 4 people in such a cheap price and it was great place to stay in.
The host Mr. Sonam is very nice person and a great host, the home cooked food they serve is the best one to eat in Ladakh. Thanks to Sonam to make our journey more beautiful and comfortable.
Contact No. of Mr. Sonam : 9906975454.
Date: 18th June 2018
The Pangong Day
Today we started our journey to Leh via Chang La. It was also a beautiful journey. we already exchanged our one bike Avenger with Classic 350 as we were not able to put our luggage on Avenger.
Roads on this beautiful journey was also great except some part near Chang La (the second highest motorable pass).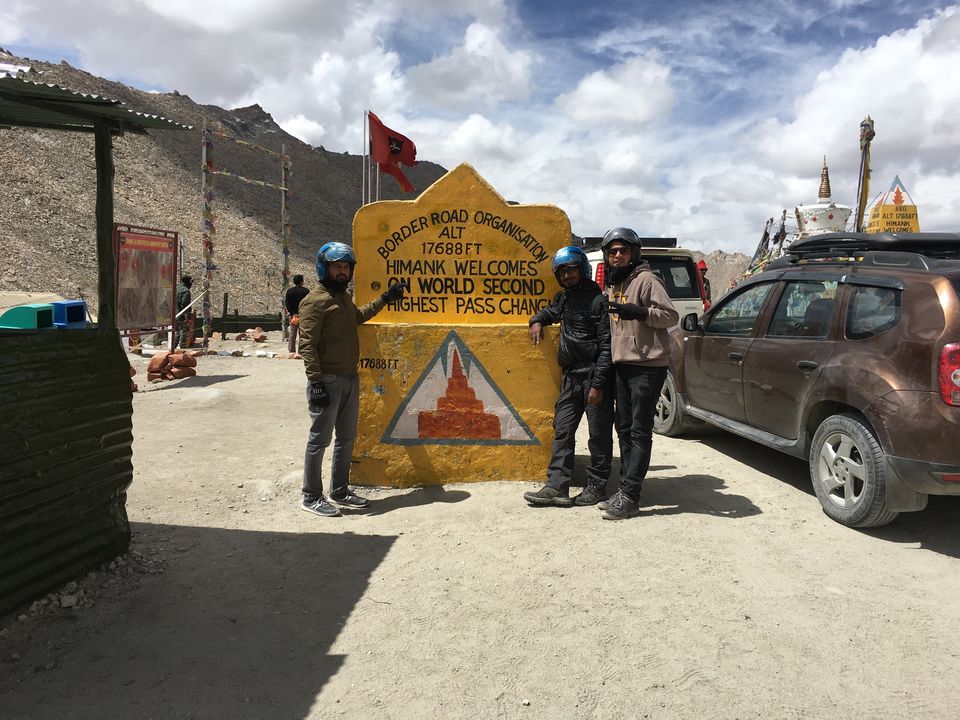 After passing the beautiful Chang La we finally reached to the magic and beautiful lake the Pangong Tso.
The feeling was awesome, we were tried but when we reached there, I don't know from where we got that energy. We started dancing with locals there we distributed some chocolates to them and enjoyed clicking some crazy and beautiful photographs.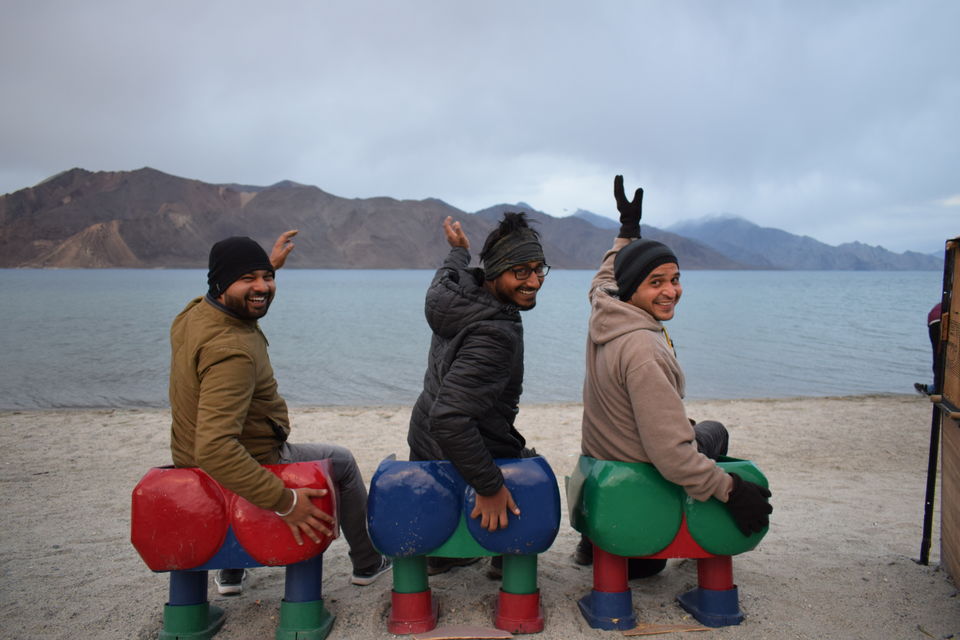 After lots of masti, finally we started searching for place to pitch the tents and we pitched our tents just near to the lake.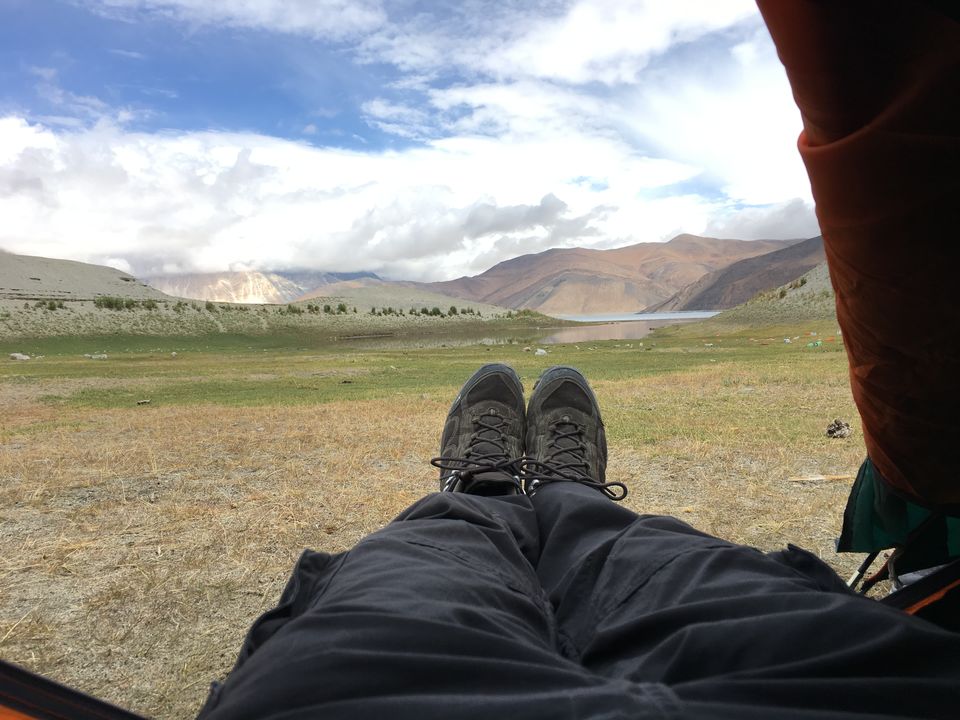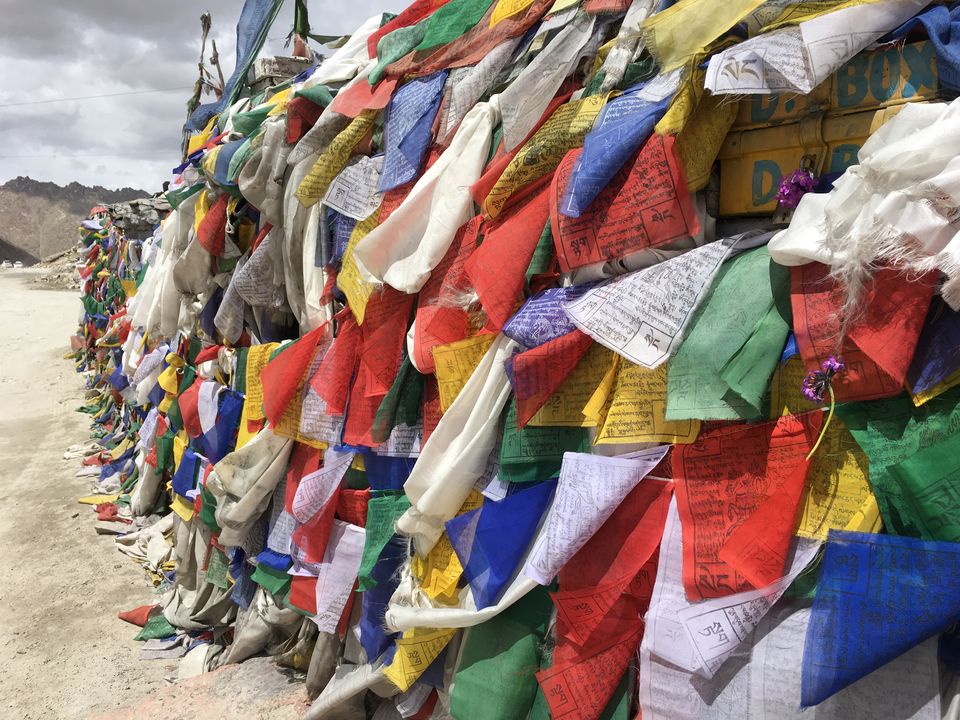 Date: 19th June 2018
We explored Pangong Tso in the morning, clicked some beautiful early morning landscape photographs. We witnessed snowfall also there at the lakeside which was the best part of our journey to Pangong.
We were planning to stay in Sakti village so that we can head towards Tso Moriri next day.
An accident
Unfortunately on the way just after we crossed Chang La, we had an accident, and our handle of classic 350 was damaged. So we thought to change the bike first before we leave for Tso Moriri.
We stayed that day at Sakti.
Date: 20th June 2018
Hemis and Thiksey Monastery
Next day we moved towards Leh again to exchange the bike, but Gurmat did not have any other bike to get it exchanged but he arranged one Himalayan for us from the market. A big thanks to him.
We were already late that day, it took a lot of time to get the bike arranged.
On the other hand we also did not wanted to waste our day. So we thought to enquire about the bus to Manali from Leh first and after that to explore Thiksey and Hemis Monastery.
We reached bus stand of Leh, we needed to reach Manali by Sunday because we had booked Bus from Manali to Delhi which was scheduled at 4:00 PM.
There were lots of Traveller buses available which was charging 2500 per seat and leave from Leh in the evening at and reach Manali next morning. We also got to know that there are two Govt buses running from Let to Manali. We enquire about that and got to know that these buses starts from Leh at 4:00 AM in the morning daily which charges only Rs. 850 per person. But the twist was, you have to book the ticket one day prior to the scheduled time of the bus from 10:00 AM till the tickets get booked.
We need to get the bus of Saturday so that we can reach Manali on time to get our bus to Delhi on Sunday.
It was already Wednesday and we were still left with Tso Moriri and Tsokar to explore. It was hardly possible for us to reach Leh on Friday morning from Tsomoriri which is approx 210 Kms away.
We thought to give it a try by leaving Tso moriri at earliest possible time to reach Leh.
After lunch we headed towards Thiksey Monastery, we explored that. Views from Thiksey monastery are very nice.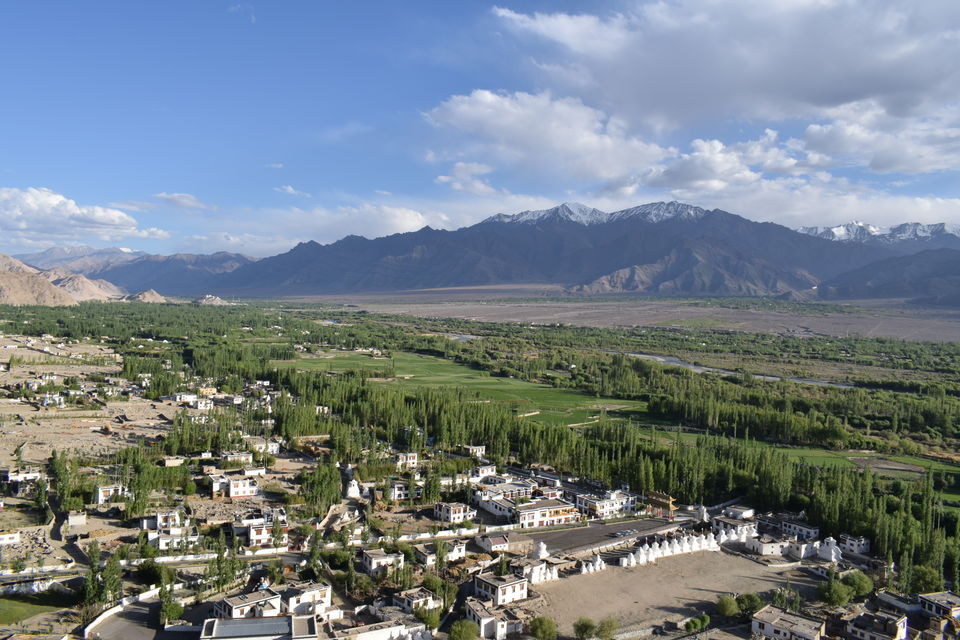 After exploring Thiksey Monastery we headed towards Hemis Monastery which is the biggest Monastery in Ladakh region.
We were lucky to get the accommodation in the Hemis monastery itself, they charges us Rs. 1000 for one room. It was nice and clean room. We reached Hemis late so monastery was closed already. We got to know about the daily prayer in the Monastery which starts at 6:30 AM in the morning. We thought to attend it before we leave to Tso Moriri.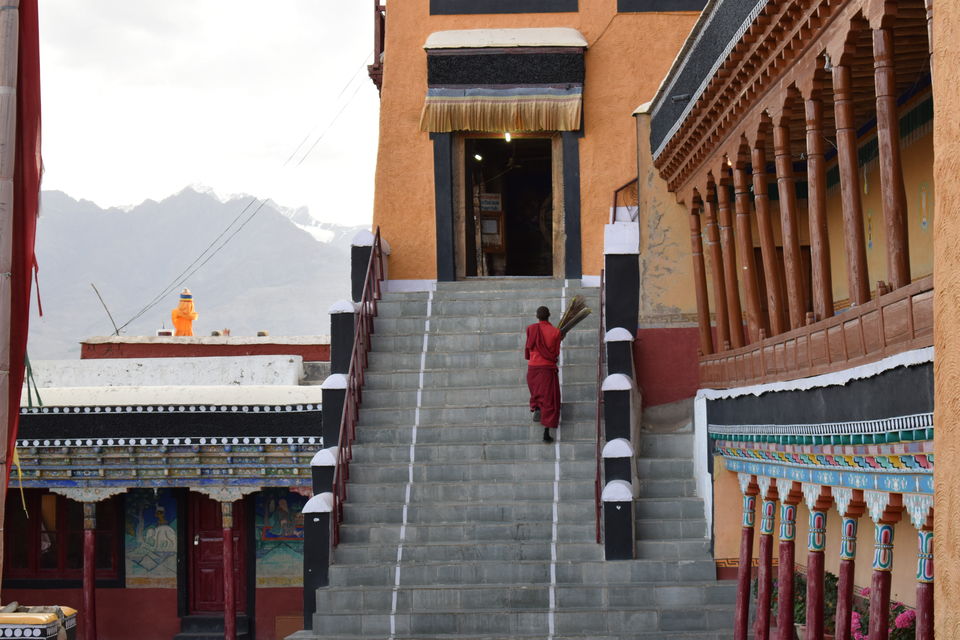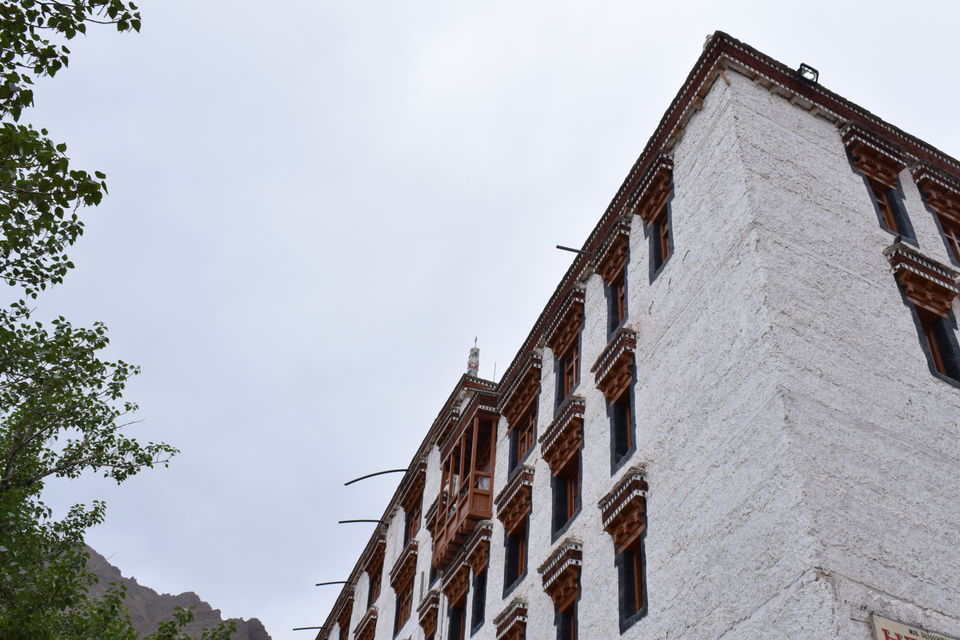 Date: 21st June 2018
The Tso Moriri Day
As per our plan, we got up early to attend the prayer. It was the best part of our journey. We first time witnessed prayer in the monastery. It was a great experience we got to talk to some monks and children there in the monastery.
After checking out from the monastery we started heading towards Tso Moriri via Mahe.
Thatsang Karu
After we crossed Mahe, there was a beautiful landscape on the way to Tso moriri. and there was a lake called Thatsang Karu. Trust me this was the most beautiful lake in the Ladakh region.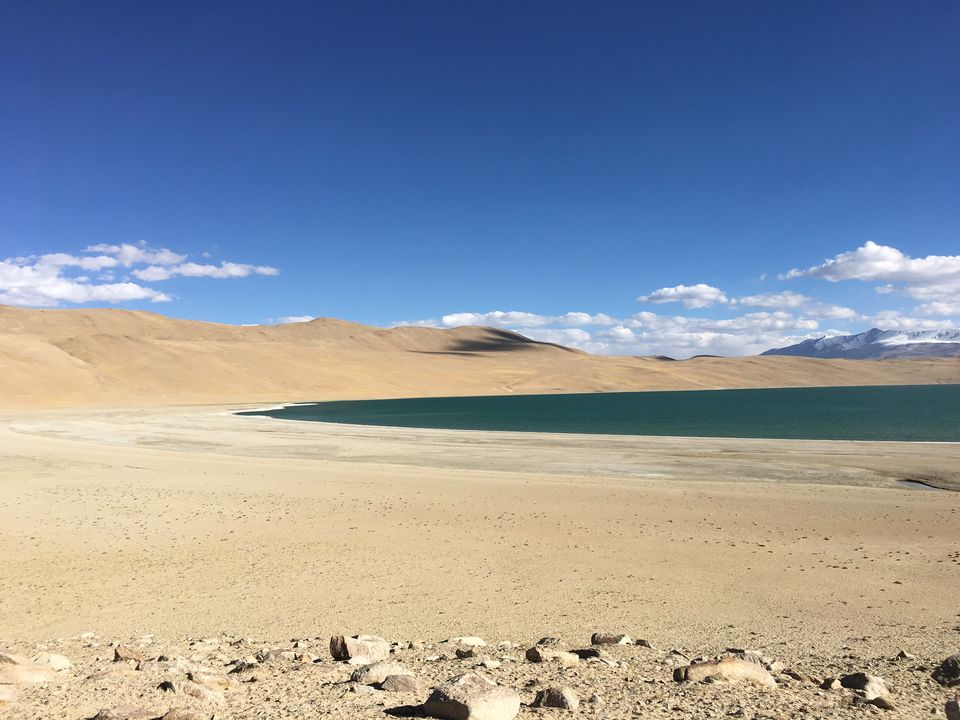 After spending some time near to Thatsang Karu, we headed towards Tso Moriri.
We reached Tso Moriri at around 6:30 PM, and witnessed scenic sunset at Tsomoriri.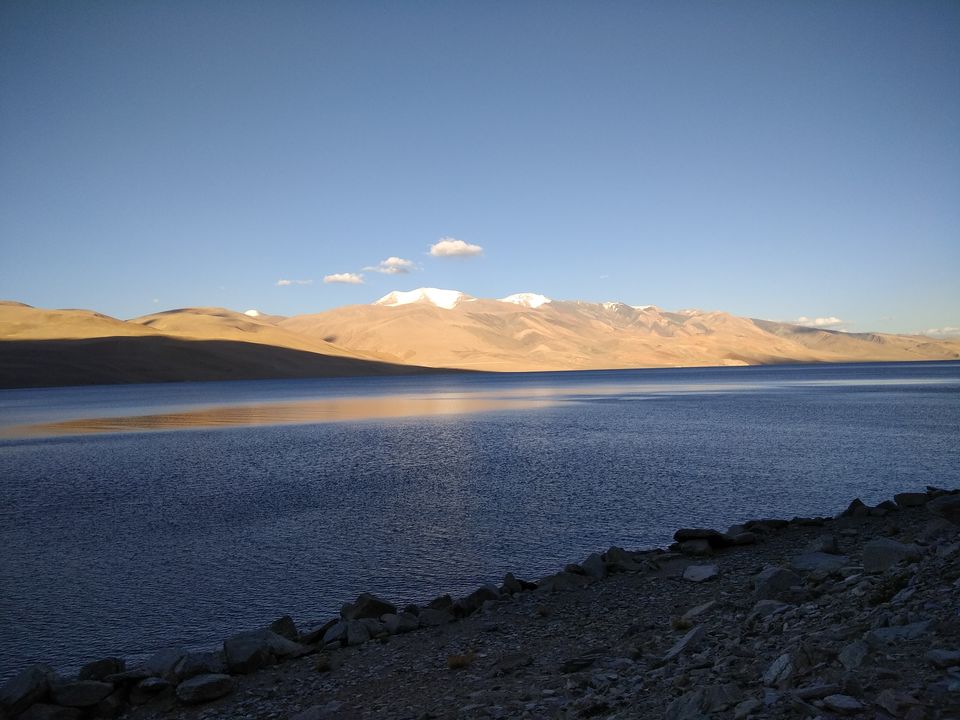 We explored the place and clicked some beautiful photographs and started searching for the accommodation as we needed to leave as early as possible next morning to book the Bus tickets.
We found a home stay there, they charged Rs. 1600 with dinner.
Date: 22nd June 2018
Tso Kar
Tso Kar was also part of our itinerary, but we were running out of time.
We got up early in the morning and left from Tso Moriri at 4:00 AM, just as per the plan. we were in the dilemma if we go to Leh via Tso Kar or not, as it was going to cost us extra 20-30 Kms, which could have lead our chances to miss the bus.
But we took the chance and started heading towards Tso Kar.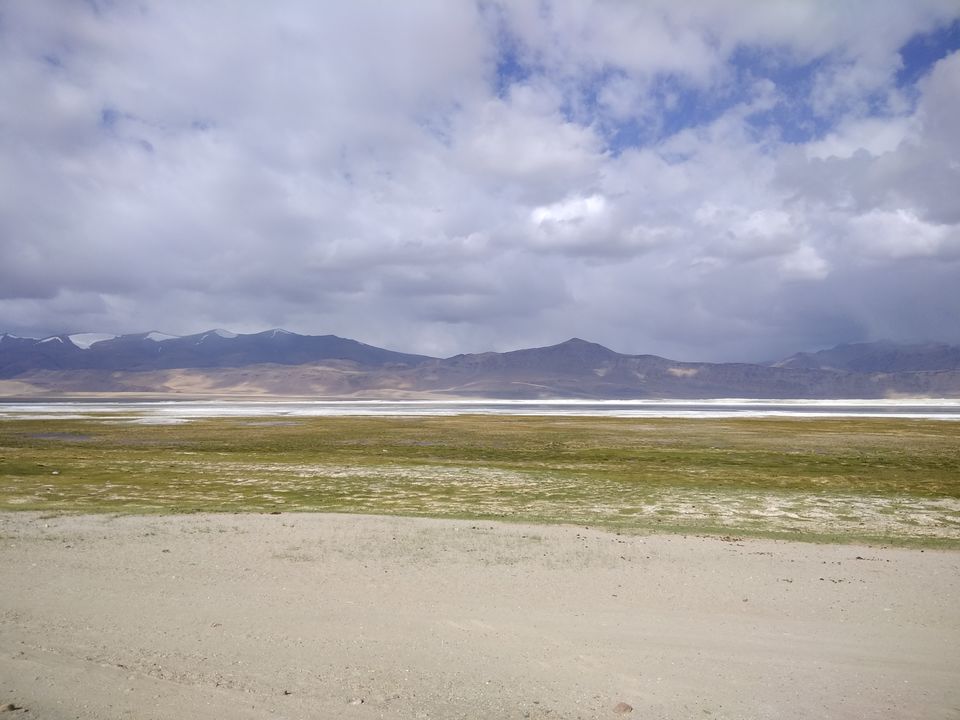 As expected, Tso kar was half frozen at that time. It was so beautiful that it can not be describe in words. We did not spent too much time there and started our journey back to Leh.
Guess what, we again witnessed snowfall at Tanglang La. Fate was already in our favour. We reached Leh at around 11:45 AM. Bus was late that day so it was just reached and started booking the tickets for next day as and when we reached there. We were the first one to book the tickets in that bus.
After this 230 Kms long journey we all were very tired and we called Mr. Soman again to book the room which was not available that day but on our request he somehow arranged one room for us.
After taking few hours of rest we explored Shanti stupa and Leh market.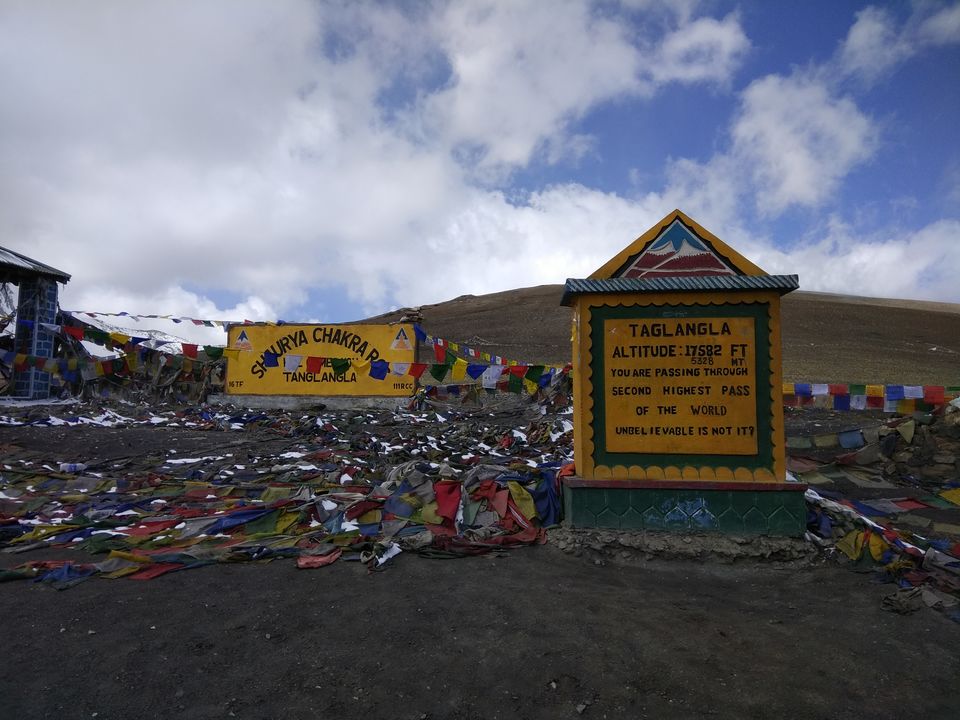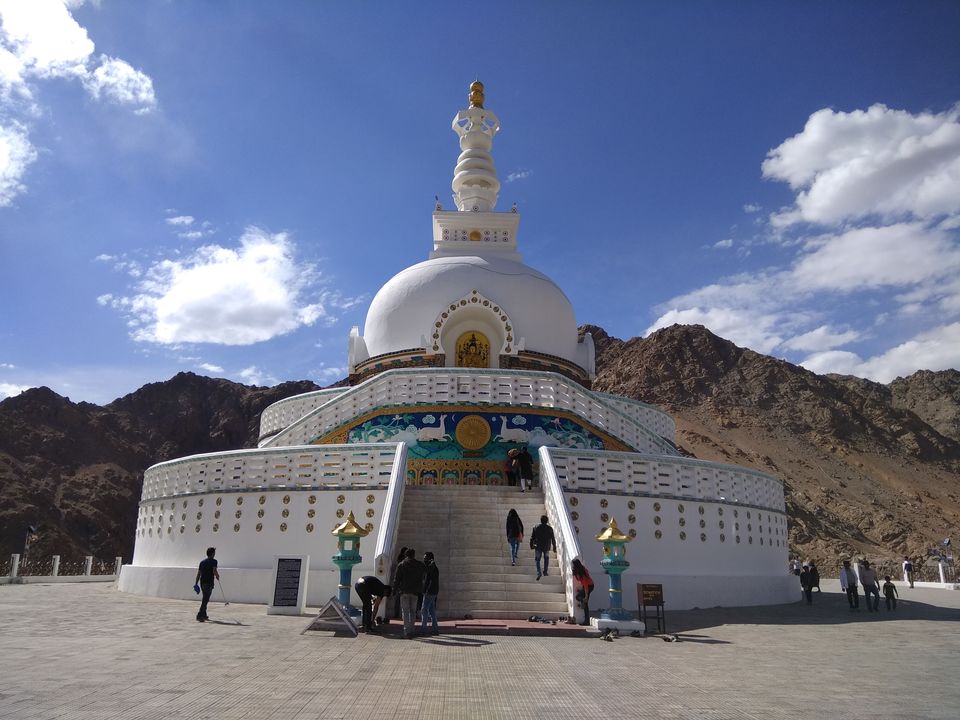 Date: 23rd June 2018
Leh To Manali Road Trip
We were too tired to get up early in the morning and catch the bus. Thanks to Mr. Sonan who knocked up and dropped us to the bus stop. A big thanks to him.
Bus was quite comfortable and reached Manali after 19 hours at 11:00 PM. A lot of stoppages in the journey, we covered almost important place during that journey.
We started searching an accommodation in Manali after dinner. We found the one near to Mall Road only in Rs. 1600.
Date: 24th June 2018
Back to Delhi
We woke up late that day as we have already completed our dream journey, but we were still feeling hangover of that journey.
We still had few more hours to before we leave from Manali, so we thought to explore some part of Manali. We explored Hidimba Devi Temple and few more places of Manali. Manali was too crowded.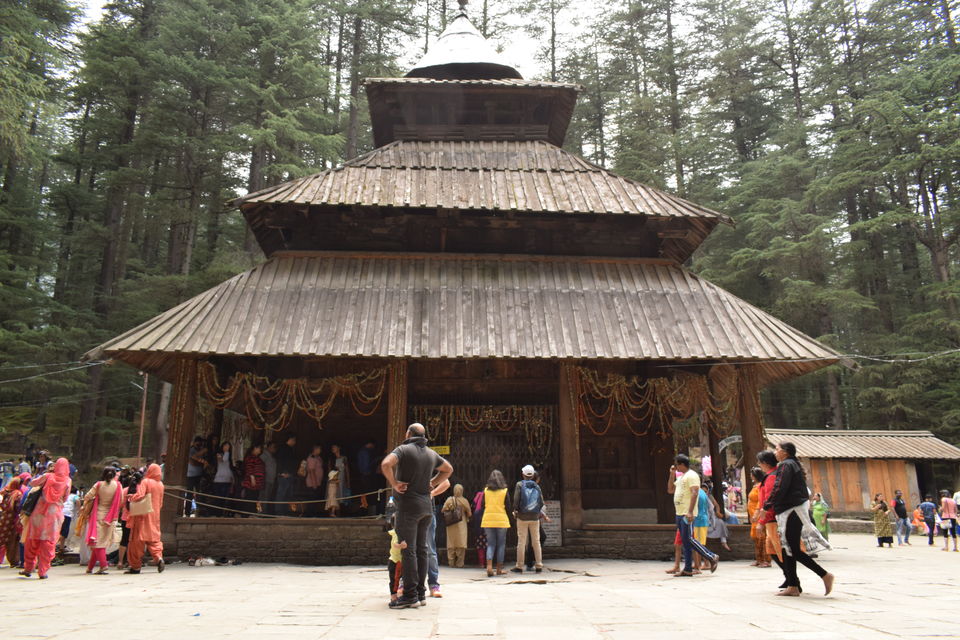 Finally we boarded the bus to Delhi from Manali at 4:00 PM and reached Delhi next morning.
It was a beautiful journey, that will be in our memories for forever. Our backpacks were heavier when we returned because we walked back with a backpack full of unforgettable memories.