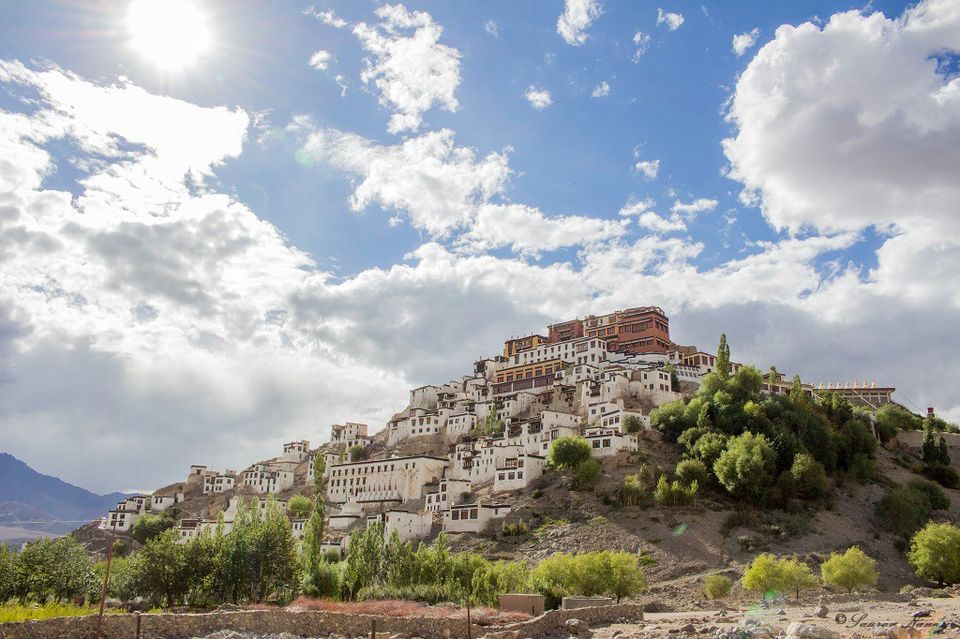 Here is a 6 min video covering our whole journey from Bangalore to Ladakh and Back.
Put on your headphone and watch this video if you are not in to reading long travelogues.
"Every man dies. Not every man really lives." - William Wallace, Braveheart(Motion Picture-1995)
A road trip to Ladakh is synonymous with this quote from Braveheart. Every traveller dreams of a road trip to Himalaya, to the Ladakh region of India, but not everyone is able to realize that dream. The harsh terrain and the unforgiving weather are a big hindrance in planning and executing this road trip as the Highway NH 1-D from Srinagar to Leh is inaccessible for half of the year. We were fortunate enough to live our dream in June-July 2015.
This trip was in our wishlist for many years now. Finally at the beginning of this year me and my friends made up our mind to embark on this epic road trip.
First it was only me and one of my friend, then the group increased to three and finally to 5 members.
Day 1 - Srinagar - On the D-Day we all met at our rendezvous point of Srinagar Airport as everyone reached there from different parts of India. We all stayed at a lovely house boat in Dal Lake for the first night. It was an amazing experience to stay in a floating palace and we witnessed a beautiful sunset while on a relaxing Shikara ride. It was nice start for our road trip.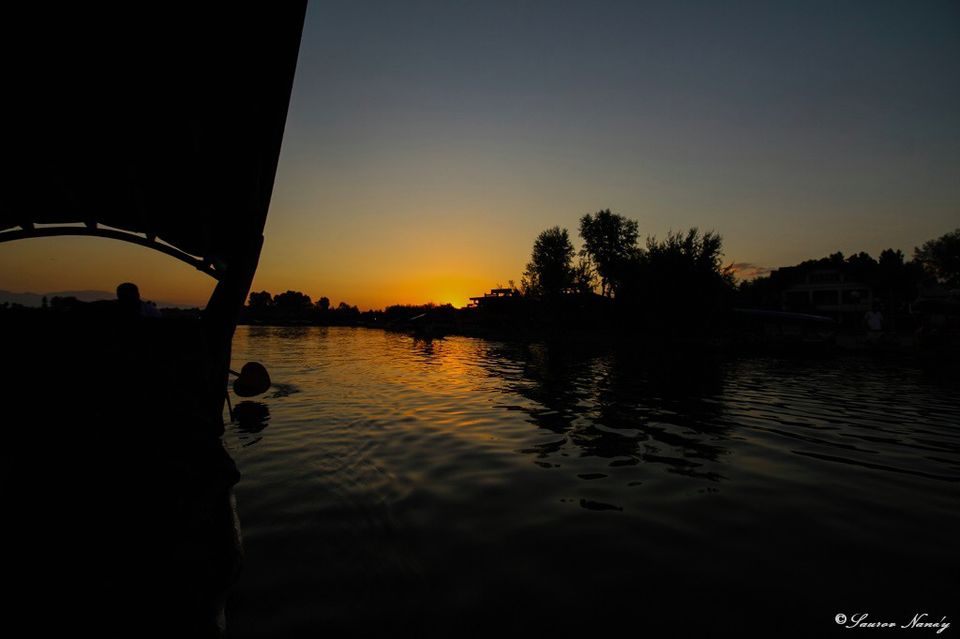 Pic - Shikara Ride at Dal Lake , Srinagar.
Day 2 - Srinagar - Sonamarg - Zoji La - Gumri - Drass - Kargil - We had a early start for the day as we needed to cross the treacherous Zoji La in order to reach our night stay at Kargil. Zoji la is Notorious for land slides and frequent road blocks, but we were lucky as we choose to travel in end of June. The pass was open for more than a month and it didn't rain for last few days leading up to our travel date. Our first stop for the day was Sonamarg. It is a beautiful valley surrounded by sheer mountain. From Sonamarg we entered Zoji La. We passed through Baltal where preparation for Amaranth base camp were at full swing. It took us couple of hours to cross Zoji La and reach Gumri where we had our next stop to Check out the Zoji La war memorial and have some food at the famed Cafe Gumri (Run by Indian Army).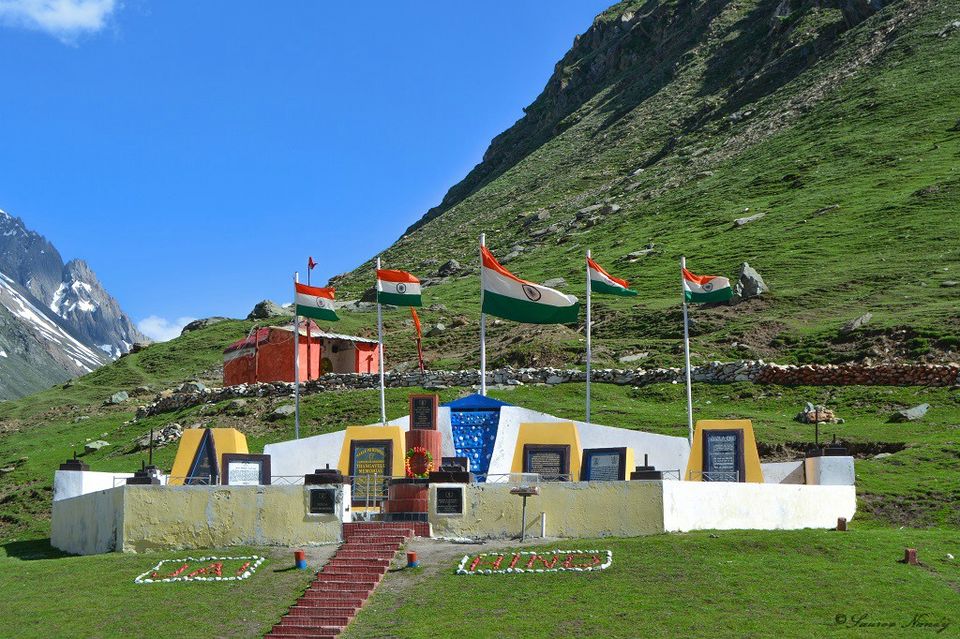 Pic - Zoji La War Memorial, Gumri.
Next we passed though Drass town (which is considered the second coldest inhabited place in the world) to reach the hallowed grounds of Kargil War Memorial. This place brings a weird sensation to the back of your neck. After seeing the rugged terrain you get to know how brave the men and women in armed force were who fought at these treacherous mountain peaks/ridges and those who are still guarding us from the enemy.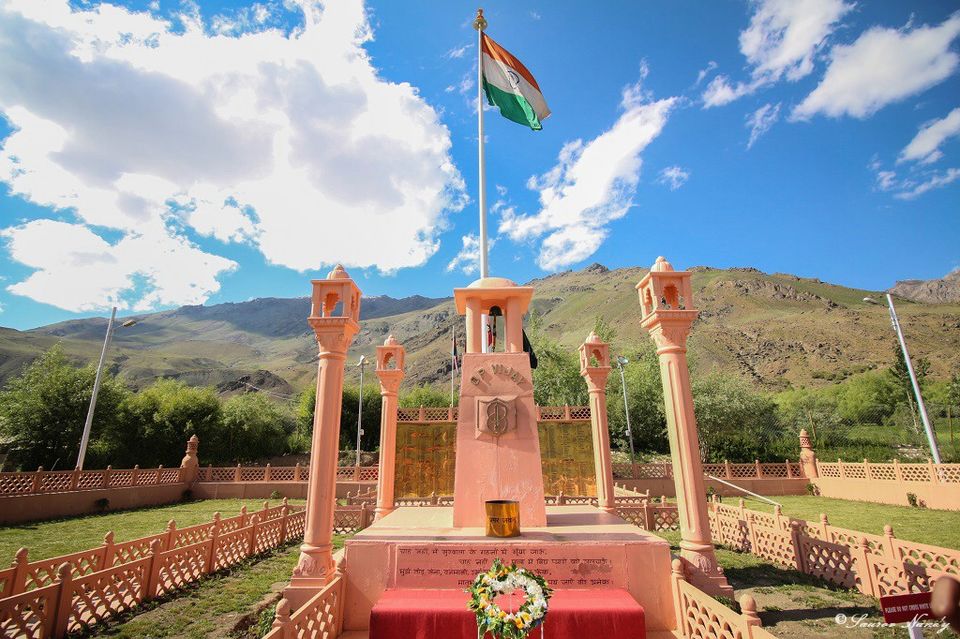 Pic - Kargil War Memorial,Drass.
We reached Kargil town before Sunset and called it a early night as we had another early start for next day. We stayed at Kargil for a night as it's roughly the half way point between Srinagar and Leh, and at 9000ft it's a perfect spot to acclimatize you body before heading to higher altitudes of Leh and beyond
Day 3 - Kargil - Mulbekh - Namika La - Fotu La - Lamayuru - Likir - Leh - Our first stop of the day was at Mulbekh Gompa. We saw the stunning Chamba Statue of Maitreya Buddha.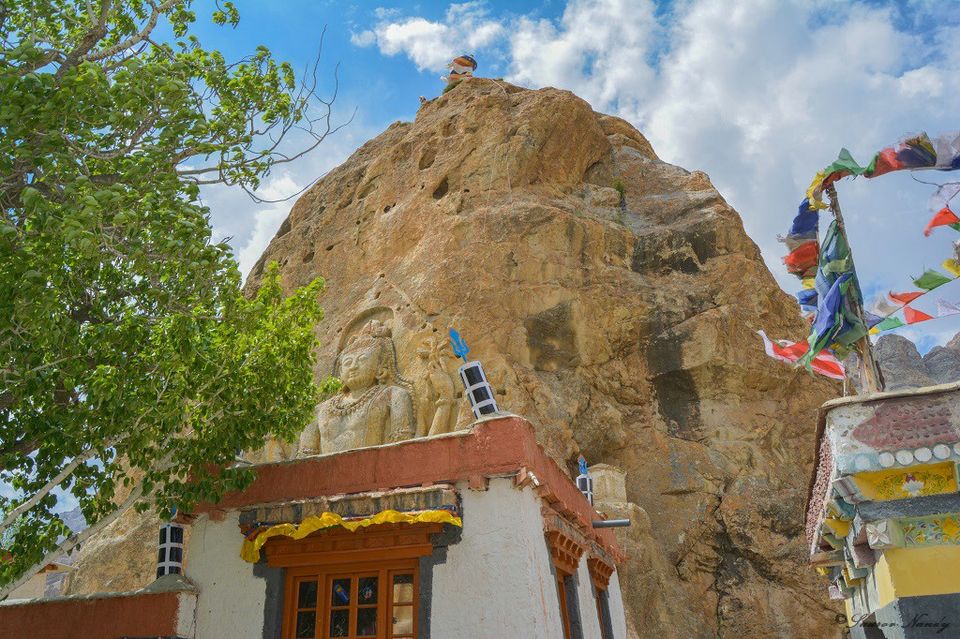 Pic - Chamba Statue of Maitreya Buddha at Mulbekh.
Next we stopped at the Namika La. At 12,198 ft it's the second highest point in Srinagar - Leh highway.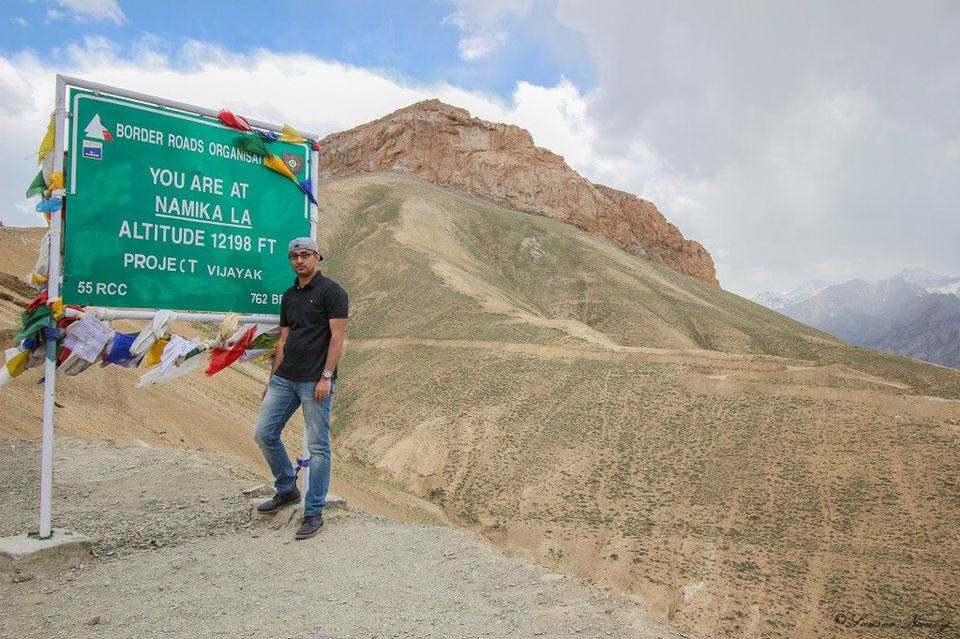 Pic - Namika La at 12,198 ft.
We climbed higher and reached Fotu La at 13,479ft. It's the highest point in Srinagar - Leh highway. After clicking all mandatory pics we started our descent towards the stunning Lamayuru (also known as "Moonland").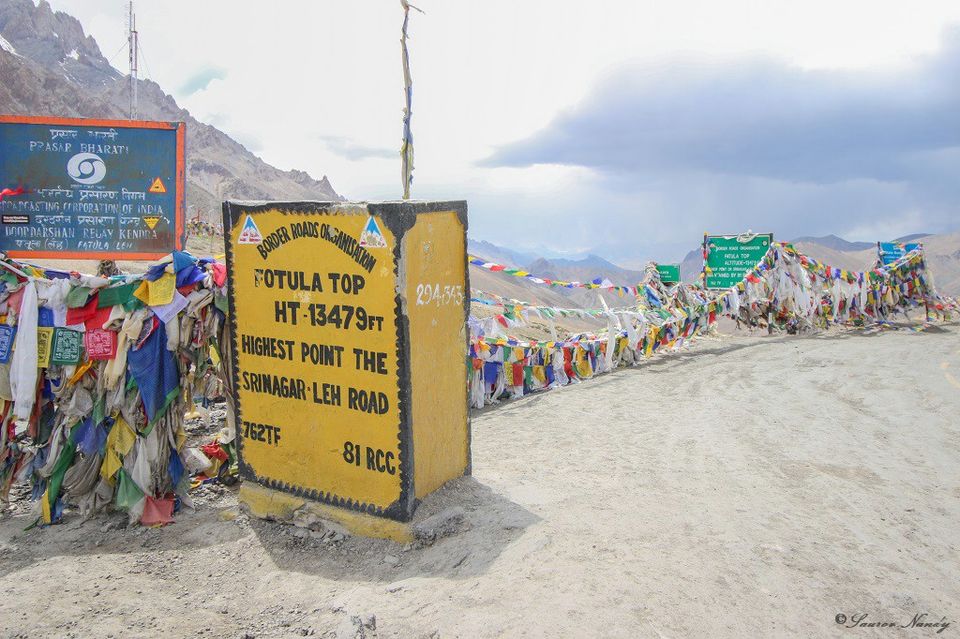 Pic - Fotu La at 13,479 ft.
Lamayuru is one of the most stunning places I have ever seen. It's terrain looks like moon land. The monastery is built on the edge of sheer cliff. This monastery is one of the oldest in Ladakh region.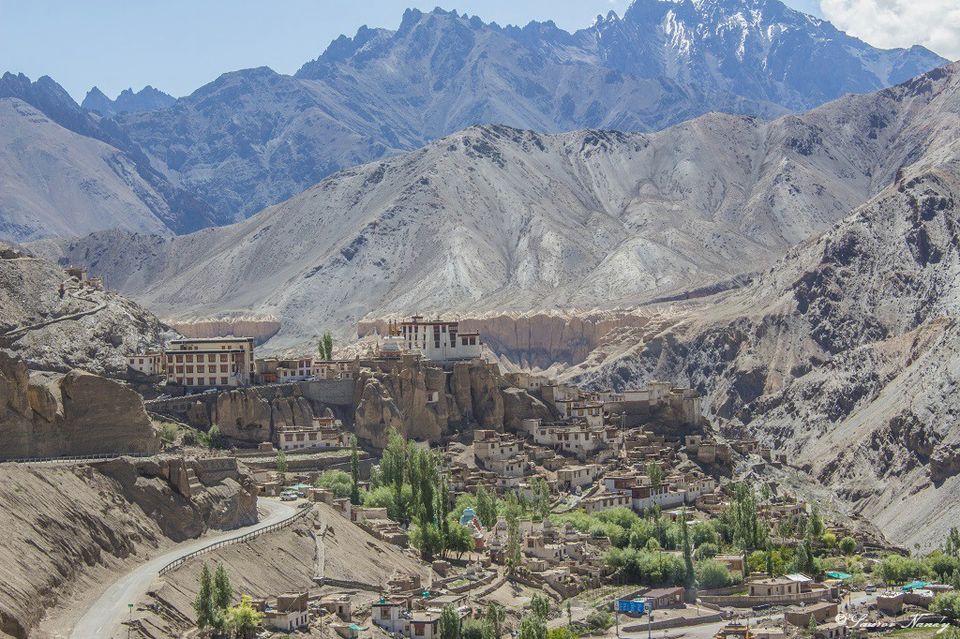 Pic - Lamayuru Monastery.
After soaking in the beauty of Lamayuru we headed towards Leh. Our next stop was at Likir. It's roughly a 5 km arrow straight road and we stopped there to click some pics and do our regular shenanigans.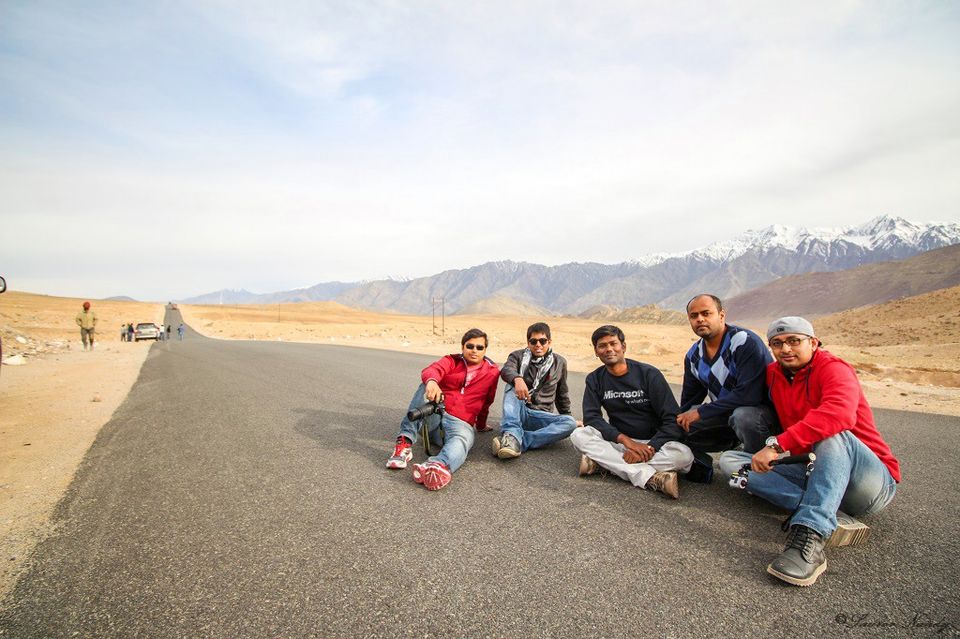 Pic - The gang at Likir.
We reached Leh after Sun down. The city was full of travellers, wanderers and road warriors. A picturesque city surrounded by beautiful mountains. At 11,500 ft it's a logical stopover for all travellers from Srinagar and Manali route before heading towards higher altitude of Khardung La and Chang La. We called it a early night as next day we would cover the highest motorable road in the world.
Day 4 - Leh - Khardung La - Hunder - Diskit - Tirith - At mid morning we started our assault to conquer the highest motorable road in the World. The road to Khardung La is stunning as well as dangerous at the same time. You gain altitude at a rapid pace. Luckily our body was acclimatized to this altitude change by this time. We didn't face any issue with the climb from 11500ft to 18380ft and our decision to travel from Srinagar by road and halt at Kargil and then at Leh for a night helped us a lot. We got snow fall after crossing South Pullu, it added to the charm of travelling at the highest motorable road in the world.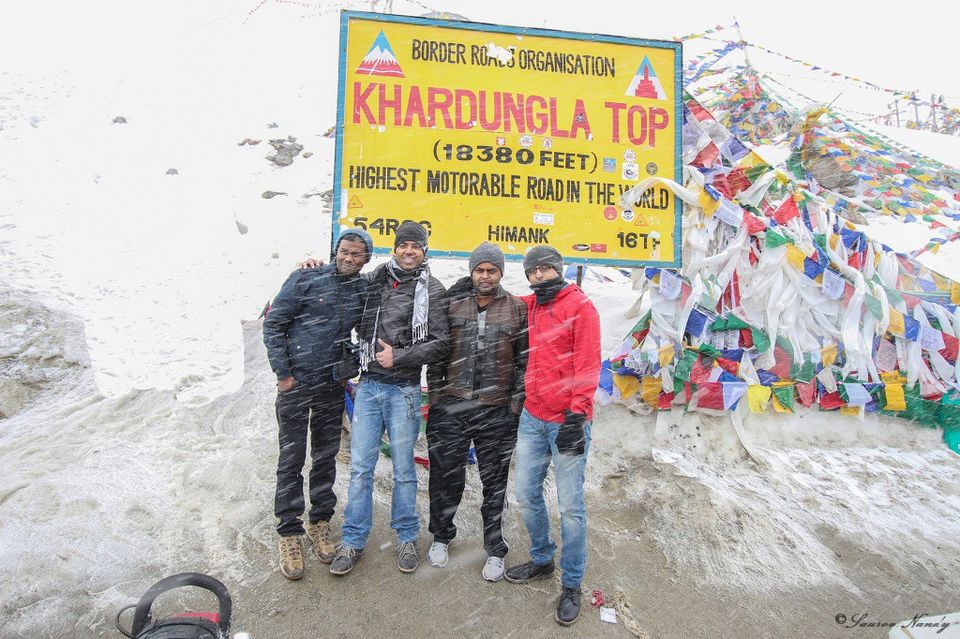 Pic - At Khardung La top
It took us roughly one and half hour to reach Khardung La top. By the time we reached there is was snowing heavily. We spent roughly 20 mins at the top and clicked all the mandatory pics and selfies. Then we started our descent and the snow fall continued till we reached North Pullu.
We headed further north towards the beautiful Nubra Valley. Our next stop was the Sand Dunes of Hunder. We went for a ride on the bactrian double humped camel. Then we headed towards Diskit Monastery. The humongous 100ft Maitreya Buddha statue and the Monastery looks stunning.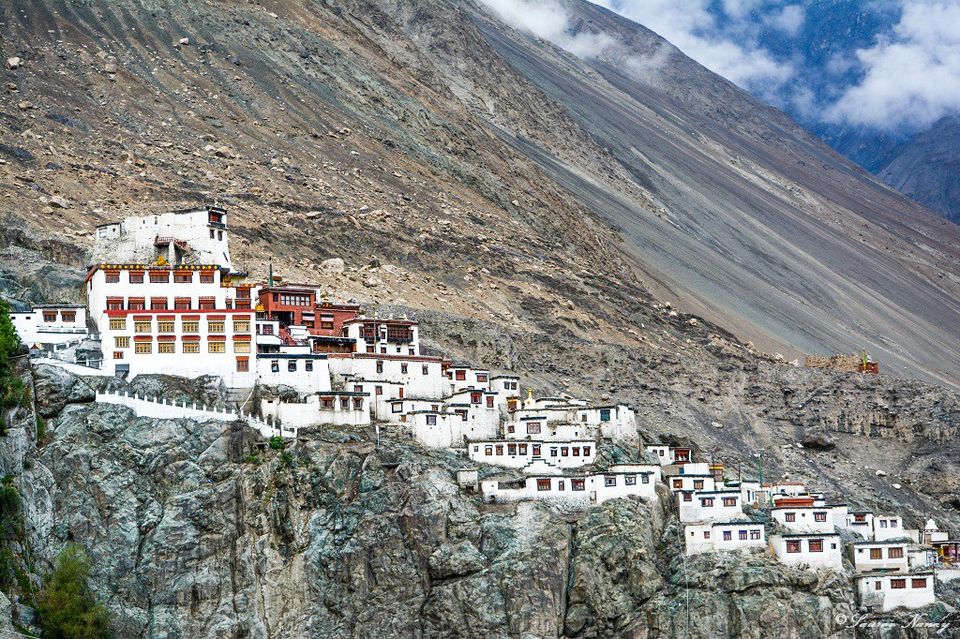 Pic - Diskit Monastery.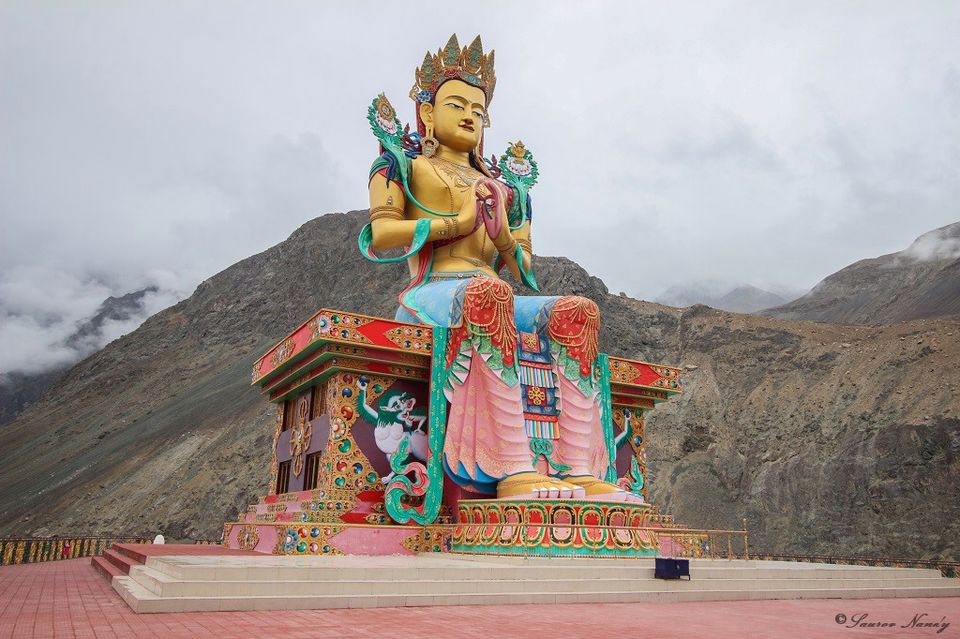 Pic - Maitreya Buddha statue at Diskit.
We spent some time at the Monastery and then headed towards the camp site at Tirith where we would be staying for the night. The camp site was lovely with panaromic view of the mountains. The camp had electricity from 7PM to 11PM. We discussed about our plan for the next day and called it an early night. We decided that we would be travelling directly from Tirith to Pangong Tso instead of going back to Leh.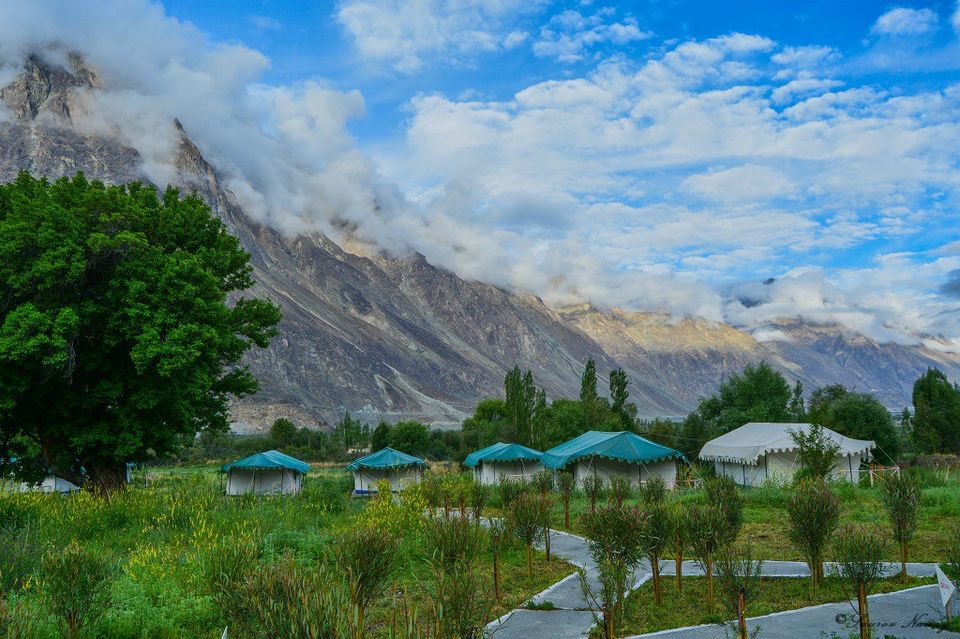 Pic - Our Camp Site at Tirith, Nubra Valley.
Day 5 - Tirith - Shyok - Pangong Tso - Chang La - Leh - We started our day with a search for diesel as there are no fuel Station in Nubra Valley and we needed more fuel in order to execute our plan of travelling directly to Pangong Tso and then return to Leh for the Night. Luckily we managed to get some fuel and then we headed towards Pangong Tso. The route from Tirith to Pangong Tso is the most picturesque that we saw till now. We reached Pangong Tso by noon.It is one of the most stunning sights in whole of Ladakh region.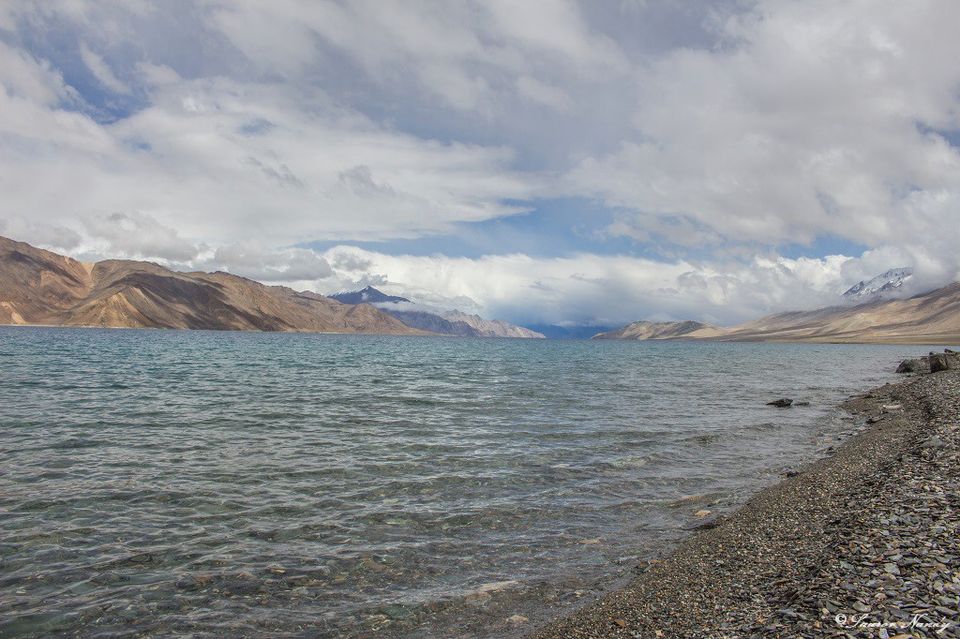 Pic - Pangong Tso.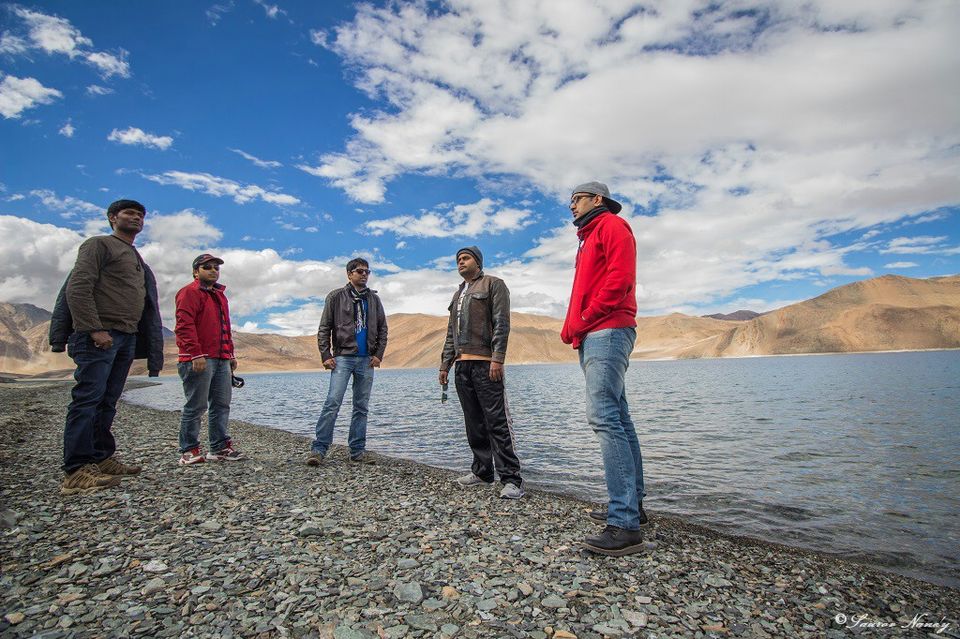 Pic - Disoriented by the breathtaking beauty. At Pangong Tso.
After spending few hours near the lake we headed toward Leh. Our next stop was Chang La top. At 17688ft it is considered as the third highest motorable pass in the world.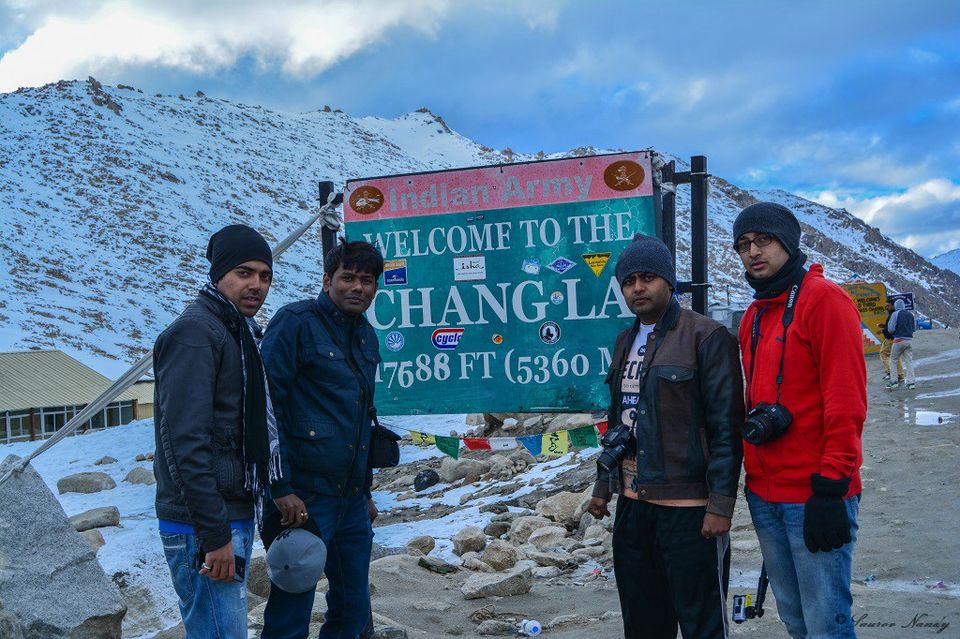 Pic - Chang La Top.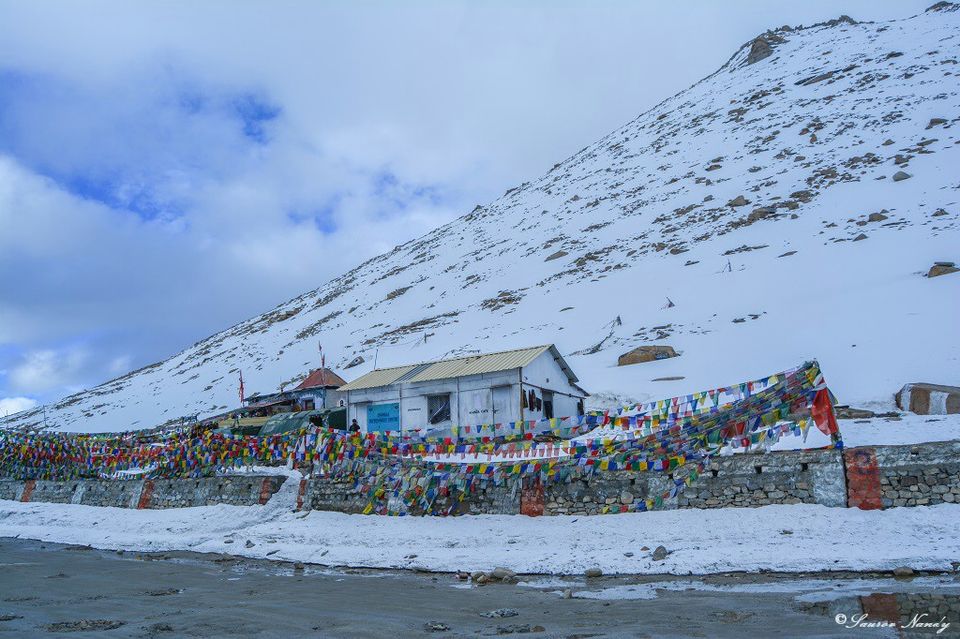 Pic - Chang La Baba Temple. At Chang La Top.
We spent half an hour at Chang La top and then headed towards Leh. We reached Leh after Sunset and straight away we sat down to plan for next day as now we had an extra day in Leh for local sight seeing.
Day 6 - Leh - We had a late start to the day and our first stop was Thiksey Monastery. Thiksey is widely considered as one of the top 10 most beautiful monasteries in the world. The Monastery is spread across a twelve-story complex and is visible from Manali - Leh highway. The monastery has a huge Maitreya Buddha statue and Inner prayer hall. The view from the top of the Monastery is simply stunning.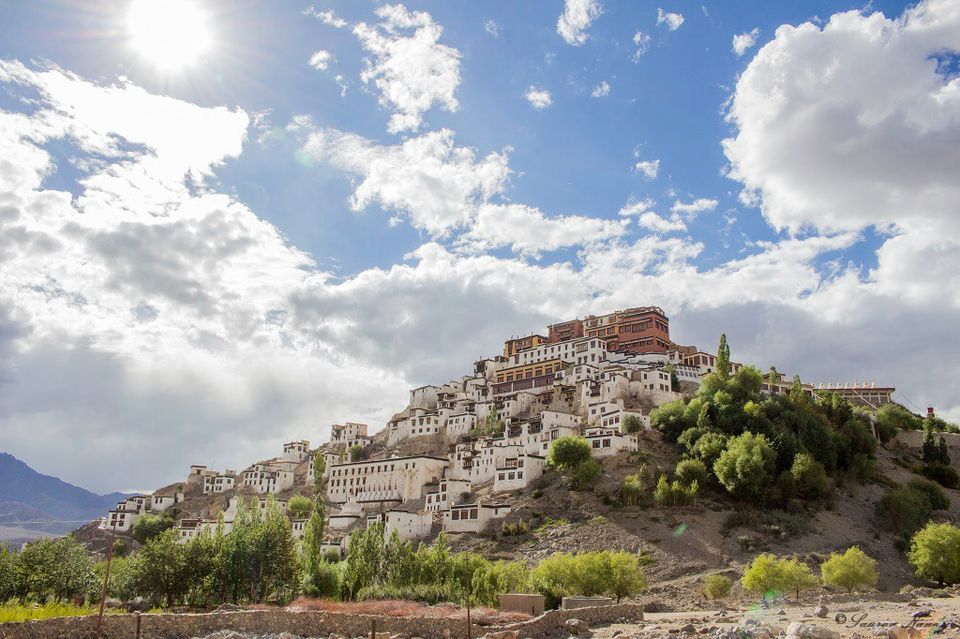 Pic - Thiksey Monastery.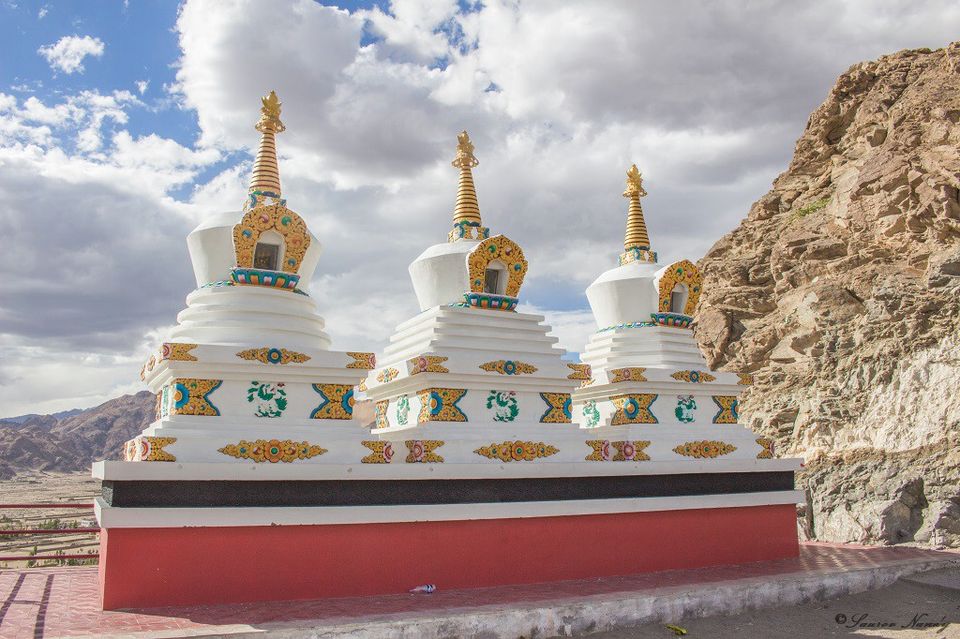 Pic - Thiksey Monastery.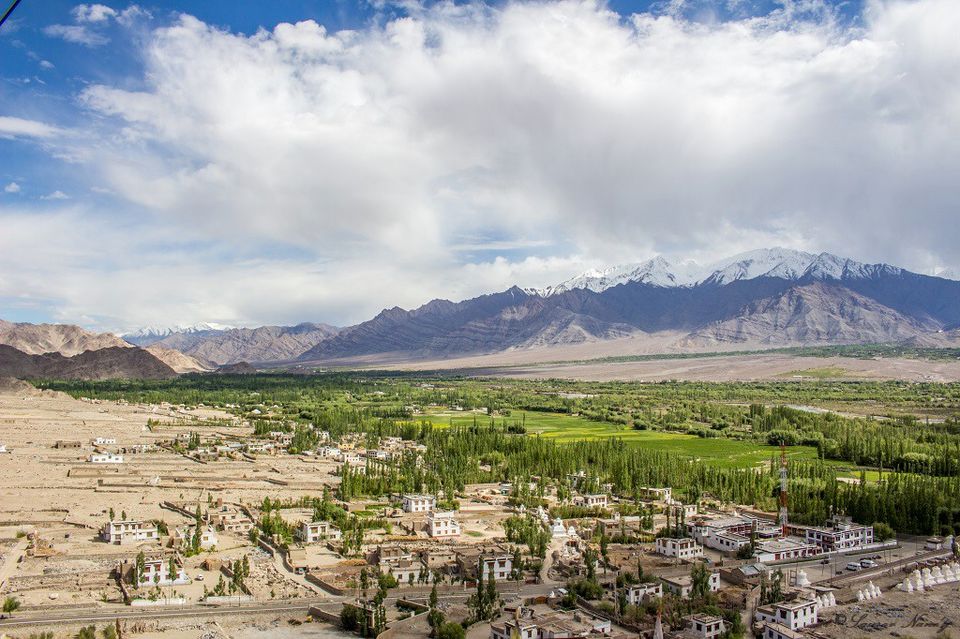 Pic - View from the top of Thiskey Monastery.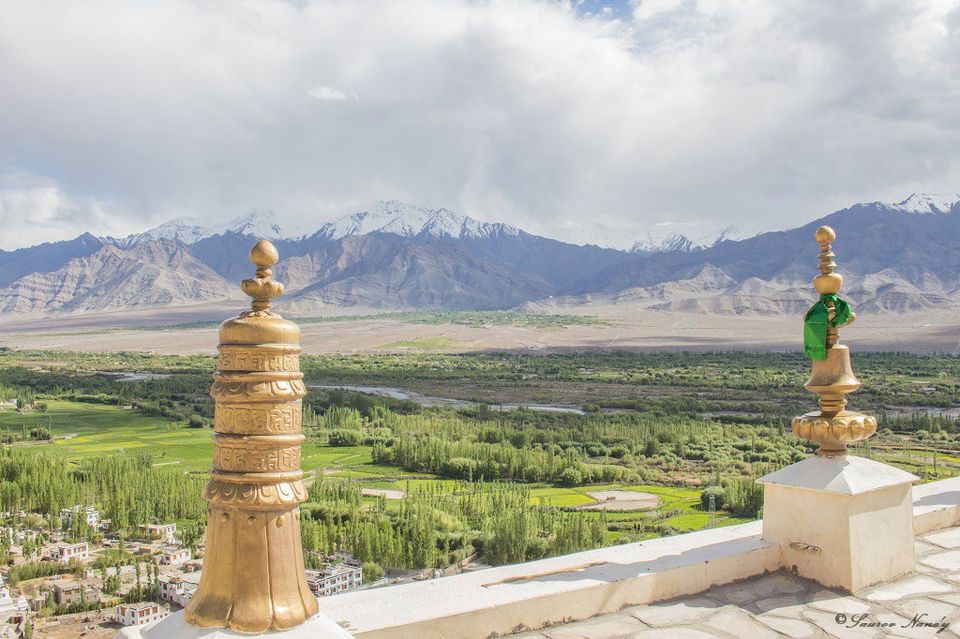 Pic - View from the top of Thiskey Monastery.
We spent quite a lot of time at the Monastery and the souvenir shop. Next we headed towards Druk white lotus school AKA 3 idiots or Racho's school.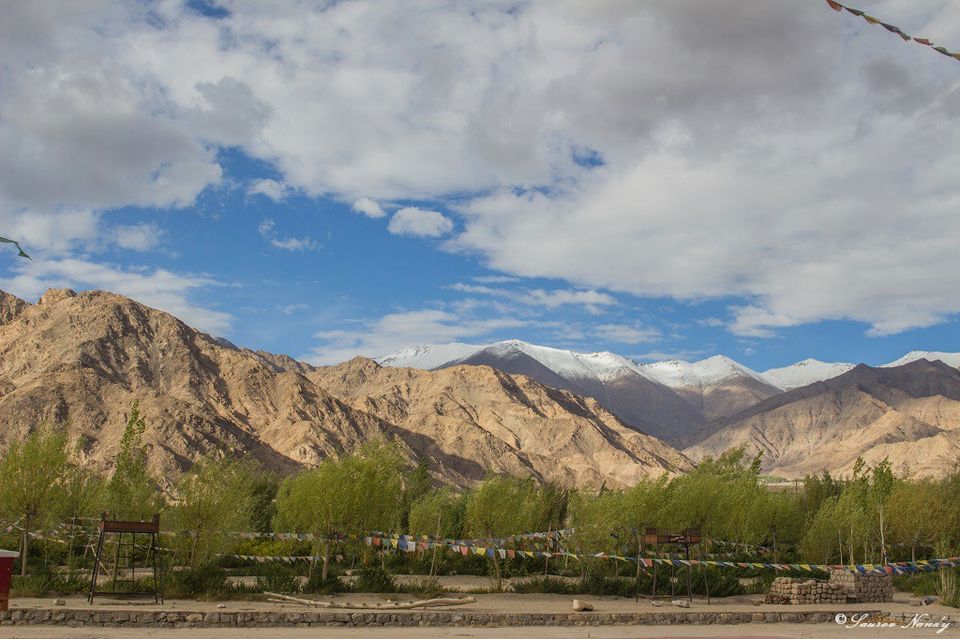 Pic - View from the prayer grounds of Rancho's School.
Next we went to Shey Palace. We climbed to the top of Shey Palace to check out the lovely sunset. It was couple of hundred feet high and the climb was worth it as the view from the top was stunning. We spent quite a lot of time at the top of the palace soaking in the lovely spectacle of the golden hour.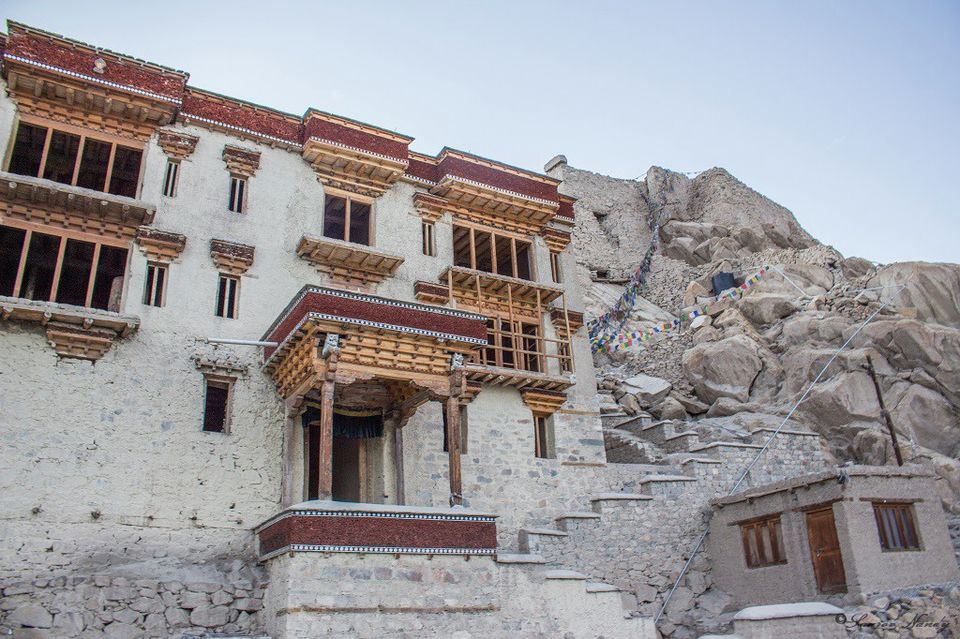 Pic - Shey palace.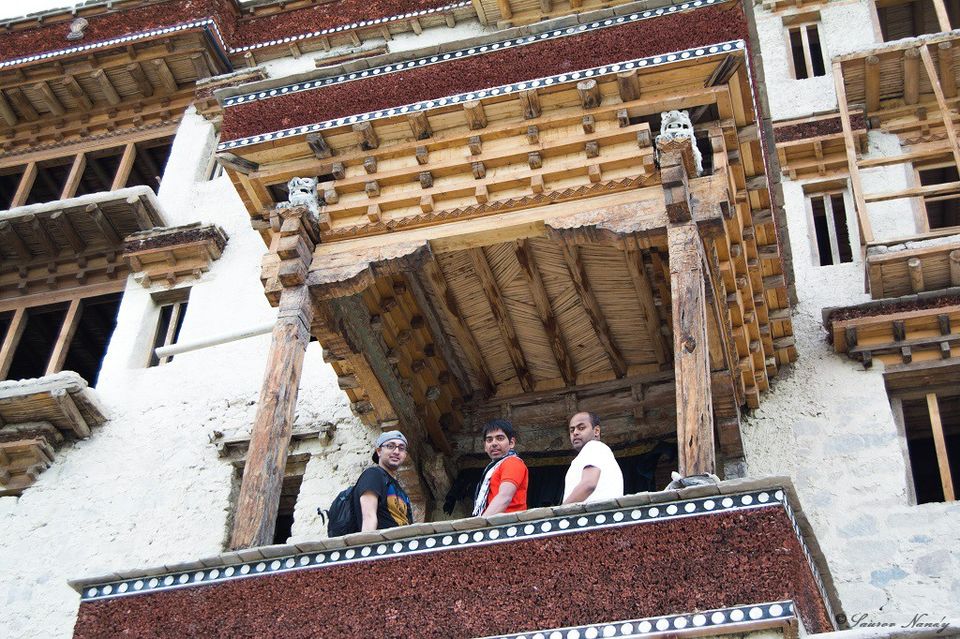 Pic - Shey palace.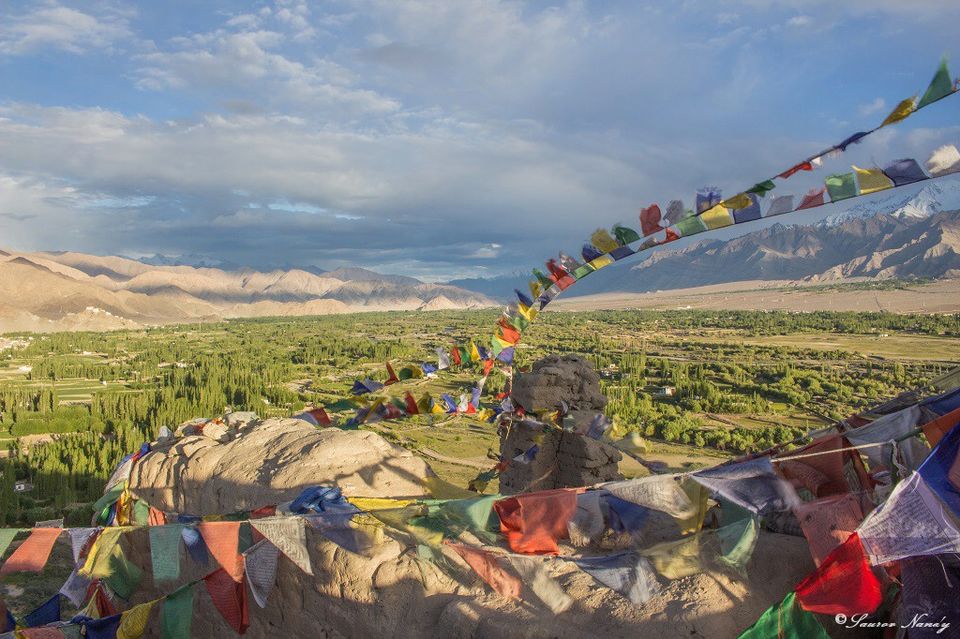 Pic - View from the top of Shey Palace.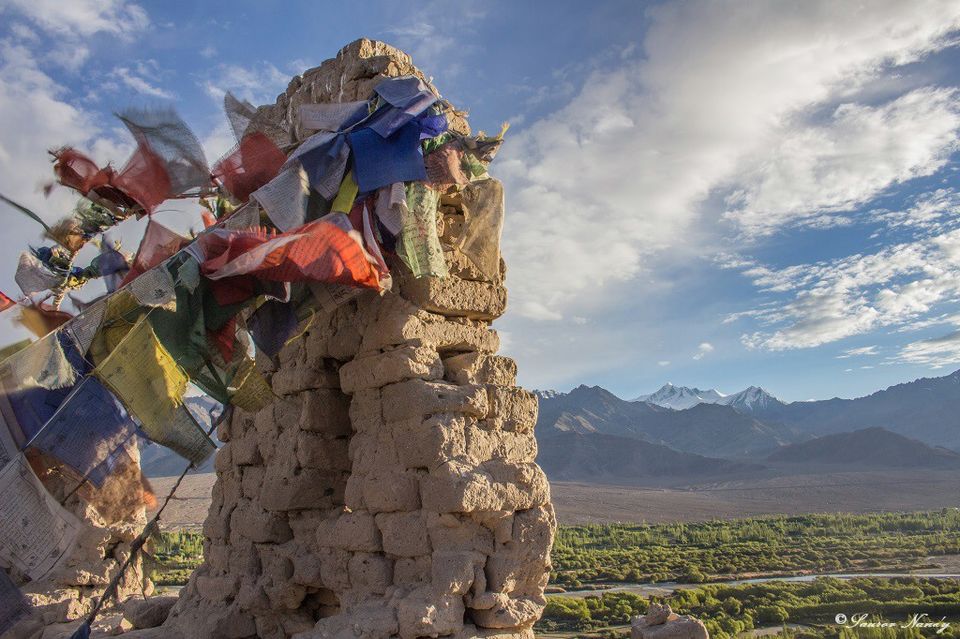 Pic - View from the top of Shey Palace.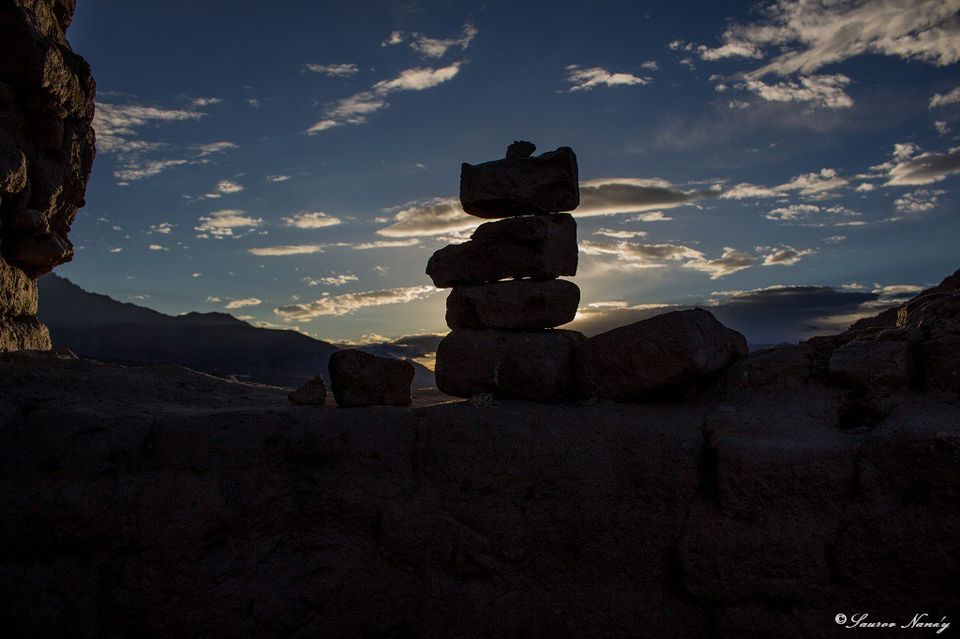 Pic - Cairn at Shey palace.
Our last stop of the day was Shanti Stupa. It's a beautiful sight at night and as we went there on a full moon day we could see the snow capped mountains in the background and the road to Khardung La at a distance. We clicked some pics of the moonlit mountains and headed towards the hotel as it was our last day in Leh.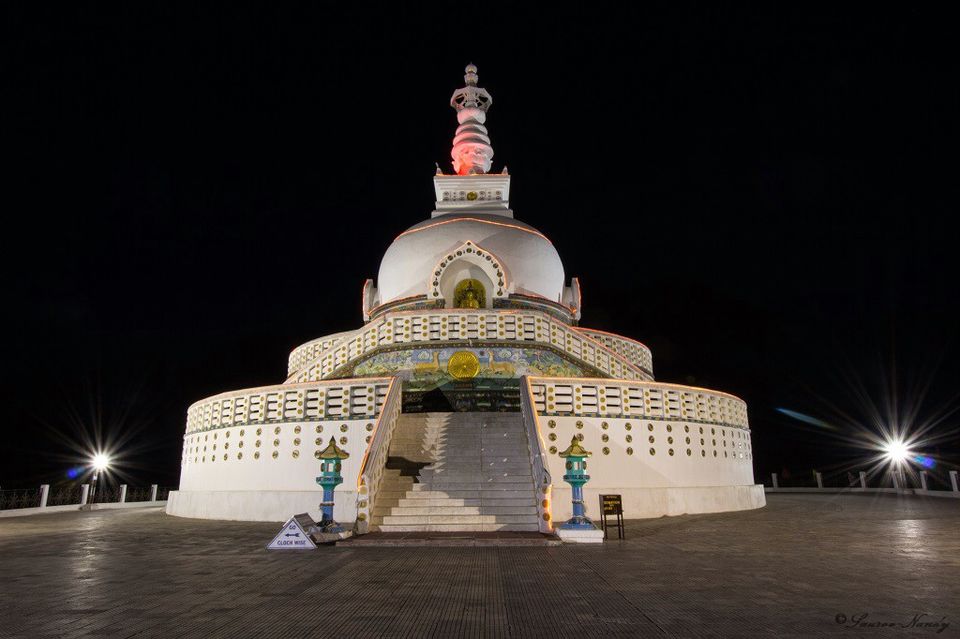 Pic - Shanti Stupa.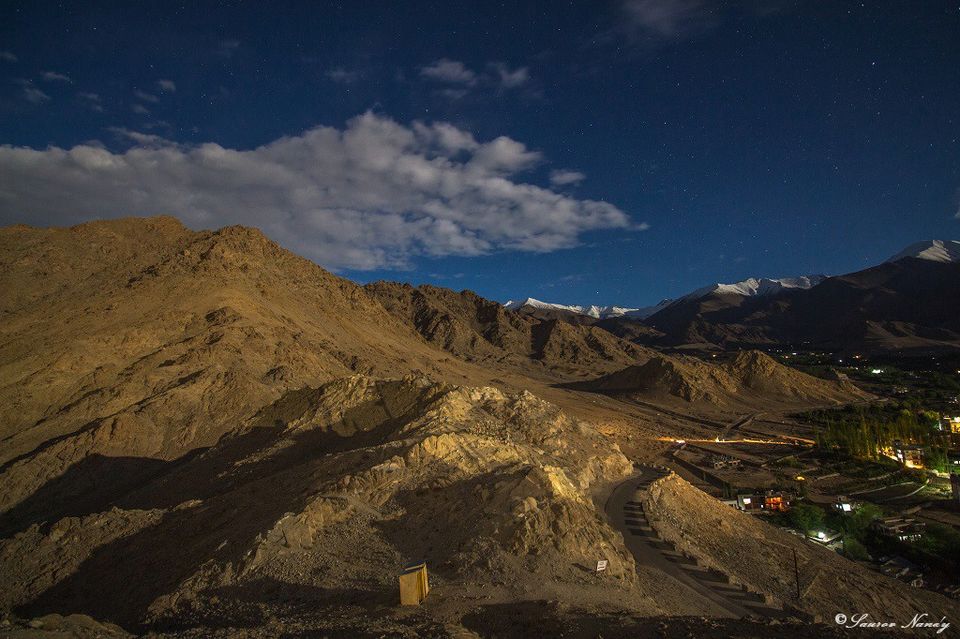 Pic - Moonlit mountains of Leh.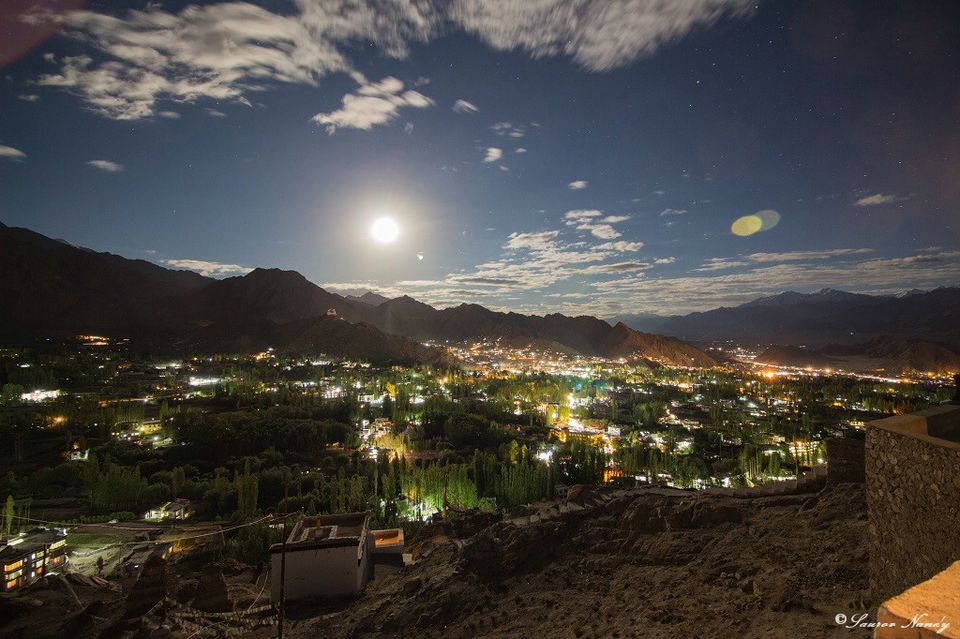 Pic - Leh at night. Pic clicked from Shanti Stupa.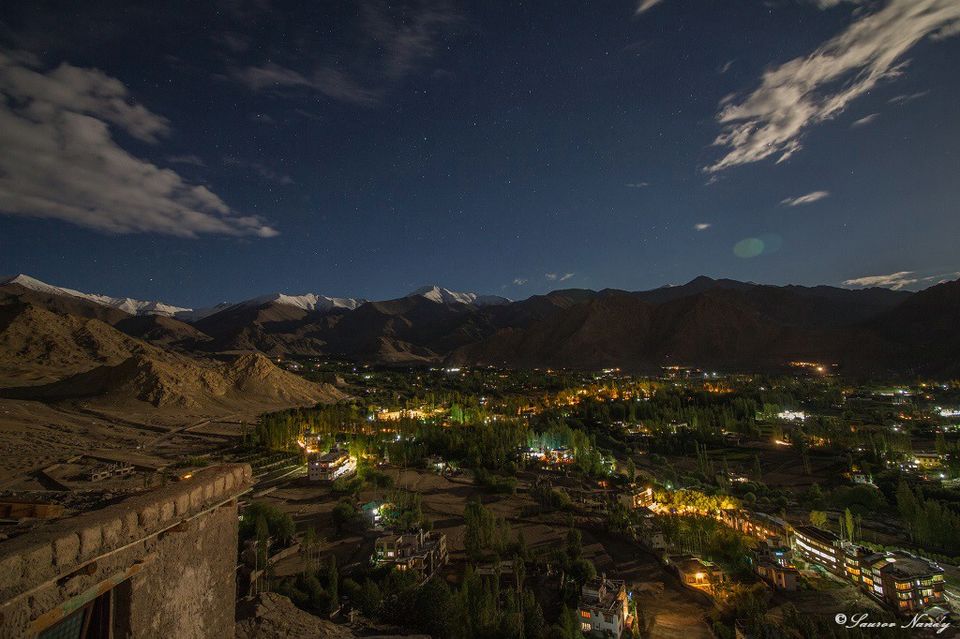 Pic - Leh at night. Pic clicked from Shanti Stupa.
Day 7 - Leh - Kargil - Zoji La - Sonamarg - It was time to leave the stunning Moonland and start our return journey. It felt like the last 7 days have passed so quickly. We had a early start from Leh as we needed to cover a long distance to our night halt at Sonamarg. On our way back everyone was quite as they were soaking in the beauty of the terrain for a last time. We stopped once more at Kargil War Memorial for a while and then headed straight to Sonamarg. We made good progress and reached Sonamarg before Sunset. Sonamarg was full of pilgrims as Amarnath Yatra was in full swing. We went our towards the market area in evening and then called it a night.
Day 8 - Sonamarg -Kangan - Srinagar - It was a relaxing day as we had a small distance to cover from Sonamarg to Srinagar. No lads holiday is complete without trying out some adventure sports, so we went out for River rafting.
Sind river was in full fury as temperature was increasing in higher altitude and lots of snow had melted in higher region. We went for the 7km course from Kangan. It was the second time that I was trying river rafting (first one was in river beas in Kullu, Himachal Pradesh) and it felt amazing. Proper adrenaline rush.
After the high of river rafting we proceeded towards Srinagar and spent the evening souvenir shopping in Srinagar.
Day 9 - Srinagar - Goa - Bangalore - Finally it was time to say goodbye. It was my second trip to J&K in consecutive years and it more than lived up to the expectation. No other place can match up to it's natural beauty and most certainly no camera can do justice to the sheer magnitude of it's stunning landscape. I would without a doubt recommend every traveller to visit J&K to soak in the beauty of that place and to live the adventure.
On our return journey we had a few hours layover at Goa so we went out to the nearby beach and spent the night at a shack to commemorate our journey from 3020 ft to 18380 ft to 0 ft.