Palaces are all about history, an old-world charm and a life lived by royals of a different era that stands still in its physical form. Dating back to centuries of history and an era that one would never truly understand but can only appreciate, the true sense of it lies in the fact that it is best to preserve the remains and make heritage properties commercial in a protective way for the younger generations to see. With many such palaces and heritage properties in India that have been converted into royal stays and some of which are open to the public for viewing are a good channel to earn revenue and a source of learning to the public.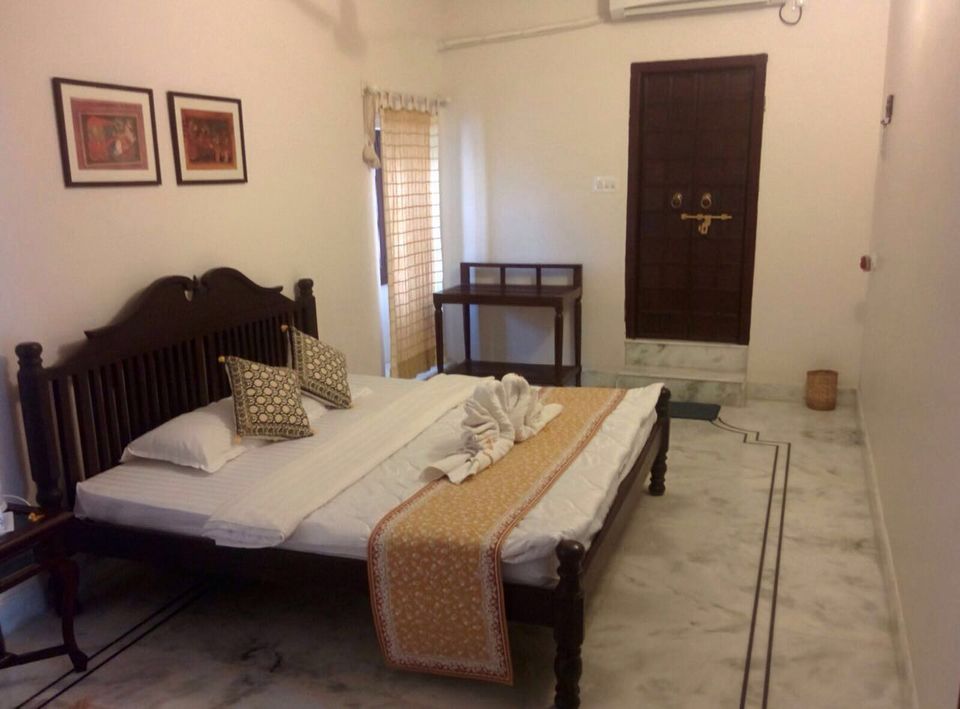 Bhindar Palace is one of the wonderful heritage stays that I have been to in a long time. To start with, our trip consisted of visiting a very small village in Rajasthan for a local wedding. While there were no hotels or lounges in or around, we resorted to choosing the nearest popular town which was Bhindar. Unaware of Bhindar as a locality, we searched online for popular stays and Rajmahal Bhindar popped up as an option that suited our requirements and looked the best among other properties. Little did we know that we were going to be staying at the King's Palace and the royal family itself!
Located around an hour and a half away from Udaipur city, Bhindar is a smaller town which is quaint in its own ways. Passing through lush green farms, a local market filled with colourful local wears and popular silver-ware, the bustling town is filled with friendly locals and eat-outs that serve pleasant local food. Arriving into Rajmahal Palace, the stay has ample of space of parking and one is welcomed into the premises by large-sized historic looking doors that instantly makes you feel royal!
With around twenty rooms that are open to guests, the Palace is more of a heritage home-stay with local customisations of the rooms, private domestic home staff and friendly care-takers that add to the local touch of a home-stay as compared to staying at a fancy hotel. We were allotted a comfortable room with all the basic necessities intact and the ambience transported us into an old-world charm where our room must have been occupied by fancy royals in those days. After a few hours of relaxing, we decided to explore the palace with the help of Hiralal – a domestic help who was excited and sweet enough to show us around.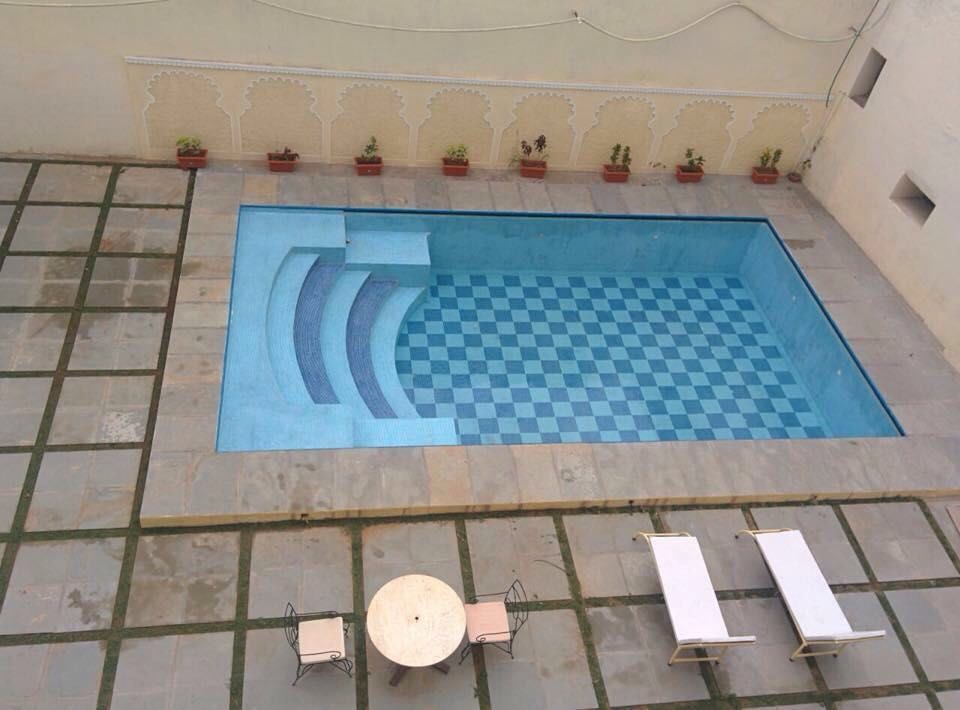 The palace is spread over a large area and the property is divided into two sections wherein half is occupied by the royal family themselves and the other half is open to guests. After a walk through to the palace's terrace which overlooks the entire town, we were lucky to be able to meet the present King Randhir Singh who was kind and generous to take time out for us. He even encouraged us to have a walk through into their private living room which was decorated with plush furniture and a rich history of photos that dated back to their ancestors as well as the current descendants. Post that, we were taken through the private premises of the palace where they personally stay and it was an honour to be able to see the pretty ambience and old architecture that is still intact.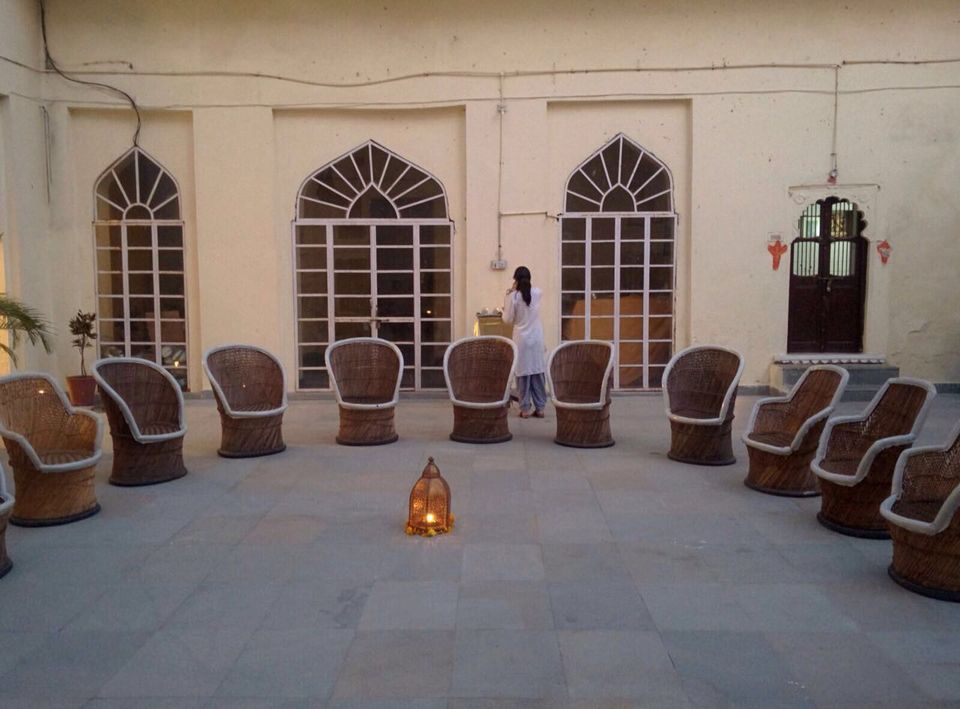 We ended our evening with a leisure chat with the royal family. We were welcomed to sit with the present Rani Dependra Kumari and their son who is the prince - Maharaj Kunwar Pranveer Singh and daughter in-law - Kunwarani Jyoti Kunwar who were newly married. We spoke about traditions, history, their lifestyle and upbringing and shared our stories from the city as well. With so much to learn and understand, our experience was enchanting and we were thankful to them for spending so much time with us. Ending our day with dinner at their private dining hall, the food was nothing but an absolute delight! It was freshly made and laden with ghee and had the perfect local taste that travellers would relish.
Our stay at the palace was brief but our experience was nothing short of one which has a magical ending. From the basics of food to stay, everything was homely and one that instantly puts travellers to comfort. I highly recommend fellow travellers to try and visit this place if you are in and around Udaipur! The cherry on your cake would be the fact that you get to stay with the royals, experience their life and more so be able to dip yourself in ancient luxury which is an experience in itself.
Interesting Facts of Rajmahal Palace, Bhindar
The palace is an interesting place to be as it is one of the few properties where they have converted themselves into a home-stay rather than a commercial hotel property. Apart from our stay there, there are other interesting facts about the palace's history, current services, charges and so on that are worth knowing.
Family History
Rajmahal Palace is currently managed by Maharaj Randhir Singh and his entire family who is the 19th generation of the royal family. On the board of directors and a dedicated professional who takes care of the property and the homestay facilities is Parthvi Singh who is the niece of the King.
Dating back to the age-old history, the first King of Bhindar was Maharana Udai Singh who had twenty-four queens, twenty-five sons and twenty daughters from which his first two sons remained popular in the Indian history. The first being Maharana Pratap Singh whose current descendants handle heritage properties in Udaipur and the second son being Maharana Shakti Singh whose current descendants handle heritage properties in Bhindar.
With such a rich history to follow, the experience of staying at Rajmahal Palace is a one in a lifetime's opportunity.
History of the Palace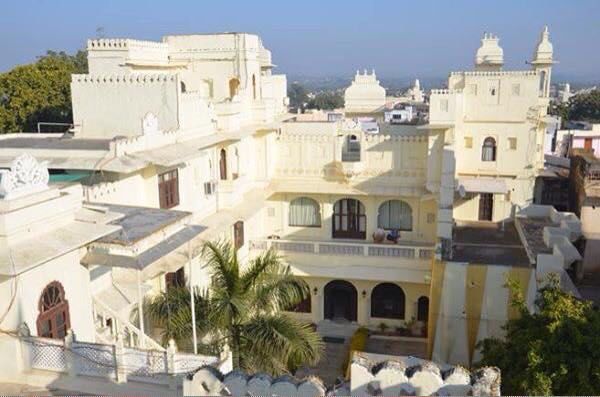 The palace of Bhindar is approximately 438 years old and is located in the heart of Bhindar's town. Originally constructed by Maharana Shakti Singh in 1578 AD, the palace has had its share of added structures from each descendant in the years to follow. With an Islamic invasion in each generation, it is a fact of pride that the palace was never permanently occupied by the Mughals but was only used as a temporary destination.
Bhindar town is known for its friendly locals, colourful markets and for one of the most humble and approachable King who is a part of the legislative assembly and dedicates his services to the locals. He always has his doors open for the villagers and is all ears about the problems they might be facing.
A Wedding Destination
Rajmahal Palace has opened its doors to the events of destination weddings which could be hosted within their property. With packages open to customisation and the client's requirements, the palace is a perfect destination to get married in. With different areas within the property that could hold from around 40 – 200 guests, the palace is a recommended property if you are looking at hosting a wedding with a royal theme.
Prices
The price ranges for various rooms at the palace differ, but are affordable and the best being that guests get to experience a home-stay in a heritage property which is incomparable. Their Deluxe rooms start at Rs.5000 INR CPAI, Suite rooms at Rs. 6000 INR CPAI and Premiere Suite rooms at Rs. 7500 INR CPAI which includes a delicious local breakfast and taxes.
Contact Information
One could get in touch with Parthvi Bhindar who is the Director of Rajmahal Bhindar at rajmahalbhindar@gmail.com or 9461503339 / 02957-250551 for personal queries.
QUICK INFORMATION
How to get there:
Bhindar is a town situated in Udaipur District of Rajasthan State. It is merely a one and half hour journey from Udaipur city in Rajasthan and a couple of hours over from Gujarat State. One could plan their journey with the help of Google Maps and a little guidance from friendly locals.
How to get around:
If you have your personal car, that is the best option. On the other hand, there are many taxi services which could be pre-booked according to one's itinerary. If you are staying at Bhindar Palace, the staff and royal family are extremely helpful to assist you with travel services and coaches that offer one day tours at an affordable rate.
Climate:
The weather is usually warm during the summers and cools down during the rainy season while further dropping lower towards the winters. One could plan their trip anytime between July to February. And for those who love nature and lush greenery, the rains are the best period to take this trip!
Accommodation:
Bhindar has a limited range of hotels to choose from. The best choice is Rajmahal Bhindar where the royal family resides. With an affordable price and a comfortable stay, one is sure to feel relaxed and at peace, just like home. With an amazing view of the town from the palace's terrace and a large space to explore within the palace itself, Rajmahal Bhindar is the place to go! The royal family also assists their guests with one day tours, horse-riding trips and other interesting explorations during your stay.