Who doesn't love a good vacation? Visiting a new place, exploring the local culture and learning about unique traditions makes travelling an enriching experience. But with so much to see we often don't give a second thought to where we should stay on a vacation. What we forget is that taking a vacation for pure relaxation is almost as necessary as taking one for exploration. And when you want rejuvenation, what better than a luxury accommodation like Sujan Rajmahal Palace in the Pink City of Jaipur?
Sujan Rajmahal in Jaipur is the most idyllic vacation destination for those who wish to spend a weekend in the lap of luxury!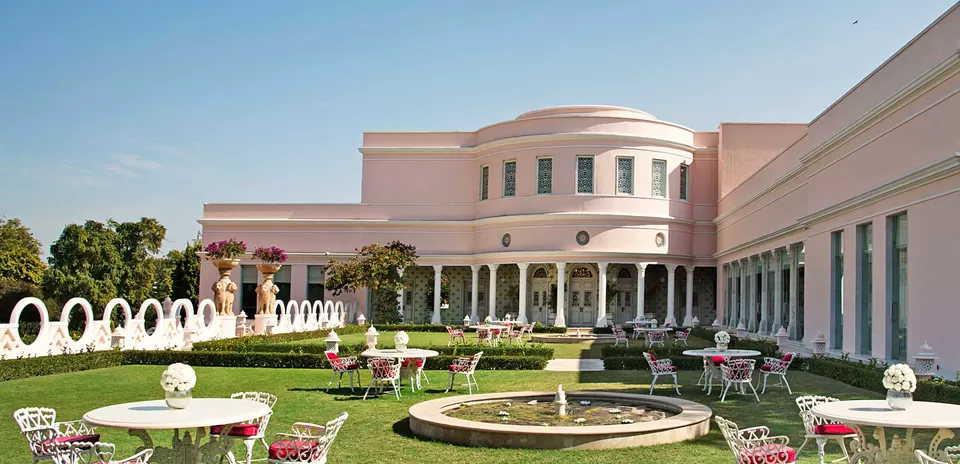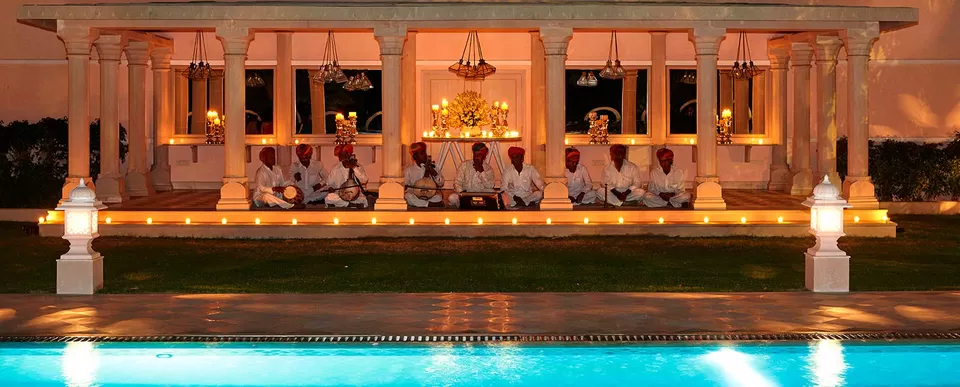 ★ About the Sujan Rajmahal Palace
One of the oldest and most treasured palaces in Jaipur, Sujan Rajmahal Palace still stands strong, reflecting the royal standard of the House Of Amber. Home to the Maharaja of Jaipur, this exquisite royal palace is an enclosed oasis, secluded amidst verdant gardens. Tall windows, mirrored doors and meticulously-designed interiors all work to provide a regal stay.
Conceived by H.H Sawai Jai Singh II as a private palace, a garden retreat, for his beloved wife, Chandra Kanwar Ranawat ji, Rajmahal Palace has stood witness to over 250 years of history. With a repository of celebrated history, Sujan Rajmahal Palace has over the decades, hosted Her Majesty Queen Elizabeth II and HRH The Duke of Edinburgh, as well as several other members of the British royal family, and eminent international celebrities such as Jackie Kennedy, Lord and Lady Mountbatten, and the Shah of Iran.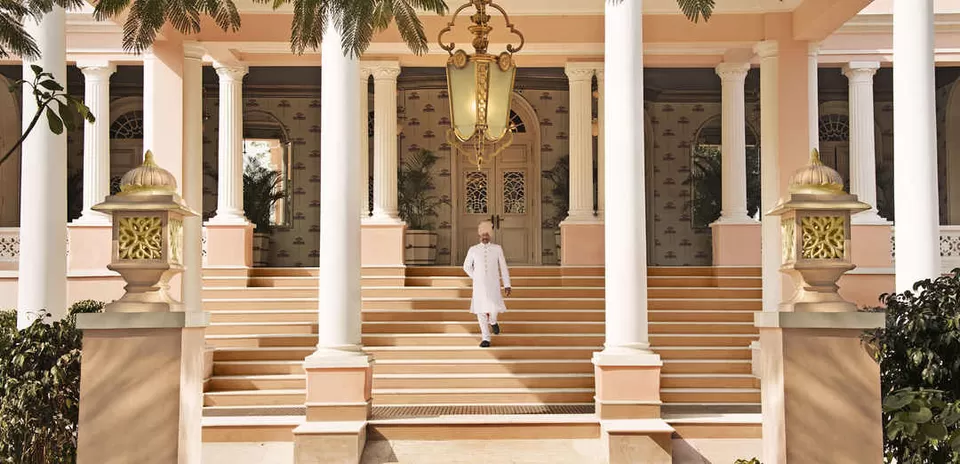 Today the palace embodies the heritage of its past, maintaining the original, stunning marble staircase, elaborate chandeliers, and treasured family possessions. The spacious apartments, suites and rooms of Rajmahal Palace have undergone extensive refurbishment.
Each room of Sujan Rajmahal Palace is completely different from the other, designed with a specific theme in mind. The wallpapers tell the stories of Jaipur, its rulers, and their legacies. Motifs and colours in the room reinforce the theme and define the backdrop for the furniture and other elements. The floral-patterned borders of the curtains, the geometric shapes in the architecture, the carved stones and embellished walls are all reminiscent of the forts, palaces and havelis that have defined the Kingdom of Amer for centuries.
★ Ideal for
Couples looking for a once-in-a-lifetime experience of staying in an uber-luxurious royal palace in the ultimate destination, Jaipur.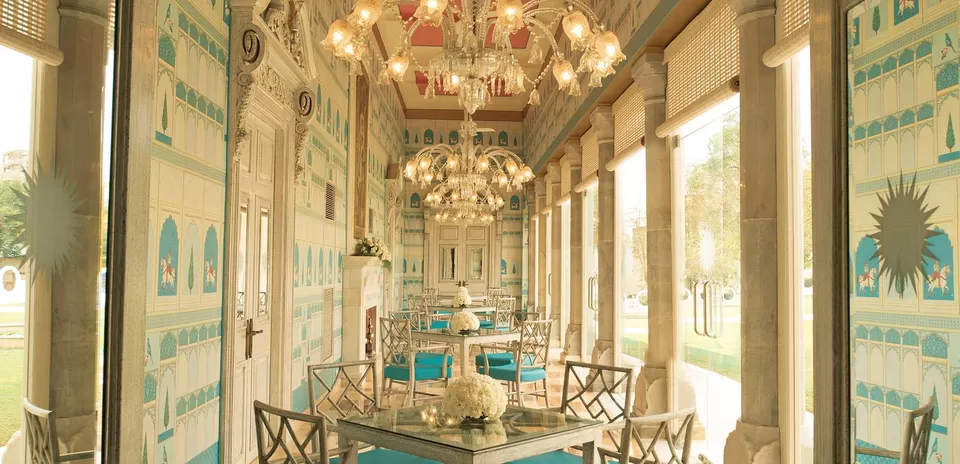 There are four categories of accommodation at Sujan Rajmahal Palace –
Royal Apartments
Ram Niwas
A two-bedroom apartment is truly one for royalty. The private residence of the Sawai Man Singh II and his son, this place will instantly transport you to authentic grandeur of a regal past. A private entrance, elegant living area, a separate bar and drawing room that opens out onto a private terrace, and an eight-chair private dining room defines the common area of Ram Niwas. The main bedroom has a marble bathroom with bathtub, showers and twin basins. This classical style is complimented with the latest modern entertainment system to provide all you could need for a truly luxurious stay. The adjoining Yuvraj suite has a twin bed, dressing room and en suite bathroom. This can also be booked independently if the main Ram Niwas is not booked.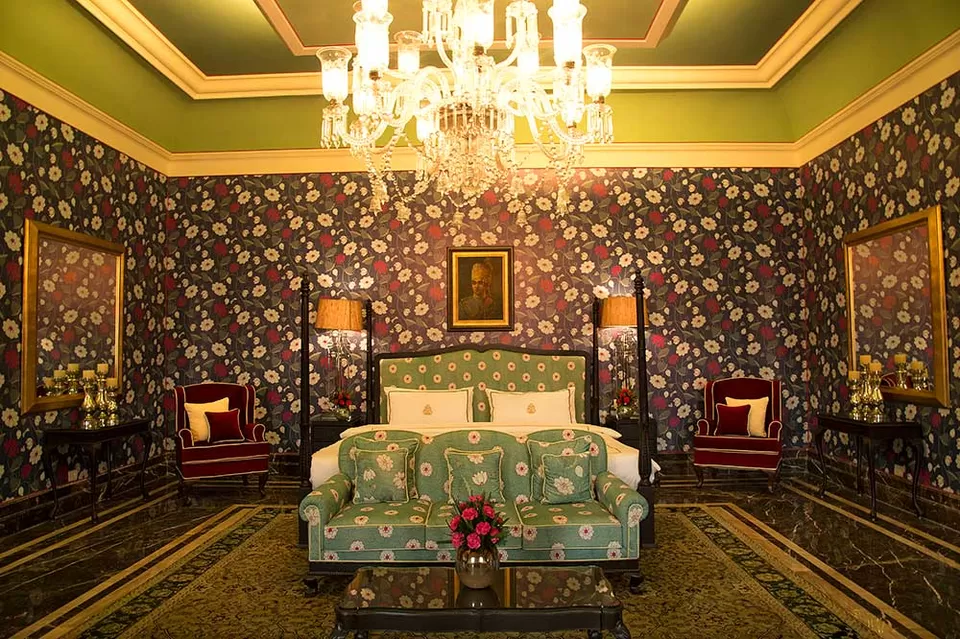 The Maharani's Apartment
The second royal apartment is the Maharani's apartment, and as the name suggests, was a private suite of the queen. It has a massive master bedroom, a dressing room, en suite bathroom, a private dining room, a full-service kitchen and a grand entrance hall. Double doors lead down to an enclosed private verandah and heated plunge pool.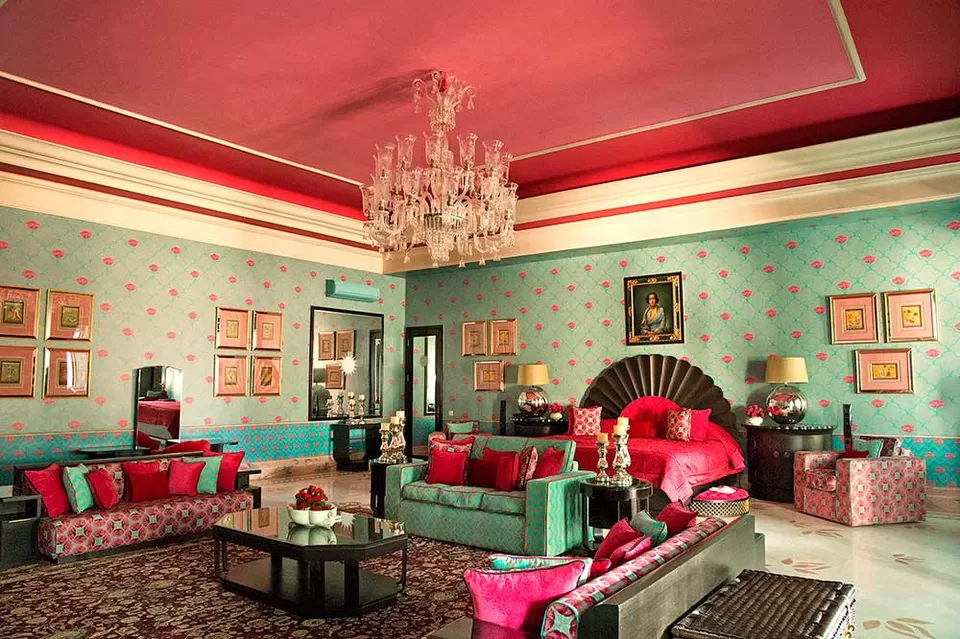 A stay in both those apartments comes with the services of a private butler for the duration of the stay as well as a complimentary chauffeur service.
Royal Suits
The Mountbatten Suite
Used by Lord Mountbatten during pre-independence times, this royal suite is the epitome of luxurious comfort in Sujan Rajmahal Palace. A drawing room, double bedroom, dressing room, en suite bathroom and pantry define this suite as the ultimate resting place for the night.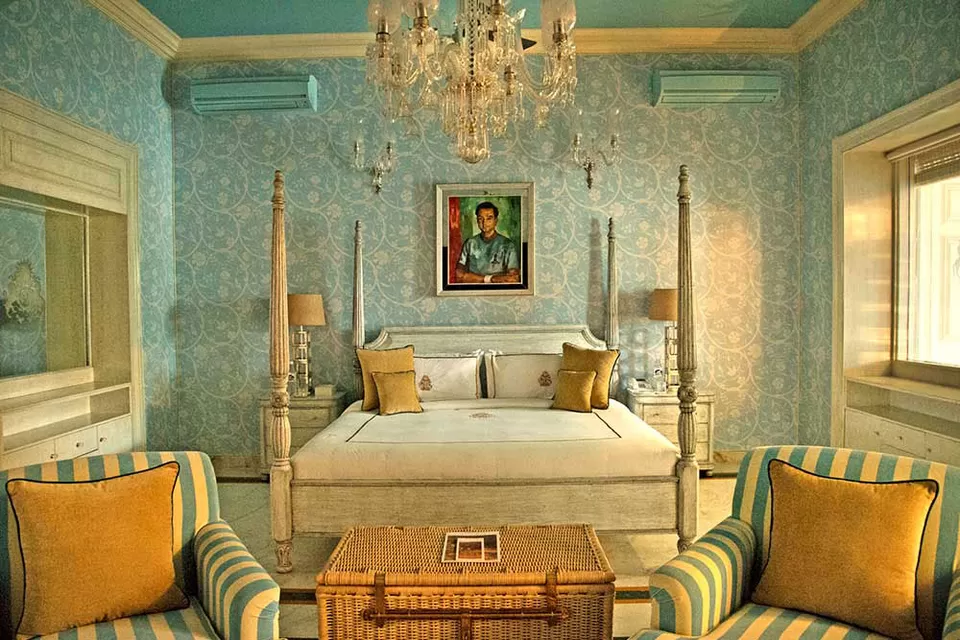 The Queen Elizabeth II Suite
Her Majesty Queen Elizabeth II stayed here when she and the Duke of Edinburgh were on a state visit to India in the winter of 1961.
This family suite consists of one large double bedroom, en-suite bathroom, dressing room, drawing room, dining room and a separate double bedroom and bathroom, perfect for a stay with children.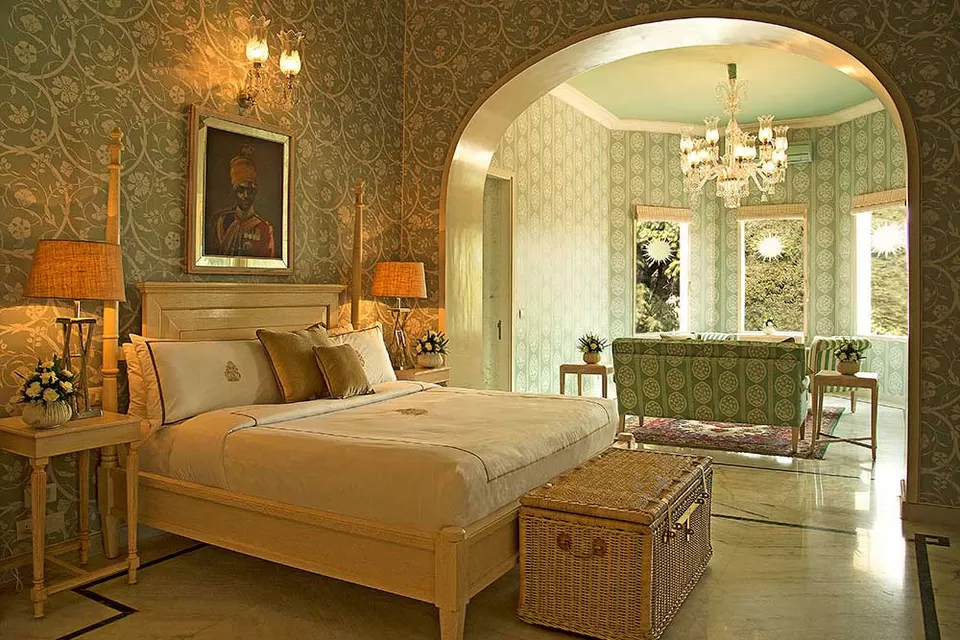 The Kennedy Suite
You probably would recognise this suite by the numerous photographs of its former guest, Jackie Kennedy. Her famous trip in 1962 also popularised this suite. The suite has a drawing room, one double bedroom, dressing room, dining room and en suite bathroom.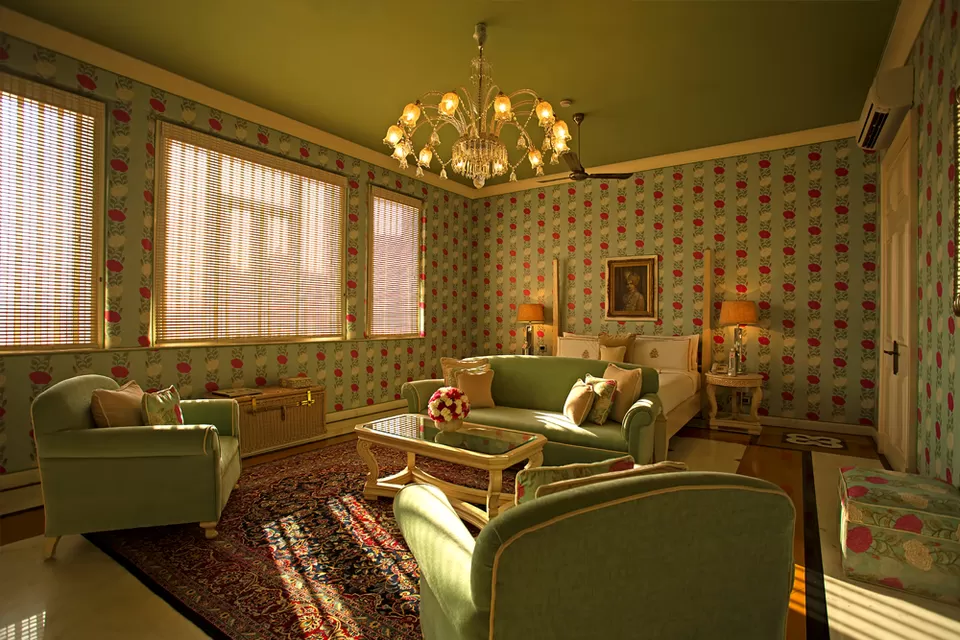 Palace Suites
Prince of Wales, Princess of Wales and The Resident's Suite are the three palace suites. All come with one double bedroom, dressing room, en suite bathroom. Elegantly designed, with the best quality furniture and furnishings ensure that your stay in any of these suites is unmatched and loaded with extravagance. These suites are ideal for couples looking for privacy.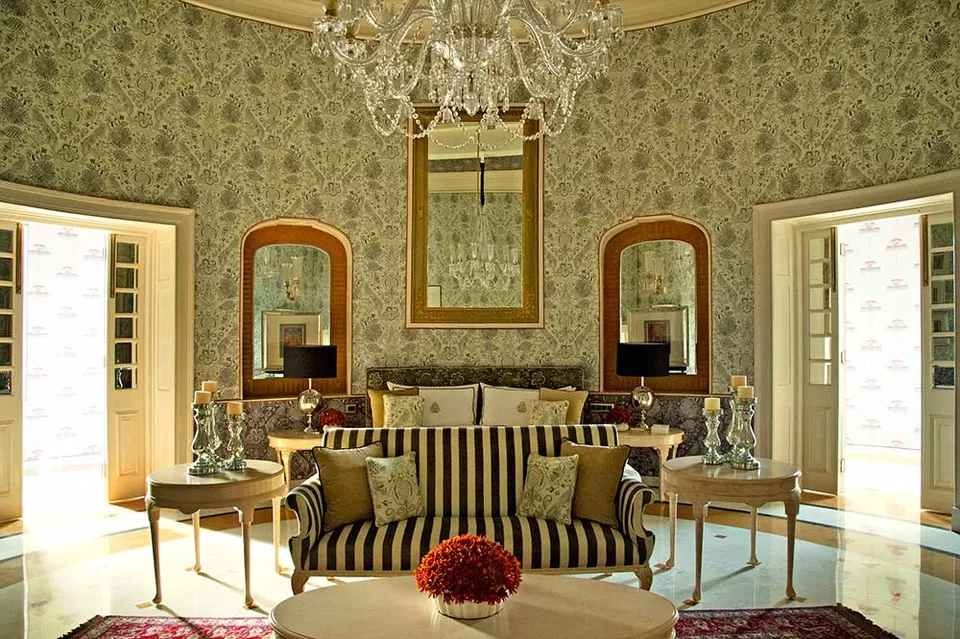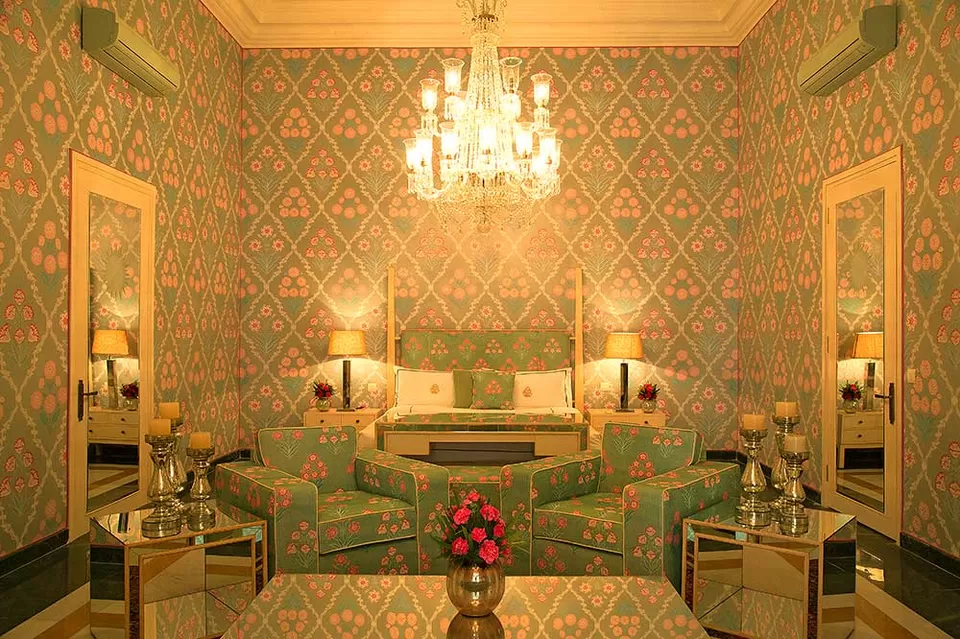 Palace Rooms
There are two types of palace rooms – Madho Niwas and Sukh Niwas. Madho Niwas I and II each have one double bedroom, dressing room and en suite bathroom. These rooms are ideal for couples travelling with teenage kids. Sukh Niwas I and II come with an added verandah to enjoy the winter breeze in the evening. The Sukh Niwas I and II share a sitting room as well and is perfect to book when travelling with family.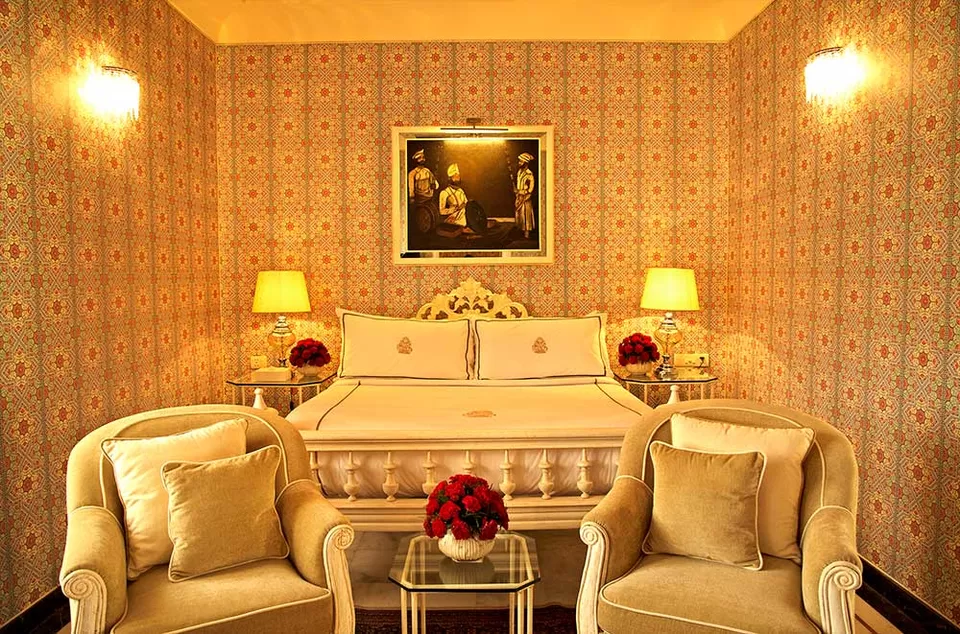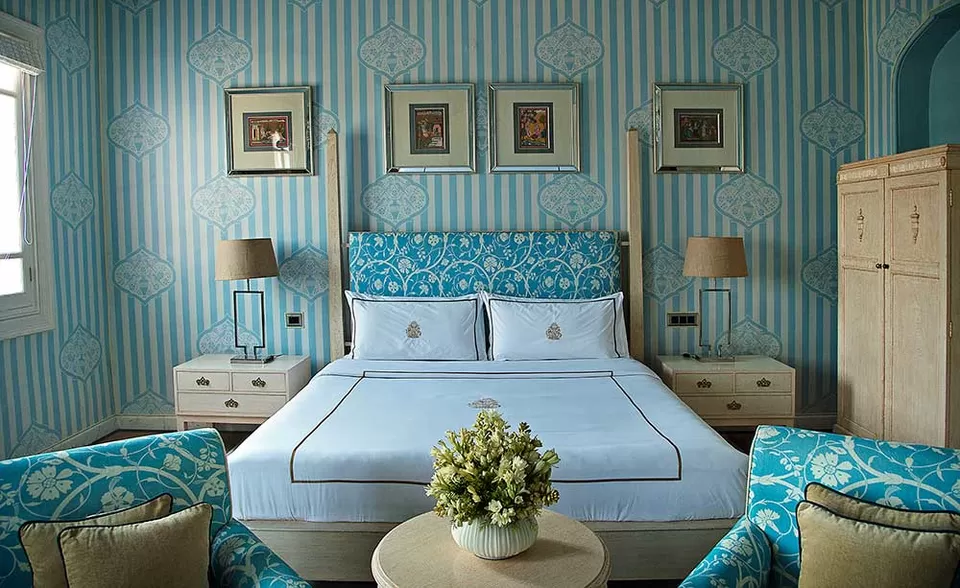 ★ Food
The dining options at Sujan Rajmahal Palace are as decadent as the suites. There are five restaurants on the property and each has a different setting and delicious food on the menu.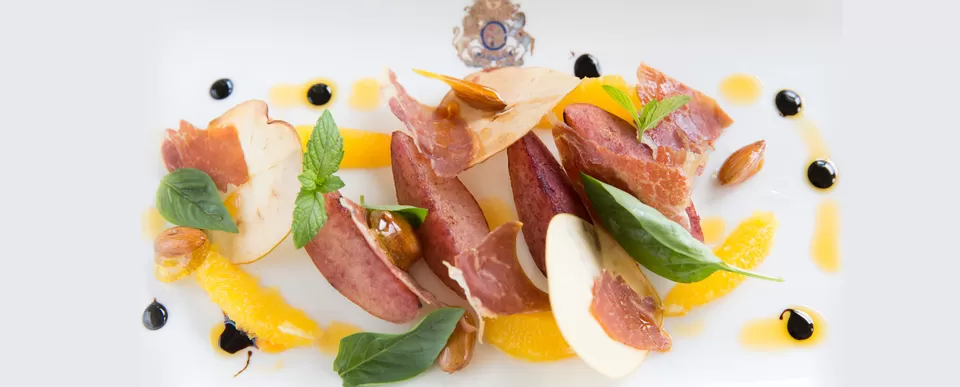 The Colonnade
This is the 24-hour cafe and serves tastefully prepared comfort food. The tall glass doors offer superb views of the palace lawns and gardens. Non-resident guests are welcome, but are required to make an advanced reservation.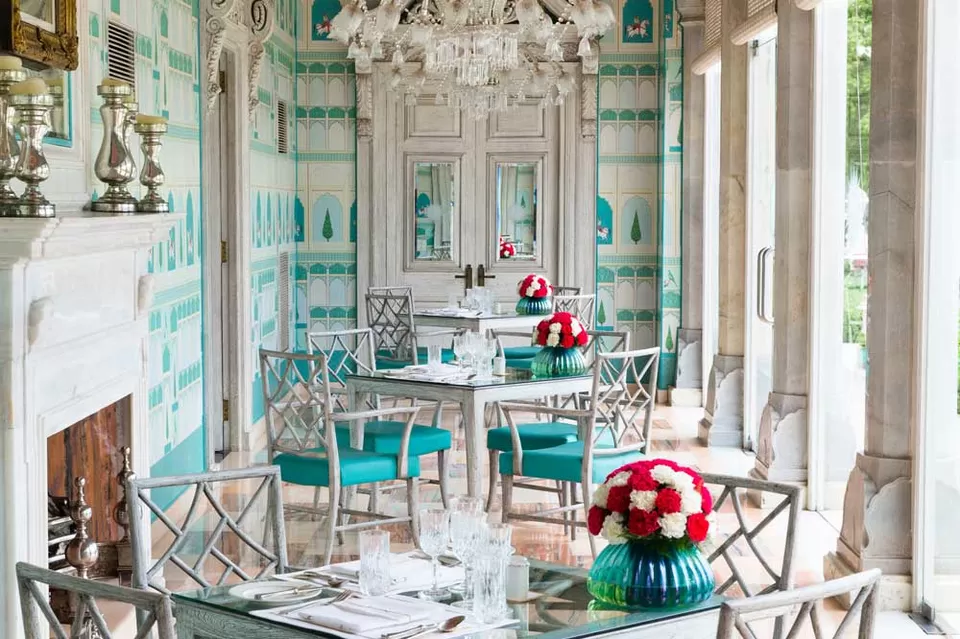 51 Shades of Pink
This is a cheerful room that celebrates the vivacious colours and charms of the city of Jaipur. It's a popular place for breakfast, with morning light flooding its mirrored spaces.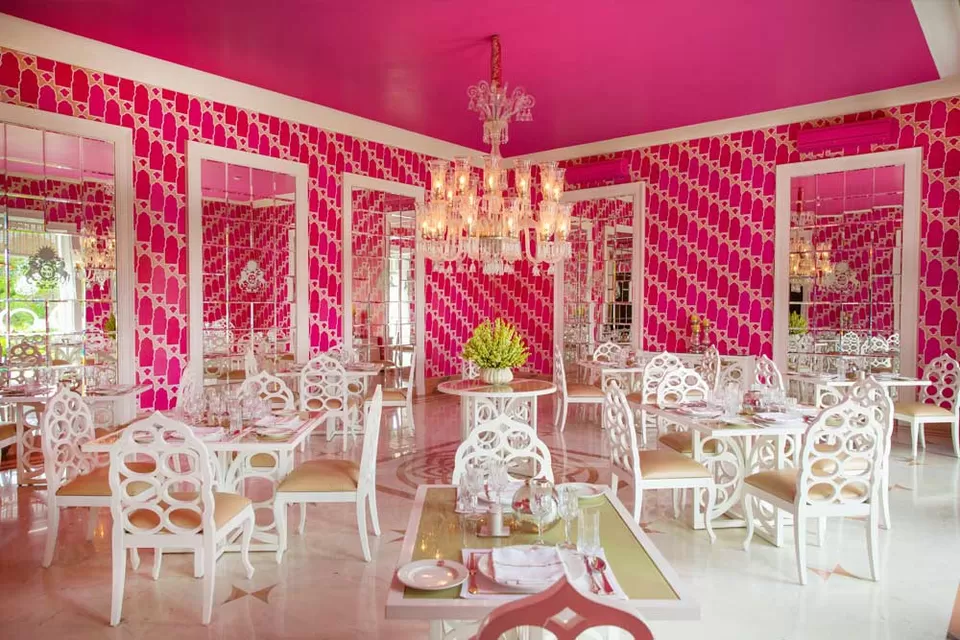 The Oriental Occident
A formal dining space, and the personal favourite of Rajmata Padmini Devi of Jaipur, the Oriental Occident offers a wide-ranging menu serving traditional Jaipur delicacies. It's hard to find the dishes that are served here, anywhere else in the city.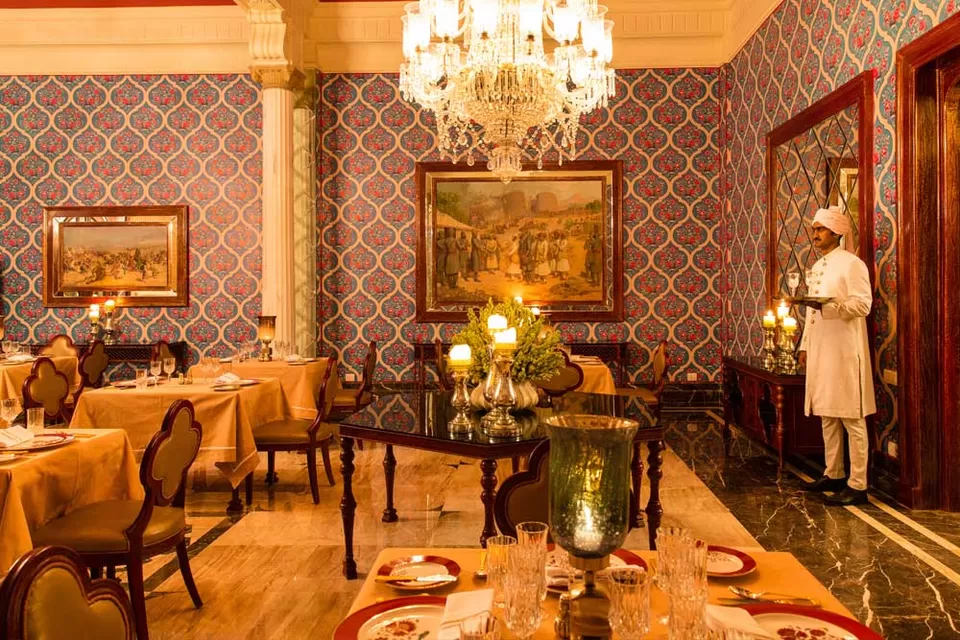 The Polo Bar
The Polo Bar serves a formidable menu with a display of many accolades celebrating the talents of Jaipur's polo tradition. Get a crash course in the history of the game in Rajasthan at this bar.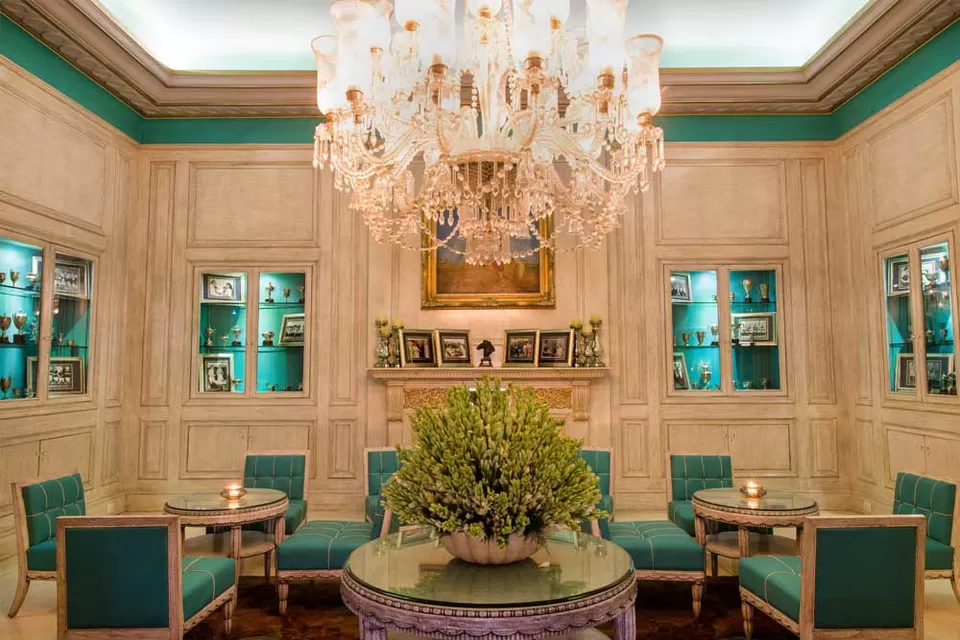 Afternoon Tea
Served on the terraces and manicured lawns of Sujan Rajmahal Palace, in clement weather, Afternoon Tea is not just about food, but the entire experience. Freshly-baked goodies, which include the royal family's favourites, are on the menu as are a selection of delicious teas, coffee and other beverages.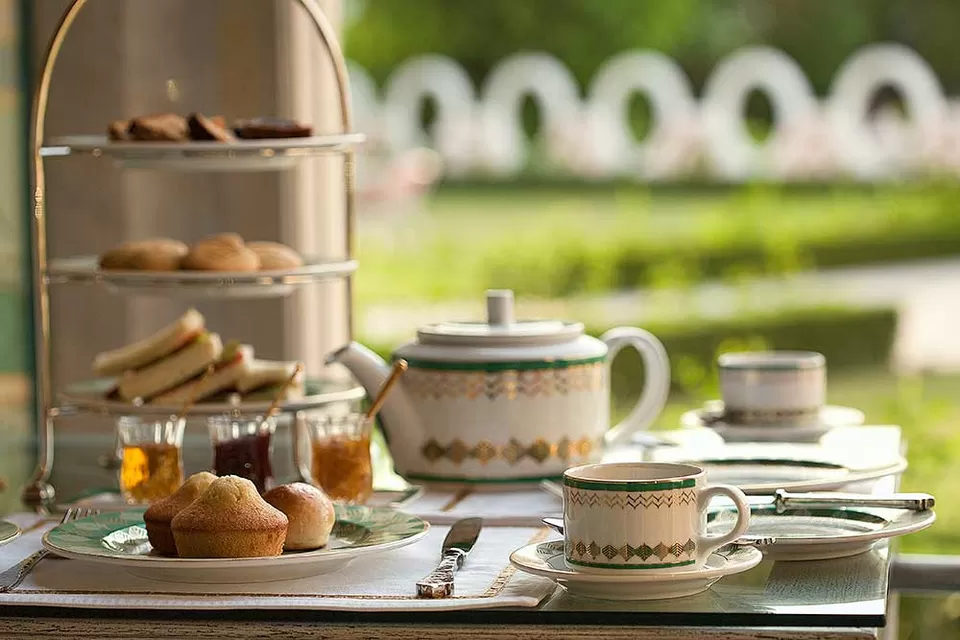 ★ Cost
Prices of the Royal Apartments and Royal Suites are available on request, on the official website of Sujan Rajmahal Palace. The Palace Suites cost ₹51,750 per night for double occupancy, while the Palace Rooms cost ₹41,400 per night for double occupancy.
★ Best time to go
The best time to visit Jaipur and have a truly memorable stay at Sujan Rajmahal Palace is during winter, when the days are pleasant and the nights have a delicious chill to them.
★ What to do here and around the property
Sujan Spa
Sujan Rajmahal always aims at providing its guests with a complete experience. The Sujan Spa, located in Rang Niwas, offers a carefully selected menu of therapies that revitalise and relax the mind and body.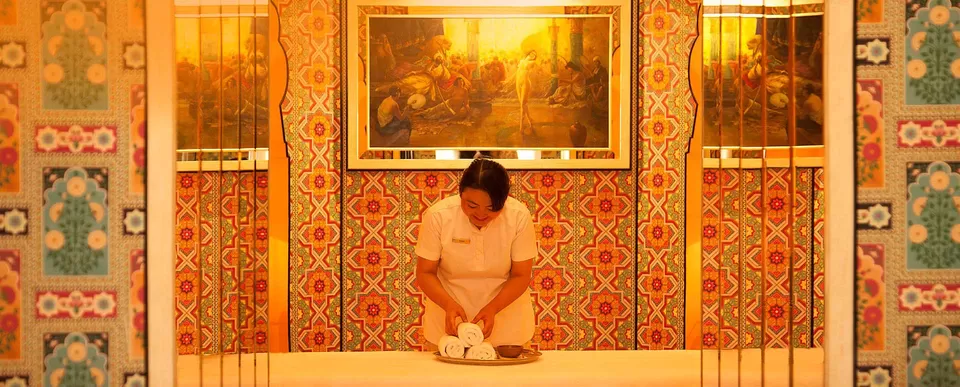 Private tour of the City Palace
When you stay at the former palace of the maharaja, you get a chance at a private tour of the current one. Sujan Rajmahal Palace organises private tours of the City Palace with your very own guide to take you through centuries of history. Such tours are available on request and can be booked through the travel concierge desk at the hotel itself.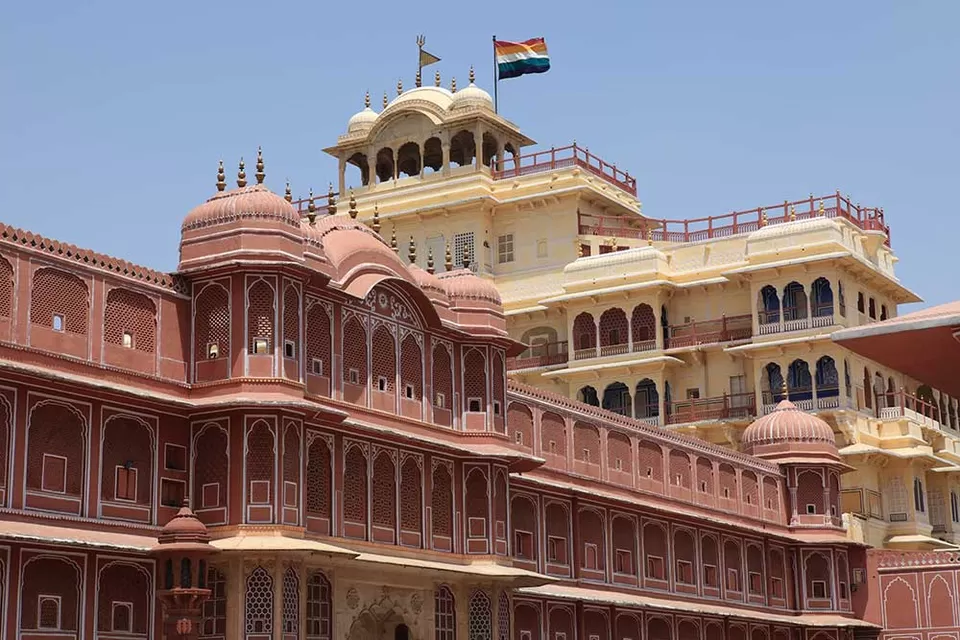 The Royal Box polo match experience
Polo is still very much a part of Jaipur's royal traditions. The current maharajas and yuvraajs still play this game of elites on various occasions. And while you are staying here, you can get a chance of experiencing the thrill of watching an exclusive polo match at the Jaipur Riding and Polo Club. The same can be booked via the travel concierge desk at the hotel as well. You can check out the match schedules here.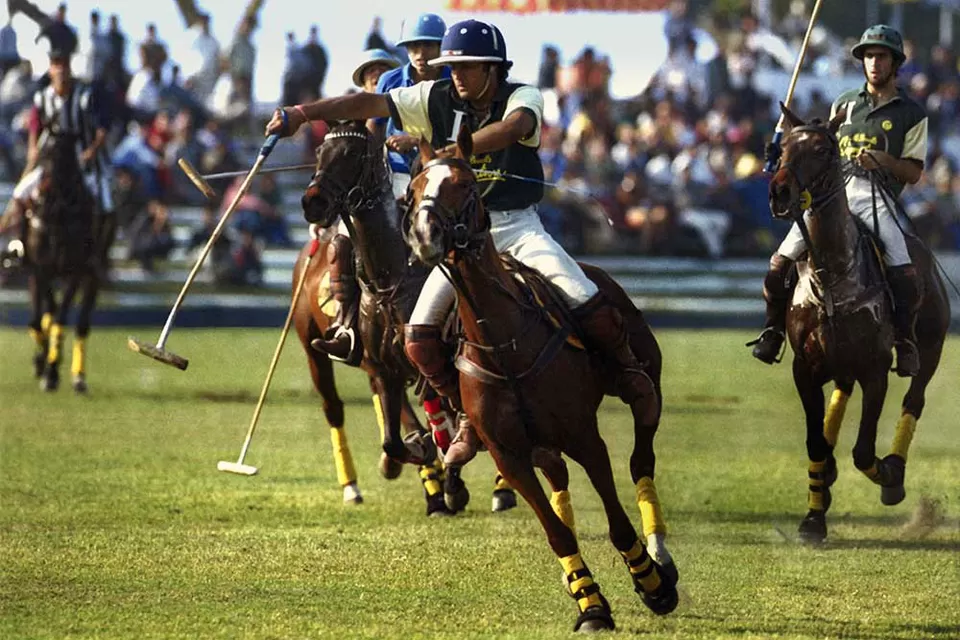 Go here to know more about what you can do in the city of Jaipur.
★ Getting there
Jaipur has its own international airport. However, you can also fly to New Delhi and take a connecting flight from there to Jaipur. Alternatively you can also take a train or a taxi to Jaipur.
By air: Round-trip airfares from New Delhi to Jaipur start from ₹2,700.
By train: There are around 36 trains between New Delhi and Jaipur. The best option is the New Delhi-Ajmer Shatabdi. The price for the same is ₹1020.
By taxi: Taxis are easily available and prices start from ₹11/km for a sedan and ₹18/km for an SUV.
Have you ever stayed at a place like Sujan Rajmahal Palace? Write about it here and inspire other travellers of Tripoto.
All images sourced from the official website of Sujan Rajmahal Palace.
Frequent Searches Leading To This Page:-
jaipur sujan rajmahal palace, sujan jaipur restaurant, sujan rajmahal palace jaipur