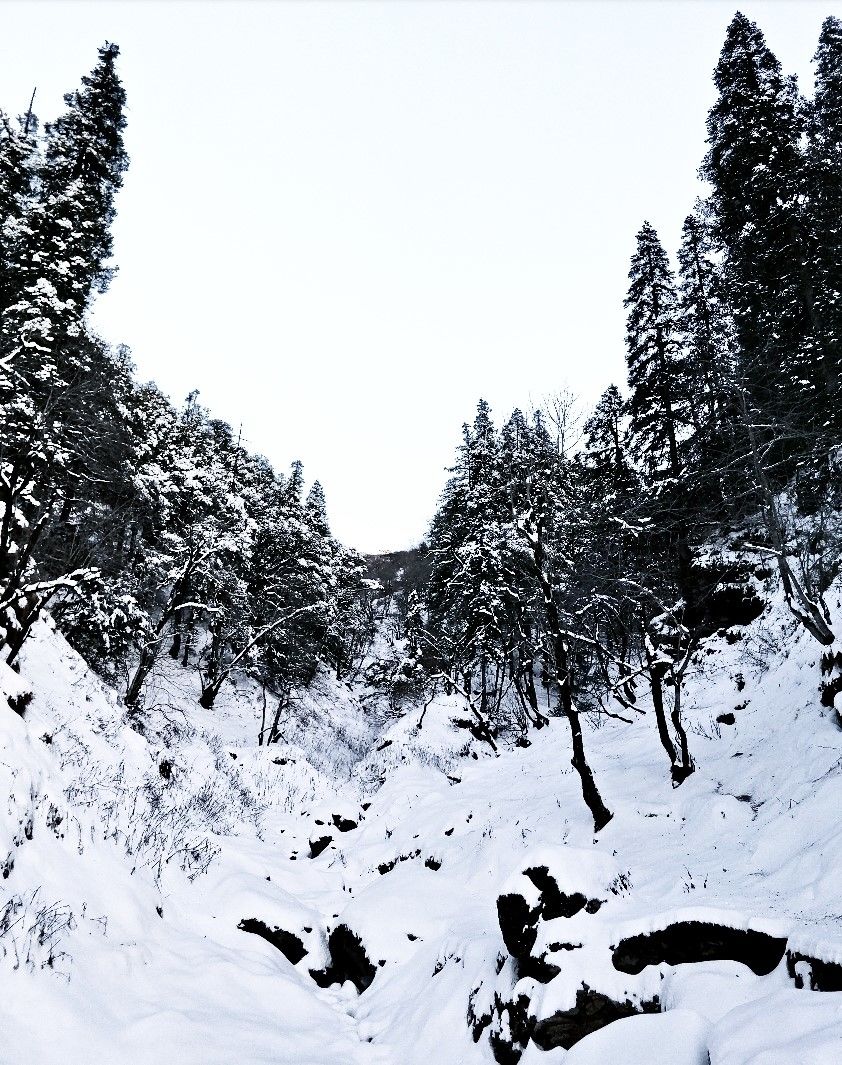 I best like to describe my experiences in the Mountains in the words of the great Shakespeare :
"Sweet are the uses of adversity,
Which, like the toad, ugly and venomous,
Wears yet a precious jewel in his head;
And this our life, exempt from public haunt,
Finds tongues in trees, books in the running brooks,
Sermons in stones, and good in every thing."
I visited the beautiful Valley of Tirthan in Mid December last year and as I start to write this article, I am already pressurized by the fact of being (or not being) able to do justice to what that place has to offer. Lying in midst of the State of Himachal, this beautiful valley is less heard of among the "weekend travellers". Tirthan Valley is a mesmerizing valley that has sunlight for only 12 hours of the day. 6 a.m to 6 p.m people go about there daily chores and post that, the Himachalis have a knack of keeping themselves entertained. From Born fires to Drunk nights, they have it all. The village of Gushaini is bisected by the Tirthan River giving it the name "Tirthan Valley". The river is famous for stout fish and there is an immense habit of fishing in this small village. There are few waterfalls which can be best enjoyed in the summer months from March-September. The iconic Jalori Pass and the Serolsar Lake are not very far from here. Although, the Great Indian National Park is what attracts tourists here from all over the world. Tirthan Valley is the Gateway to the Great Indian National Park which happens to be a habitat to numerous Flora and over 375 species of Flaura and has been listed as a UNESCO world Heritage site.
I started my journey from Delhi. Tirthan Valley is at a distance of about 500 kms from Delhi. The usual bus route is DELHI - AMBALA - MANDI - AUT - BANJAR - TIRTHAN.
I boarded a bus from Kashmere Gate to AUT. This was an overnight journey which usually works out best for me. I reached AUT at around 8 a.m. From there I boarded another bus (a local bus) to BANJAR (35 bucks per person) . It's an hour's journey from AUT (25 Kms). Banjar to Tirthan Valley is a mere 6 Kms. drive. One could opt for a bus (20 bucks) or a taxi (350 bucks) . (I must say, there are buses available directly from Aut to Tirthan but they are not available at all times.)
For people searching for Itineraries, I will go about the trip categorizing it into three major parts - Travel, Accommodation & Food, What to do and where to go (activities)
I reached Tirthan Valley and the first thing i decided to do was to look for the perfect home stay. Tirthan does not have a lot of commercial Hotels/Hostels. I had my homework almost done. I had shortlisted 3 Places that I found on the internet very easily (so can you or anyone for that matter). The first place i visited was named "Tirthan River View Homestay". They have a beautiful set of rooms. The owner, Mr. Paras Ram Bharti, gave me a tour of the house and I never had the need to go check out the other two places. (See pictures for refernce). His is a nuclear family of 5. His wife cooks most of the food for the visitors and I can promise, one will never forget the taste of that Chai Paratha in a sunny morning or that of the Mutton/Chicken by the born-fire in the night under a sky full of stars. I have attached all the contact details for further reference.
Our first morning there, we took a tour of the village from end to end. We walked through the market, alongside the river, through a forest trail and searched for a waterfall that the locals bragged to us about. After several vain attempts we were unable to find any by dark. Although, we did witness a beautiful sunset on our way back. It was 6 and as we walked back through the market, everyone was packing up to retire for the night. There was only one store still welcoming customers and that was the one that said "Wine & Beer Shop". With temperatures quickly dipping below zero, it became inevitable for us not to pay a visit there ourselves.
We got back to our homestay and made ourselves a little cozy born fire. It was a need in the freezing temperatures of -5 degrees. We ate some amazing chicken cooked by Mrs. Bharti and dozed off for the night.
The next day we had planned to drive up to the iconic Jalori Pass. Jalori Pass is the route that connects Kullu to Shimla. It is known as the "Old Britishers' Route". The pass is open for 9 months of the year as the snow blocks it in the months of December, Jan and Feb. Jalori Pass is one of the first places in Himachal to receive snowfall every season. It turns into a land of Mystic Trees with snow all over them. Jalori pass is a usual 2 hour drive from Tirthan Valley. But we were able to drive only upto Shoja, 5 Kms. Short of our destination because of the snow cover. It takes about 1.5 hours to reach Shoja. If you're lucky enough, the roads might be accessible all the way to Jalori Pass but if you are luckier, the road is accesible only upto Shoja and one has to trek up to Jalori Pass with both feet in deep snow.
We decided to hike up to the top anyway. The 5 kms. walk at 10,800 feet froze our feet to numb but it was worth every step we took looking at what a breathtaking view there was on offer. It was an expanse of snow as far as our eyes could reach. Our legs were buried upto the shins in snow. The place was unreal. It was just magical. For all the Game of Thrones Fans to relate to : It was like seeing what was on the other side of "The Wall"! We had earned what we had gotten. We rewarded ourselves with lunch in this beauty of a place at a dhaba that perhaps stays buried from head to toe under snow in the winter months. We Chit Chatted with the owner of the dhaba and he told us how the locals including himself, had to find another way to earn a living for the next three months. He told us that the snow levels went upto 8-9 feet and how near to impossible it becomes to live in a place like that. As we fell short of time, we had to cancel on our visit to the Serolsar Lake which by then was a frozen lake. With no regrets we walked back to the car 5 kms. south from where we were and made our way back to the homestay. Our supper was a deliciously cooked Local delicacy with some mutton and rotis on the side.
Our last day in Tirthan Valley, we had half a day to spare and all this while we had the "undiscovered waterfall" in the back of our heads. So we decided to wake up early the next morning and asked Mr. Bharti's so to guide us to it. We finally managed to get there after a small hike and it was a treat to watch. We took a bus back to Aut the same afternoon and then headed back to Delhi from Aut.
On my way back, as I reminisced about the hills, I realized that Himachal is one of the most Hospitable state in the country. The people there are so Respectful and Homely. They host their visitors with utmost warmth in their hearts. The Hills teach you to observe and take it all in. Not to keep running aimlessly not knowing where one is headed. The Hills teach us to stop and breathe and to Live while you do it.