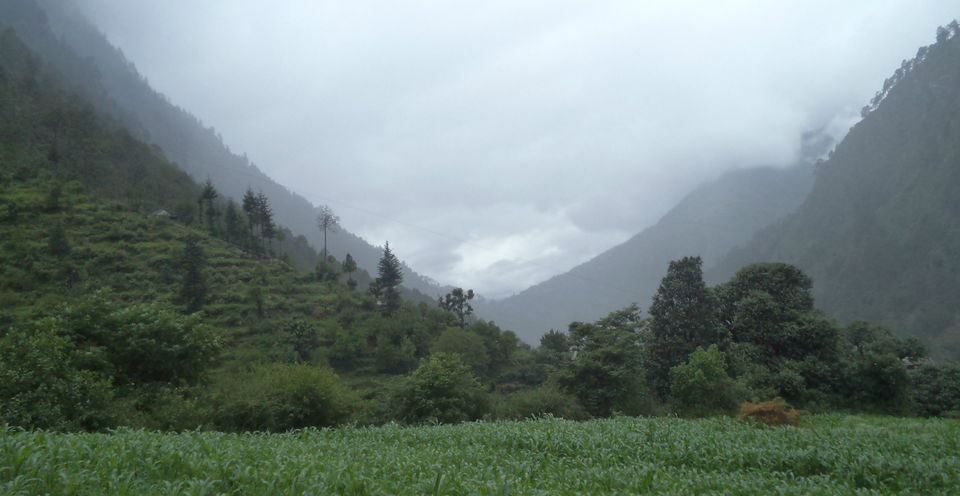 Rich in tradition and biodiversity, the Kullu region of Himachal Pradesh, India is blessed with incredible natural beauty and world-class recreational facilities, friendly locals and spectacular panoramic views of snow clad mountains. If you're looking to unwind and are tired of heading to all those overcrowded hill-stations where the cacophony of noises, people and humdrum takes on an unending trail, it's high time you take the off beaten path and delve into nature unexplored and untouched like never before.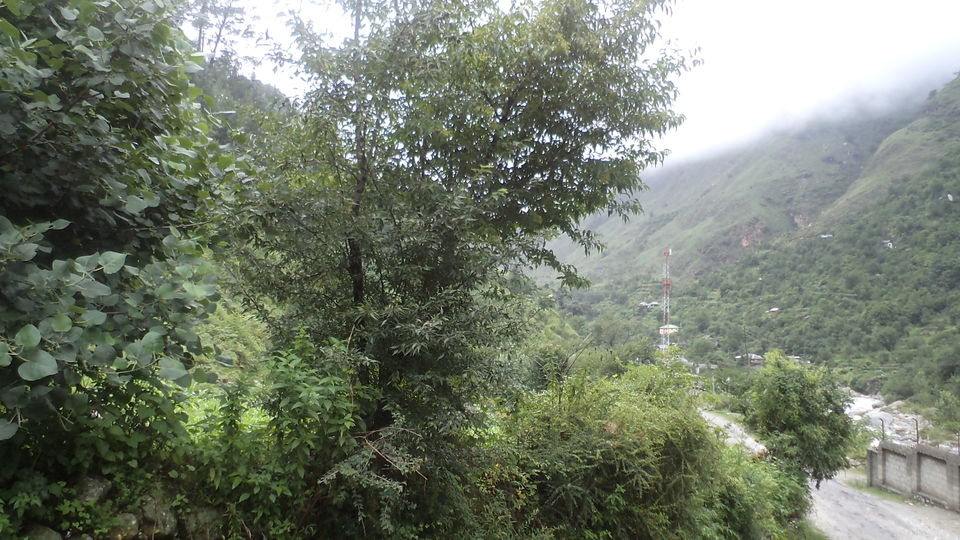 Untouched and unspoiled nature at its best
Taking the off beaten path
Welcome to Gushaini, a small Himalayan gem tucked away in the Banjaar Tehsil of Kullu district in Hmaichal Pradesh. While planning our trip to Manali, couple of years ago, this place was recommended by a friend who'd visited it few years ago. At first, I was reluctant to head over to this off the track, not so popular place as I would be travelling with my three year old son and a flirtation with the wild wasn't on my list.
My husband, who's working with an MNC was desperate to take a break and he wasn't going to settle for an over-commercialized, over-populated hill-station like Mussoorie or Shimla. What he truly needed was a trip wherein he could relax and rejuvenate with a dab of adventure and quality family time.
Himachal Road Transport –the best choice
To top it all, driving to any hill-station was not an option (my husband is not comfortable with driving on hilly terrain) and we couldn't afford a cab as we were on a budget! We packed our bags and headed out to Maharana Pratap Inter State Bus Terminal (ISBT). It was already around midnight and we were glad to hop on to the last bust heading out to Mandi (H.P.) which was about to leave just any minute.
The route taken to reach Gushaini was Delhi- Sonipat-Panipat- Karnal – Ambala- Chandigarh- Swargghat- Bilaspur-Sundarnagar- Mandi. Several overnight buses are available from Delhi to Mandi, many of them run by private operators. But it is better to take a Himachal Roadways bus as they are more comfortable and the drivers are quite experienced.
We reached Mandi at around 12 noon the other day. (It takes lesser time to reach if you're travelling by your own vehicle.) From Mandi we took a bus to Aut. Most of the buses headed towards Manali or Bhuntar go via Aut. Aut is located right before the famous Mandi tunnel and has a tiny cluster of shops mainly comprising of snack joints and small dhabas. We shared yummy bread pakoras and samosas here and nursed cups of hot Indian tea (chai).
Aut to Gushaini: a ride worth remembering
Buses leave for Banjaar or Bathad after every hour or so from Aut. Gushaini is about 31 kilometers away from Aut. We got on a bus leaving for Banjaar. To avoid any confusion let me share with you this little piece of information I was unaware of before leaving for Gushaini – There happens to be another place known as Gada Gushaini which is also close-by. But you need to be specific about where you're headed and can also mention Gushaini, the one closest to the entrance of the Great Himalaya National Park so that the drivers understand you clearly.
On reaching Banjaar we were to change another bus which would drop us off at Gushaini. The last bus that leaves for Gushaini from Banjaar is at around 5:00 pm. So, if you're travelling by bus, you need to keep these timings in mind or you're likely to get stuck. Thankfully, we had ample time.
From Banjaar, the scenery changed dramatically before my eyes. This region is a true paradise for nature lovers, the ultimate destination for lone wanderers and a remarkably uplifting experience for the weary. The region also known as Tirthan Valley is a mass of emerald stretches paving way for deciduous forests and bountiful vegetation. It is named after the Tirthan River that flows through its entire length. It is a tributary of the Beas River and originates from the glacial lake of Hanskund peak (4,800 meters) located inside the Great Himalayan National Park.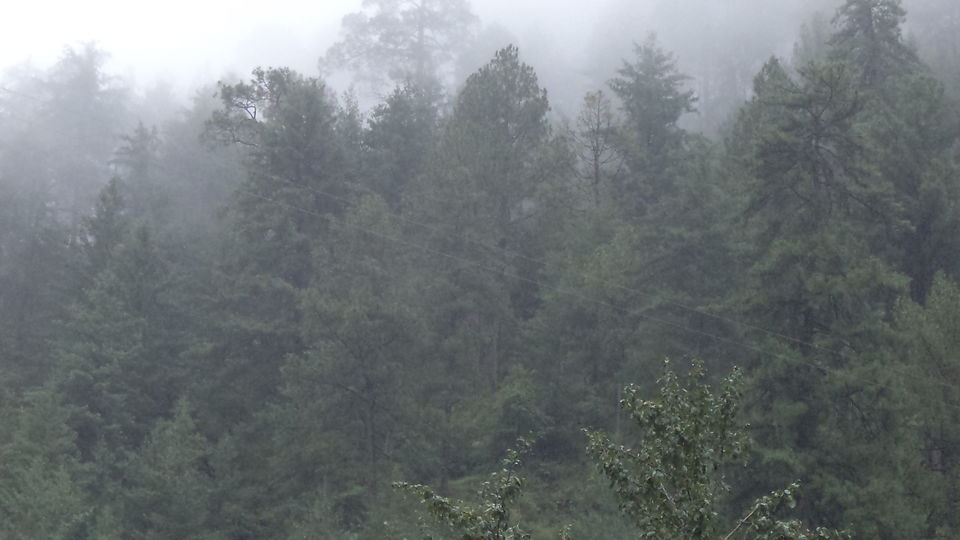 The dense forests of GHNP
The Great Himalayan National Park (GHNP) is a UNESCO World Heritage Site and is a famous haunt for researchers, botanists, zoologists, trekkers, mountaineers and travel enthusiasts from across the globe. The region cradles some of the most diverse flora and fauna, ecozones and natural beauty. It offers several challenging treks to enthusiasts including the Sainj valley trek, Tirthan trek, Jiwa Nala- Parvati River Valley trek, Pin Parvati trek to name a few.
Gushaini is located around 10 kms. before the entrance to the GHNP and is the preferred place to stay by most enthusiasts heading for the Park. It offers a host of activities for nature lovers and adventurers ranging from fishing and angling, river crossing, rappelling, hiking, camping and bird watching. You can do almost everything or absolutely nothing here.
Moving towards Gushaini, we crossed the villages of Nagini and Sai Ropa. The entire Tirthan Valley is famous for trout fishing. The waters of Nagini are best-known for fly fishing and Sai Ropa is known for harboring the Forest Guest House of the GHNP.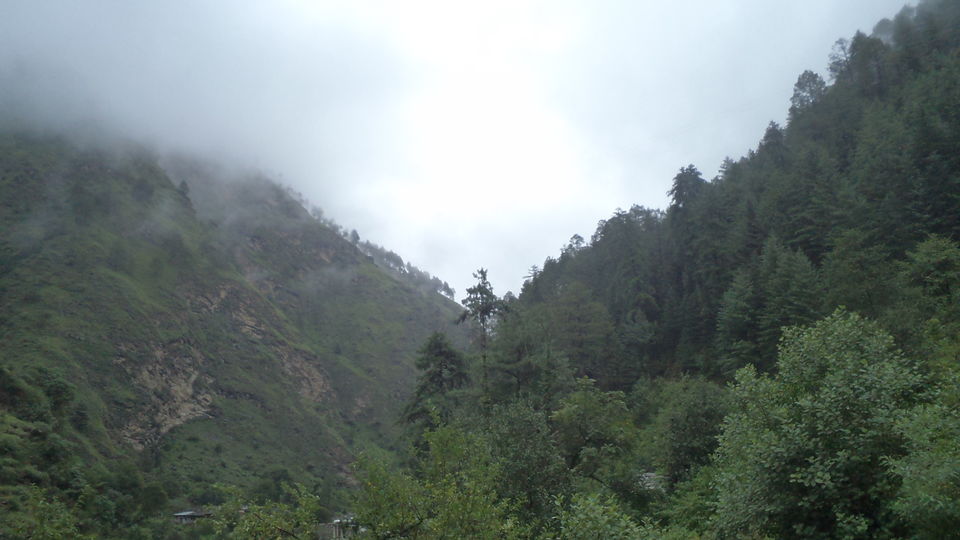 Gushaini: the lush emerald carpet
Gushaini- a place with rustic charm and friendly people
The bus dropped us off in the middle of the Gushaini market. The tiny shops and splendid beauty of the mountains hovering over this establishment are a bedazzling sight. The marketplace comprises of a handful of very old looking shops including a barber shop, a couple of grocery stores that keep everything from local spices and edibles to chipps, shampoos and batteries, a tea stall, an ATM, a taxi stand and a liquor shop.
It started to drizzle. We thought we were stranded as we had no prior reservations and we'd heard of only a handful of places to stay in Gushaini, Raju Guest House topping the charts. Unfortunately, Raju was completely booked for the next couple of days and we had no clue as to where we'd be lodging. The elderly couple who owned the tea stall introduced us to Ashish Prabhat of Prabhat Homestay who immediately helped us hail a cab and provided us a room in his homestay. We'd never lived in a homestay before and were quite skeptical as to what the rooms or food would be like. Our stay there changed all that. Not only was it neat and clean but the food they served was fresh and tasty. We were offered fresh fruits, vegetables, delicious salads, pickles, jams and juices right out of the backyard!
For non-vegetarians they do offer chicken which is readily available in the village but if you're looking to eat mutton, you'll have to ask one of the staff members to head over to Banjaar and get it. The other option is to catch fresh trout fish during the day and get it cooked. There are no restaurants or pubs or cafes in Gushaini, so you're primarily dependent on your homestay or guesthouse to provide you all the meals. Apart from a couple of shops located in the main market, there are only two or three other shops located in Gushaini where snacks like wafers and namkeens are available.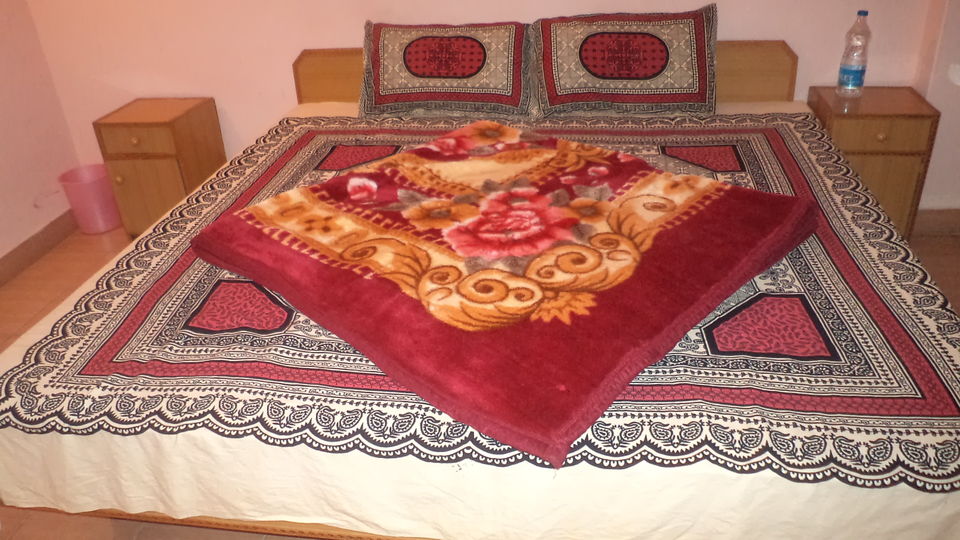 Our room at Prabhat Homestay, Gushaini
The homestays have all modern amenities like round the clock hot water, power back-up, Wi-Fi and television. But in my opinion if you're going there to enjoy nature, stay away from gadgets.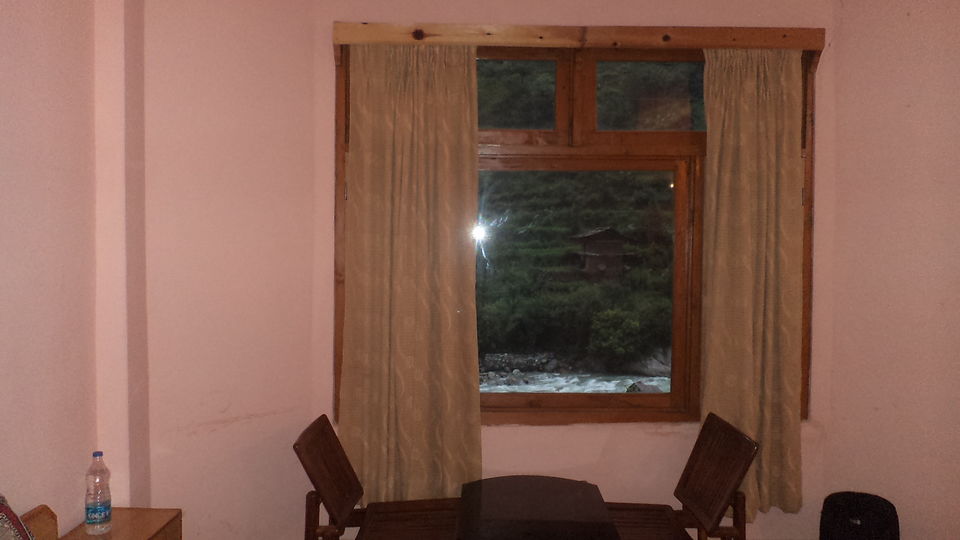 Breakfast nook in the room overlooking the River Tirthan
Gushaini is an ideal place to relax every single bone in your body. It is also one of the best places to visit for multi-generational families. Not only can youngsters and honeymooners enjoy a piece of this place but so can grandparents, rowdy teenagers and energetic kids. Moreover you get to stay in an environment devoid of any pollution and pressures of daily urban living.
Things to do in and around Gushaini:
Next morning we woke up to the sound of rain splattering on the roof. We ordered a hearty breakfast of fresh fruit, tea, aloo parathas, toast with home-made blueberry jam and muffins. Post breakfast we were about to head towards the GHNP, when Ashish told us that the roads would be slippery and it was inadvisable to hike all the way with a kid. His wife who was always doting on our three year old suggested we wait until noon and then if the rain stopped we could hike to the village and the waterfall for a picnic. The owner's ten year old son, Aryan was going to be our guide for the day. A young, but very intelligent kid who knew his way around the place and guided us like a pro!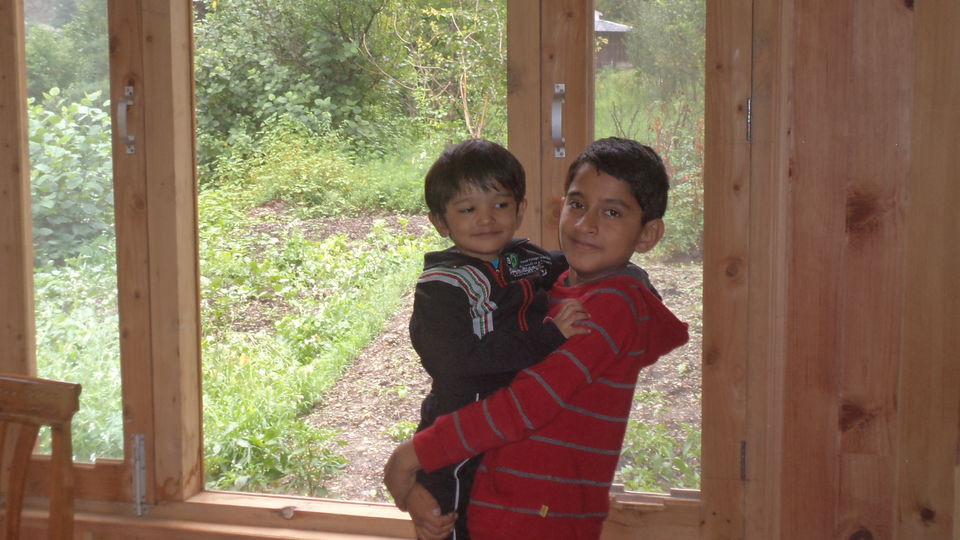 Aryan, the homestay owner's son with my three year old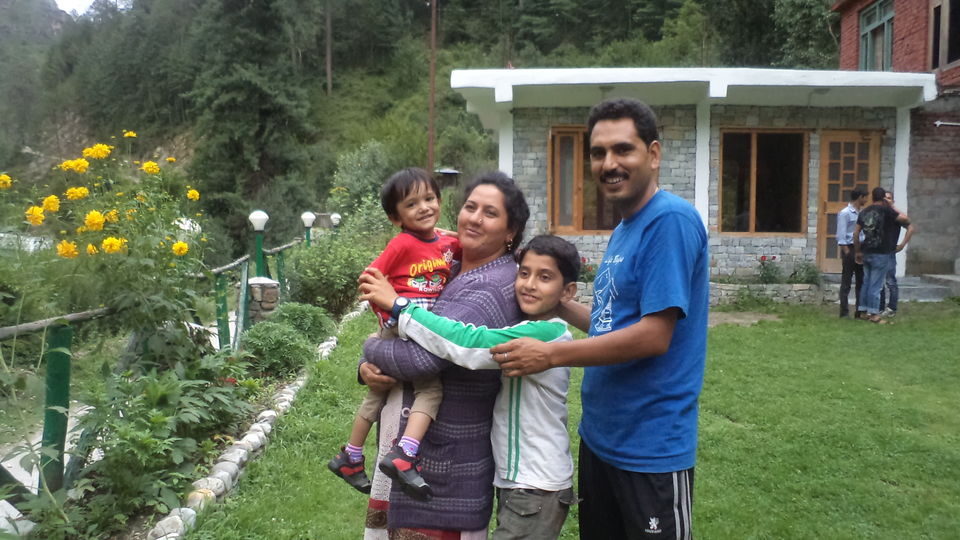 The Prabhat family with my son: Home away from home
Thankfully, it stopped raining in an hour and we headed out for the village and the hidden waterfall. Aryan guided us through the tapering, winding dirt roads capering atop lofty mountainous terrain. After a short hike we reached a cauliflower plantation and went to a temple that was built in the shadow of a tree which had roots growing upwards. The locals worship the tree and believe it brings forth good fortune.
Our next stop was an ancient wood house that according to the locals is several hundred years old and is now managed by a descendant of those who lived there who's converted it into a small temple. Do pay homage to the deity and also give him some money as an offering. The view from the old wood house is breathtakingly beautiful…… one that will stay with you forever.
The walk towards the waterfall is not only gorgeous and wild but is also a bit challenging. Remember to wear comfortable shoes and carry water with you. Crossing the interior villages, you get to interact with the locals who are very friendly and offered us fresh apples and pears wherever we went. We also caught a glimpse of several apricot, plum and japani trees.
We also spotted looms on which the famous handmade Kullu shawls are woven. We stopped at a house and played with couple of local kids.
Strolling across vegetable plantations and watching the clouds drift by, the scenery paved way to dense forests and evergreen trees. The twists and turns on the way increased and the path became quite uneven. Ascending at places and then descending suddenly. Our only motivation at this point was the distant gurgle of the waterfall cascading somewhere close by. It was still out of our view. Just as we were on the verge of giving up, we caught the first glimpse around the turn. It was the most picturesque sight I've ever seen in my life. It felt as if I were seeing something out of a movie set, something surreal. Not a single soul was in sight for miles and the water was pristine and unpolluted.
We plunged into the water to take an icy dip and stayed there for about an hour. We regretted having declined the offer of getting the picnic lunch but feasted on apples and pears. On our return I met a local lady who offered to give us a foot massage for only (rs.50/-) It was a bliss for my tired feet.
The next day we hired a cab and headed to Jalori pass which is about 30kms. from Gushaini. We visited the ancient Kaali temple there and ate rajma chawal. We hiked towards Lake Sarloskar and frolicked through pretty meadows spurting with colourful wildflowers in a fairytale like setting.
Later in the afternoon, Ashish took my husband over to the riverside for trout fishing which was a one of a kind experience. My glowing husband boasted of catching eight fish! That was some achievement.
This was followed by a trolley ride across the river which gives one a heady thrill. We leisurely walked across fields of millets, barley and maize, gazed at the clouds veiling the majestic mountains and camped by the riverside.
Our three day vacation to Gushaini was one of the most relaxing and stimulating experiences I've ever had. I take from this small village a timeless experience, a snail paced quality of life I'd never known existed and the sound of the Tirthan gushing that reminded me of the jingling of bangles. I highly recommend this place to all those vacationers out there planning your summer trips …… give your loved ones an experience they'll cherish forever.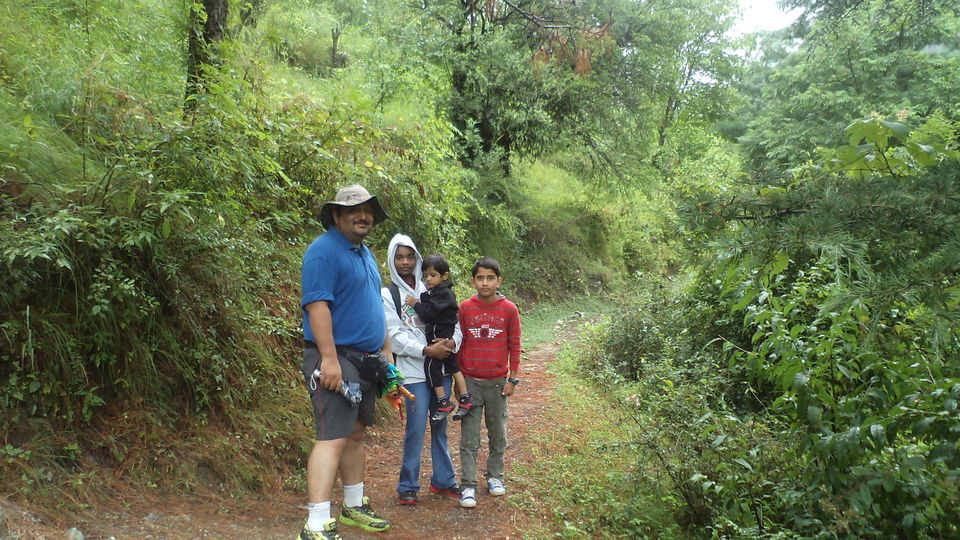 Aryan guiding us through the dirt roads towards the village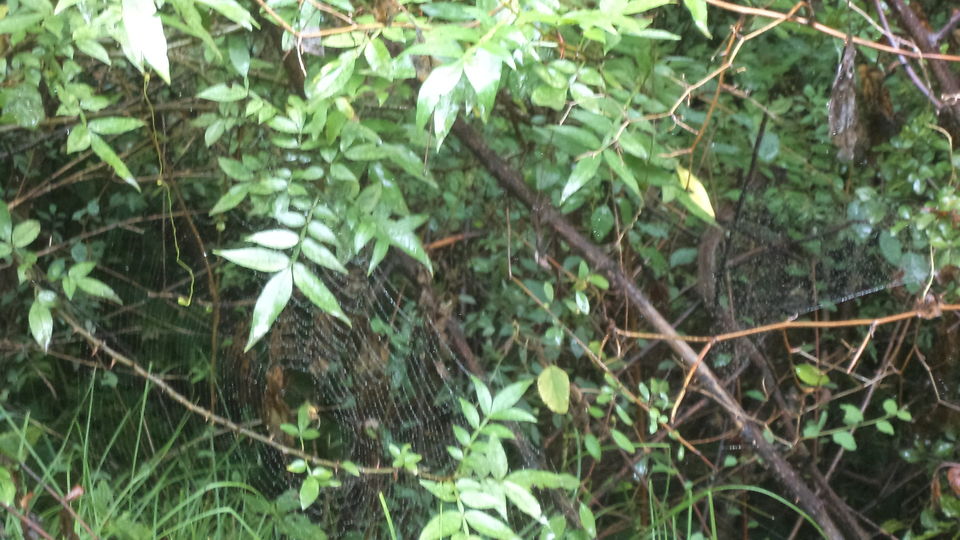 A large spider web on the way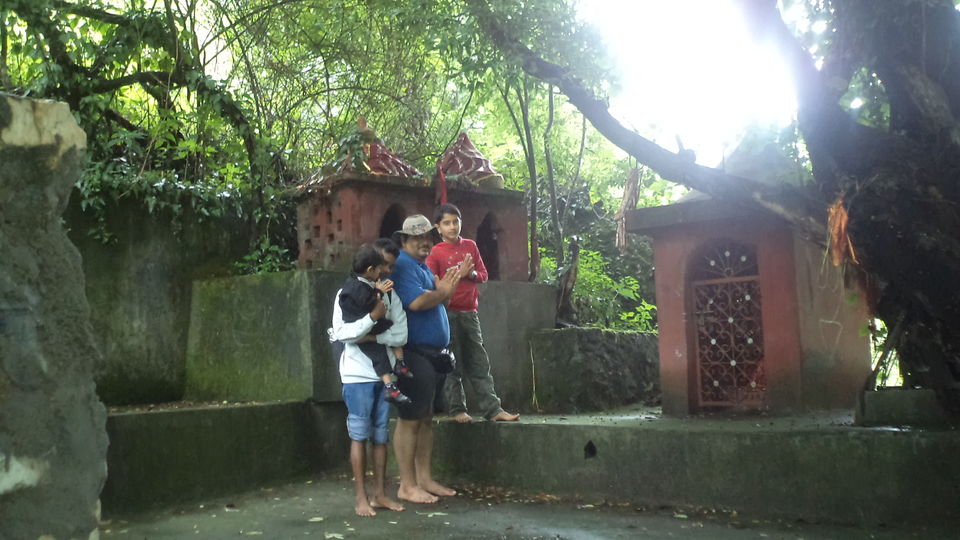 Temple under the tree with its roots growing upwards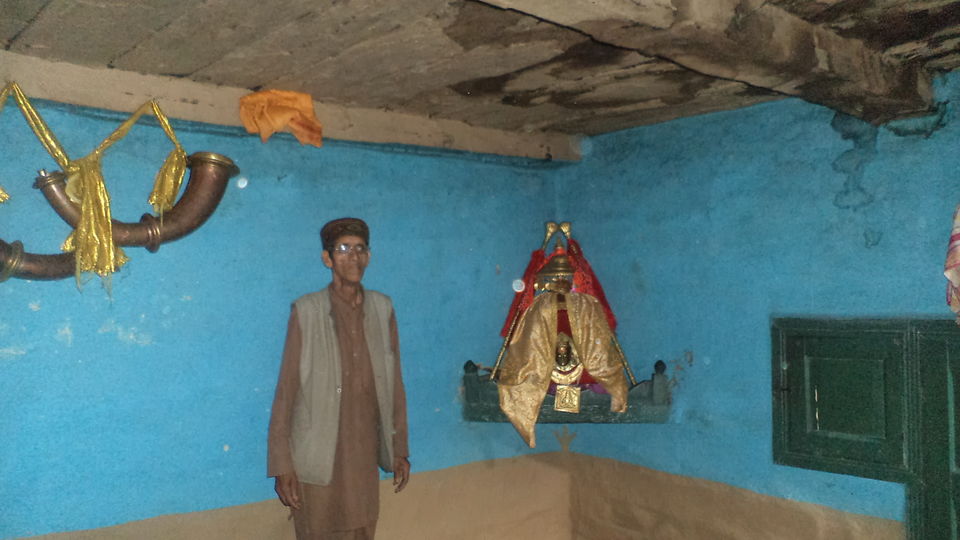 The old wood house and its caretaker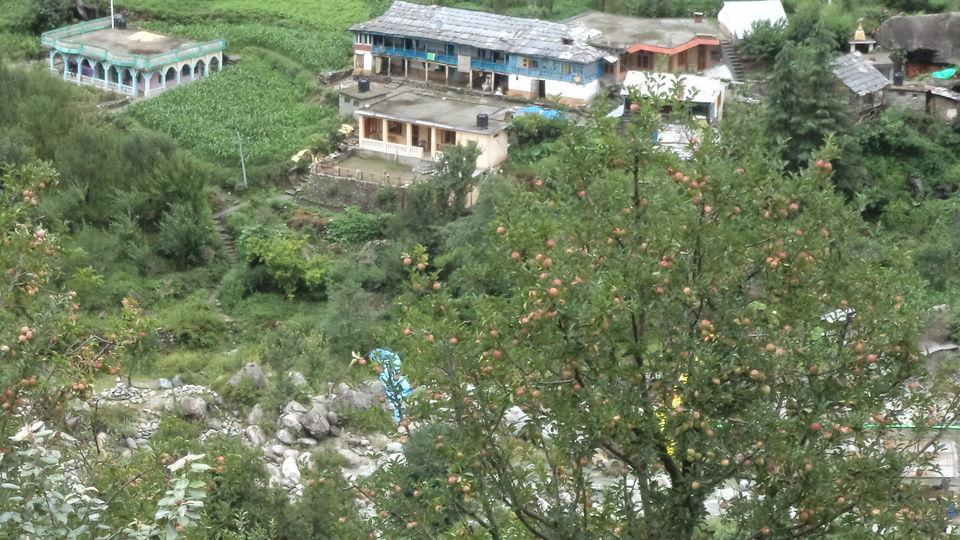 Apple trees and the old world charm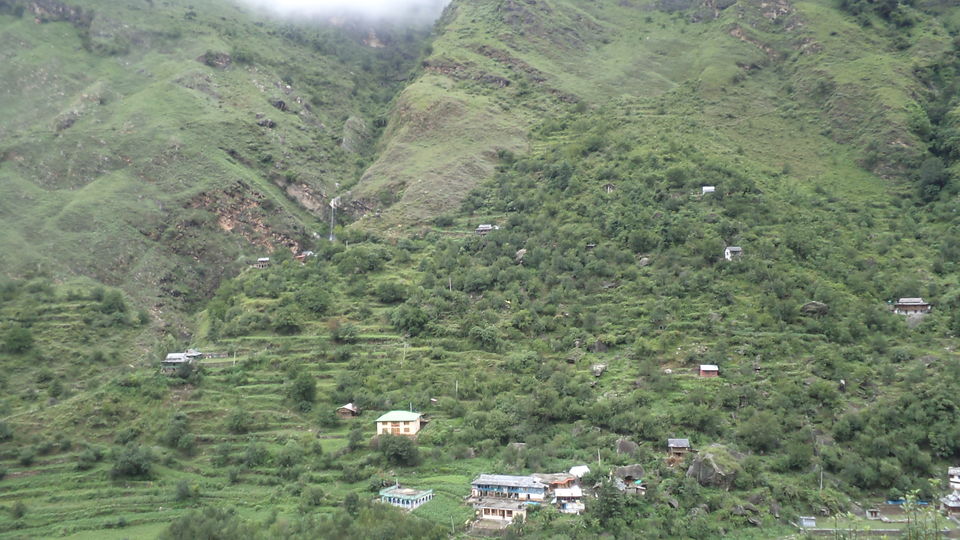 The beautiful valley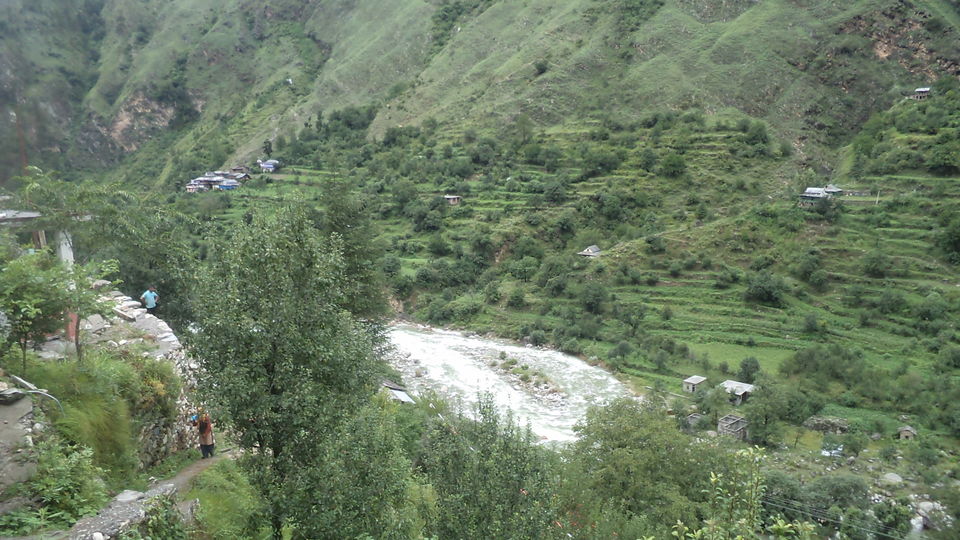 The River Tirthan flowing through Gushaini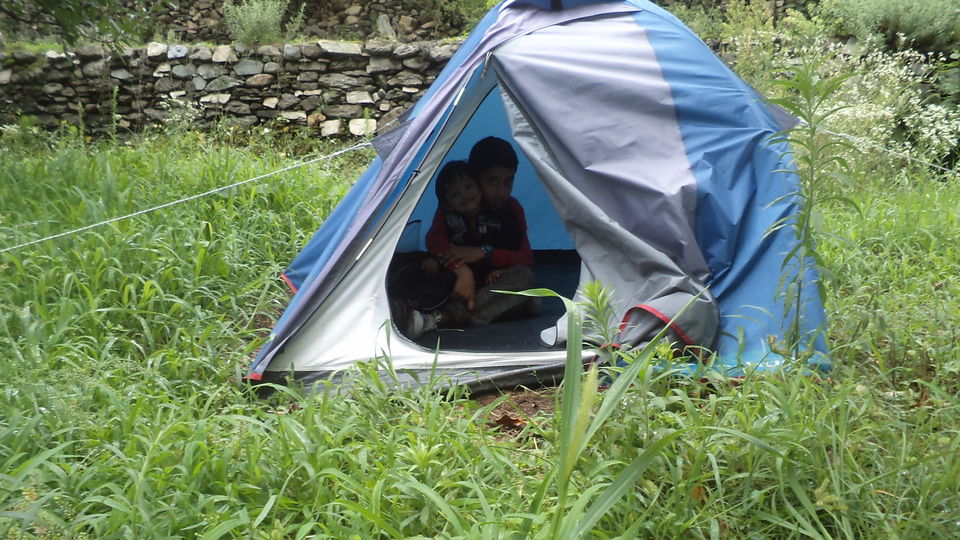 Riverside camping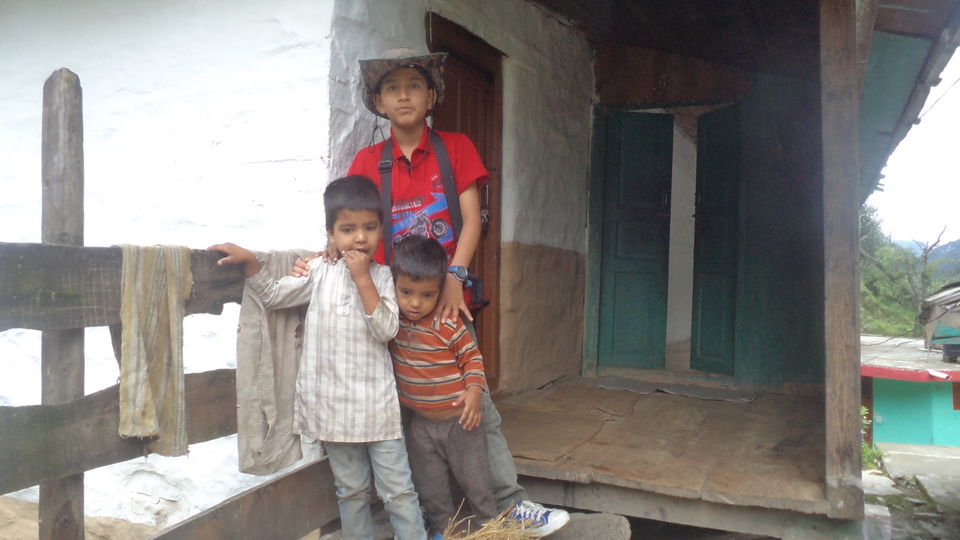 Interacting with the local children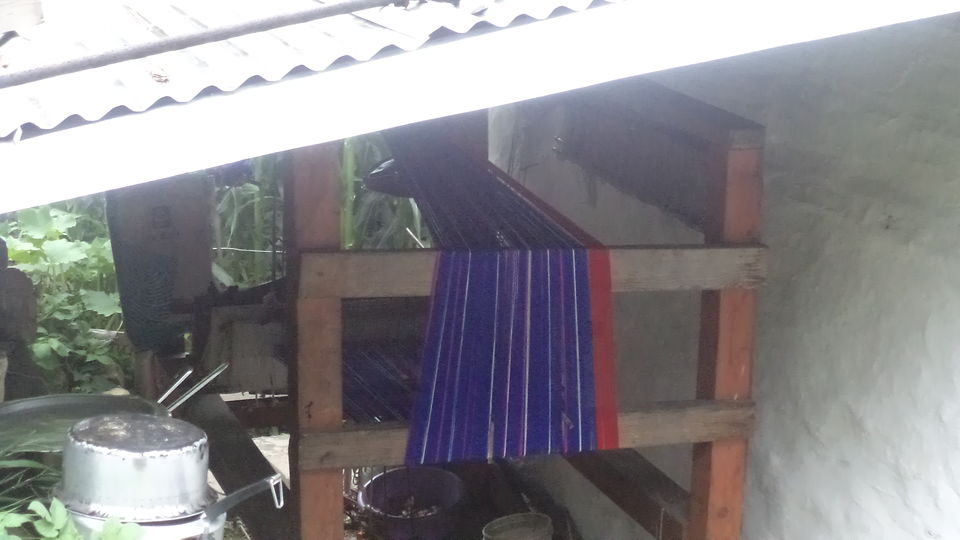 Kullu shawl loom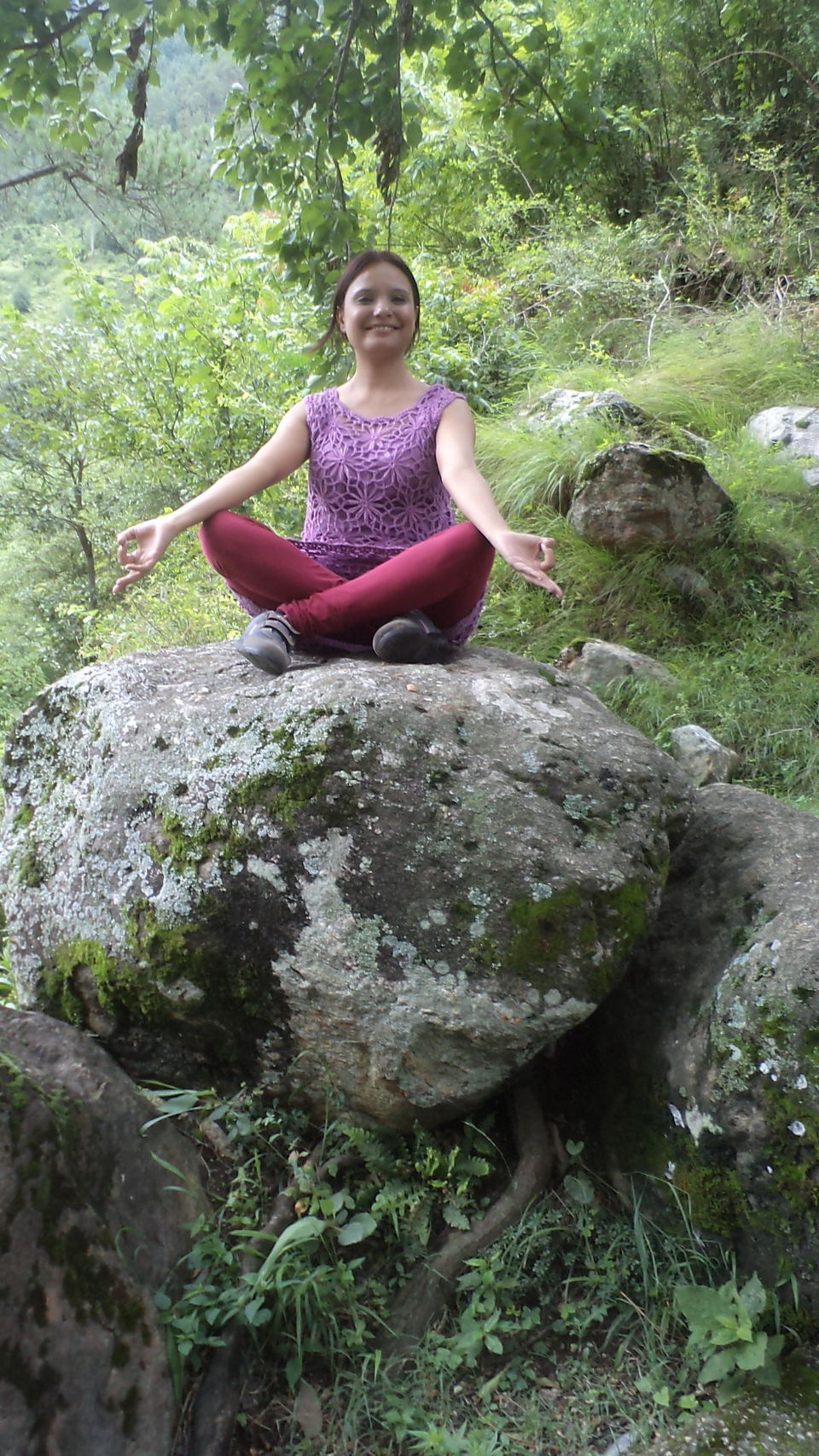 Perfect place to meditate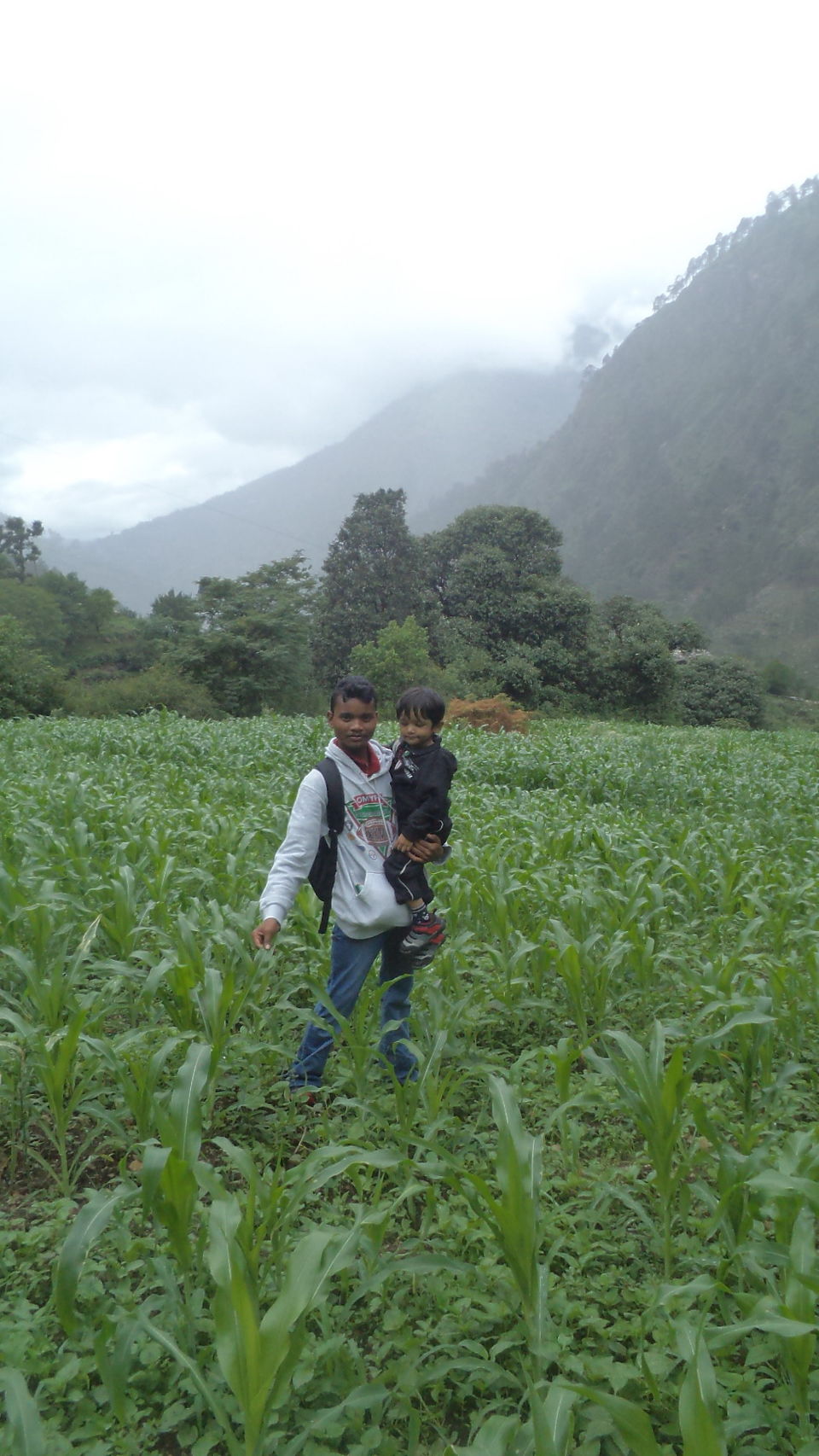 Enjoying in the vegetable plantation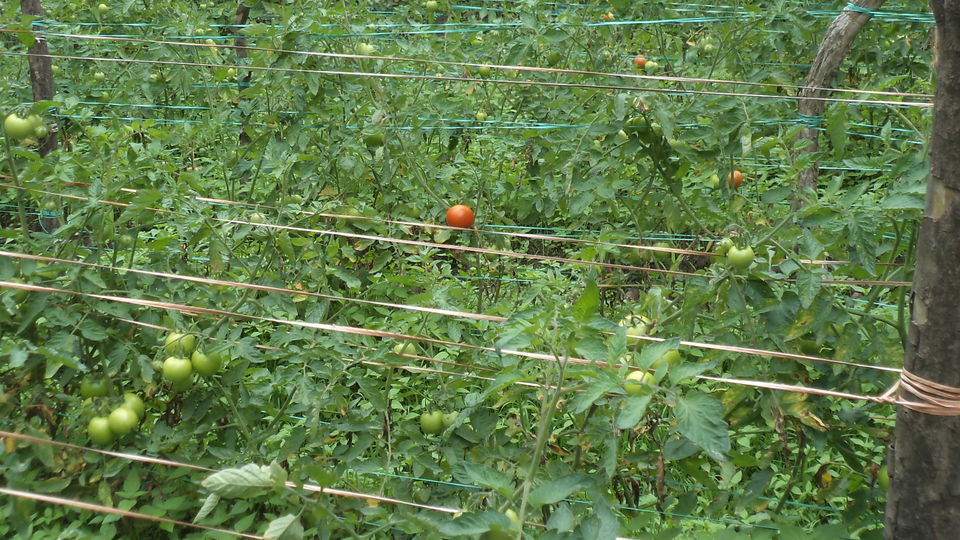 Fresh tomatoes from the garden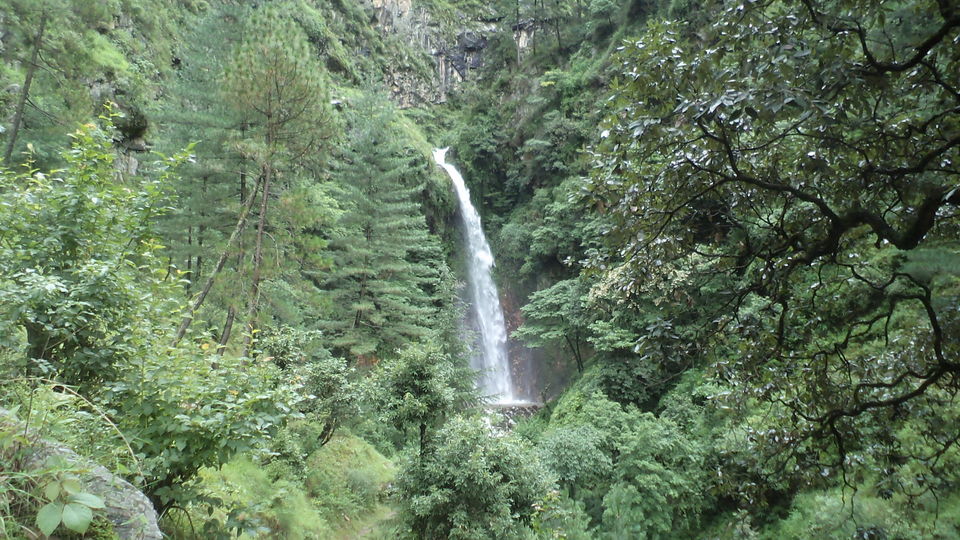 The waterfall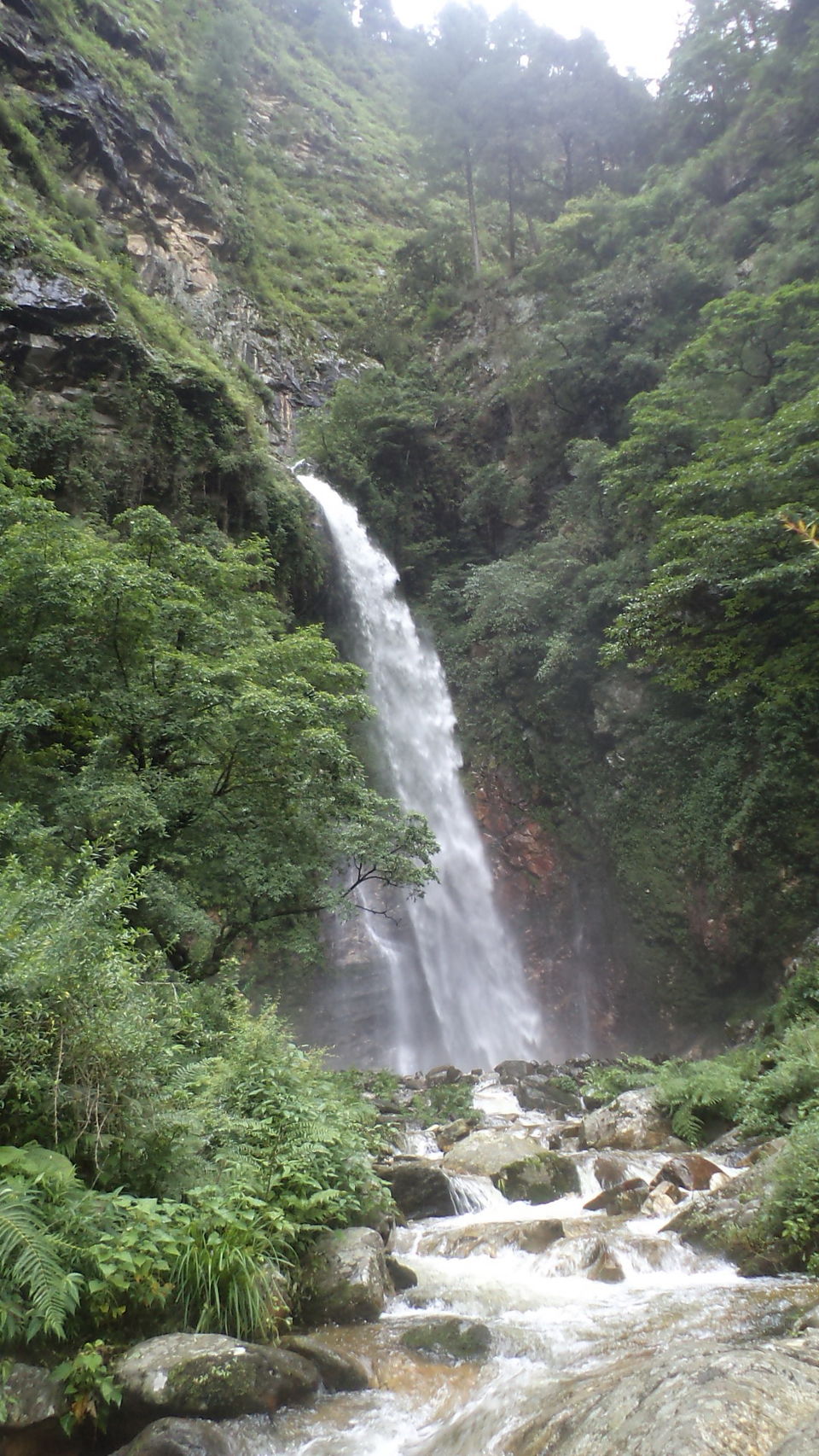 Gushaini waterfall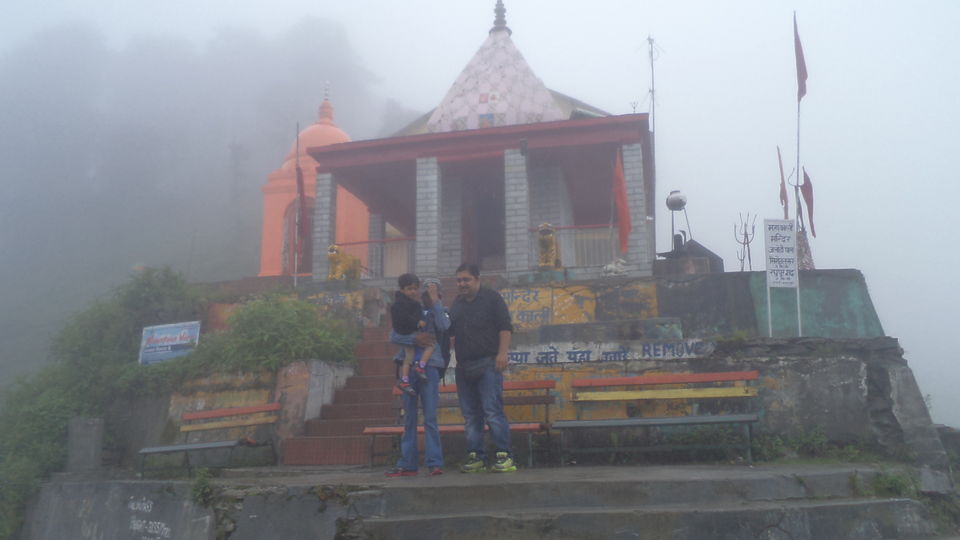 Kaali temple at Jalori Pass
Activities to do in Gushaini:
Outdoor activities: Trek to the Great Himalaya National Park and take one of the trekking trips from there. The less adventurous can opt for hiking to the waterfall, the village or nearby hamlets. Get a permit and go for trout fishing or angling in the Tirthan River. Go river crossing, rappelling, camping or simply curl up and read a book.
Eat and drink: Gorge on languid meals comprising of fresh fruits and vegetables, hearty salads, homemade jams, pickles, yogurt, fried trout fish, fresh homemade fritters, chicken, mutton dishes, local rajma is a must try , aloo parathas with white butter, garden green sandwiches and honey. There are no restaurants, pubs, bars or cafes in Gushaini. If you're looking to drink then you need to purchase your own bottle from the liquor shop in the main market place at Gushaini or ask one of your guest house or homestay staff to arrange one for you. You might not get select brands there but basic ones.
Where to lodge: Raju's guest house is one of the most popular stay options in Gushaini. Other options include Tirthan camps, Camp Himalayan, Hotel trout valley, Prabhat homestay. There are several homestays that are cropping up in Gushaini. Forest Rest House at Sai Ropa is also a good option.
Nightlife: Gushaini does not have any discs, pubs or bars. You can however, opt for camping under the stars or ask your guest house or homestay staff to arrange for a bonfire. It's a great opportunity to interact with your fellow tourists. Additional charges might be applicable.
Local tip: Do not litter while hiking. Respect nature and local customs and traditions. Do not pluck the fruit from the trees without prior permission of the locals. Do not throw plastic wrappers, chipps wrappers or plastic bottles as plastic is banned in the region. Always carry jute/cloth carry bags with you in case you need to make a purchase.
Frequent Searches Leading To This Page:-
weekend getaways from delhi, himachal pradesh government tourism packages, himachal pradesh tour package from kolkata, getaways from delhi, himachal honeymoon tour, plan my trip to himachal pradesh