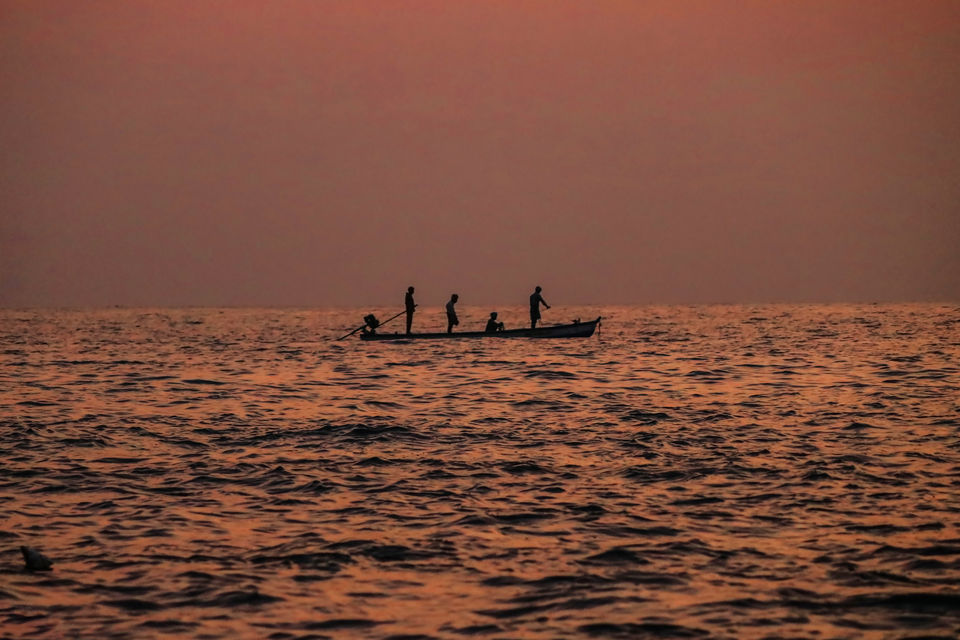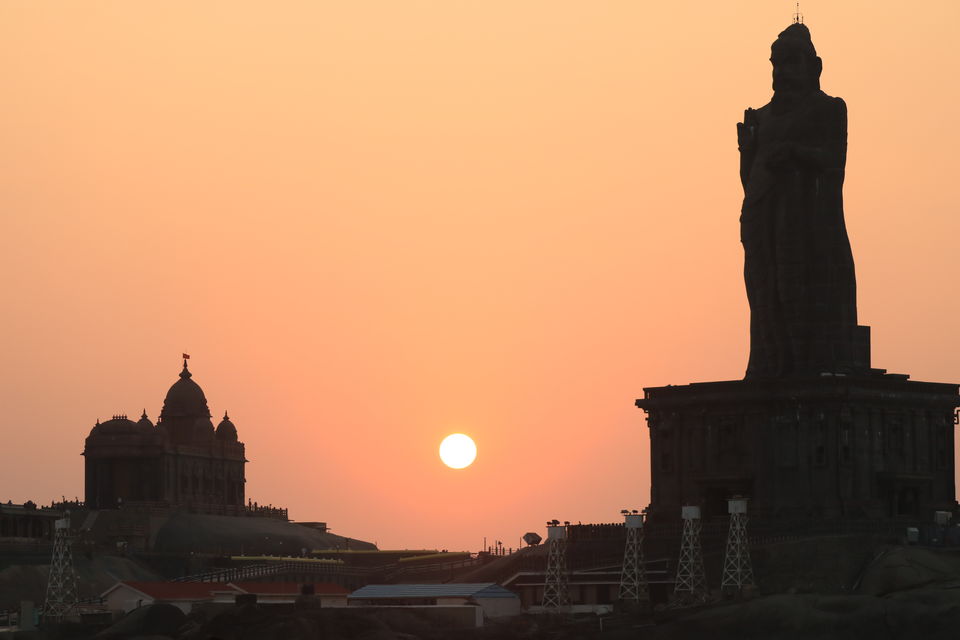 We are aware that India is called Peninsular because it is covered by 3 part sea and one part land but have you ever wondered what it would be like to stand at the southern most point of India and look at the three oceans meet? If you haven't experienced it already then it is time to pack your bags and leave.
Kanyakumari is a small coastal town in the state of Tamil Nadu which is surrounded by mountains, sea shores, coconut trees and paddy fields. It is the only place in India where one can experience the gloriousness of sunrise and sunset from the same place. At a distance of 670 Kms from Bangalore, it is the perfect destination for a weekend getaway. If you have just 2 days in hand and want to make the most of it with minimum budget, Kanyakumari will not disappoint you.
The white sandy beaches here are peaceful with no commercialization, stretching on for miles leading you to a world of tranquility. You will find humidity in the air and a spiritual connection within.
Getting there:
Nearest airport to Kanyakumari is in Trivandrum located at a distance of 93 kms. Kanyakumari Express is connected to Bangalore and Mumbai with frequent trains too. One can reach the city by road on Government and private buses. These overnight buses run on a regular basis. The rail and road journey will take you through hills, paddy fields and humongous windmills.
Transport:
Once you reach the town, transportation is solely dependent on the auto rickshaws and taxis. They have fixed prices and can take you for a ride if not careful. With good bargaining skills one can get pretty good deals. The town is fairly small, hence you can walk from one main location to another. If you want to go to the locations outside the town you will have to rent a taxi for a full day at a starting price of approximately 2500 INR.
Where to stay:
From budget to mid-range hotels one can find plenty of accommodations within the vicinity of the main market. Budget hotels are clustered near the rail head and the bus stands; they are available at a price of approximately 700 INR per day. Mid-range hotels can be found all over the city.
Where to eat:
South Indian cuisine is a must try here, mouth watering idli, dosa, rava idli and poori is available throughout the day. Near the Beach Road the coast is dotted with shacks and restaurants that serve a wide array of seafood delicacies.
You can get Chinese, Punjabi, Italian, South Indian, North Indian and Continental cuisine in Kanyakumari.
Highlights:
Distance from Bangalore - 670 kms by road.
Distance from Chennai - 710 kms by road.
Travel cost by Bus - AC Volvo from Bangalore will cost ~1200 INR.
Travel cost by Train - 3AC from Bangalore will cost ~1195 INR.
Best time to visit - October to early March.
Food cost - ~1000 INR per day.
Transportation - By walk or auto rickshaw.
Stay cost - ~700 per day,per room.
Places to visit - Vivekananda Rock Memorial, Thiruvalluvar Statue, Kanyakumari Beach, Sunset View Point, Gandhi Memorial, Tsunami Monument, Observation Tower and Bhagavathy Amman Temple.
Vivekananda Rock Memorial: Take a ferry from the shore behind the market. The ferry will take you to the memorial first where you can spend as much time as you want. Keep your ticket safely as it is the same ticket which will fetch you from the memorial to Thiruvalluvar Statue. This is also the sunrise point; you will be surprised to see the number of people awake at 5.30 am to witness this grandeur.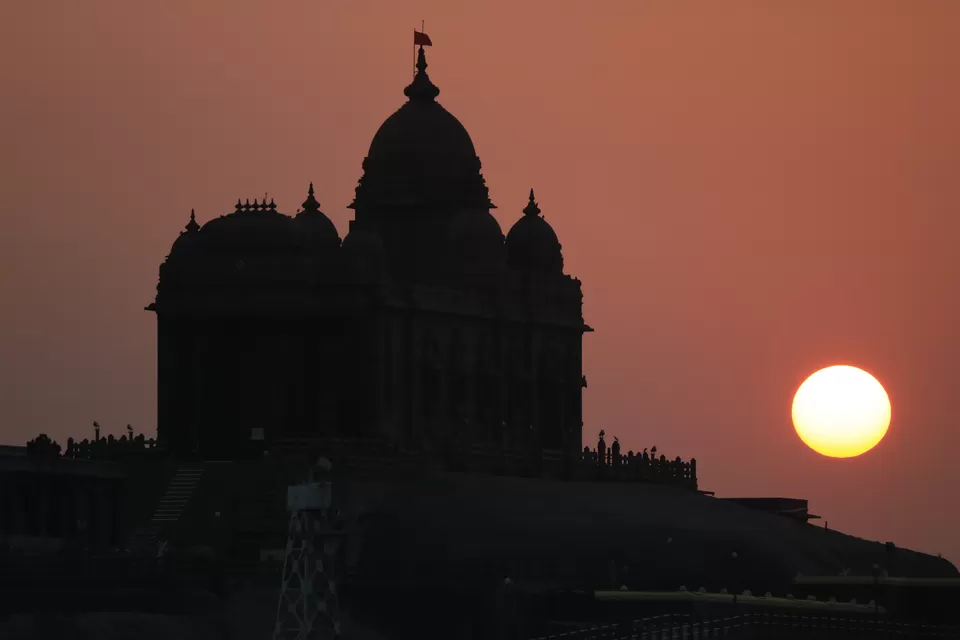 Thiruvalluvar Statue: The rock memorial and the statue are right next to each other but separated by the sea. You will have to board the same ferry which brought you to the memorial. There is no time limit on the ticket, one has ample amount of time to enjoy the sea, sometimes dead and sometimes rushing itself on to the rocks.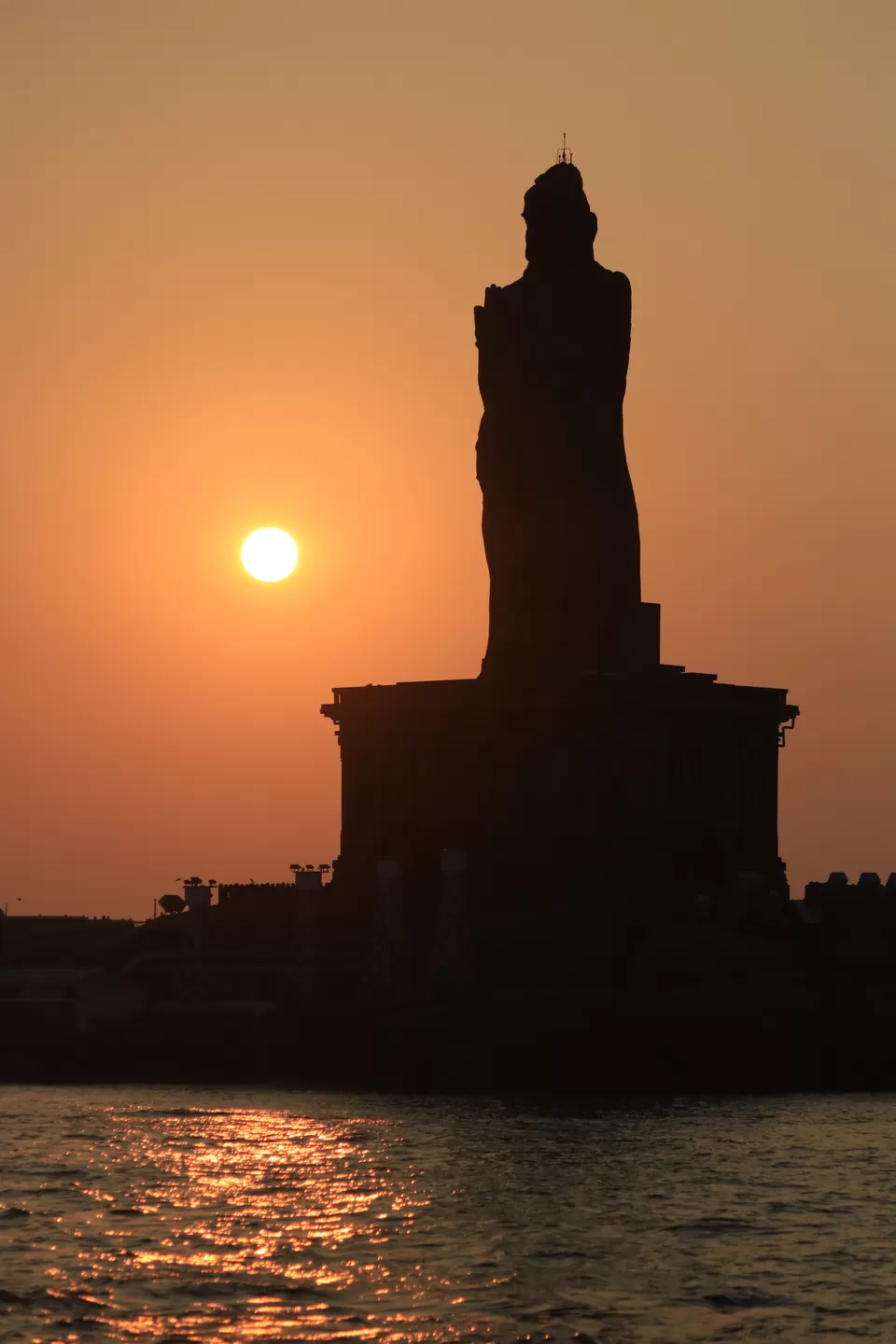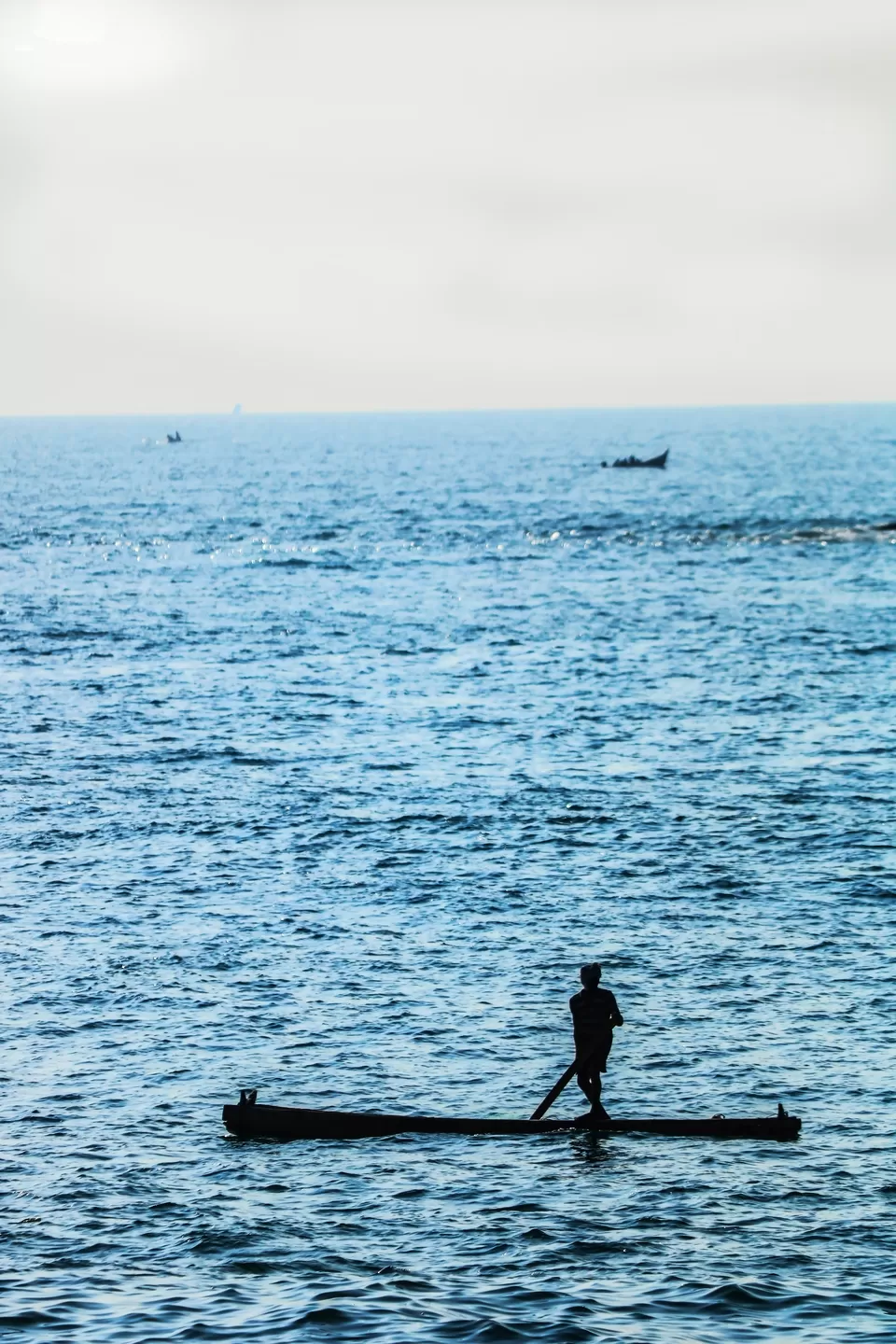 Sunset view Point: About 2 kms from the main market is the sunset point. One can walk the distance or take a rickshaw. Once there, find a neat spot on a rock, grab a handful of snacks, get comfortable and just wait for the magnificent lord to say goodbye for the day. You will find kids playing, 'cutting chai' vendors, churmuri stalls and many more eateries.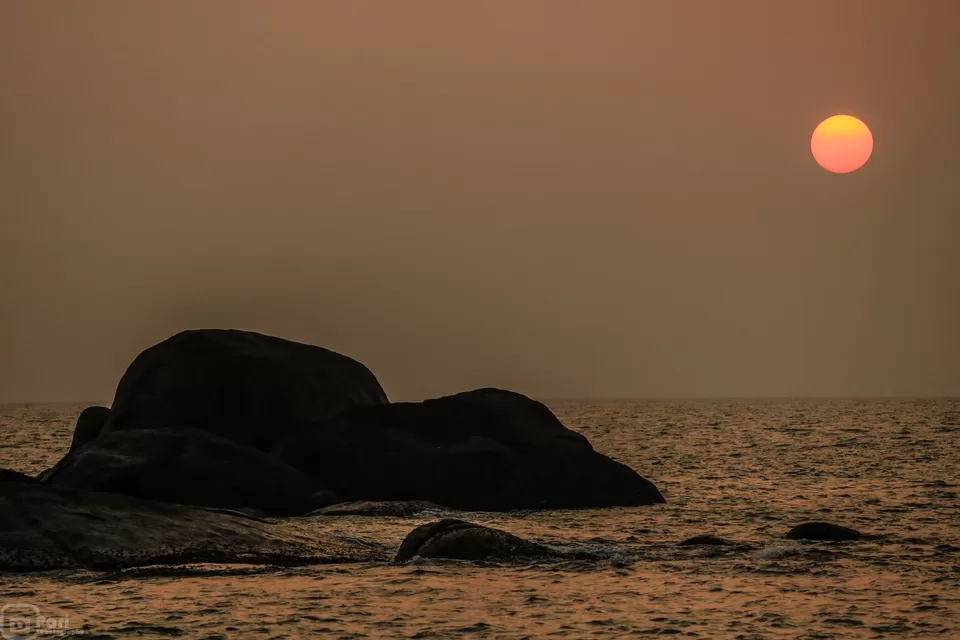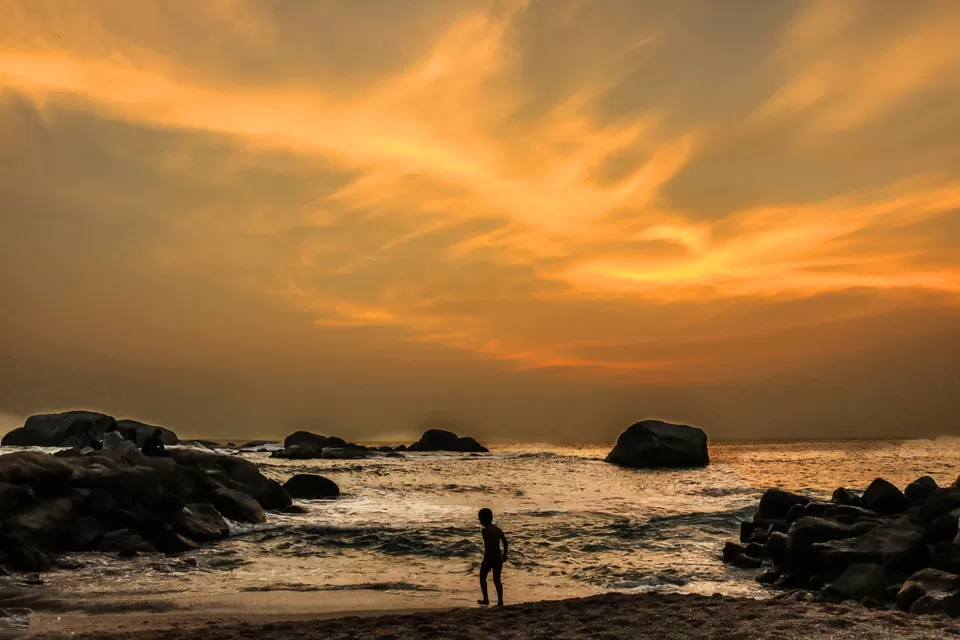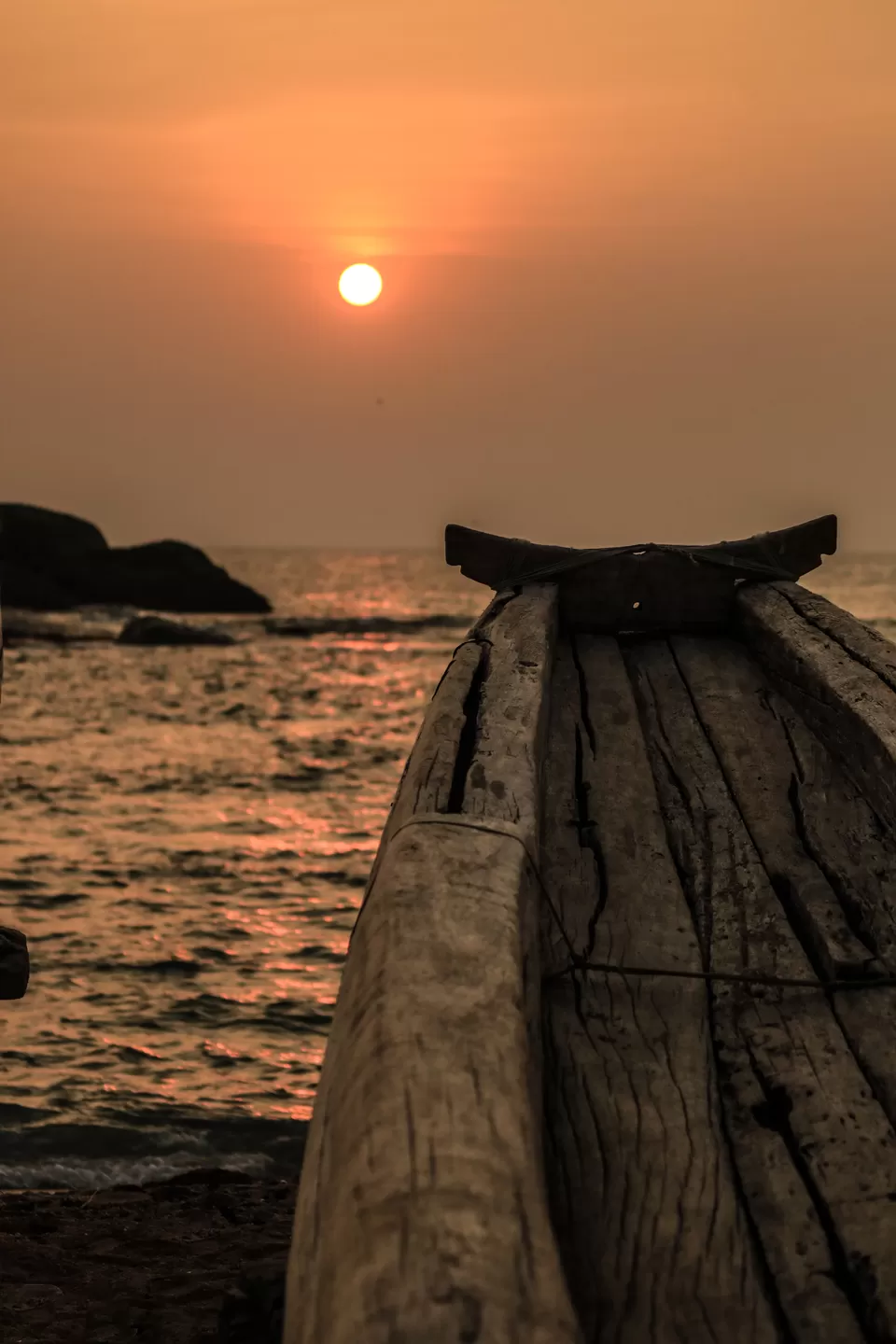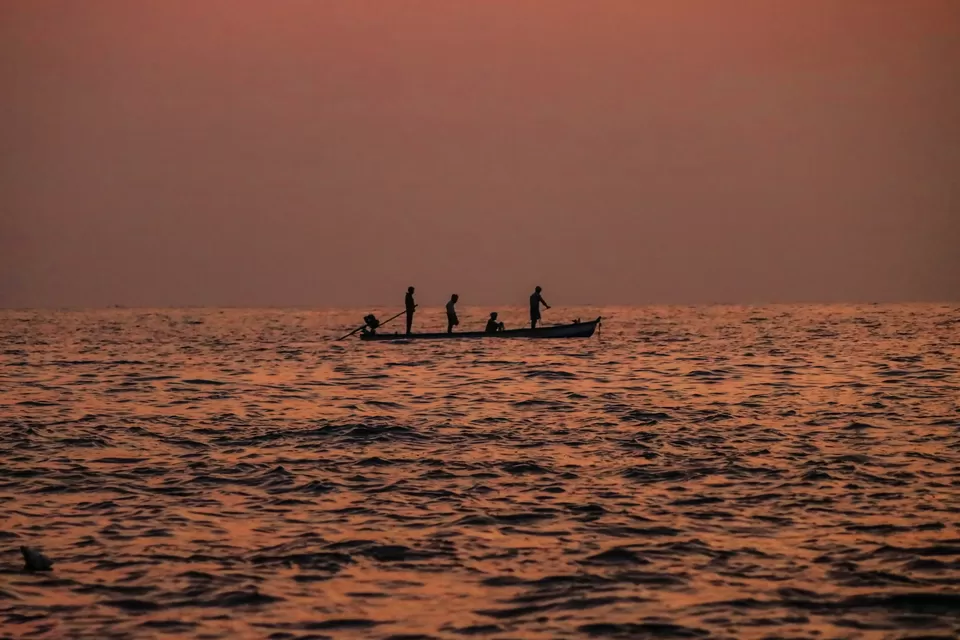 Gandhi Memorial Mandapam: It is right next to the market. There is an old man inside the memorial, he is not a government official but he will show you around nonetheless. He talks like a walking Wikipedia and he will also take a picture of you. He says he has seen the wrath of tsunami and has survived to tell the tale.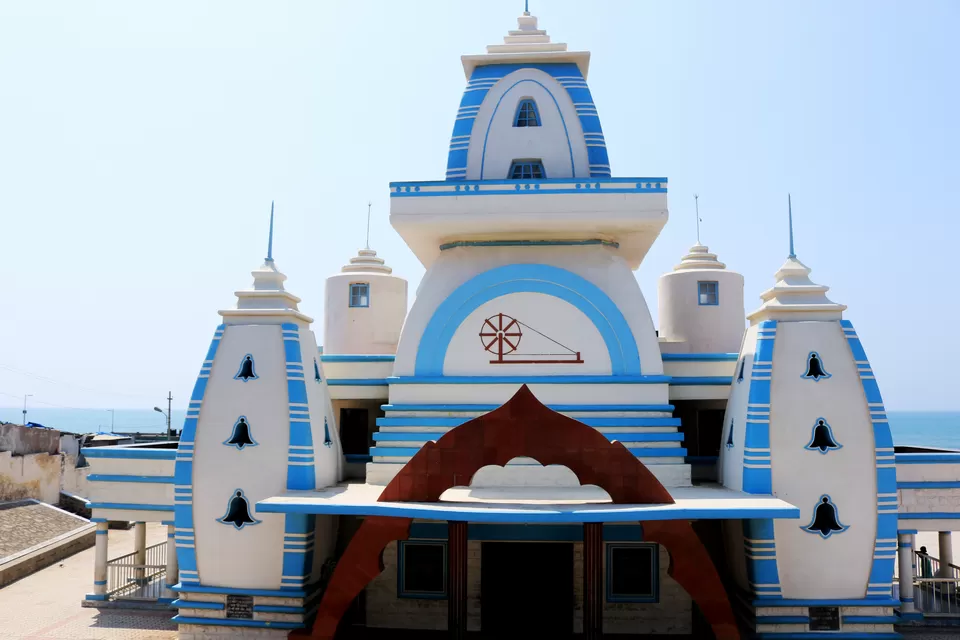 Southern most tip of Peninsular India: The point where the flag is hoisted is the south most tip. The moment when you imagine the map of India and place yourself in the tip, is when you will realize, how insignificant you are. This is right at the Kanyakumari beach.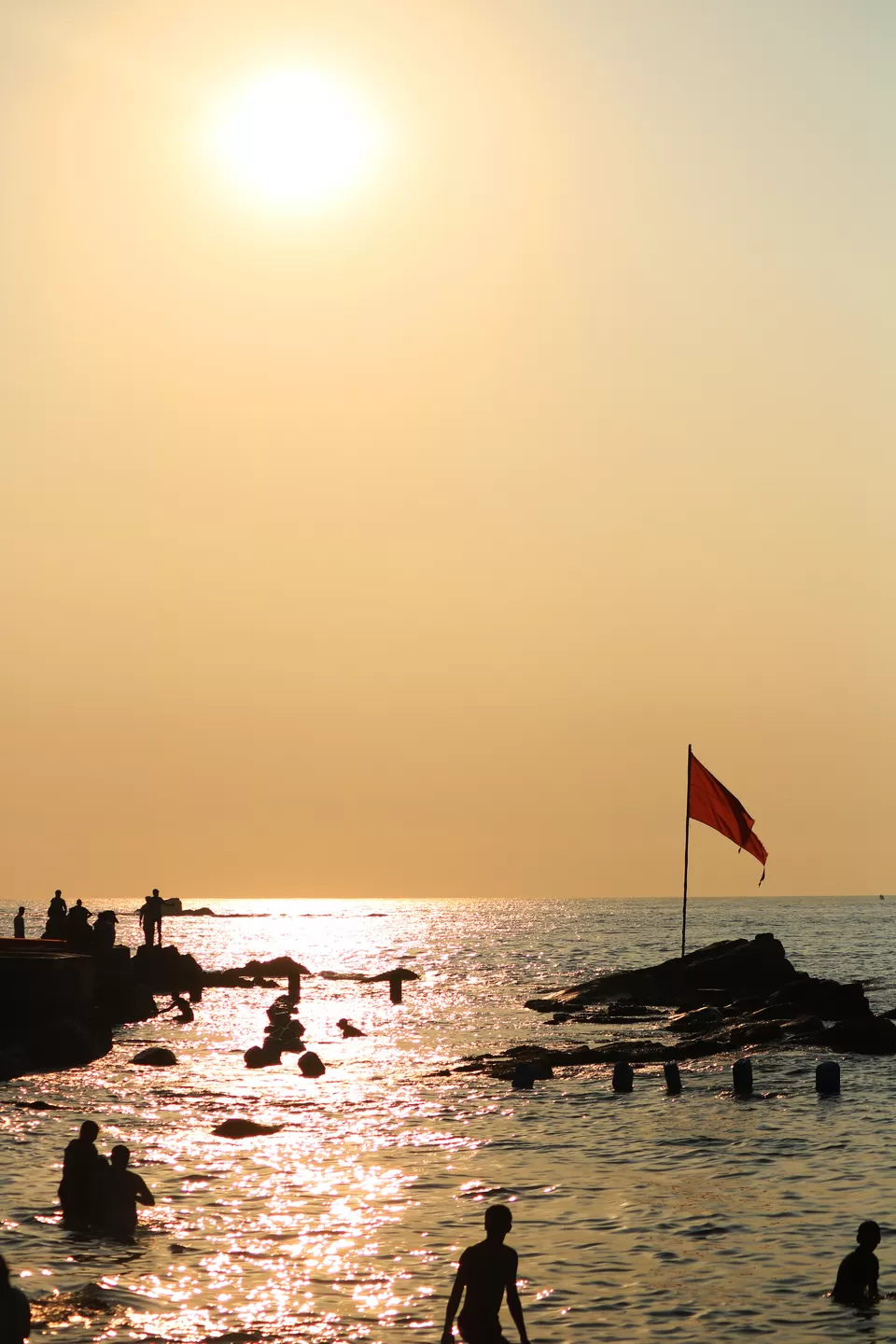 Kanyakumari Market: The view of the market as seen from Gandhi Mandapam.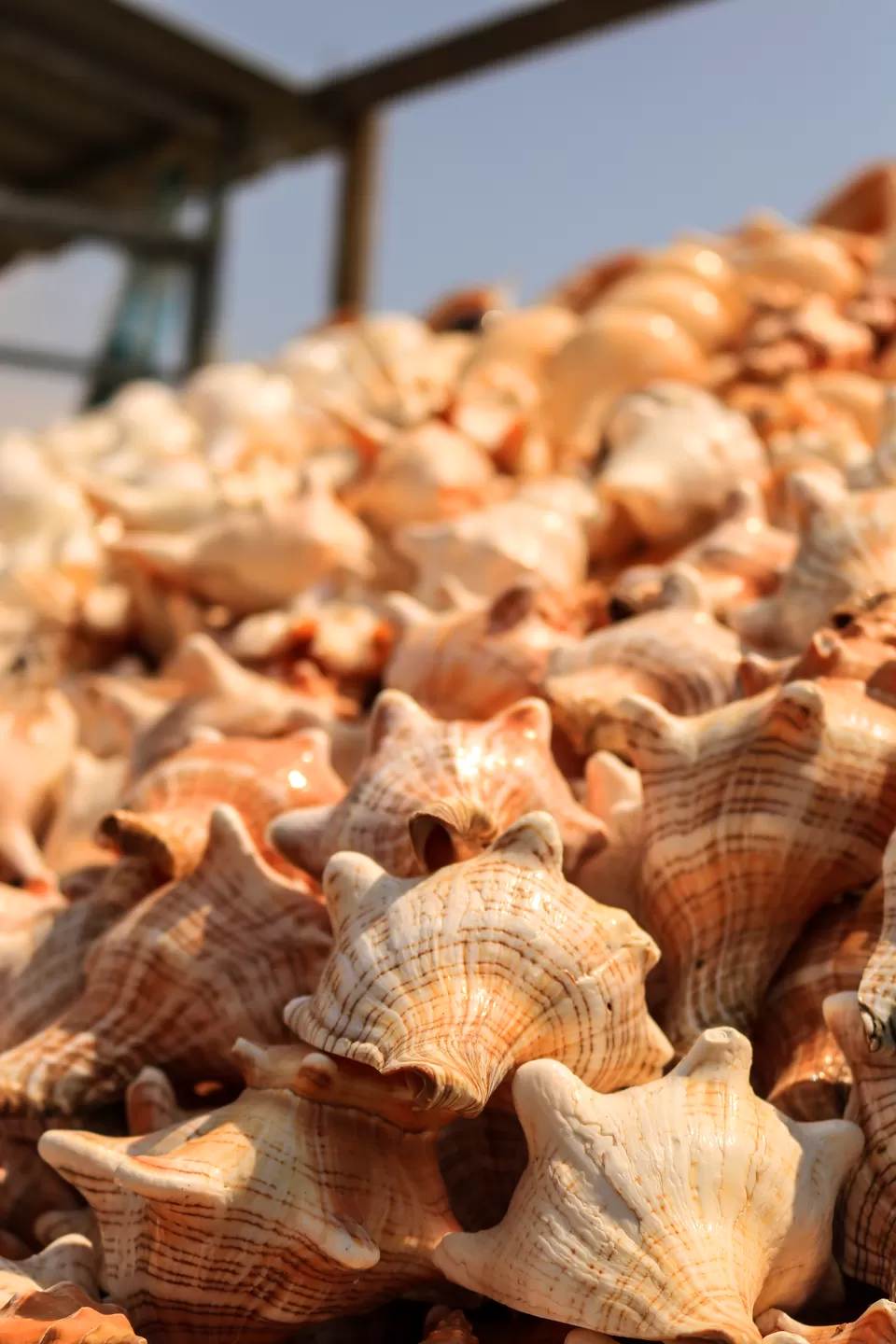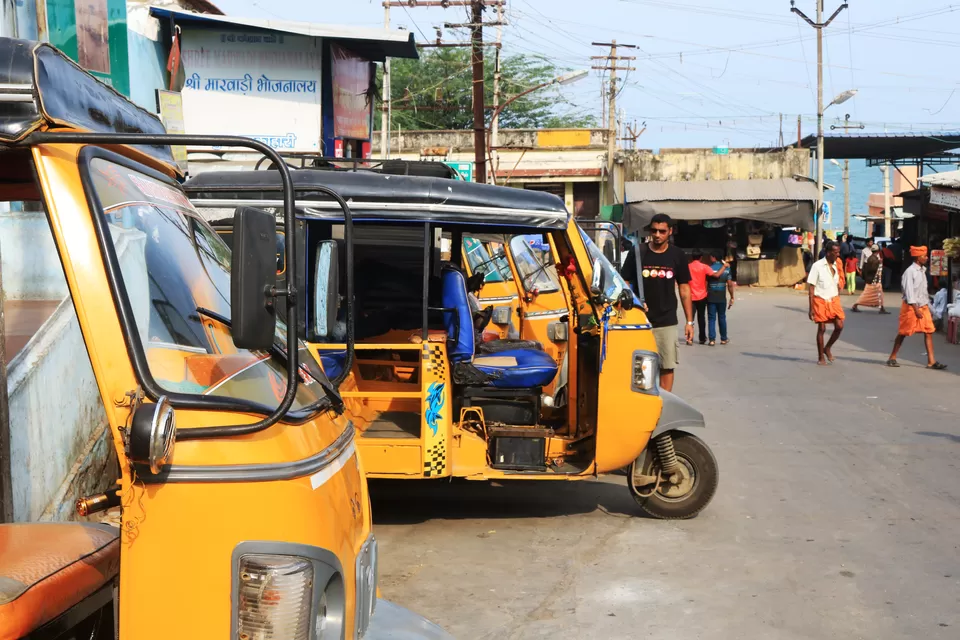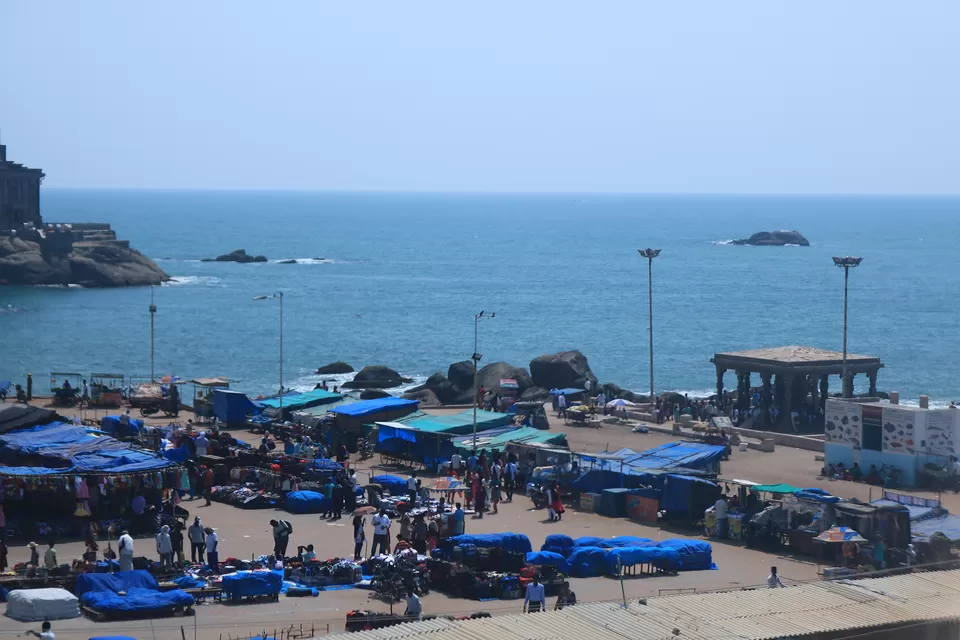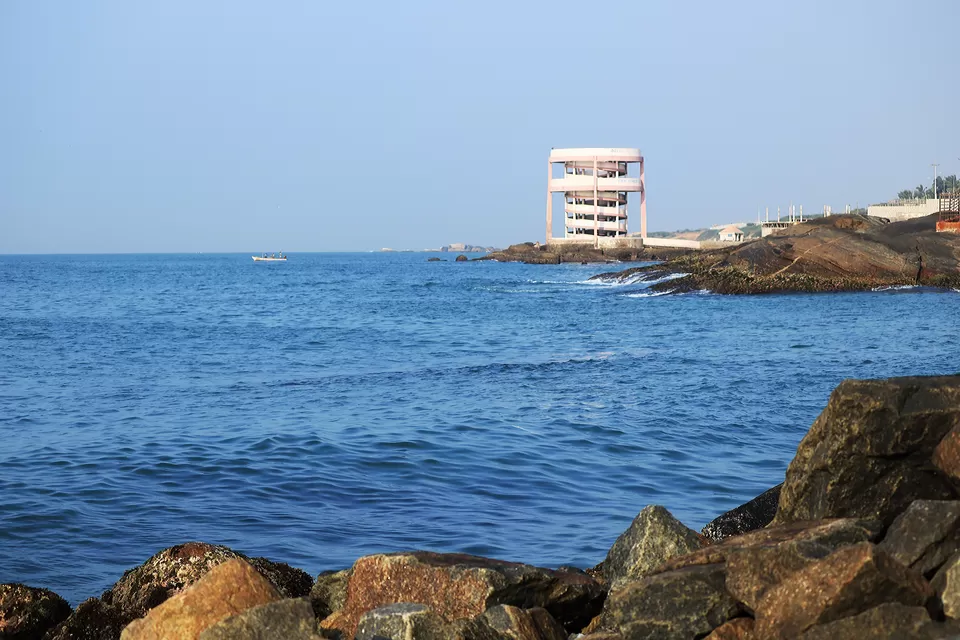 My Story:
On a very lazy day, I was browsing through an article for weekend destinations from Bangalore and the list contained Kanyakumari. I had always avoided coastal areas of Tamil Nadu because of its heat and humidity. I took a leap of faith and booked an overnight non AC sleeper bus for 650 INR. The bus started from the station at 6.00 pm passing through highways, hills and reached Kanyakumari at 8.00 the next morning. After checking in to a budget hotel, I went out for a walk to the market. I could walk around the entire place for the next 2 days not having to spend much on transportation.
DAY 1 : I visited the market, shopped for souvenirs, shells, pearl chains and more. From there I took a ferry to the Vivekananda rock memorial and Thiruvalluvar Statue which consumed more than half a day. After having masala dosa for lunch I headed towards the sunset view point which is a 2 km walk from the market. I just sat there waiting for the golden moment silently listening to the shore and wind.
DAY2 : Next day I woke up at 5.30 and jogged to Kanyakumari beach. I was relieved to see that there were only a handful of people walking around the temple. One left turn towards the beach and I was in for the shock of my life! At 5.45 am there were about 300 or more people sitting on the stairs, rocks and roof tops grabbing all the good spots. The sunrise that followed was inexplicable, the entire crowd was mum just staring into the big round ball that was waking up. The rest of the day I went around sight seeing, I visited Gandhi Memorial, Tsunami memorial, light house and walked around the town. I stood at the tip of peninsular India, closed my eyes and visualized the map of India. The realization of where I was standing gave me goosebumps. You cannot actually see the Bay of Bengal, Arabian Sea and Indian Ocean meet but you can certainly feel it. As all the places are nearby, I was done by evening.
I came back with a satisfied bunch of pictures but with a deep thirst for more.
It is time for you to make some memories.
Bon Voyage!