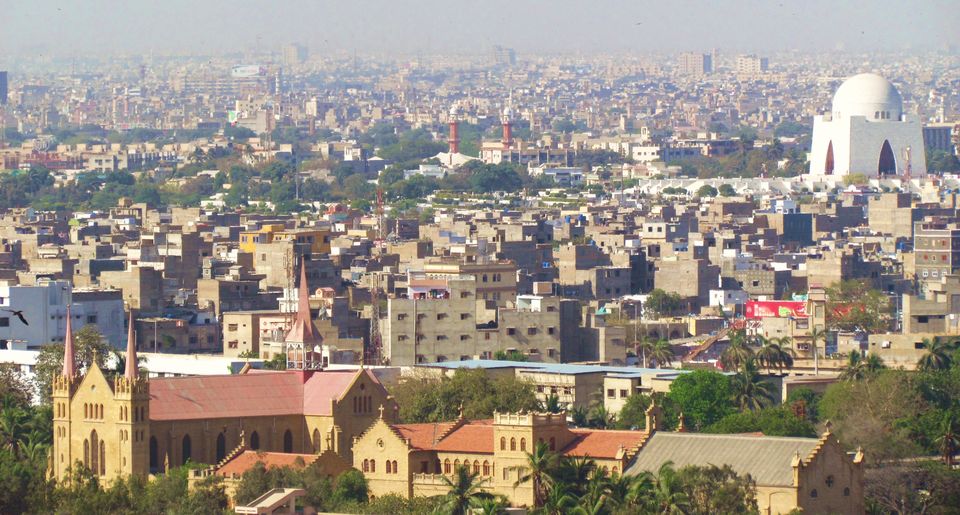 Despite its turbulent history, Pakistan is filled with beautiful people, places, and food. With Karachi being the most cosmopolitan city in the country; it is a perfect gateway to Pakistan. Karachi is like a melting pot of Pakistani culture, with people from all over the country flocking to it. One day here is just about enough to visit the key sights, and experience the culinary delights!

Getting in and around
Jinnah International Airport is the main domestic and international airport of the city that connects it to various destinations like Abu Dhabi, Dubai, Muscat, Doha, Colombo, Beijing, Tokyo, Bangkok, Kuala Lumpur, London, Toronto, and others. Located about 20 kilometres outside the city, hire a Metro Radio Cab or a White Cab available at the airport to take you to the centre of the city for about 600-800 PKR (Pakistani Rupee).
Getting around the city is an adventure in itself, with auto-rickshaws zipping through the streets without a care in the world (or about traffic rules). The rickshaws do not ply by metre, and a fare must be decided beforehand. Services like Uber and Careem are also available to be booked via smartphones. Also, you can book a White Cab with 30-60 minutes notice by calling on (+92 21) 111-786-786 to ride anywhere in the city at PKR 25 per km + booking fees of PKR 150 (minimum charges are PKR 400).
Accommodation
Budget: Hotel Crown Inn
Mid-range: Country Inn Hotel, Hotel Al Harmain Tower, Beach Luxury Hotel
Luxury: Avari Towers Karachi, Movenpick Hotel Karachi, Karachi Marriott Hotel, Pearl Continental Hotel Karachi, Embassy Inn
You can't start your day in Karachi without a taste of the typical Pakistani nashta. Every day from 7:00 am till noon, this place in Bahadurabad serves up freshly fried puri with chole along with a helping of sweet halwa on the side. Tooso has customers that swear by their halwa puri, and rightly so. You're definitely going to need the energy for the long day ahead!
Book a taxi (Uber, Careem or White Cab) to the Chaukhandi Tombs which is located at a distance of about 25 kilometres from the city centre (approximately PKR 600 by Uber). This necropolis of intricately carved structures of sandstone stand striking in the sun. The Islamic cemetery was built at least 200-300 years ago during the Mughal period, and consists of a number of tombs spread over a large area. Each tomb itself is beautifully carved with designs reminiscent of Irani, Turkish and Central Asian motifs. Tombs of men have carvings of cavalry and weapons, whereas those of females are carved with decorative jewellery like bangles. The complex is open to visitors from 9:00 am to 7:00 pm every day.
A taxi ride (roughly PKR 1000 for White Cabs) should take you back to the city, and to the Mohatta Palace in the affluent Clifton neighbourhood. The palace itself can be described as having influences of Rajasthani, Sindhi and even British-Indian architecture; having been constructed with pink Jodhpuri stone as well as local yellow stone. The palace building is now in the ownership of the Government, and has been converted into a Pakistani art museum. Currently, it holds exhibitions on maps, fabrics and textiles of Pakistan. A walk in the gardens, admiring the structure of the palace, before making your way to the museum inside is a wonderful experience in itself. The museum timings are 11:00 am to 6:00 pm every day but Monday, and closed between 1:00 pm to 3:00 pm on Fridays. The admission fee is PKR 30 for visitors above 12 years.
For about PKR 180, an Uber should get you to Zahid Restaurant, an institution for nihari in Karachi. Nihari is an authentic Pakistani dish that consists of a spicy gravy with chunks of tender mutton that melt in your mouth, topped with fresh ginger and coriander. The plain, or nalli nihari are specialities here. And don't forget that fresh, steaming naan/tandoori roti on the side. A meal here would cost you about PKR 400 for two, and Zahid is open from 11:00 am to 1:00 am every day.
A rickshaw ride (PKR 100) should take you to Frere Hall, a stunning British-colonial structure that was originally supposed to be the town hall of Karachi. It is a beautiful amalgamation of British, Venetian-Gothic and local architecture that stands tall in earthy tones; with its green roofs, arches, and towers. It is now an exhibition space with some lovely artwork, a library, lawns that are also popular among locals to visit. Frere Hall is open to visitors every day but Sunday, from 9:00 am to 5:00 pm.
A 5-minute walk down the road should bring you to the Quaid-e-Azam House Museum. Once the residence of "Quaid-e-Azam" Muhammed Ali Jinnah, the building now houses a museum dedicated to the life of Pakistan's Father of the Nation. A beautiful country house with manicured gardens, the museum inside gives you a new perspective on the history of the country. It is free to visit, and open to visitors from 9:00 am to 4:00 pm (with a break between 1:00 pm and 2:00 pm) every day but Wednesday, and only from 9:00 am to 12:00 pm on Fridays.
Take a rickshaw to Empress Market (PKR 55), which is a marketplace that was built during times of the British Raj. Still fully functional, this bustling bazaar has items from fresh produce, meat, spices, dry-fruits, snacks, textiles, shoes, stationery, crockery, to pets. If you can think of it, you can find it here. And all at great prices; if your haggling skills are handy, that is. Shops in the market are open from 7:00 am to 11:00 pm every day except Sunday.
Just around sunset, take a rickshaw from Empress Market (PKR 60) to Mazar-E-Quaid, which is mausoleum that holds the final resting place of Muhammed Ali Jinnah or Quaid-e-Azam ("Great Leader"). Located in the middle of a large park, this 141-foot structure is made of white marble and is built in a modernist style with Islamic influences. You will find a peaceful feel here, a break from the busy city. The imposing white monument looks beautiful against the colourful sky as the sun goes down. Entry to the mausoleum is open from 9:00 am to 6:00 pm every day but Monday.
A rickshaw costing PKR 70 should take you to an eatery that has become very popular in the Karachi food scene. This is the place to go for authentic Pakistani kebabs. Make your way to the rooftop dining area, and binge on succulent, smoky pieces of meat in various flavours and spices. You cannot miss out on the chicken reshmi kebab, dhaga kebab, behari boti, or the chicken malai boti and the Zaffrani kheer to finish it all up. To make things better, you won't spend more than PKR 800 on a meal for two here. The restaurant is open from 7:00 pm to 12:00 am every day. No better way to end your unforgettable day in Karachi!
A trip to Karachi will shatter any reservations about the city, and country of Pakistan, due to the sheer hospitality of the people. With some great sights to see, and delectable food to eat; you must visit Karachi if you ever get the chance. And now, you know exactly how to plan out your trip!