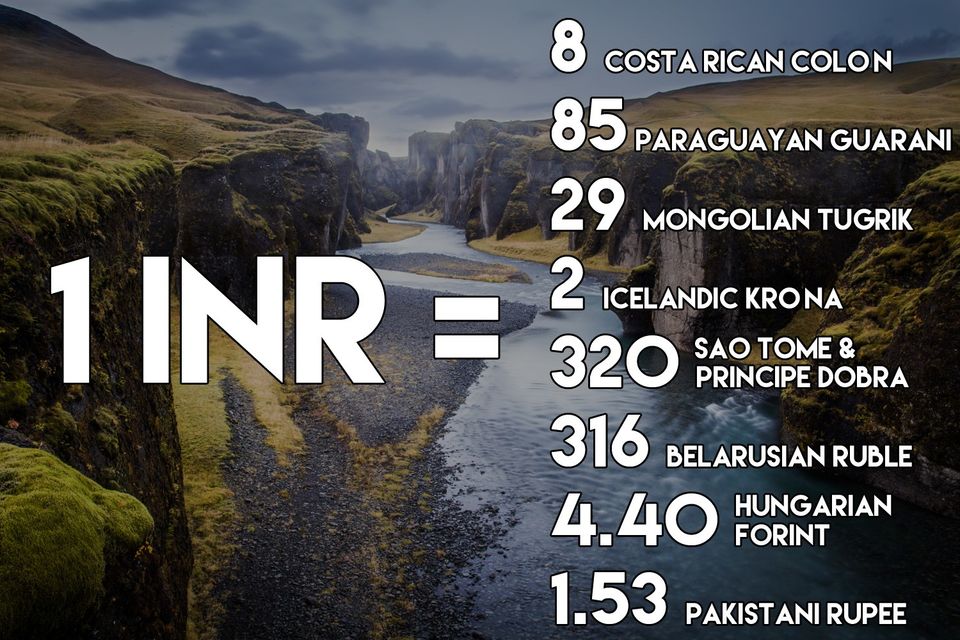 There are a lot of articles on popular travel websites about how Indians can feel richer while traveling to other countries purely based on currency conversion. It doesn't work like that. If 1 Indian Rupee = 2 Icelandic Kroner, that doesn't mean you will be able to visit Iceland at half the cost.
An international trip consists of various expenses. Flight tickets, visa fees, accommodation costs, traveling inside the country, food & many more hidden costs aren't being calculated by these websites. I shall publish a list of countries which are actually affordable to travel from India by keeping all the costs in mind.
But let's have a look at 8 countries that I've selected based on other websites & see how feasible are they to travel.
1. Costa Rica – 1 INR = 8 CRC
Well, good thing. Our 1 rupee can fetch 8 times the amount in Costa Rica. It's a beautiful country indeed. But the return airfare is going to cost you Rs. 90,000. Think about it.
2. Paraguay – 1 INR = 85 PYG
OMG. If you go here with 10,000 rupees, you will be able to spend 85,000 in their currency! There are 2 big problems in reaching Paraguay. One, the return airfare is going to cost you at least Rs. 1,10,000. And it's going to take at least 36 hours to reach the capital of Paraguay.
You are going to spend 4 days in traveling even after spending more than a lakh rupees on just tickets. Is the conversion really worth it?
3. Mongolia – 1 INR = 29 MNT
Mongolia is a pretty place indeed. And if 1 rupee can get 29 in their currency, why not splurge our money & feel rich, right? Wrong. Your return airfare to UlaanBataar is going to cost you not less than Rs. 66,000.
4. Iceland – 1 INR = 2 ISK
Don't get fooled by this conversion. Iceland is insanely expensive to reach & stay. The cheapest hostels in Iceland cost 5,000 ISK. Think about it. Your bus ticket from airport to Reykjavik city is 2200 ISK. And a simple hamburger on the street will cost you 500 ISK. Iceland is one of the most expensive countries in the world from tourism angle.
5. Sao Tome & Principe – 1 INR = 320 STD
Feeling already rich? Okay, calm down. Do you know where Sao Tome & Principe is? It's a small island country on the western coast of Africa. What to see there? Well, nothing in particular.
Airfare? Forget searching, it goes via either Dubai, Lisbon, Angola or other African countries & the cost is shown is Lakhs (our lakhs not theirs).
It's not worth spending lakhs of rupees to reach Sao Tome & when in the same amount, you can go to Greenland & come back.
6. Belarus – 1 INR = 316 BYR
Almost like Sao Tome's conversion, right? Well, Belarus is still a very closed country. Hard to get in even with all the documents. If you get the visa, the airfare will be more than Rs. 50,000.
7. Hungary – 1 INR = 4.40 HUF
Beautiful Budapest. Who doesn't want to see that city, right? Compared to other alternatives, Hungary is a good option for sure. But don't expect the costs to be 1/4th of India. Hungary falls in Europe, it's a part of Schengen agreement & the costs are according to European standards.
Flight tickets will be anywhere between Rs. 38,000 – 45,000 & you will be able to see many more countries on the same Visa. Just don't fall for the conversion.
8. Pakistan – 1 INR = 1.53 PKR
Heh. Even if the conversion rate was 100 PKR, very few of us would want to go here. It's not only about the security, but getting a Pakistani visa is difficult for common citizens of India. It also might raise some eyebrows in India.
Anyway, if you are going to Pakistan, have a blast till you last.