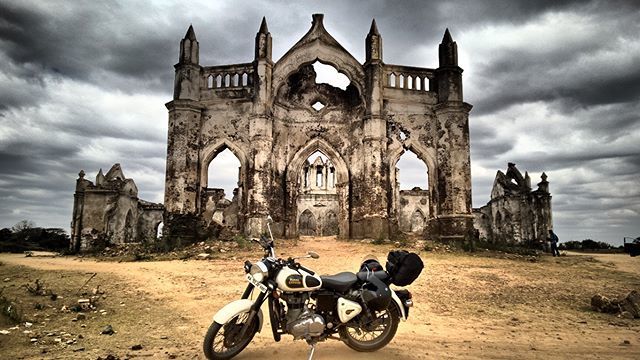 #CoffeeWithTripoto
It was a windy Friday evening and I was itching to go somewhere. I was free for two days, a Saturday and Sunday, and I could not stay at home. What's more, it was cloudy, cool, and windy, and it was perfect for a bike ride.
I wanted to explore parts of namma Karnataka and a friend had recommended that I visit this awesome looking church in his native. It was a church that was submerged in water during the monsoon and would be accessible during the non-rainy season. Called the Shettihalli Rosary Church, this church was built by French Missionaries more than a century ago and was abandoned after the construction of a nearby dam: Hemavati. Every time it rains, the church is half submerged in water making it look eerie and out of place.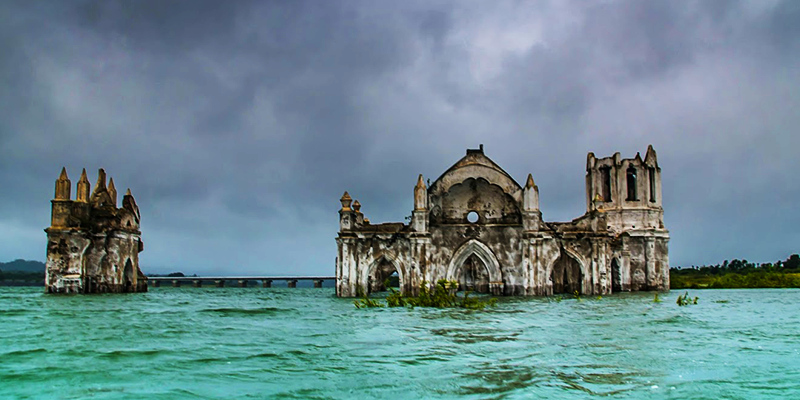 After seeing it half submerged in water, I wanted to see the place. But, riding out all the way to see just this church would be incomplete. The nearest large town is Hassan and having always driven past it to go anywhere, I decided to halt at Hassan and explore the local culture. In many ways, it meant that I would get to explore my second passion: eating gobi manchurian!
The distance between Bangalore to Hassan is less than 200km, so I quickly asked my friend if his bike was free. He said it was ... and so was he. Not wanting to disappoint myself, I told him he could come along, but I had a completely different idea in mind.
The next morning, we met early. I smiled as I saw the white Royal Enfield Classic 350 waiting for me. My friend has no idea. I went up to him, asked him to hold my helmet, and told him I wanted to ride till the end of the road to stop at a store to pick up something before we left. He said okay, and moved to the back seat. I got on, started the bike, and half-listened to a 100 complaints from him in the next few hours as I rode all the way to Hassan with him in the back seat.
It was still cloudy and cool, and I loved riding the Enfield particularly in weather like this. It was about 8 in the morning and I was on the highway to Hassan. The route to Hassan from Bangalore is free and empty. The only downside is the lack of frequent eateries and pit-stops. For people who are focused on getting somewhere, it's the best route with no distractions. Compared to the Bangalore-Mysore highway, this highway is well laid and deserted.
Google says it would 3 and a half hours to reach Hassan from Bangalore. I made it in less than 3 hours not counting the only one hour pit stop we made to eat brunch. The Enfield may not be the fastest bike on the road or the lightest, but on the highway when I'm clocking 120+ with music in my ears, there's no greater pleasure. I was also the type to not wear a helmet while riding. For those of you planning on going on any road trip, please wear one. Not everyone is a safe rider like me :P
When we first reached, my friend had made a booking at a hotel on his phone. We stayed at this hotel called Palguni Residency; it had just been inaugurated a few days earlier and we had got ourselves a killer deal. Their best suite for just Rs. 999 per night. With tax it was roughly 1100 if I remember correctly. The rooms were excellent, service was amazing, and the food was vegetarian. The staff was also extremely helpful, they helped me find my way around.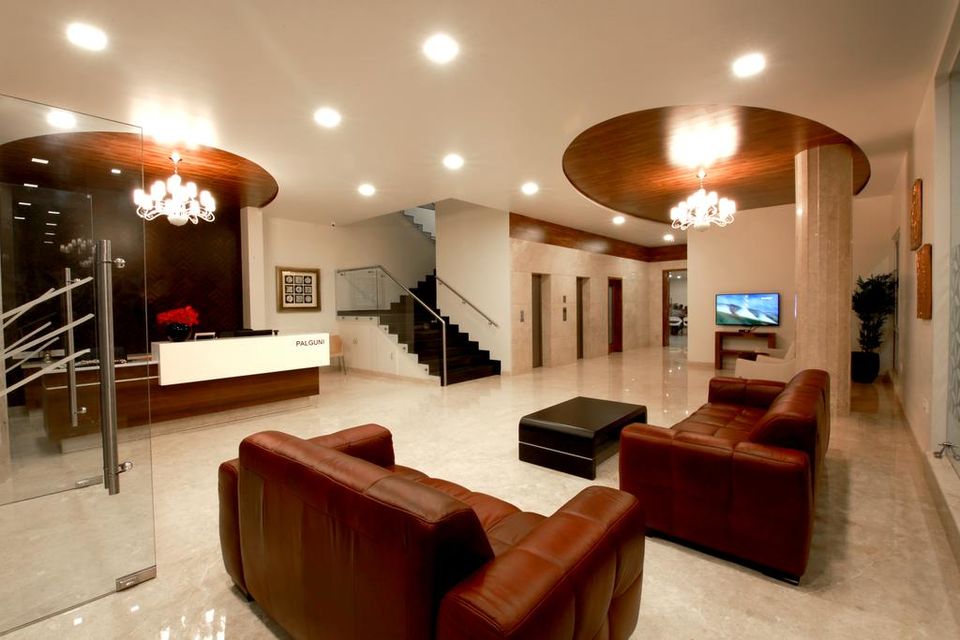 By the time we reached, it was past afternoon, and we decided to eat a quick lunch at the hotel. Their food was good, and I was exhausted after all the bike riding. We went to the room after eating, put on a movie to watch, and dozed off almost instantly.
We woke up a few hours later and it was starting to get dark. I knew we wouldn't be able to make it to the church on the same day, but I'd heard that Hassan also had one street dedicated for street food. Not wanting to miss out, we got ready, headed down to the bike after the reception told us where to find the street.
We were literally just 200 meters away. We were told that the street filled with people would be the one. The street we saw hardly had 70 people standing. After getting used to crowds in Bangalore, this was empty. I headed straight to the guys make chaat and gobi manchurian and sat between the two stalls and ordered a bit of both. The thing about eating roadside food in a town like Hassan or even smaller places is that it resembles the village style of cooking. It's inexpensive and it would taste good.
I had my fill of manchurian and chaat and asked the stall owners directions to the church. We planned on going the first thing the next day after checking out and riding back to Bangalore. It was meant to be a quick getaway, anyway.
My phone maps showed the location perfectly. However, since the church is underwater half the year, no roads have been plotted to the church itself. If you're following the maps strictly, you might end up circling around it.
We woke up early the next day, ate breakfast, checked out of the hotel and began our journey first towards Lakshmi Narasimha Temple. Supposed to be an 800 year old temple built by the Hoysalas, it's about 50 km from Hassan and it starts with an awesome bike ride! I've been here before with my family, so we went just for the fascination of my friend who was seeing the temple's beautiful architecture for the first time.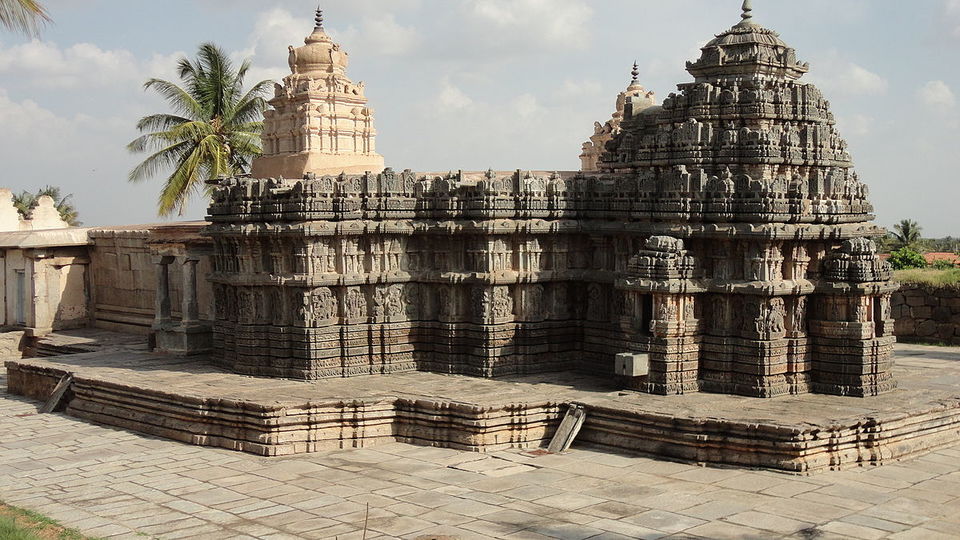 We then began our ride towards the church. I let my friend ride this time while I navigated. We followed the map till we were in Shettihalli and then resorted to asking the locals. After a while, you can see the church and a small mud road almost hidden by plants leads away from the asphalted road towards the church. Normally, these roads would lead to the watery entrance to the church which means you would only be able to admire it from a distance.
However, I had visited in the non-rainy season. And the ground was dry enough for us to ride through the church itself. With the cloudy grey skies and the Enfield by its side, the church looked fantastic.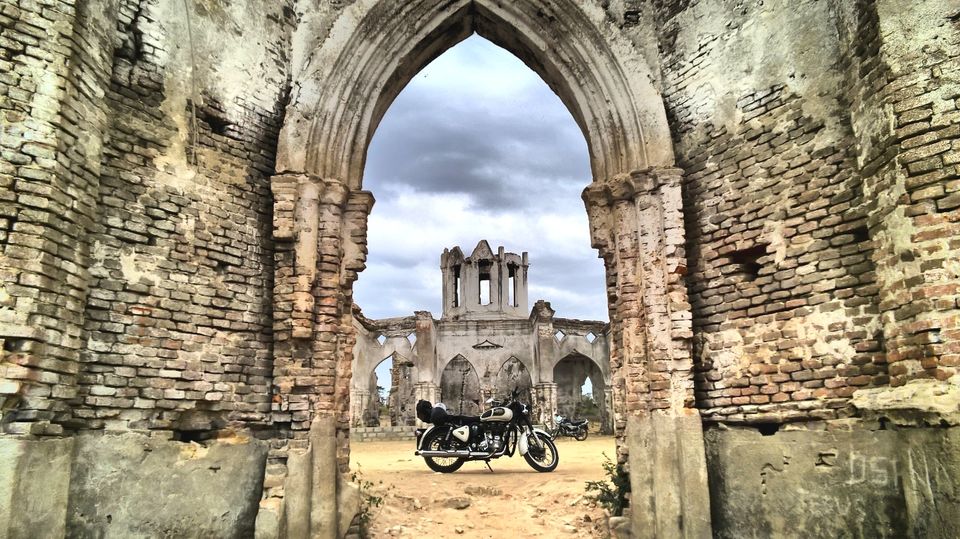 We ended taking a lot of photos!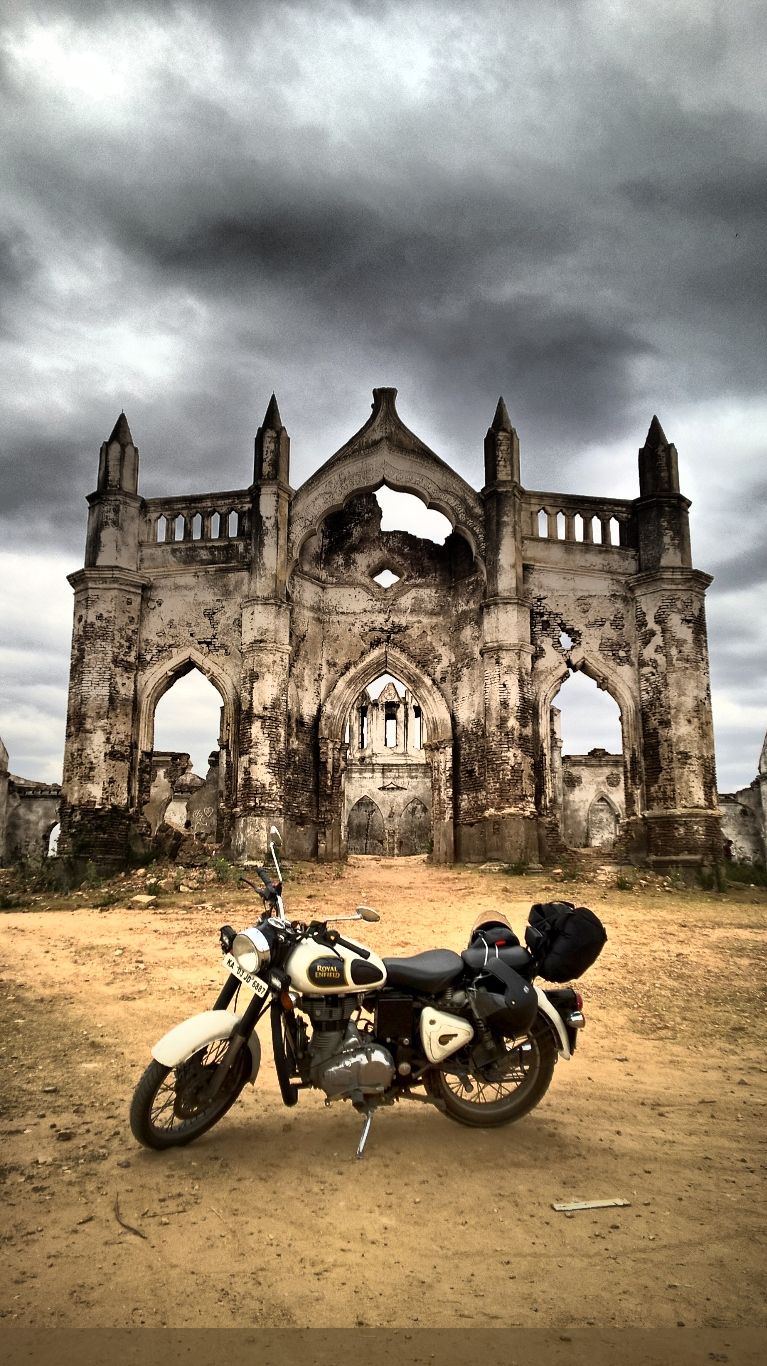 According to Wikipedia, you're supposed to visit this church twice in a year to see its true magic. To see it submerged has an entirely different effect on the eyes. And to see it accessible like this and to be able to stand in the midst of the ruins of this church makes you feel like you can connect with all those who came by to worship all those years ago.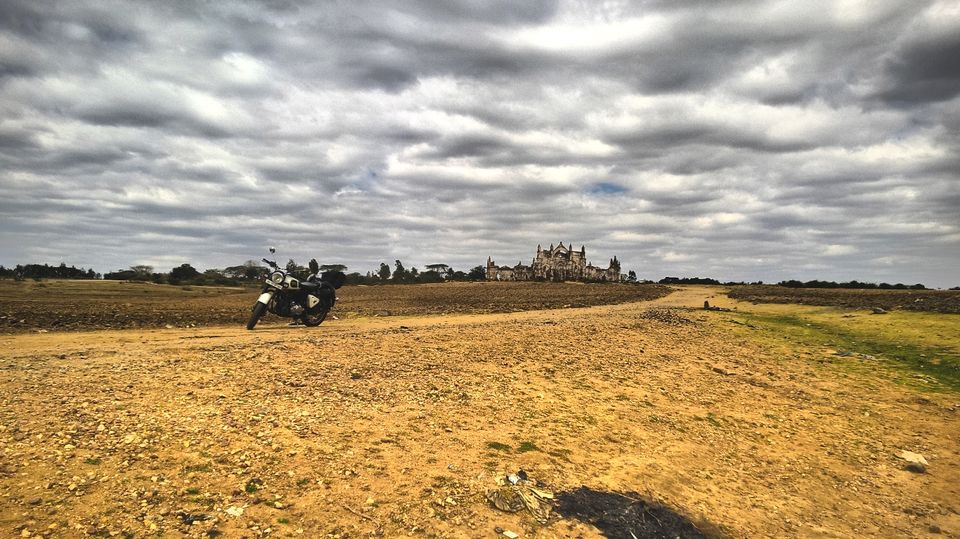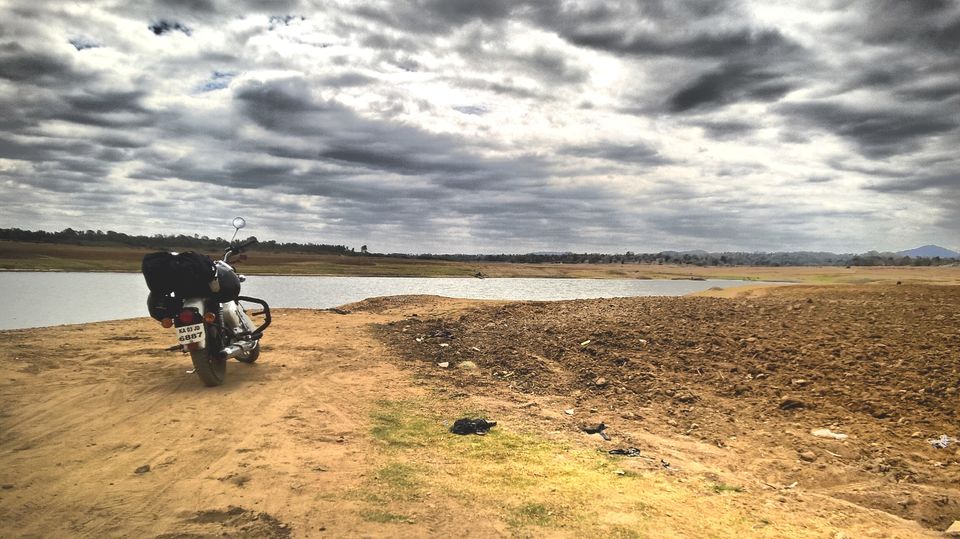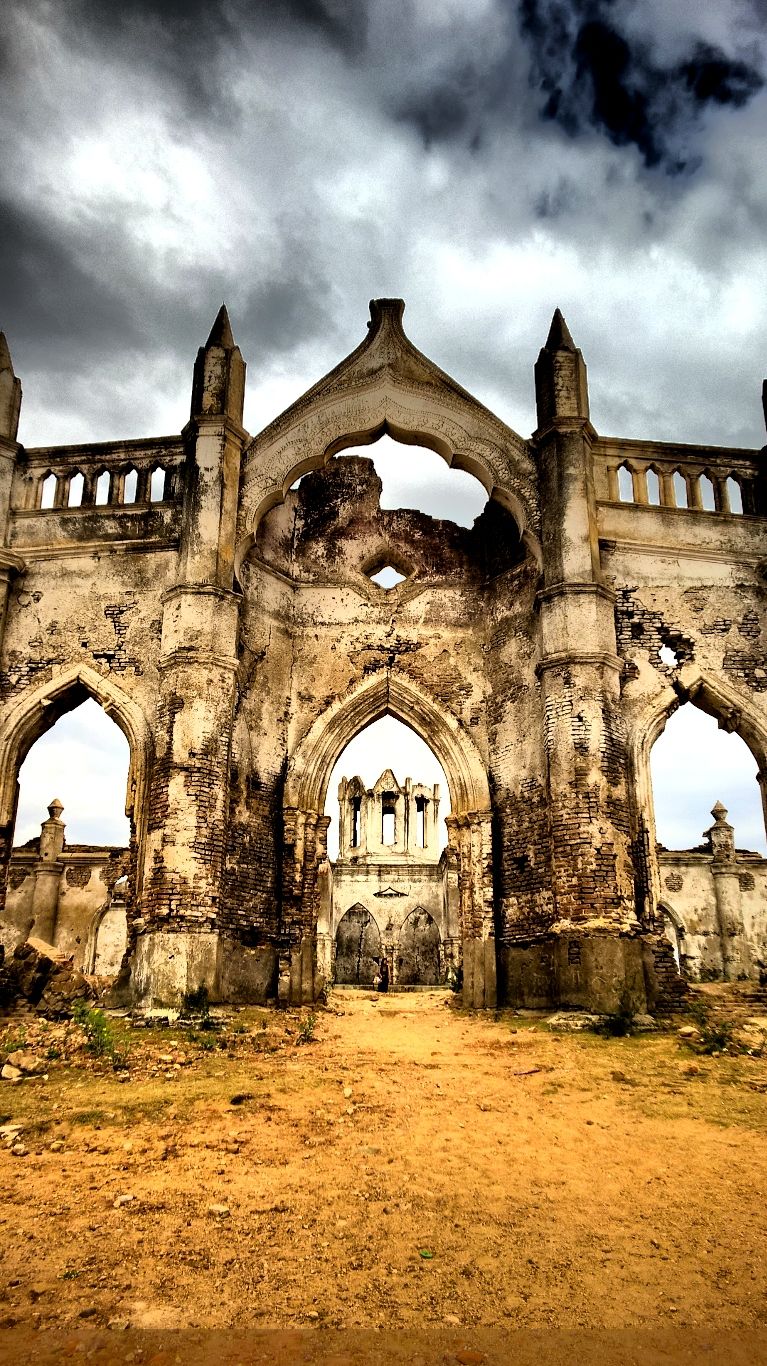 A lot of youngsters do come by to ruin the place; you may find alcohol bottles lying around and some guys climbing on the church's walls; my only request to readers would be to not do the same: these are old places that are unique and have withstood the ravages of time. Please do not carve on the walls or destroy any artefacts in any way at any similar spot as well.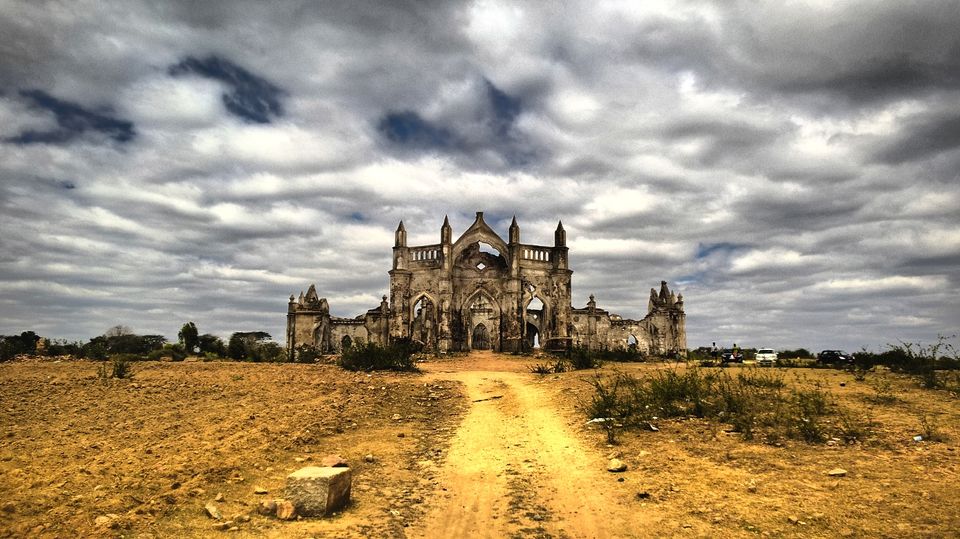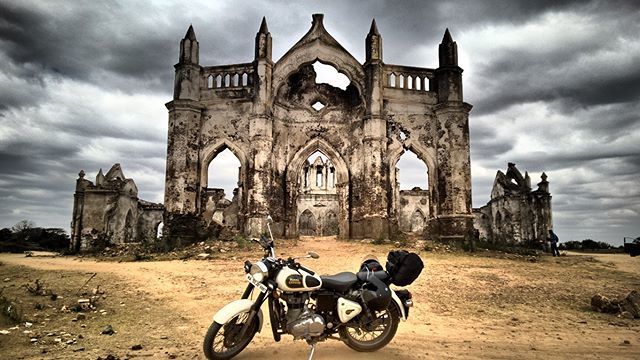 After our fill of photos, we got on the bike and rode for 3 hours back home with the awesome pictures and memories of this underrated church. If you're ever in the vicinity, do not miss out on this wonder of time!