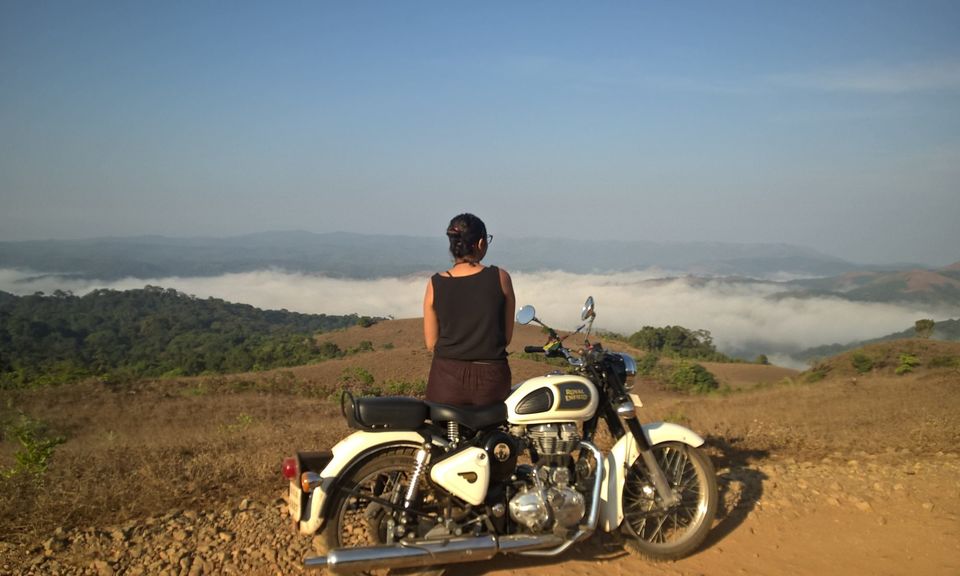 For several weeks, I'd been in the midst of a lot of work and I hated the commute in Bangalore. The traffic, the noise, the sounds, the smoke, and the over-abundance of people. I wanted to get away from all of this clamour and go somewhere where no one could reach me.
That's when a friend told me of this cozy little homestay in the heart of Coorg. It's called River Edge Valley and is on a hill that's quite close to the hill called Mandalpatti. Mandalpatti is famous for being a shooting spot and famous movies have been shot here in the past. One such movie is a the famous Kannada movie called Gaalipatta. I did some research on the place and decided that I wanted to see green hill ranges and get away from the noise. A major factor in convincing me to go there - apart from the place being beautiful - was that no phone signal would ever reach you ... except BSNL.
We decided we'd go on a weekend and decided to do the journey by bike considering it wasn't far off. I'd ridden to Coorg and farther places; this homestay wasn't going to be a challenge. Furthermore, the roads were amazing.
After riding through roads that grew narrow for every kilometer we rode. I began to wonder if we were lost and suddenly, a small house appeared. They pointed us higher above them and we rode past the house through a rode leading above them. Finally, in a fantastic view stood a grand house against the contrast of the surrounding hills. The house was literally at the cliff of a hill where the slopes fell away steeply to the river and roads below.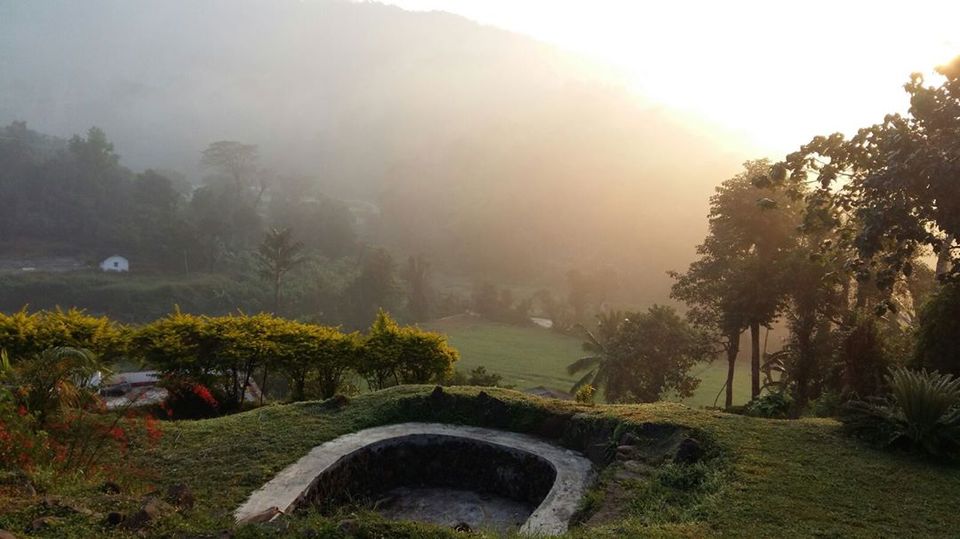 Waking up the next day, my friend got out to wipe his bike and adjust his clutch cable. We had decided to ride out to Mandalpatti and check the view out. I had truly begun to enjoy the feeling of not having signal on my phone. We got on the bike after a quick breakfast and headed towards Mandalpatti.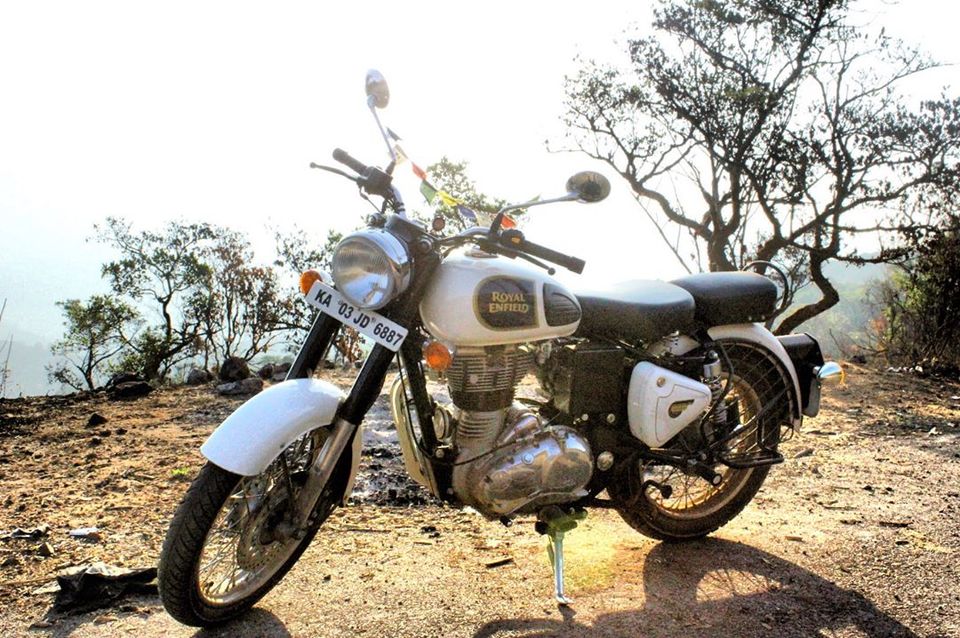 The normal route is to head back to the main road and connect to the official route to the hills. But, Boppanna told us of a shortcut through the hills directly from where the homestay was. In about twenty minutes, we had reached Mandalpatti.
At this point, tourists normally have an option to park their vehicles and get on a 4x4 jeep that takes you to the actual hill since there were no roads. While getting on a jeep is ideal for most families, they say that only a 4x4 car or a Royal Enfield can make it through without issues. Of course, you needed someone who was equally skilled at riding the bike.
We decided to test the Classic 350 out and do the off-roading. Being the first time we were doing off-roading, it went quite well. There are several parts where you cannot do it with two people on one bike. The pillion has to get off to let the bike get past. I distinctly remember two points where the road was literally cut off by rocks. The path leads down slope for a bit and then upwards. Coming back is a challenge of its own.
Since we were doing it quite early in the morning, there was still quite a bit of fog and at one point, we could see clouds below us.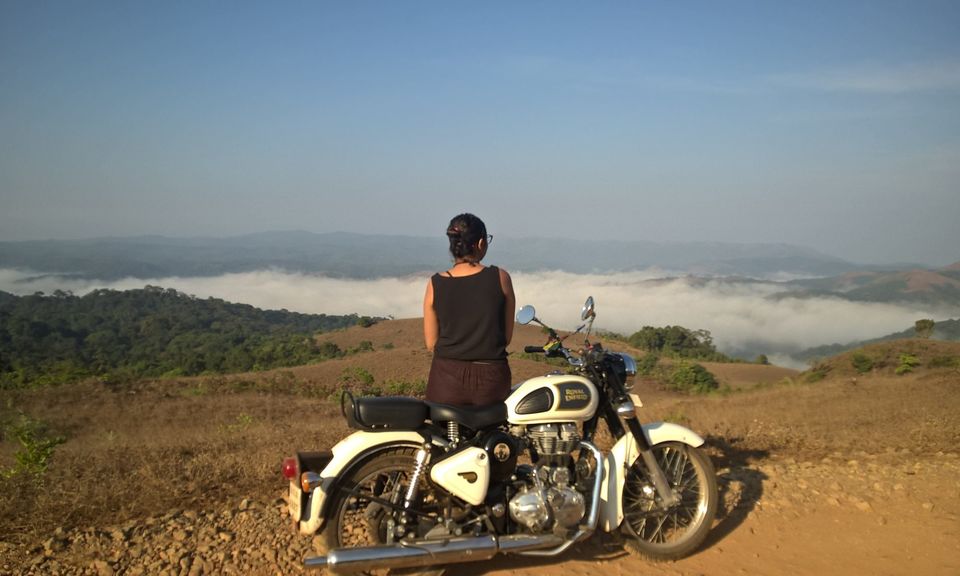 Packing our bags, we left early in the morning from Bangalore and went on the Hassan route towards Coorg. On a Saturday morning or Friday evening, never ever go on the Mysore-Bangalore highway since everyone will be heading towards Mysore on that road. While the Hassan highway is a little longer, it's wider, far more empty, and peaceful. The number of eateries and advertisements are almost negligible on this highway and I wouldn't recommend it to anyone for night time travel.
It took us nearly 4 and a half hours - counting our standard breakfast stop - to reach the deviation to the homestay. There's a slight right turn that leads off the main road and one has to ride another 8-9 km uphill to get to the homestay. It is nestled perfectly in the middle of a forest and you can constantly hear a stream of water flowing by the side of the road. Unlike Bangalore, this was a clean and pristine looking stream of water which I learned later was a tributary to the Kaveri river.
Our host, Boppanna, was a simple guy who was a lot older than he looked. Very sweet and helpful, he showed us our room. The room was old fashioned with two bedrooms inside. An attached bathroom and an opening to a bonfire pit. It was chilly when we reached even though it was well past lunch time. We had a homely lunch and began to unpack our bags. For me, I wanted to unwind. On the way to the homestay, I had bought myself some junk food and a toy that blows bubbles!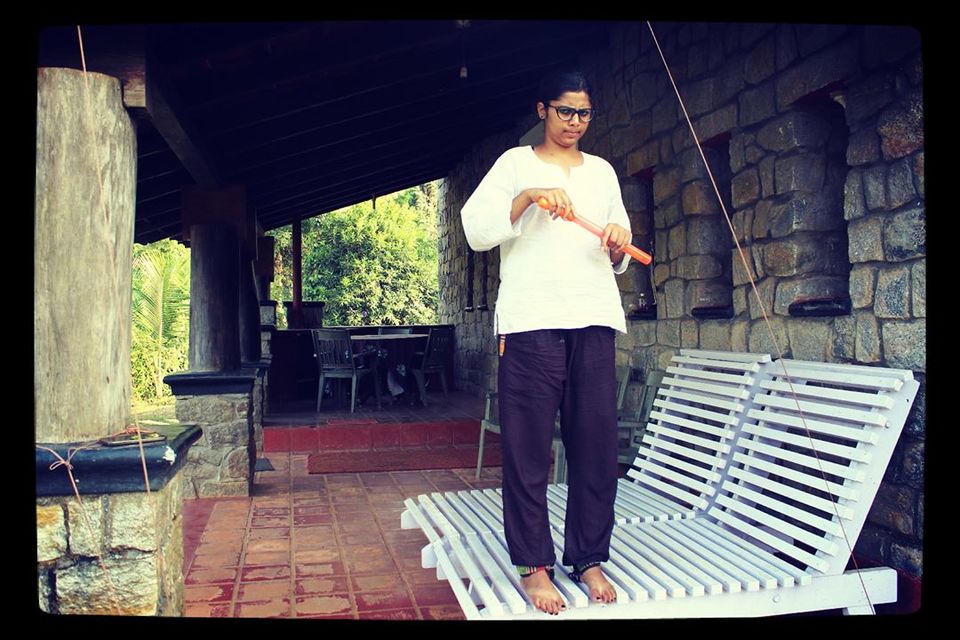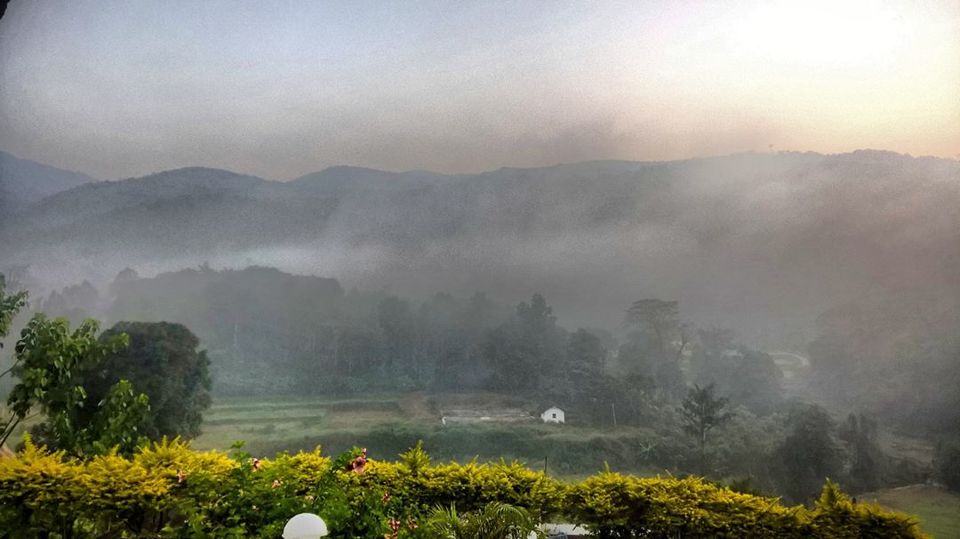 It soon became dark and we went around clicking photos of the hills as the sun set behind the hills. It became pitch dark and not a light was in sight. As my eyes adjusted to the darkness, I soon realized that the only way we could see anything was literally because of the light from the stars above. Every once in a while, I noticed a flickering light fly by me. I managed to track one and realized that I was looking at several fireflies!
I still remember the moment as I sat on the compound wall of the house, looking overhead at the stars as fireflies flew past me. Boppanna got us a box filled with chapatis, rice, curry, and chicken. We ate to our heart's content and slept soon.
For those you doing it by bike, please note that your bike needs to have good ground clearance. Also, make sure your brakes and clutch cable is in good condition. We had to readjust the clutch before heading back to the homestay. I think the fact that the tyres need to be in good condition needn't be emphasised on more.
When you reach the base of the hill, you have to park the bike and do the rest of the climb by foot. There are a vague flight of stairs that take you to the top. Atop Mandalpatti, there is a lone phone signal tower. I sometimes think that people visit this hill just to be able to call their family and friends. There really is no signal anywhere else.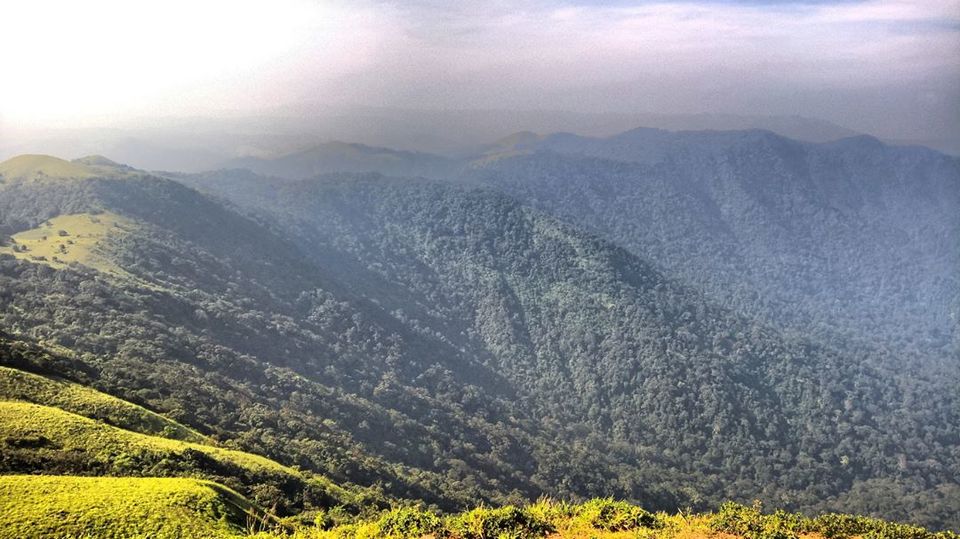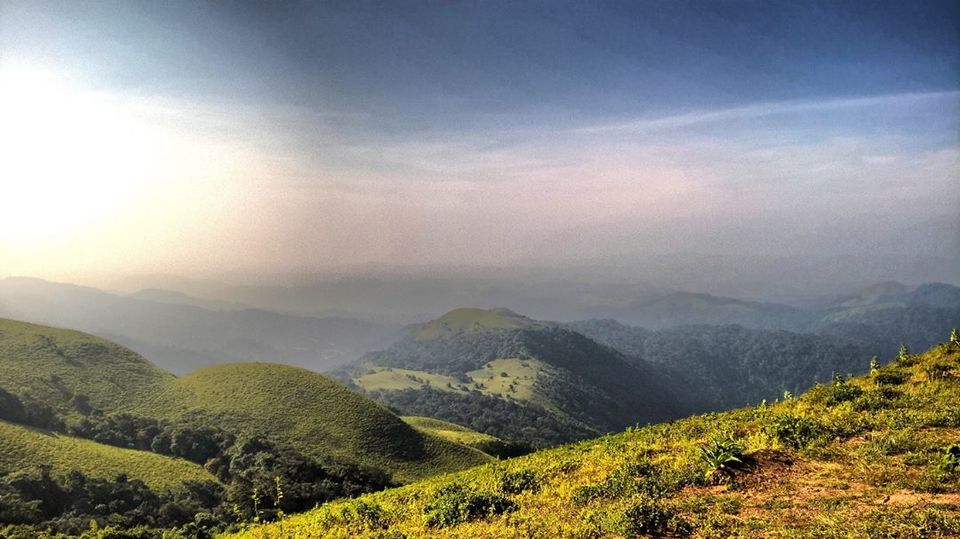 The view on top of the hills is beautiful. If you visit in summer like I first did, the hills are shades of brown. If you visit in the rainy season or just after the rains - like I did the second time - the hills are all shades of green. There is also a view point which you can climb, though it makes hardly any difference since you're already very high up.
After taking a few photos, we rode the bike back though the mud road, and back to the homestay. We had to ride back to Bangalore soon and we were yet to pack our bags. We got back, ate a quick lunch, met Boppanna's new born baby girl, packed our bags, and tied it to the bike. A kid wanted to sit on the bike so my friend lifted him and took a few photos with him on it.
We then bade farewell and began our ride downhill. As we passed the road by the stream, I noticed a small opening to the stream. Because we went were in Coorg during the non-rainy season, the stream had a low level of water and the water was crystal clear and cool. We literally rode the bike into the stream and parked it. Small fish of various colours swam around our feet merrily as we splashed water on each other. I absolutely hated the fact that we had found this stream on our way back to Bangalore. The next time I visited, the stream was flowing with water and there was no way we could have entered. In fact, I couldn't even find the opening we had found.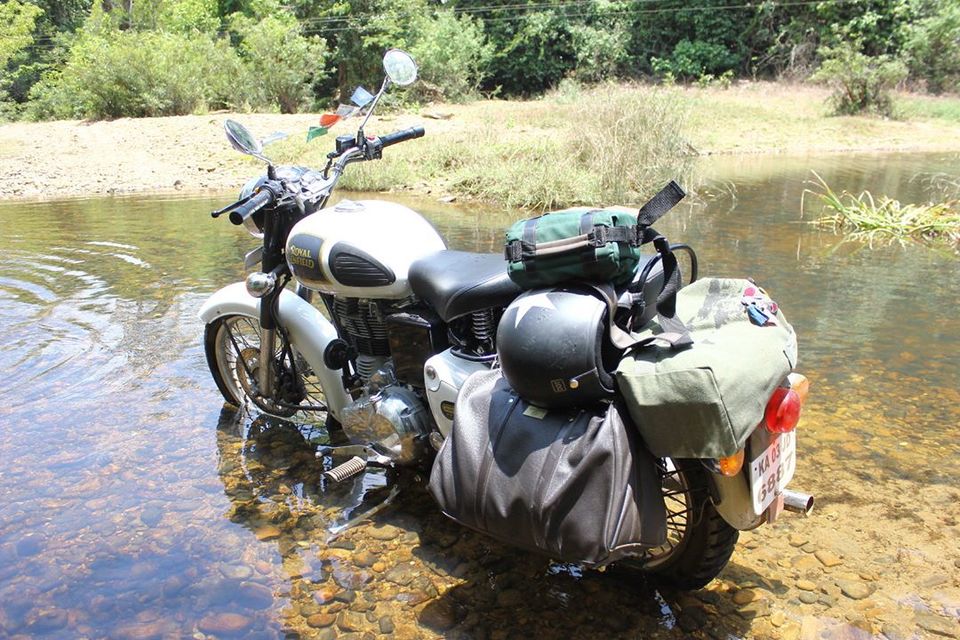 After spending a good half an hour in the cool waters, we pulled the bike out grudgingly, started the bike, and actually began our ride back to Bangalore, and back to the all the noise and hectic traffic.
It was a short trip, but a beautiful weekend getaway. While my plan was to unwind, I managed to find peace and serenity and all it took was a relatively short bike ride away with no cell phones.
Frequent searches leading to this page:
coorg holiday packages from ahmedabad, coorg holiday packages price, coorg travel from chennai, coorg packages for couples, coorg packages from mangalore, holiday inn coorg orchid villa, places to visit in coorg for 2 days, homestay in coorg for family, hotel coorg cuisine, things to do in taj coorg, coorg weekend trip from hyderabad