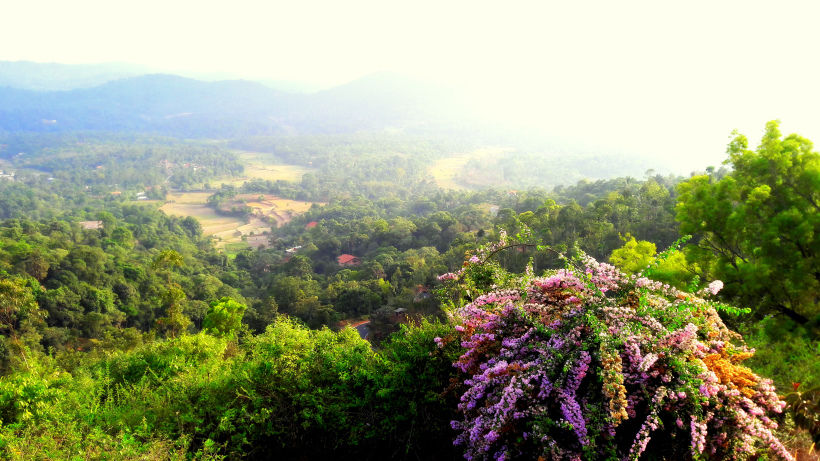 Summer days and hill station, are always great combination. This year it was my first summer in Bangalore. And not as expected Summer was really hot here too. So I started looking for a nice weekend holiday destination just to get rid of the hot days.
I am always fond of hill station, if someone what is your favorite hill station or sea ? Without even thinking my first choice would be hill station. For me I always find hills more peaceful. And what can be a better option than hill station in a hot summer day . So without wasting time I opened Google map and the first place strike in my mind Madikeri.
Madikeri is a hill station in Karnataka state, it is the headquarters of district Kodagu wich is known as Coorg.
Coorg is located in the Western Ghats. During summer Coorg's temperature goes high as 35'C and drop down to 15-20'C in evening. During the month of April to May the entire town is fill with aroma of coffee blossoms. Between moths of June to august Coorg face heavy rainfall. Winter is really chilly in Coorg . The temperature is around 20'C in the month of December to February and can drop down to 15'C.
On May 7th me and my 2 friends started our journey from Bangalore. We hired a car for 3 days of our trip which picked us from our houses and stayed with us for next 3 days and dropped us back again. The Journey was amazing, on the highway we found a cool place where there were hundreds of stalls of Mangoes. Summer and Mango, a perfect love story. Road journeys are always fun.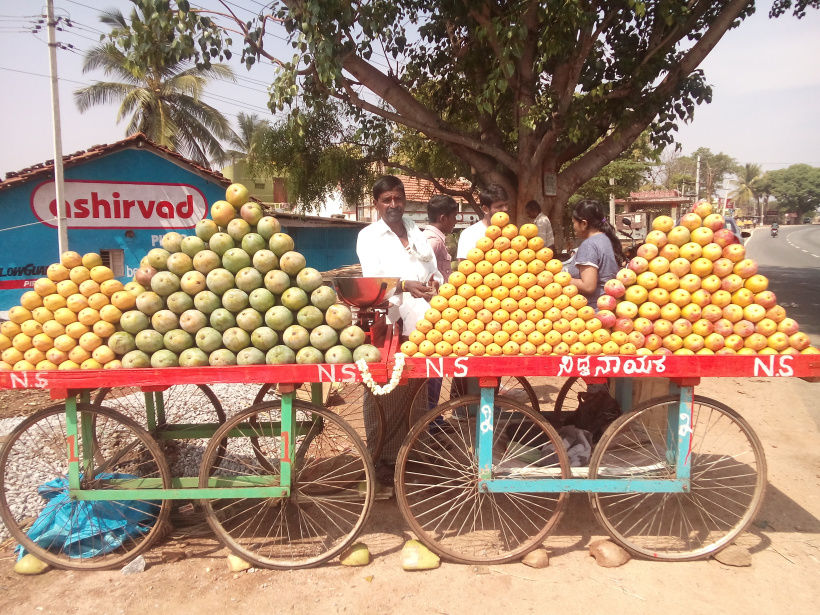 How to reach?
If you want to take the flight , the nearest airport is Mangalore which is 135 km away. You can find direct buses also from different cities to Coorg. It takes approximately 6 hrs to reach Coorg. Coorg does not have railway networks, but the nearest railway stations are Mysore, Mangalore and Hassan.
Where to stay?
There are lots of hotels available in the City. But we booked a room from homestay. For me choice is to book room from Homestay because you can stay in a homely environment with local people. We booked a beautiful room in "Abbi Homestay" near Abbi falls . And it was one of the best staying experience ever. Owner uncle of Abbi Homestay was really friendly. The rooms were huge, we were 3 people but uncle gave us a room of 5 people. We were literally changing beds every now and then. He had a cute dog also, that was one of the main reason for me to book that homestay. And its costs only 500/night. If you want you can stay in some lovely hotels also.
We reached Coorg by afternoon , the roads were really beautiful. You can feel the soothing cold breeze when you reach Madikeri. The fresh air can refresh your mind and can make you forget about all your tensions.
What to see?
Our first destination was Raja's seat. This an wonderful view point in Madikeri to see Sunset and Sunrise. We wet there to enjoy the beautiful sunset and to enjoy the city view from the top. Raja's seat is a beautiful combination of nature, and amazing park. One can enjoy beautiful light and sound show there at evening
At night Madikeri is not that happening. It is a small quiet city. You can enjoy the market. Coorg is famous for its spices, dry fruits , chocolates, coffee and wine. If you love to shop I am sure you are not coming back from Coorg empty handed.
The very next moring we started our journey with Omkareshwar Temple. It's a small simple temple of lord Shiva in the center of Coorg.
Our next destination was Abbey Falls. Abbey is 5 km from Madikeri. A small trek through coffee and spice plantation leads to the waterfall. The river is a part of a early reaches of the river Kaveri. Flow is much higher during Monsoon but in summer we could reach really close to the falls.
After enjoying the beautiful waterfall we went to Raja's tomb. It is a beautiful peaceful place to spend some time at afternoon.
We spent rest of our day relaxing, we just took a walk around the city at evening, it was raining a little bit for which the temperature dropped down suddenly. We loved the cold breeze. We had our dinner at our Homestay, uncle made us food, we totally felt like home, we talked to him and the other tourists who were staying there almost all night, we had a great time there.

Next day we started late, so the only destination in our mind was Thalakaveri. Thalakaveri is birth place of river Kaveri, which is located in Brahmagiri hill near Bhagamandala. Thalakaveri is almost 8 km from Bhagamandala and 48 km from Madikeri. The temple here is dedicated to Lord Agastheeswara. From Thalakaveri steps lead upto Brahmagiri peak, from there one can enjoy beautiful greenery around Brahmagiri hill. On the way to return from Thalakaveri we visited Bhagandeswara temple. It took us almost the whole day to visit Thalakaveri and Bhagamandala.
The last day while returning to Bangalore we planned to visit two amazing places, Dubare Elephant Camp and Golden temple. Dubare is forest camp on the banks of river Kaveri. This is a beautiful place to spend your day. The most exciting thing is if you are visiting there in Monsoon you can try river rafting. But unfortunately when we visited the river was not full of its flow so river rafting was closed, but for that we could experience one of the best adventures ever possible. We had to cross the river by foot, there is no boat or bridge to cross the river and reach the Elephant camp, so we took our shoes in our hand and crossed the big river. It may sound scary but trust me if I have crossed it being a hydrophobic then any one can. After reaching there you can enjoy all the activities of Elephants, you can see them bathing even you can give them a bath, you can feed them, you can ride them. It's a must visit place to complete your Coorg j
After spending our day in Dubare we went to Golden Temple or Namdrolling Monastery. The Tibetan Monastery is located around 6km from Kushalnagar towards Mysore. This is one of the largest Tibetan settlement in South India. The gold coated Buddhist statues are unique and reflecting rich culture heritage of Tibetans. The have a large educational monastic institution there. They also make handicrafts so one can shop there also. This is also a must visit place in your Coorg trip.
This is how we completed our Coorg trip. If you are thinking of a getaway then Coorg is ideal choice. It's a beautiful peaceful place to get lost and find yourself. And never forget to carry a camera with you, because you don't want to miss to capture these beautiful memories.

This blog was originally pulished on 'TRAVEL WITH JOYEE'