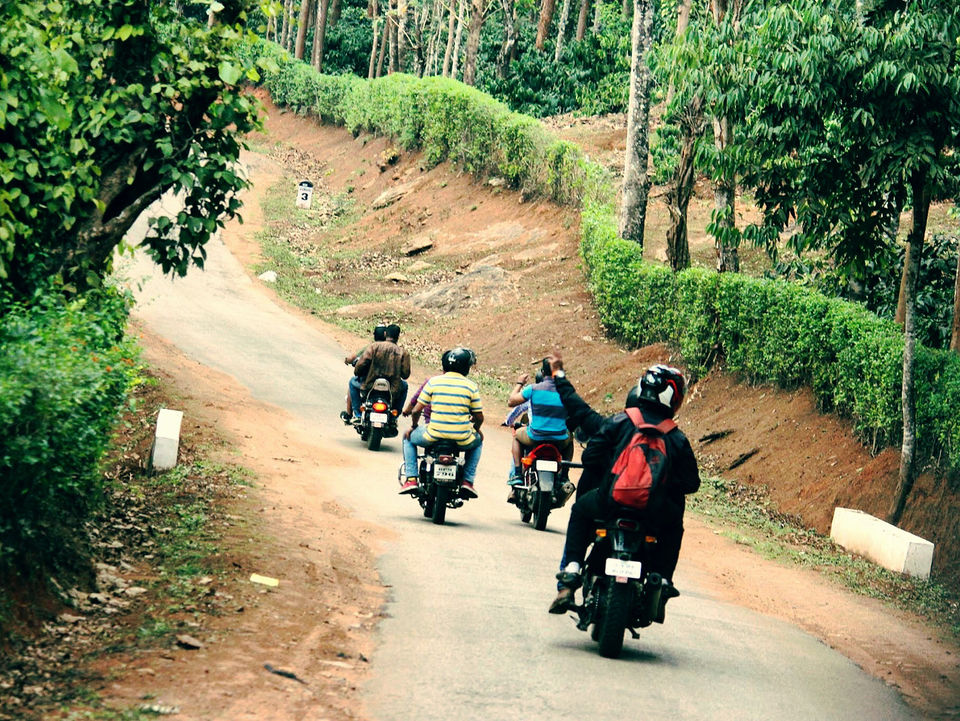 Four friends, 800 kilometers, one weekend. There are some trips which need meticulous planning, an overview of the area to cover, the places to live, and then there are some where you just pick up your bike keys, call a few friends and roll. I was fidgety all night, and I just knew for some strange reason that I needed a getaway. This is one of those trips. I was numb and the only thing I could hear were the happy beats of my bullet. I knew it was not work that was bothering me. I had been in my cocoon way too long, I had to let myself go. I picked up my bike keys, and started off, not exactly knowing where, but then the unknown has its own thrills. Driving gives me solace, and I needed it.
A few miles in and this is where I started my Tour De Coorg.
It was a gift for a friend, roommate, brother and a life saver. Eight of us on four bikes, doing what we know best. 17th march 2017, we started from Bangalore on our bikes. You should plan your trip as late as possible at night to avoid traffic on Mysore road. After a long night which got delayed due to puncture near Rasta café, Coorg welcomed us with an open heart. The weather was pleasant with morning as foggy as some hill station in Himalayas.
We reached our homestay "ChilliPilli" in the next 2 hours. Homestays are the best available option in coorg. It was a 2 storey- villa with a blissful garden amidst a 50 acre coffee plantation. Our hosts were very welcoming, the exactly the antidote you need after a long drive. They helped us plan our itinerary for the following days and also introduced us with the very famous 'coorg homemade wines', which are a must try when you are in that region.
Our coorg diary started with Abbey falls & Talacauvery. Talacauvery, the birthplace of the sacred river Cauvery, is located 44 km from Madikeri, on the slopes of Brahmagiri Hills. Besides being a pilgrimage center, Talacauvery is also known for its natural beauty.
Abbey Falls, also known as Abbi Falls, are located amidst large spreads of coffee plantations and are around 10 km away from the town of Madikeri, Western Ghats. To reach the destination, you have to go through a small path through the coffee and cardamom plantations. The best time to visit Abbey falls is during the monsoon when the force of gushing water increases and makes a picturesque sight.
Mandalpatti our next was a sight to behold. Crowned 1600m, from ground level, it is situated around 18 km from Madikeri, Coorg. Gradually evolving as one of the popular tourist spots in Coorg, a serene and a wonderful place, a jeep drive to view the sunset or sunrise at Mandalpatti provides you obstacle free panoramic views. A jeep ride to Mandalpatti can be taken directly from Madikeri or Abbey falls Junction or from the Mandalpatti checkpoint. The jeep stops there for around 45 minutes.
This place is definitely a heaven for bikers who love off roading. Make sure to pack enough water and food along as there are no shops around. Once ato the hills the beauty of Mandalpatti is resplendent, to say the least.
At the end of a long day, all you look for is food, which was readily available along with some wines, bon fire in the midst of the coffee garden. A calm yet enriching way to strengthen our bonds.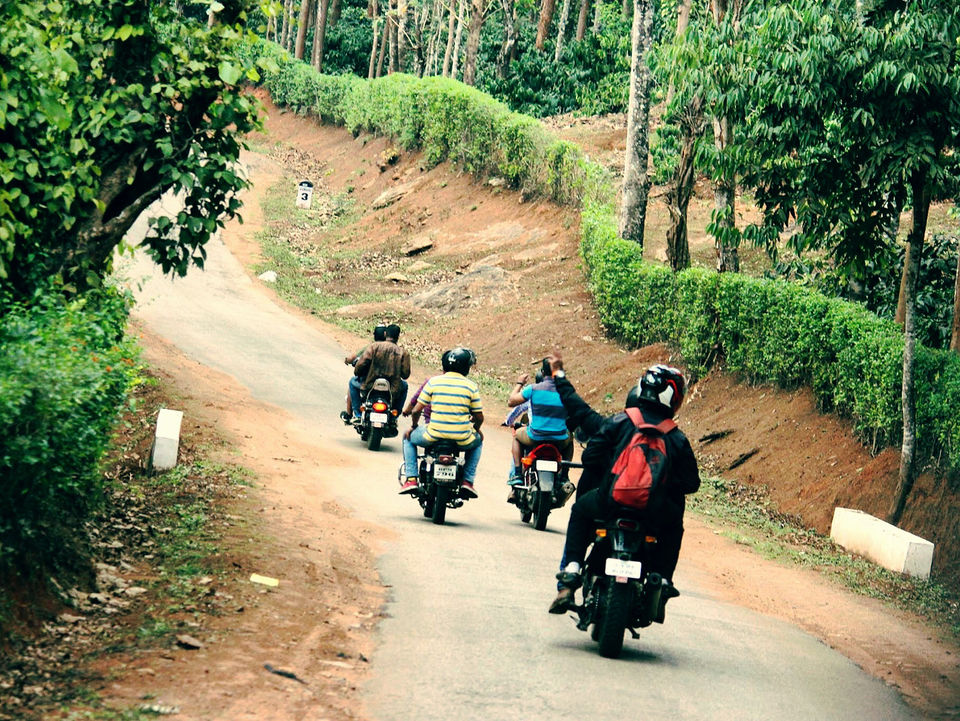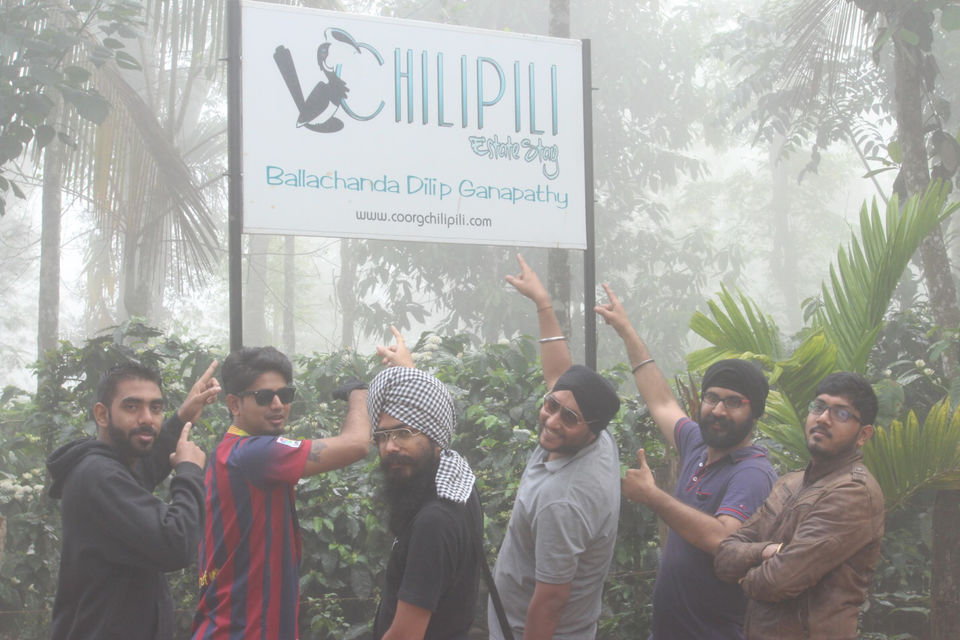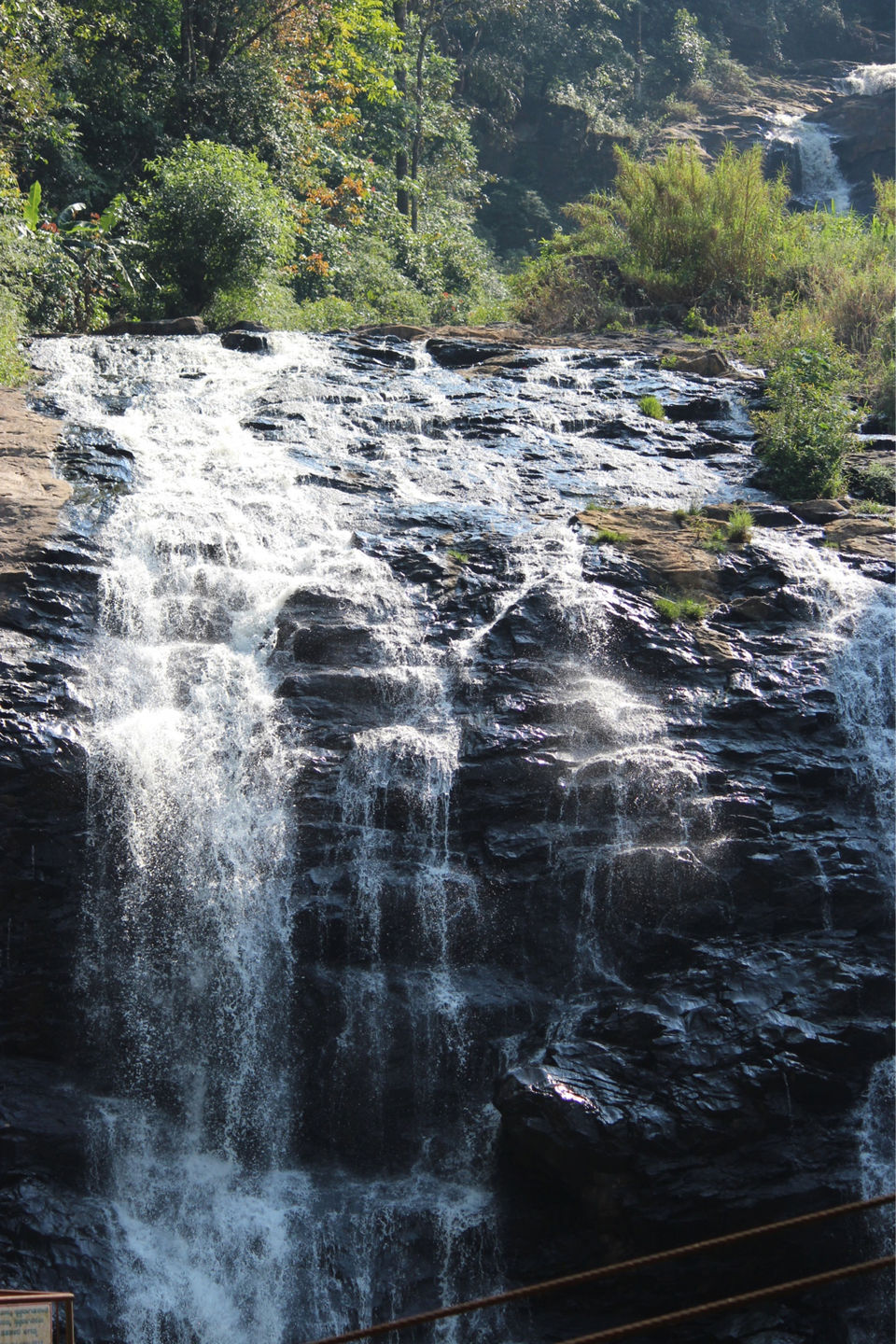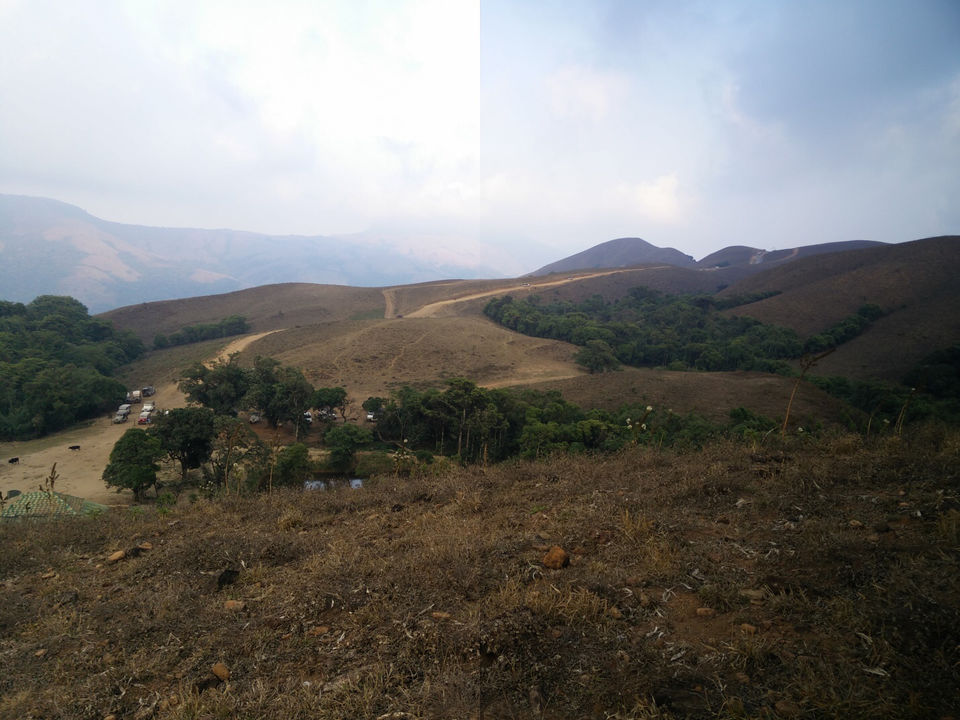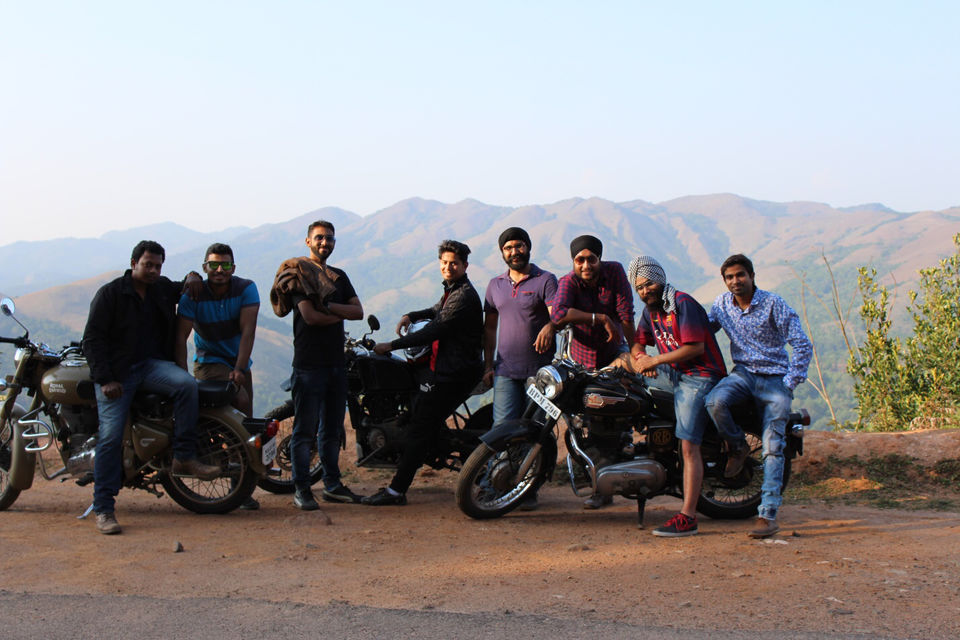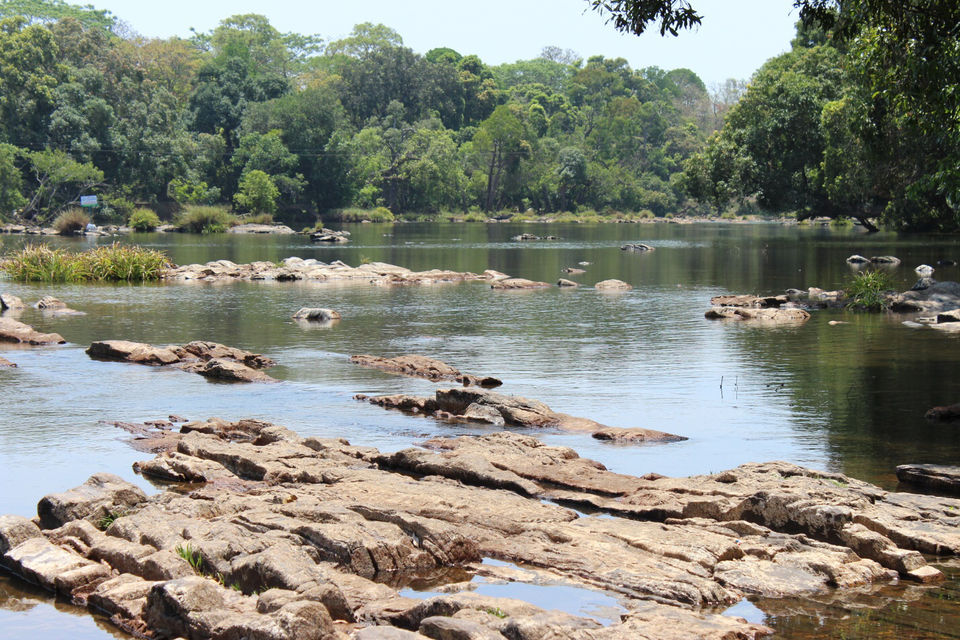 Our day began with some refreshing coffee followed by a full-blown breakfast. Bidding farewell to our hosts for their hospitality we again started our journey with two fixed destination in our minds.
Dubare Elephants camp: Dubare elephant camp is one of the major sanctuaries in Karnataka over the other 150 camps. These are one of the few places, place where you can get a closer touch of the giant animal. The camp is not just for visiting elephants, but also lets the tourists enjoy rafting, trekking, fishing etc. If you get your timing right, you can even participate in the bathing and scrubbing of the elephants at the Dubare camp. We were a little late getting to Dubare, so missed out on the elephants. But spent a lovely time by this section of the Cauvery river.
Bylakuppe: Golden Temple
It is about 6 kms from the twin town of Kushalanagara and is home to the magnificent Namdroling Monastery or Golden Temple. Namdroling Monastery is the largest teaching centre of Nyingmapa, a lineage of Tibetan Buddhism, in the world, and houses over five thousand monks and nuns.
The town is a delight to visit during festivals such as the Tibetan New Year (Losar). This place is a must stop to experience Buddhist culture in South India.
Coorg is one of the best weekend getaways from Bangalore which gives a complete experience of a road trip. One can stay in homestay or go for adventure off roading, You can try the home-made wines & coorg food or just relax amidst nature. It has something special for everyone.
Top tips for travel to Coorg:
• Irpu falls, Mrityunjaya temple & Raja seat can add to your list of places to visit in Coorg.
• Coorg cuisine is the best restaurant to taste local delicacies. Kanile bamboo dish, Kadumbuttu, pork are some local delights you can try when in Coorg
• There are many homestays in Coorg which are a wonderful way of experiencing a slice of life in Coorg. Do consider these for your stay in Coorg.
• Make sure you get your stash of coffee from Coorg. Or some organic spices. And if you are wine Fan, a variety of wines (gooseberry wine, yum!) made from the local fruits can serve as perfect gift.