After a lot of speculation and choices for the mandatory December trip, my fascination for the Western Ghats landed me in Coorg, Karnataka last year. We chose to drive ourselves from Bangalore to Coorg via Mysore for that added fun of a road trip. The other way to reach Coorg is via Hassan, that we availed on our way back to Bangalore. A pretty decent drive took us about two hours to reach Mysore where we paused for our midday meal at a roadside eatery. Before leaving from Mysore to Coorg, we made up our minds to take a detour to Bylakuppe and hence did not procrastinate for long.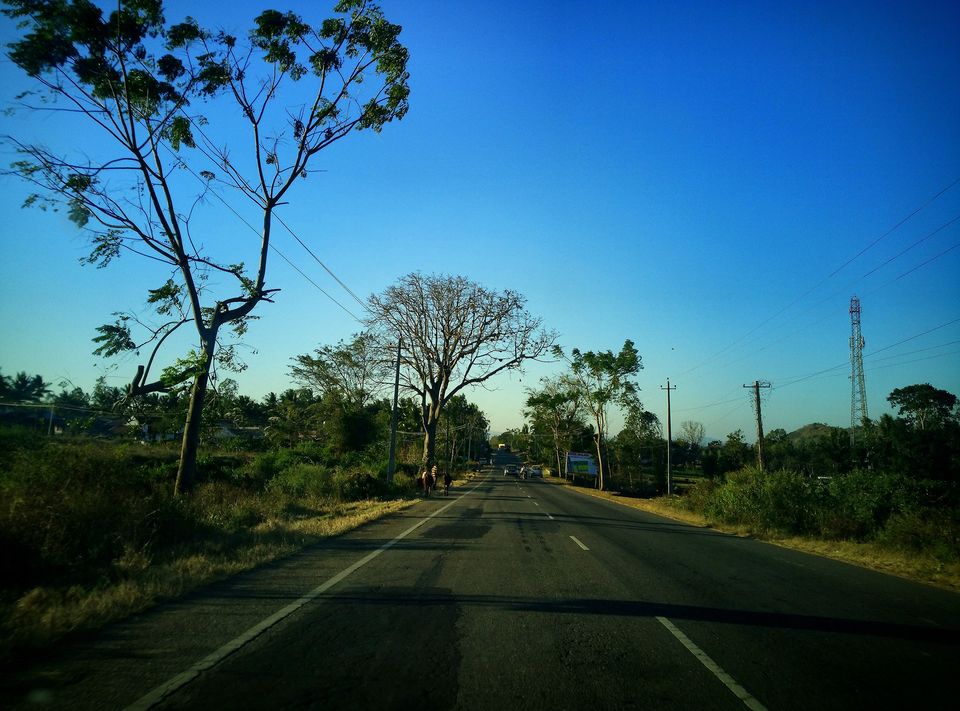 Road from Mysore to Coorg
Credit- Flickr

Bangalore to Coorg distance- 260 km
A left turn before reaching Kushalnagar led us to Bylakuppe, one of the largest Tibetan settlements in South India. We could foretell our arrival as soon as we saw increasing number of monks in maroon every two minutes into the journey. A 40 ft high gold plated Buddha at the Namdroling Monastery, the decorated altar and colorful paintings on the walls representing Tibetan culture kept us glued for one good hour.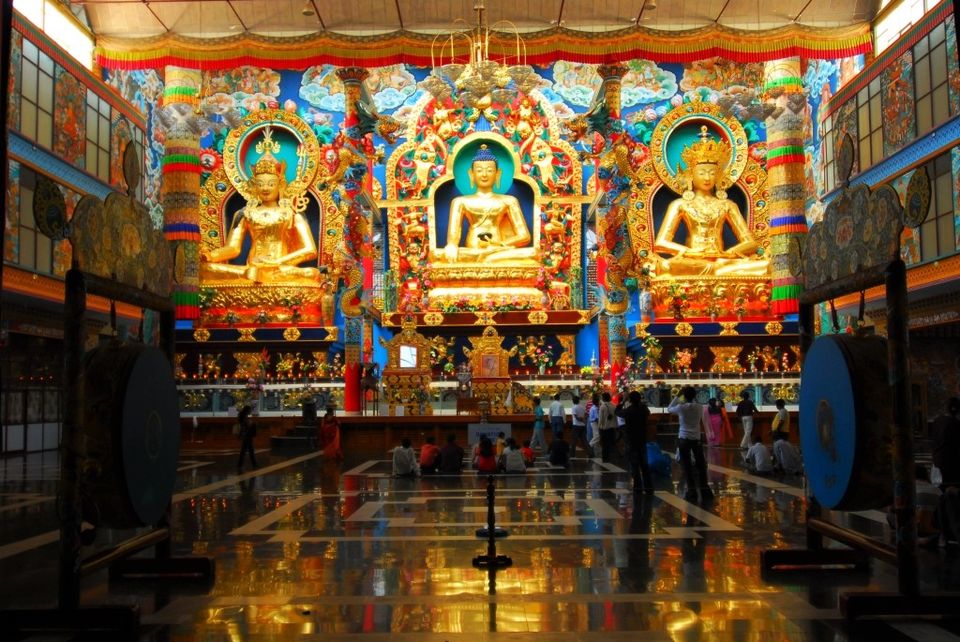 Inside the Namdroling Monastery
Credit- Flickr

Once we got back on the road, it took us another hour to glide through the dense thickets of coffee and hamlets, stop for a cup of tea while witnessing the sun go down, filtering through the leaves, before we finally reached Madikeri. It was quite dark by the time we reached. The ascent to the hill was gradual throughout. A little zigzag here and there and bam! We were atop the hill overlooking the lights that dotted the Madikeri valley. After locating our homestay and a refreshing shower, we headed out to the market area for our dinner. For those intent on authentic Kodava food, try Coorg Cuisine on Stuart Hill. You will not be disappointed. On our way back we bought Coorg's famous homemade wine for the night.
What we discovered next morning was the panoramic view of the valley and rockfaces on the west that our homestay commanded. I have never seen an abundance of green as much as I have in Coorg. All I witnessed was emerald green, as far as my eyes would go. After a quick breakfast, we left for Abbi Falls. The site is open from 9:00AM to 5:00PM every day and the entry fee is Rs 15 per person. After a 500 m downhill walk through wild vines and coffee bushes, we finally reached the base falls.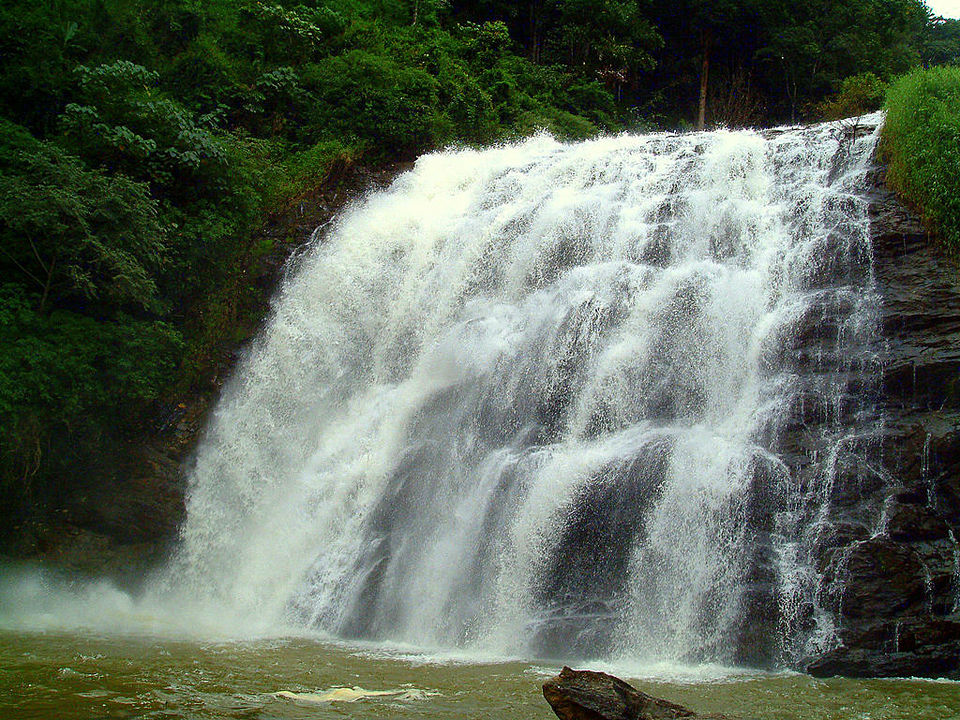 Abbi Falls during monsoon
Credit- Flickr

The river Cauvery takes a deep plunge from 21 m above and cascades in the midst of the gorge. Next, we drove to Bhagamandala to witness the confluence of Cauvery, Sujyoti and Kannike rivers. The temple is worthy in itself for the beautifully carved ceilings and pillars painted with textured vegetable dyes and its Karavali architectural style.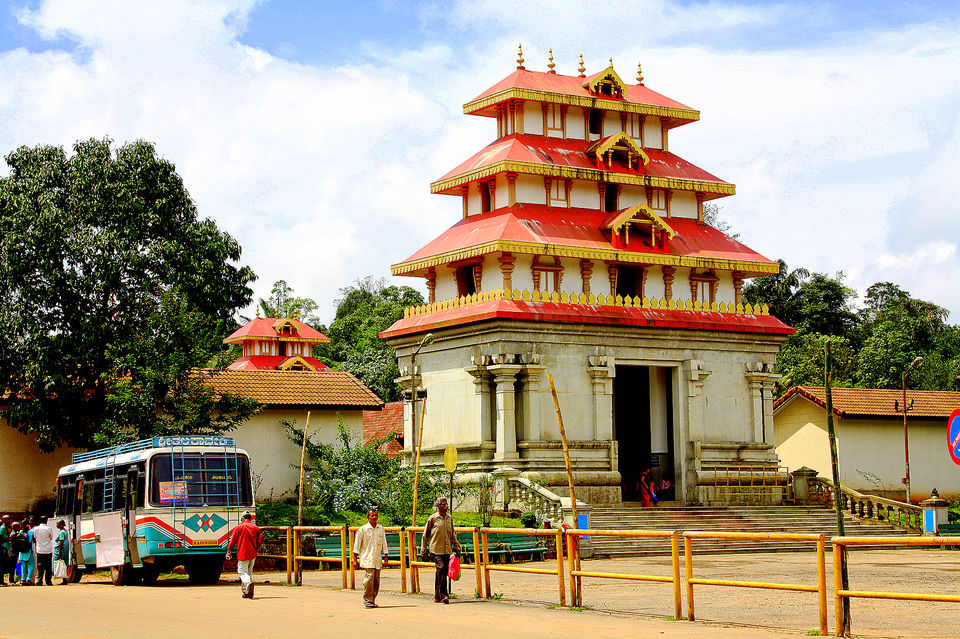 Bhagamandala Temple
Credit- Flickr

Our subsequent destination was Talacauvery, the source of river Cauvery, just a few kilometers from Bhagamandala. We aimed at trekking up the Talacauvery hill to reach the Brahmagiri peak but the authorities forbade us to go up with shoes on since it is a spiritual site. We skipped the trek for it was practically impossible to walk uphill barefooted in the scorching sun. Even though Coorg weather in December is supposed to be cold, the mornings are oven-like. Our disappointment soon vanished into thin air after the delectable pork preparation named Pandi curry and rice balls were served, accompanied by chilled beer, at the eatery we stopped at. We were lucky to have been back to Madikeri before dusk and enjoyed the sunset from Raja's Seat which once used to be the place of leisure hours for the kings of Kodagu or Coorg. It's open from 5:30AM to 8:00PM in the evening.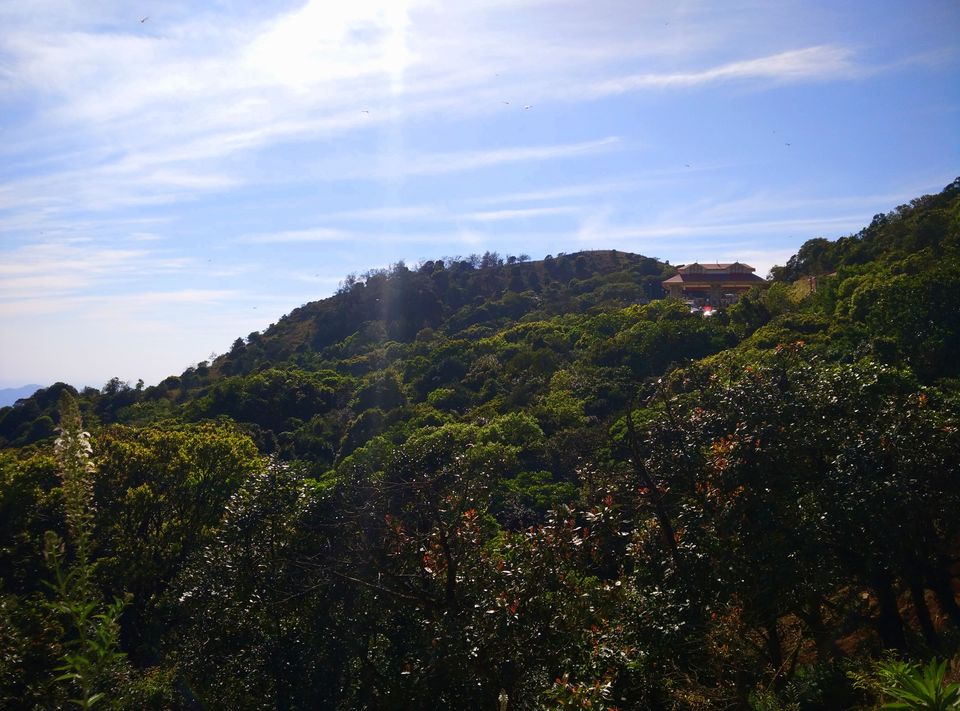 Talacauvery from a distance
Credit- Flickr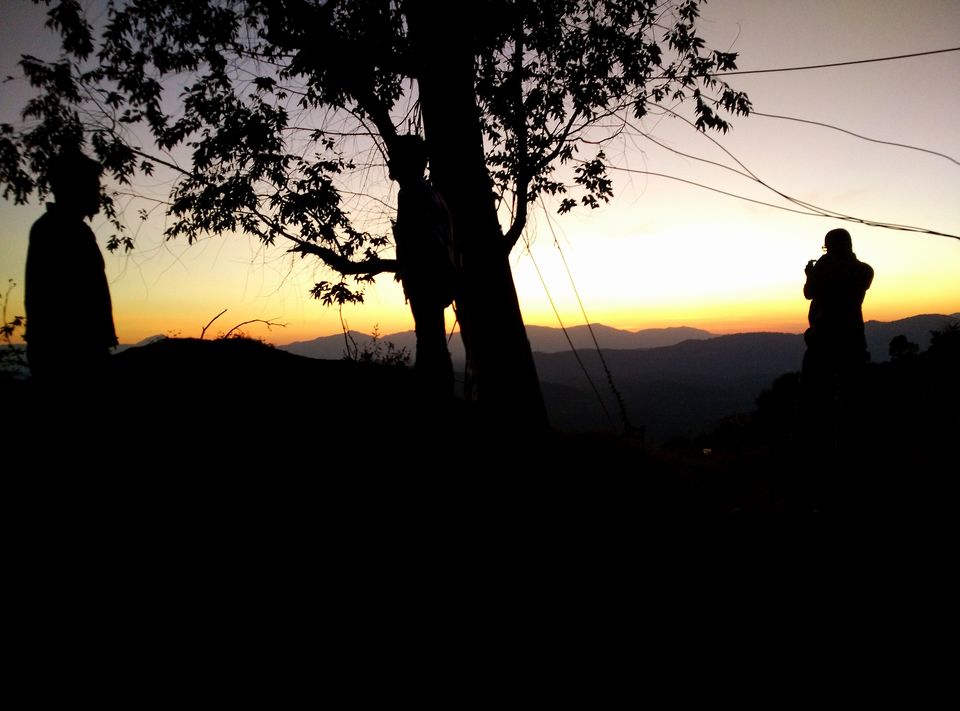 Silhouettes against the playful sunset
Credit- Flickr
Best time to visit Coorg- November to March

On day 3 we were torn between Dubare Elephant Camp and Nagarhole National Park and finally gave it up to the latter. The best part about this day was the journey and the road that we took via Virajpet. We were greeted with the smell of coffee from the nearby plantations, sunrays glittering on the paddy fields and surprising views at every turn. After quite a long drive we finally arrived at the forest premises. One can opt for a safari into the opaque jungles which charges Rs 300 per person. Even though we spotted numerous elephants, deer, four-horned antelopes and wild boars, we weren't privileged enough to witness a tiger passing by. On our way back to our homestay it dawned on us that it was our last night and yet there were plenty other things to do in Coorg. So for those who are planning less than five days in Coorg, think again.
Antlers at Nagarhole National Park
Credit- Flickr
Things to do in Coorg include White Water Rafting at Barapole, trekking to the peaks of Pushpagiri and Tadiandamol, a history tour around Madikeri for the Town Hall and Madikeri Fort and angling on the majestic Cauvery. There is no end to the list of the places to visit in Coorg. Of those that we were unable to cover, a few are the Mandalpatti viewpoint, Iruppu Falls, Cauvery Nisargadhama, Omkareshwara Temple and Dubare Elephant Camp.

Before leaving Madikeri the morning after we had the tastiest breakfast of our three-day stay at Taste of Coorg. The grilled sandwiches, especially the 'Oink Oink' was a good change from the spicy traditional food that we were, quite frankly, a little tired of by then. Even after covering much, there were so many other places to visit in Coorg. Our tight schedule forbade us to delay any further and soon we were on the descending hill roads that cut up the coffee and cardamom estates and occasional small market areas. Shortly after, the unending patches and shades of green started to lessen and we bade goodbye to the 'Scotland of India'.