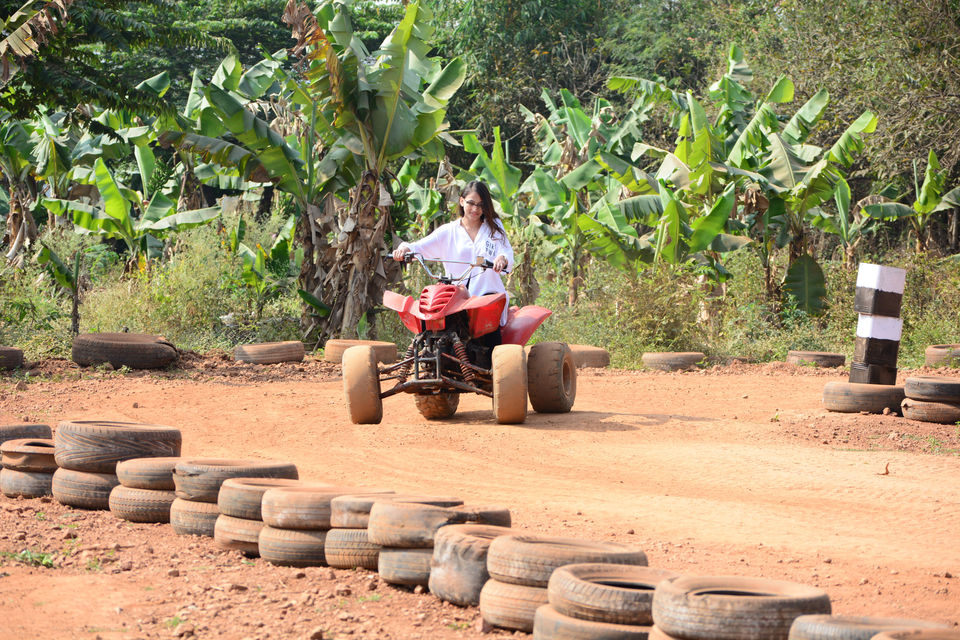 A CAVE RESORT IN BANGALORE
" Lets cut the monotony and do something extravagant " said one of my friend.
So we started to google , Fun things to do in bangalore ; Day out in bangalore ; Best places in bangalore.. and after almost an hour , we came across this place which seemed pretty promising.
Around 40 kms from our place (near Kanakpura main road ) was a CAVE RESORT that also provided day out packages including a lot of adventure activities. Personally speaking , I have never been a big fan of sports since my childhood. But to try different things once in a while doesn't hurt , does it?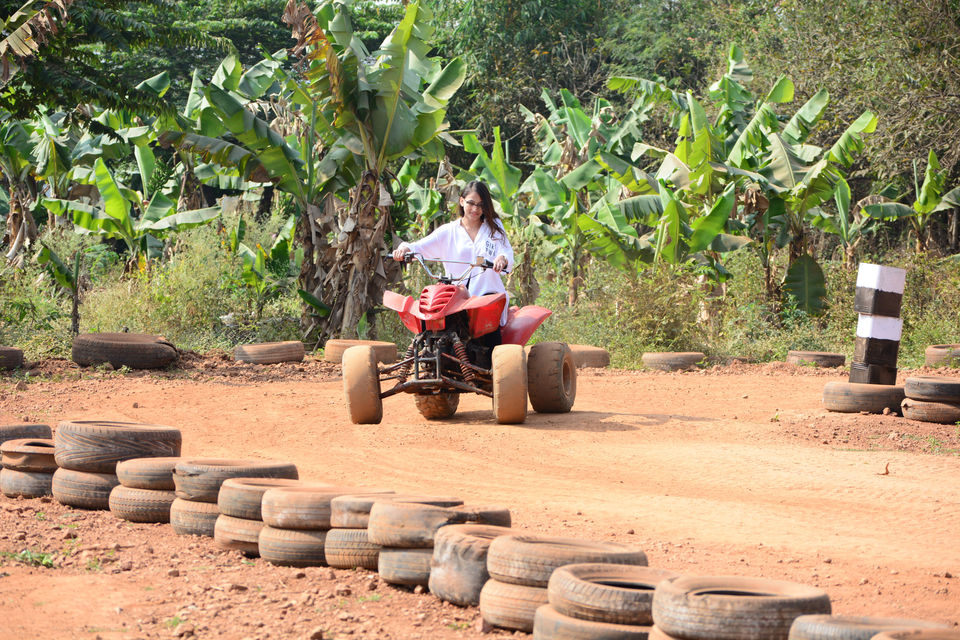 They offer various packages (Day Out Packages , Guhantara privilege, Full day package , Hi-Tea Package , Dinner & Dance )
You can select them based on your convenience and timings . We chose the Day Out package which costs around 1000 bucks . This includes Breakfast , Lunch , Entry fees and some complimentary indoor games like Table tennis , Chess , Carrom board , Cricket & Football.
Note :You need to pay Rs 500 as deposit if you want to hire the cricket gears and football .It will be refunded when you return them.
Then comes the paid activities which is all under 300 except Paint Ball .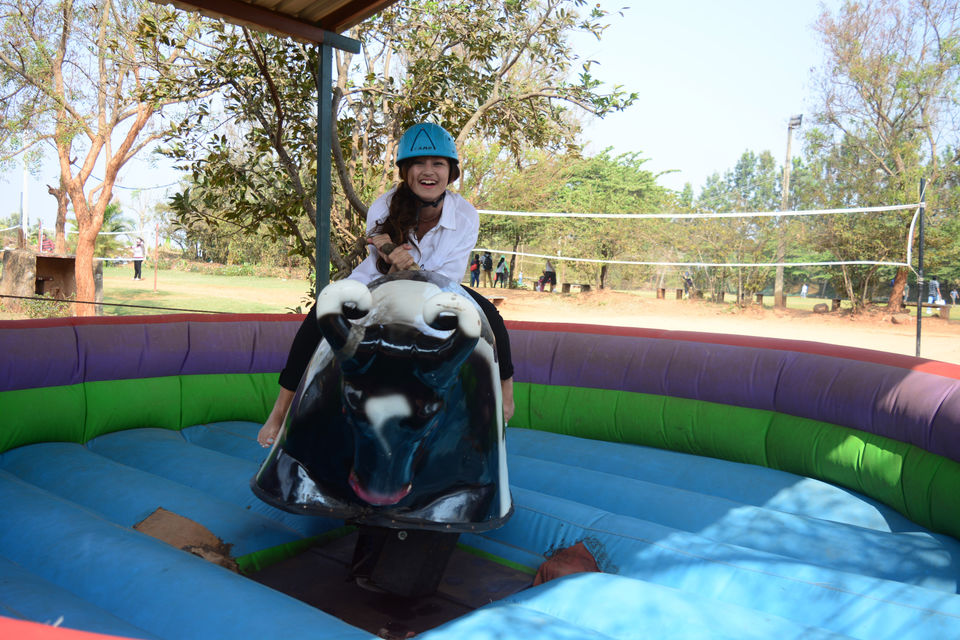 BULL RIDE : This was my first time on a bull ride . Trust me , I was all over the place .They give you three attempts . If you fall for the third time , GAME OVER . It depends on you , how long you can hold on . I am pretty sure , it wont last long.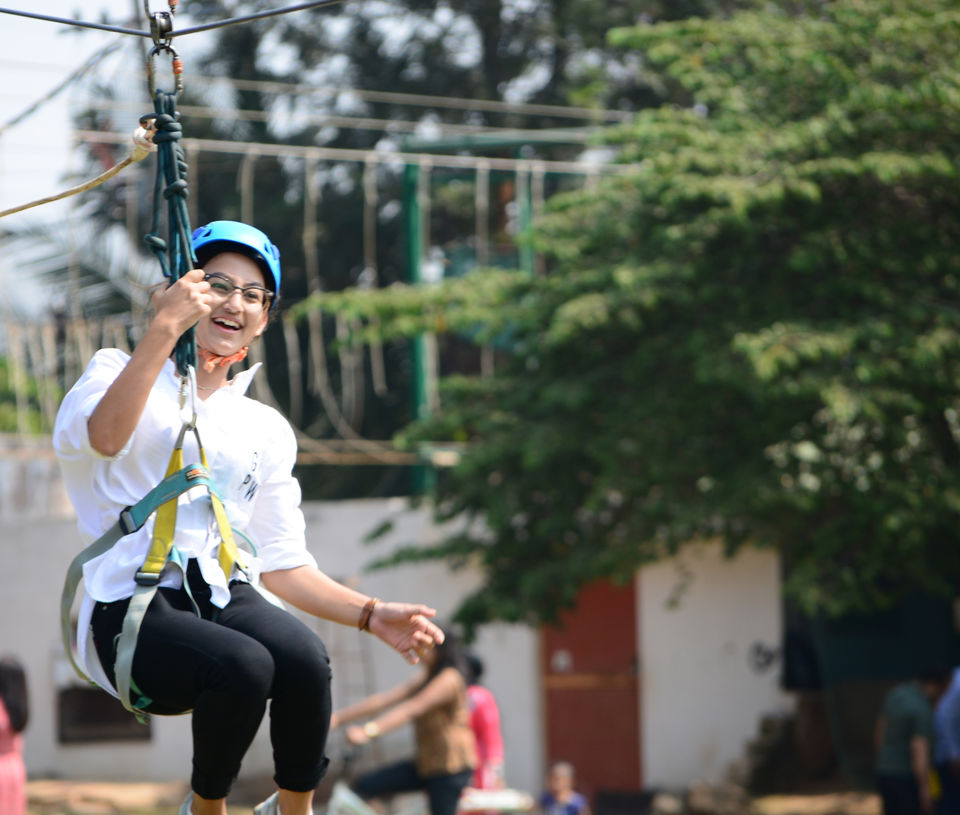 ZIP LINE : I was really excited for this one . But it was such a dissapointment for so many reasons. First , it was at such a low height.( No adrenaline rush or whatsoever ) . Second , it was so short that you reach the other end in a few seconds ( I am not even exaggerating). Third , It was right above the ground where people were playing cricket , cycling and zorbing . So, it was like you have to dodge . I almost kicked a guy in his cycle.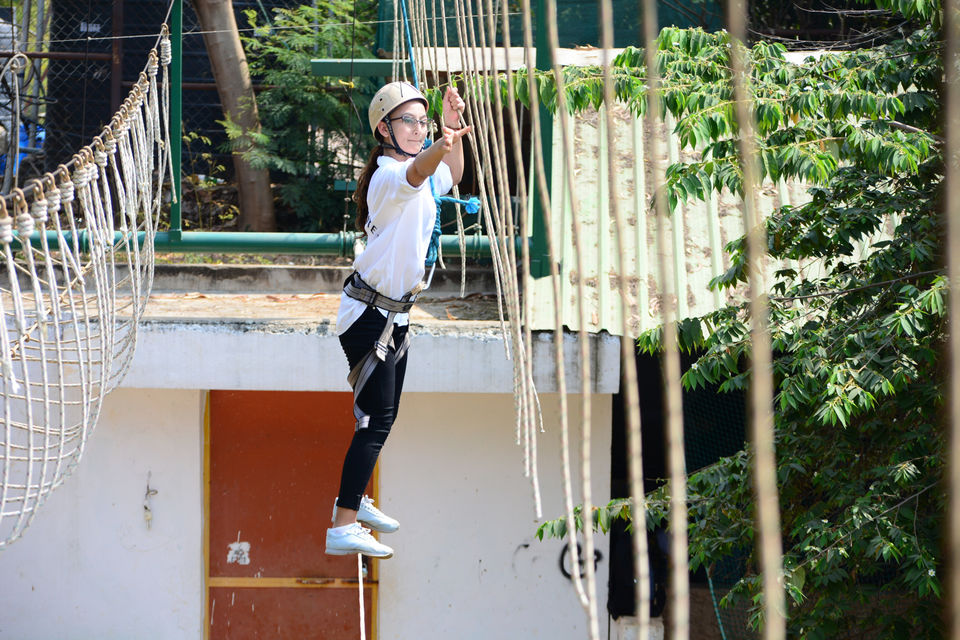 ROPE WALK 1 : This was one of my favourites . Felt like i was a part of Khatron Ke Khiladi . Haha. It seemed easy at first but even with the safety , the fear of falling exists. And i dont even wanna get started about the BALANCE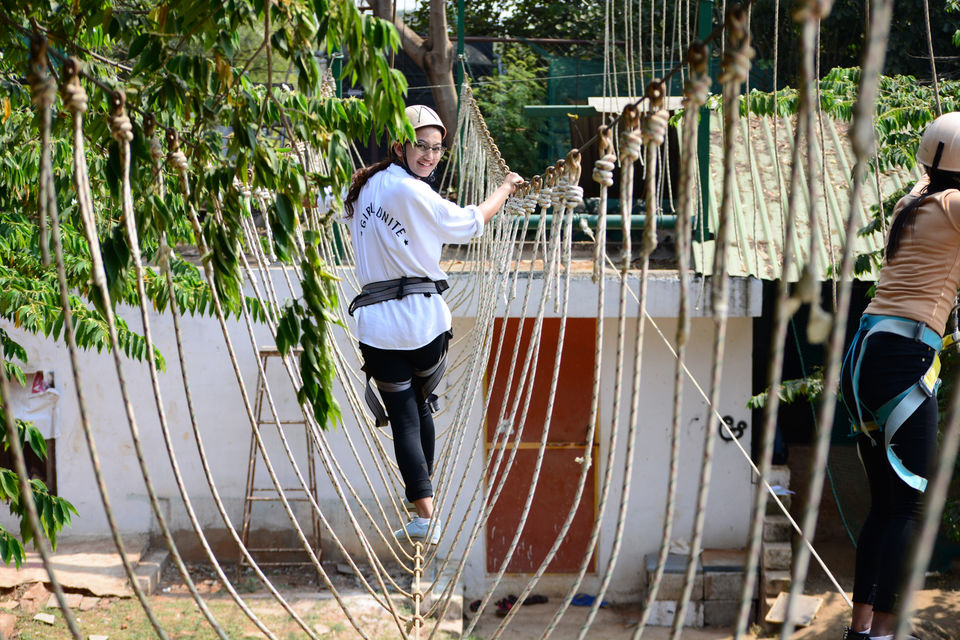 ROPE WALK 2 : This was comparatively easier than the first.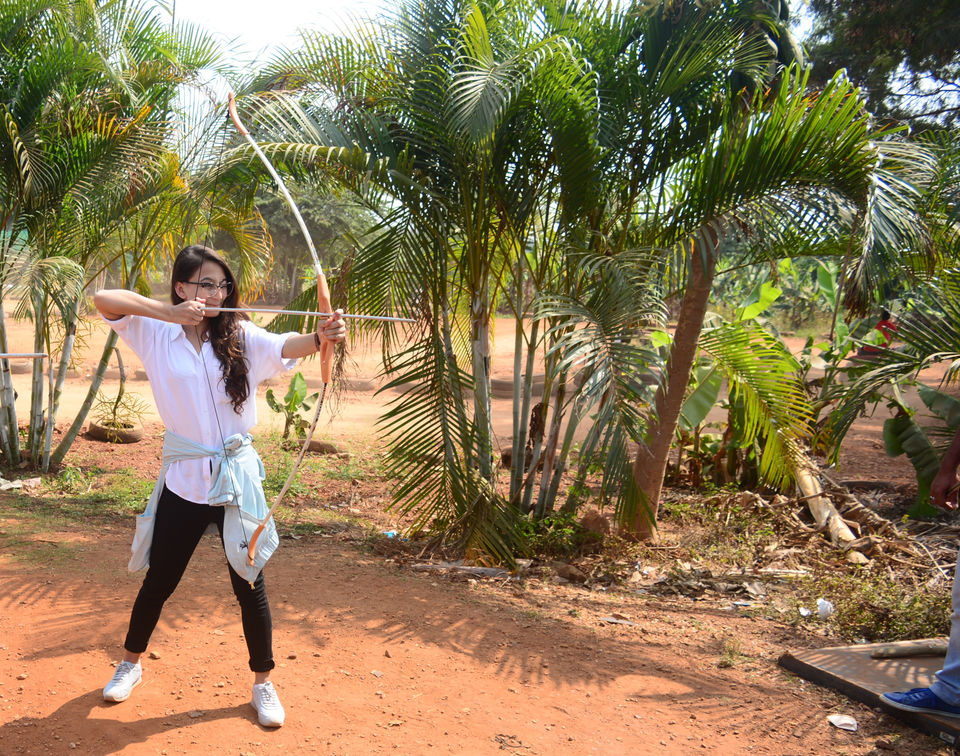 ARCHERY : I sucked at it . Forget about hitting the arrow somewhere on the board,I couldn't even nock the arrow . When i did struggle to place one on the notch , it would fall right next to me . I couldn't shoot even a single arrow . Maybe because it was fully made up of steel . But thats no excuse because others were doing just fine . Maybe its just me being me .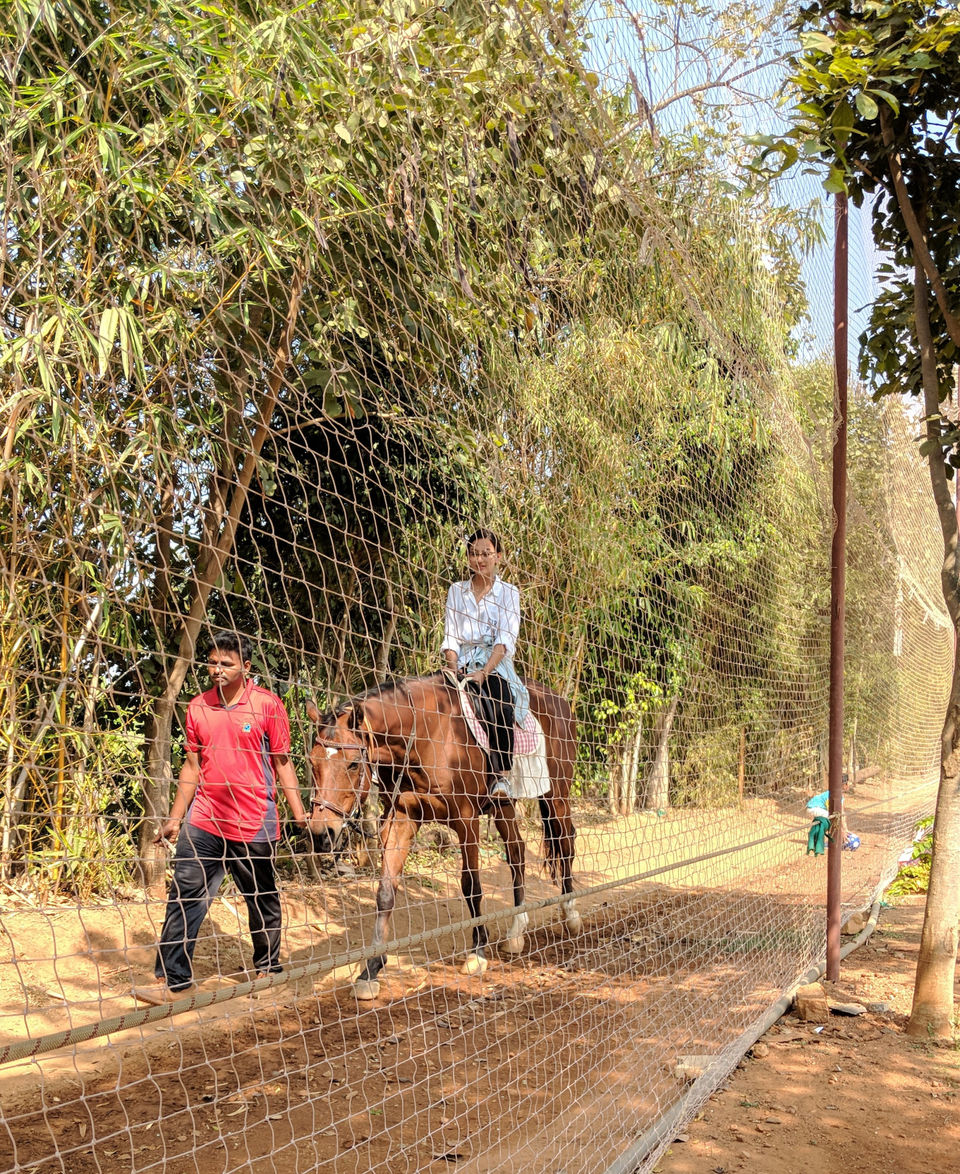 HORSE RIDING : This horse has been in this resort for 18 years and is a retired race horse.And apparently it was his birthday on the day we visited this place . Where did i get this information ? Telepathic connection with Dhanno . :P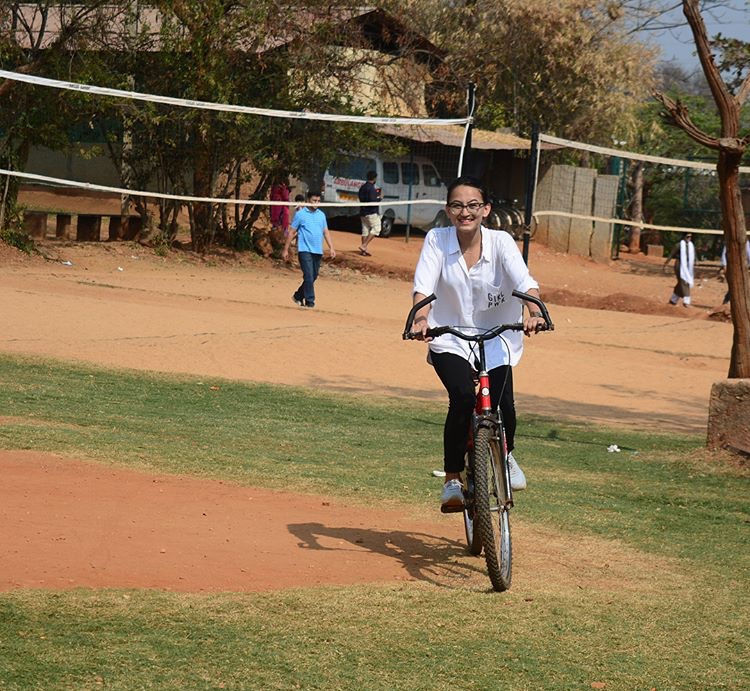 CYCLING : The Highlight of the day ( Atleast for me ) . THIS IS THE DAY I LEARNED CYCLING. Like for real . At the age of 22 , I learned how to finally balance and ride a bicycle . I am not ashamed of it . Better late than never . YAYYYY.
If you want to know more about the place , you can visit http://www.guhantara.com/packages/#step-4