We choose to stay at the other side of the river at Hampi. As the other side have many hippie styled stays, renting two wheeler is allowed and lots of youngster love to stay at other side of the river at Hampi. The other side of river is known as Anegundi. Anegundi has lot to offer bouldering classes are organized at anegundi, trekking, cliff diving and many other activities are organized at anegundi. As renting two wheeler is banned in Hampi due to many accidents. you can explore the boulder hills and few ruined monuments on a bike at this side of Hampi. We stayed at kishkinda Heritage resort, which is around 3 km from the boat point they also offer free pickup and drop to and from the boat point. The Resort is beautiful small cottages scattered in a large space, well maintaind lawn and gardens. lots of swings and play area, a swimming pool. there was white horse which use to roam freely at the resort. So we decided to visit Anjenaya Temple to get a bird eye view of Anegundi, the boulder hills and farms in middle.
Anegund is believed to be the monkey kingdom of Kishkindha (Kishkinta means in local language a forest where the monkeys lived) in the epic of Ramayana and Anjanadri hill is believed to be the birthplace of monkey-god Hanuman.
Apart from the religious importance Anjaneya Hill/Anjanadri hill also serve as mesmerizing sunrise and sunset point. but as we got up late we reached during afternoon. It was a tough hike till the top in afternoon. But the breathtaking view from the top took all the tiredness away.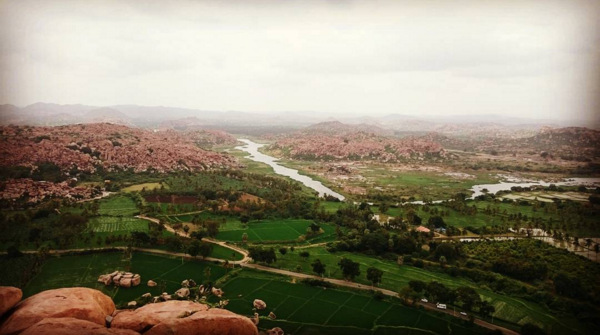 Anjaneya Hill/Anjanadri hill is the only place I got mobile network in Anegundi, the only petrol pump in this area is also near Anjaneya Hill so get your scooter tank refilled if you want.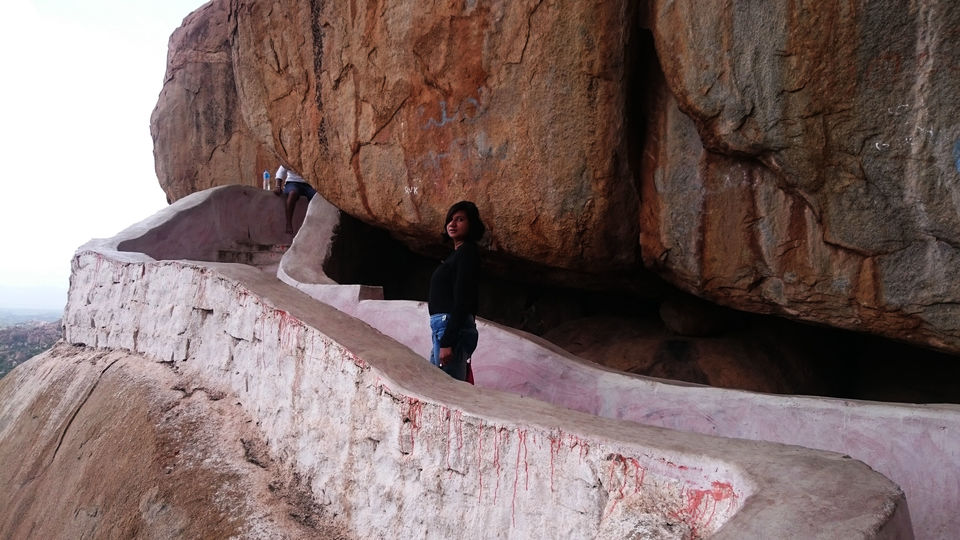 We tried hands on illusion photography as there were lots of boulders at the top.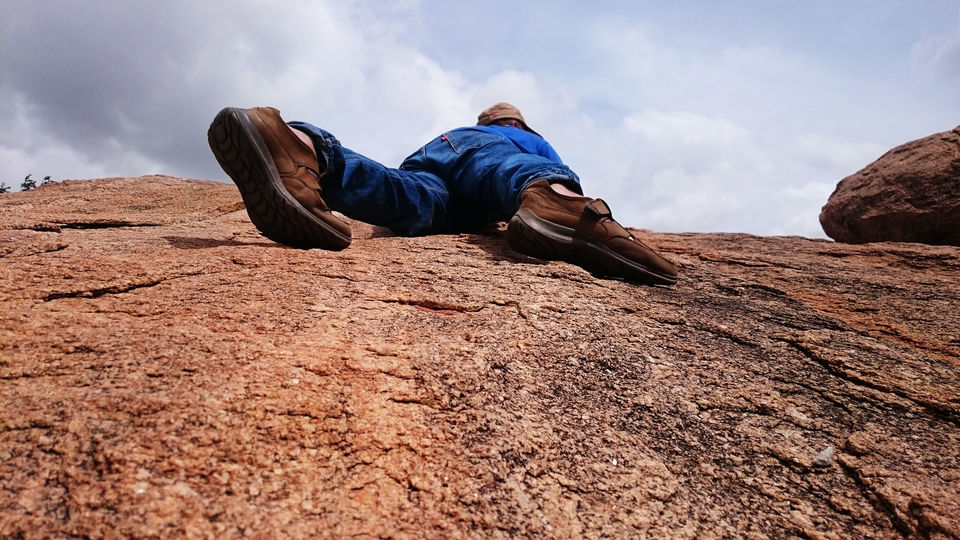 How to Reach Anjaneya Hill from Hampi
The easiest way to reach from Hampi is take a boat from Hampi to cross the river. walk around 100 meters and you will see lots to moped and scooter renting shops hire one and ride till Anjaneya Hill it is around 4Km from here.
But if you want to explore the place on your own vehicle then you have to take another way from Hampi which is around 22 km long.
How to Reach Hampi
Air
Bellary airport is located at a distance of 60 km which is nearest to the Hampi but have less frequency of flights. So many people come till Goa, Hyderabad or Bangalore via Flight and the get a train or bus.
Rail
Hospet is the nearest railway station from Hampi at a distance of 13 km. Tourists can hire taxi or cab to reach the place comfortably or choose to ride a bus which is a cheaper option. Hospet is well connected to major cities and towns and some of them are Bangalore, Hyderabad, Goa etc.
Bus
Hampi is well connected to major cities and towns and Hampi have frequent buses from Bangalore, Hyderabad and Goa.
Best Time to Visit
Winter is the best time to Explore. Monsoon Adds little greenery to the place but bouldering is not possible during this season. Summers are very hot.