December 2016.
Spent: Rs. 5000 /- per person for 3 days & 3 nights. It included:
Bus journey from Mumbai to Hospet and return. Booked a semi recliner from Goibibo for approx Rs. 1200 per person one way.
Breakfast x2 and dinner x2 at the guest house. Lunch x2 at the Mango Tree.
Auto cost Rs. 2500 /- for sightseeing in Hampi and transport to and from Hospet.
We were 3 travelers who boarded a bus from Mumbai, India at 7pm to Hospet, Karnataka and reached Hospet at 8AM the next day.
At Hospet, several auto guys were waiting for their rented rides. One of them offered us to take to Hampi ( 10km ride ) for Rs. 320 /- for all 3 ( we could have negotiated more).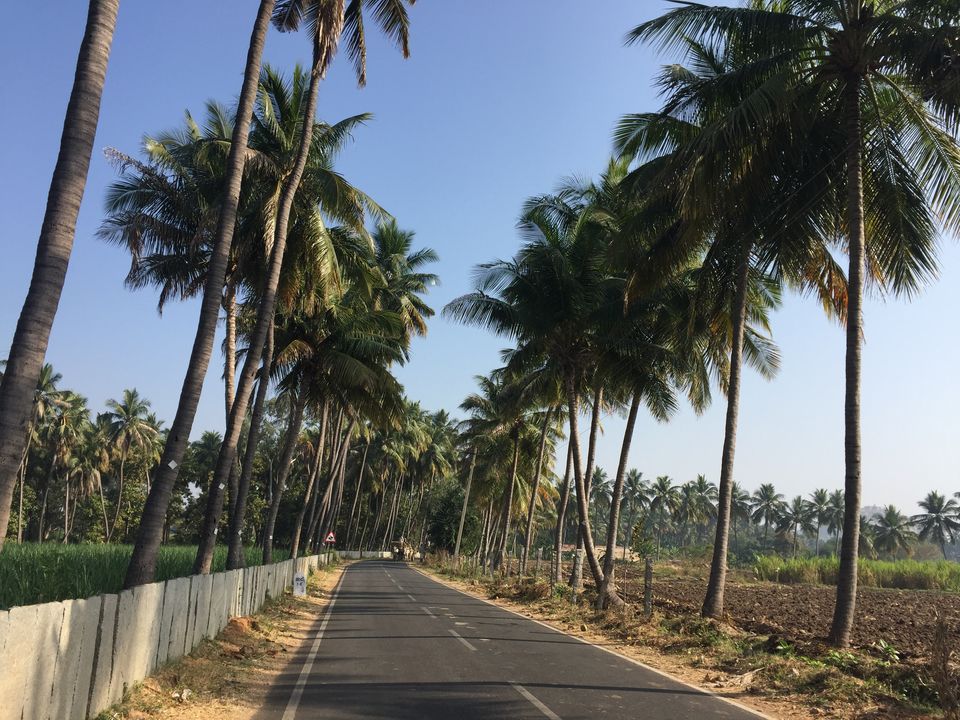 Hospet
Hampi has two parts. We reached Tungabhadra river which divides Hampi in these 2 parts. One side has all the temples and ruins, the other is more of an accommodation area.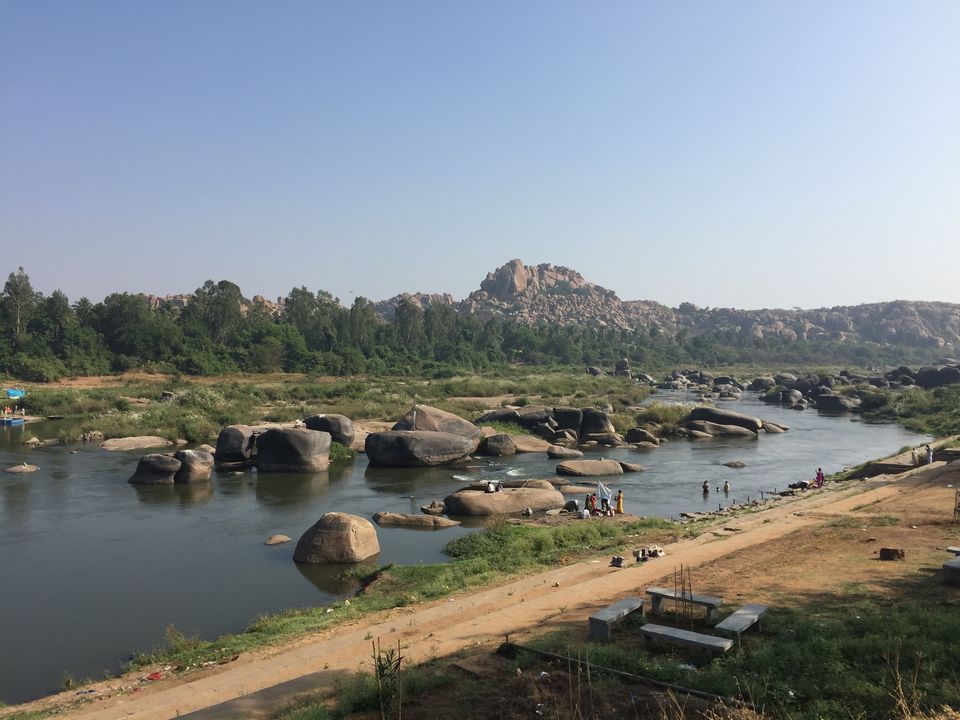 Tungabhadra River
We took a ferry ( Rs. 10 without luggage , Rs. 30 with luggage) to cross this river. It took us minute in the ferry and 10 minutes for it to be filled with people.
We had booked our guesthouse - Waterfall Guesthouse. 3 of us paid a total of Rs. 1200 /- per night for basic amenities - a room where 3-4 people can sleep, free wi-fi, an in built toilet and bathroom. A group of 3 came the next day and got a similar room and same facilities at Rs. 750 /- per night for 3. They were backpackers. We had booked it a month prior (you can negotiate). There were cheaper rooms available which had common toilets and bathrooms.
The owner - Mr Ramu spoke good English and hence there was no communication problem. His contact number is +91 9482786942. He had sent an auto rickshaw guy to pick us up once we crossed the river. The auto cost was included in the amount we paid for the rooms. It was a 3-4 km drive from the river.
There was many foreigners who stayed there. There were people from Russia, a family from Iran etc.
The menu had several and delicious variety in meals. They had 4-5 cuisine options. Average rate for a pasta was Rs. 200 /- , sandwich Rs. 100, coffee Rs. 20 etc.
Our jaws dropped once we reached the place.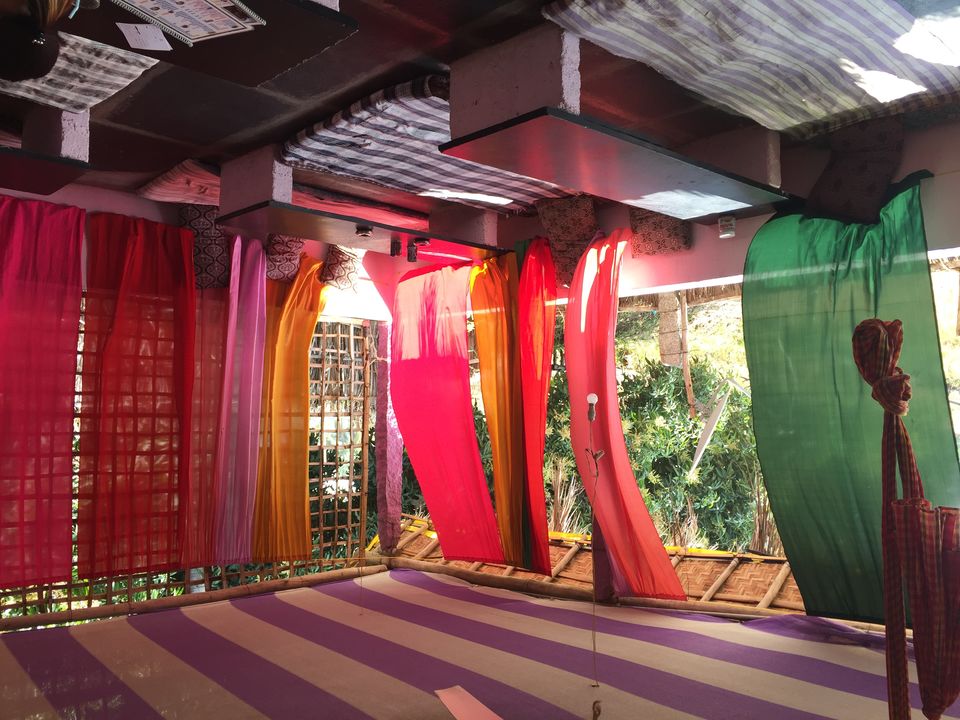 Waterfall guesthouse - Dining area.
As we were on a budget trip, we carried our breakfast, had it here and left quickly to venture around!
We hired scooter from here. Rs. 150 /- per day rent + Rs. 90/- for a liter of fuel. 3 of us sat on this beast and left to explore the other side i.e. the guesthouse side of the river.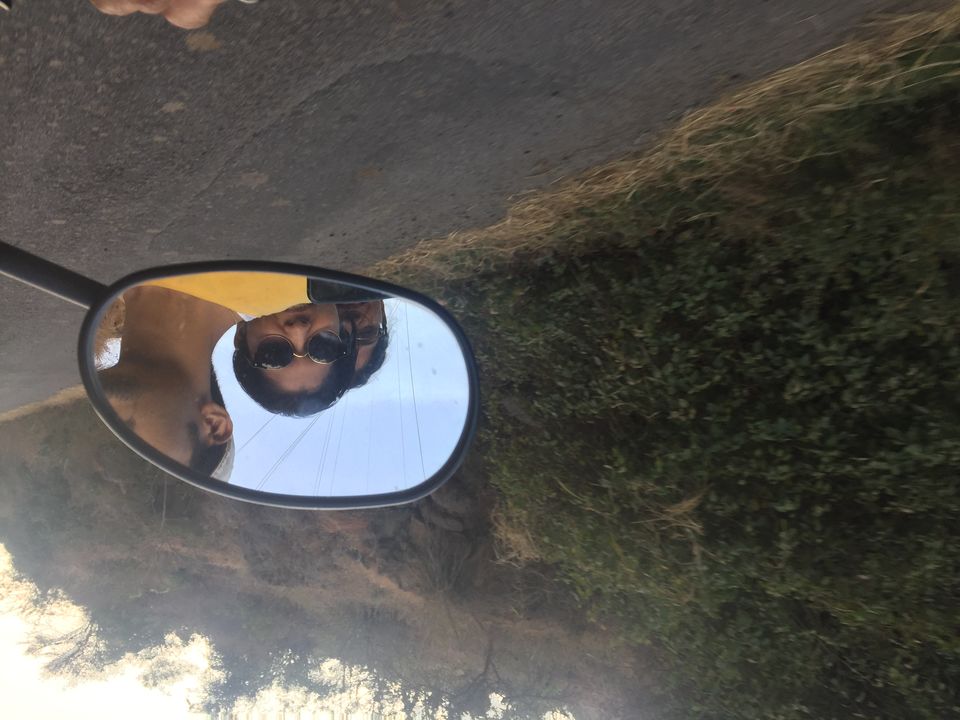 They didn't allow triple seat because it would damage the scooter. But since, 2 of us didn't know how to ride a scooter, they let us hire it on a condition to not damage it.
Check other accommodation options.
Waterfall Guesthouse photos.
We stopped by at The Stone Bridge.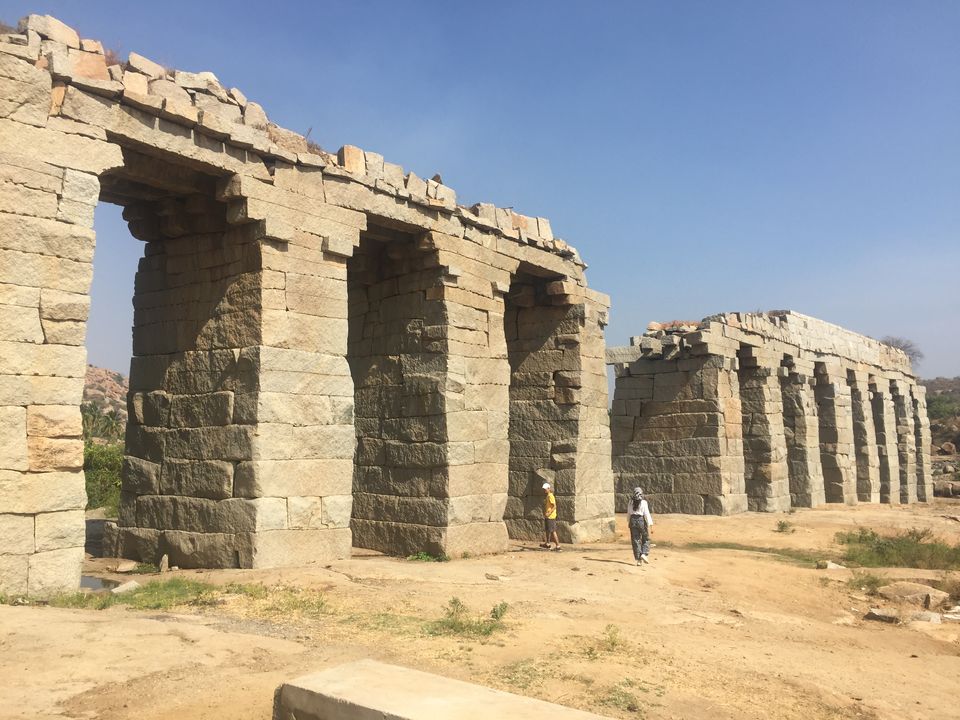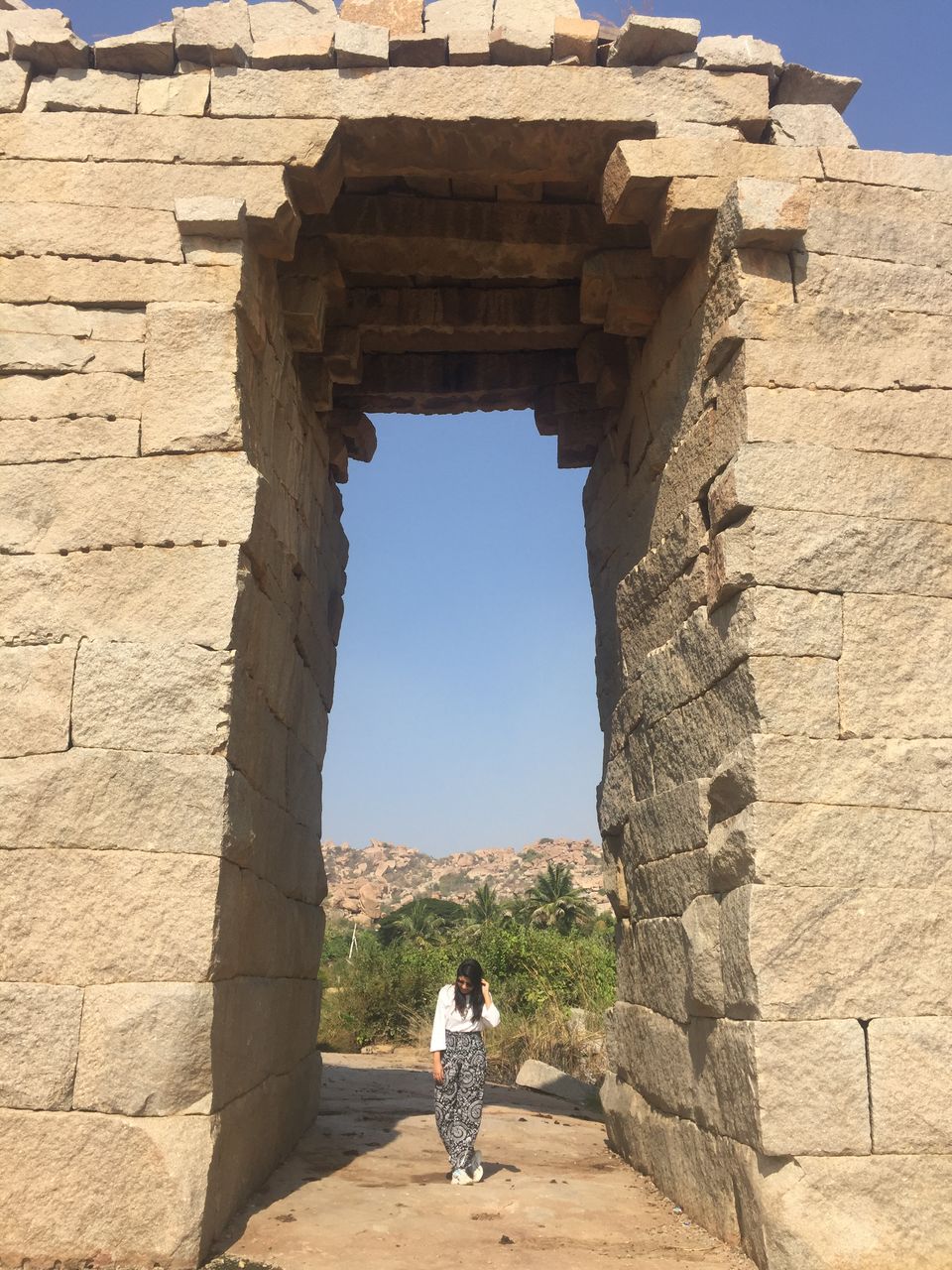 The Stone Bridge
Our next stop was Lord Hanuman's birth place - Anjaneya Hill. It was 575 step trek.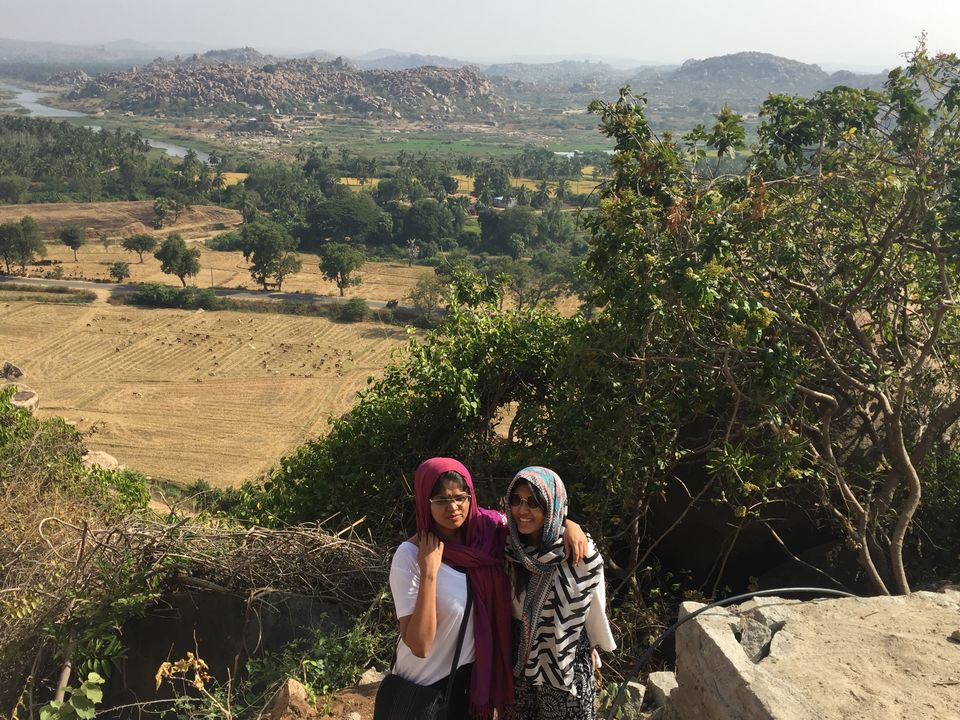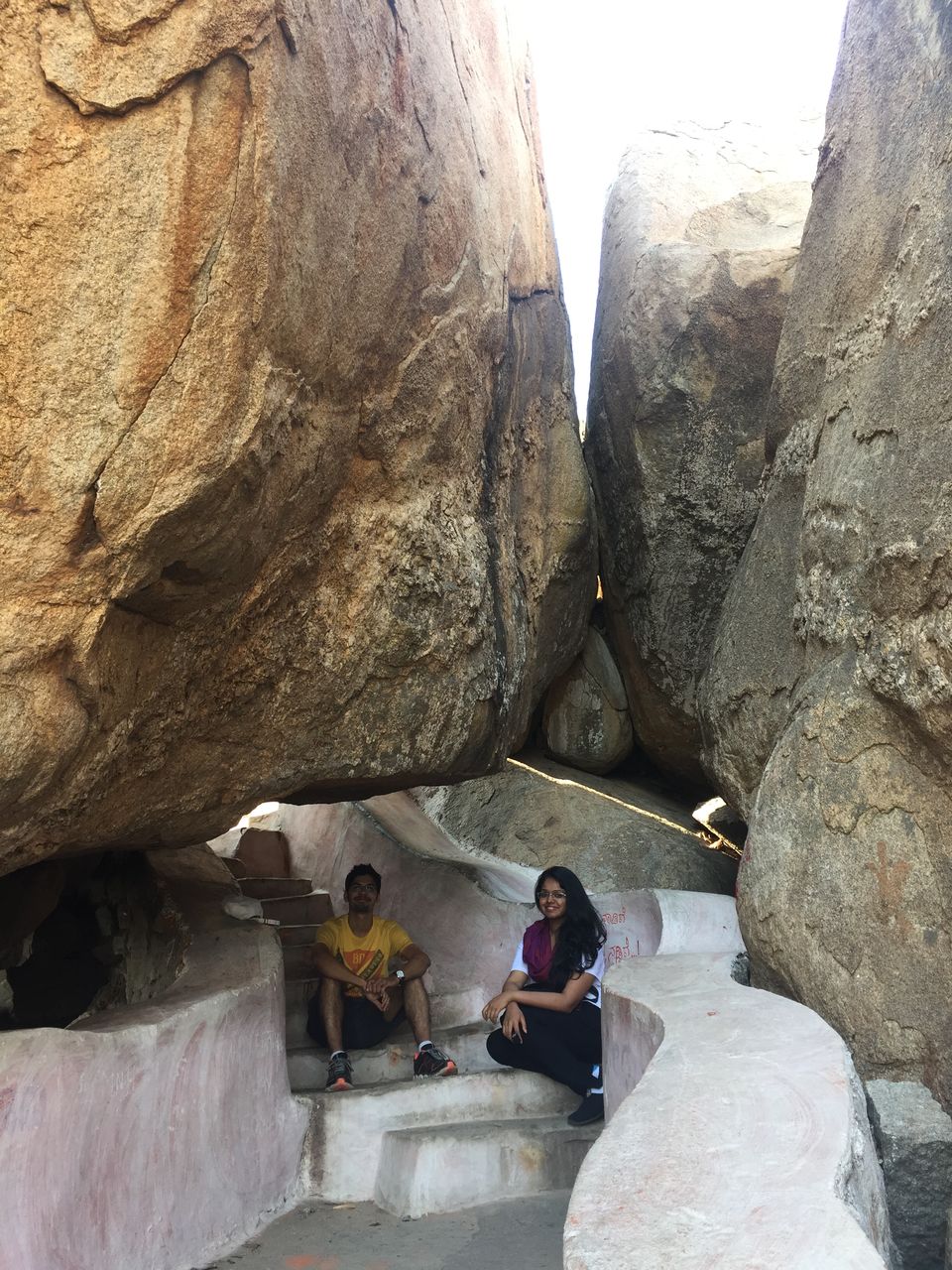 Carry shades, scarf and water along. Beware of the monkeys. There are a few stalls to drink water / tender coconut water and eatables too. There is no washroom.
Do stop by here for a break. A very windy place with shade.
A very interesting staircase after crossing 500 steps. A breathtaking view from the top of Anjaneya Hill. ( Photos )
We saw a specimen of a stone from the Ram Setu!!! Unfortunately, photography wasn't allowed in the temple.
For those who don't know what it is - According to the Indian Mythology - Ramanayana, Ram Setu is a bridge that was built by the Vanar Sena - monkeys of Lord Rama from Tamil Nadu till Sri lanka to get his wife Sita back from Raavana.
We left Anjaneya Hil and stopped by on the way at a scenic spot to click photos. Next, we went home, had lunch and chilled.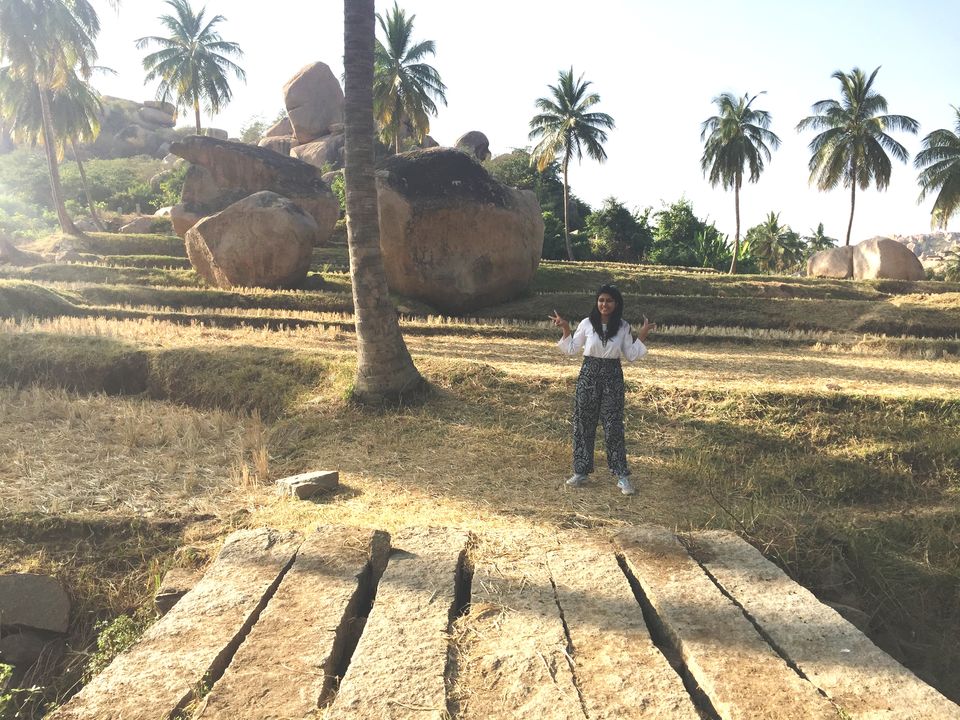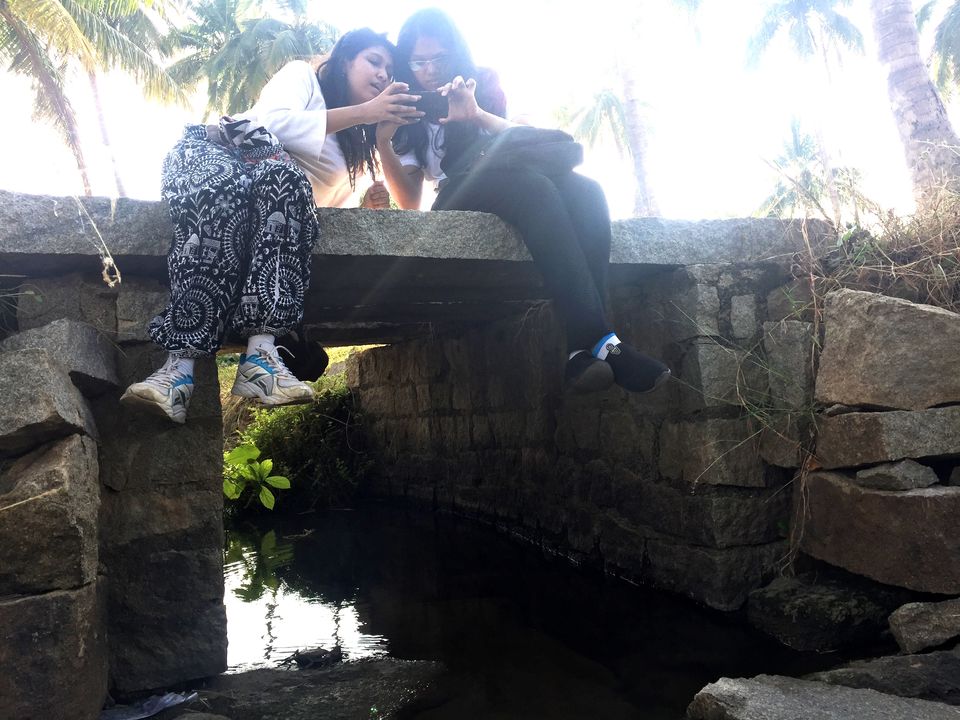 Around 5 we left for out next spot for coracle boating in a Tungabhadra tributary. Our experience was enhanced because the rower got happier seeing our happiness! He enjoyed his job a lot! He charged 3 of us Rs. 300 for 30 minutes. We had planned to go there during sunset and it was the most sane and brilliant decision.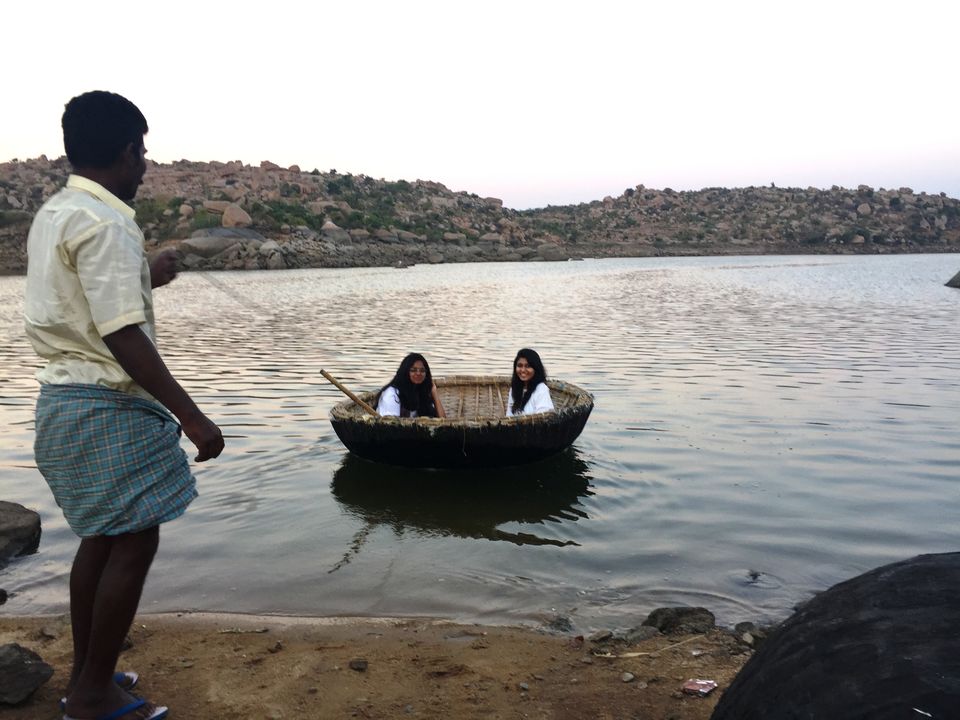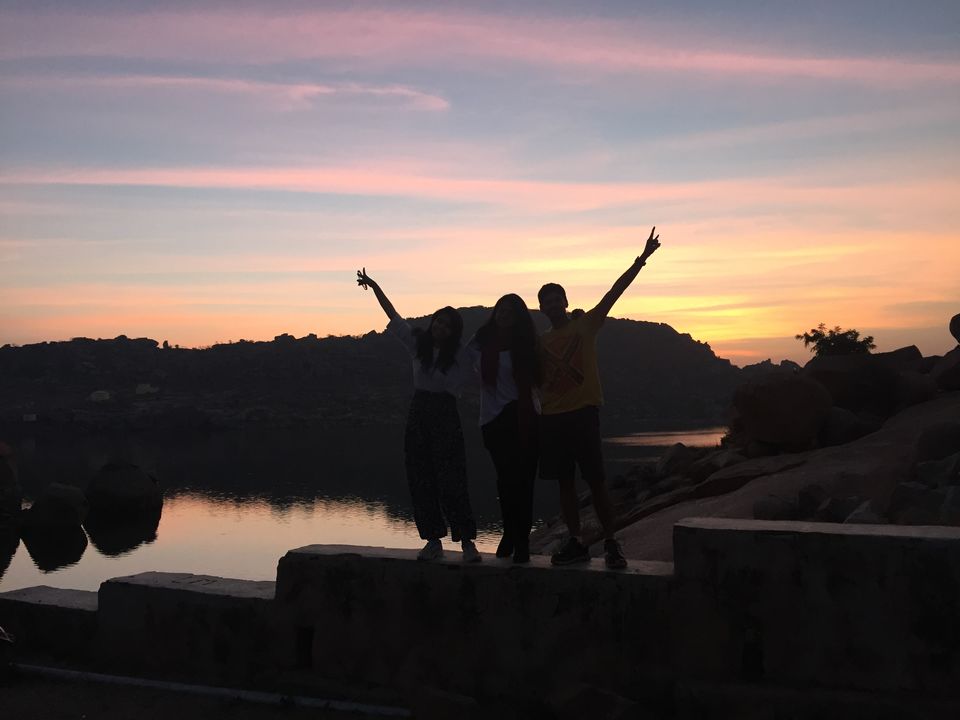 Today we took an auto from our guesthouse to the river front for Rs. 150 /- for 3 of us. Then took a ferry to reach the other side - Rs. 10 /- per person. We met our auto driver - Coffee. Yes, his name is Coffee. He says his name is difficult to remember. Same driver who picked us up at Hospet. He charged us more and didn't know many things when we asked him questions ( he claimed that he is a guide cum driver) and hence not sharing his number. We made a mistake of not asking around and checking the auto prices for 1-2 days. There were drivers who were willing to take people around for sightseeing for Rs. 400-500 /- day.
On this side of the river there are cycles on rent too. Approx Rs.100-200 per day. We chose an auto because of 32°C. We didn't want to exhaust ourselves.
First stop was post office to send post cards to our loved ones because Hampi stamp.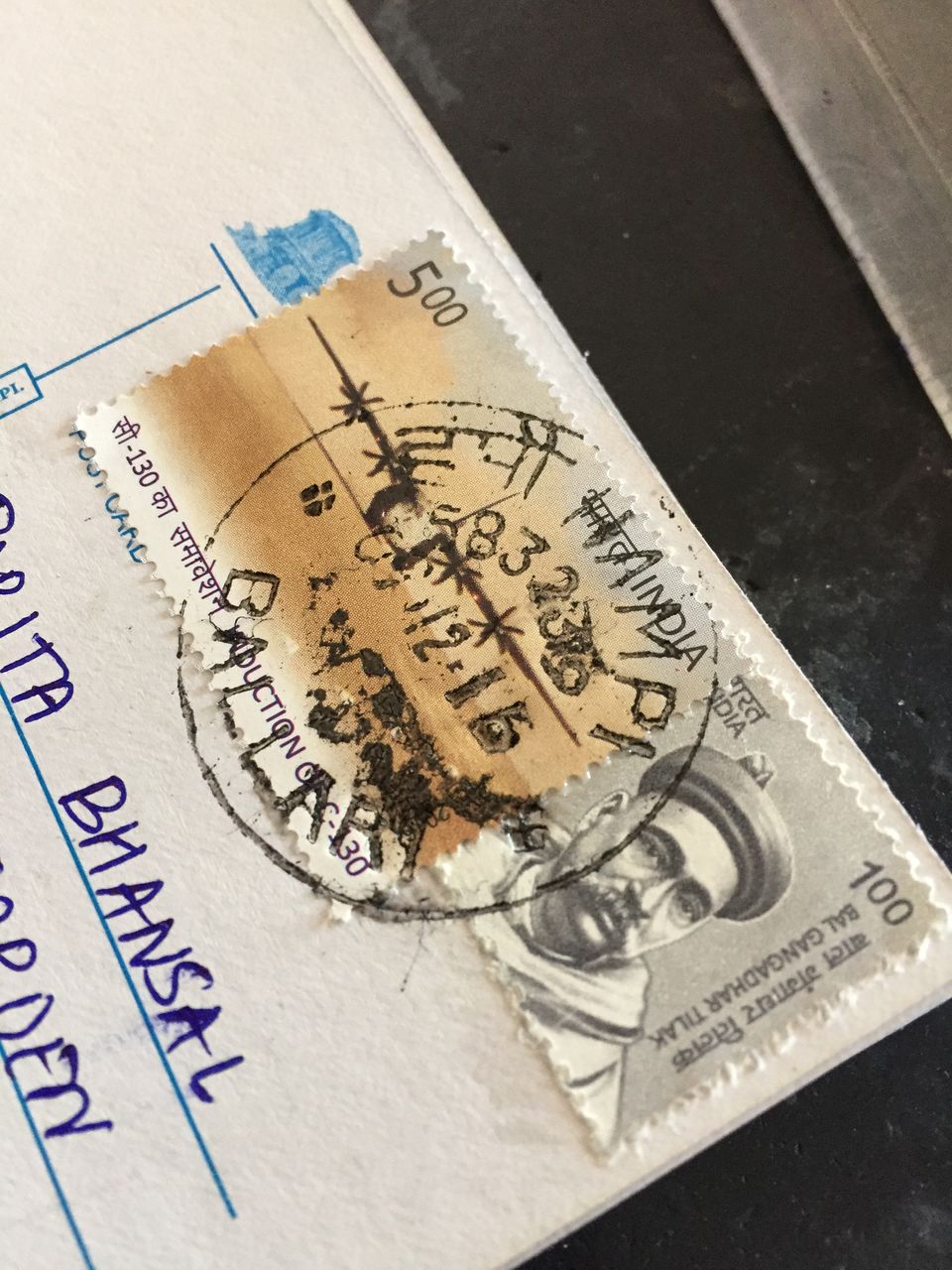 After bidding farewells to all the warm people in the guesthouse, we left for our third day adventure.
We went for an adventurous trek on Mathanga Hills. It consumed 2 hours.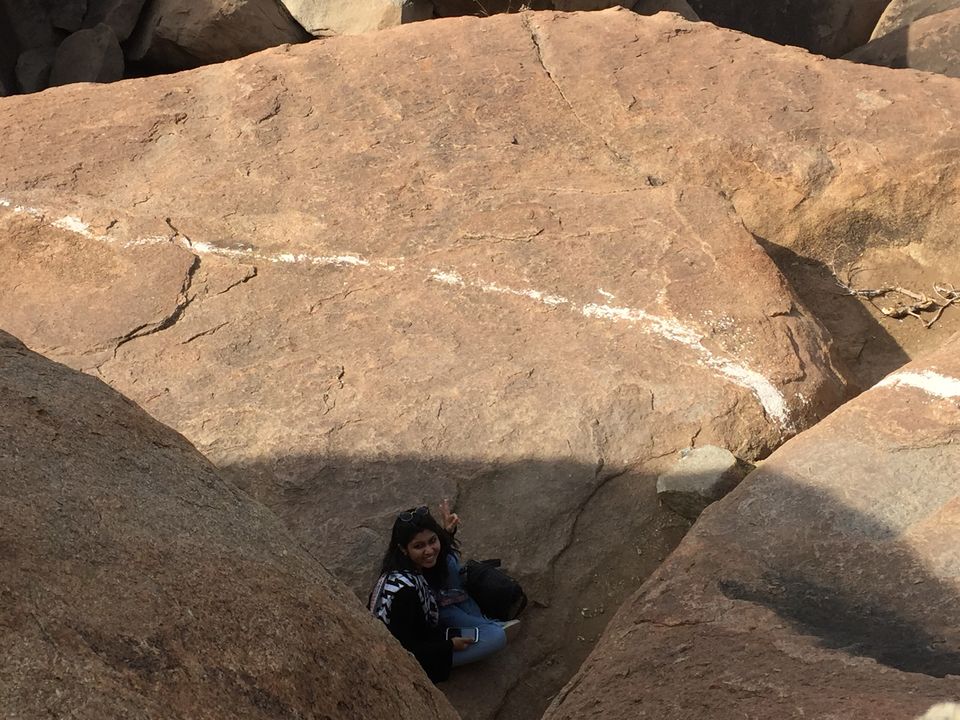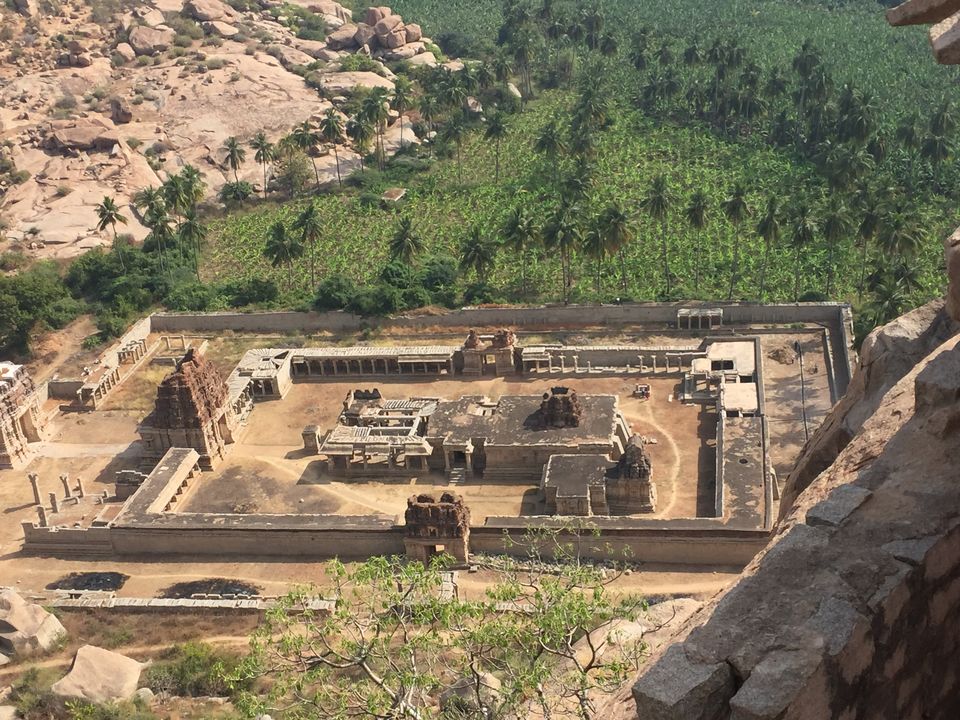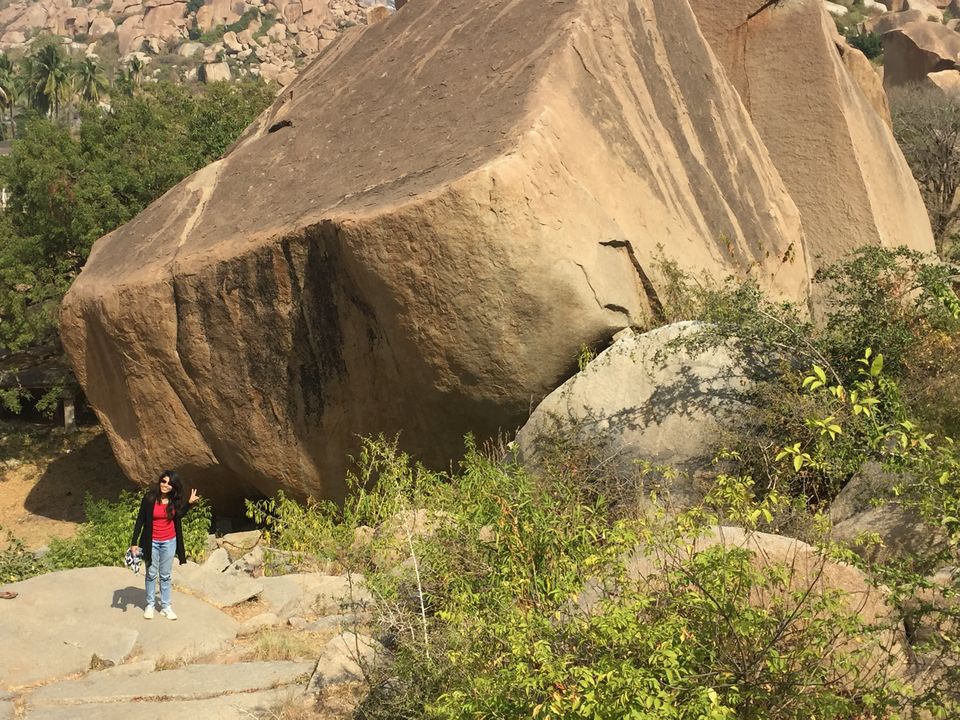 We left for our our second stop was Vitthala temple. On the way we stopped at " Weapons Check point"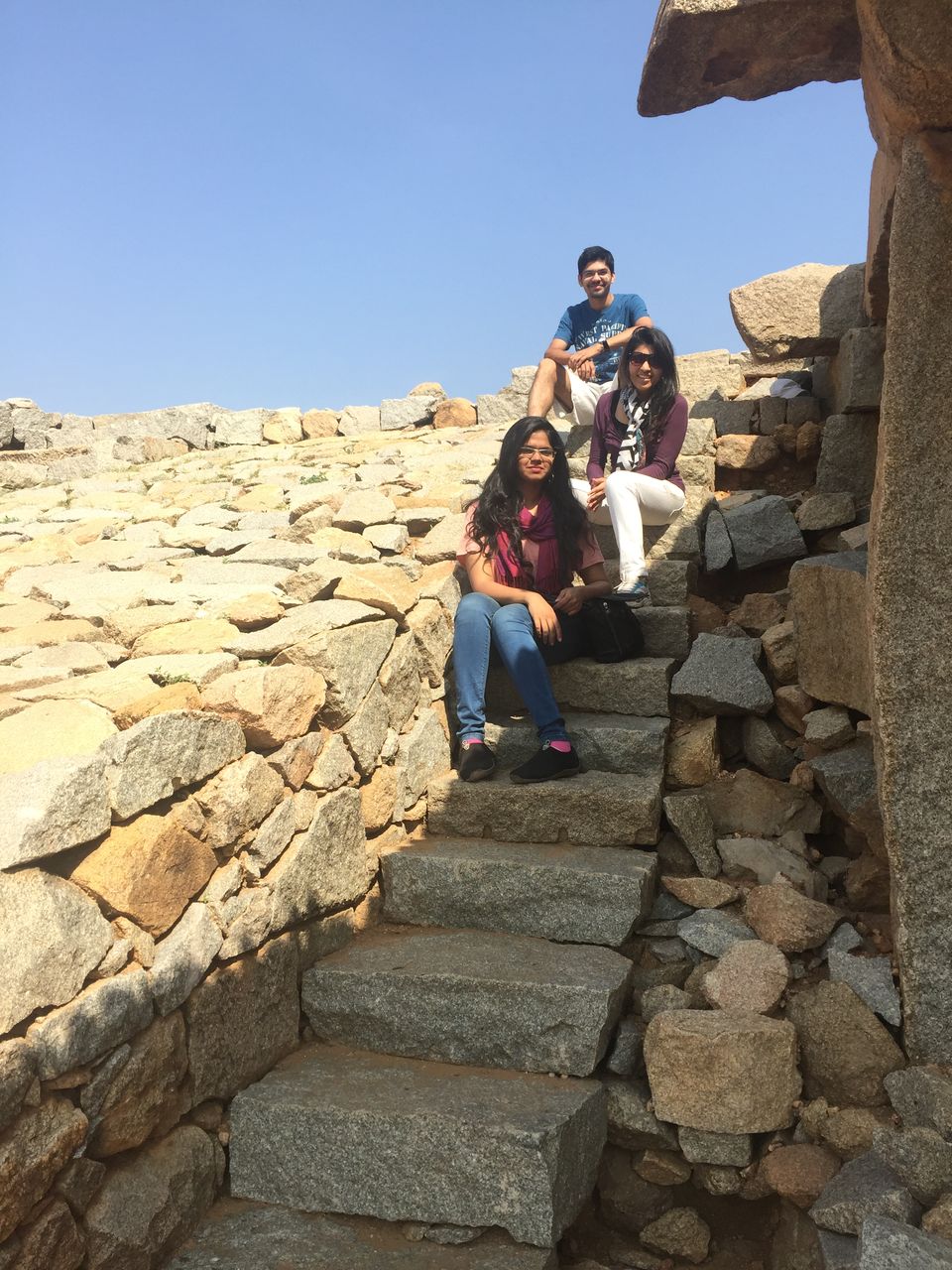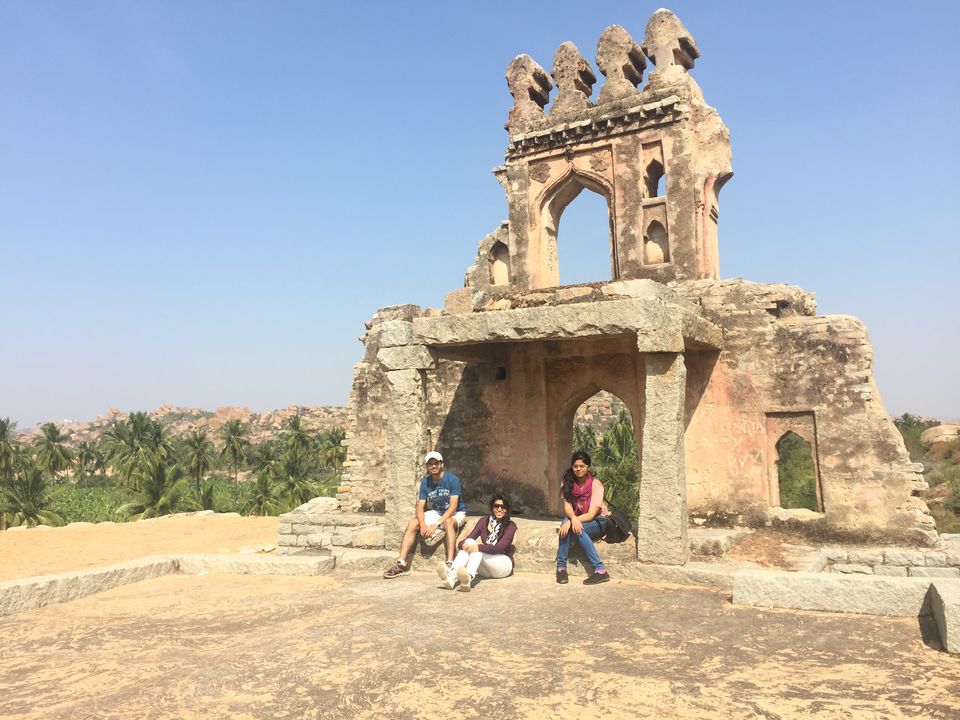 My most awaited stop- Vitthala temple. The monument opens from 8.30 in the morning to 5.30 in the evening. The entry cost for 3 places ( Vithala temple, Lotus Mahal and Elephant stable) was Rs. 90 /- per person. All 3 to be visited in one day only. From the auto stand, there is a cart which takes passengers to the temple. Since it is a 1-2 km walk, I'd suggest walk it up till the temple because on the way there are beautiful stops which are not to be missed. While returning, take the cart because you'll be exhausted after the temple visit. It takes good 2 hours minimum to see this beauty.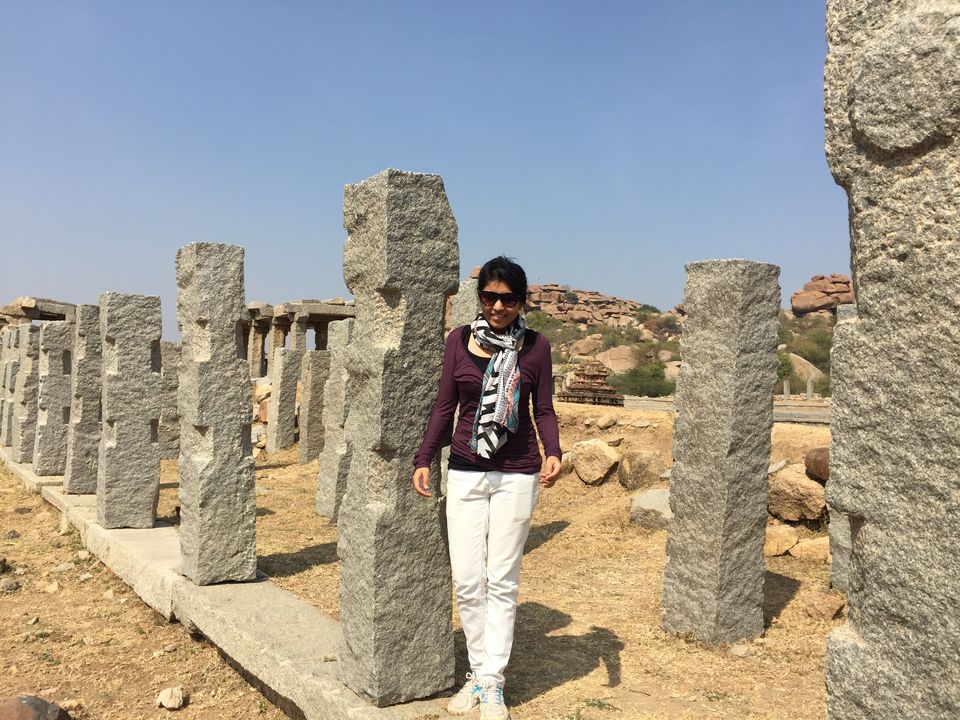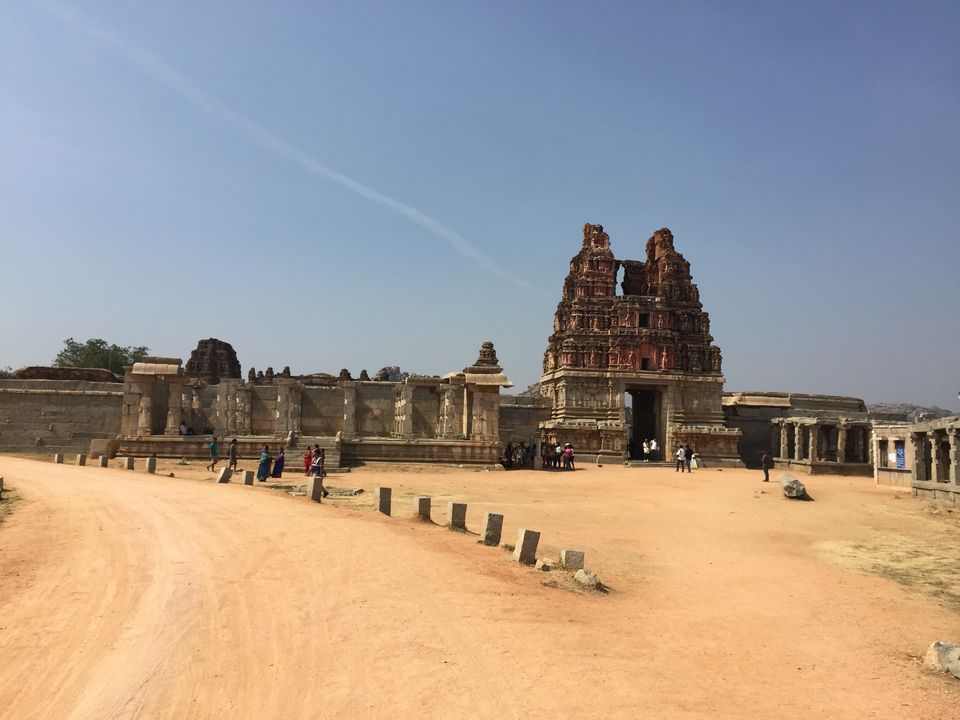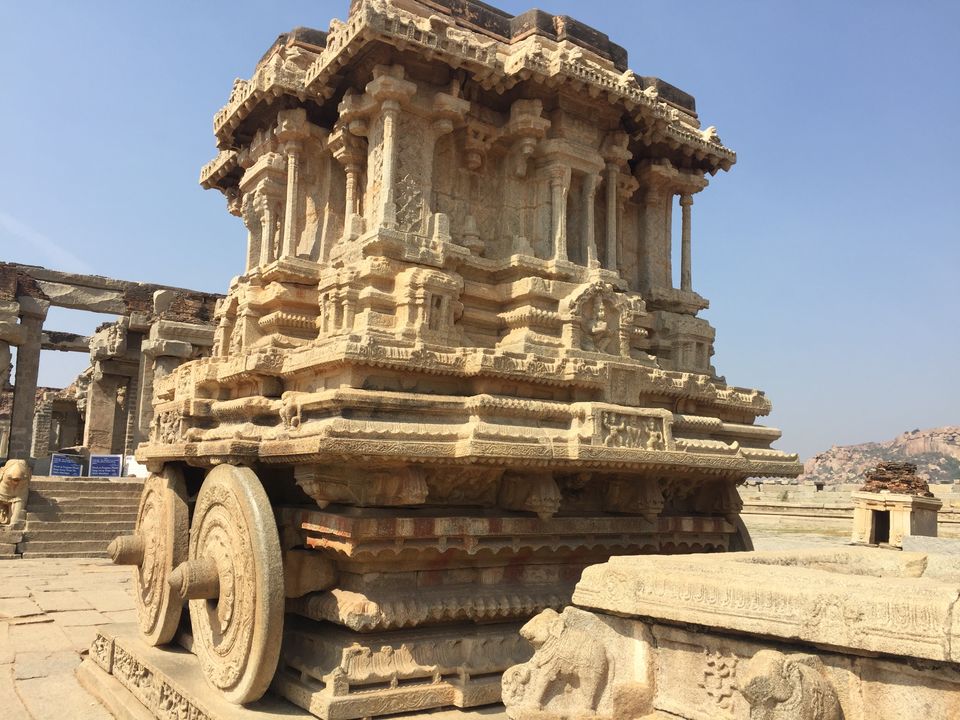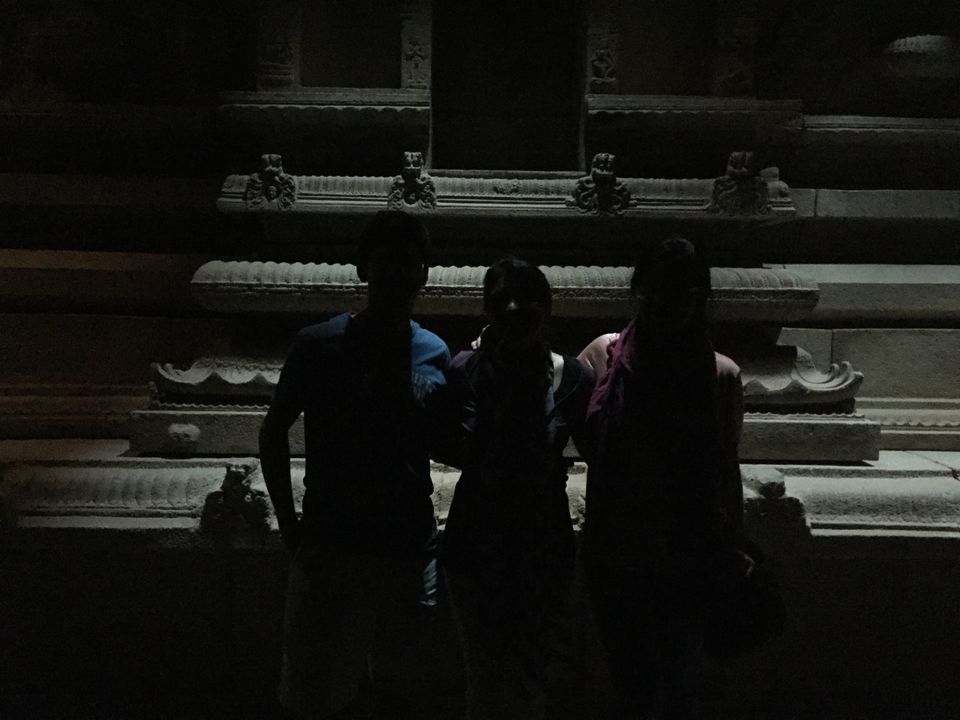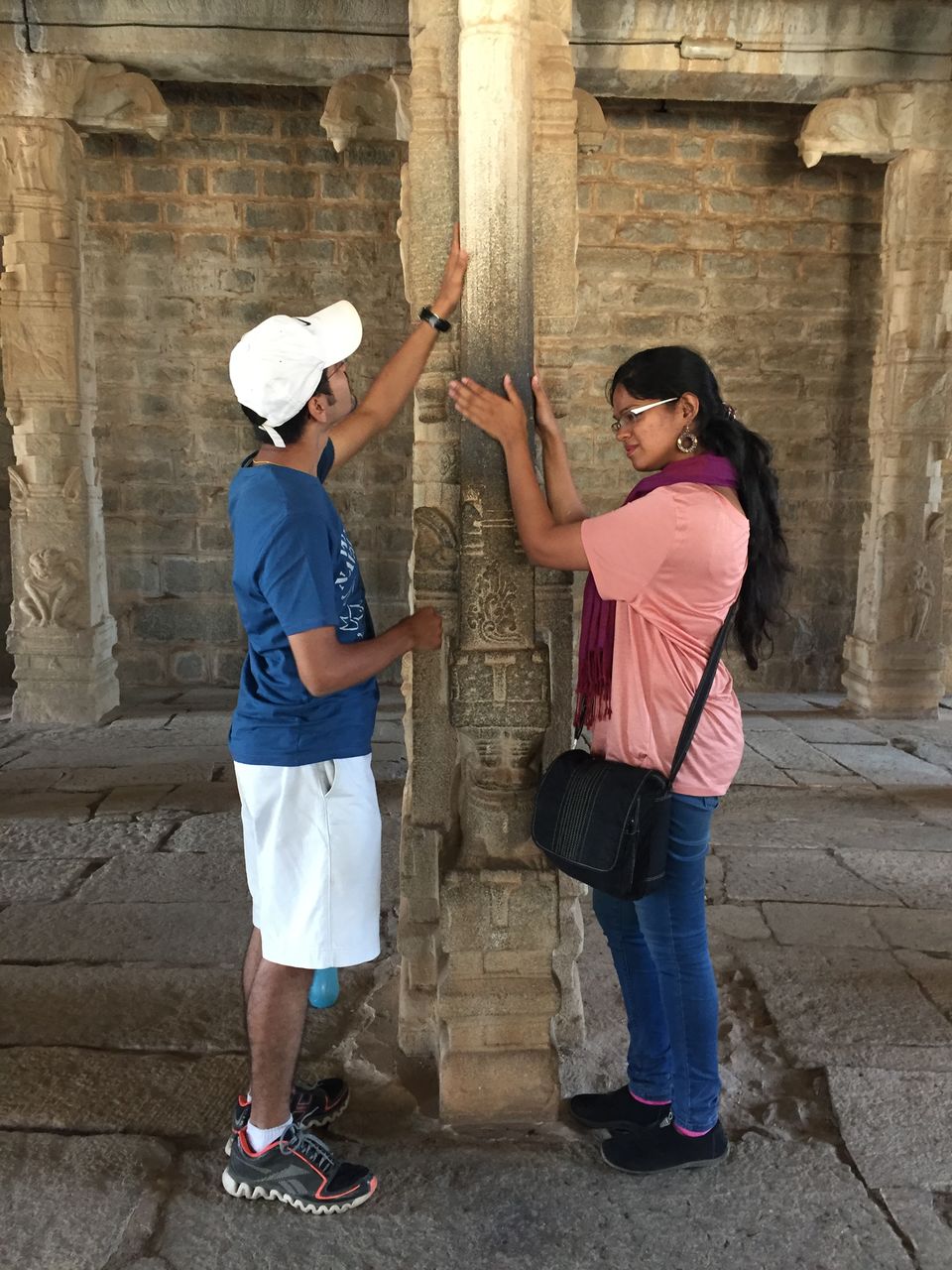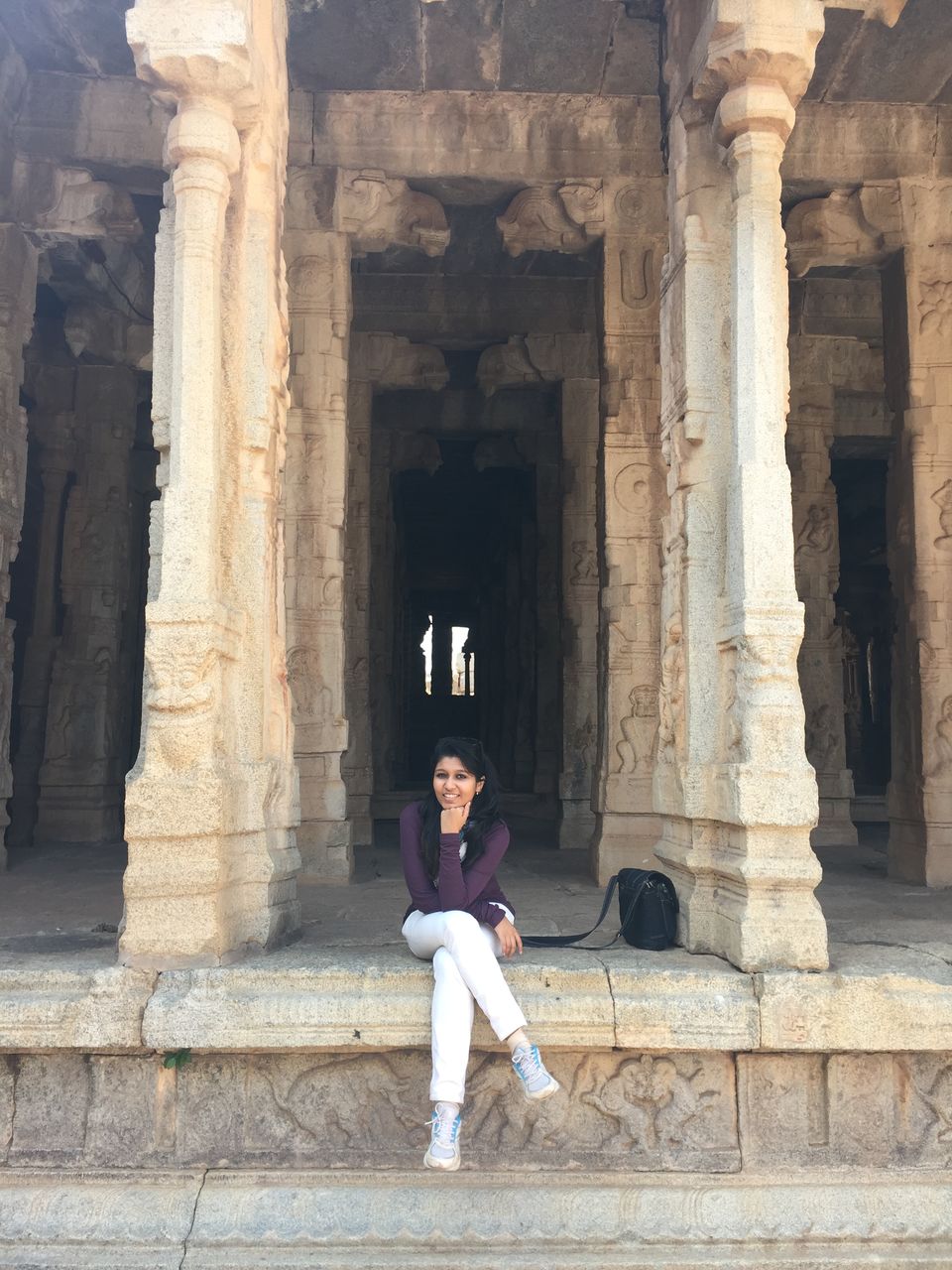 These temples have 56 musical pillars. Each pillar emits a SOUND OF DIFFERENT MUSICAL INSTRUMENT when tapped!! How fascinating is it??
Read more here and here. Watch this magic here.
I'd suggest if you have come money to spare, take a guide. He'll be the best person to explain the rich culture and history here. We were just eavesdropping everywhere.
Our next stop was Lotus Mahal, Light house and Elephant stables.
We ventured around in the vicinity and returned home since it would take us an hour and the ferry's last ride is at 6 pm.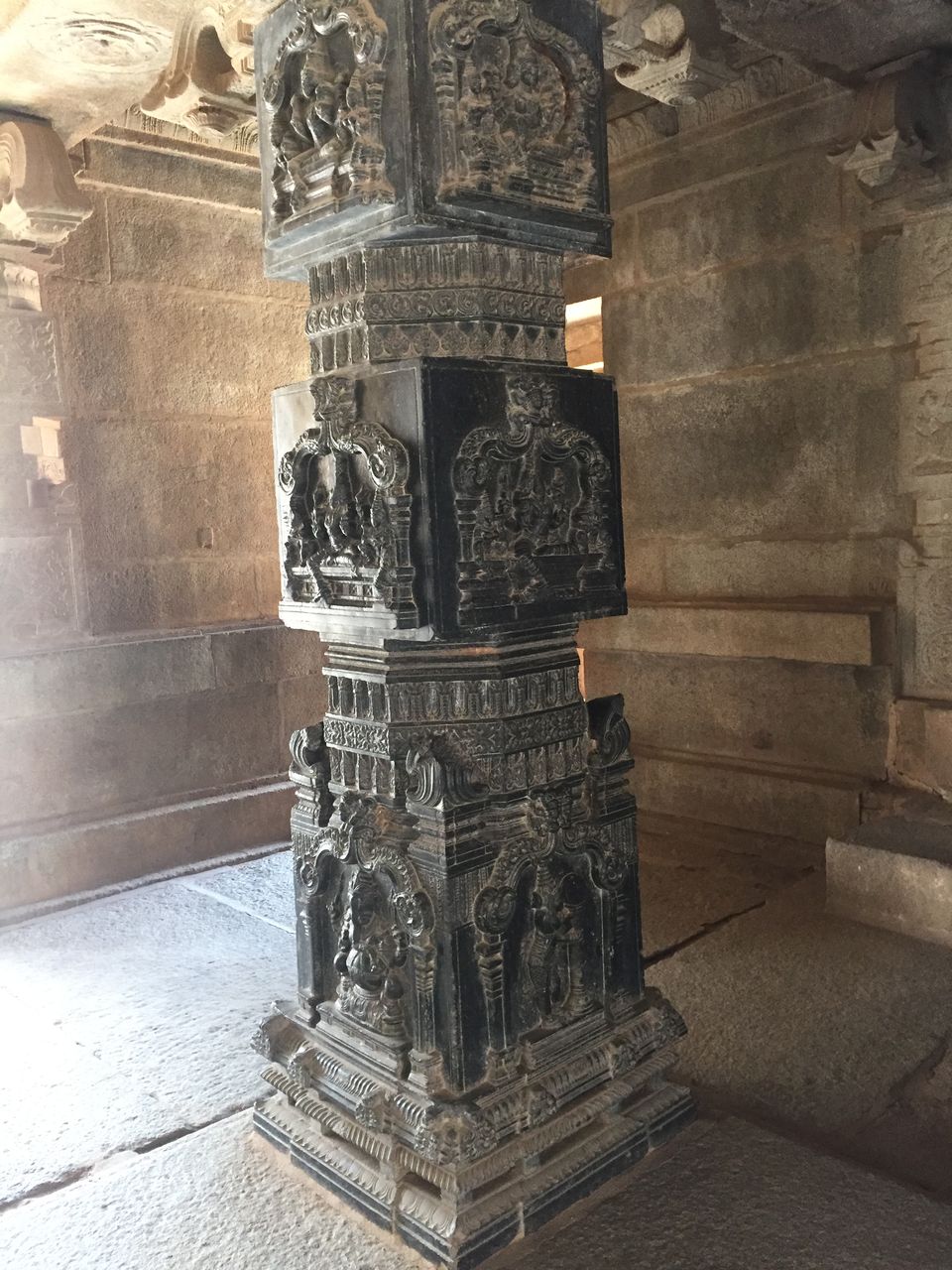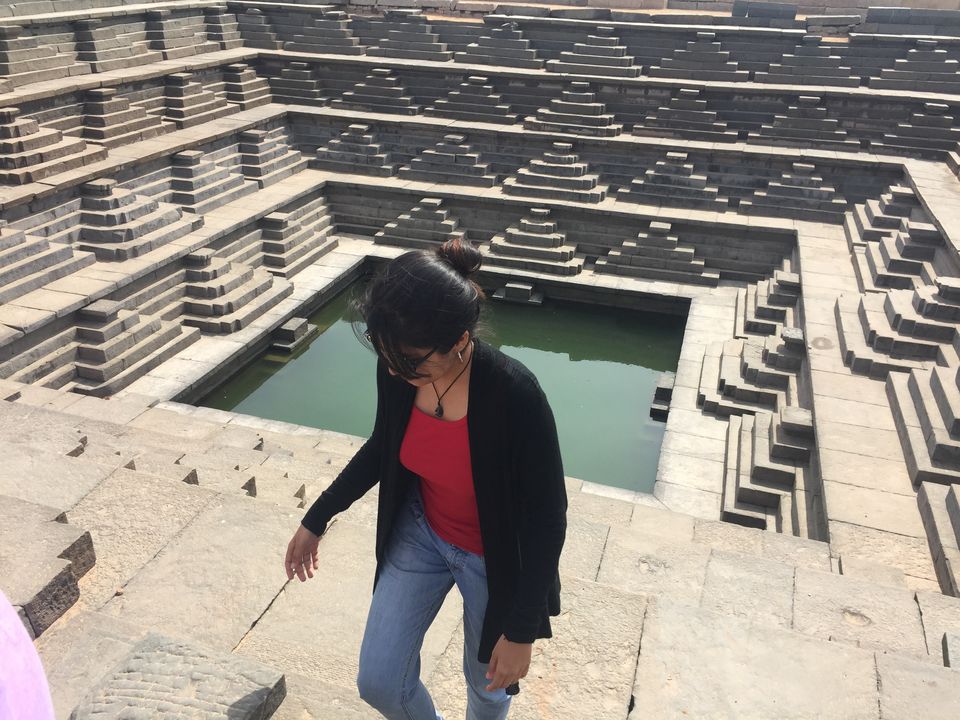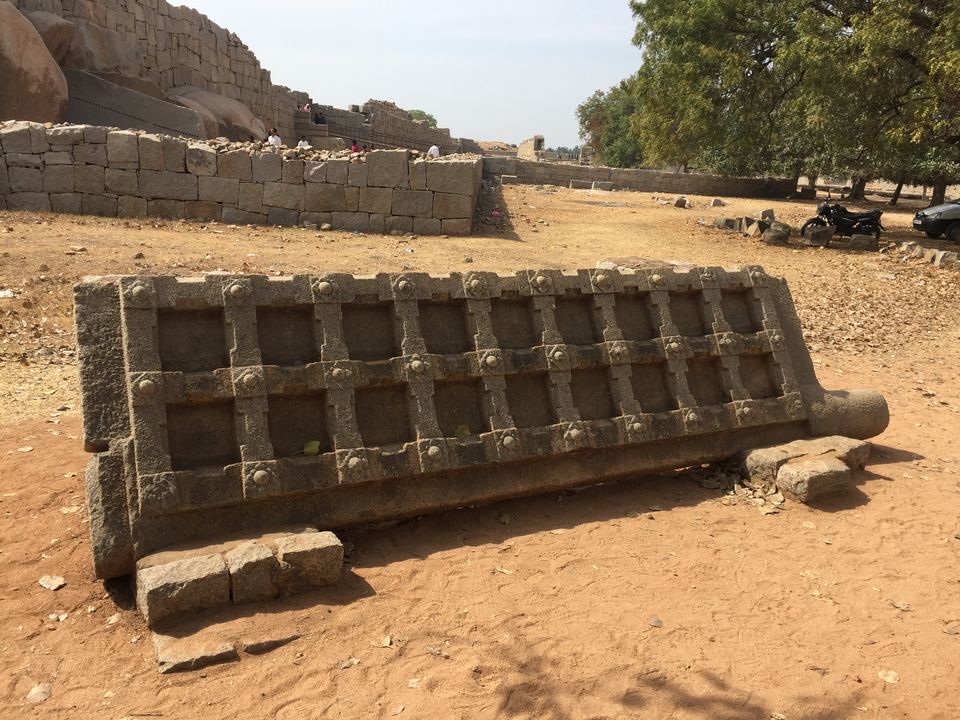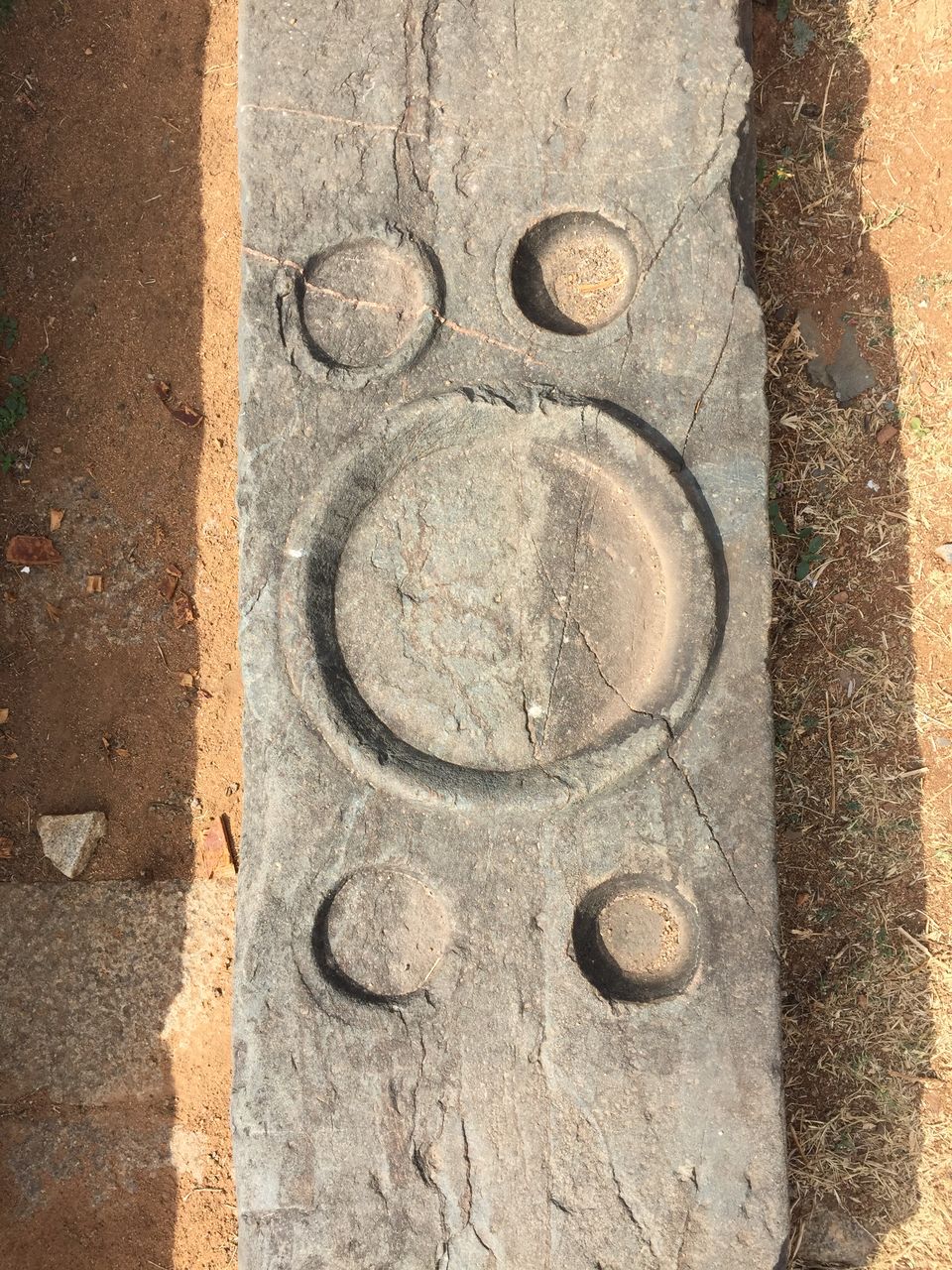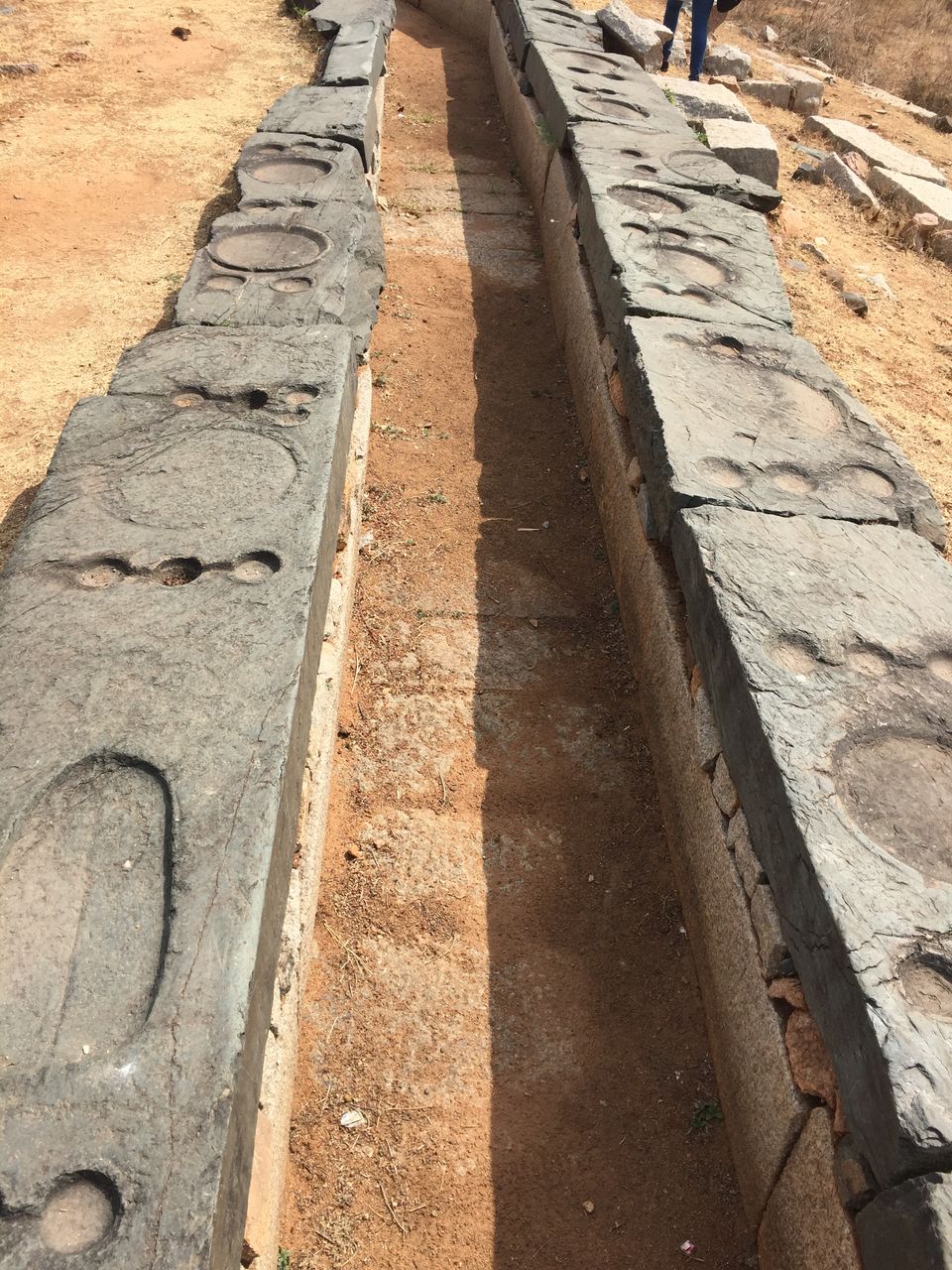 On day 2 & 3 we had lunch at Mango Tree. There were plethora of options for cuisine. We had Rajasthani Thali, Pita bread bread, hummus, fries, nutella pancake and mango milkshake. We really enjoyed the food.
We did a little shopping at Hampi Bazaar. There were lot of new options for jewelry ranging from Rs. 100 - 300 /- . A request to my readers to not bargain for Rs. 20-30 /-. Such small denomination makes a big deal to them.
We reached Hospet at 5pm and witnessed another fascinating sunset. Finally asked Coffee, our auto driver's name. It was Anand! Yeah I know ! So wannabe ! *rolls eyes*. Our bus left at 6:30 pm. Next day at 8:30, we reached Chembur, Mumbai with lot of memories.
In case you have more days to look around visit this website for planning. This too.
Frequent Searches Leading To This Page:-
Weekend getaways of hampi, hampi tour packages for 2 days, hampi weekend trip, Hampi Tour Packages, 2 day trip to hampi