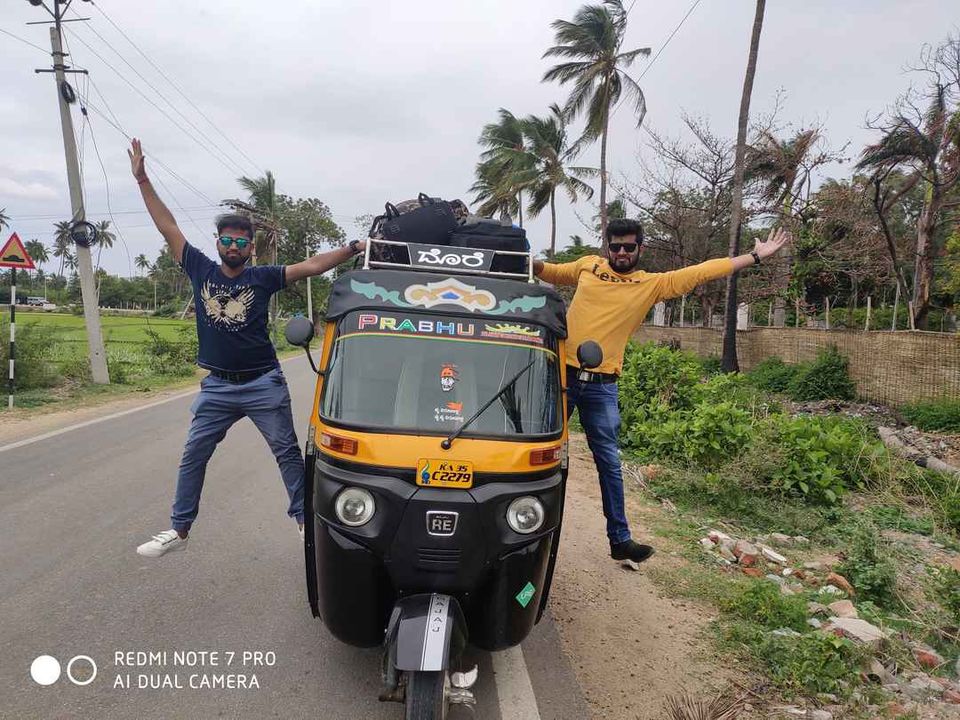 My experiences and suggestions for your wonderful trip to Hampi
It was bad weekend and nothing great to share but sad that its Monday to attend office and my mind is not allowing me to toil all the day, as my weekend was not that great. During our working hour everyone sharing something about their weekend and i have nothing in my mind to share or anything that is cooking in my mind for coming weekends. As discussion started one of my colleague happily sharing his weekend tour plan to Hampi which is UNESCO recognized place . He started sharing the experience with us and showing photos in his mobile. I thought it will burn a hole on our pockets in case if i plan for it. But somewhere i felt we can make it, as this place is already registered in my mind long ago. When discussion is about to end, I posed a questions on what would be expenditure and mode of transport and all. Taking all this into consideration i have started planning for next weekend. We have no vehicle to reach the place so preferable mode of transport will be train or bus. My Colleague has confirmed that the train seats are available to Hospet from where Hampi is 13 KM. Instantly without any hesitation we 3 agreed to go and booked the tickets.
Train Tickets: 620 per person (To and Fro) from Hyderabad
Later i started learning the importance of the place as it is recognized by UNESCO as Heritage site and it was ruled by well know king named Sri Krishnadevaraya. I heard this name during my schooling and also remember Tenali Ramakrishna is also one among the Ashtadiggajas at the court of Sri Krishnadevaraya. This made me to surf the net to learn and discover the the importance of this place. I felt very happy to learn about this place and the ruling of Sri Krishnadevaraya.
Meanwhile i booked a room for 3 of us near to this heritage site.
Room cost: 570 for 3 persons(Includes Extra bed)
Place of hotel: Kaddirampura.
But I suggest you to take hotels near Hospet. As you hardly find any hotels for dinner. I booked this hotel only with an interest to be near to the heritage site and it was costing very less. I suggest you take this room if you have 4 wheeler and you are ready experience the village environment. Although we had a good lunch(Parata's) in hotel nearby but for dinner you may have to rely on food delivery apps(No guarantee that you will get the food on time). You cannot expect the Non-veg in this location as it is near to many temples. If you are okay with all this you can give it a try and have benefits of experiencing the village environment.
We packed our backpack with some food(Roti's) and of course clothes for two days. Reached the Railway station on time and boarded the train. After an hour we had our dinner and slept. Our train reached the Hospet railway station. Here I could see many youngsters like us got down at this station to evidence the beauty of the Hampi.
Soon after stepping out of the station many autowalas moving around us to opt their service for site seeing and they were demanding high. As we have no clue we just took the info and moved forward to get to the room. Our room was in Kadirampura and looking for bus to reach there. Meanwhile a auto guy demanding Rs: 400/- to drop 3 of us to hotel, We said no and asked to drop us at Hospet bus station. Here we could find everything like hotels rooms, food items etc. Autowala has charged Rs: 30/- and from bus stop we boarded a bus to Hampi village which will go via Kaddirampura. At last we reached the place and got freshen up.
Transport: Auto 10/- per person (Hospet Railway station to Bus stand )
Bus 15/- per person(Hospet bus stand to Kadirampura)
Stepping out of the hotel, we found a small hotel and had Paratas. This was really nice experience as we had an opportunity to taste the Hampi food item which were prepared and served by locals. This is what we wanted as we are very used to city life style.
Cost for Paratas: Rs: 30/- Plate
As we have not opted for any auto service, we inquired at hotel reception and they suggested tour package which was high and out of our budget. And Receptionist has advised us to take a Hampi book which also includes a tourist places map. Boarded a share auto and headed towards Kadalekalu Ganapathi temple. After getting down i bought the book and also negotiated rate with the Autowala for two days site seeing. Don't ignore to purchase the book, it will help us to know the importance of the each and every site in hampi.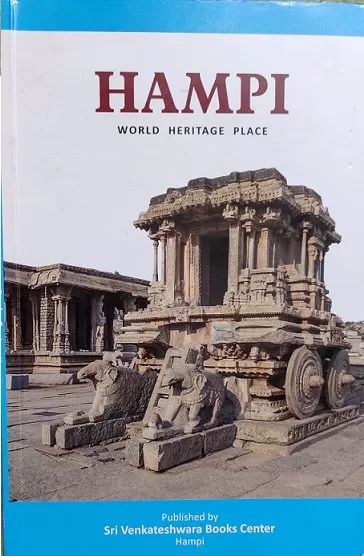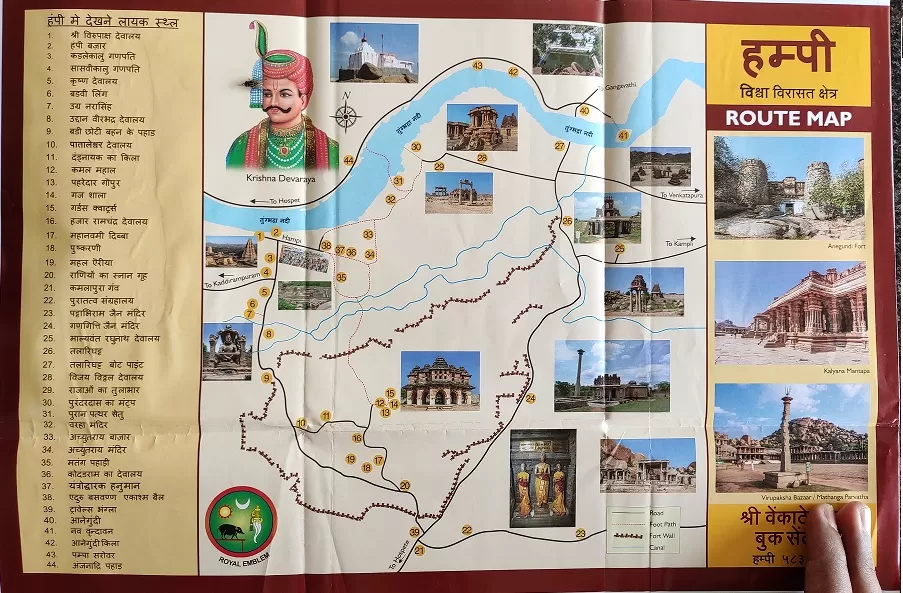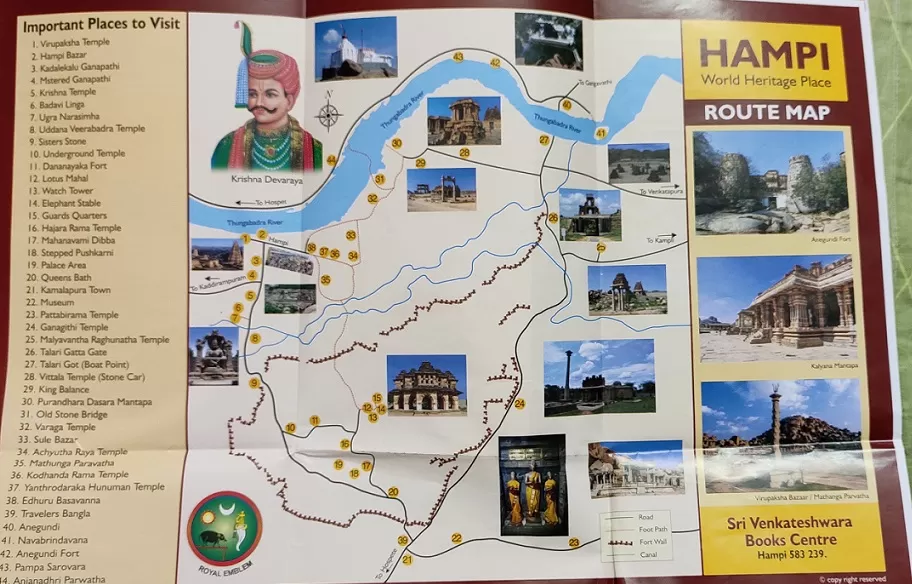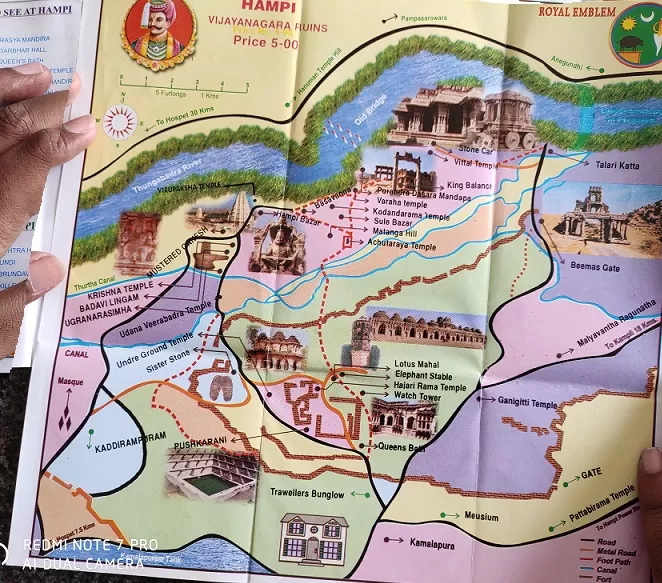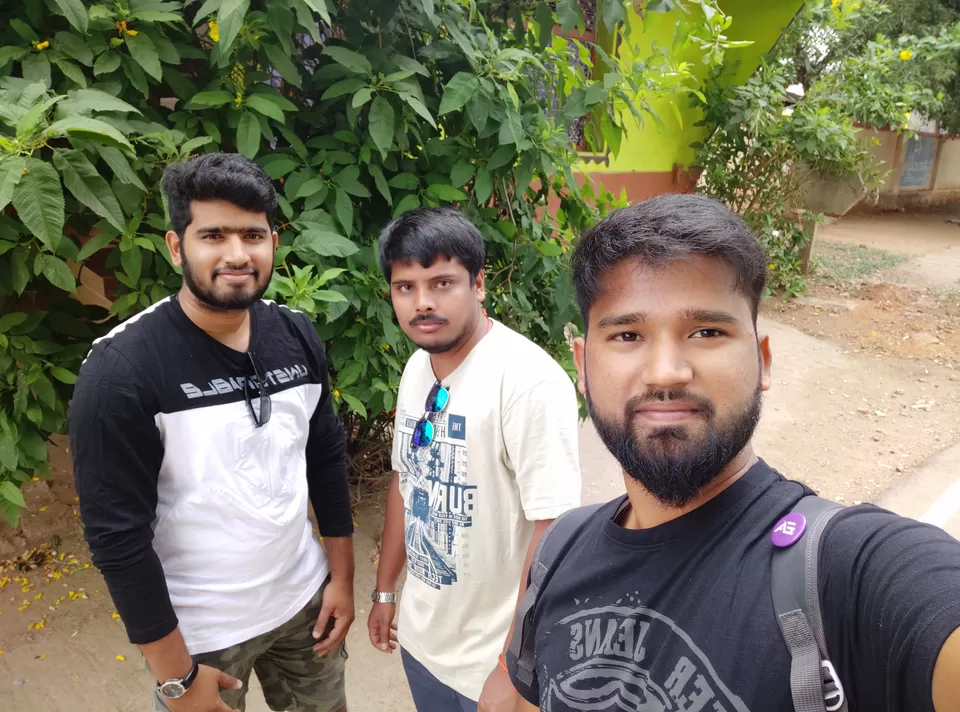 Auto Charges:2300/- for 3 persons two days.
From here on Auto guy took the responsibility of taking us to all the locations. We have asked him to take the locations mentioned in the book and he agreed to take us most of the placed in the map. Our first day will be spent in Hampi and next day we will be going to visit the places on other side of Tungabadhra River. We agreed to this and started turning the pages we visit and read the importance of each site. We have also asked him to take to sited which will close early and he agreed to take us.
Kadalekalu Ganapathi
Here you can see 18 feet long Ganesh monolithic sculpture. From here we can see virupaksha temple. In front of this there is Ragunatha mandapa.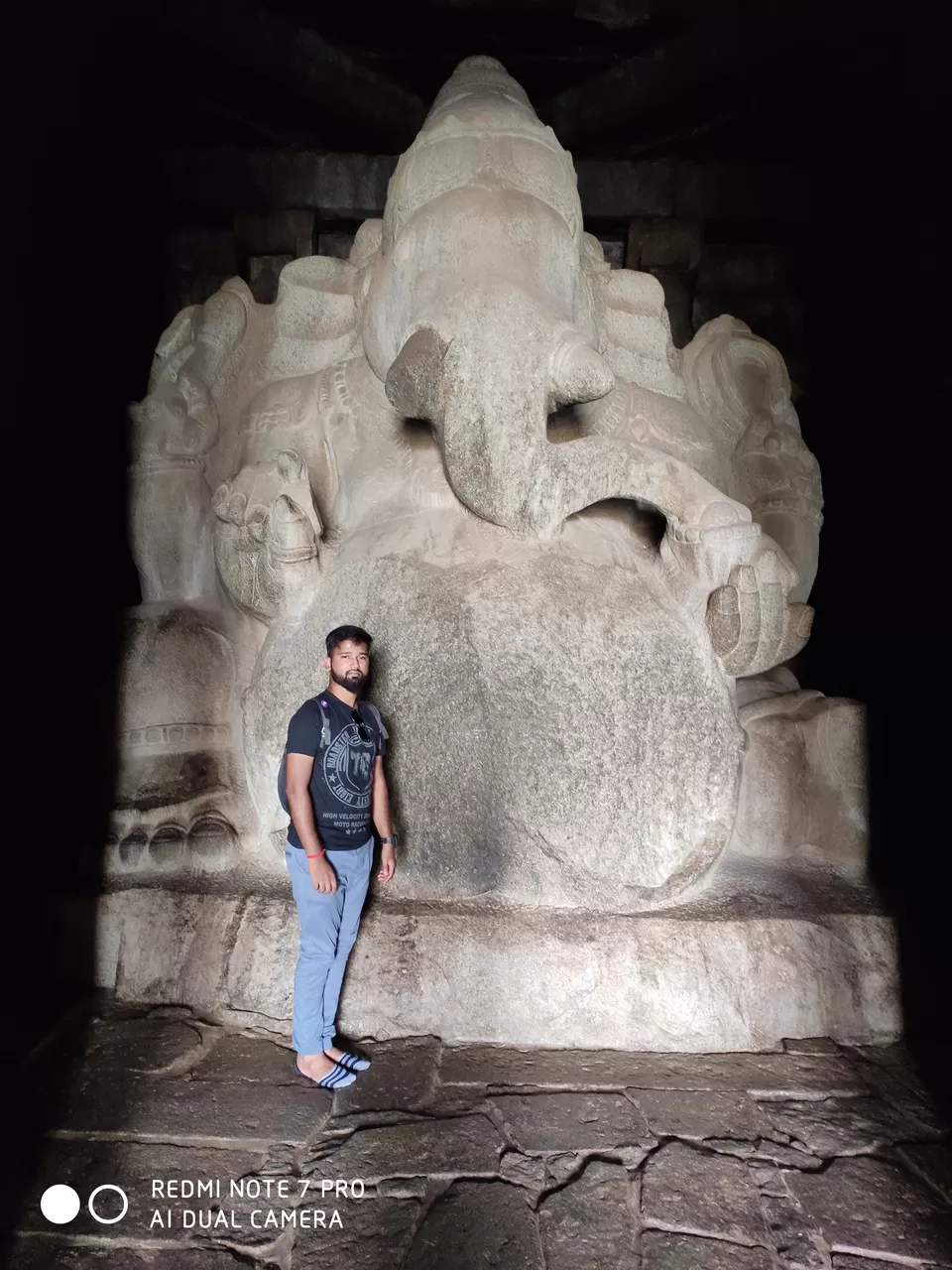 We can enter into this Garba gudi(place where the sculpture is present) and capture photos.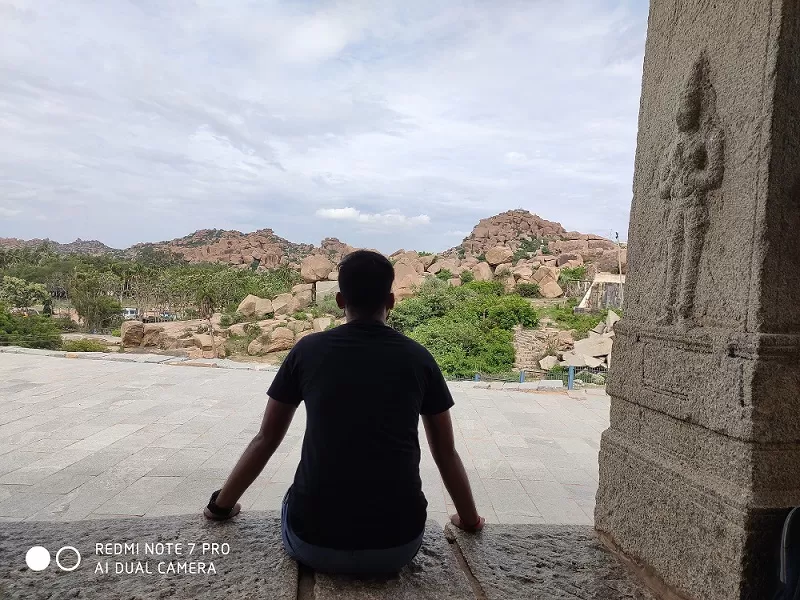 Krishna temple
There was Bala Krishna idol in this temple and this idol was brought by Sri krishna Devaraya on his way to hampi from udayagiri after winning against Gajapatiraya.
At present this idol is in museum of Madras.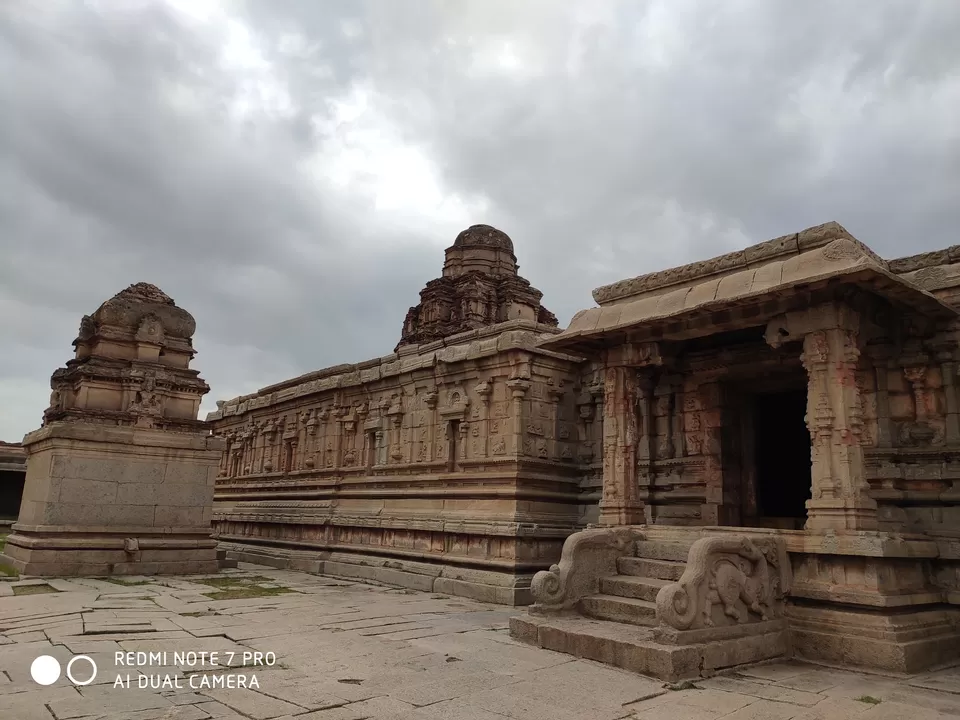 Badavilinga
We can see 12 feet black Stone linga here and Pooja is performed daily by priest. This is biggest of lingas in Hampi. Beside this temple Ugra Narasimha 22 feet long idol is present.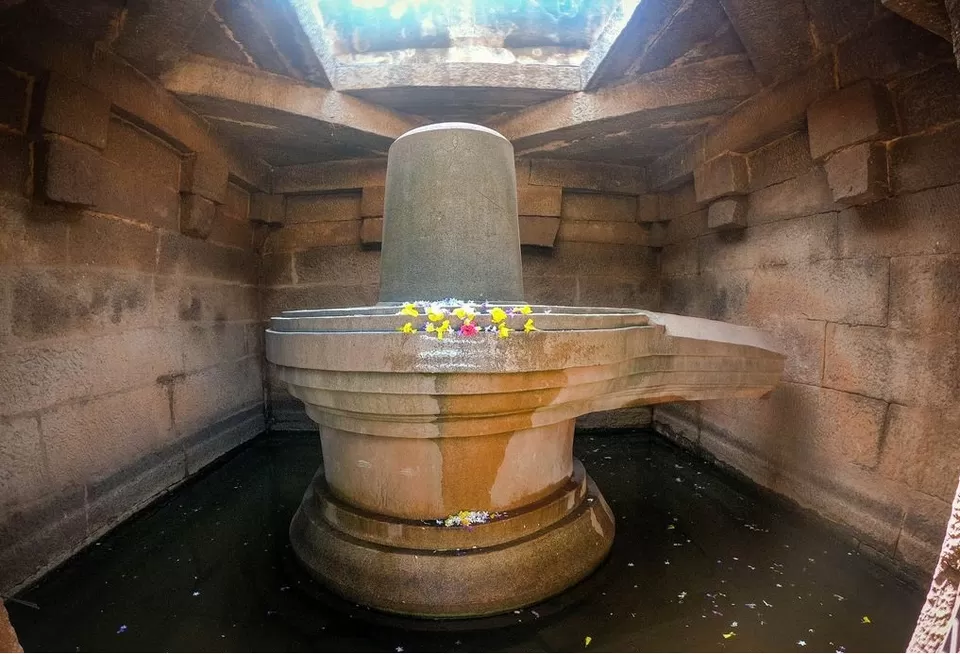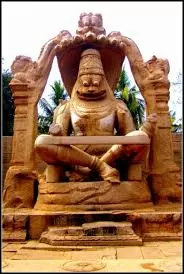 It is said that Invaders broke the idol but later on UNESCO has tried to restore the idol although they haven't restored matha on his lap and serpent, but we can see the broken stone marks. There was no horizontal strip earlier but to restore status UNESCO has added it to make it stable.
Akka Thangiyara gundu
Huge rocks attached to each other with small Gap in between. I don't exactly remember the names of two mountains but there is story that two sisters who visited this place and one among them said it would have been better to be at home instead of coming to witness these ruins. In no time whey were tuned into stones.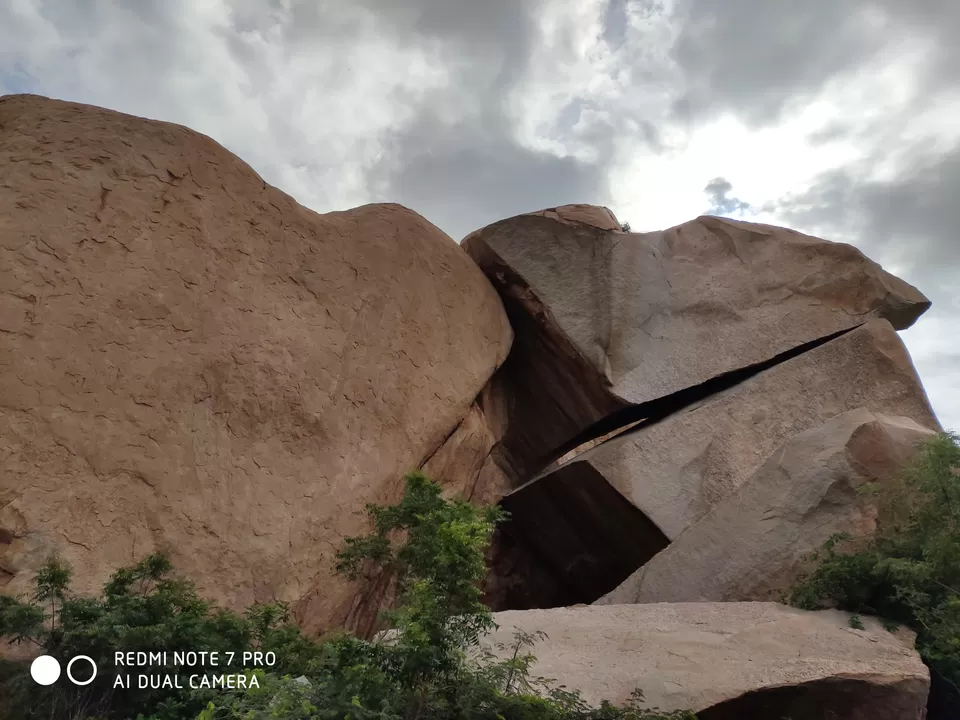 Queen's Bath
It has pond in the middle of the building. Water from canal will reach the pond.This place is also restored by UNESCO.
Anegundi palace
This place on the bank of Tungabadra river. From here we can catch beautiful river view and also rock around.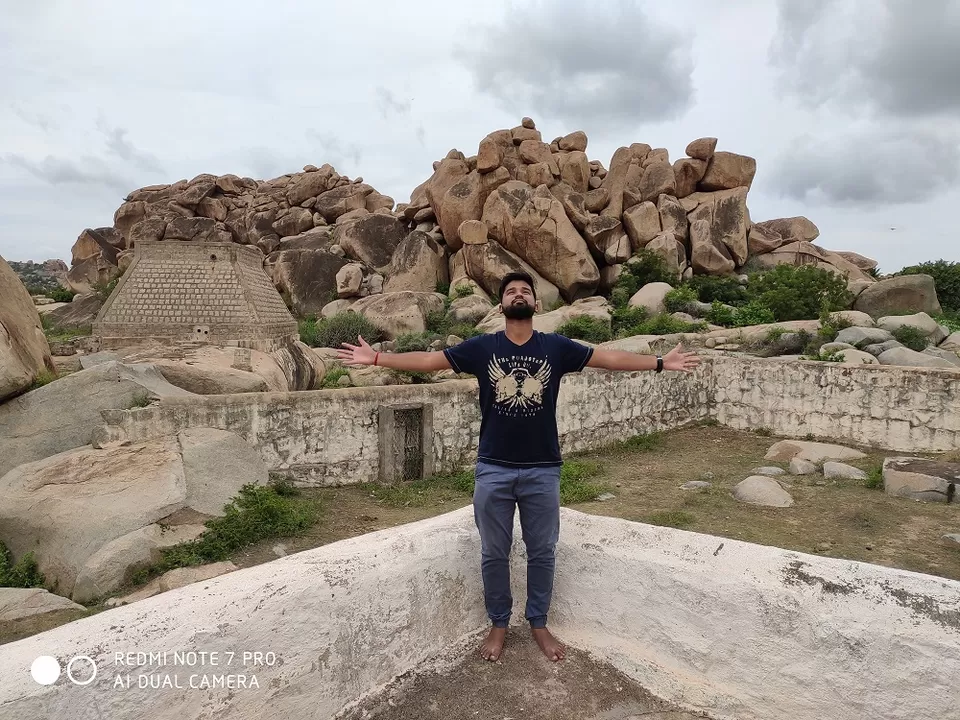 After visiting this places we were back to out room and ordered a Veg biryani. Had a sound sleep.
Day 2
Next Day morning we were ready by 8:30 Sharp and asked placed all our luggage on the auto Carrier. We have asked Auto driver to takes us to good hotel for breakfast. All varieties are available in the hotels and there is Hampi special breakfast or dish available. Also the food was good.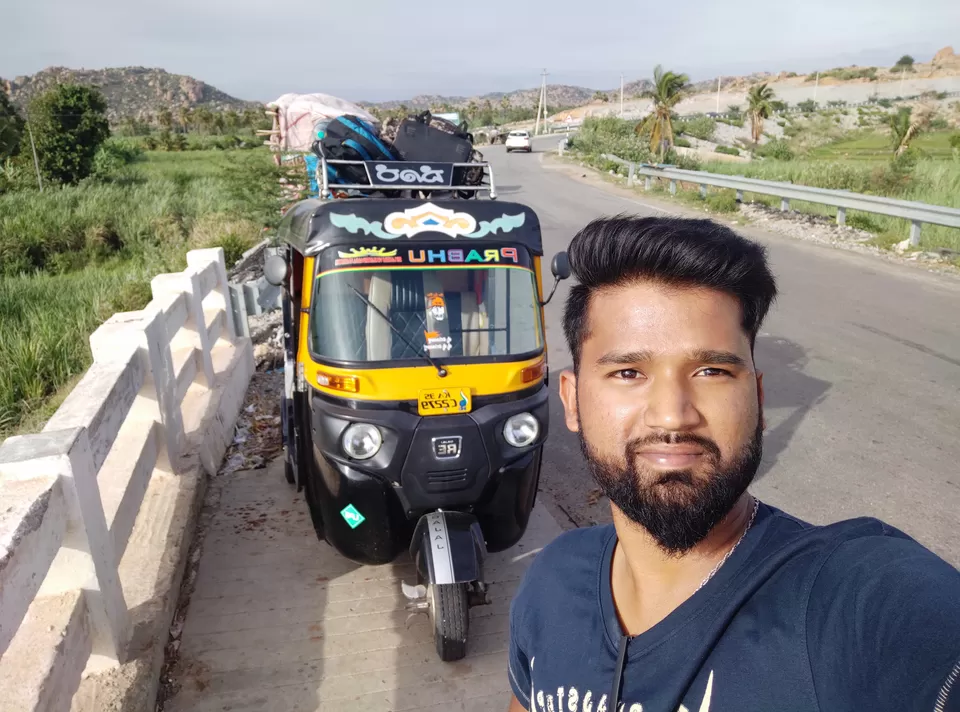 Virupaksha temple
We can reach this place by bus. This tower like structure is visible from distance and open space near this allow catch the 165 feet magnificent even closer.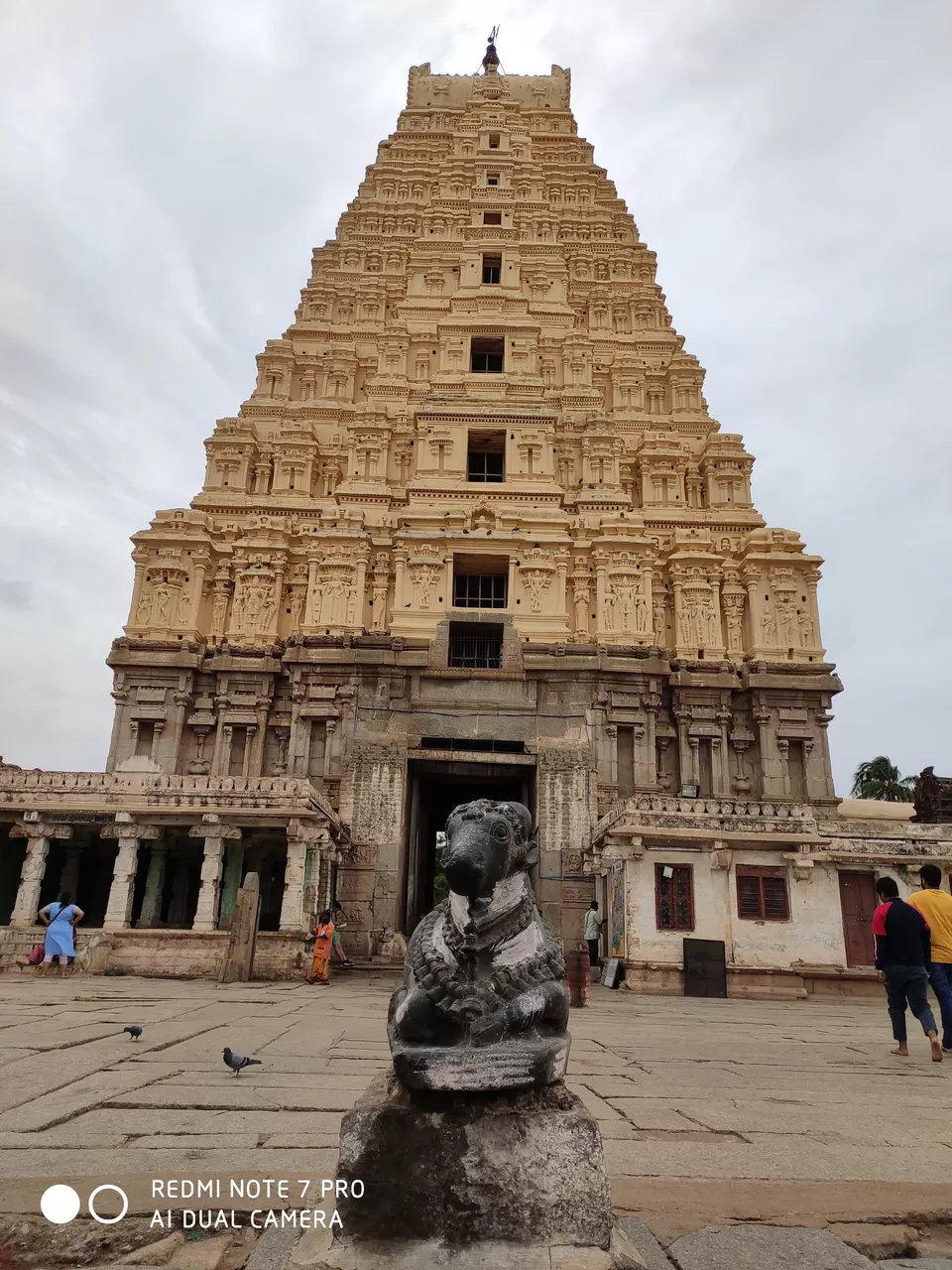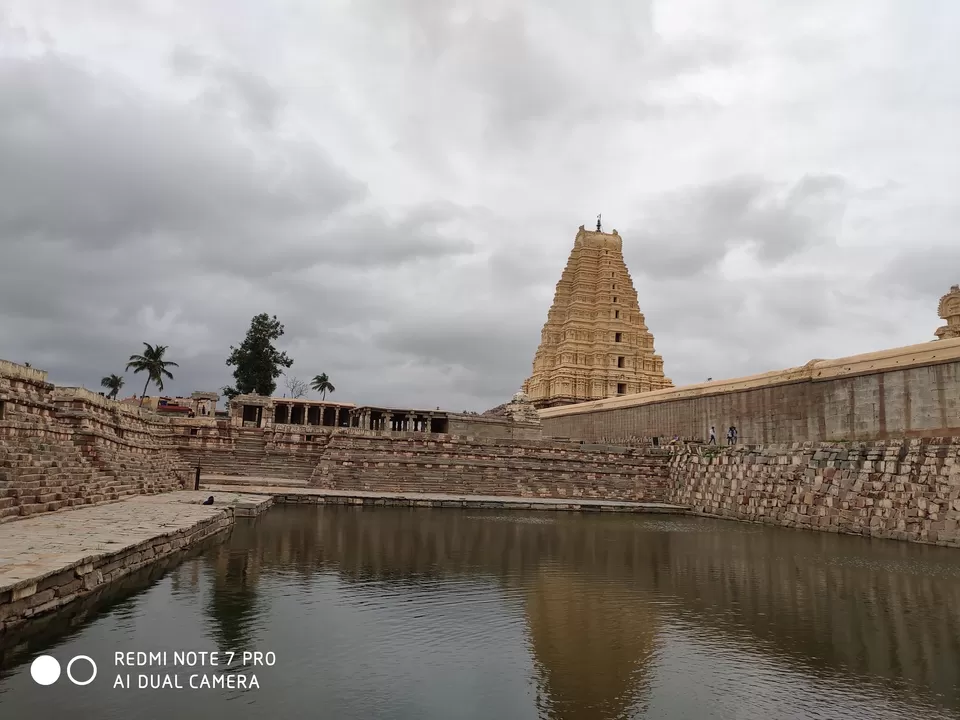 So don't miss to see the 3 face Nandhi idol just after passing the threshold. Find it on your left hand side. Varaha(pig) stamp in engraved on the stone on your right hand side. I was a stamp symbol used during Sri Krishnadevaraya. This temple has many Mandapas and are constructed during other Kings period. Sri Krishnadevaraya is one among them.
We have Pushkarni here too.
Take the help of guide to know the history of this place.
Lotus Mahal
Wonder Mahal resembles lotus like structure. It was said that important meeting were conducted in this Mahal and temperature under is cool as there is a water flowing in the top floor.
We can capture wonderful pics here and it is one of great place to visit in Hampi.
Ticket Charges: Rs: 50/- per head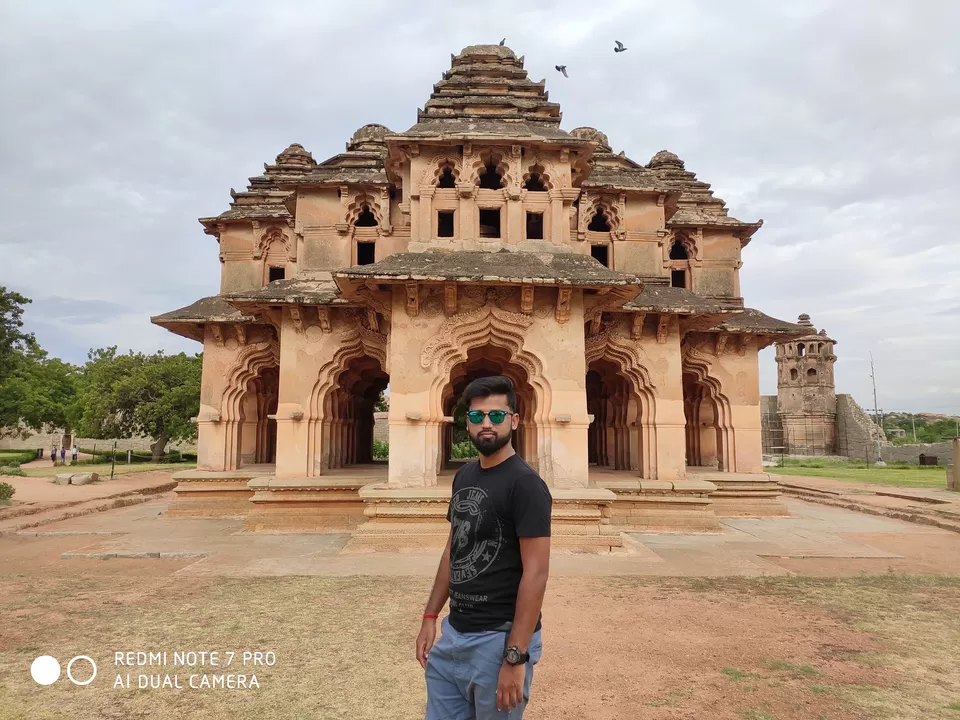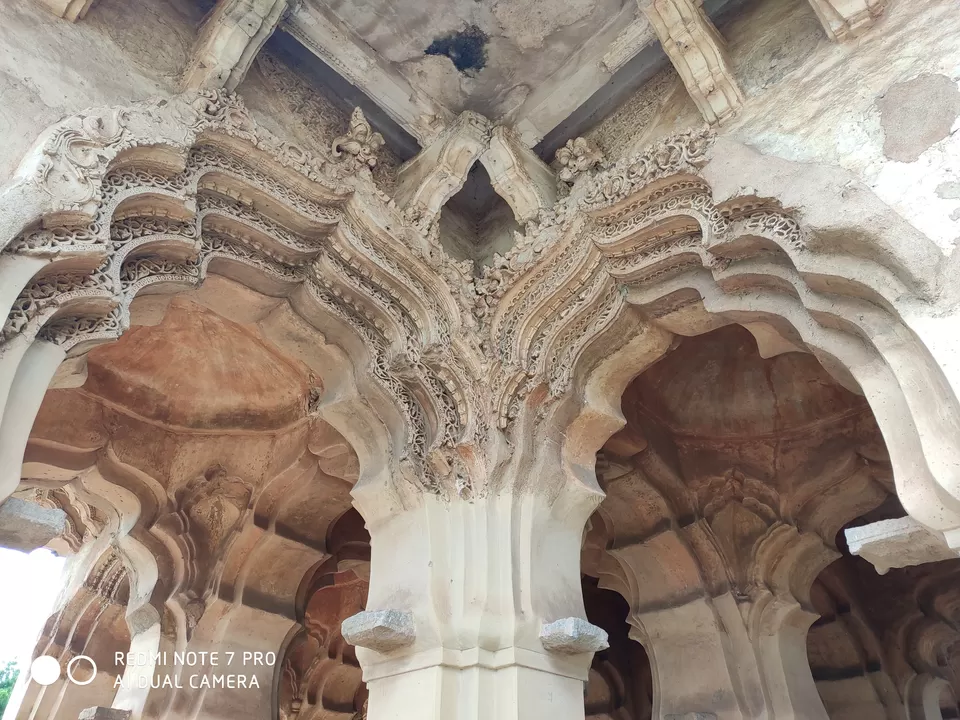 Elephant stable
There is entrance from tower to reach this stable and open space in front of this stable is nearly maintained and made this site eye catching.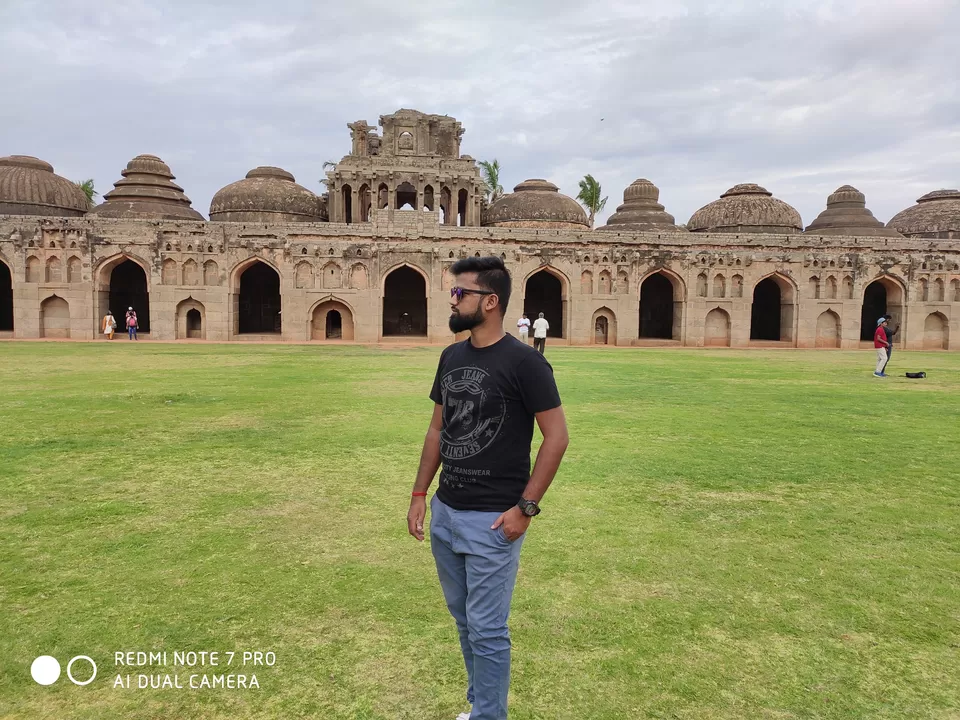 Mahanavami Dibba
Employee a guide here and they will make you to see, touch and feel the important of some engravings on rocks. Ruins here has prominence and has a story behind each structure.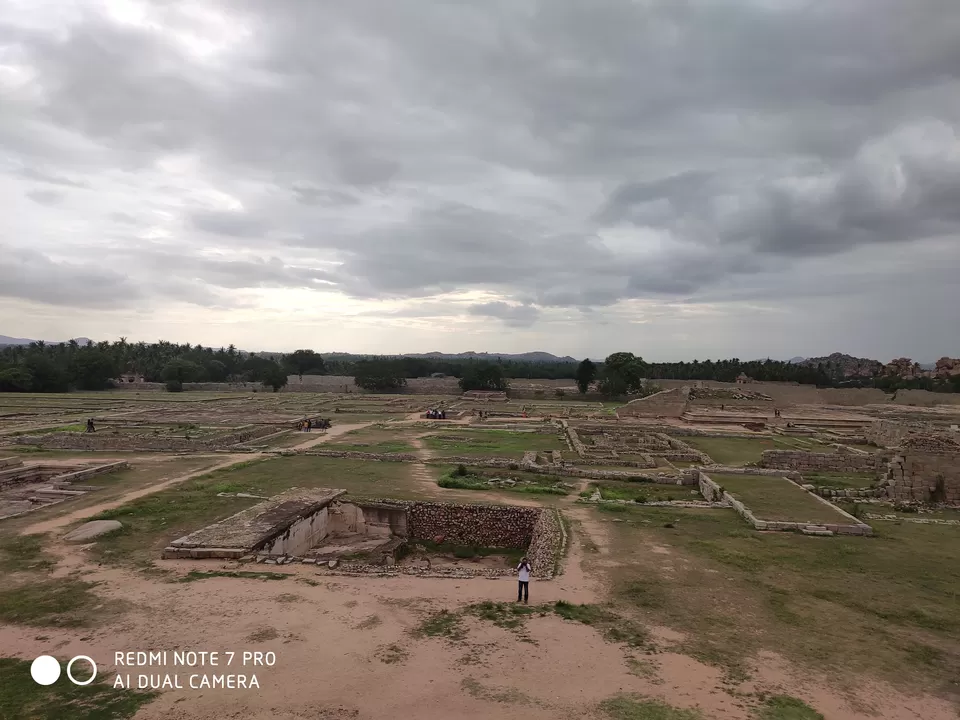 Though some structure in front of this dibba are demolished, we can know about these by local guide.
Pushkarni
For every temple there will be water storage pond and this pond is beautiful seen from all corners.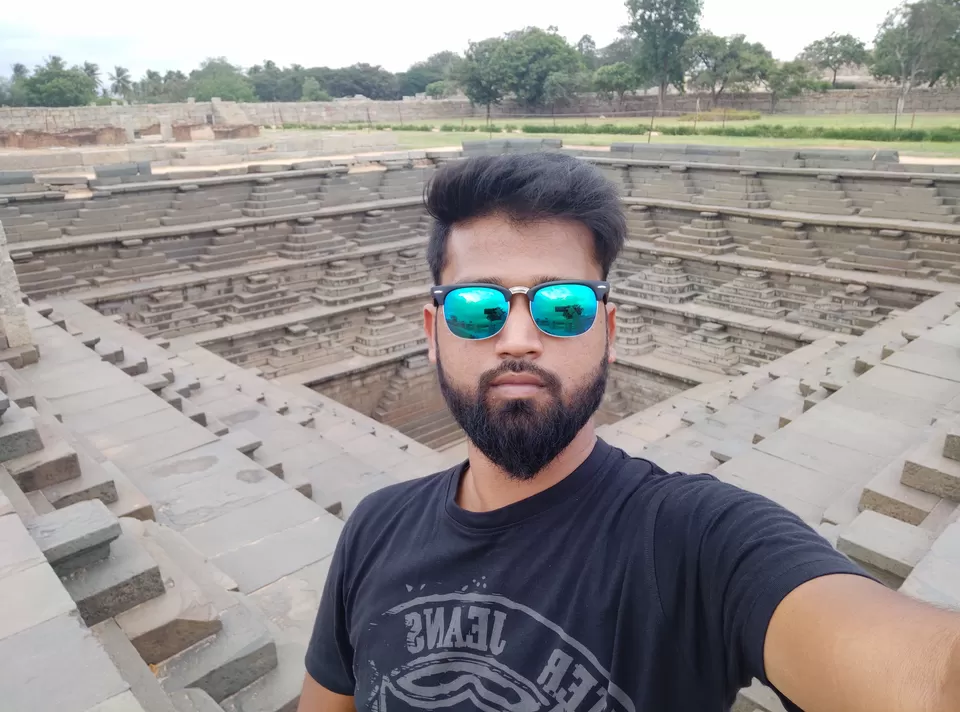 Vittala temple
Much awaited stone chariot is here. We can see same chariot on new Rs 50 note. Though the place ruined we can see wonderful elevation and musical Pillars. Each Pillar sound differently and musicians used these pillars to create a sound.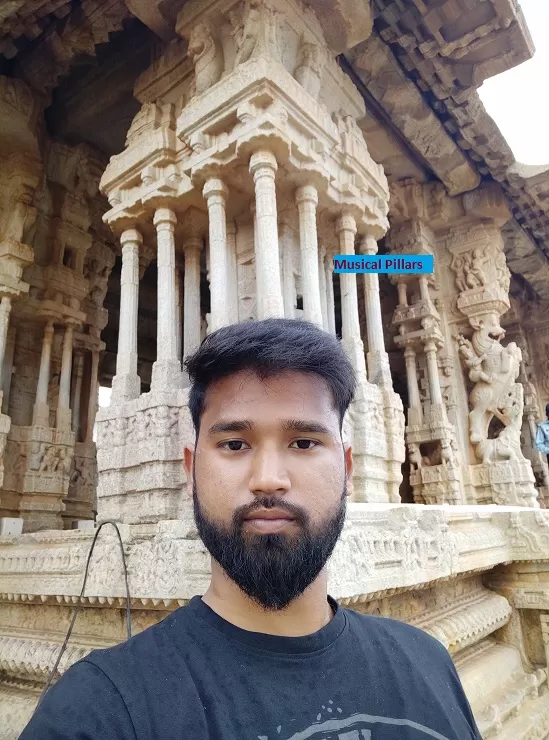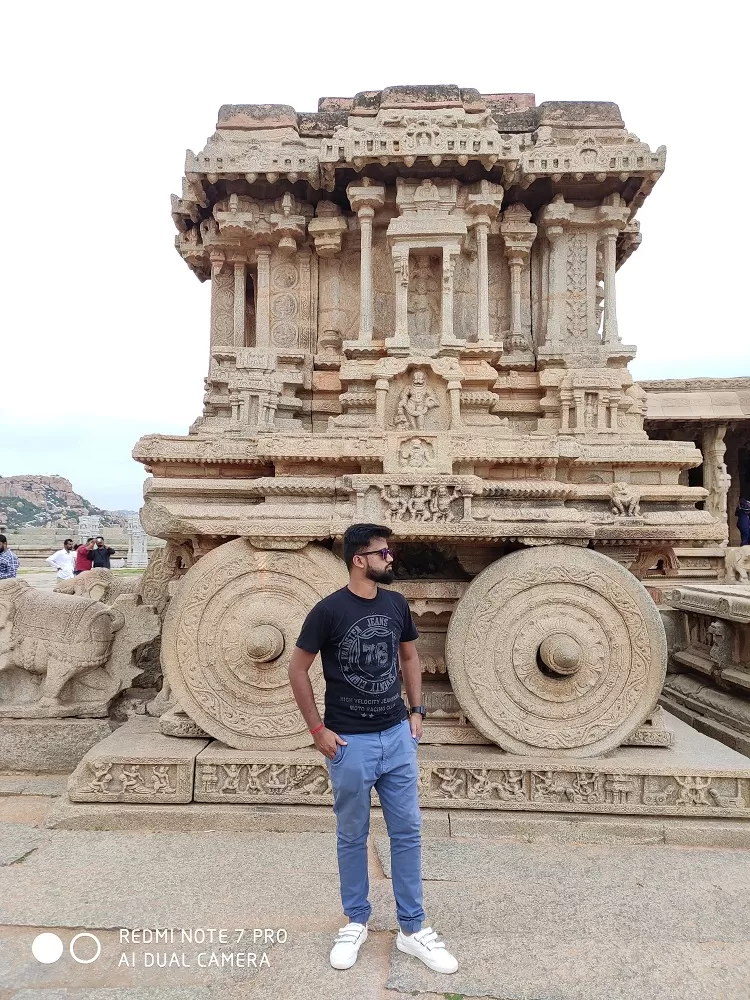 Temple is designed in such way that during rain the water drop pass through the holes and adds the beauty by water droplets. To reach this place they have employed electric vehicles and enjoy the open ride to this temple with your fellow mates
Museum
Including many idols this museum has a map of whole hampi in the middle.
Don't take a ticket if you have got one at lotus Mahal on same day.
Anjaneya Parwatha
It is believed to be birth place of Anjaneya the Monkey God. This is wonderful hill I visited, for every 50 step we could see a mind blowing aerial view of the region. Though it takes 40 minutes to reach the hill top, the view from this each corner of the hill will make us forget all our tension. No doubt everyone will enjoy this place. The views from this hill are spectacular and don't ignore this place. Hampi tour is incomplete if you miss this place.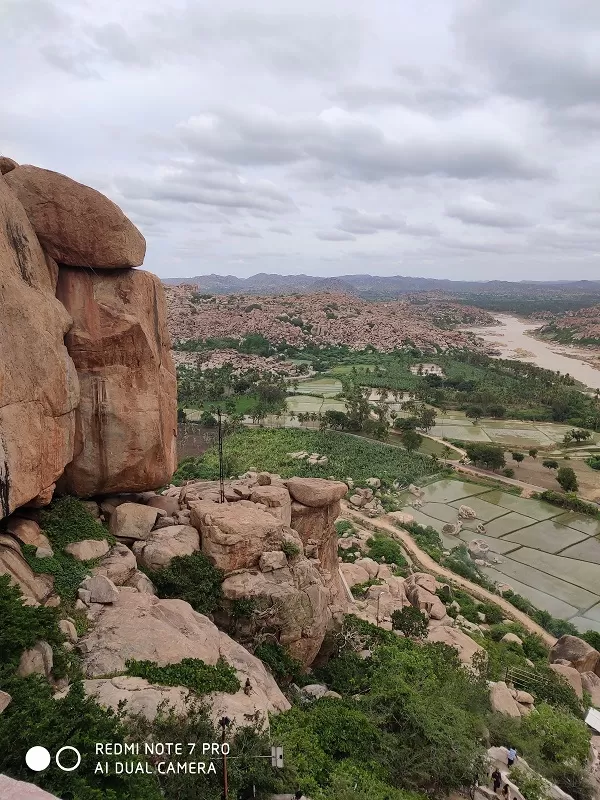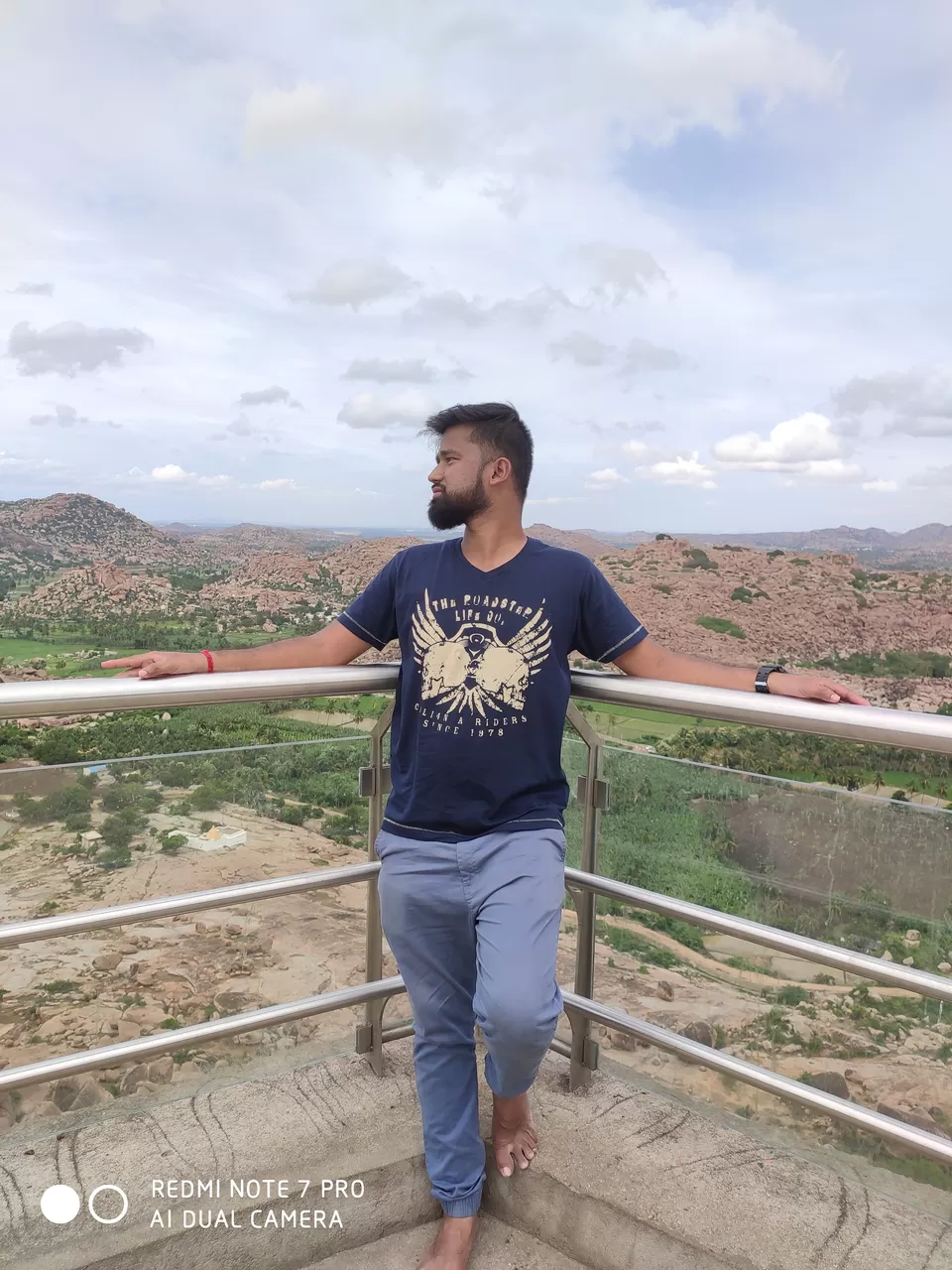 On our way to Railway station we also spent sometime on Tungabhadra river bridge and the surrounding was fully covered with coconut trees and farm field. Moving water sound and green surroundings feel the beauty of the nature. Move around capture this wonderful nature.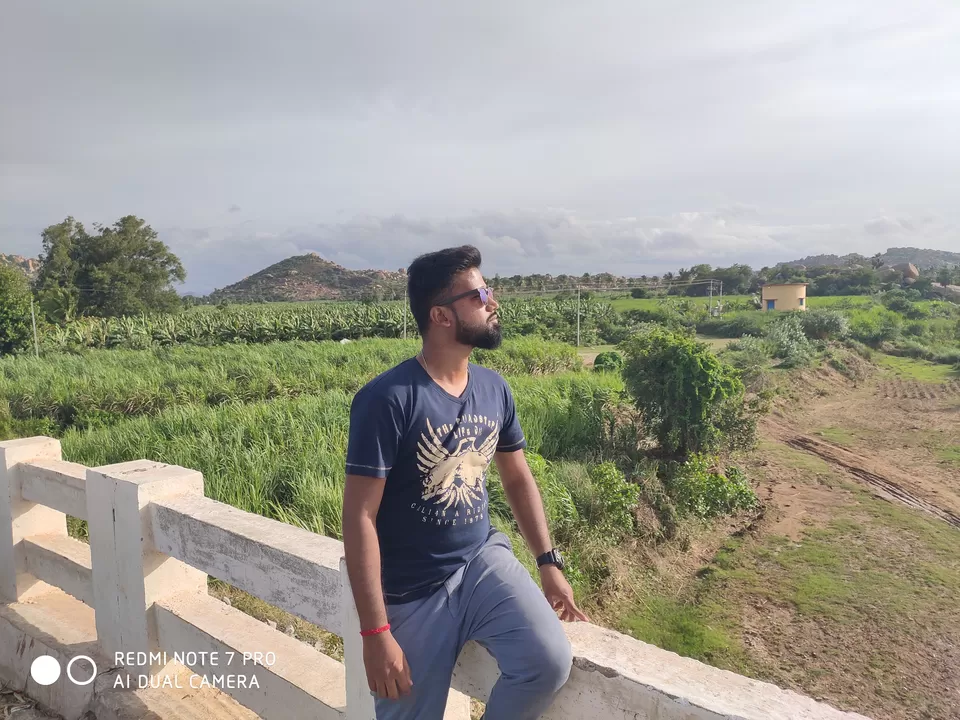 Later on we went to near by bus stop as suggested by auto driver and we boarded a bus to Hospet. As we heading towards the bus we had good time watching the river front and near by village.
Bus Charge: Rs:10/- per head
In front of bus stop there is Udupi hotel and here we can get lip smacking meals for dinner. They also accept the card.
After reaching the Railway station, Freshen up in waiting room and no need to pay here. Washrooms are decent and wait till train arrives.
This was my experience and I hope you have got enough information to visit this location. Below are some of the suggestions
Suggestions:
1. Don't forget to get camera to capture this beautiful world heritage place.
2. Ticket purchased at lotus Mahal or museum is valid to visit for 1 day(need to visit these two places on same day)
3. Pack trekking shoe as there are some place where we need to trek to reach the site.
4. Don't hesitate to take help of guide to know the prominence of the place. You can bargain but sure they will justify the amount.
5. Take Enough Cash with you.