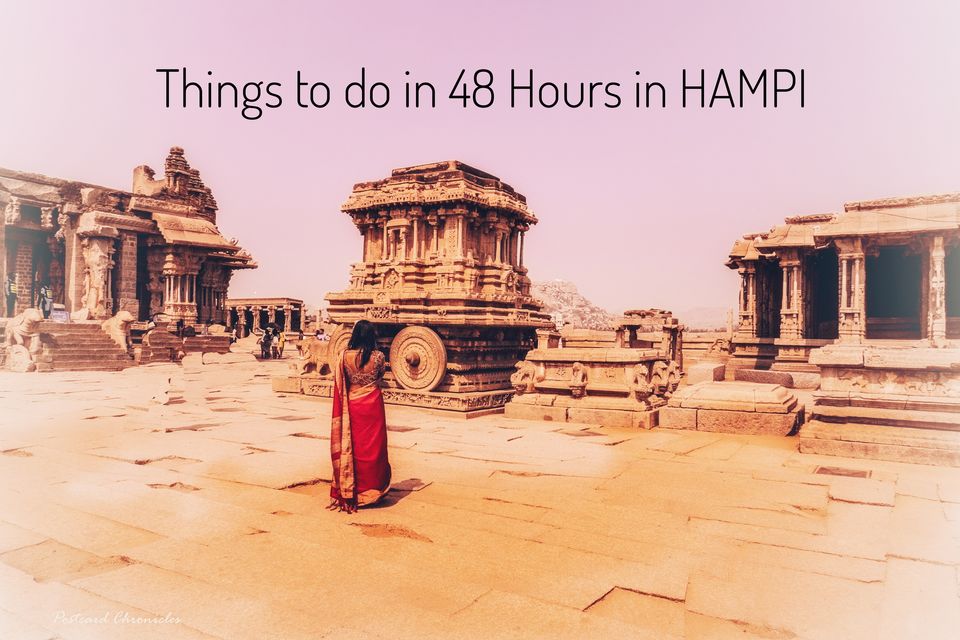 This post has taken a long time in coming. I had been wanting to visit Hampi for close to a year now and finally, I got an opportunity to visit this boulder town.
Hampi, the land of boulders has tonnes of things to do over a weekend. It is a unique destination which is a culmination of everything from a backpacker's haven to a pilgrim's delight. A treasure for geologists and a riddle for historians, this city has plenty of stories to tell and mysteries to unravel. None of the guidebooks can prep you for the strange beauty of this place. The only thing one needs to keep in mind is not to travel to this place on a long weekend or a national holiday as it can ruin the entire experience for you as the town gets super packed with budding photographers and tourists.
I landed in this place a day before the long weekend and enjoyed my stay with the locals. The next day being a national holiday followed by the weekend, the place was jammed with tourists. It was nothing like the silent town a day before. The prices also shoot star high during this period of time and you can't really bargain on anything. So plan your trip well ahead and accordingly so that you can have a pleasant stay and enjoy Hampi to its fullest.
From my experience in Hampi, I have compiled a list of things to do over a period 2 days.
Getting lost in the mystery of the ruins
As an ardent lover of history, I always make sure that I check the historical places in the city that I visit. Hampi being the capital of Vijayanagar Kingdom is one of the most sought places for all the history buffs. There was no way I would miss this one. Yesteryear's rich Kings built beautiful Dravidian temples and palaces in the city that won the hearts of all the travellers between 14 th - 16 th centuries and it continues to do till date.
This was a mighty empire before succumbing to the attack of 5 Deccan sultans. Due to massive destruction, Hampi lost its trading importance and eventually got lost in time. Now the ruins of this place is a world UNESCO site and have a significant weightage in Indian history and architecture. The ruins lie scattered over a landscape dominated by river Tungabhadra that leaves you spellbound. A walk around the ruins is sure to leave you awestruck!
Try bouldering in Hampi
I grew up watching Flintstones and am pretty damn sure Hampi will teleport anyone who sets their foot in the town to the sets of Flintstone's movie. It is a boulderer's haven. With its endless trails of boulder hills and right terrain, it has emerged as the country's hotspot for anyone with a love for the sport. While the more experienced ones can get bouldering and rock climbing equipment from one of the many stores and travel operators in the village, newbies can learn sports tactics with experts who often camp by the boulders. You would know the lure of those flat, looming boulders once you set eyes on them. This is a must-do in Hampi.
Live a hippie life on hampi's hippie island
This was my secret reason to visit Hampi. Renowned as the backpacker's adobe, it was no brainer that I wanted to stay in one of the cult huts in Hampi. The beauty of hippie side of Hampi is the super chill lifestyle that is deliciously slow with its long roads bordered with green paddy fields and palm trees. This small piece of land across the river gives you the opportunity to lead a carefree lifestyle. Almost all the travelers stay on this side of the river while the pilgrims and families prefer the historical side a.k.a the town area. Let's get one thing straight, this is not a place if you seek luxury. This is a place where you get to stay in simple huts with gorgeous views. I stayed in Gowri Guest House which had huts overlooking the lush green paddy fields. I couldn't recommend the place enough. The best thing about staying here was the early morning stroll among the lush green fields, the vistas were maddeningly magical and the feeling was close to meditating (okay, I don't meditate but you get that calmness and soul soothing peace) Most of these huts have a cute hammock in which one can rest and laze around till their heart's content.
Watch the stunning sunset at Anjaneya Hill
Hampi and stunning sunsets go hand in hand, especially the one seen from Anjaneya Hill. This place is not technically in Hampi but in a nearby village called Anegondi. The good news is that this hill is easily accessible from the hippie side of hampi. I drove for 25kms outside hampi to reach the basement of the hill and then the upclimb is on foot. It's an easy-moderate climb of 500 odd steps to reach the top of the hill. Now don't ask me what to do once you reach the top, since this is the birthplace of Hanuman, there is a Hanuman temple at the top which one can pay a visit. Post that walk over to one of the huge boulders and take the prime seat to view the super gorgeous orangey sunset of the town.
Go cliff jumping in Hampi
Wait, what! Cliff jumping in Hampi? This was my reaction when I first heard about it. While I drove across hippie island, I noticed enough water bodies rivers, lakes, reservoirs and the humongous boulders make it an interesting add-on to jump off the cliff into the water. If you're looking to try this out, there is a cliff jumping point at Sanapur lake from where anyone interested could take the plunge. I also noticed sign boards saying there are crocodiles at the lake, but upon enquiring the locals, they said they have never seen one in Hampi and the signboards are kept to shoo people from partying and spoiling the place.
PS: People adding this to their bucket list also remember that this is at one's own risk. Please make sure to talk to a couple of locals before you do this and also NEVER EVER throw the trash in this area.
Back to basics: Ride a Moped
I remember watching moped ads on TV when I was 5 yrs old. People in 80's rode mopeds to commute in the city. Over the years, everything around us got updated and mopeds were long gone. These days' when people use superbikes in the cities, Hampi is a place that takes you back in time. I lapped up at the thought of riding a moped, went ahead and used my ninja-style bargaining skills and rented a moped for 300 rupees. What a way to go back to basics, the pleasure and simplicity of a riding a moped around the boulders was nothing short of pure bliss.
Note: Petrol is available in bottles along the way. You don't have to know the routes, there is only one road, so zero chances of you getting lost.
A soul soothing coracle ride on the waters of Tungabadra is something one shouldn't miss. It is a unique experience and the ride on the river helps you to soak in the beauty of the river and also gives you mesmerizing view of the forest and boulder hills around. I took a ride to the nearest boulder hill, climbed up, carried my sketchbook along and enjoyed being a Picasso for a brief amount of time! (okay, am not as good as him, but a budding artist I can say)
Places to stay in Hippe Side of Hampi
I thoroughly enjoyed my stay at Gowri Guest House, which is a stone throw's away from Sanapur lake. One can book it from Makemytrip or Booking.com. The cheapest booking could be done using goibibo for this place. The rent is INR 800 per day for two during the week and INR 1000 per day for two people during the weekend. There are a bunch of guest houses closer to the river crossing and as per my friend's recommendation Mowgli Guest House is also good.
Overall I enjoyed my 48 hours stint in Hampi, the moped ride was the show stealer followed by the Vittala ruins and the carefree pace of life. If you have been thinking of solo travel for sometime, Hampi is your best bet, though I travelled to Rajasthan for my very first solo trip, I can see why most travellers choose Hampi as their choice to start their innings in solo travel. It's safe and easy as easy can get.
I have attached Hampi map to make things easier. If you're planning to visit Hampi and have doubts or questions, shoot a message, I will be happy to assist to make your trip a memorable one.