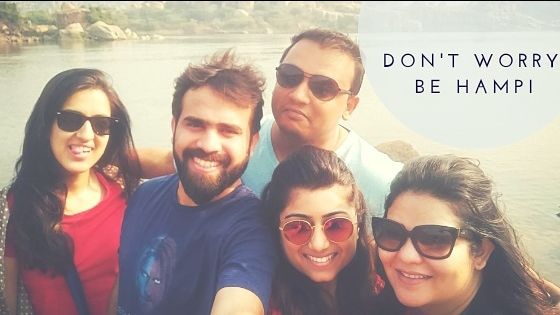 Let me first start with the pre-trip experience. I have a bad habit (which my friends think) of putting everything on social media. But I love sharing my experiences with people. There's a thin line between flaunting and sharing your experiences. One fine day when I was planning the itinerary, I uploaded one story on Instagram and on WhatsApp Status about next trip and got replies from friends asking where you are heading this time. I replied Hampi and the next question was What is Hampi? Where is Hampi? I was quite surprised to hear this question and the fact that not many of the people are aware about this place. Period. Hampi was on my wish list for past 2-3 years but maybe I was waiting for the right company to go on to this experience. And finally I found that company this time. My office Friends – Neha (NJ), Avani (AK), Mihir (Baba) and Ketki (KA)!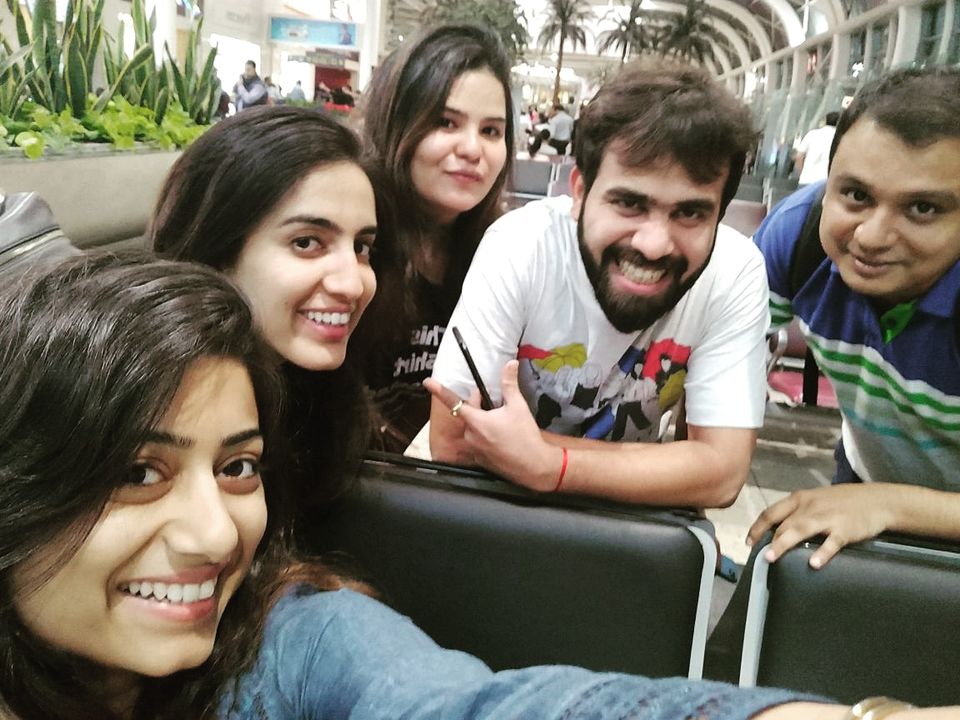 This was the fastest trip I have ever booked. We were out for one of our friend's farewell, sipping lemon mint cooler at Grandmama's Cafe and discussing about everyone's travel plans for the year 2018. Suddenly someone shouted, "Guys, let us all go on a trip." And everyone in split seconds replied, "Chalo, chalte hai!" Yes, that was quick. As Hampi was on my wish list, I quickly said let's go to Hampi, and everyone agreed upon it. Though AK and Baba had doubts over this place. In fact, when I was explaining them about Hampi they started imagining of "black and white pictures of an ancient kingdom, some ruins, South Indian temples and a UNESCO world heritage tag" which wasn't appealing enough to them. That is when comes your convincing power. I just told them "Trust me over this place". They replied, "Ok, Sure" and then we ended up booking the tickets, the next day and rest is history. It is quite unusual for office colleagues and especially team mates to go on a trip together. But we have that strong bond amongst ourselves which keeps us together! This trip was a life changing experience for all of us and we are still in the memories of Hampi and want to head back there, again.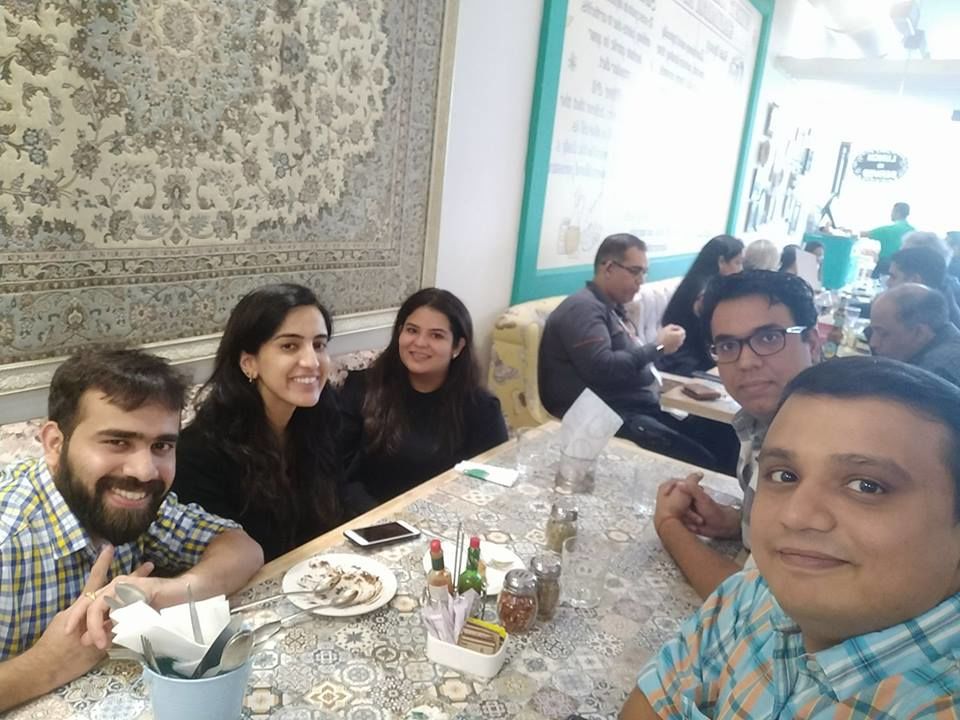 My friends keep asking me how many leaves do I get from work? How do you make so many trips? Let me clarify this again and give you a small tip. Make best friends with the long weekends and plan your vacations smartly. We made this trip over a Republic Day (26thJanuary) long weekend and did not take a single leave from work. Took a flight to Bangalore on 25th night (after office), booked Ola Outstation for 3 days and drove down to Hampi which was an overnight journey and came back on Monday morning directly to work. Flight till Bangalore and then Ola outstation turned out to be a bit expensive affair. I would rather suggest to take a luxury bus from Mumbai till Hospet which is again an overnight journey and takes around 14/15 hours which is quite manageable.
What is Hampi? (For those who are still wondering)
Hampi is a UNESCO World Heritage Site, located in the central part of the Indian state of Karnataka, a paradise nesting carefully in ruins, taking you back to a long forgotten time of the Hindu Vijayanagara Empire in the 14th-century. Commenting on its magnificence, Abdul Razaq, a Muslim envoy who visited Hampi in its glorious past, wrote, "Vijayanagara is such that the pupil of the eye has never seen a place like it". The name Hampi is the anglicized version of the Kannada name 'Hampe' which is mutilated form of the word Pampa. Pampa is another name of the Tungabhadra river (Where Hampi is situated) and Pampa Devi was the goddess of the river and the daughter of Lord Brahma.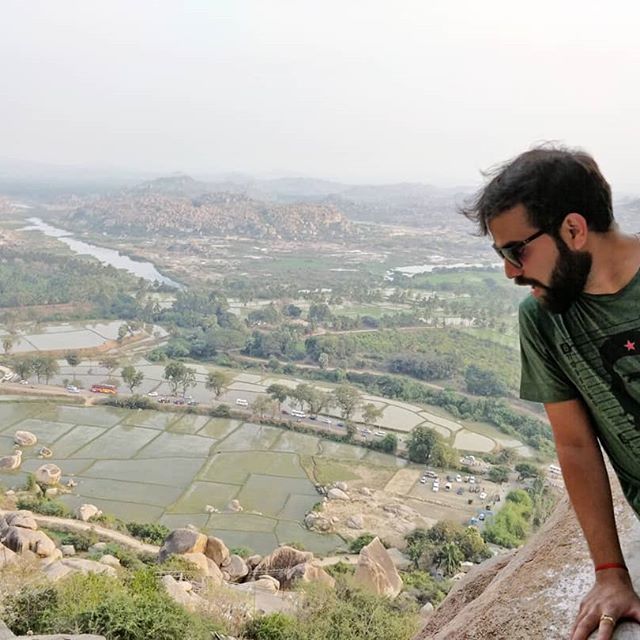 A fabled lost city packed with a high pile of boulders, a world of ruins, a pilgrim's delight, a historian's riddle, a photographer's perfect frame, a backpacker's refuge, an artist's muse, a foodie's heaven and a writer's inspiration, Hampi can be a million things all at once. You just have to be there to feel it, to see it, to experience it and behold, this beautiful little town is so bewitching that it will make you want to visit it all over again. (You may Google to know more on the history of Hampi)
Two Different Lifestyles!
Hampi has two sides. Completely opposite to each other in nature. One is Temple side/Hampi side/Hampi Bazar and other is Hippie side also known as Hippie Island which is situated in small Virupapura Gadde village which lets you discover your hippie soul.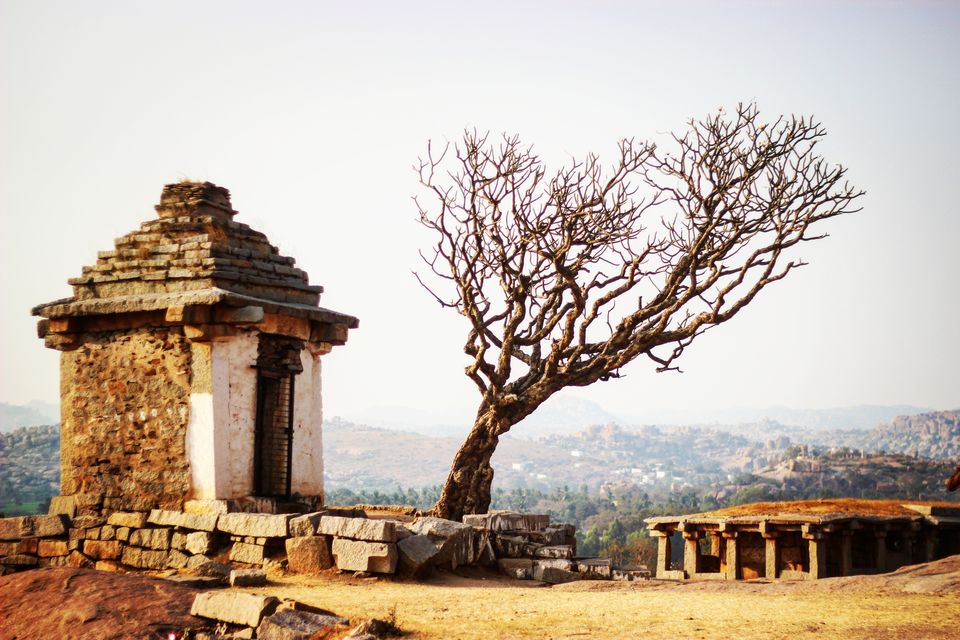 On Hampi Bazar side you will find many temples and beautiful ruins for which Hampi is known for whereas the other side is known for its laid-back lifestyle, lush green paddy fields, supercool cafes, bakeries and guest houses where you will find backpackers from across the world living like a nomad, listening to trance music and getting high on a lot of 'Stuff'.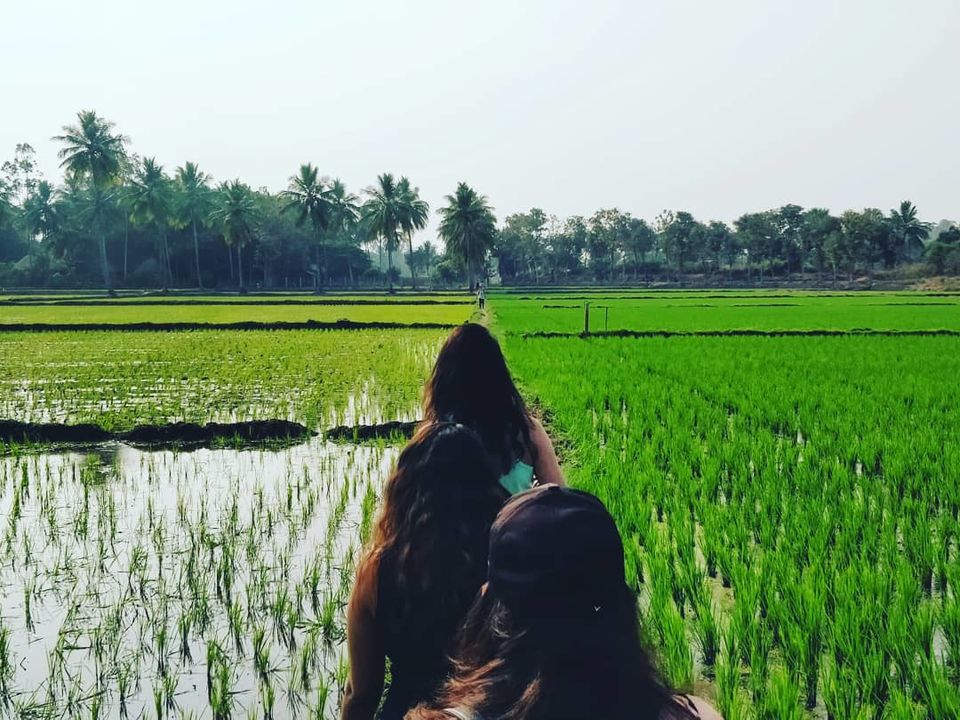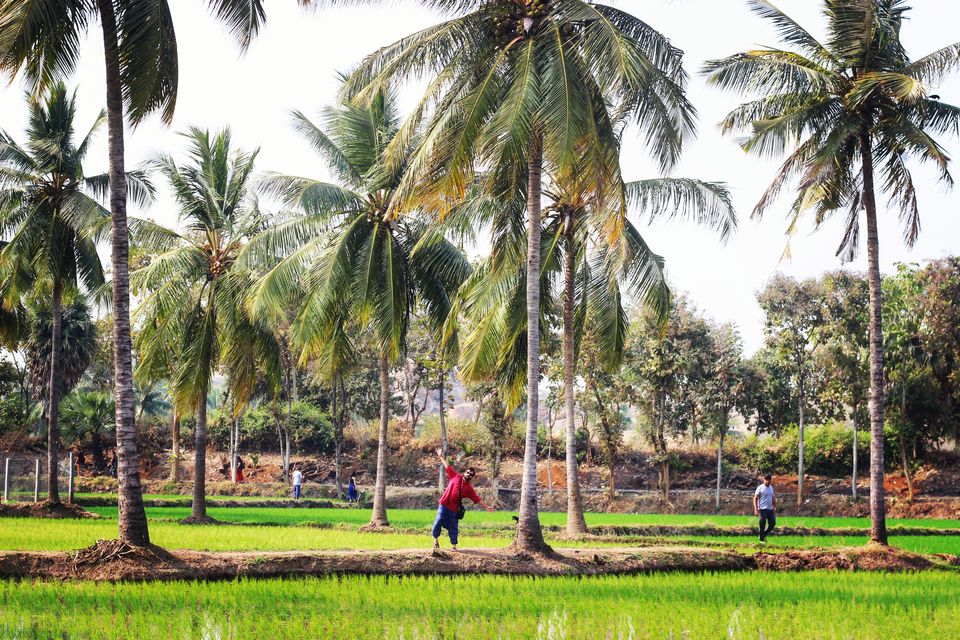 Getting there..
Going with Friends? Stay On the other side of the river i.e. Hippie Island.
Going with Family? Stay on the other side of the river. Yes, irrespective of the lifestyle on this side which our culturally restricted folks may not like, it's an experience. Trust me!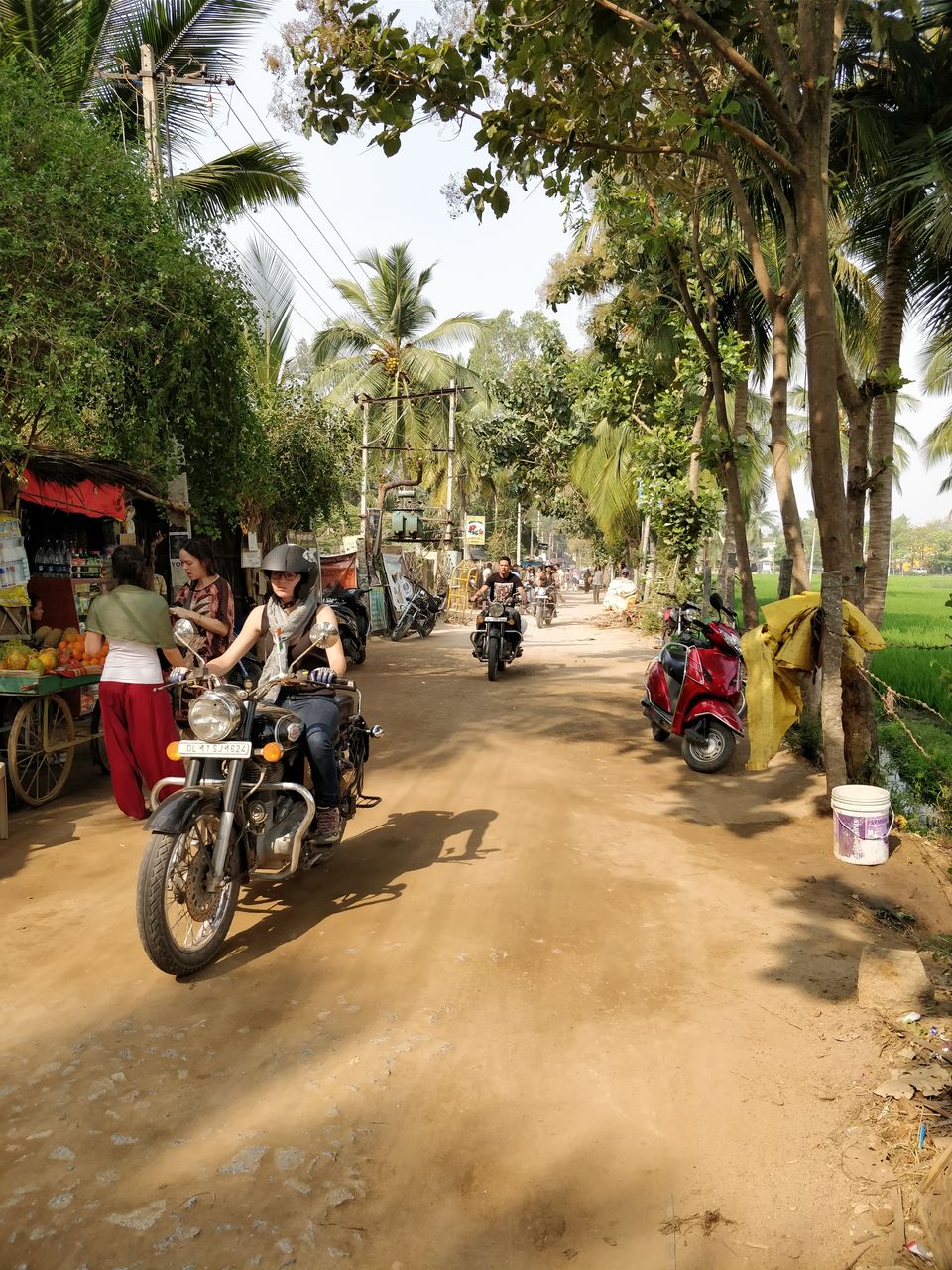 Places to Stay

Shanti Guest House, Gothami Guest House, Bobby One Love, Murali Guest House, Mowgli Guest House, Sunny Guest House, Chill out Café and Guest House, Laughing Buddha, Goan Corer, Hema Guest House etc. Don't look for the deals on hotel booking sites. Just call up the direct number (take it from Google) and book it directly. Yes, you can negotiate as well.
These are all very Hippie style guest houses with very basic facilities. You may get just one room, attached bathroom (depends upon package), hot water, one bed and mosquito net. Don't expect any luxury here. Live like hippies and you would remember this experience for lifetime. Also restaurants are attached with almost all these guest houses.
We stayed at Bobby 'One Love' Guesthouse. You may contact Raghu: 8970076805 for bookings. The experience was really satisfying and this is how it looked: (Pictures below)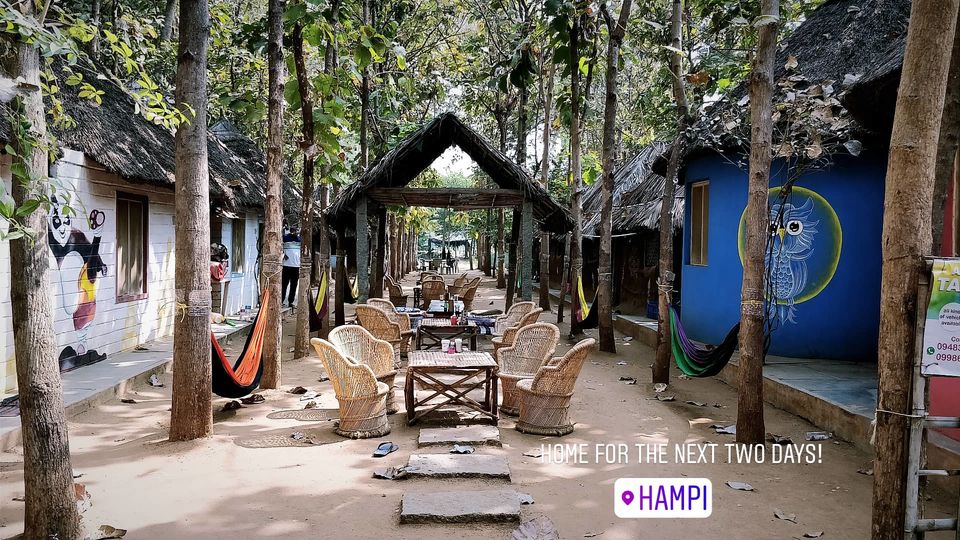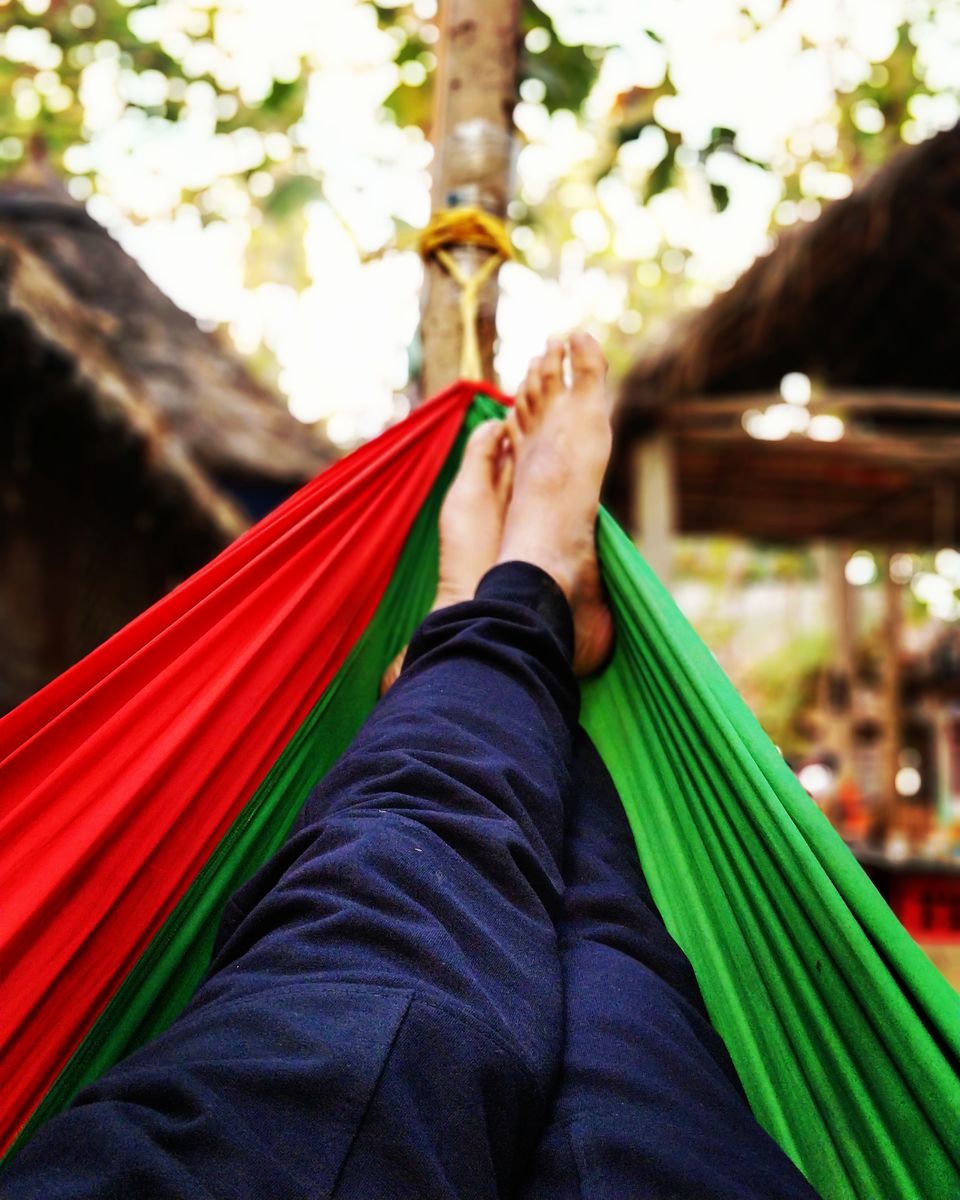 Places to eat
Hippie Island has pleasing variety of cuisines from all over the world right from authentic South Indian food to Spanish, Greek, Israeli, Italian, Singaporean, Indonesian, American & Mexican cuisine. Only this side serves non vegetarian food and cold beers (only form of alcohol you will find in Hampi).
Hema Café (German Bakery) preferably for breakfast (Multi Cuisine), Mango Tree restaurant for Lunch (They serve delicious Thali and their lemon mint cooler is to die for) and Laughing Buddha for Dinner.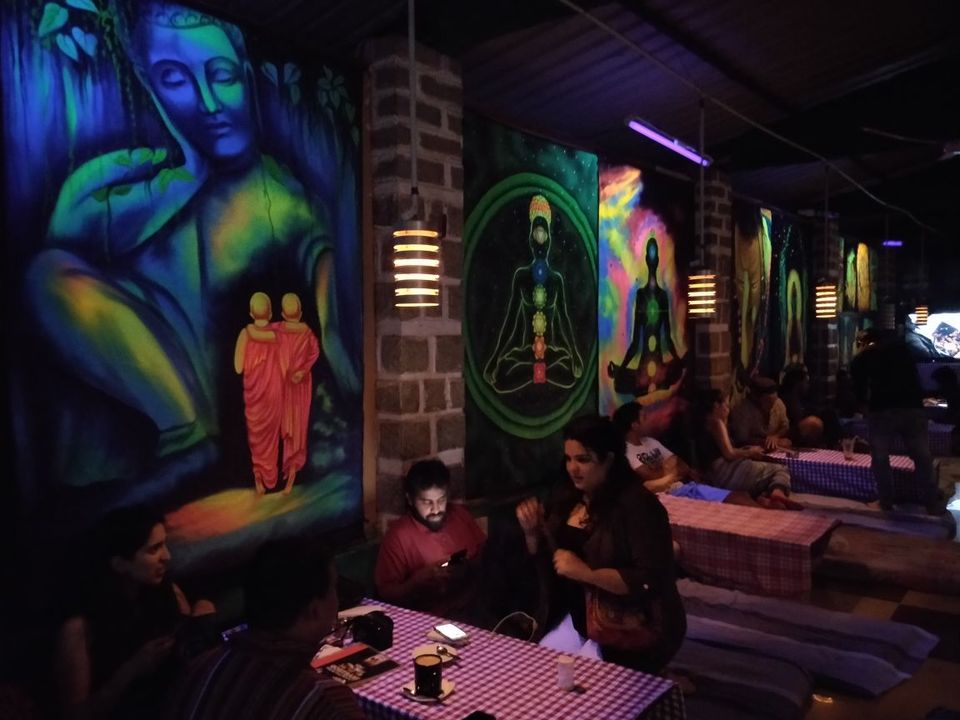 All the guesthouses mentioned above has attached restaurants and serves really good food. Also you may try other places like Funky Monkey, Suresh restaurant, Gopi, Moonlight etc.
Tip: Don't forget to try Nutella Banana Pan Cakes at one of these restaurants. Almost all these places serve it and they are mouthwatering. We had 20 pan cakes in two days.
Yes, so many cafe options to choose from. Would suggest to spend your evenings till late night at one of these places. Some of them have scenic river or paddy field facing view which will make your evenings really memorable.
What to Shop?
Shawls and cloths, traditional costumes, jewellery, stone figurines, antique coins, replica of Hampi ruins etc.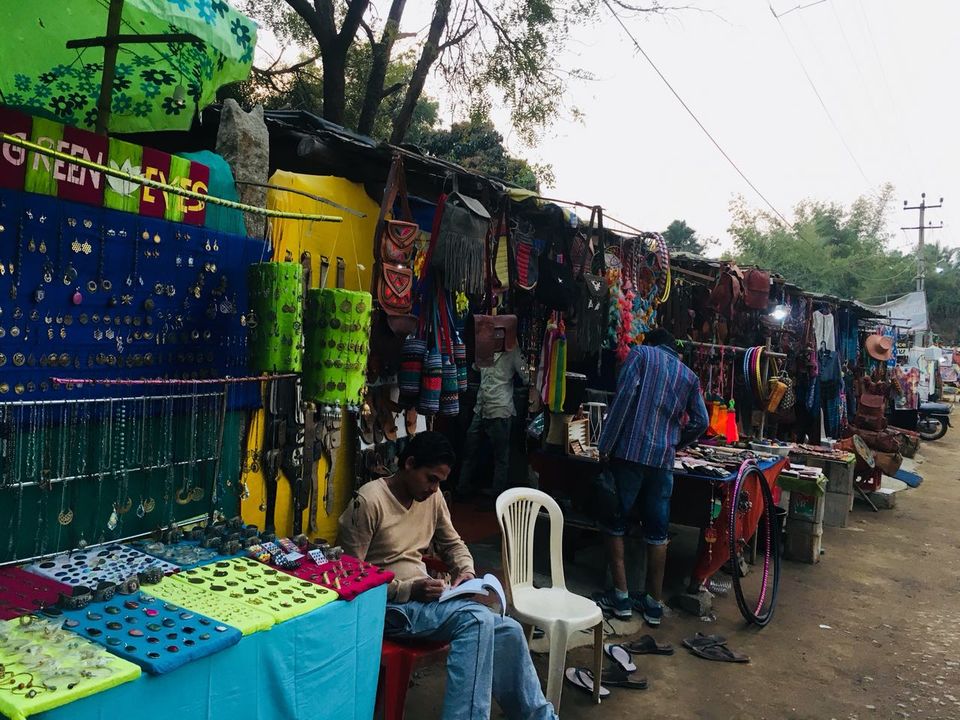 Best time to Visit?
October – March
How to reach Hampi!
1) Cost effective: Take a Volvo from Mumbai to Hospet (13 KM away from Hampi). It's an overnight journey. VRL Travels, SRS Travels, Meenakshi Travels etc. operate daily bus services (AC/Sleeper/Volvo) to Hospet from Mumbai. Ticket prices are between Rs. 1,000 to 1,500.
2) By Air: Take a flight from Mumbai till Hubli and then commute by local transport to Hampi. Hubli to Hampi distance is approx. 150 KM which you can cover by local transport. Another option is to take flight from Mumbai to Bangalore and reach Hampi by local bus or private cab.
3) By Train: There are only two direct trains from Mumbai to Hospet. The Ajmer - Bangalore Garib Nawaz Express and Jodhpur Bangalore Express. Both are weekly trains. As both these trains are at odd hours and on odd days, another option is to get to Hubli from Mumbai. There are a few southbound trains from Mumbai that pass via Hubli. From Hubli to Hospet you can opt for a rail or bus. Hubli to Hospet is about 4 hours journey and Hospet Railway Station is the nearest from Hampi located about 12 km away.
Let's get into the Itinerary...
Hampi is beautiful in its own way. Sometimes destructions create a masterpiece. Hampi is one of those. Hampi can be easily explored in 2/3 days and you do not need to take too many leaves from work.