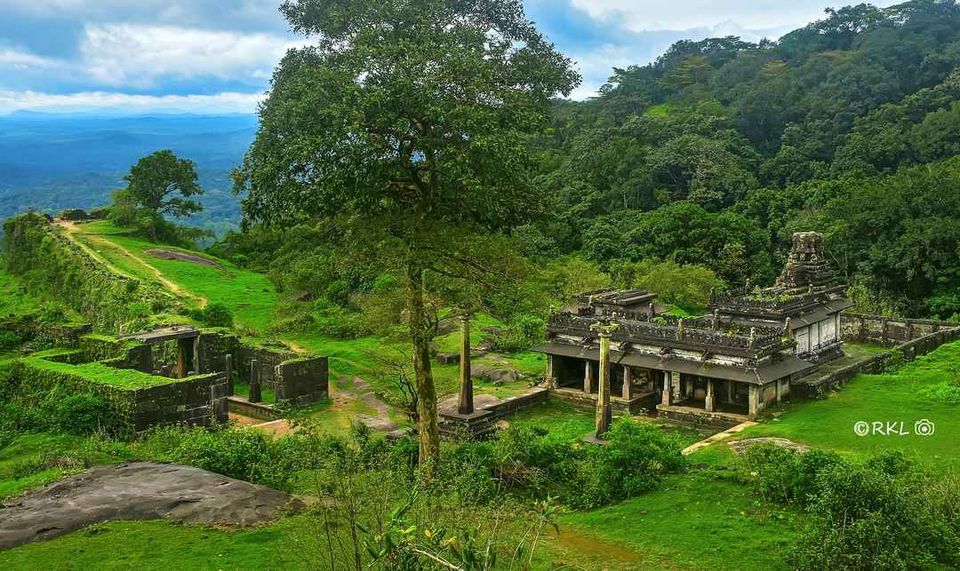 When I made my travel wish-list as part of my 2021 new year resolution, Kavaledurga was on top of my list! The words I wrote down were 'Hunt for the hidden Ruby in the Emerald of Sahyadris'. Yes, standing hard and strong from centuries long in the most delicate climates of western ghats, the fort is an exemplar of perfect structure. The fact that it is built deep inside the forests just amplifies its significance and beauty. And I really wanted to visit this real hidden gem of a place and I could finally do it last month.
So, as always, here is my short travel blog about this magnificent piece of art with all the required information and some personal experiences.😊
Location and modes to reach: As said, Kavaledurga is located deep inside the western ghats of Thirthahalli forest range in Shivamogga district. Driving through Shivamogga-Udupi route via Agumbe Ghat, you come across a small village by name Kaimara after Thirthahalli. Take a right turn and travel further for 15kms to reach Kavaledurga. Roads are in very good condition until base of the fort site and can be accessed by HMVs too.
If travelling using public transport, Kaimara is a request stop place and you would have to hire an autorickshaw from this point, which are not so frequent here.
From base site, it is a moderate trek for 2 hours to reach the fort through thick forests. Path is well paved, but it would still require good stamina to traverse through.
Best Time to Visit: Fort remains opened throughout the year. Having said that, beware of monsoon rains in western ghats which can only make your trek harder and to add-on you will be treated with leeches too.
September to January is the best suited time to visit the place when surrounding is rich with greenery and weather is very comforting.
My personal suggestion would be to plan your visit in such a way you reach the fort by morning hours or late evening hours. The beauty of Sahyadris is unmatched in these golden hours.
Fort entry timings is from morning 7:00 to evening 5:00.
How much time? As said, the fort is to be reached by a moderate trek of 2 hours. It would require around another one hour to go around the places inside fort and one more hour to get down to base site. So keep minimum of 4 hours of your time. Anyhow, this place is such a beauty that couple more hours here, and you still won't feel bored 😊
Enroute Kavaledurga: From parking spot, the main shrine of fort is nearly 5kms away. At first stretch of nearly 500mts, you get treated by lovely green farmlands owned by local farmers. There is a small shop selling snacks and water here. This is the only place you can get anything to eat. So pack your bags if needed.
Next stretch is a bit long and challenging one for 3kms. Trekking trail, routes through thick forests but is distinguishingly paved with stones and that would keep you on right track. Viewpoints are less along this way but you can enjoy the serenity of Sahyadri forest range.
Main stretch is when you enter the fort ground with beautiful pillars seeming like laid perfectly to welcome you to a magical world. Right at the entrance, to your left, you will find Kashi Vishwanatha temple built with grandeur architecture. Dear history and architecture lovers, stop and enjoy the best time of your trek here for enough time.
The topography of your trail changes so suddenly here that it would make you forget where you came from. Clear breath-taking view of nearly 270° of westernghat mountain ranges and many small villages around will leave you awestruck. Dear nature lovers, its your turn now. Soak yourselves in some of the best landscape views you can come across. You can climb the watch tower on a small hillock, right opposite to Vishwanatha temple to enjoy much better views.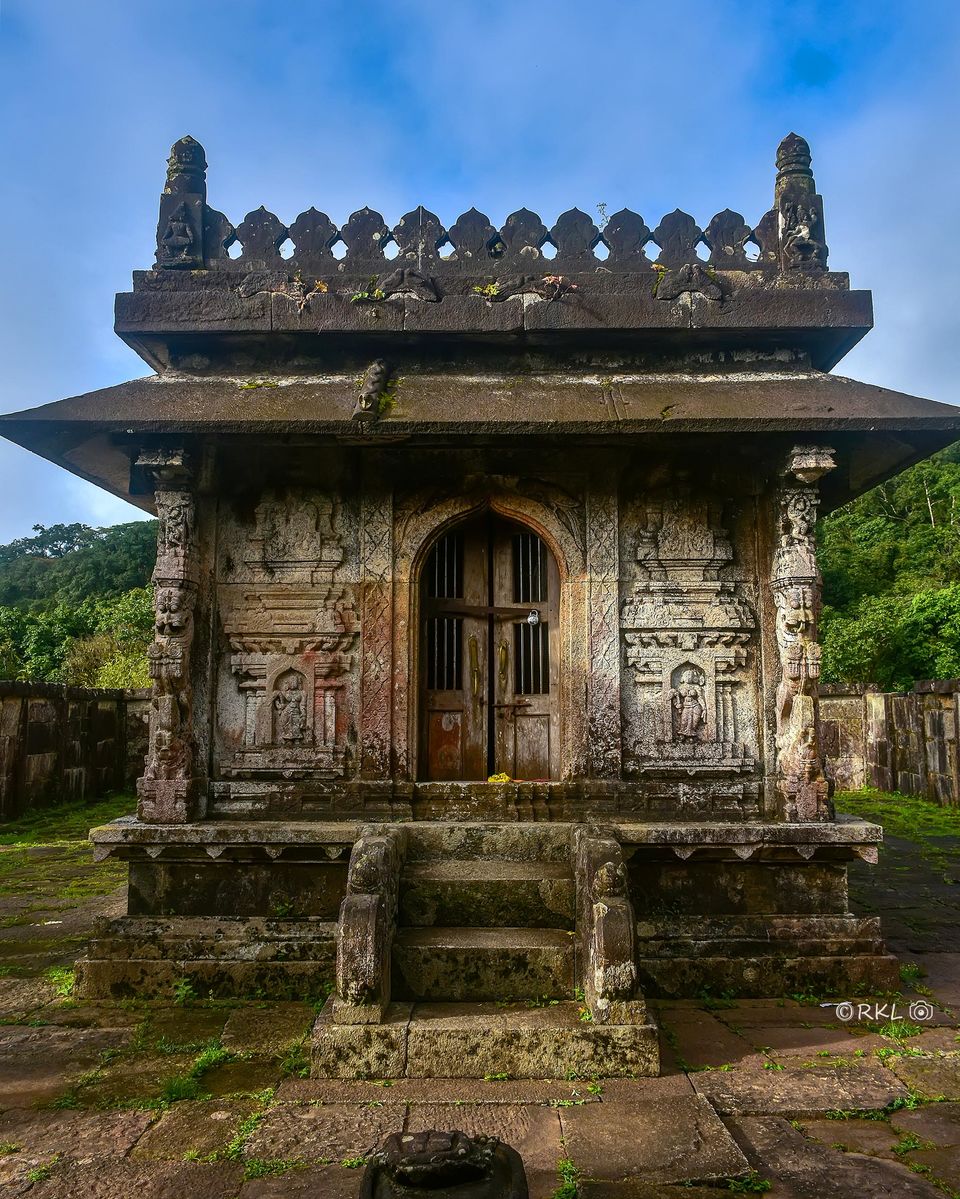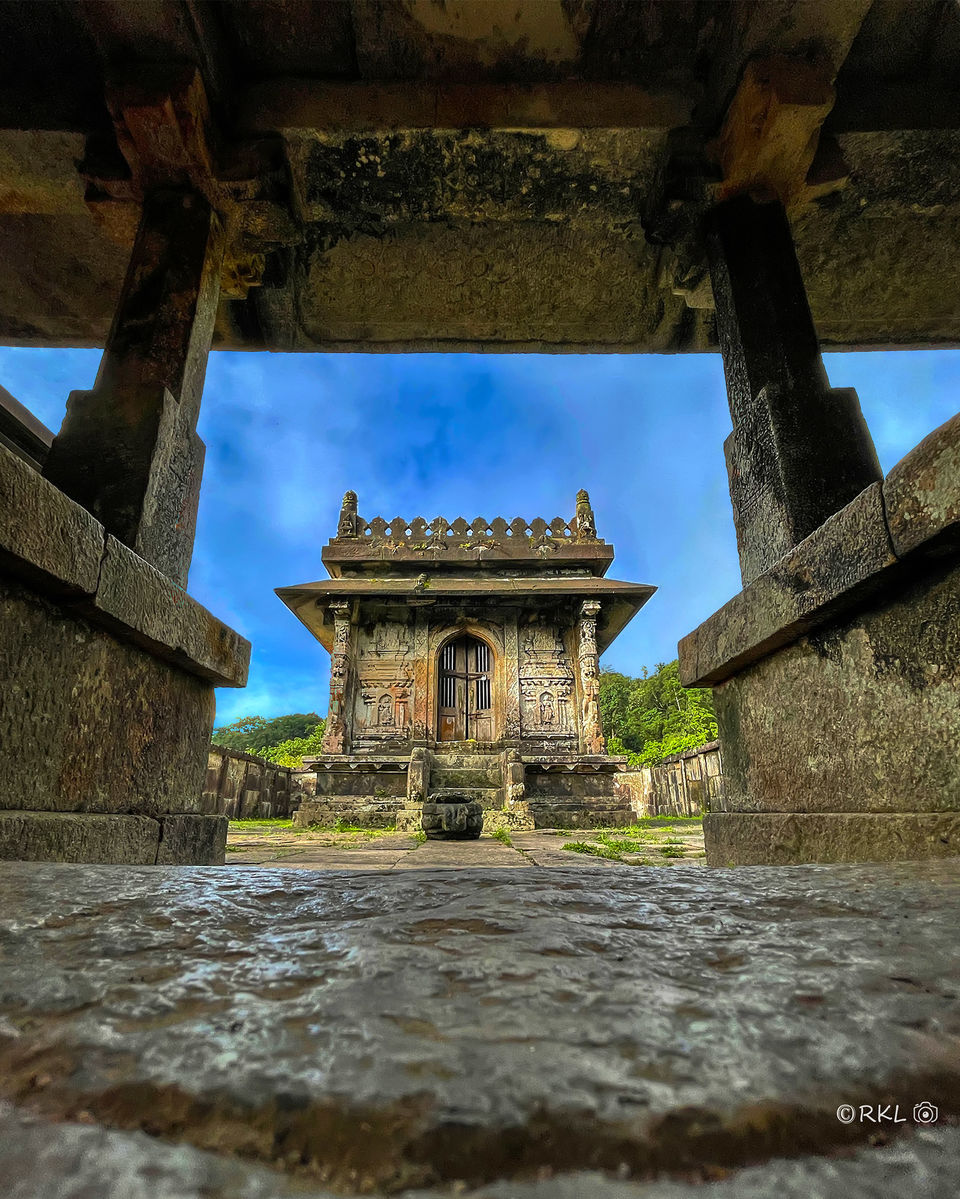 Proceeding further for few other hundred metres you come across ruins of a old palace left over with only pillars and right next to it is a small and yet beautiful pond, said to be the bathing pond for queens in earlier periods. These two places are again filled with history and serenity. Strictly avoid climbing on pillars as these are in very fragile condition and can collapse. Moreover, it's a historical site, it should more of be a common sense, right?
The last stretch would be hike to top of the hill. Keep in mind this trail is not open all the times of a year and it depends on weather conditions like rains and landslides. But, if at all you are lucky and get to ascend to top, I say you would be a step lesser to heavens.😊 It's a complete 360° view of beautiful mountain ranges with one right under your feet. Surely, moments of magic 🙂
Facts about Kavaledurga Fort:
1. Kavaledurga fort was known to be built during 9th Century AD. But who built the initial structure is still unclear. Anyhow it was renovated during the Keladi Nayakas period and their prominent King Venkatappanayaka fortified the place.
2. The fort enjoys an excellent natural defence with forests and high altitudes to its occupants and a major challenge to an attackers. Due to this, over the centuries, many rulers tried getting hold of the place starting from 14th century to the period of Tippu Sultan.
3. Initially, there were a total of 15 temples in the fort but now only 3 of them remain - Lakshmi Narayan Temple, Kashi Vishwanatha Temple and Shikareshwara Temple.
4. It is said that when Keladi Nayakas were ruling from this fort under queen Keladi Rani Chennamma, they defeated mighty Mughal army and protected Shivaji's son Rajaram from this fort. Quite a thrilling story to hear, isn't it?
Things to know before visiting:
1. There are no shops for food. Carry your food if needed. Only shop available at near parking sell coffee, tea, snacks and water bottles.
2. There are no washrooms in the area. Not even at the base site. Prepare yourselves.
3. This place doesn't charge you for trekking. Don't pay anyone asking for money. It costs almost nothing except for parking charges of 30rs.
4. Best option to stay would be in Thirthahalli, which offer wide range of accommodation for all budgets. Anyhow, if you insist on staying near Kavaledurga, Kavale Retreat (just 2kms away) is a good option when you are in group. Also, there are few homestays in Megaravalli along Agumbe route which can be a good option too.
5. If you have enough time, checkout Talasi Abbi Falls and Varahi Backwater view points which are 30mins away from Kavaledurga. Both the places are good to visit with family and friends and to take a dip in water.
Take Away: This is my favourite part to tell about always. But this time there is too much to say about this place. Because Kavaledurga offers you that many things. There is history which holds you tight with some thrilling stories. There is architecture which fascinates you with remarkable building planning and beautiful carvings. There is nature, offering you mind-blowing views of breath-taking Sahyadri mountains. And to top all of them, there is this enormous amount of peace spread all around the area, untainted, untouched and unparalleled. That's where, the lovely history of this land meets the immense tranquility of mind.