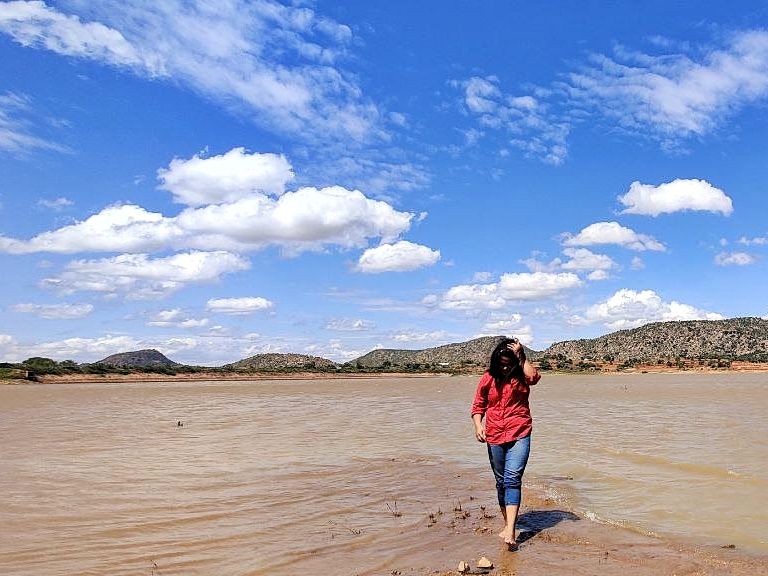 Worked hard all week, planned millions of things to do over the weekend and yet ended up surfing the net with usual pizza and movie plans? That, we guess, isn't just your story! Most of us are so badly caught up in the urban chaos that we feel like just to let loose on the weekends.
But what if there's a real change in plans? Here's something you might definitely like! We have an array of exciting places to visit around Bangalore on weekends, and you can blindly choose to visit any of these places and the next thing you will be doing is appreciating yourself for reading this article till the end.
Let's check out where all you can go!
1. Ettina Bhuja
A peak in Mudigere, naturally shaped like an ox's shoulder, also what the name literally translates to. A mild trek to this peak comes with winsome views of valleys and hilltops surrounding it.The flora of the place is worth observing, and you may even spot students of College Of Horticulture-Mudigere involved in conducting research and extension activities in the Hill zone.
Distance from Bangalore: 262 km
Trek Distance: 8 km (approx)
Image Source:
2. Kurinjal Peak, Chikmagalur
Never heard of this? That's the first reason you gotta see the place soon and be the discoverer in your group, Kurinjal is an obscure peak in the Kudremukh National Park that acts as the perfect destination for people seeking a respite from the fast-paced and stressful city life. The picturesque region has several wild animals, tall trees, and varied landscapes. The whole scenery of grassland interspersed with narrow strips of forests provide a fantastic vista for a trekker. Its distance from Bangalore makes it the best weekend spot for adventures seeking some adrenaline rush.
Distance from Bangalore: 332 km
Trek Distance: 14 km (approx)
Image Source: http://eventshigh.com/
3. Nishani Motte
Coorg! If you really want to feel the awesomeness of this place, then this should be your next destination. It's an irresistible combination of adventure and fun, then that's what will be the promise from Nishani Motte Peak, which is a trekking and photography enthusiasts' delight! The Nishani Motte peak lies amidst the dense forest area of Brahmagiri and Bhagamandala and offers extremely scenic trails on the fascinating trek to the hilltop.
Distance from Bangalore: 300 Km
4. Kemmangundi Trek
Well, it's marked as the summer abode of Krishna Raja Wodeyar and that explains a lot. A king's choice never fails to please us, ringed by the Baba Budan Giri Range and enveloped by true Chikmagalur-style Western Ghat's beauty. This will take you through a landscape stroked with lofty hills, innumerable streams and brooks, extensive coffee estates, waterfalls and ornamental gardens tucked amidst lush green forests. Time to go out there and treat yourself with a view!
Distance from Bangalore: 292 Km
5. Kavaledurga
It's a fort and yes it's not simply a walk up to the fort, but a pretty long hike! Think that's enough to understand how steep the route's gonna be. Kavaledurga Fort of King Shivappa Nayaka is one of the most enchanting locales in Karnataka, which is popular not only for its scenic surroundings and remarkable architecture but also for being an ideal trekking spot for avid trekkers. It will be a wise move on your part to explore the fort along with a knowledgeable guide and some history hunger.
Distance from Bangalore: 365 Km
Trek Distance: 2.5-3 Kms and pretty steep
6. Kodachadri
Living in the clouds might sound poetic, but that's exactly what this trek is all about! Located in the Mookambika National Park, this trek has everything from dense forests to high waterfalls, lush green stretches and the perfect views from the sunset point. Basically, you can think of it as a location which you see in the romantic Bollywood songs. Are you ready to witness the beauty of this place?
Distance from Bangalore: 400 km
7. Kotebetta
Kotebetta is the third highest peak in Coorg and the trek passes through villages, coffee, and spice plantations initially. Later in the route, comes thicker forests and some rocky surface. Reach the peak to enjoy the amazing views of the shola forests and the Western Ghats. And don't be surprised if Elephants give a passing shot, just keep your camera ready!
Distance from Bangalore: 266 km
8. Yedakumeri Railway trek
Yedakumeri is a beautiful place in the western ghats just like its neighbors, located at a distance of 30 km drive from Kukke Subramanya. It's a unique trek where you have to pass along the abandoned railway line and is popularly referred as "green route trek" and that explains a lot about the weather and scenery you'll get to witness there.
While traveling on the train and passing through the tunnels or a beautiful scenic view, have you ever wondered if you could just stop there for a while? This trek has everything you wished for then and one can call this a photographer's paradise.
Distance from Bangalore: 232 km
9. Gokarna Beach Trek
Gokarna has several beaches and the trek route is popularly known as the "Golden Route". The trail will entail walking on the beach sands by the side of the rocky hills on one side and far stretches of the Arabian Sea on the other side and we are quite sure that it's gonna turn out to be something that you are imagining!
It's always a good time to relax and chill at the beaches and trekking along the beachside is not a fantasy anymore. You always wanted to do something unique right? Here's the perfect chance and you'll just fall in love with this place!
Distance from Bangalore: 499 km
10. Kumara Parvatha
Termed as one of the most difficult treks of the region, climbing up to Kumara Parvatha will definitely make you sweat but nonetheless, you'll drool over the beauty of the Western Ghats! Cliffs, woods and a prepossessing horizon welcomes adventure seekers here. A hundred shades of nature await you to explore at Pushpagiri, also the second highest peak of Western Ghats. A proposed World Heritage Site, the trail through Kadamakal Forest is worth exploring for once in life. Picturesque valleys of the reserve will give you ample opportunities to click those postcard-perfect shots and show off on your social media.
Distance from Bangalore: 400 km
11. Tavoor Hills
It's a place that's lesser known among travelers and probably it's one of the best features of the place - it's never too crowded, but we don't know about the future! Maybe after reading this, people start planning a trip to Tavoor!
Also known as Dumchi Gudde by locals, this trek has everything you ask for as a trekking enthusiast. Dense forests and streams and the ridge walk along the trail would make you wish if you could stay there forever. The beautiful view of Kopatty Hill range from here is definitely the reward of the trek.
Distance from Bangalore: 294 km
12. Kundadri Hills
The Kundadri Peak, named after a Jain priest, is known for its pristine beauty. Well known for its architecture and monolithic rock at the peak, this place shares its border with Agumbe, so the weather and mist can be imagined I guess. Comprising of easy terrains, the main highlight of this trek is a 17th century Jain Temple located at the Kundadri hilltop with two ponds located at the distance, which you can see from the top. A perfect destination to take out your jacket and shoes, and chill with your travel mates.
Distance from Bangalore: 358 km
Image Source: http://www.holidayiq.com/
13. Glen Morgan Trek
Glenmorgan Trek, 25 km from Ooty, takes you through luxurious thickets of Eucalyptus and other hill beauties to enjoy the magnificent views of the Nilgiris from the top. The smell of eucalyptus is always tempting, right? Imagine how fresh you might feel walking through the forests and tea estates. Ooty is more than just a romantic destination known for its chocolates, and this place totally proves it. Go, give it a try.
Distance from Bangalore: 400 km
14. Kanoor Fort Trek
Located in the Sharavathy Reserved Forest in Shimoga, Kanoor Kote is a treasure trove for trekkers. Rediscover history and enjoy the natural beauty of this trek. This area was ruled by the Keladi dynasty, hence the name. The fort area is now full of age-old trees and creepers to the extent that anyone venturing into it without a good sense of direction is sure to get lost in the wilderness.
Distance from Bangalore: 237 km
15. Perumal Peak
A part of the majestic Western Ghats, it is a place worth visiting. Bestowed with best of nature, the peak is visited by both nature lovers and adventure seekers. And we are sure you will fall in love with the place.
At a distance of around 18 km from Kodaikanal, this peak is every trekker's dream destination. Along with this, Perumal peak also offers a captivating view of the surrounding Western Ghats and the Nilgiri Hills.
Distance from Bangalore: 443 km
Now that you know of the 15 best places to spend your weekend, why waste time sitting amidst the chaos of Bangalore! Make plans for the upcoming weekend and tag your friends along!