The most serene & spectacular views, challenge to your fitness-pride, a venturesome adventure and one of the best experiences of your life for a lifetime. These are what awaits you at the Kumaraparvatha trek trails of the Western Ghats region of Karnataka. Here is the 'whats' and 'hows' of my amazing trek story of the toughest trekking trail of south India.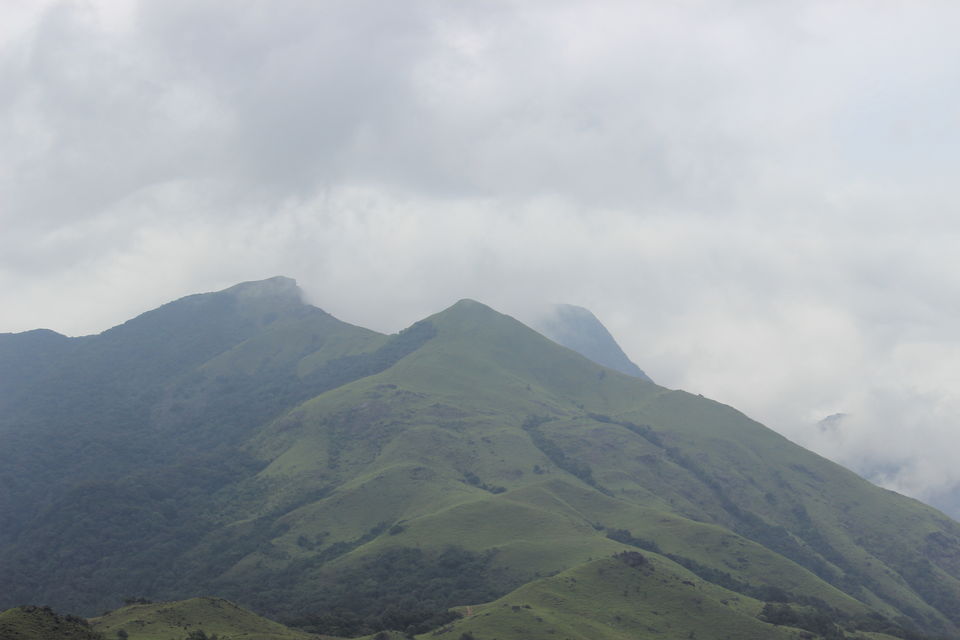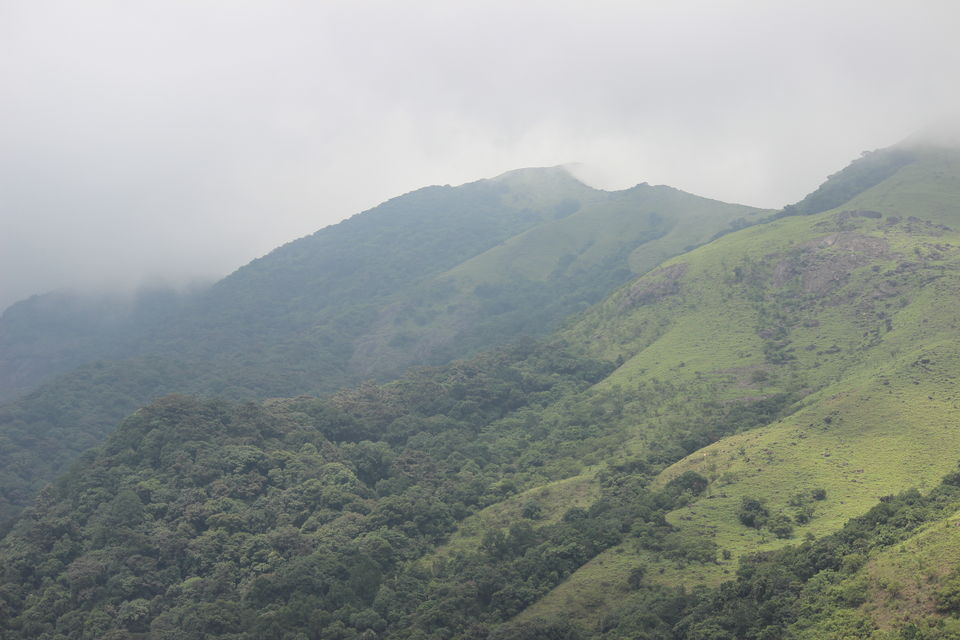 We, a gang of 15 people started off from Bangalore in our private transport to the famous temple town of Kukke Subrahmanya. It was a Friday night and having finished our dinner, we collected out rental tents and sleeping bags from a local rental store before embarking our night journey.
Up on reaching the town of Kukke early morning, we checked into our hotel (Sadana Lodge), where we quickly freshened up and had our breakfast. We first visited the Subrahmanya temple. Then we started our trek at around 8.00AM not wasting much time.
First leg of the trek is through a forest area. The trek trail is climbing, but not very steep. We walked through the trees for about two and half hours taking few rest stops. After about 4 hours of the trek, we reached our lunch spot at Bhat's house. Yes, two brothers live here and walk till here and to the town almost every day.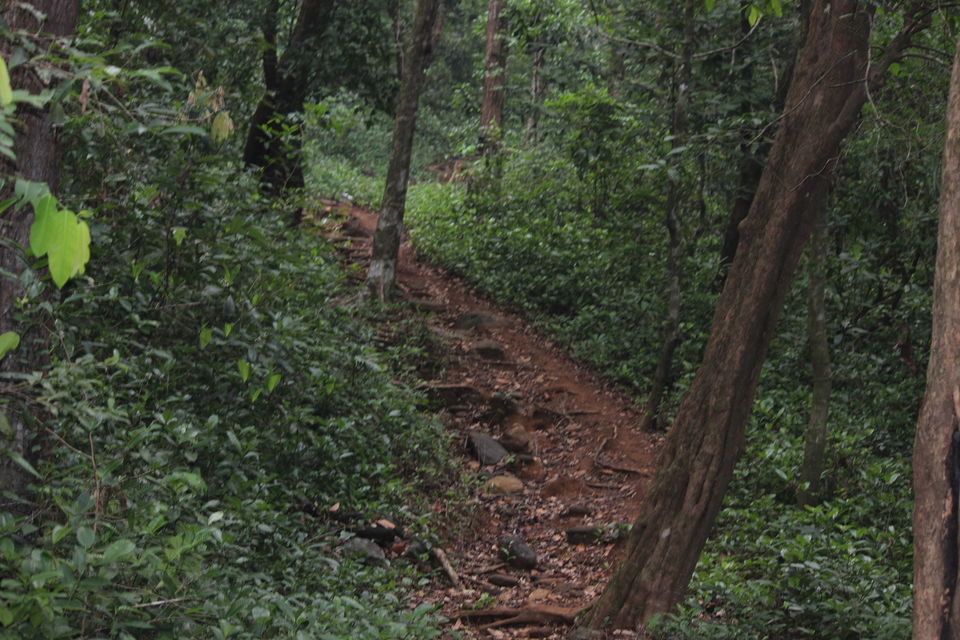 They served us food. Very basic food consisted of rice sambar, buttermilk and pickle. We savored the food as we were very hungry after four odd hours of trek. After relaxing here for about an hour after lunch, we carried on with the trek forward.
Next leg of the trek trail is in the open grass lands, with very few trees. This meant we had to trek in the after-noon sun. The weather did make the trek a little difficult.
We stopped frequently for water & snack breaks. We had luckily carried ORS, glucose and energy bars. As the evening approached, the weather became much friendly and pleasant.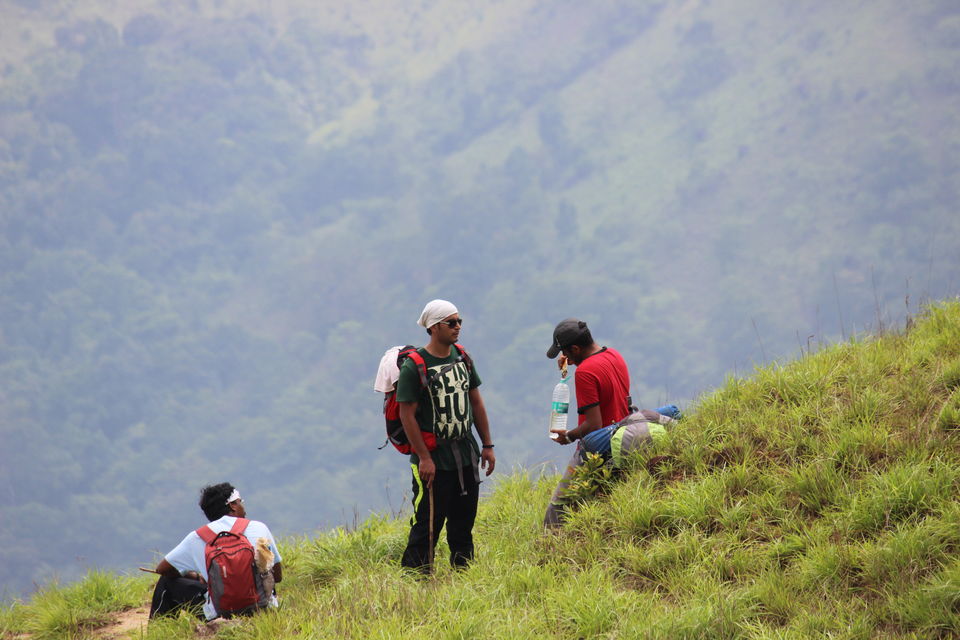 We stopped for a while and took rest. We saw the trek trail we already covered. The view from here was breath-taking. We played here for a while and took pictures. There were few of us, who did not want to continue the trek till the top anymore. The eight-hour trek till now had taken its toll. So, they decided to stay back there and pitch their tents.
The remaining left the backpacks here are started again towards the peak. The trek trail from here (the place called Mantapa) started getting steeper and tougher.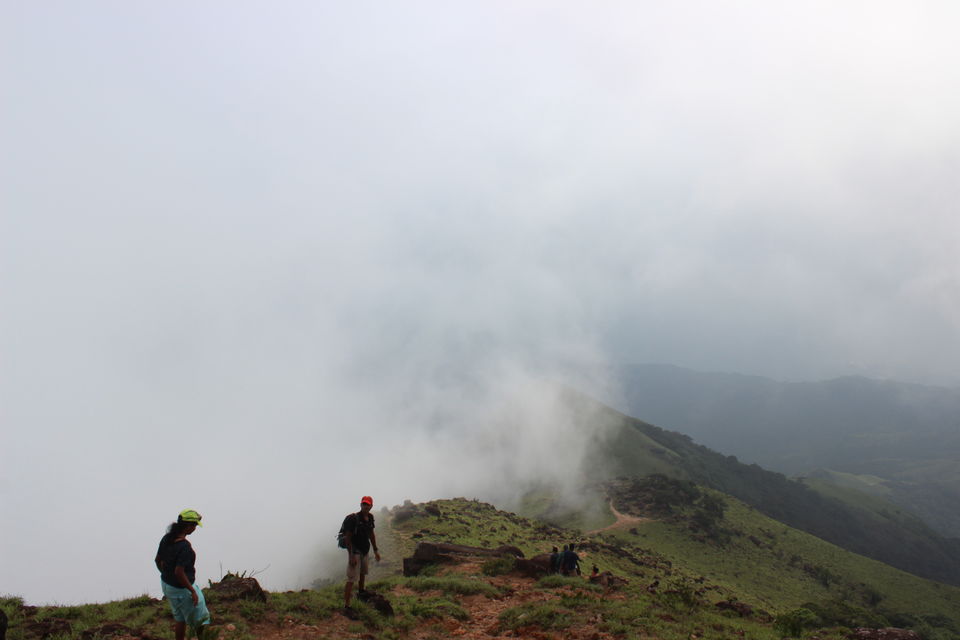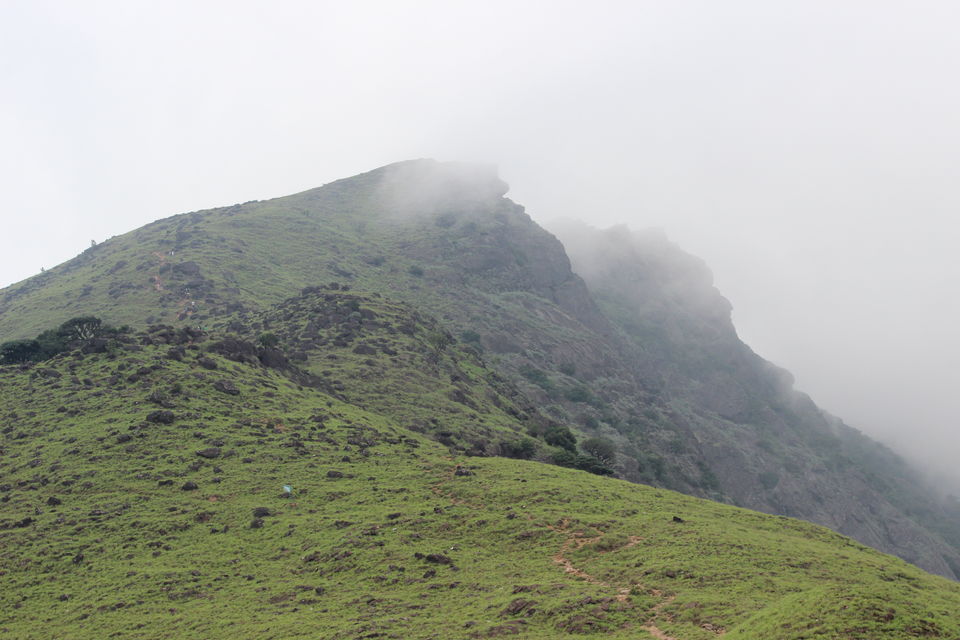 The clouds stared covering the place, and visibility started to vanish. Once we covered the peak in front of us, we were presented with a small valley full of trees and then boulders. We had to jump over and climb the boulders. We trekked for about two hours to reach the most ambitious trek peak ever.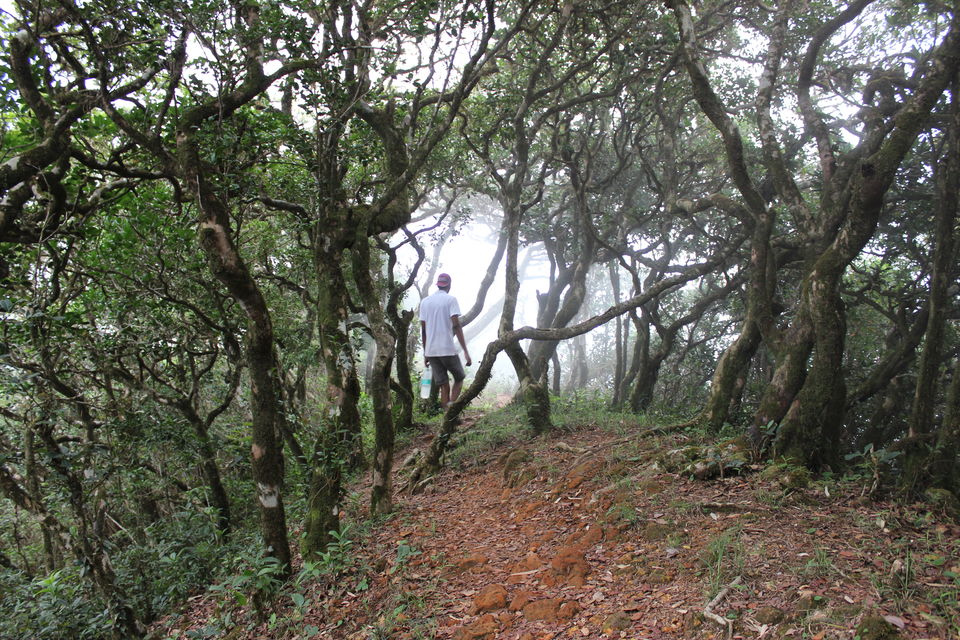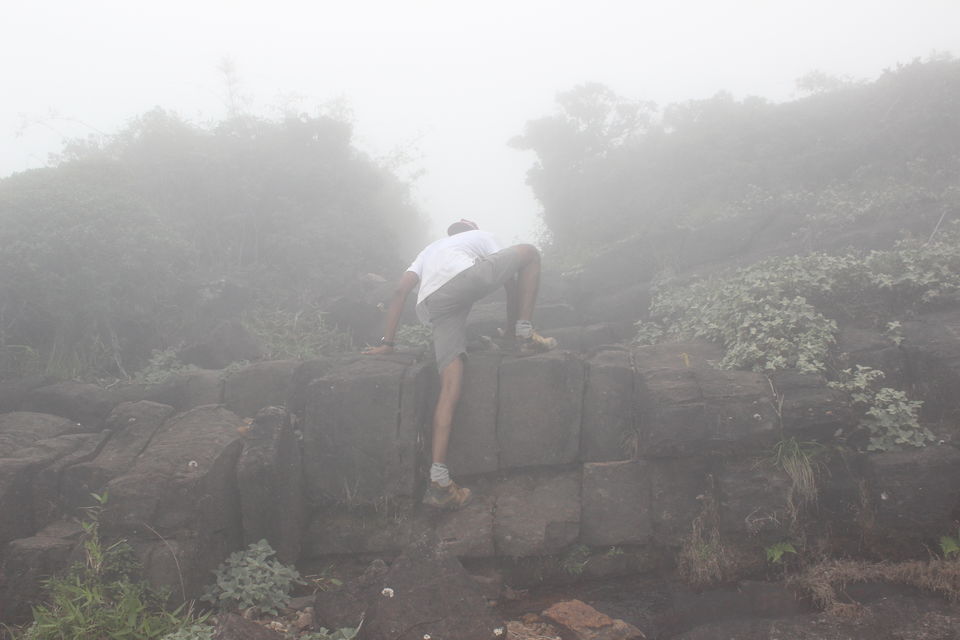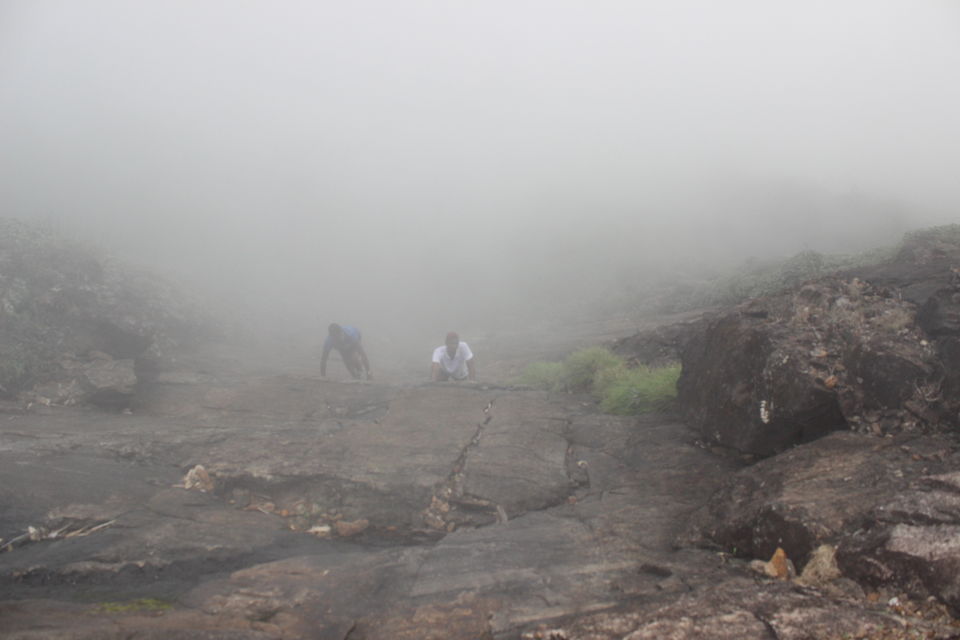 We came back to the pace where others had stayed back quickly and joined them in the tents that were pitched.
We searched for dry branches & twigs and finally put up a camp fire. We played games and enjoyed. We had the snacks that we had carried for dinner. To our surprise it rained quite heavily that night. Two of our tents blew away. We had to re-pitch the tents at 3.00AM, with the help of torch light. Water flew in some of the tents and the wind was too strong.
None of us had anticipated this, as it was not monsoon season yet.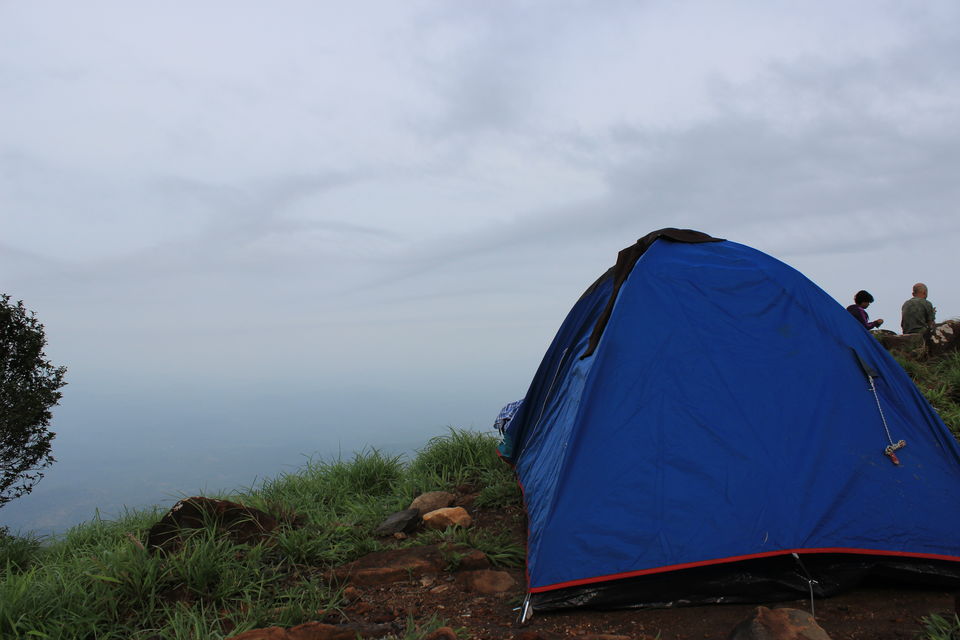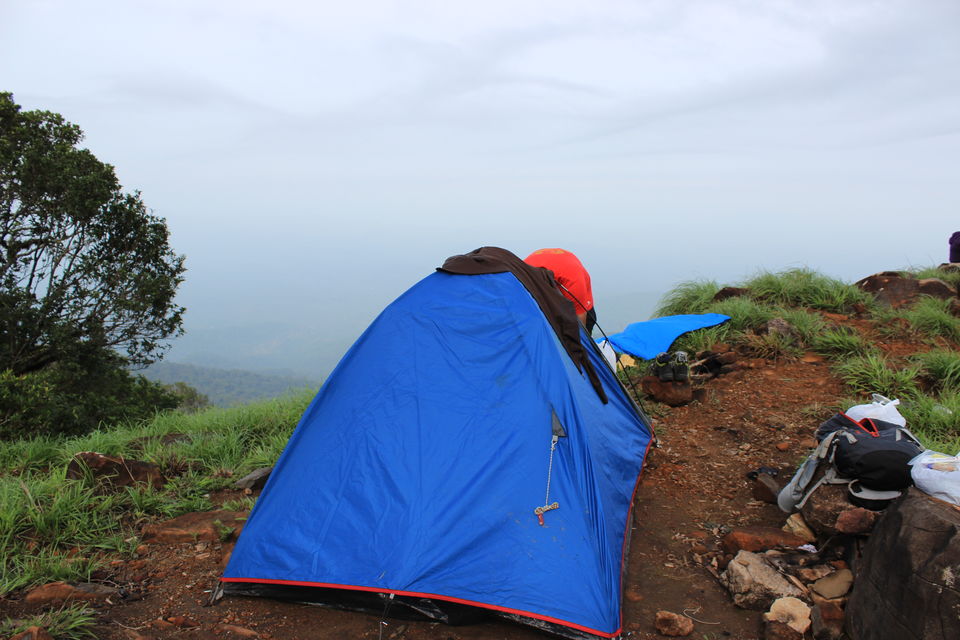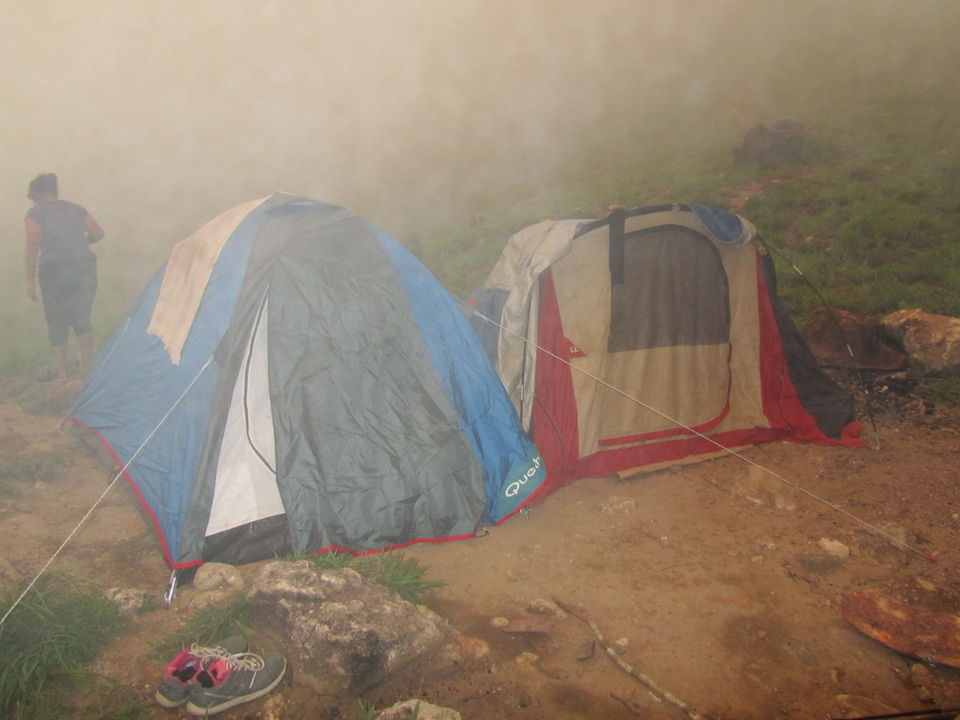 Finally, the rain stopped, and we could catch some sleep. Next day morning we woke up to one of the best views one could imagine.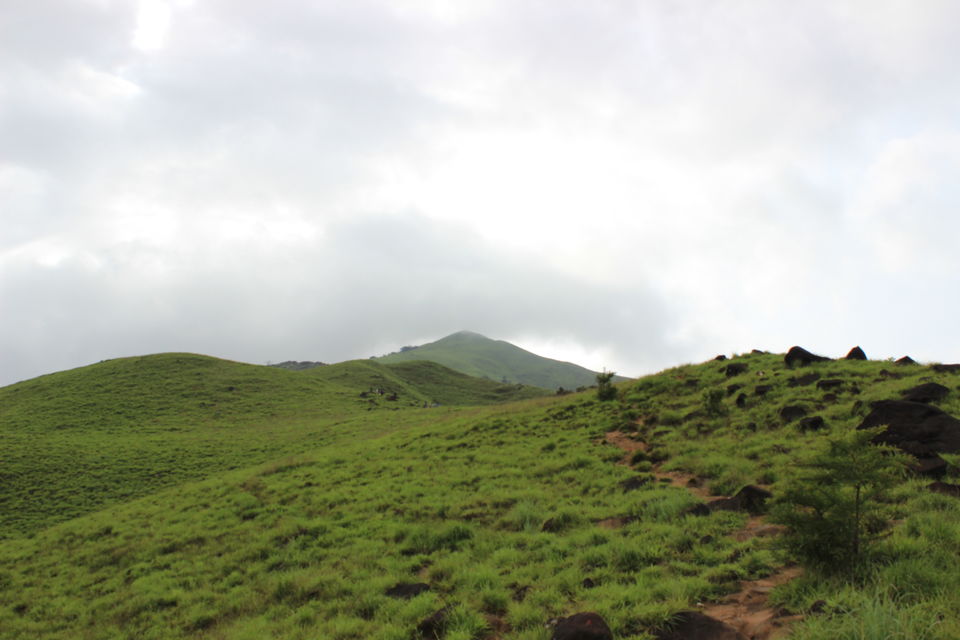 Some of us took pictures in the morning and started our trek back. We were very tired but wanted to reach back as soon as possible. So, we trekked down quickly. We took our break at the Bhat's house before reaching the Kukke Subrahmanya town.
We craved for a bath, which we took at out lodge and started off to home in our vehicle which was waiting for us.
This was the most savage experience in my life. And by far one of the most (unanticipated) adventurous trips, I have ever been on. With a lot of lessons learnt we reached home safe and sound.