Kumara Parvata otherwise known as Pushpagiri is one of the peaks in western ghats range situated at around 250 Kms from Bangalore. With an altitude of more than 1700 meters it is known for its spectacular sunrise and breathtaking landscapes. It has a well laid trekking trail of around 12-13 Kms from Kukke subramanya which serves as the base for the trek. It is a perfect gateway for adventure lovers.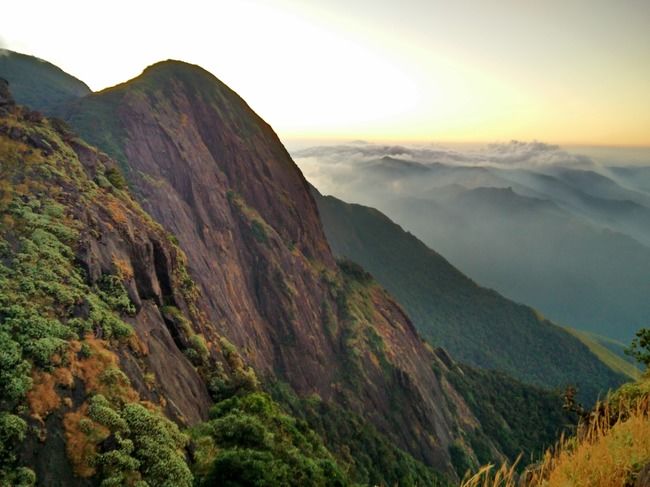 One could find KSRTC buses and some private buses to Kukke Subramanya. This place is famous for the kukke subramanya temple which attracts pilgrims all around the year. Boarded the bus from Majestic , Bangalore at around 11 Pm and reached Kukke at around 7 Am. Booked one hotel for 2 hours to freshen up and had breakfast. Make sure to buy all the essentials needed for the trek because beyond this point you will be out in woods and mountains. One can reach the trek starting point from the road opposite to the temple.
This trek has been well documented in many of the blogs. It has certain stages which can be noticed in any of the blogs related to KP. From here on i would be using KP for Kumara Pravata.
Stage 1: Kukke Subramanya to Bhatt's House/ Forest Dept Office
Stage 2: Bhatt's House to Kullu Mantapa
Stage 3: Kullu Mantapa to Shesha Parvata
Satge 4: Shesha Parvata to KP
Kukke Subramanya to Bhatt's House/ Forest Dept office
This is a 5.5 km stretch and one have to trek through dense forest for most part of this stage. Its recommended to trek this part during day light. We started at around 9 am in the morning. Depending on the speed it can be covered in around 2.5 - 3.5 hours. One should be careful about leeches during monsoon. There are also some other kind of blood suckers which i encountered. Thanks to some local boys who figured out what that was and were kind enough to give me a band aid.One of them put some tobacco on the wound which stopped the bleeding within seconds.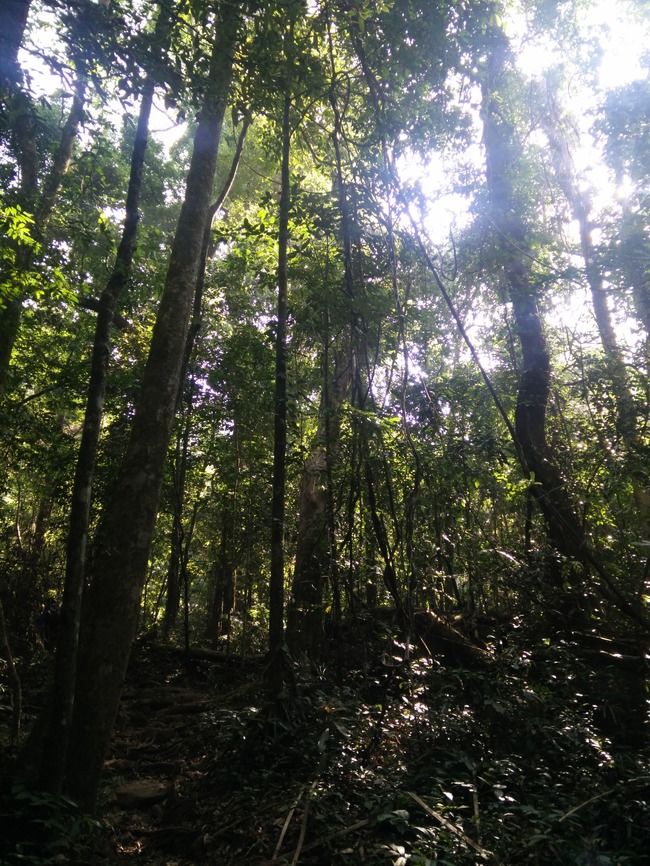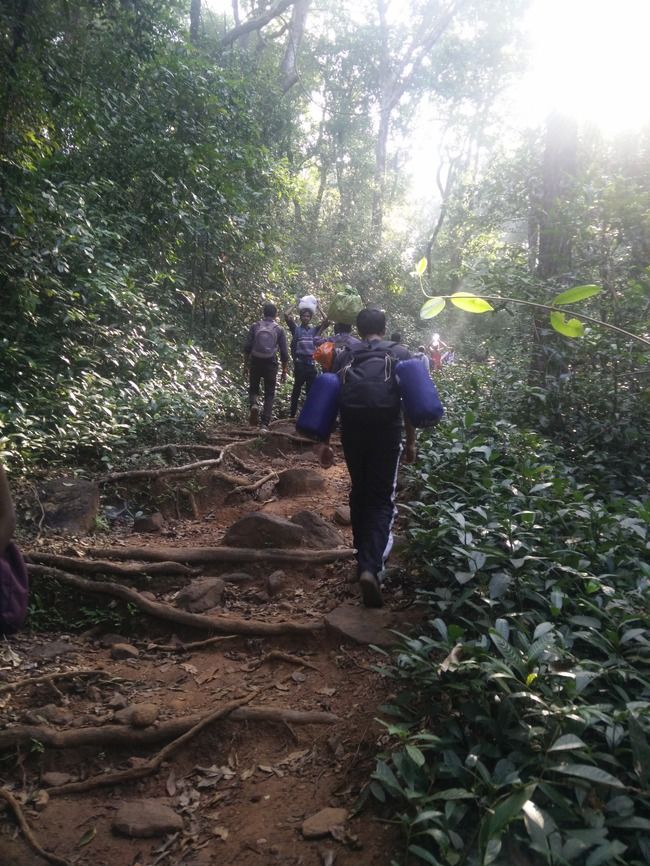 Banglore to Kukke Subramanya
At the end of the forest one would find zigzag paths which signifies the end of the forest. after that its a 1- 1.5 km walk out in open sky to the Bhatt's House. Bhatt's house is good place to halt. One can find food and water here. He also provides facilities for overnight stay. He charges around Rs. 100 for lunch and dinner which serves only Rice, Sambar and buttermilk. But trust me you crave for this food more than any fancy restaurant after a hard days trek. It is better to call him before hand if you are traveling with a large group. As we were only two we sneaked in without notice.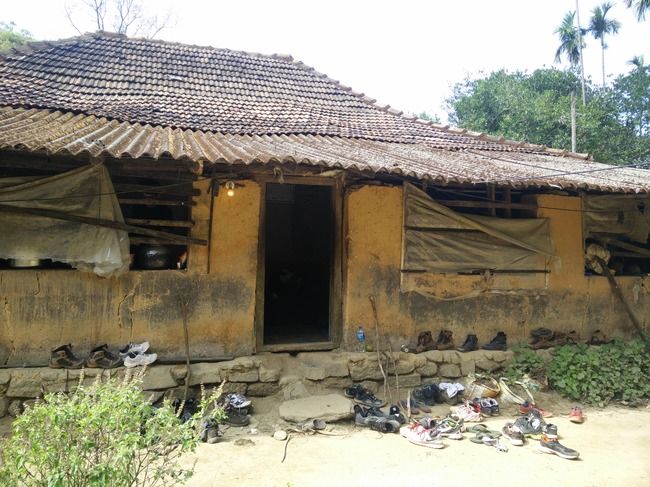 Forest Office is around 10 minutes walk from here. One could find the first view point on the way. We need to get permission from forest dept for trekking KP. It costs Rs 200 per head. We reached there at the office around 2 PM. So the officer suggested to camp around that place and start the trek next day early morning. Officially camping beyond this point is prohibited. So we decided to camp near the view point. one could clearly see the shesha parvata peak from this place. This place has water and toilet which can be used by trekkers.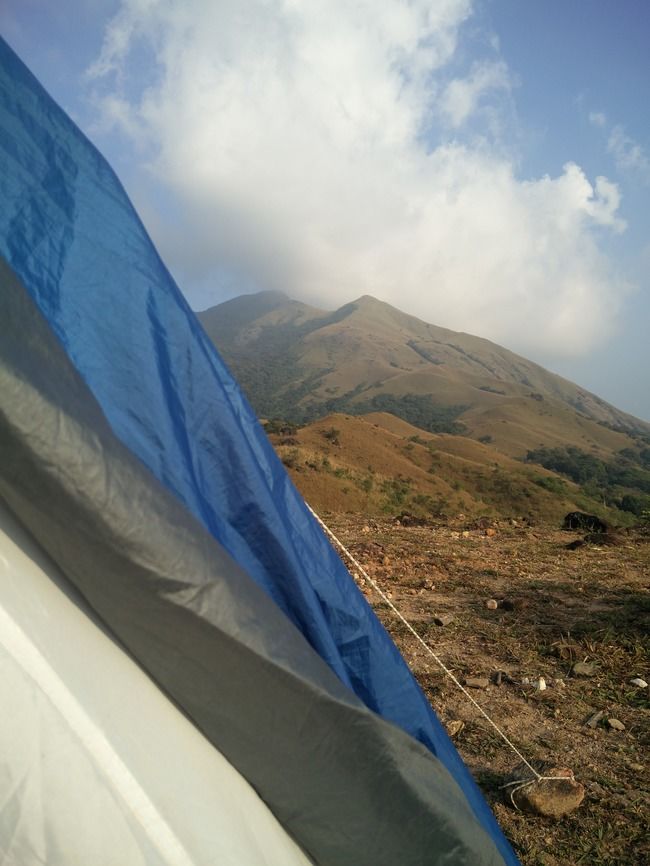 Bhatt's House to Kullu Mantapa
We woke up at 4 am in the morning and packed our tent and kept it in the forest dept office. It was a beautiful sky filled with stars. We paid the trekking fees and set off with torches in hand. Next hop Kullu mantappa which is manmade stage made out of stone. this stretch is of 2 Km which is relatively easy and take around 1- 1.5 hours. One can find a small water stream just before the mantappa which is the last notable water source. Make sure you fill all your bottles here. Trust me carrying an extra bottle is much better than running out of water while returning. As we are exposed to direct sun light while returning, keeping hydrated is a must.
Kullu Mantapa to Shesha Parvata
This is the most difficult part of the trek. As we gain a lot of altitude in this part of the trail. We left kullu mantapa at around 5:45 AM. My target was seeing the sunrise which generally happens at around 6:30. It takes around 1- 1.5 hours to the shesha parvata which i heard is more spectacular for sunrise than KP. So i pushed my self hard as i needed to travel this part with around half the time it requires. I remember at one point my feet could not take it any more and i lied on the grass for a minute. fortunately shesha parvata was not far and sun was just about to rise. There was a red circle around the sky. The view was simply phenomenal.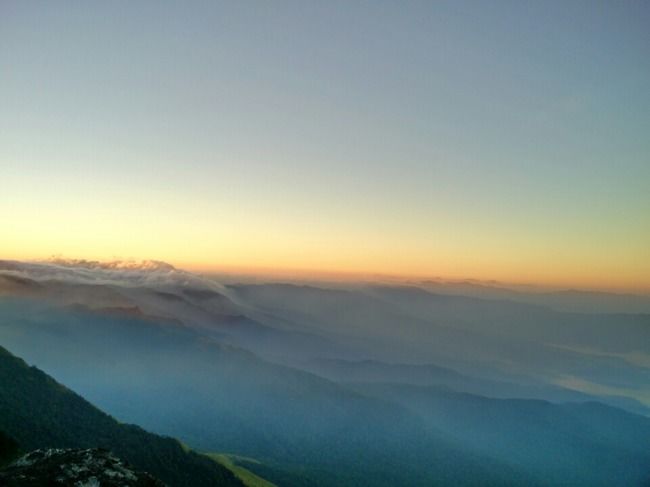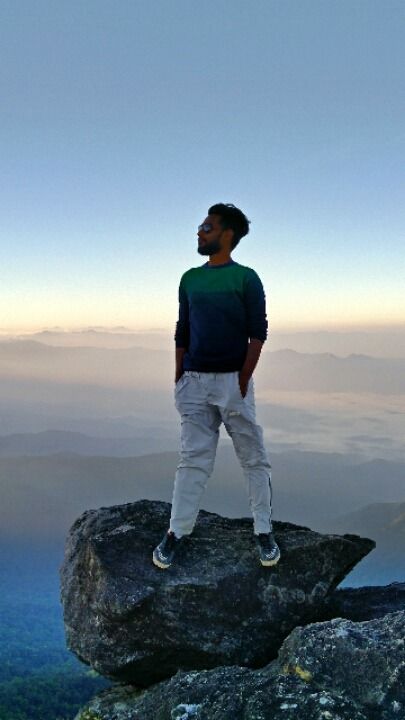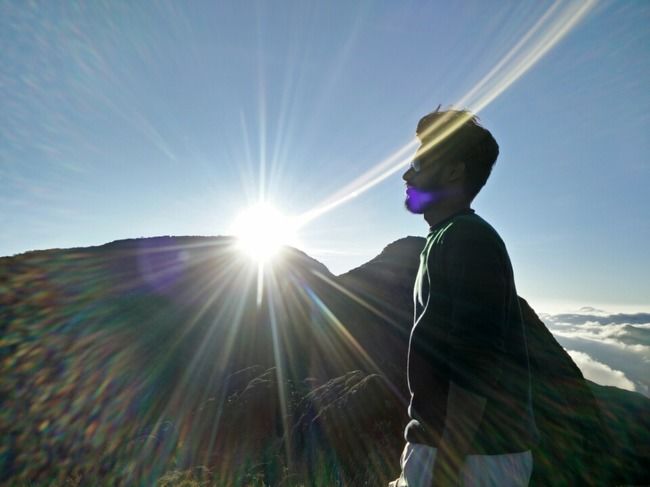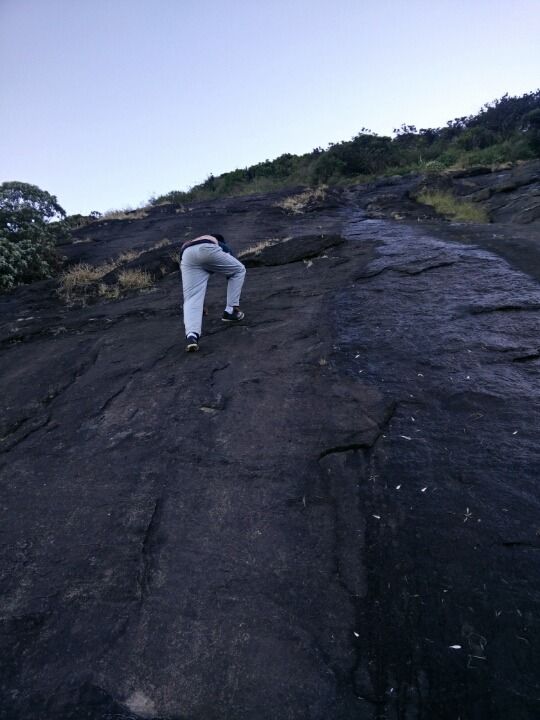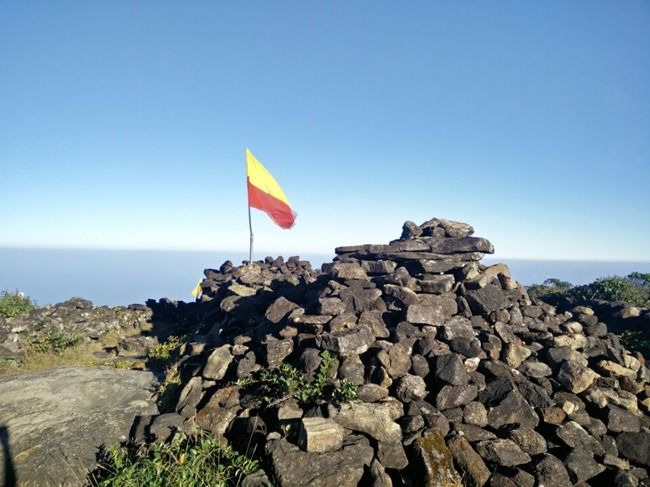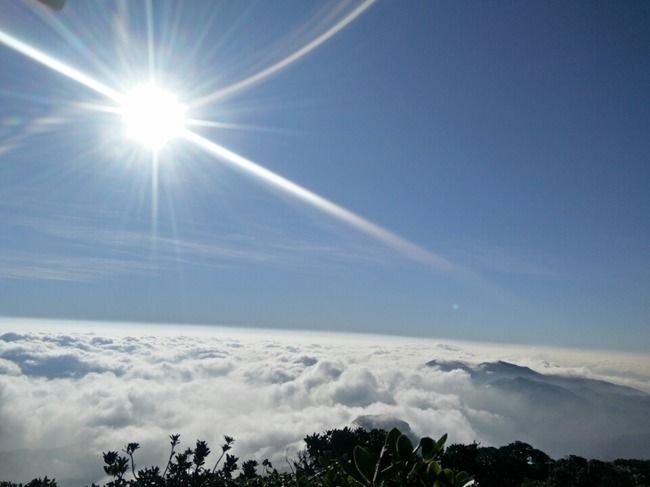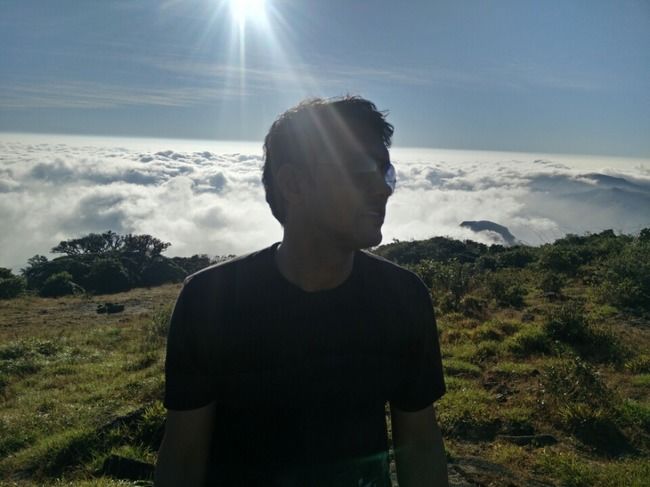 I took some cool pics which my friends would always feel jealous about. I had never imagined something like this would exist so close bangalore. I wonder how awesome everest peak would be. We took out the snacks we had carried and took some more pics. Afterall you wouldn't get to see places like this everyday. Then sun started rising behing KP. The first rays of light was simply out of the world. Certainly worth all the effort we made to reach this place. After spending around 30 minutes at shesha Parvata, we started for KP. Its a Kilometer of stretch where you need to descend first into forest and then climb back up through large boulders to make it to KP. After this boulder one can reach the KP peak in another 10-15 minutes. Like most of the peaks one can find a temple like structure on top The other side you can see spectacular clouds. A treat for our eyes. Feels like we are on plane and clouds are underneath us. we spend around 15-20 minutes and decided to trek down as sun was getting warmer. It was around 9 am. Thats when we learnt one lesson. Follow the same trail which you used while trekking up. We were lost in the jungle. We took a detour of around 1.5 km and were heading towards another peak. We kept on thinking that somewhere we will find our original trail. Eventually we ran out of water and food. thats when we decided to turn back towards KP until we find something familiar which is that big boulder. At around 10:30 am we were back to the big boulder. Trust me this one and half hour was the thoughest part of my trek. I hardly had any energy left in me. All i was thinking was the small stream near kullu mantapa and Bhatt's Rice sambar. I had never valued water this much in my entire life. We only realise the importance of water once we run out of it. Luckily the same localities who helped me in the first stretch of forest saved my day by lending some water.Then slowly descended to kullu mantapa filled our bottles and headed back to our base camp. Had tummy full of sambar rice and started heading back to Kukke Subramaya at 4:30 pm after taking some rest. The descent through the forest took some two hours and around 6:45 pm we were back to civilization.