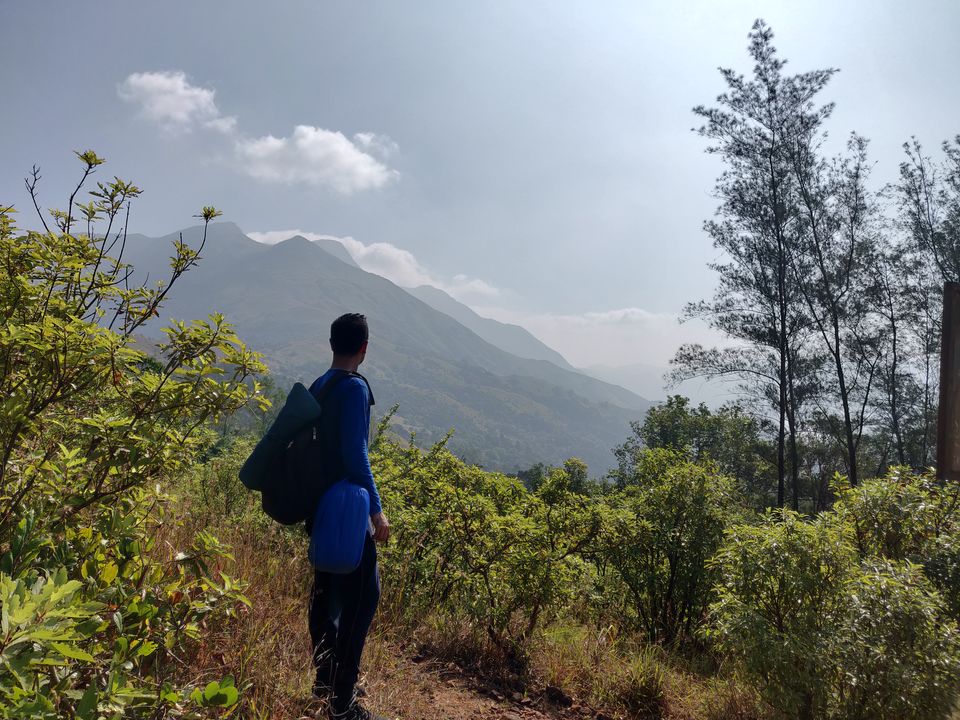 During my stay in Manipal, I along with a friend of mine, we were looking out for trek options and stumbled upon these pretty pictures, exciting blogs and experiences from Kumara Parvatha. This being my first extensive trek, with certain kms to cover, an elevated trail to walk on and with a 'difficult' rating, it needed some convincing for me to go for it, but we did finally pack our plan in a 2 day schedule and here is how we went ahead with it.
Kumara Parvatha is a challenging 26 km trek around Pushpagiri range of the western ghats, it stands high at 1712 meters and is the 6th highest peak in Karnataka and the base for this trek is Kukke Subramanya town. The base town is 150 kms away from Manipal (280 kms from Bangalore), there are some bus options available but the timings did not work for us and so we decided to drive up all the way, although I would totally suggest you otherwise as it gets extremely hectic to have to drive 300 kms and trek, all in a span of 48 hours. Here is what went into the planning in advance, for our trip we booked a 2 wheeler and rented a tent and 2 sleeping bags online for 1 night (that we had to collect from where the trek starts so we don't have to carry it all the way).
We started for Kukke Subramanya, right after our lectures at 7 pm. After sunset and especially with a hilly terrain it gets damn risky, so be careful if you are planning something similar. We reached our destination around 11 pm, the base town is a really small place and was dead at this hour, thank god for our decision of getting dinner parceled from Manipal itself (Please carry your essentials too, as it will be a real task to search for anything during late hours). Our 1 night stay was booked at a hotel here and our bodies demanded some rest before our early morning start for trek the next day.
After parking our vehicle and collecting our tent and sleeping bags we could finally start our trek at 7 am. The starting route takes you through a proper forest and is a bit tricky and will exhaust you with elevated lands, we kept our energy up with fruits and chocolates (don't forget to pack such stuff because as we leave the base the next food and water option available will be Battramane which is 5 kms up the hill).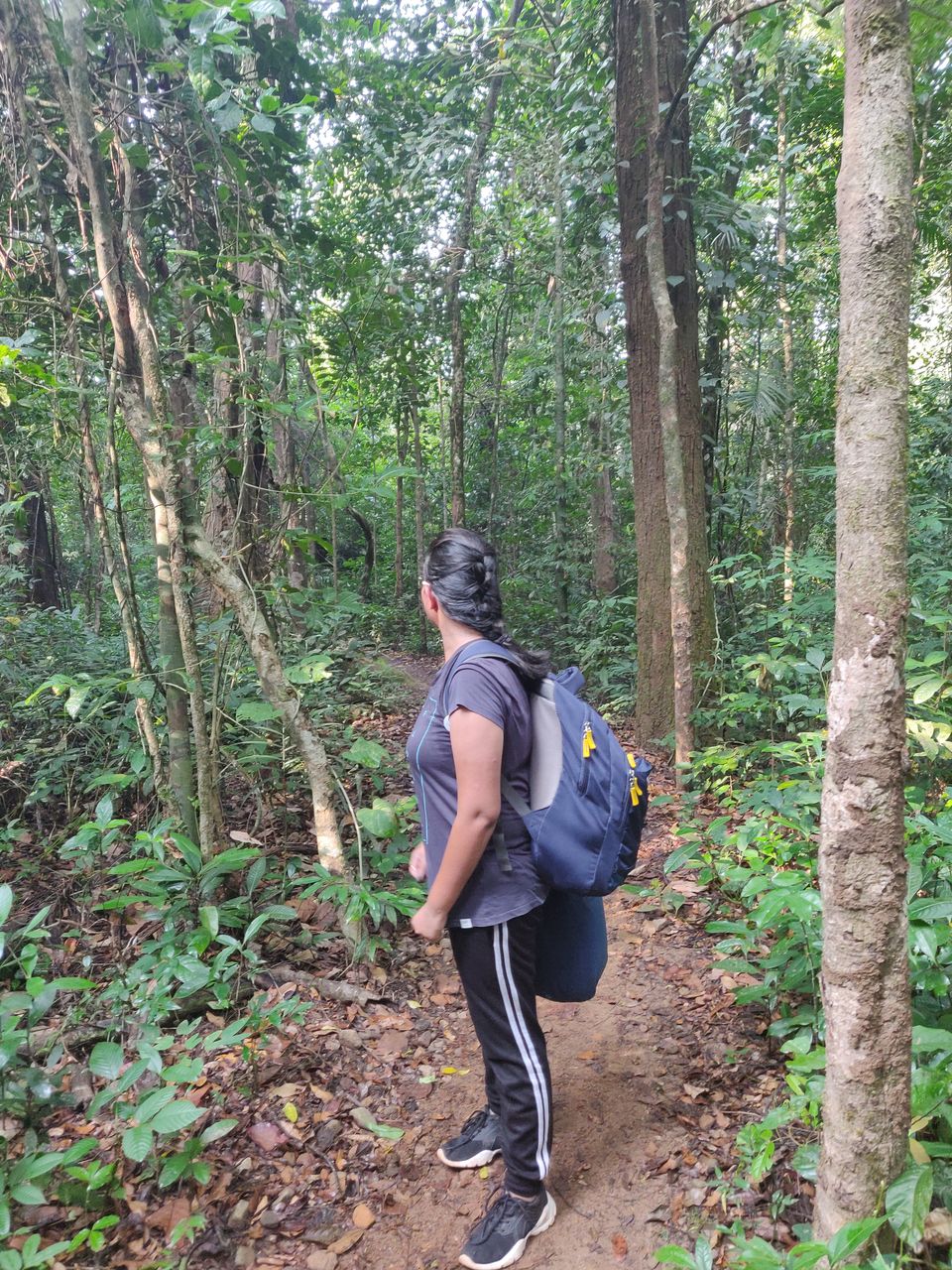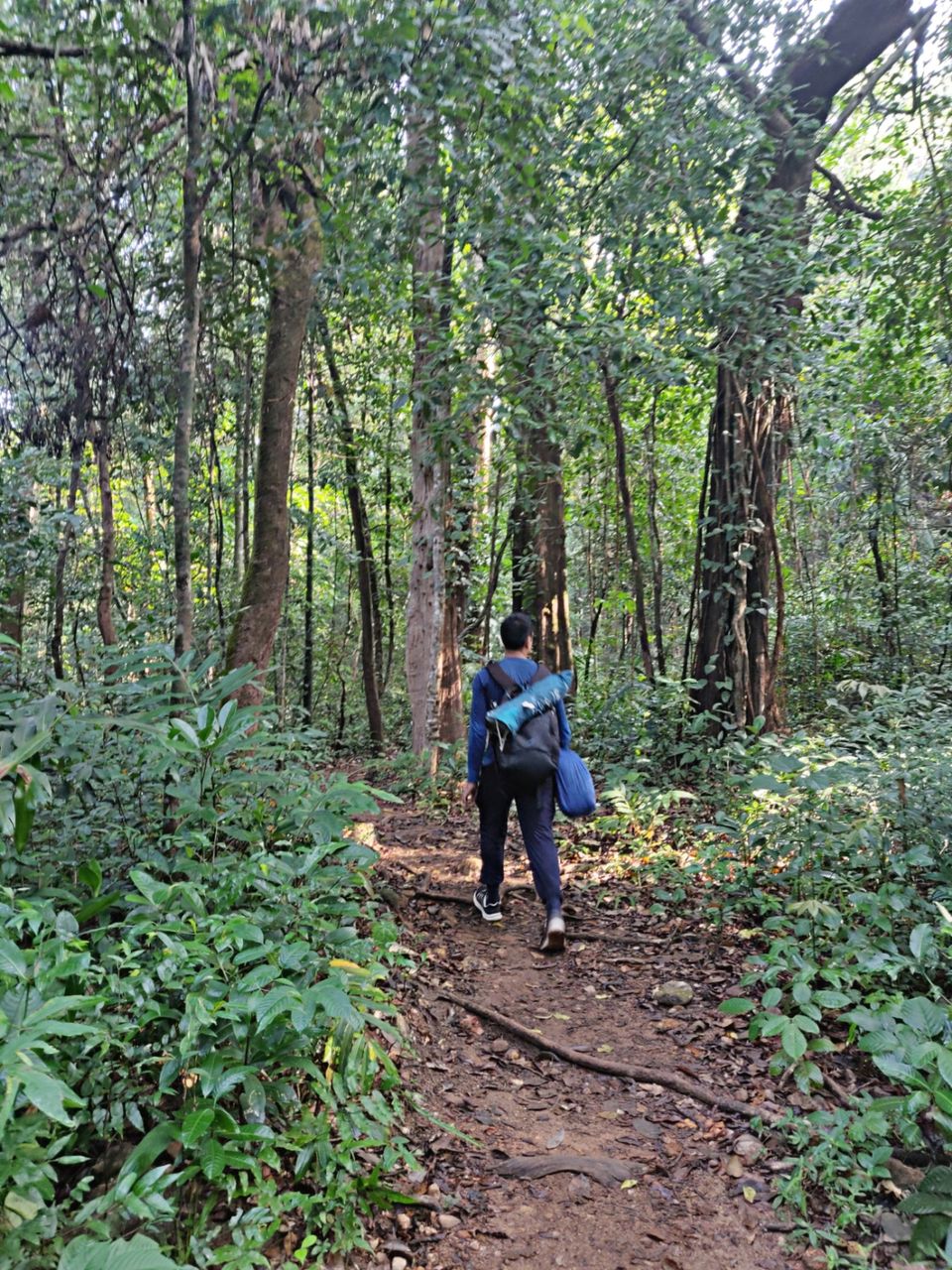 The first stop for us after some brief ones (to catch our breath and check out the view of course), was Battaramane which is 5 kms from the base and happens to be the Forest Office site and also lunch place. 11 am is the cutoff time to get yourself registered at the forest office and go ahead, with the logic that if we leave early we'll have enough time to reach the peak (which is still 8 kms away) get back and camp at Battaramane before sunset (which is the only area where camping is allowed). This is the spot where they have a free food service which is the only available service throughout the trail, they served us white rice, rasam and buttermilk, not that great but being the only source it doesn't leave you in a bargaining position and anyway fulfills the purpose of providing the required energy. We, luckily enough finished our lunch, got ourselves registered, paid the trek fee (350 Rs per person), dumped the extra stuff and started for our trail ahead just-in-time.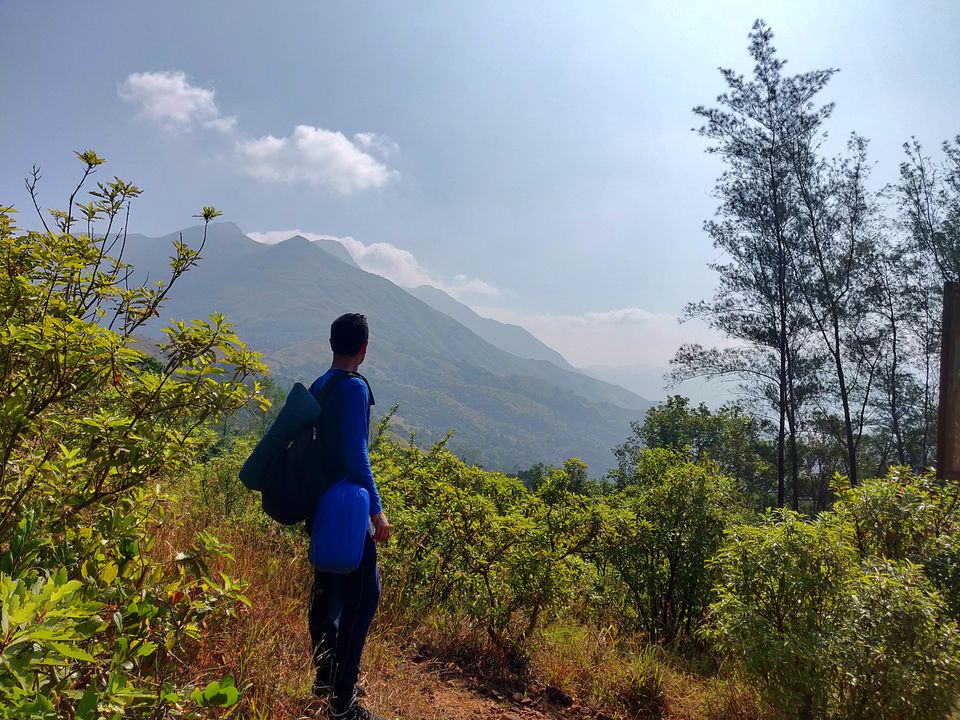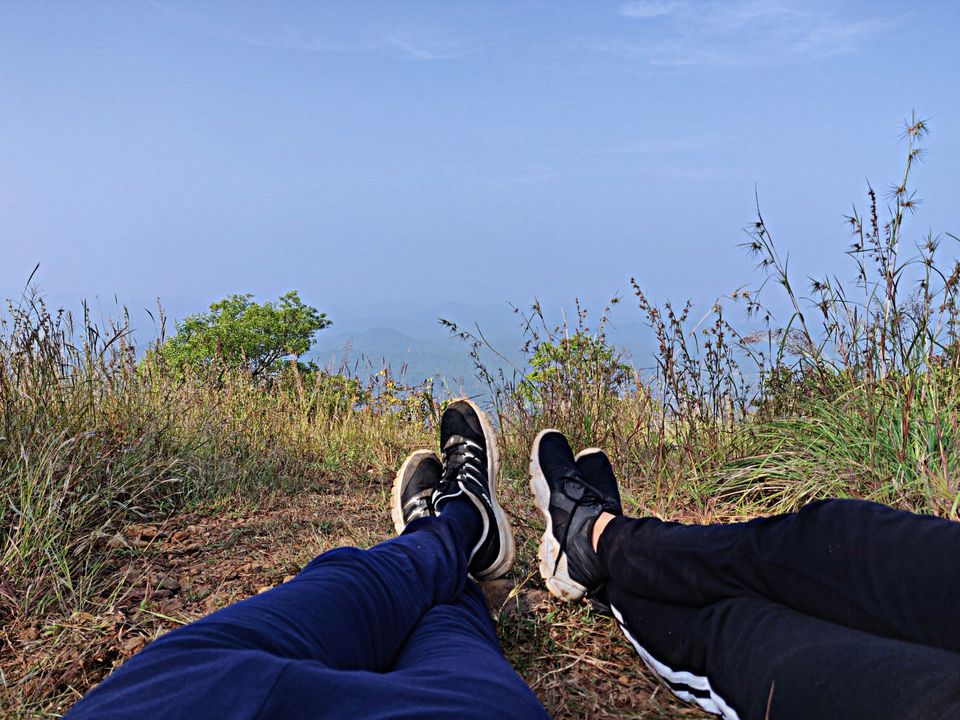 The landscape was getting prettier as we ascended and no words can do justice for what we witnessed. The trail after Battaramane got a little forgiving and we could breathe and enjoy the journey and the view around. We took a second breather and our energy dose at this shelter we came across.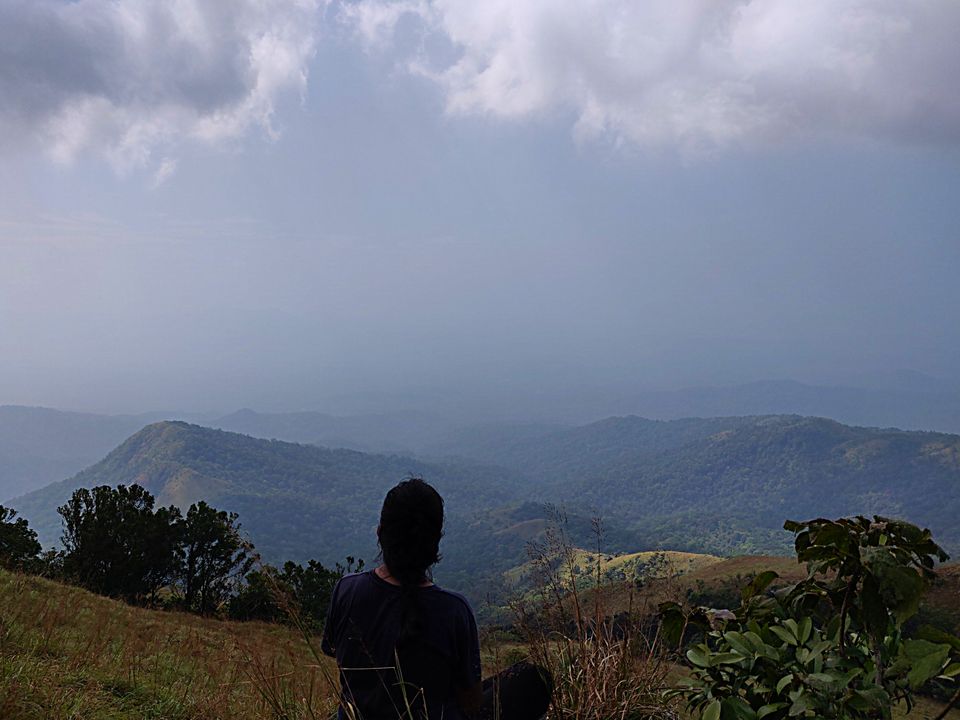 It was 12:30 - 1 when we started for the last stretch towards the peak. This stretch was the toughest and got narrower every minute. Also it's during this stage that we gained a lot of altitude, as we got higher we got a clearer view of the mountain range around us which was mesmerizing. Finally all our efforts were paid off when we reached Kumara Parvatha peak at around 2 pm, needless to say the view was breathtaking.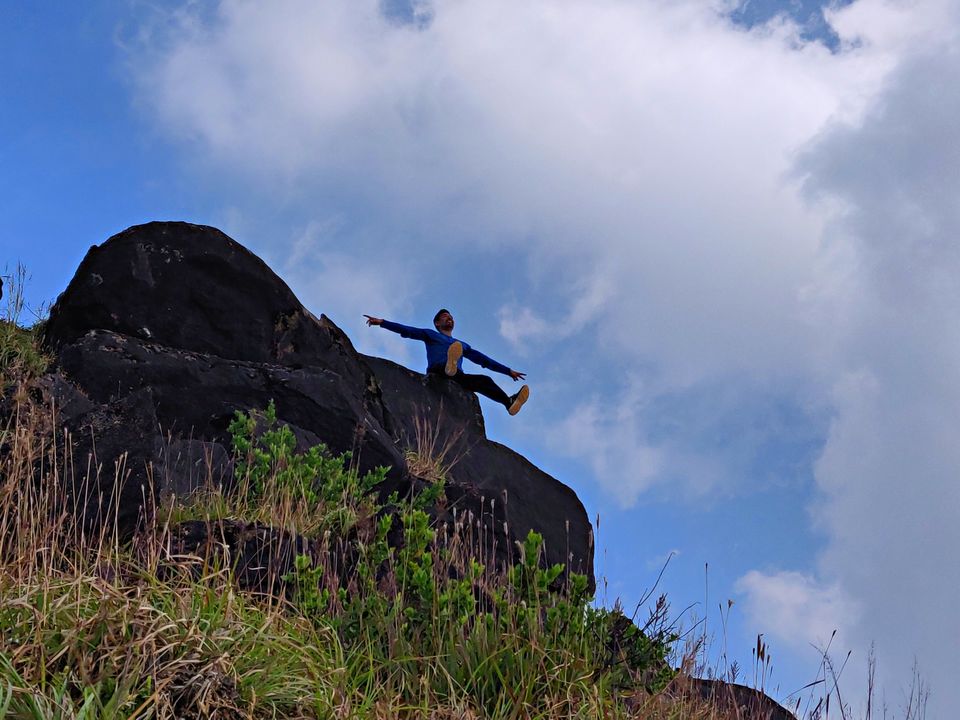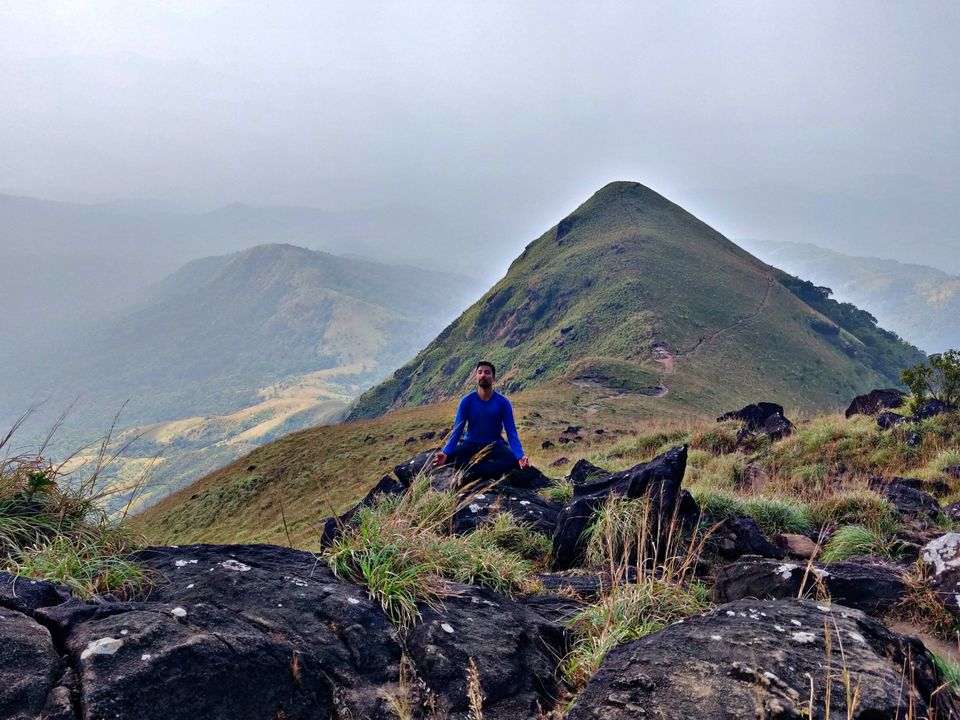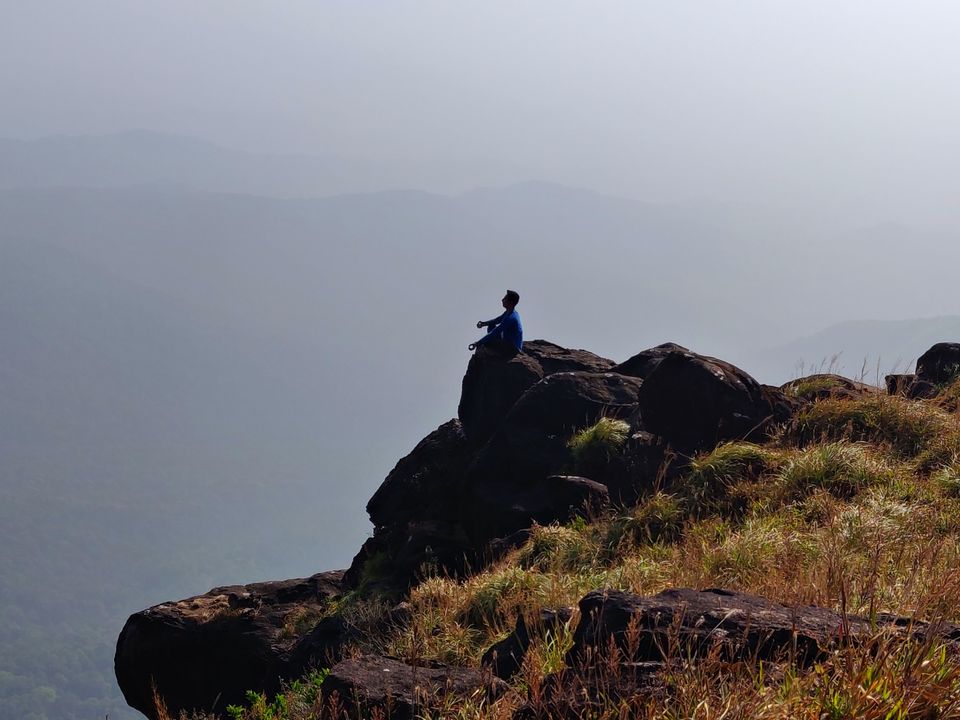 I decided to stay there, relax and enjoy the view, while my friend went ahead with trail for Pushpagiri Peak, it is a km away from this peak.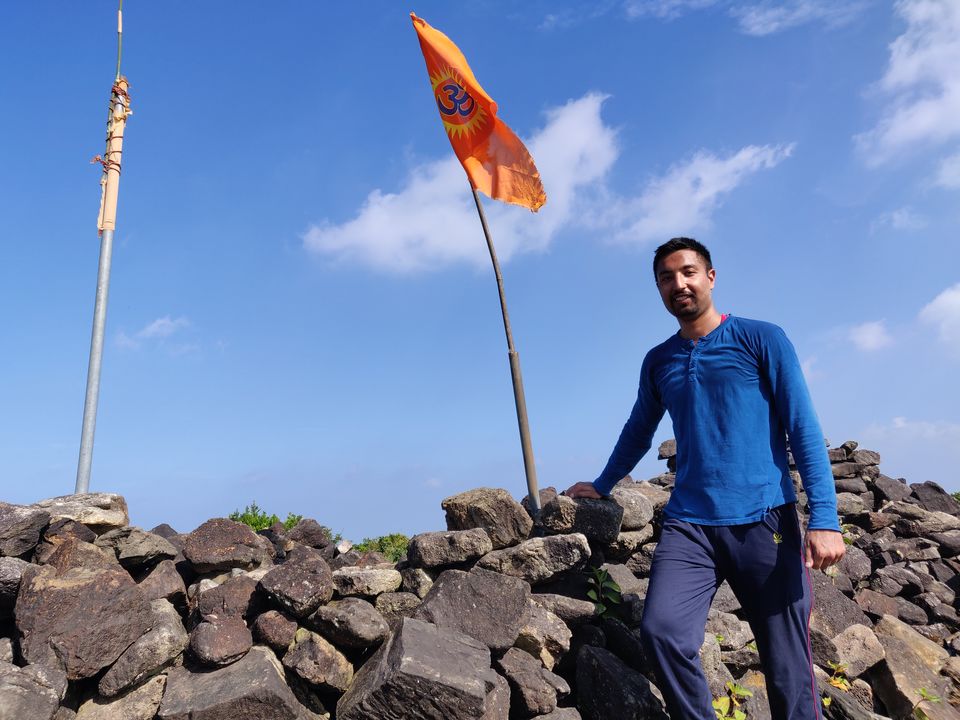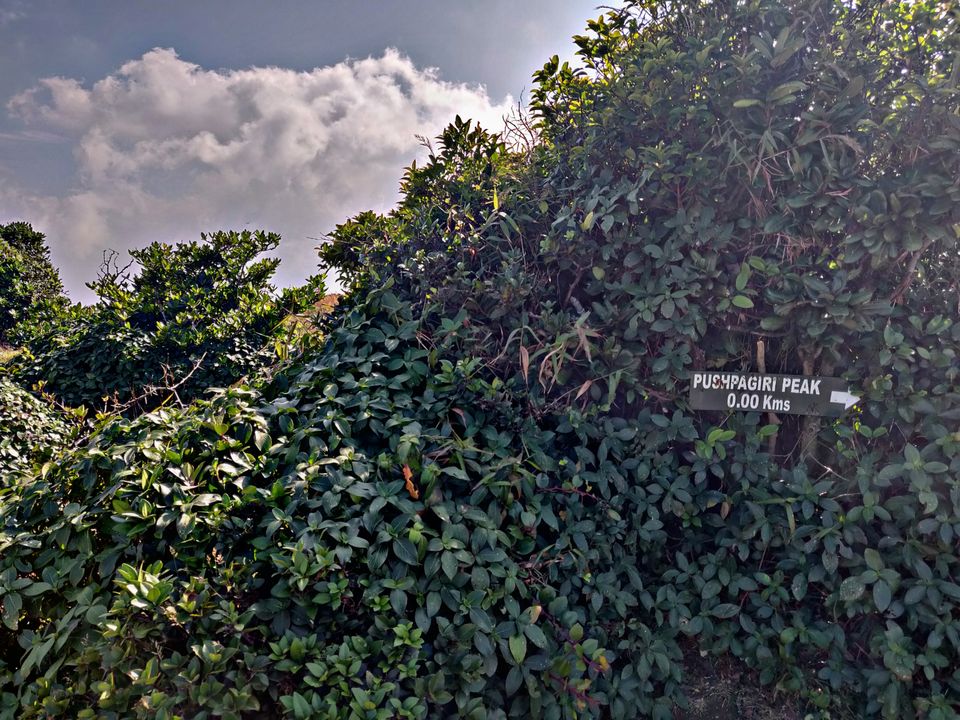 Much against our will we left the place and started descending at 3:30 pm to reach the campsite before sunset. The altitude that we covered while climbing took full revenge and was slippery with nowhere to maintain grip, after falling off a couple of times we managed to reach battaramane (campsite) just when it was getting dark, while stopping by to witness the sunset as well.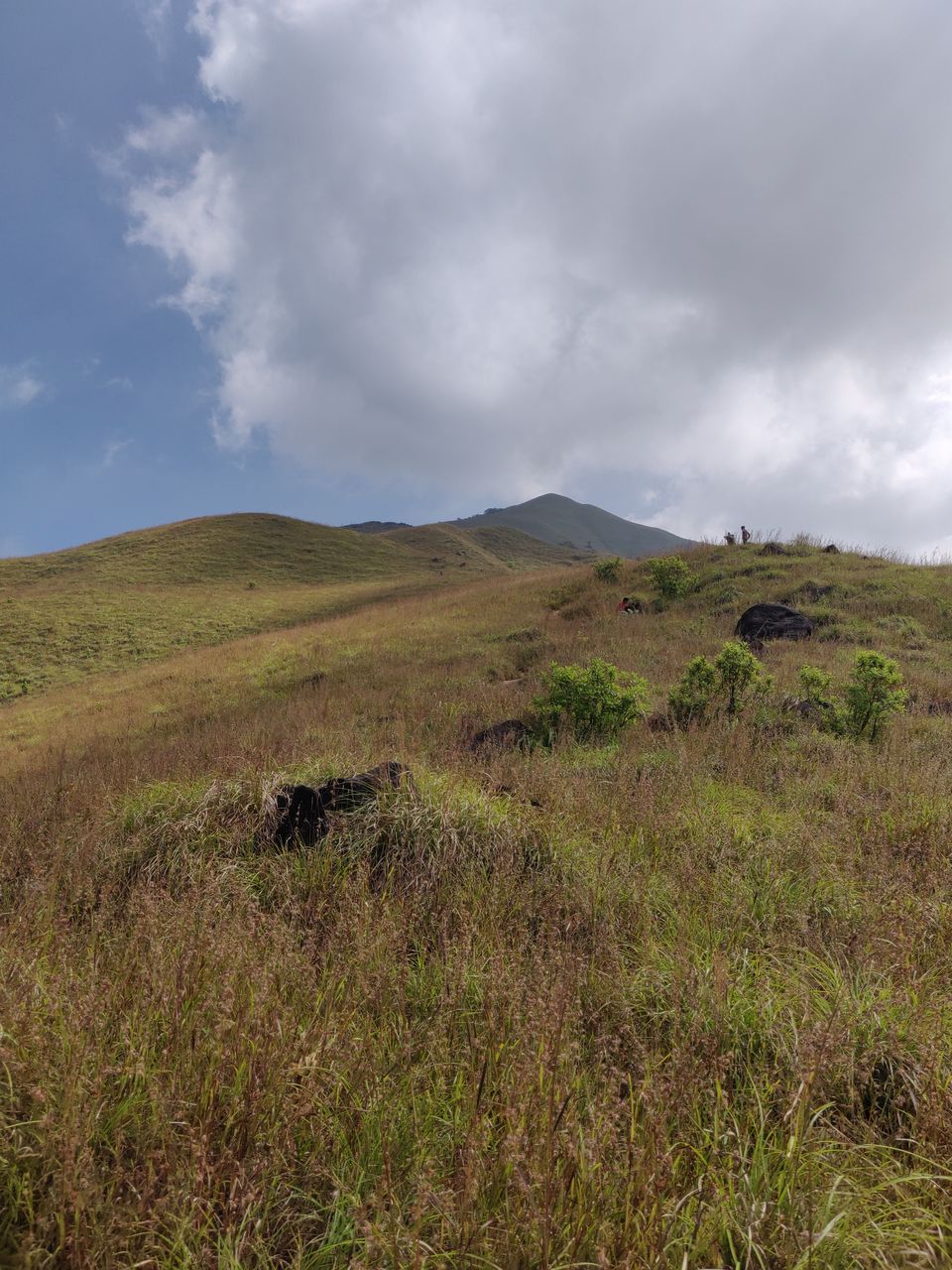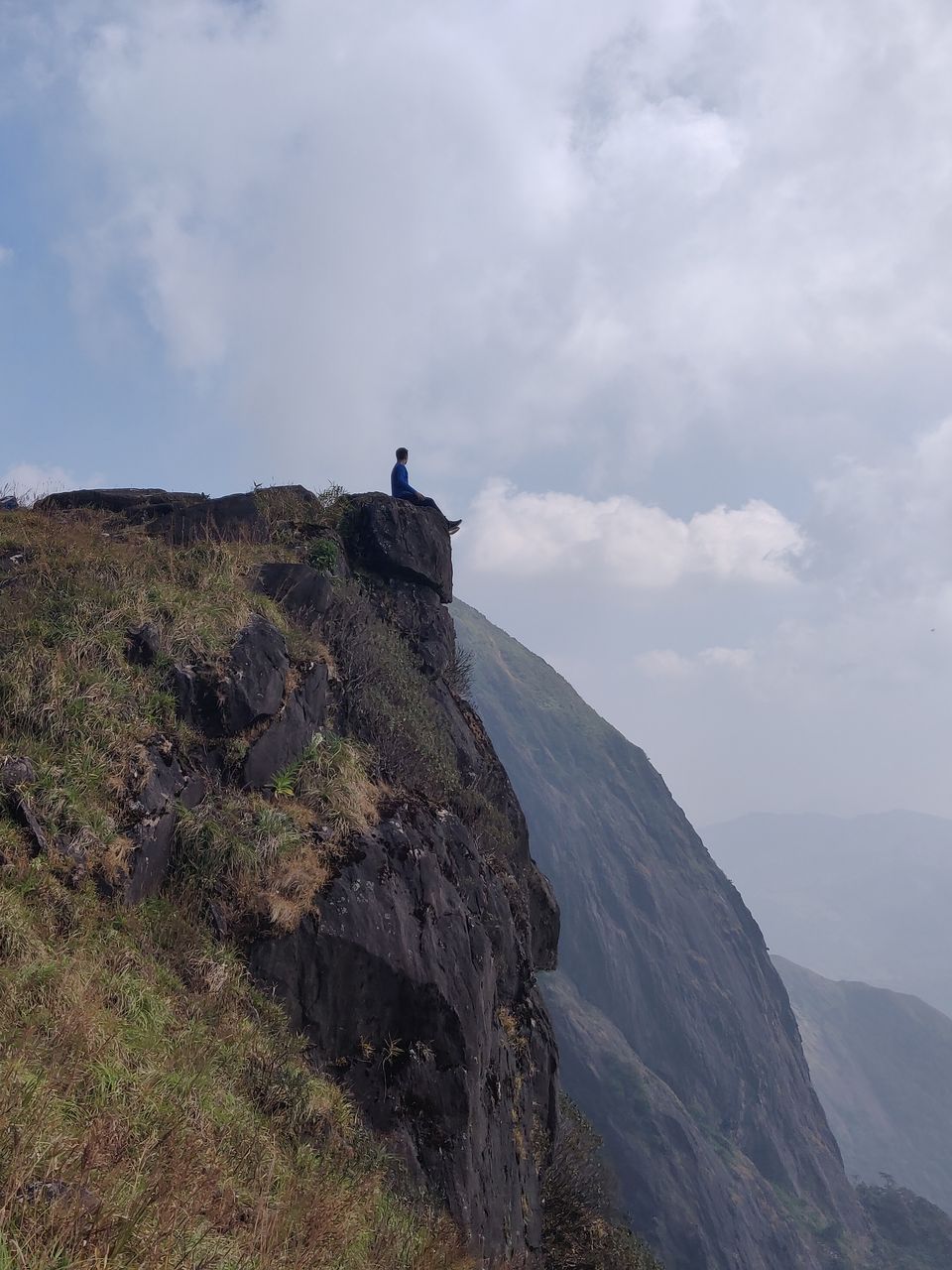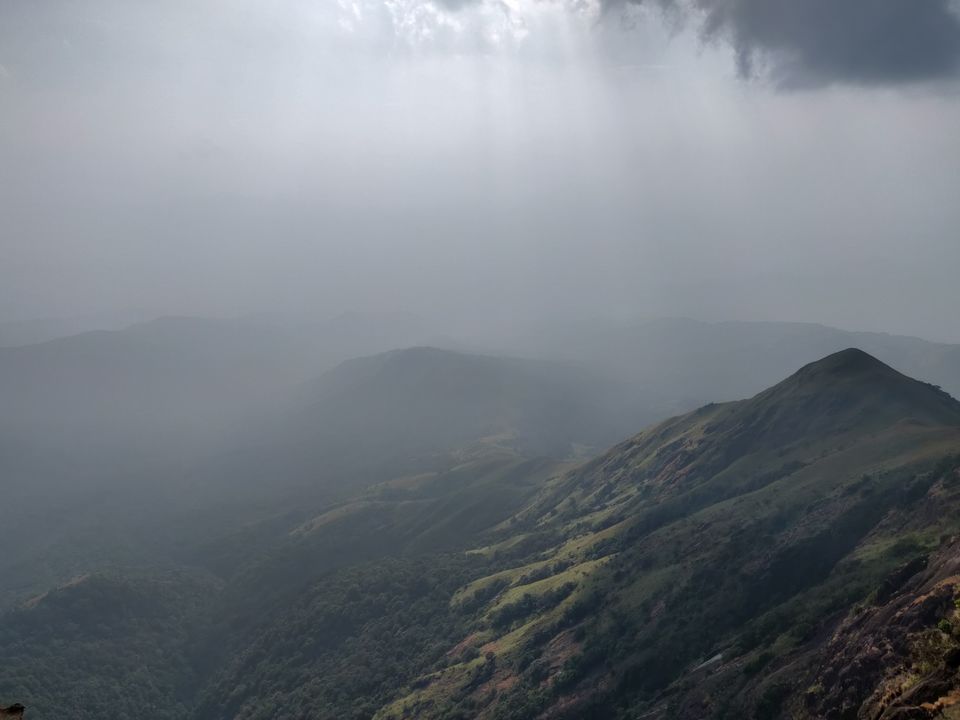 Needless to say we were exhausted and just wanted to lie down, instead we had to find a place for our tent and set it up, after this even walking 200-300 mtrs for dinner felt like a task. Post dinner we sat with a beautiful star studded sky above us. I was damn excited for a camping experience and amidst nature without electricity or even proper amenities for that matter, we dozed off in seconds and how.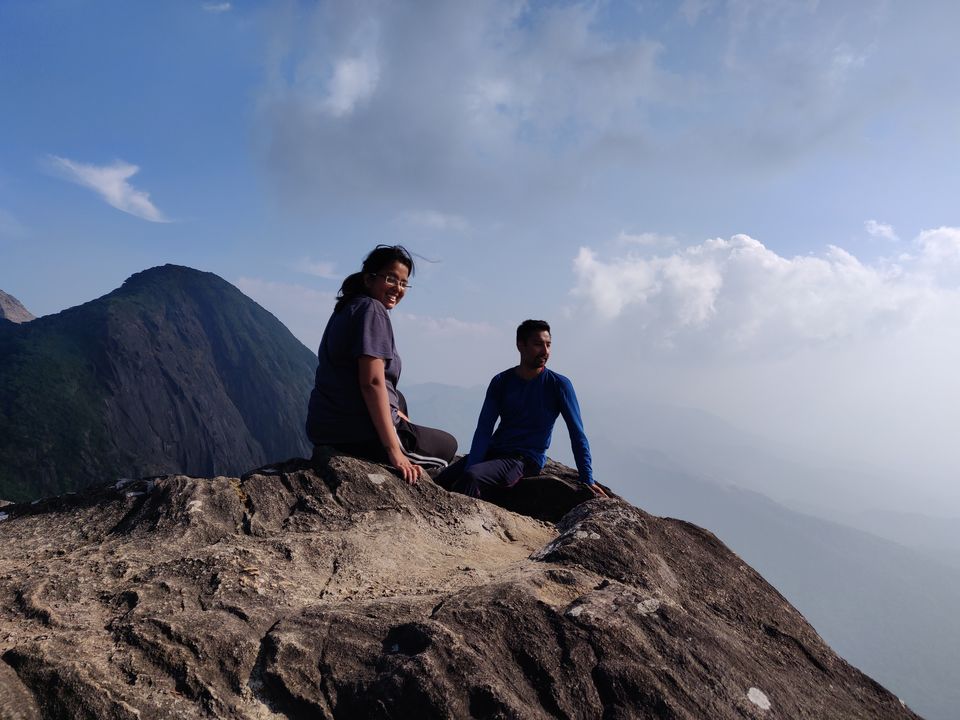 Trust me when I say it was a rare pleasant early morning the next day, we had to pack our stuff up and cover the remaining 5 kms down the trail and also drive 150 kms back to our college. The trek left us exhausted for sure but also with an unforgettable experience.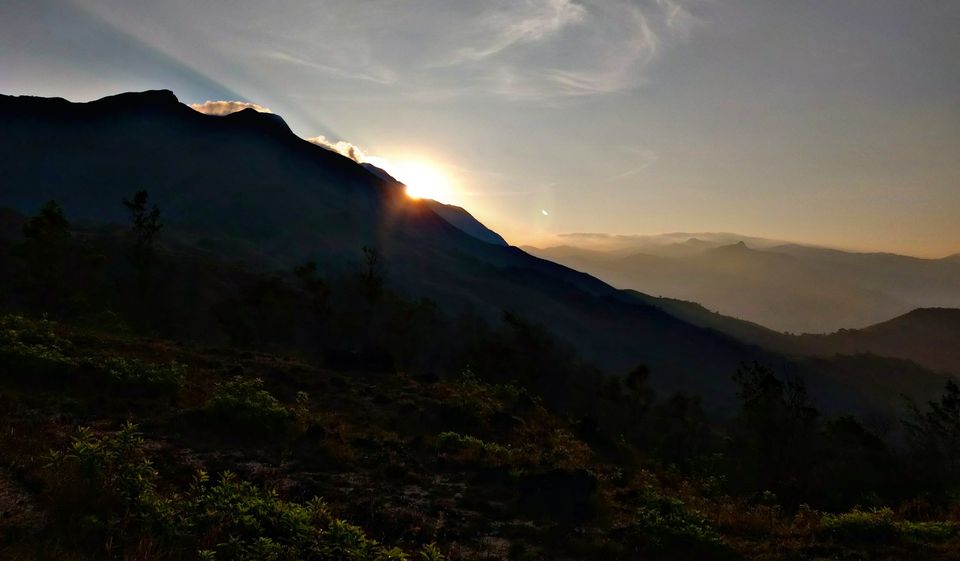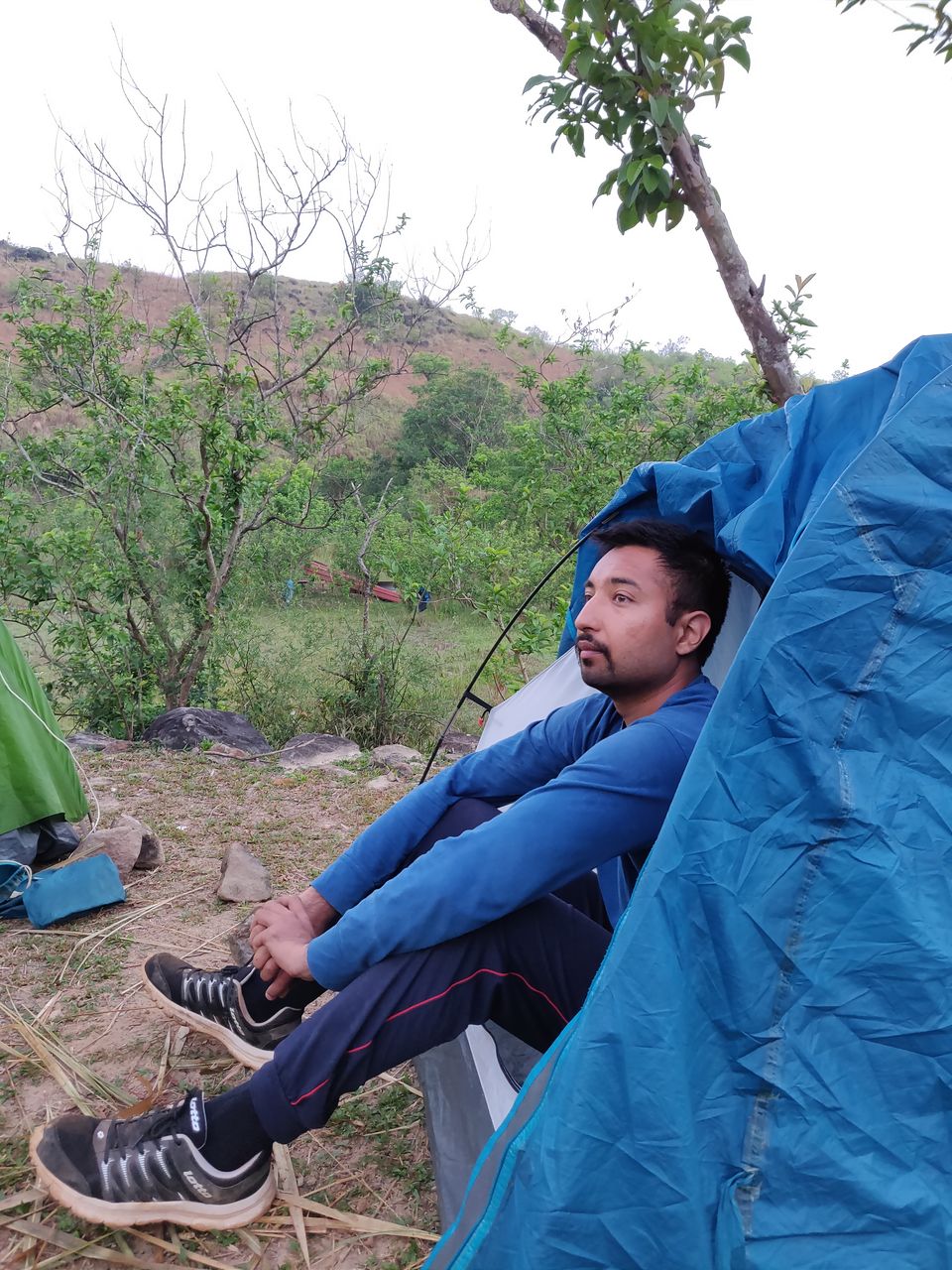 Budget Details: Rent for tent and Sleeping Bags - 948 Rs
2 Wheeler rent (Drivezy) - 749 Rs
Petrol - 590 Rs
Trek fee - 350/per person * 2 = 700 Rs
Hotel booking - 640 Rs
Total = 3627 Rs (for 2)
= 1814 Rs (per person)
Some trek hacks to keep in mind :
1. Duration: We were on a tight schedule and so had to squeeze the trek in a 2 day plan which is doable but, if you have some time in hand please spread the trek out over a 3 day plan which will make it a bit more relaxed and you will be able to enjoy and appreciate it a lot more.
2. Weather: The altitude of this trek is high and after a point you'll not be able to spot a single tree or a shed and with sun shining bright right at you it's going to be a difficult trek during summers and as the rains are heavy in this region the safest weather option would be during the winters.
3. Be mindful while packing: The weight of your backpack is extremely important as the slope is damn steep, so just carry the things that are really important for you.
4. Carry adequate amount of food and water: Pack food which can provide you with instant energy, as you will require high stamina in some stretches during the trek, also because there are no stalls available all through the trail (we had a lot of fruits and chocolates with us). Water resources too are limited, one is of course is Battramane and the second one is a natural resource approximately 3 kms before the peak where you can refill your water bottles.
5. Carry your own tents and sleeping bags: There is no provision of renting tents or any other stuff once you start with your trek and with the kms to cover on this trek it's necessary to have a minimum of one night halt.
6. For people who absolutely hate crowds weekends on Kumara Parvatha are not for you, coincidentally our leaves were over the weekend and as this trek attracts a lot of working class people from Bangalore the camping site looked like a small town with tents all over.
7. Be extremely careful if you are planning to drive upto Kukke Subramanya especially on a 2 wheeler. The terrain is hilly all through, lighting and visibility after sunset is a major challenge and risk.
Happy Travelling ! Cheers !!