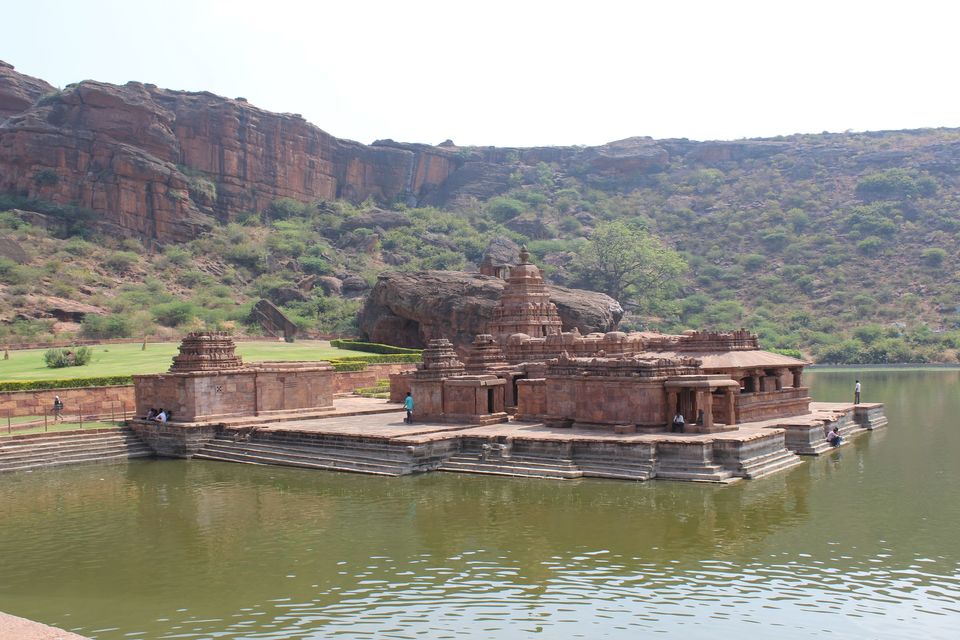 Reached Badami from Hospet in 3 hours by express way.On the way we saw a lot of Sunflower fields,beautifully aligned their heads towards sun's direction and also passed "Gajendragad" another historical place in Gadag district."Gad" means fort and it was treaty by Tippu sultan after Mysore 2nd war.You can see the fort stretched till you enter into Badami arena.
On the left side of the mantapa,you can see lord vishnu with laxmi and parvathi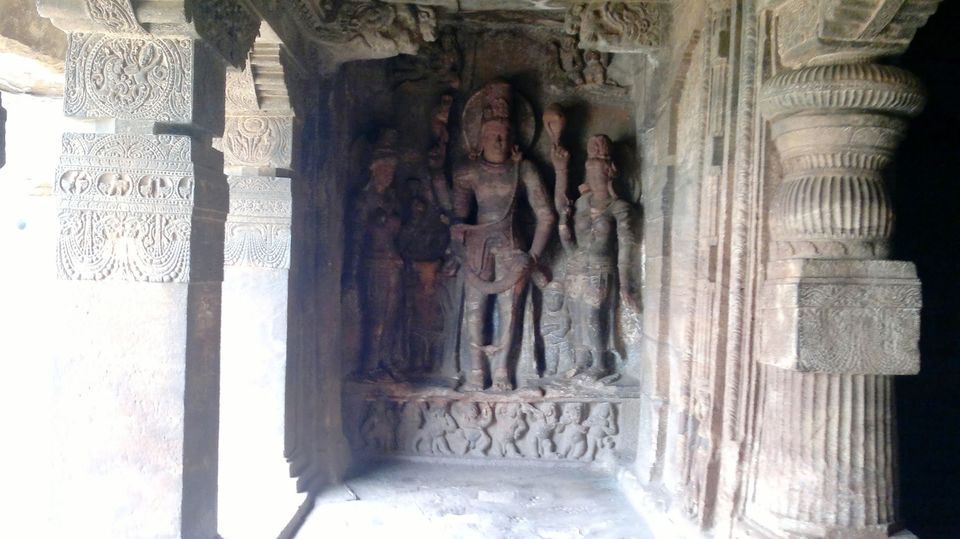 There is an interesting myth associated with Gajendragad fort.Excerpts from Wiki says "A miracle that happens on the previous night of Ugadi, New Year of Kannadigas. The pandit/pujari of the temple prepares a solution of limestone, and keeps it ready for application along with a brush, inside the temple. The next morning, the jobs done. But the temple is painted on its own and this happens without fail every year. A hookah that is also kept along with it seems to be used when seen the next morning."
Chalukya's empire
Chalukya kingdom is a base for the beginning of south indian architecture.It was Golden period.Earlier Aihole was its capital then Chalukyas shifted their capital to Badami (then Vatapi).Badami is situated in Bangalkot District,Karnataka.Badami is located along Malaprabha river.Badami caves which stands as an exemplary of Rock cut architectural style is situated at Malaprabha river basin.
What's in its Name
Badami-Got its name from the color (Almond color which is called Badam in Kannada) of sandstone around this area.
Organization of Caves
There are four caves comprised under Badami caves.First cave is dedicated to Shiva which is easily reachable from Ground level.Second one is situated at higher altitude than first cave and dedicated to Vishnu.Third Cave is also dedicated to Vishnu and located well above second one.Needs little effort to climb up and on the way to third cave,at right side there is a little mantap like structure which is off from the way with nothing in it whereas left to that mantas has an inscription written in kannada shows the sculptors involved in this magnificent architecture.Fourth cave is dedicated to jain religion and has jain tirtankar's statue.
It's pure mystery to perceive how could chalukya's came up with this idea and a standing tall proof for showcasing the art.It's beyond wonder for erecting such a structure in no technology era.Yet again Human power is more than any of the technology.
Cave 1: Dedicated to Shiva
You should not miss to look for the statue of dancing shiva with 9 pair of arms constituting 81 dance forms.It's located at down of mantapa.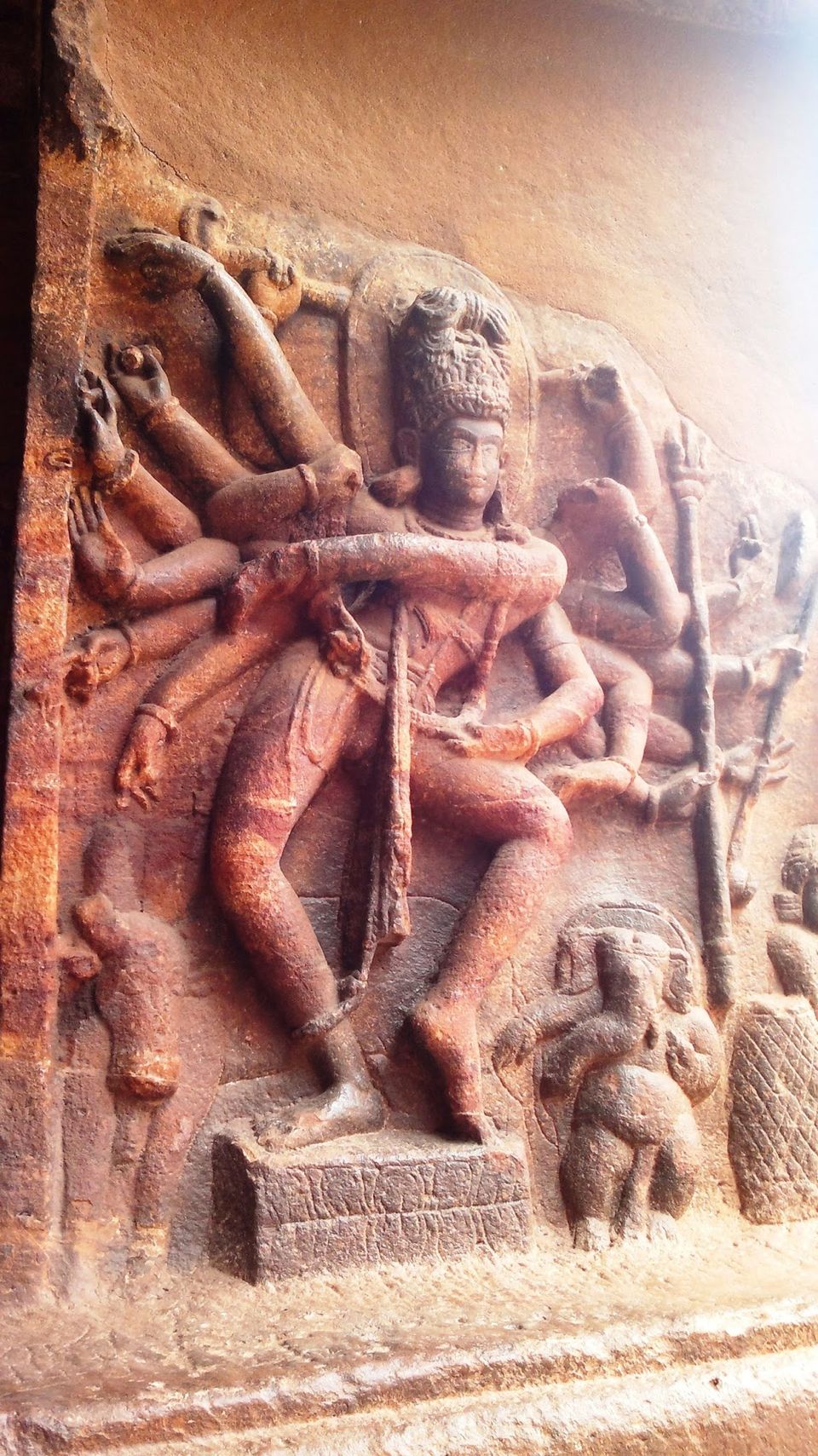 As you climb up the steps and on reaching the mantapa,you can see Ardhanareeshwar (Half Shiva and half parvathi) statue at right side.Sage Bringi and nandhi to the left of Ardhanareeshwar.One can see the bangles on parvathi side of Ardhanareeshwar which emphasises the sakthi form in it.Right to this statue,inside a cave (along the lines and up above dancing shiva)there are statues of Karthikeya in his vehicle (Rooster),Ganesha and shiva.
I read the story of sage Bringi in the role of Ardhanareeshwar.This divine couple took ardhanareeshwar form to teach a lesson to the egoistic sage Bringi.Sage Bringi considered shiva is the ultimate form of existence and ardent fan of shiva and ignores any other deity in his daily worship.Shakthi also was not spared by him.He circumblates only Shiva side and ignores Parvathi.So this divine couple took this form,yet Bringi pierced shiva's body as Bee so that he can enter only shiva's part.

In human being,shiva is structural form such as bone and skin whereas sakthi which is responsible for the blood and Flesh.Sakthi was infuriated by Bringi's act and pulled out her energy from his body and instantaneously he is just mere skeleton form with only one leg (Can be seen in the below pic as well) and unable to stand.Shiva pacified parvathi to give one more leg to stand.By this time,Sage realised that Life is graceful by both force(Sakthi) and Form (Shiva) which are not contradictory rather complimentary to each other.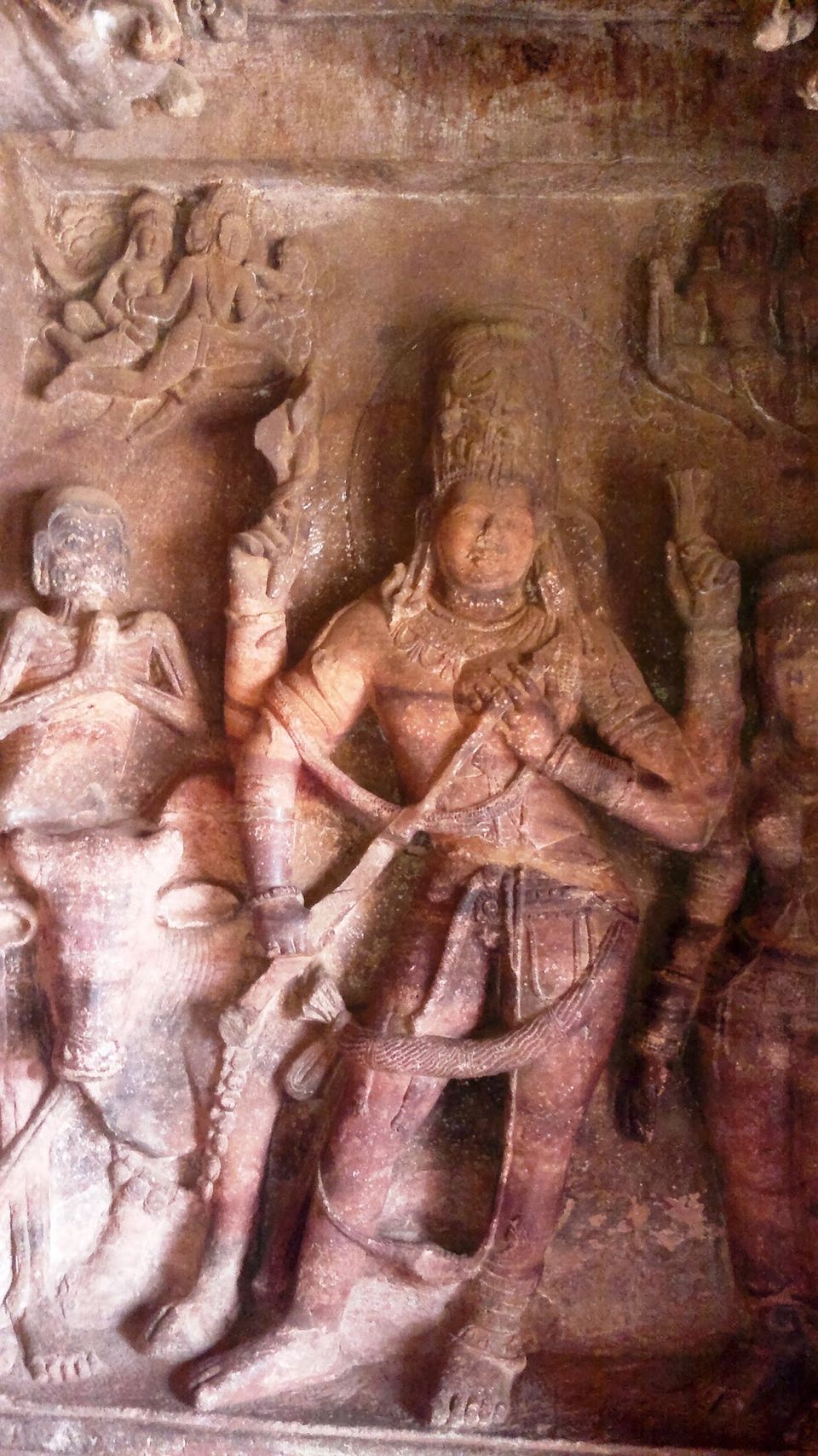 None of the caves except fourth cave (Jain) has statue in its sanctum.
Cave 2 : Dedicated to Vishnu.
Cave 2 is similar to Cave 1 in structure.You can see Vishnu's Varaha avatar rescuing Bhudevi and Trivikrama (who won three worlds,Tri-Three and Vikrama means conquered) are largest reliefs in outer verandah of Cave 2.Ceilings had paintings of mythological stories but not visible though.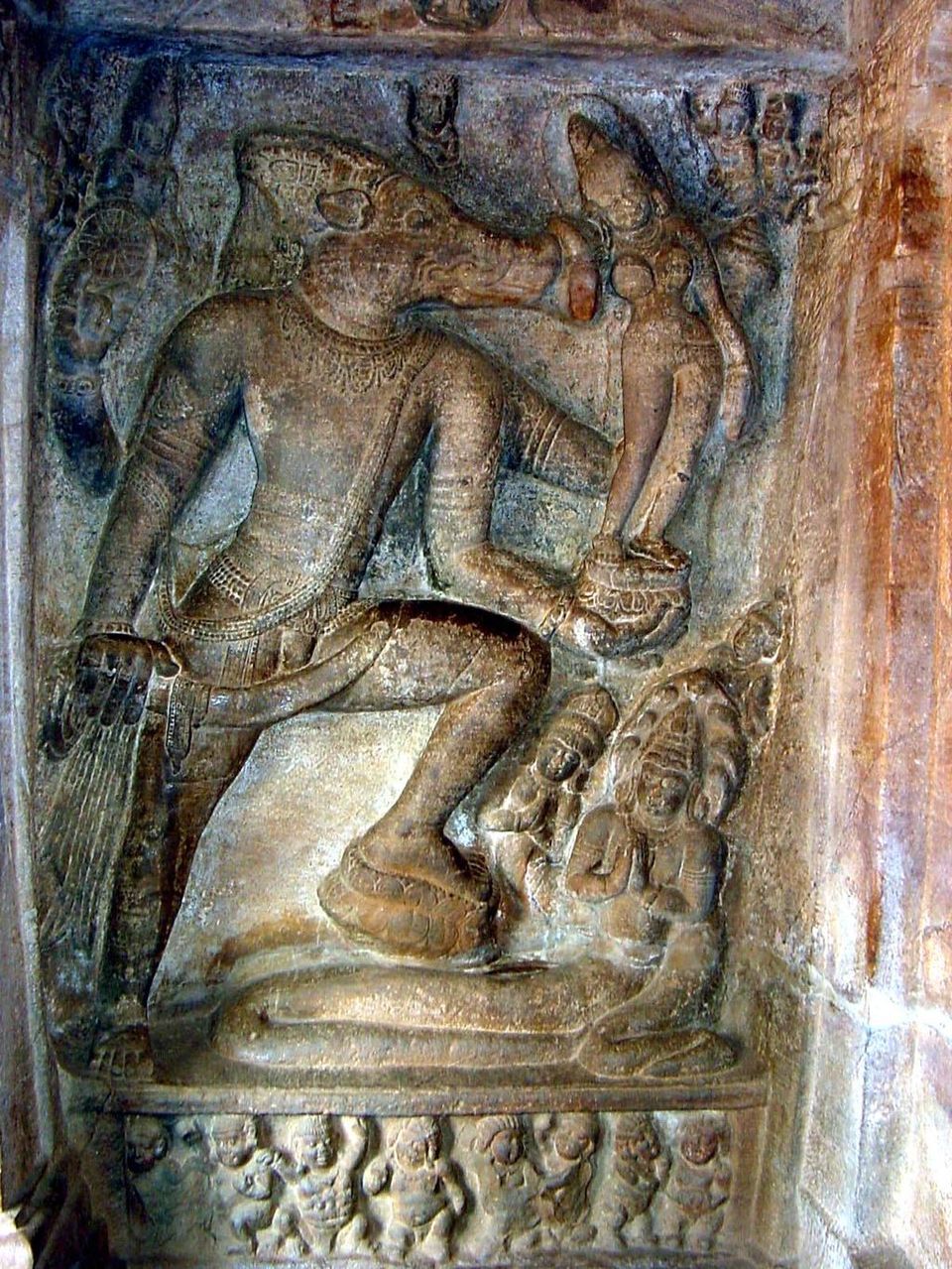 Cave 3:
Its also dedicated for Vishnu.It is the largest cave and my favourite one among four caves.Well intricated reliefs of vishnu avatars such as Trivikrama,Narasimha.This cave primarily shows vaishnavites.One striking feature is a relief carved like Vishnu seated on serpent Sesha.It gives instant peace to your mind,such a serene poise.
The pillars(column) are different than earlier caves.Roof has fresco paintings which are faded and unclear similar to other caves.
No wonder it is treat for eyes and if you have knowledge in mythologies and Hindu puranas you will be much more delighted. Yet it instilled the interest in Hindu Puranas.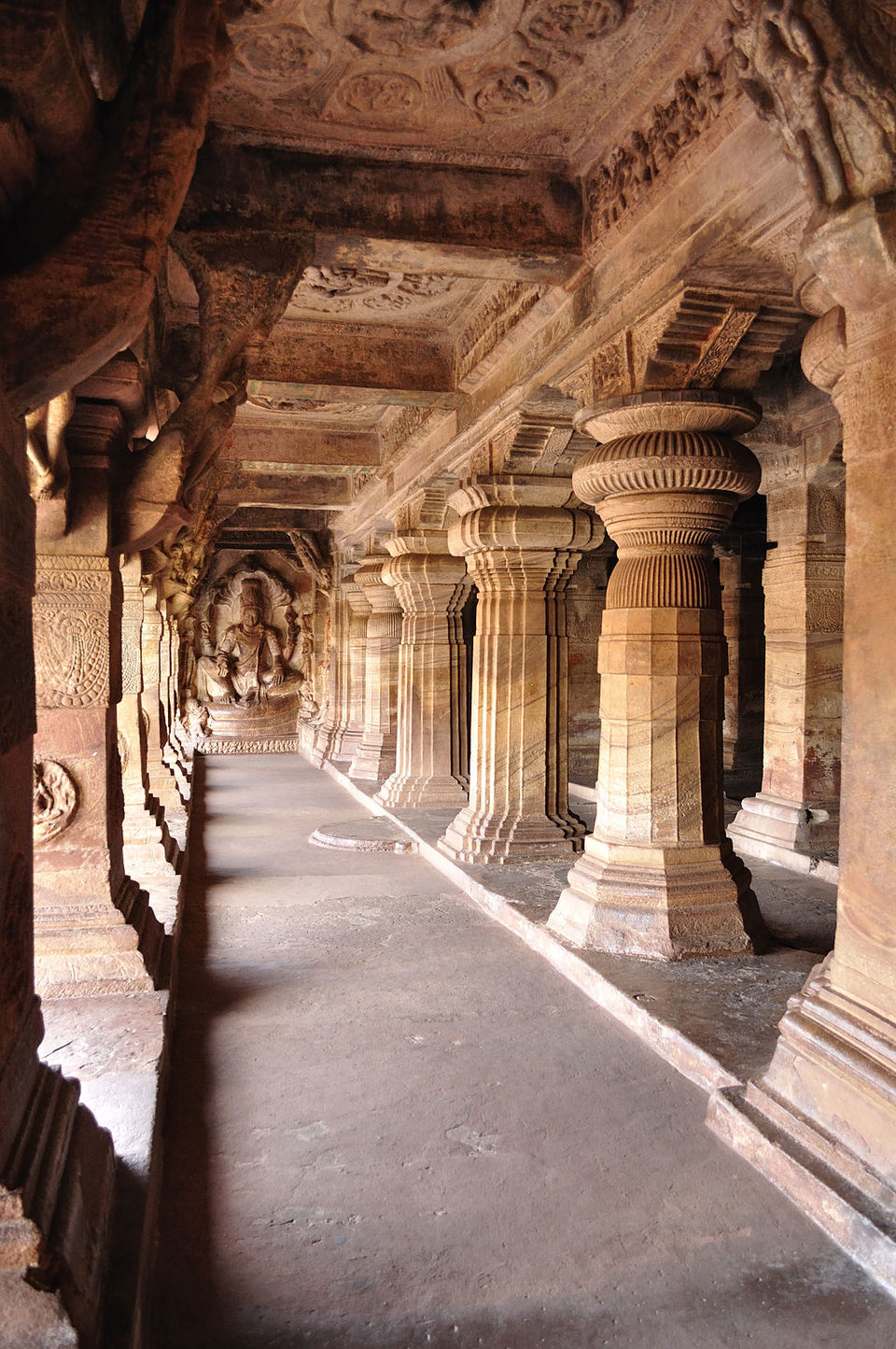 Cave 4:
Chalukya's supported Jainism as well.It's much seen in Cave 4 which has many revered figures of Jainism.This is the only cave where inner sanctum has an image.Inner sanctum has Mahavira image.There are many Tirthankaras engraved in inner walls and pillars.This cave is situated higher than any other caves.
Tidbits
1.You can hire a taxi from hampi for one day trip to badami caves and pattadakal for say Rs.3,500/-
2.Try to visit on any normal day rather than long weekend/ festive season to enjoy the place without any crowd.