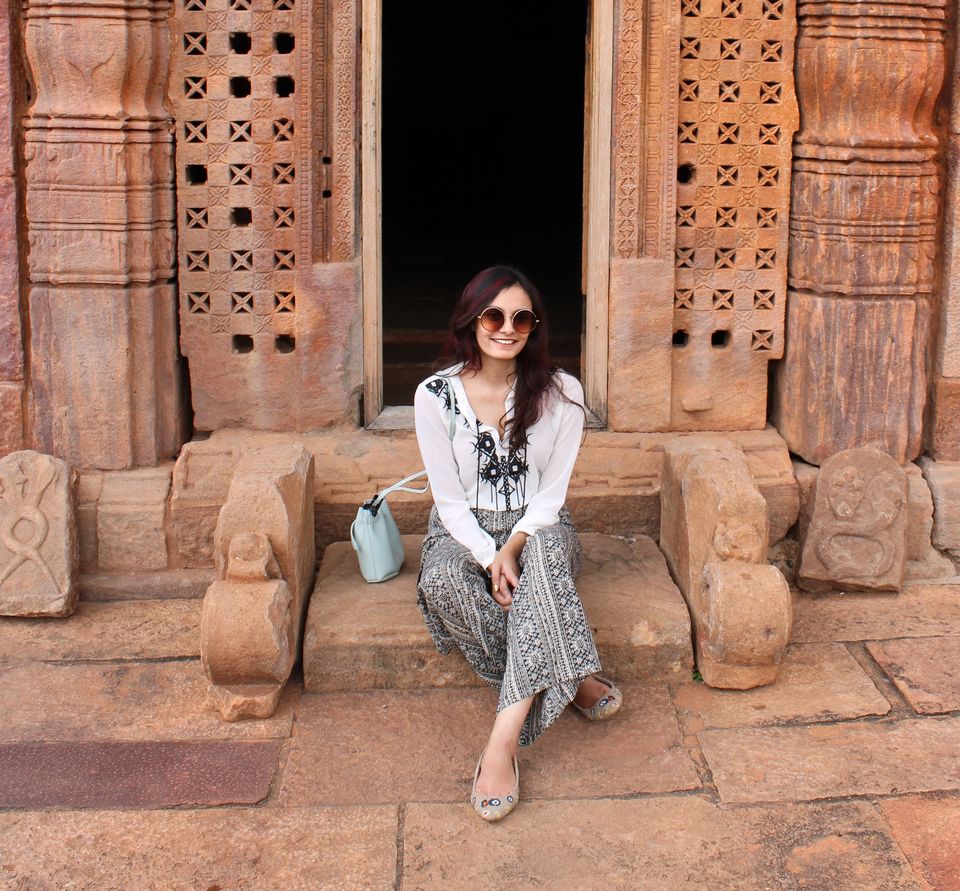 If you happen to stay in south India, and haven't come across the name 'Badami', I wouldn't blame you - neither had I! I looked up the pictures on Instagram for the first time, which resembled so much to the ancient architectural ruins of Hampi, but it wasn't half as popular as Hampi though. Not many people come here for sightseeing, but let me tell you why it's worth it, and why it should be on your list!
It's a 8 h 17 min (451.4 km) drive via NH 48 and NH50 or you could just take a train which is what we did- the Golgumbaz Express, which is a pleasant over night journey.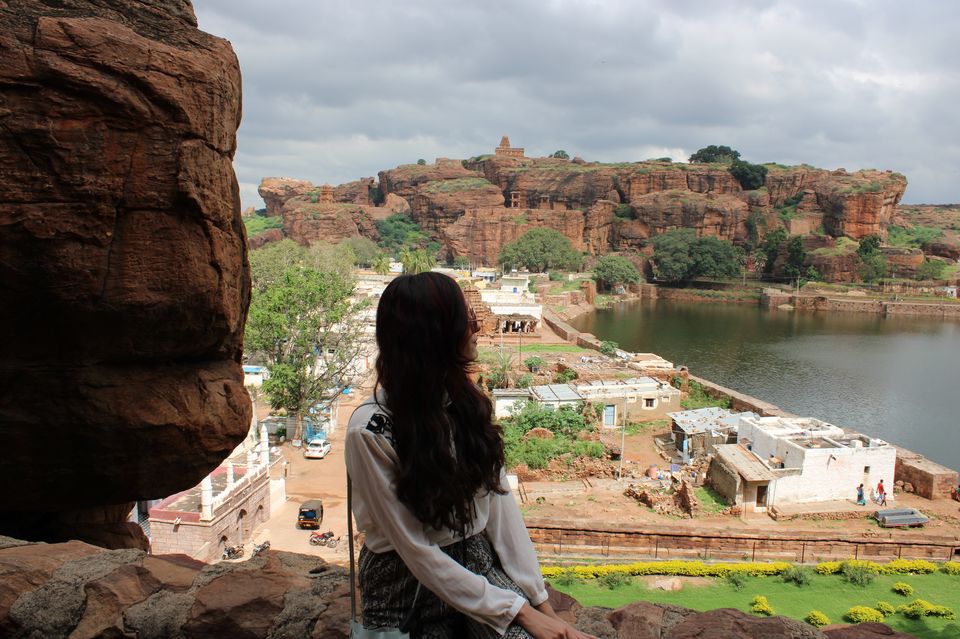 The first place you must visit as early as you can after your breakfast and refreshment is the Badami Cave Temples. The red sandstone hills remind you of Jordan, not even kidding!
It consists of four caves that have been discovered and studied. Cave one is dedicated to Lord Shiva, cave two is all about Lord Vishnu, cave three has various incarnations of Vishnu and the fourth cave is related to Jainism.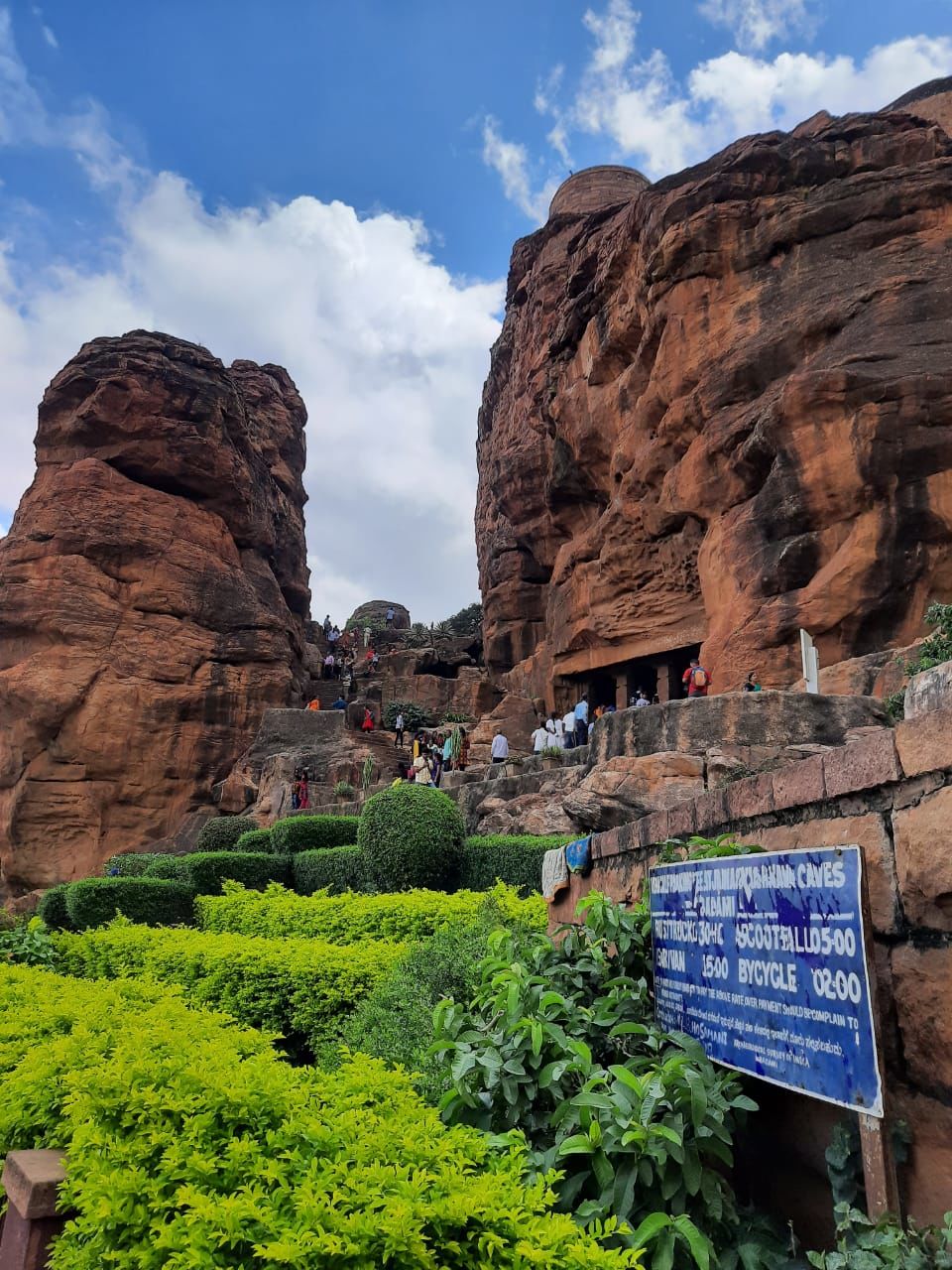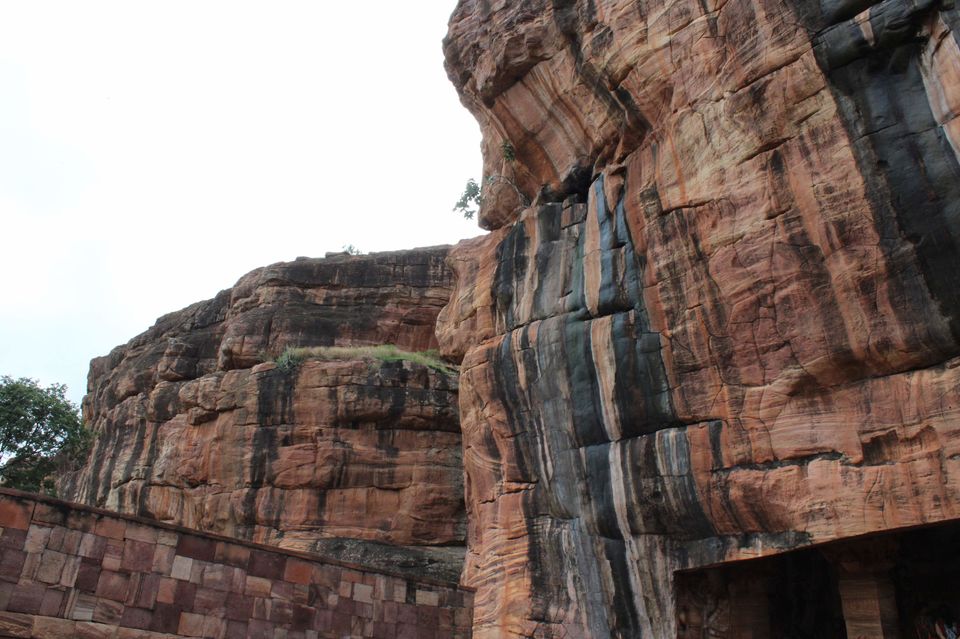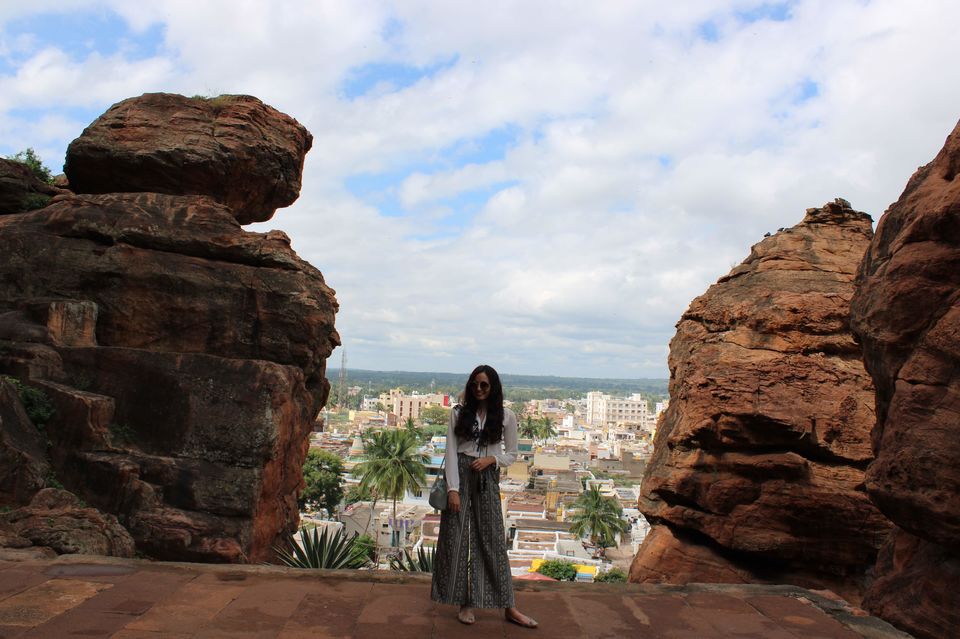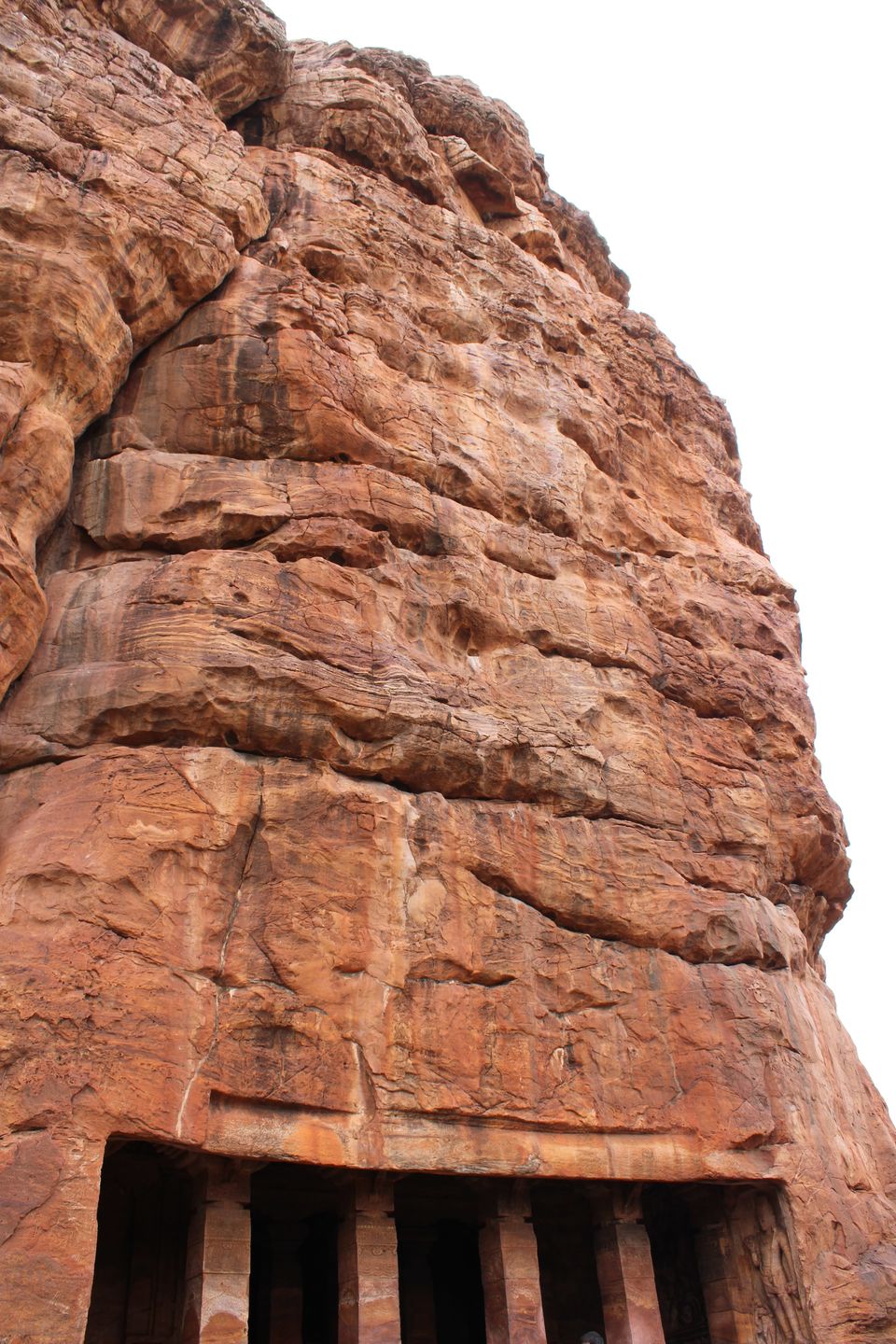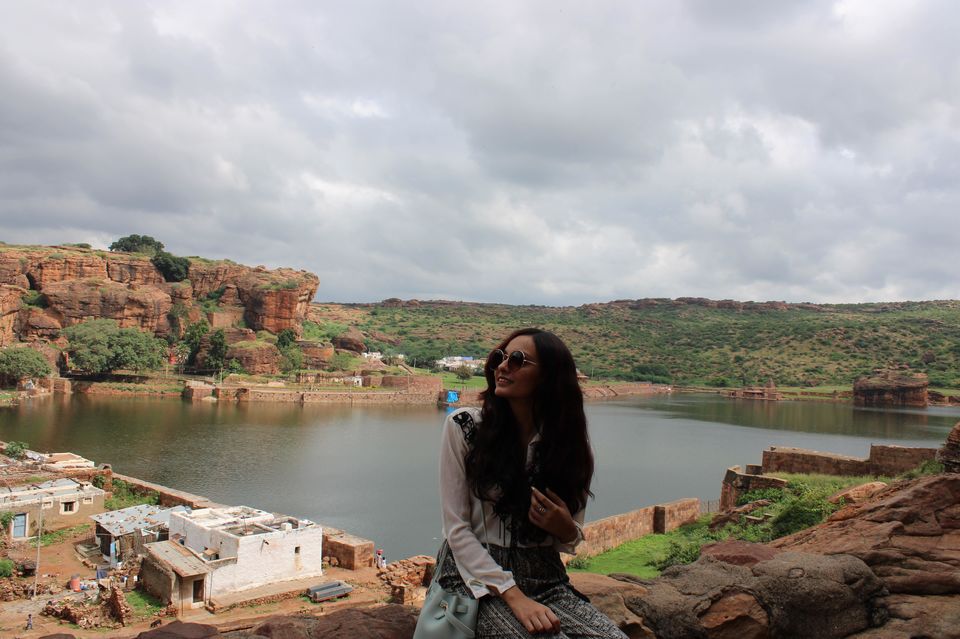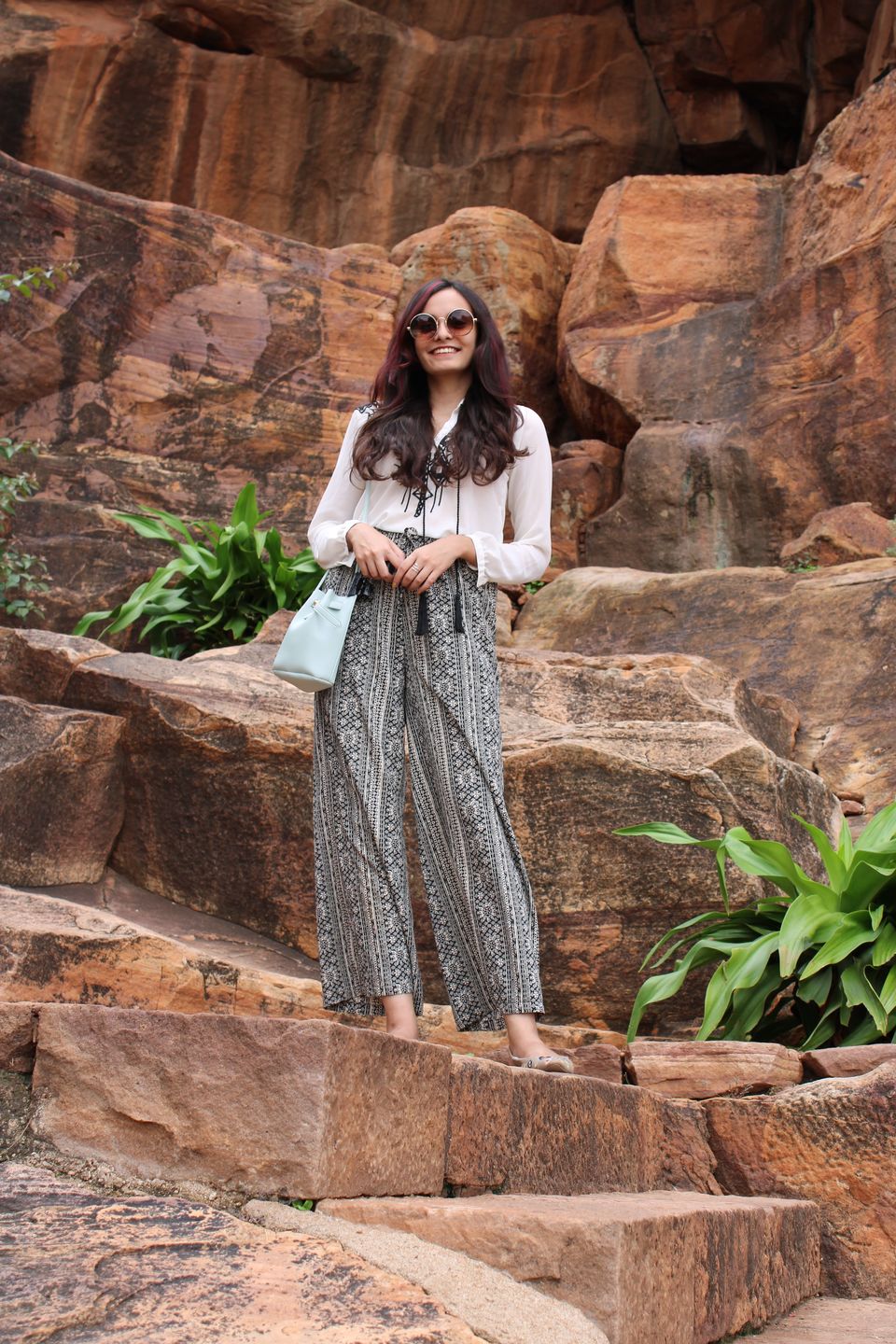 Next, you've got to visit the Bhutanatha group of temples, which is believed to be dedicated to the deity Bhutanath. It's a cluster of sandstone shrines, each beautifully carved and just as intricate! Surrounded by the tranquil Agasthya lake, you could even sit down and dip your feet, but beware of monkeys as there are plenty around the temple complex.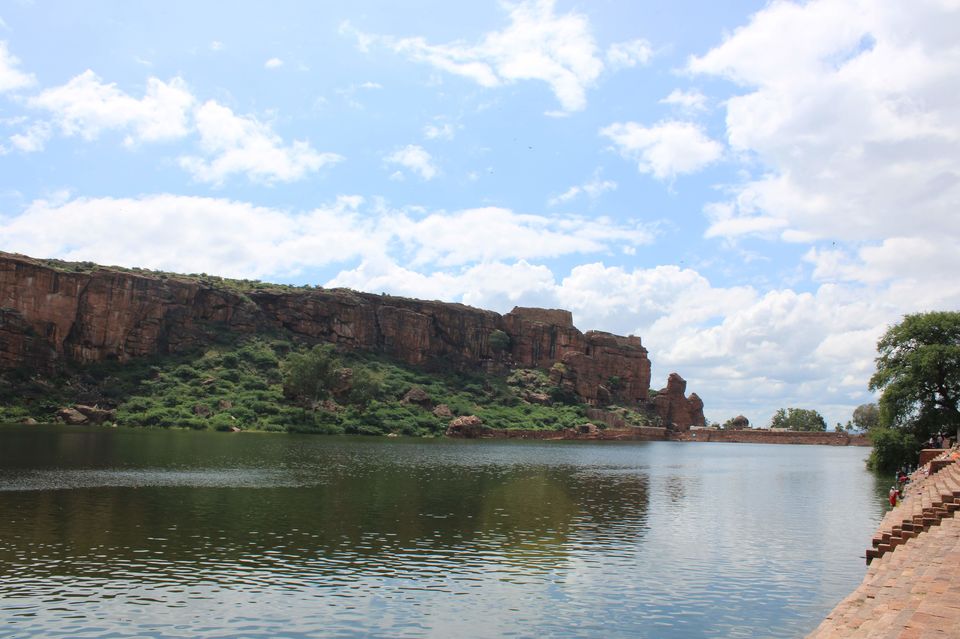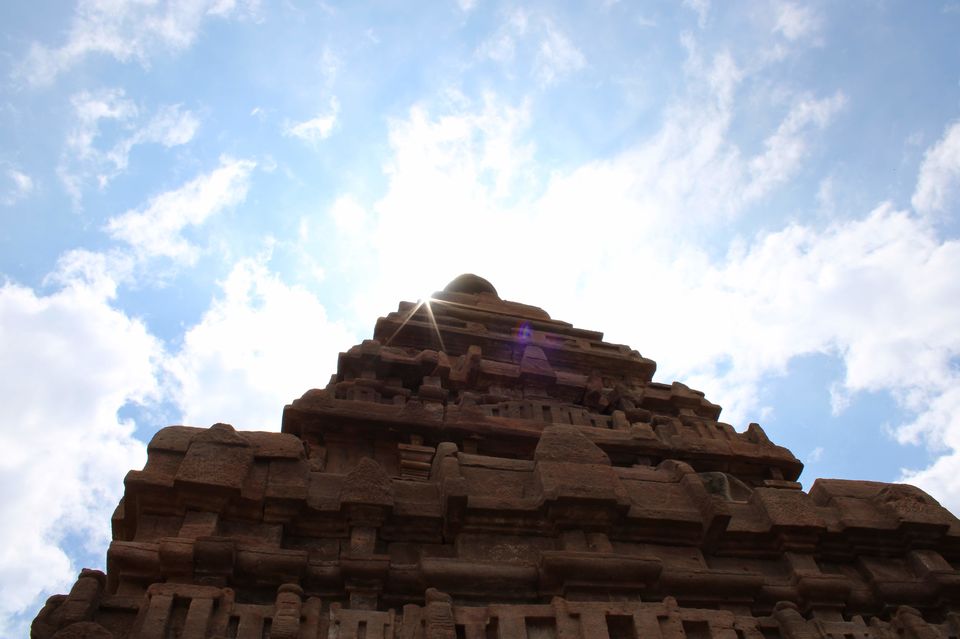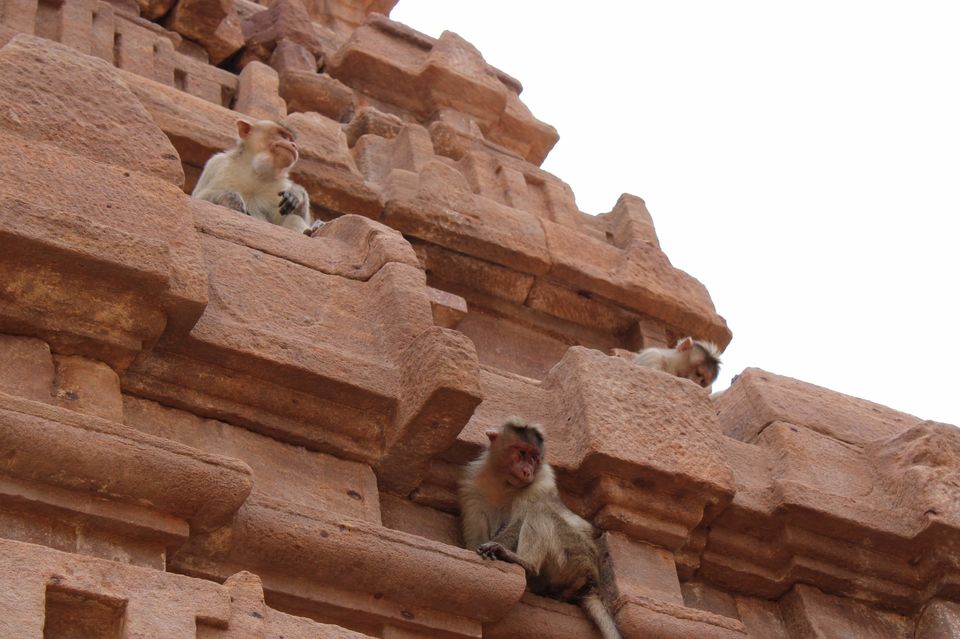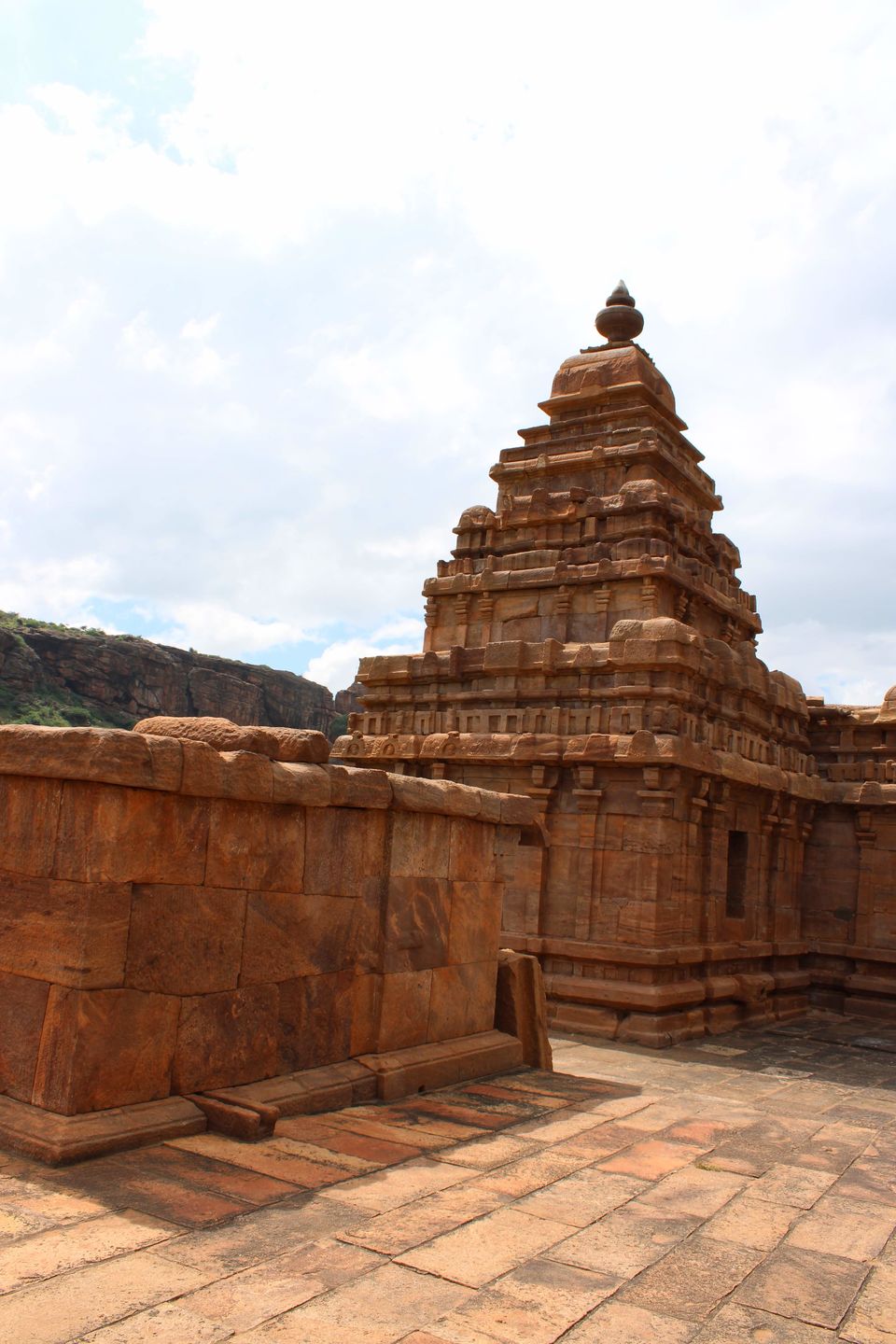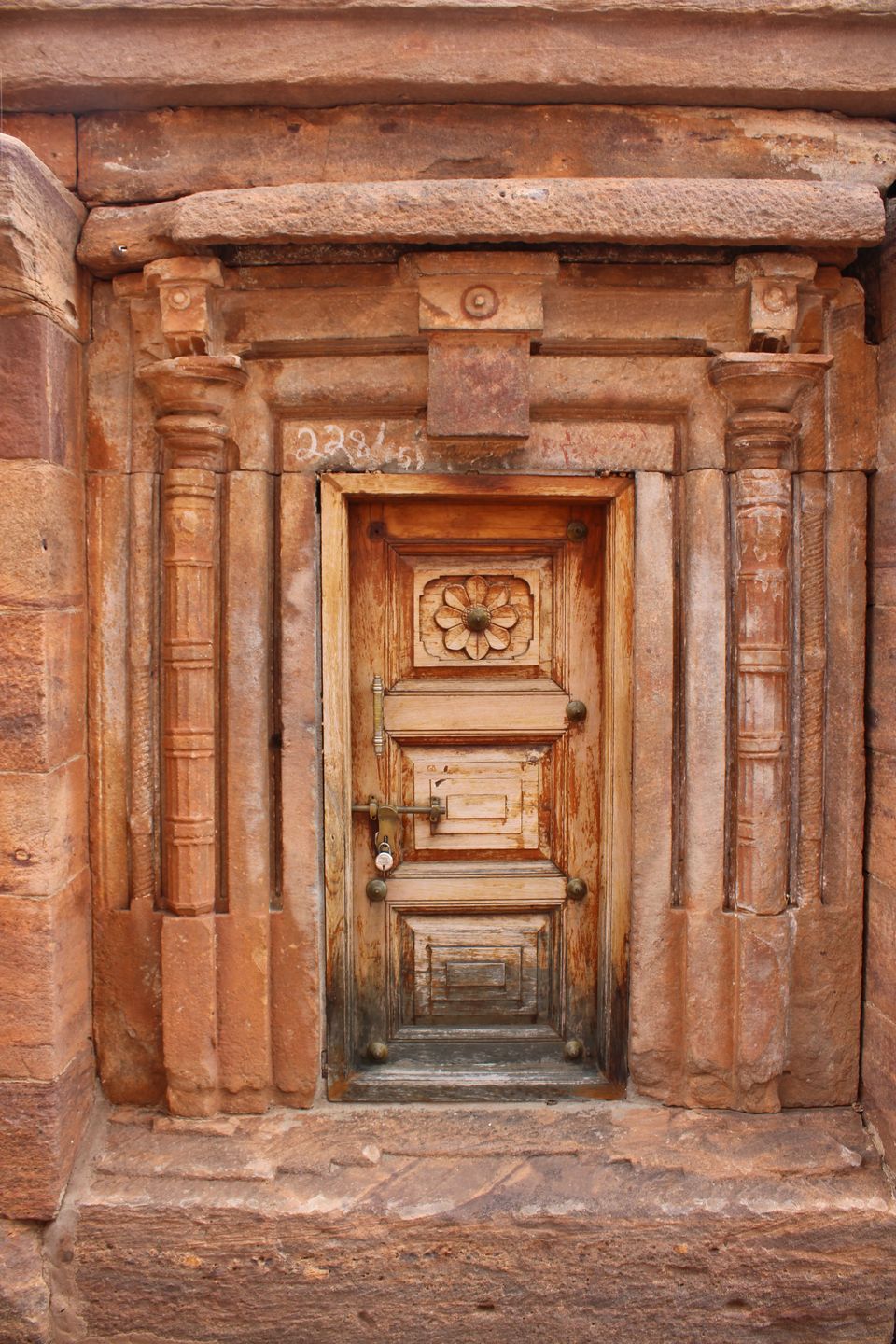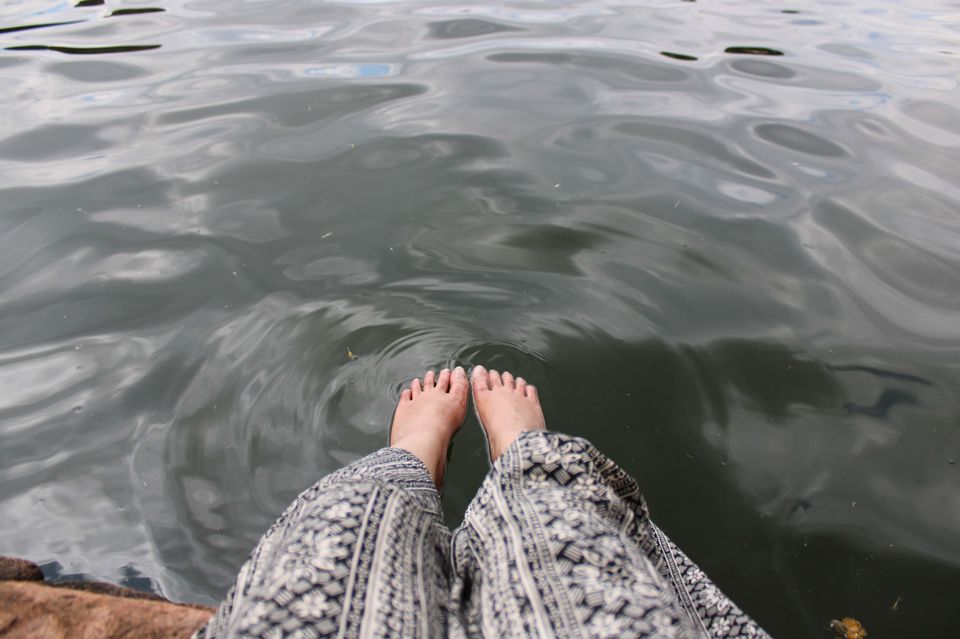 Post the sightseeing of these two temples, the next place to go to is the Badami fort, which is just a kilometre away, you could walk it or rent an auto for the day- which is what we did. I'd suggest renting an auto, as they know the place best and when it comes to lunch, they'd suggest and take you to the best places - well i'll get to that in a while! But the auto people need to be bargained with big time.
Nestled atop a cliff, the Badami Fort is situated exactly opposite to the Badami caves. It gives a magnificent view of the Badami town and its structures. The fort is circled by large granaries, a huge underground chamber, temples, strategically located watchtowers and various other attractions. I sadly couldn't trek all the way up as the sun was coming out again, and it was scorching during the afternoon. But till the point i did trek - I got a beautiful city glimpse and got the nicest photos!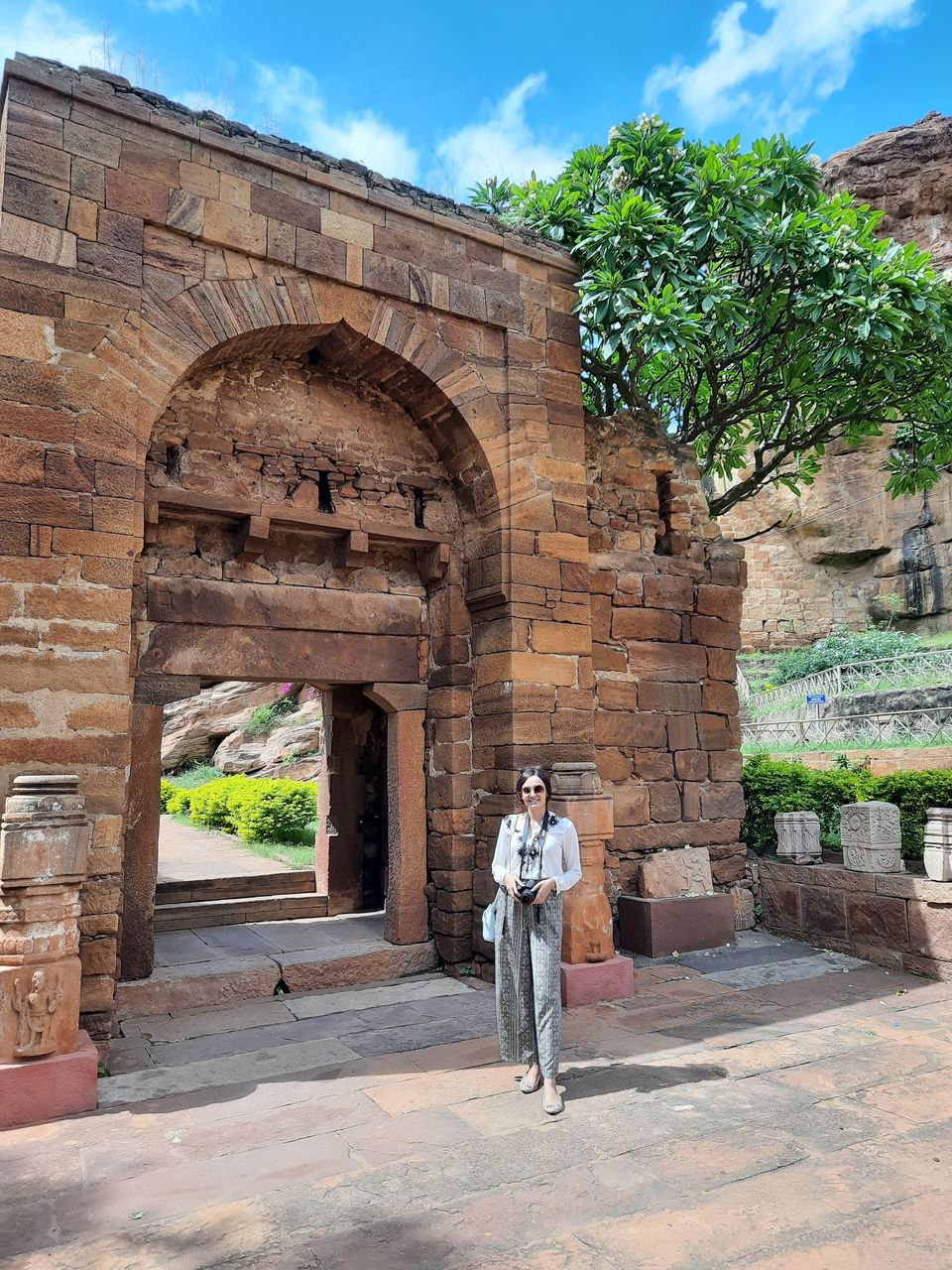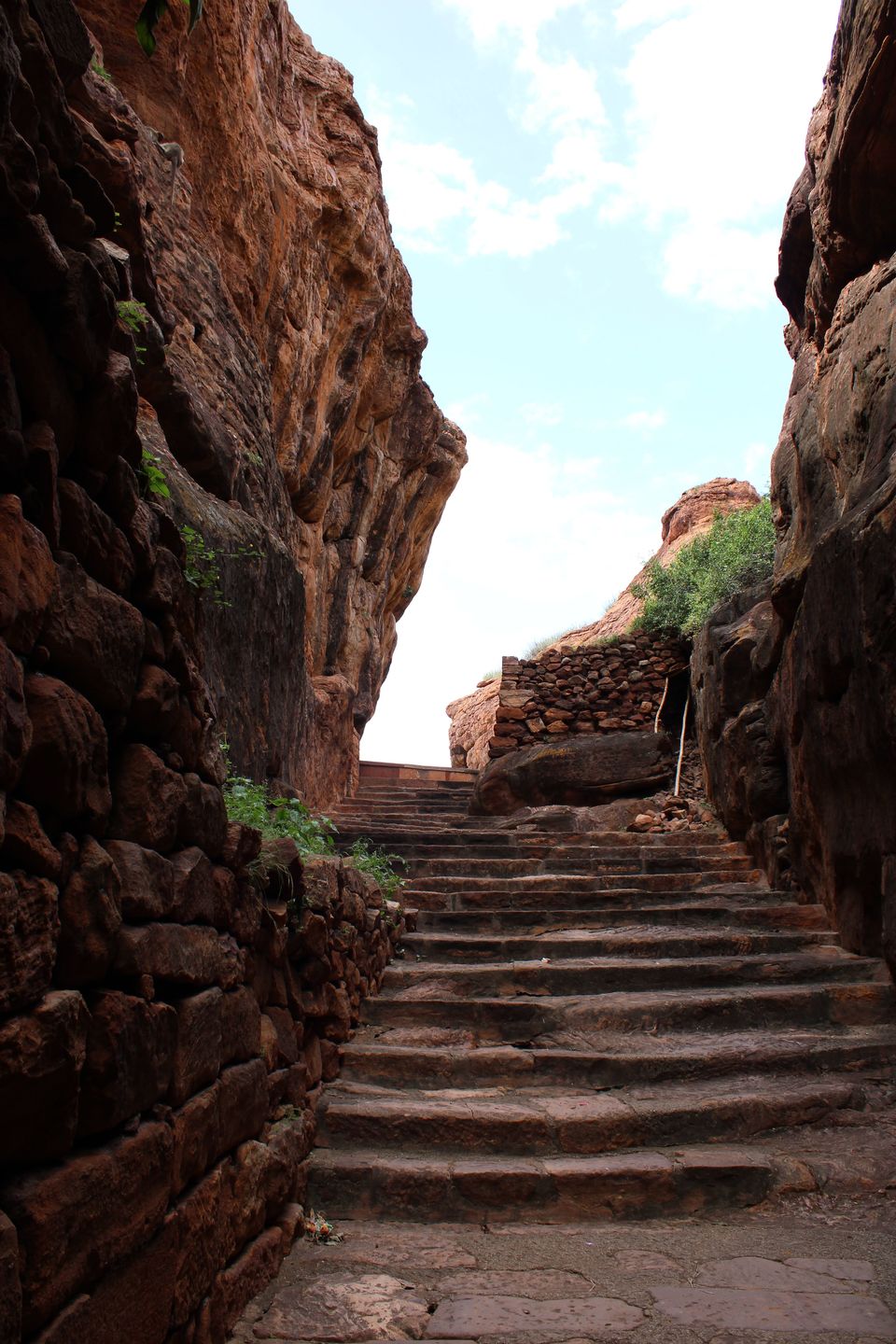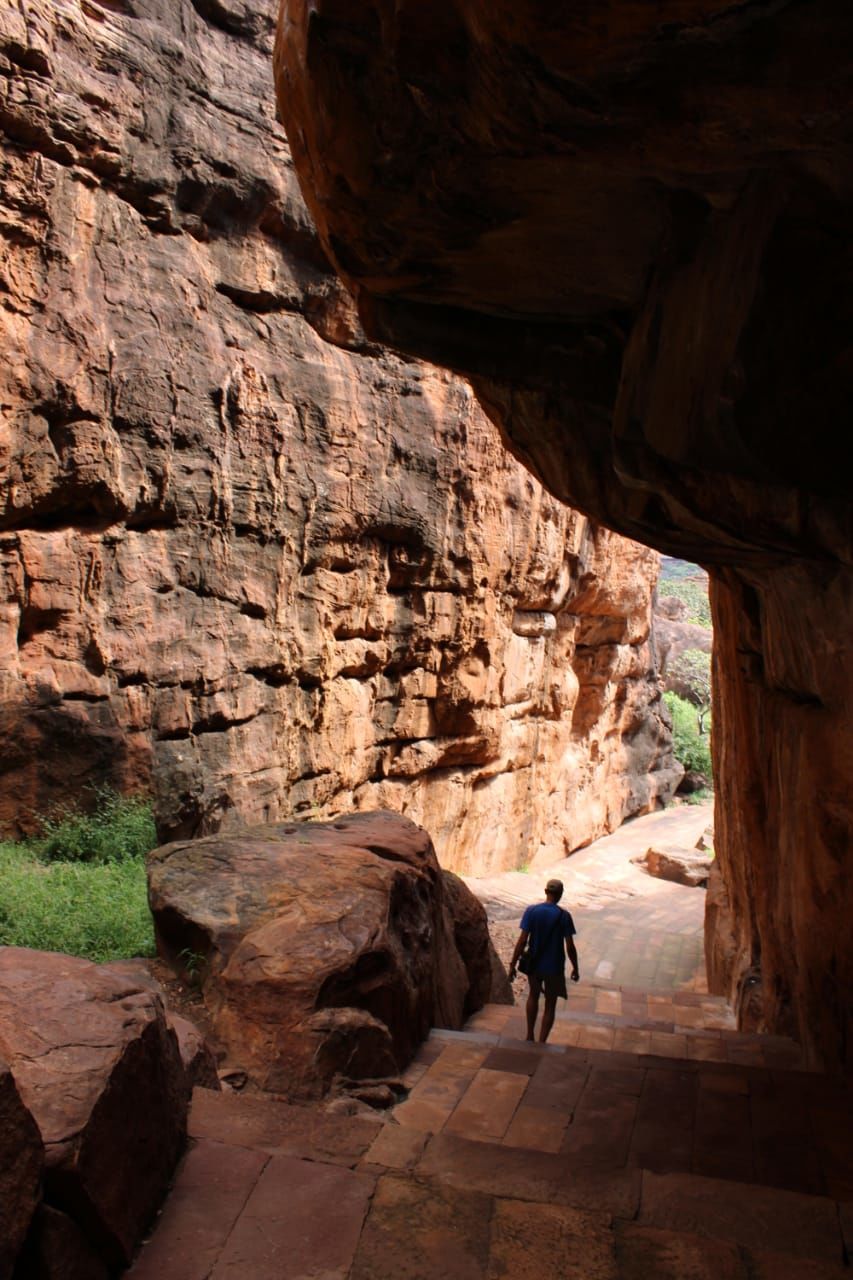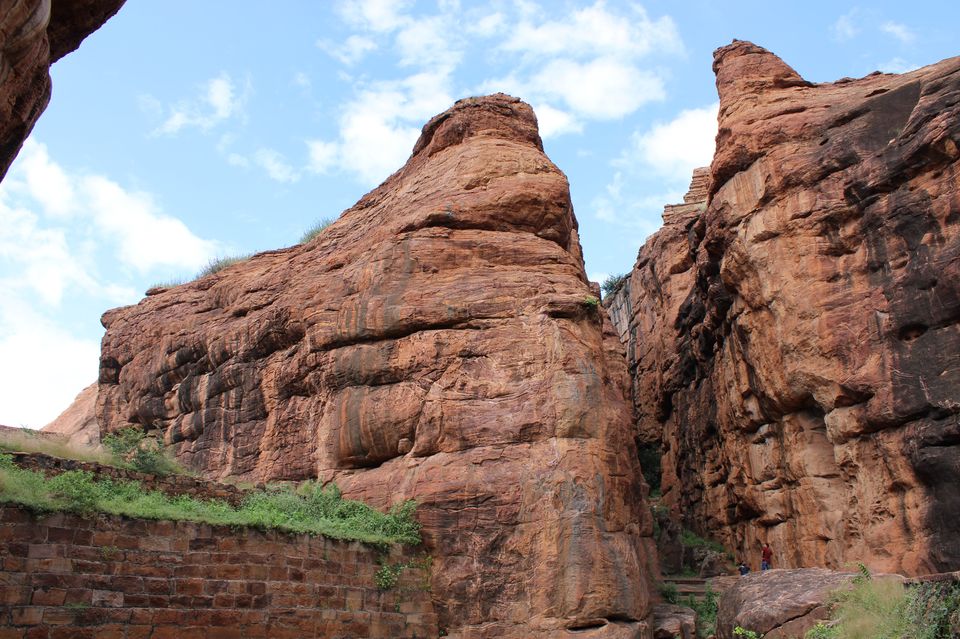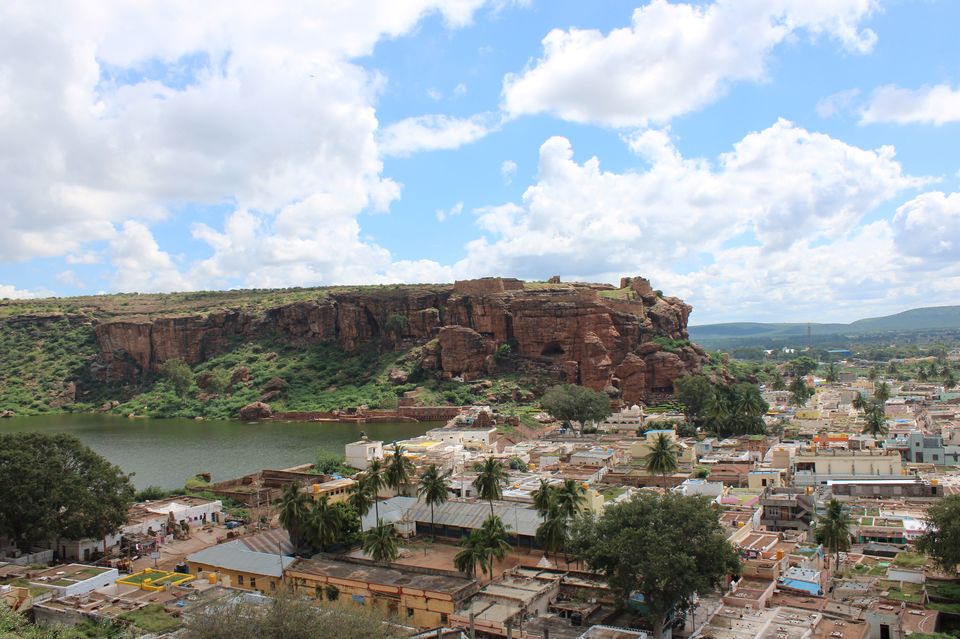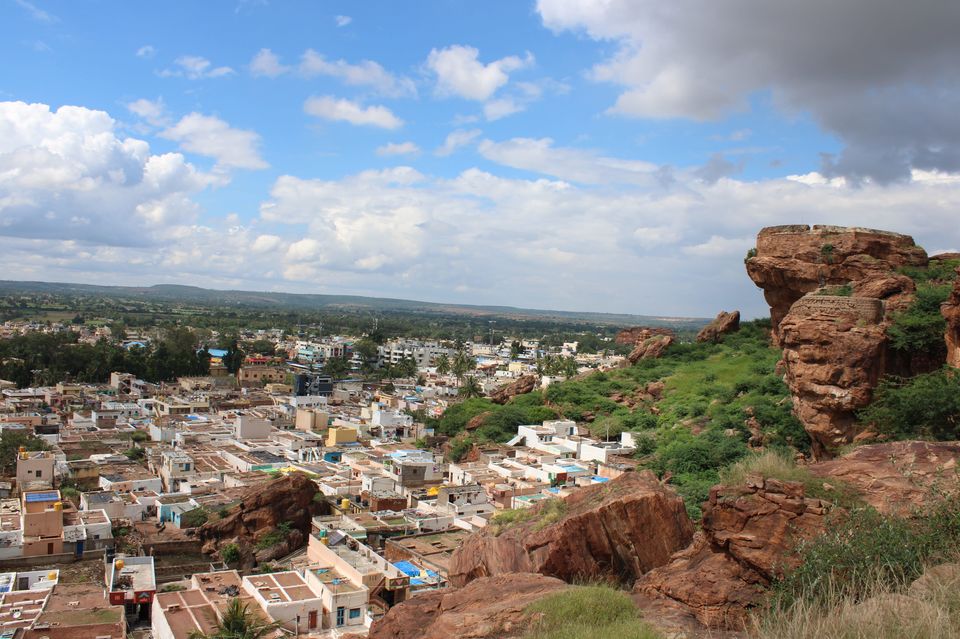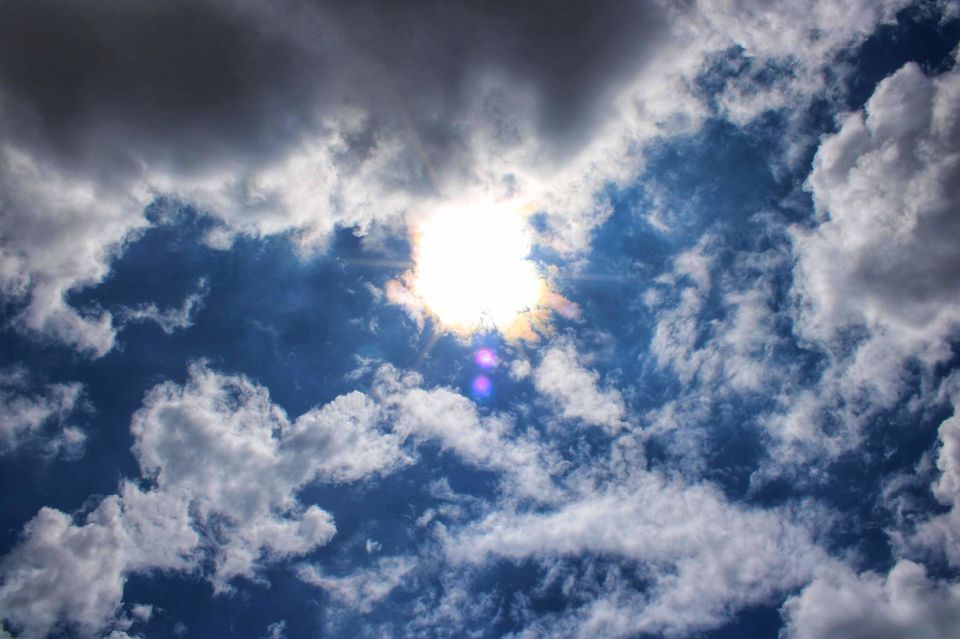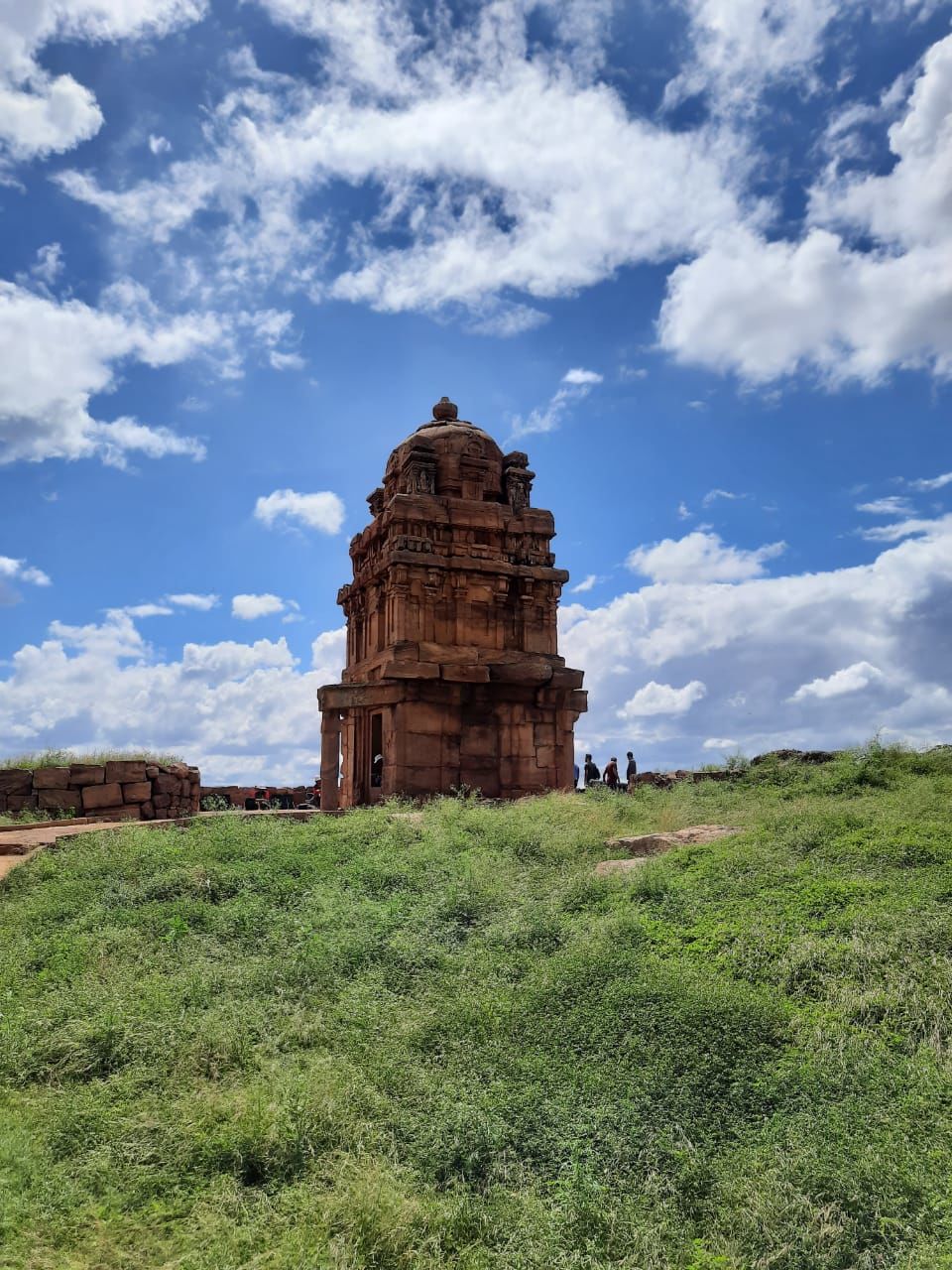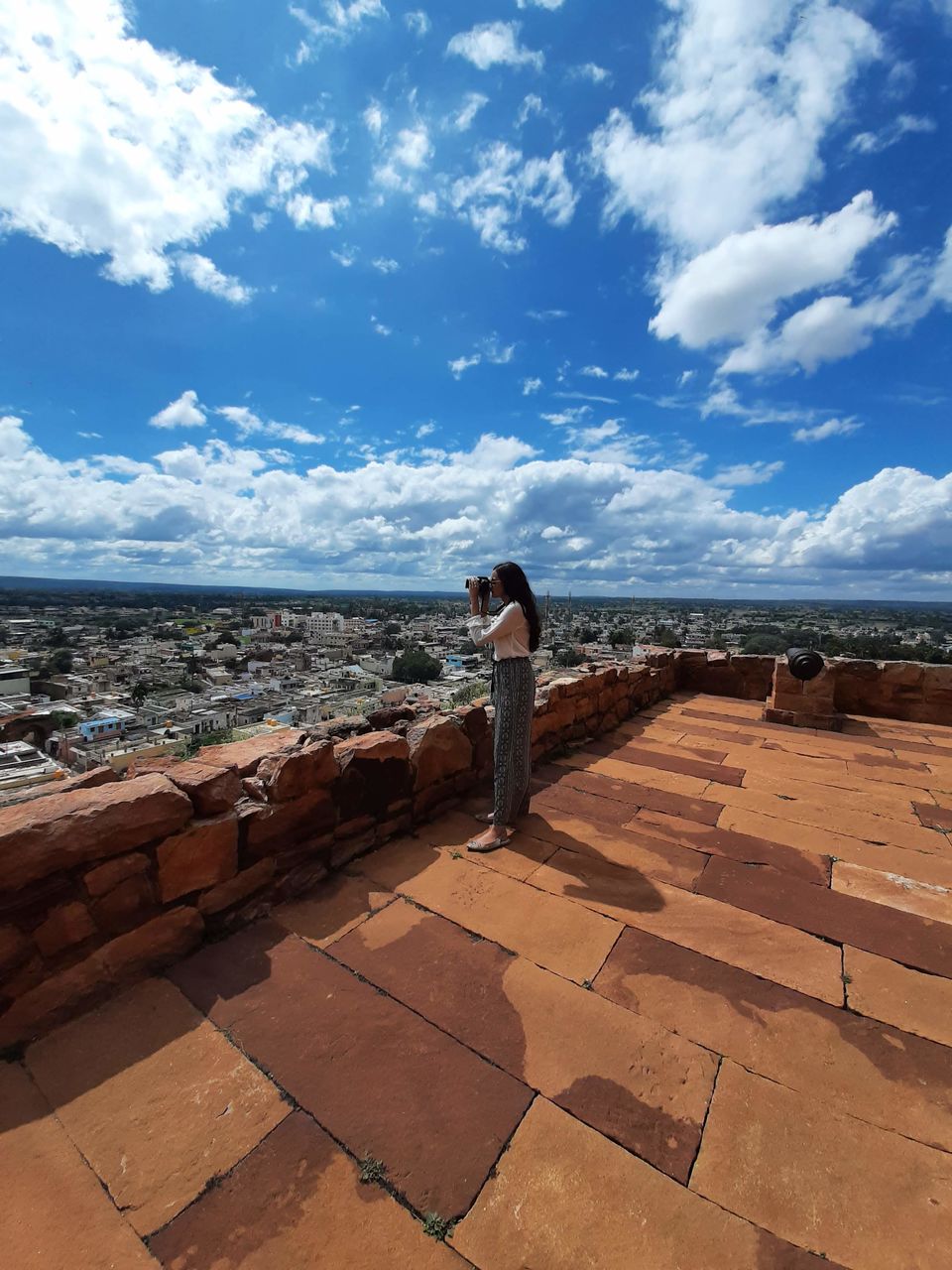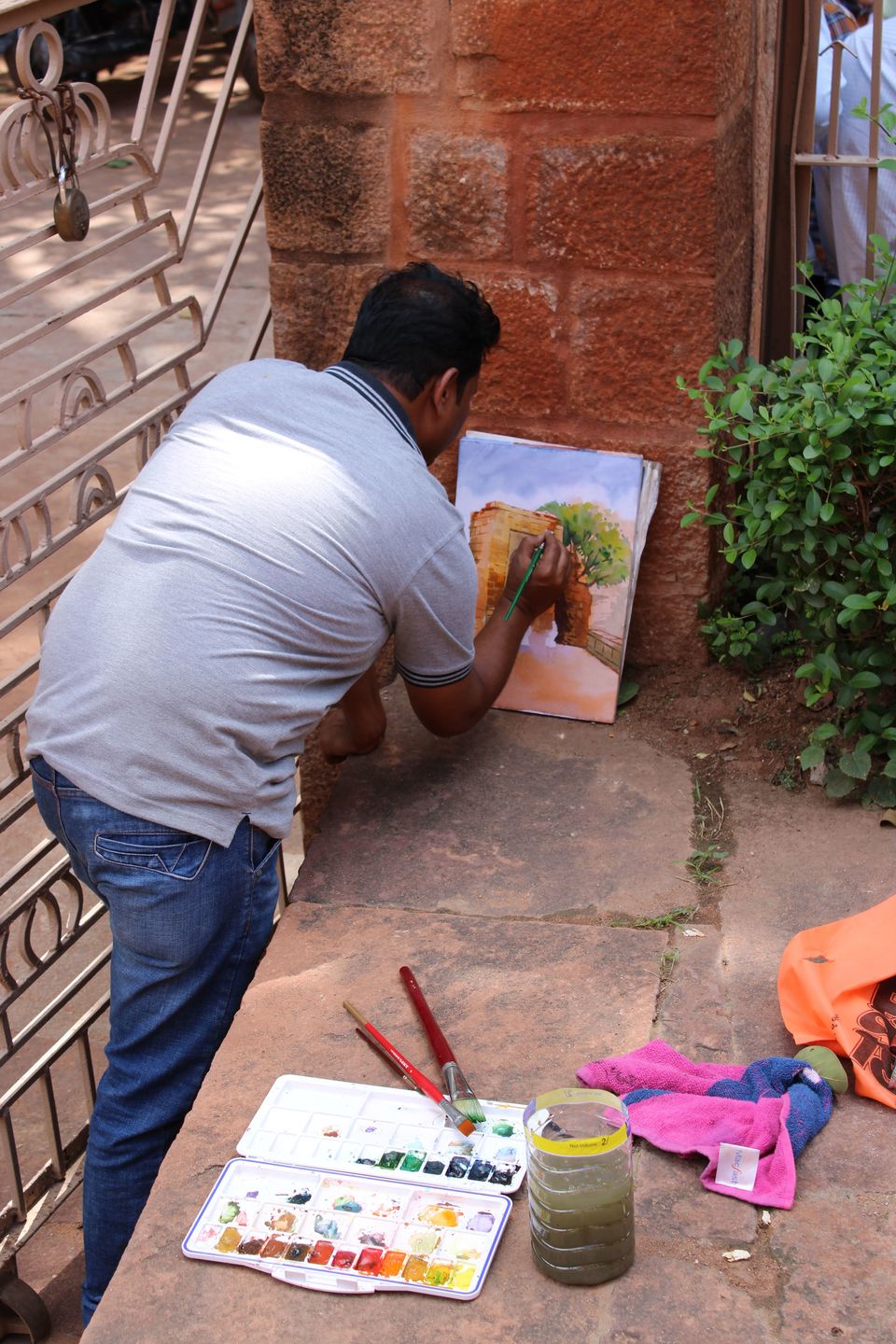 You'll find elaborate carvings in every corner of the temple, and it amazes me that such marvels could be carved by hand in the ancient times. (inscriptions in the cave date back to late 7th century and early 8th century.)
Cave one consists of - The nataraja avatar of Shiva, Ardhanarishvara sculpture, Harihara avatar of Shiva, Kartikeya on his peacock, Nagaraja carving and Mahishasura mardini statue of Durga.
Cave two consists of - Trivikrama avatar of Vishnu, Varaha avatar of Vishnu and Swastika present on the ceiling.
Cave three consists of - Trivikrama, Varaha, Vishnu on Seshnag, Pillar statues, Narasimha and Harihara and ceiling with Frescos.
Good luck spotting each one of them!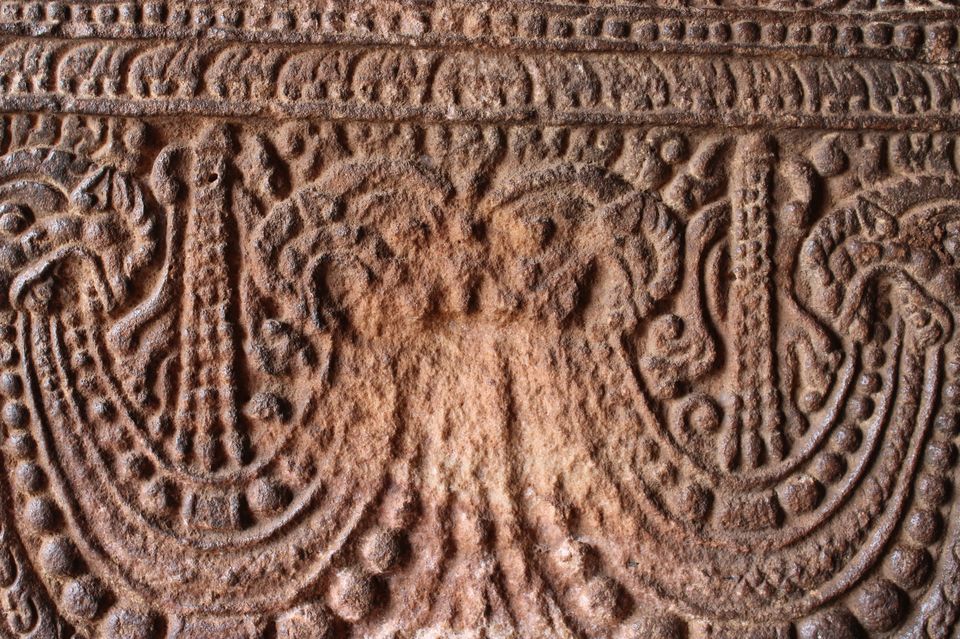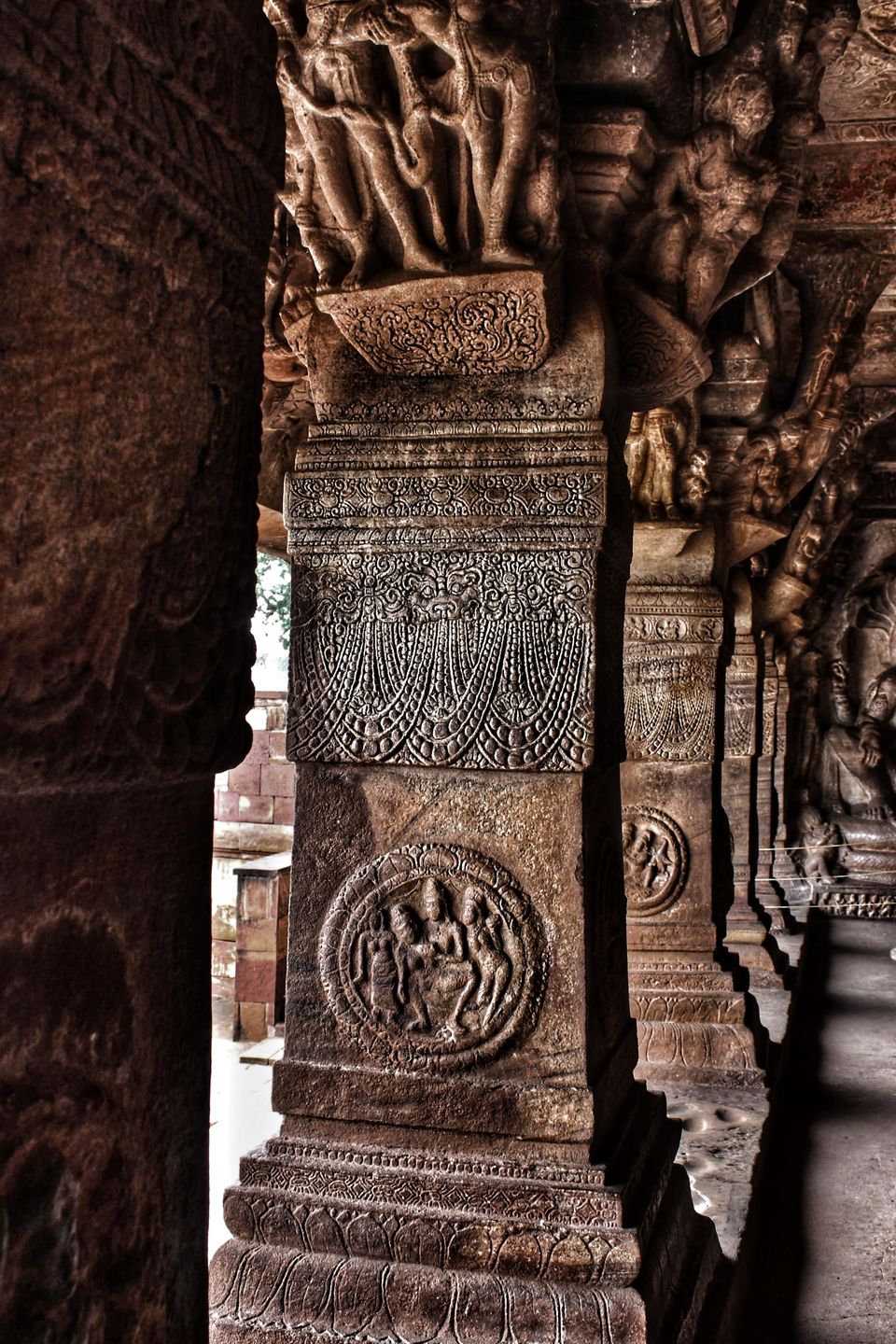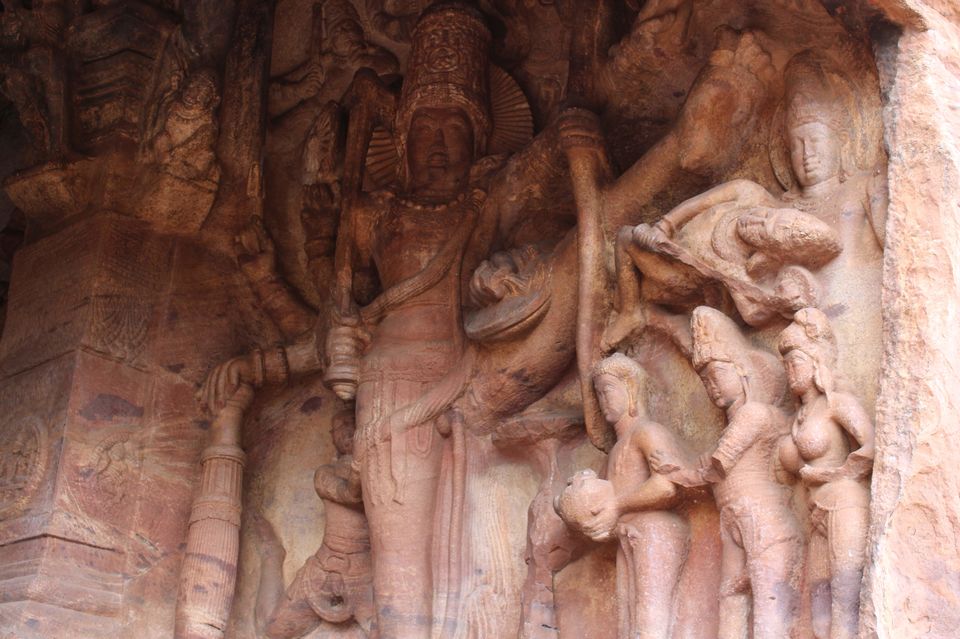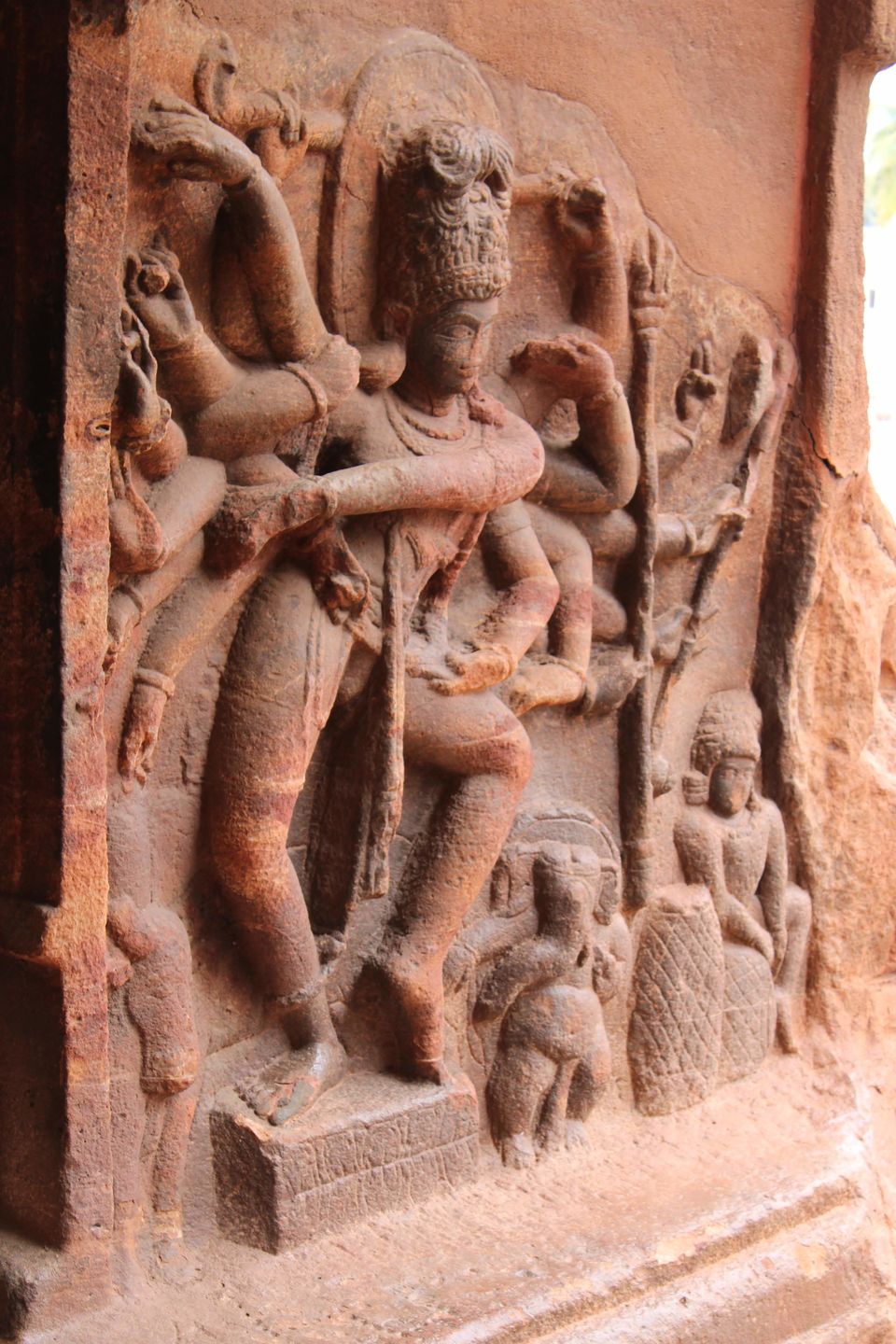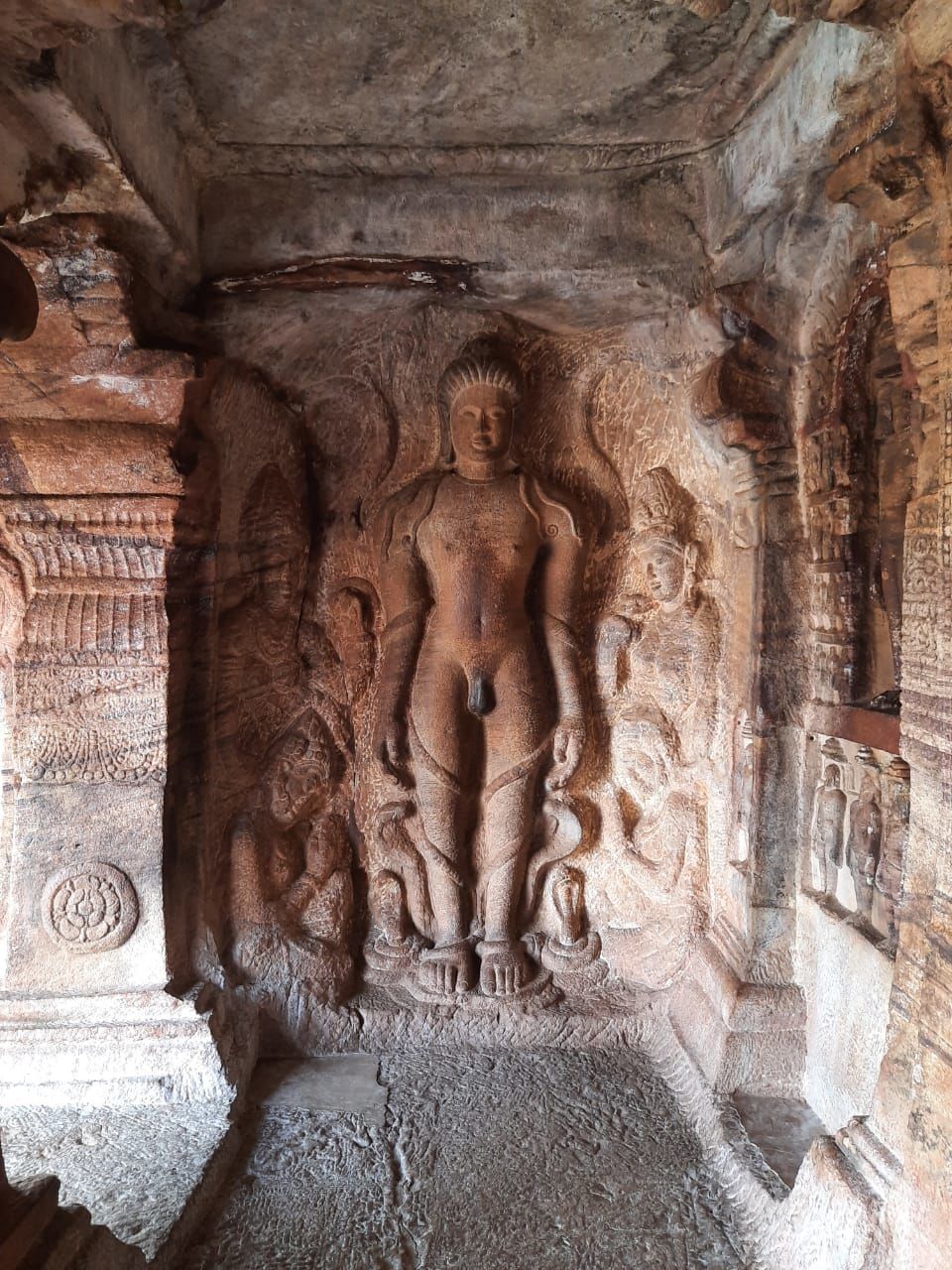 While you're at it, don't miss out on the views that are visible from each part of the cave of the beautiful Agasthya lake present at the foothill of it.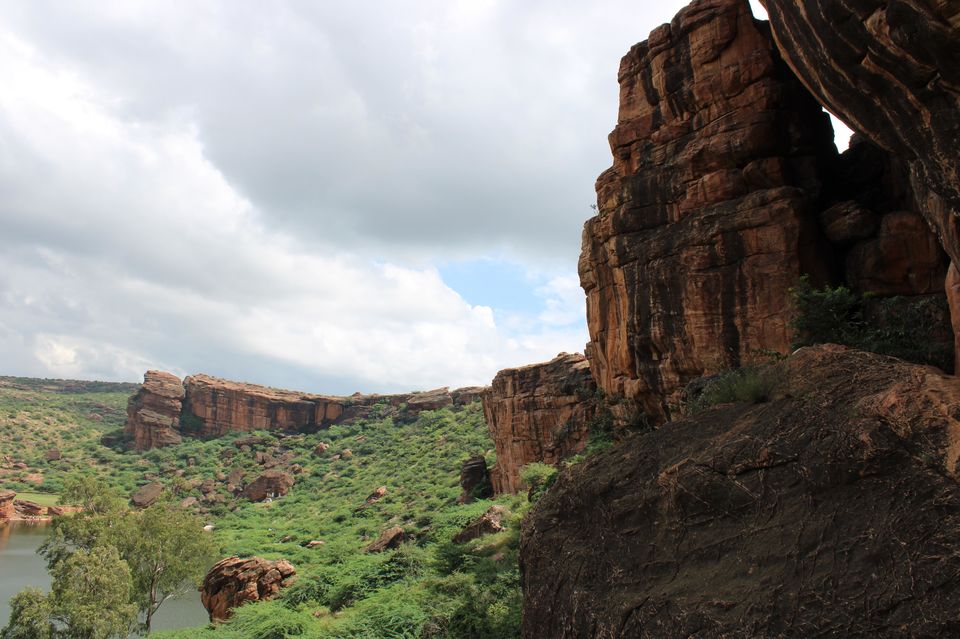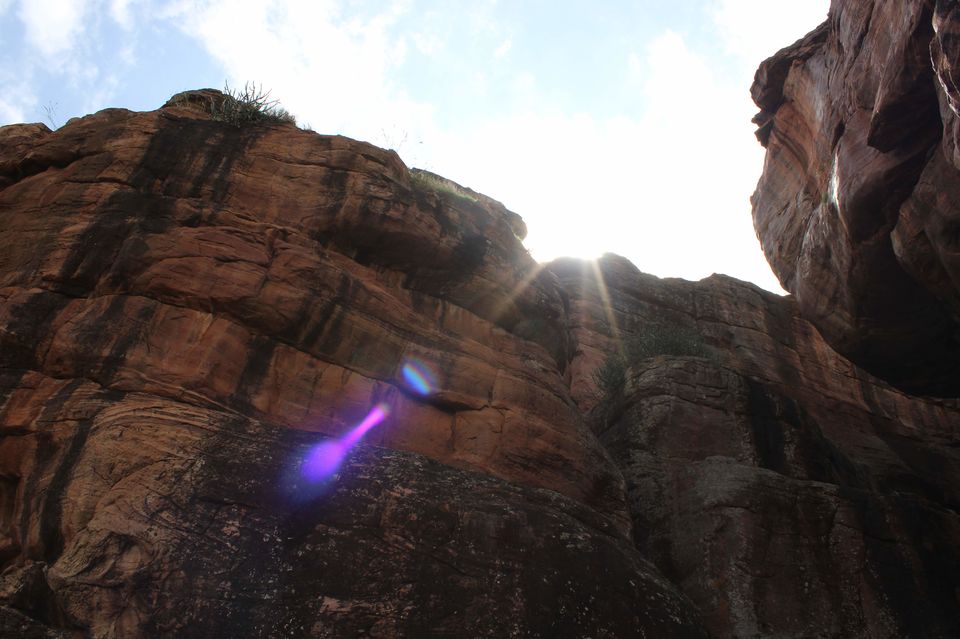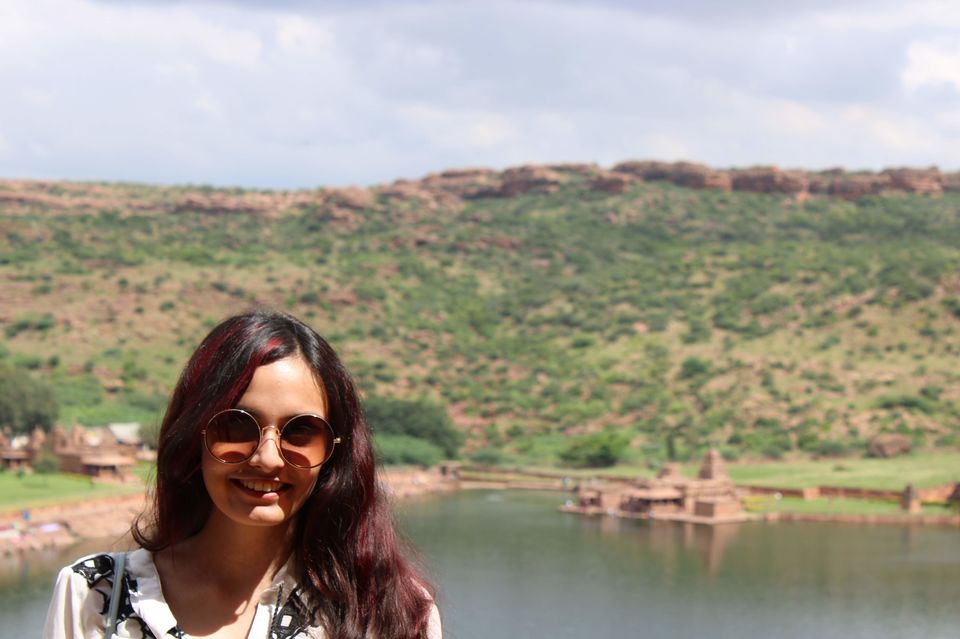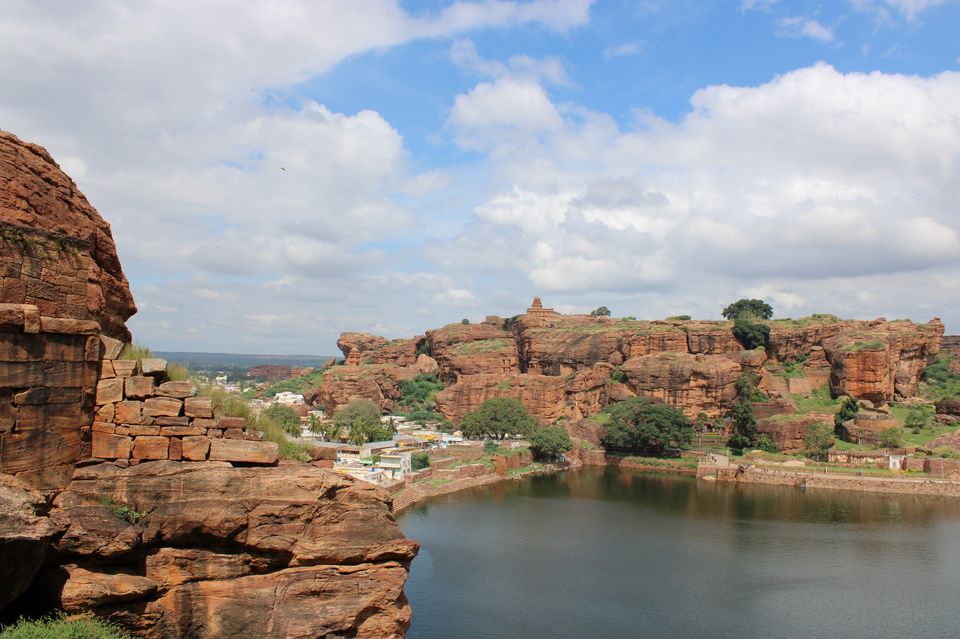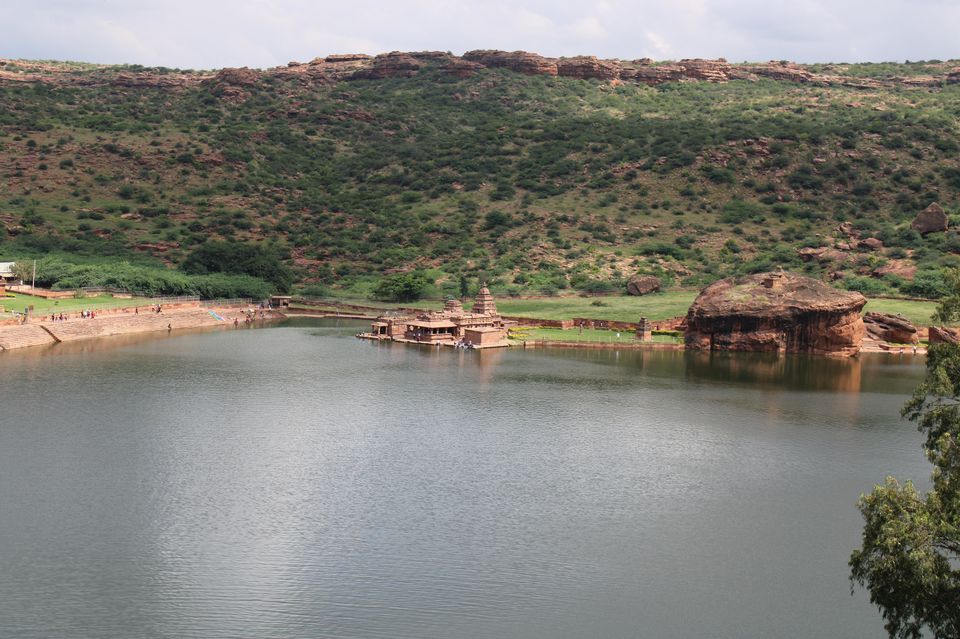 Surprisingly I ended up spending a lot more time at this temple and lake compared to the Cave Temples as the weather turned out get cloudy by the minute. Naturally, the best time to visit these places would either be early morning or evenings. There's no entry fee to this temple, and photography is absolutely free!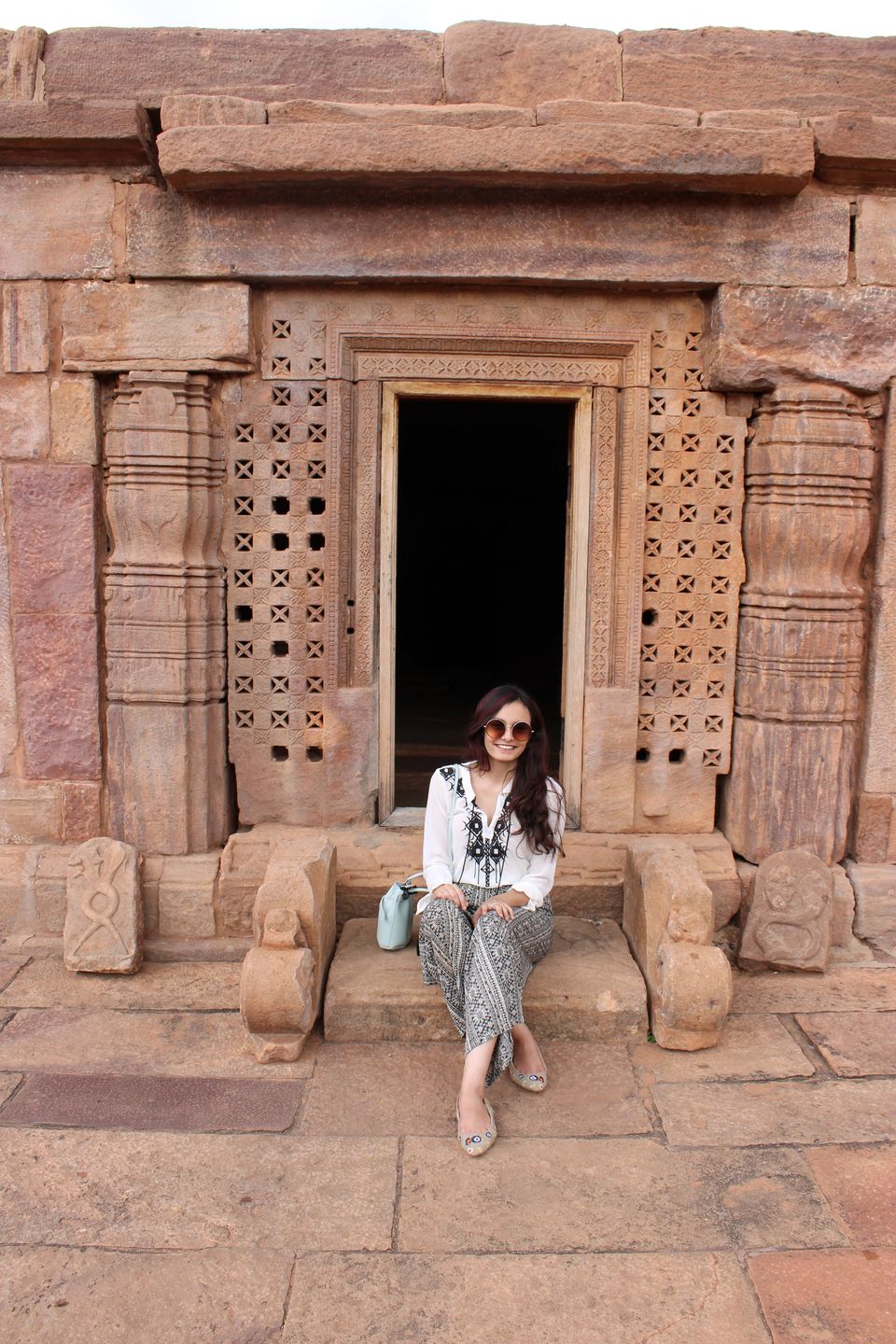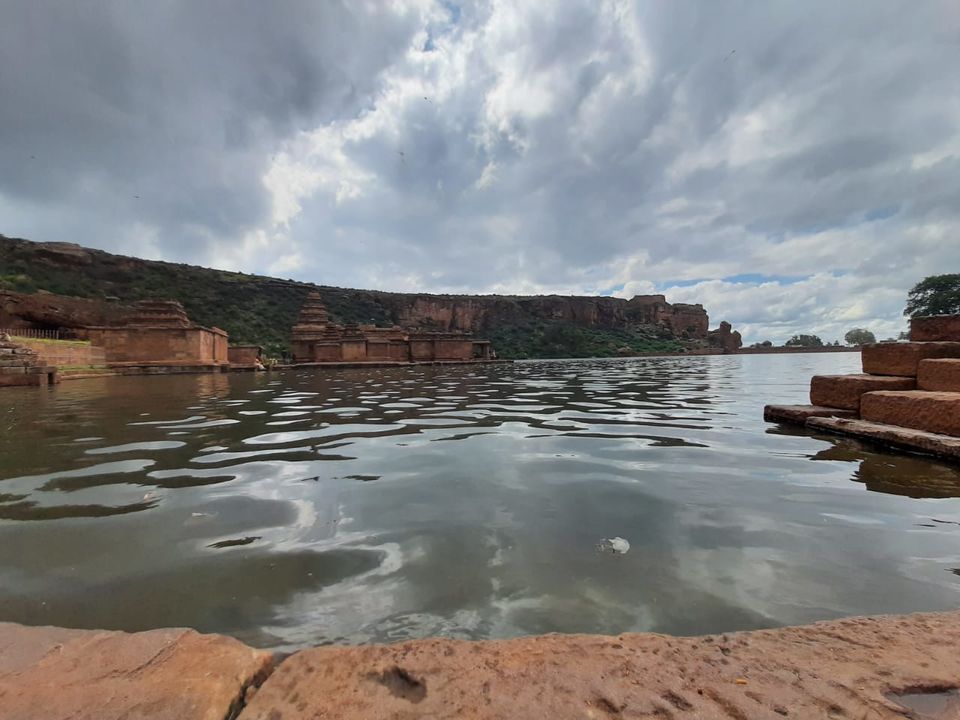 These are the top 3 places to visit in Badami, that are all in all very close to each other and can be covered easily within a day. For lunch we asked our rented auto driver to take us to a 'good hotel that serves authentic food' (sorry I don't remember the hotel's name, but the food was yum! I guess if you tell your auto driver the same thing he might end up taking you to the same place!). The people were super friendly, especially the hotel staff that served us.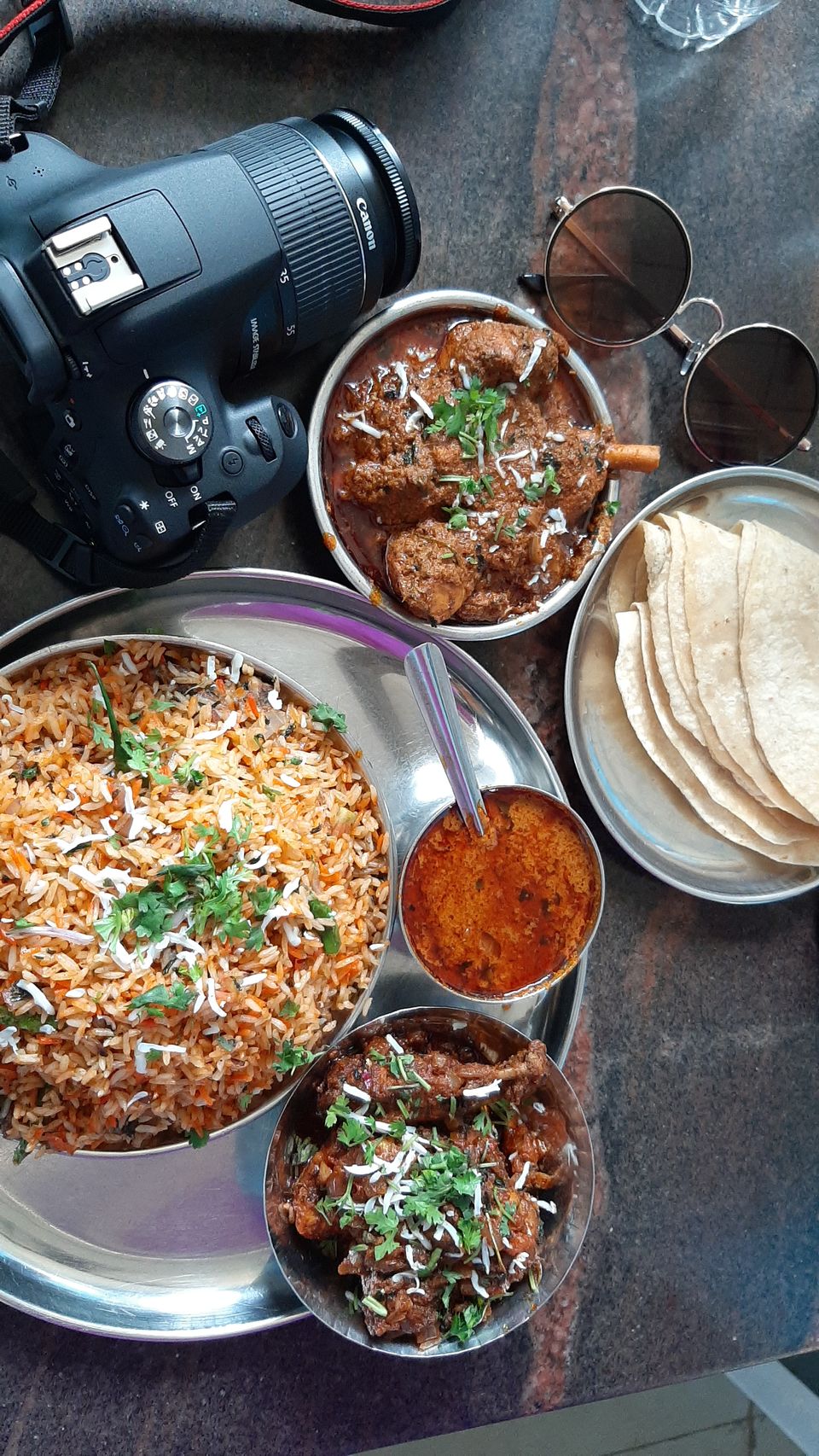 While I conclude this 1 day itinerary, i'd like to say - If you're a temple person, and if you loved Hampi and it's architecture & vibe, this should be a MUST visit for you. It is enriched with history and temples that'll make you want to come back again as the exploration can never end. Add this to your wish-list, if you want to get away from the hustle of your city and relax for a weekend. Follow me on Instagram for more travel stories!