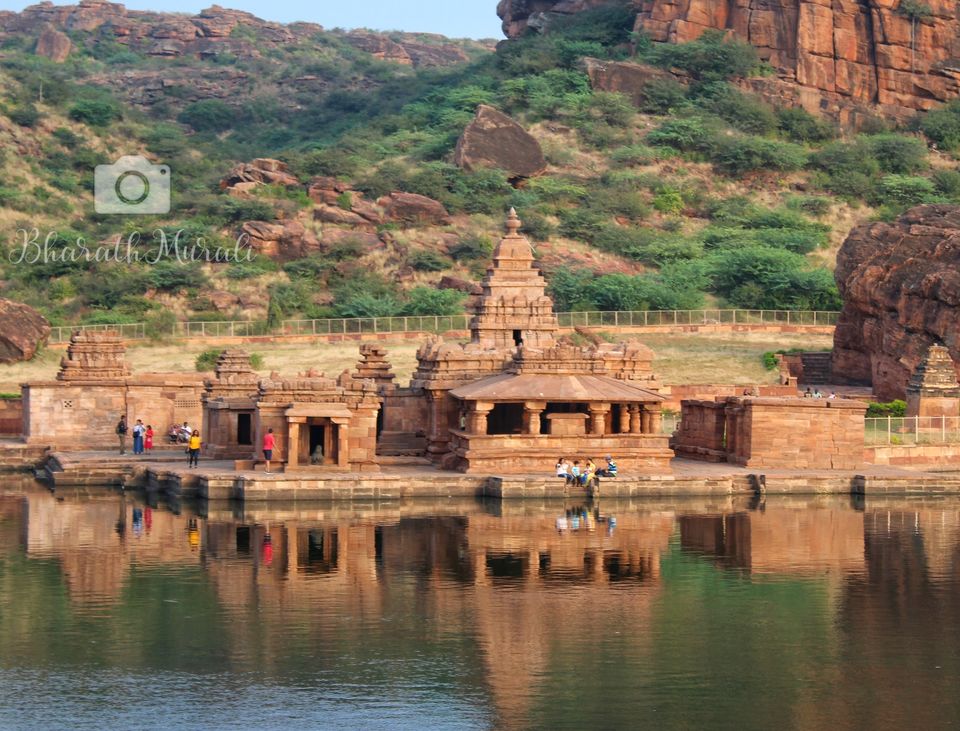 Bagalkot -Badami - Banashankari - Bagalkot
I have always been fascinated with Indian history and places associated with it. 'Badami' was one such place that had been in my bucket list for a long time. So, I decided to finally pay a visit to the place.
It was the season of holidays when this trip was planned. Accommodation was hardly available even for a solo traveler like myself. Thankfully, one of my friends welcomed me to stay with her family in her home.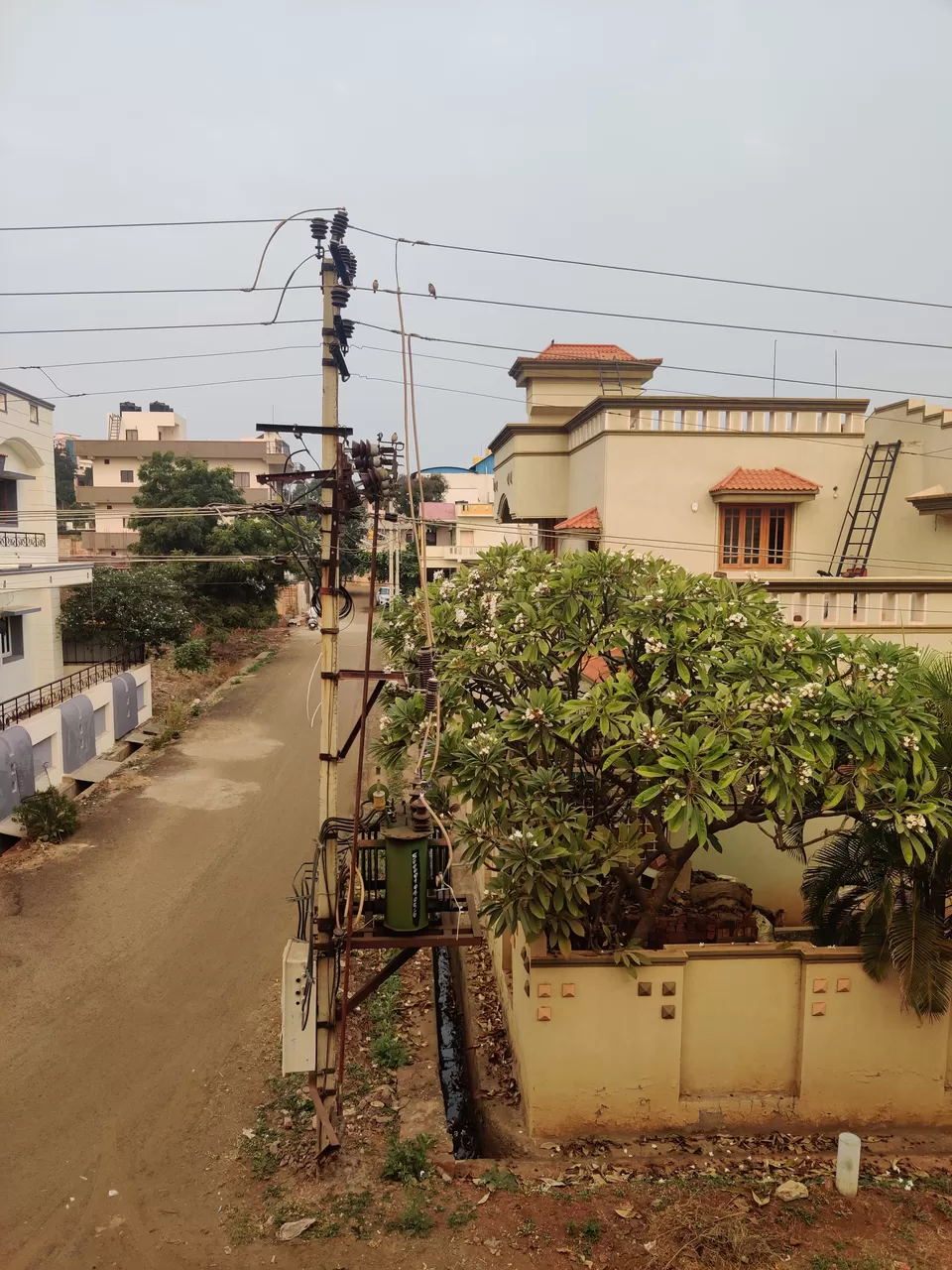 Badami cave temples are a combination of Hindu and Jain cave temples located in Badami. I had to walk a kilometre to this place from the Bus stand.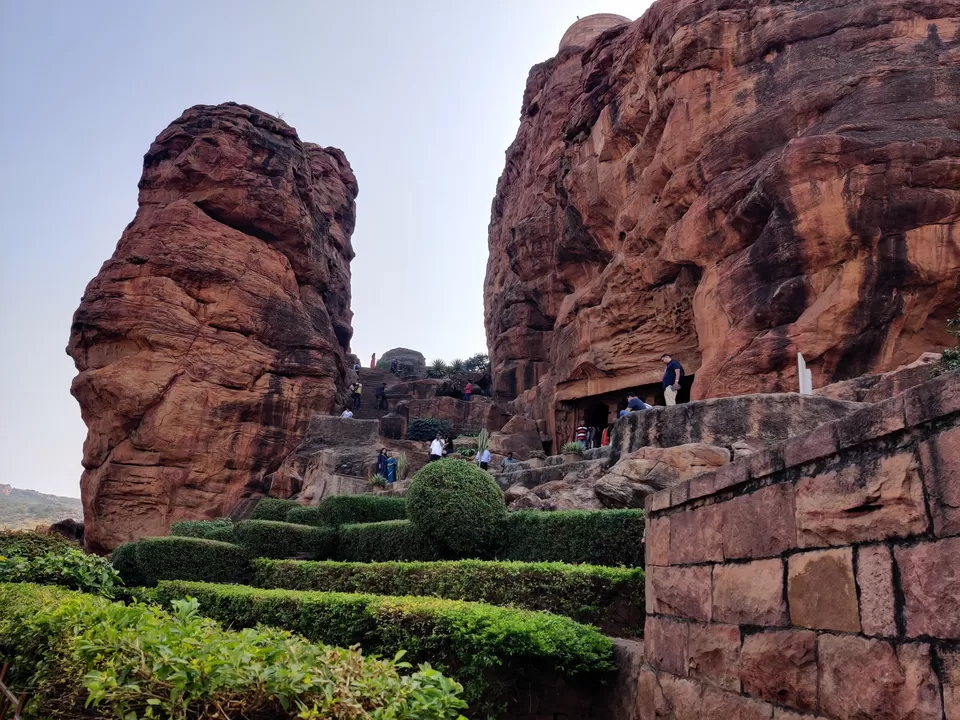 There are a few famous sculptures one needs to witness at every cave. I was clicking pictures and listening to the guides at the same time (Best way to save some money :P) Below are a few facts about these places as per the guide.
Cave 1 :
This cave is dedicated to Lord Shiva.Statue of an 18 armed Lord Shiva in a dancing pose is the highlight of this cave. There are statues of Lord Ganesh, Kartikeya and Goddess Parvati which has also been encarved.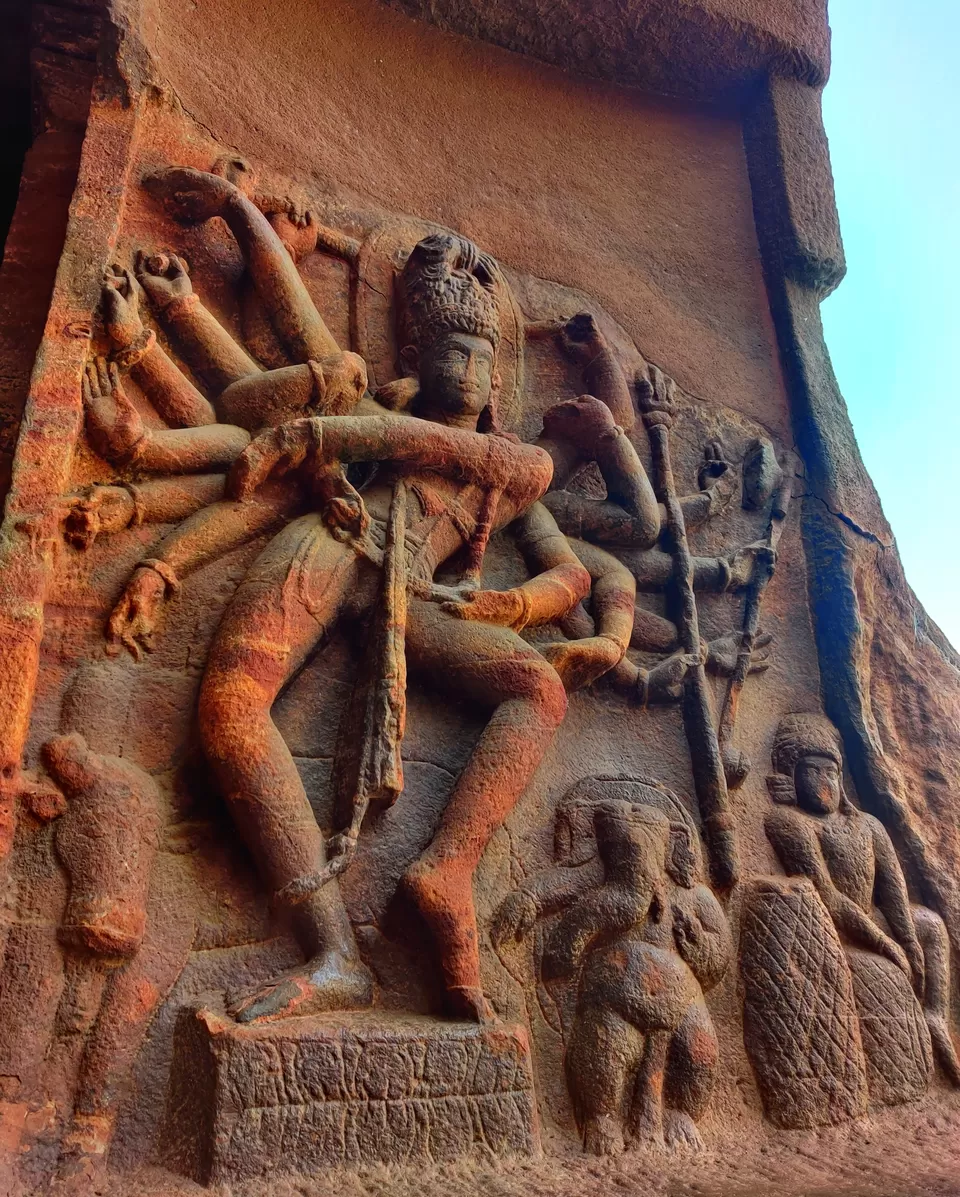 Cave 2:
Climb about 50 steps and you will be at the second cave temple, dedicated to Lord Vishnu. At the entrance, there is a veranda having four pillars. The caves have a sculpture of Lord Vishnu in the form of Trivikrama and Varaha, saving Mother Earth(5th and 3rd of Dasavathara respectively) . There are sculptures of ashtadikpalakas carved in the ceiling.
Cave 3:
This is also dedicated to Lord Vishnu and is the biggest of all the cave temples.
Cave 4:
This cave is located higher than the other three caves and is dedicated to Jain Tirthankara.
I clicked few pictures while climbing down the cave temples and started my journey of a small trek. The Upper and Lower shivalya is a hill and is located opposite to the Cave temples. This trek is an easy one and stairs are also available. In my experience, the trek was tiresome as it was almost noon and i felt drained out when i reached the peak.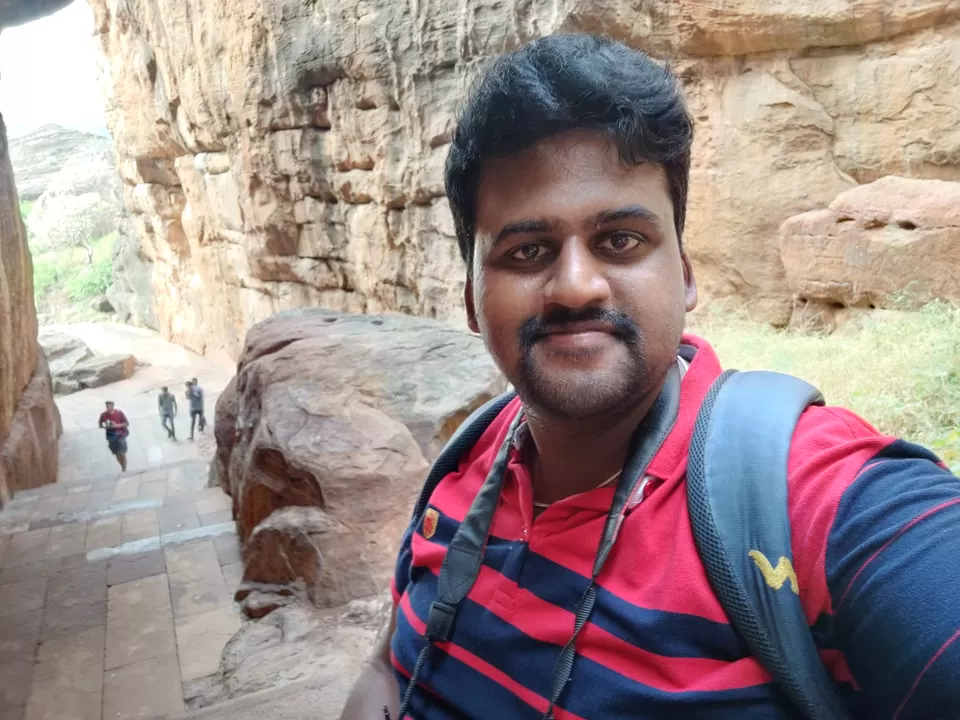 Tip: Carry lot of Water.
I shared my Brunch (Chapathi) with the security guard in the Upper shivalaya and he introduced himself and spoke about the place .This is a shooting spot , many famous movies like Vikramarkudu (In Telugu) have been shot here. Badami fort can also be seen on the way to the Upper Shivalaya.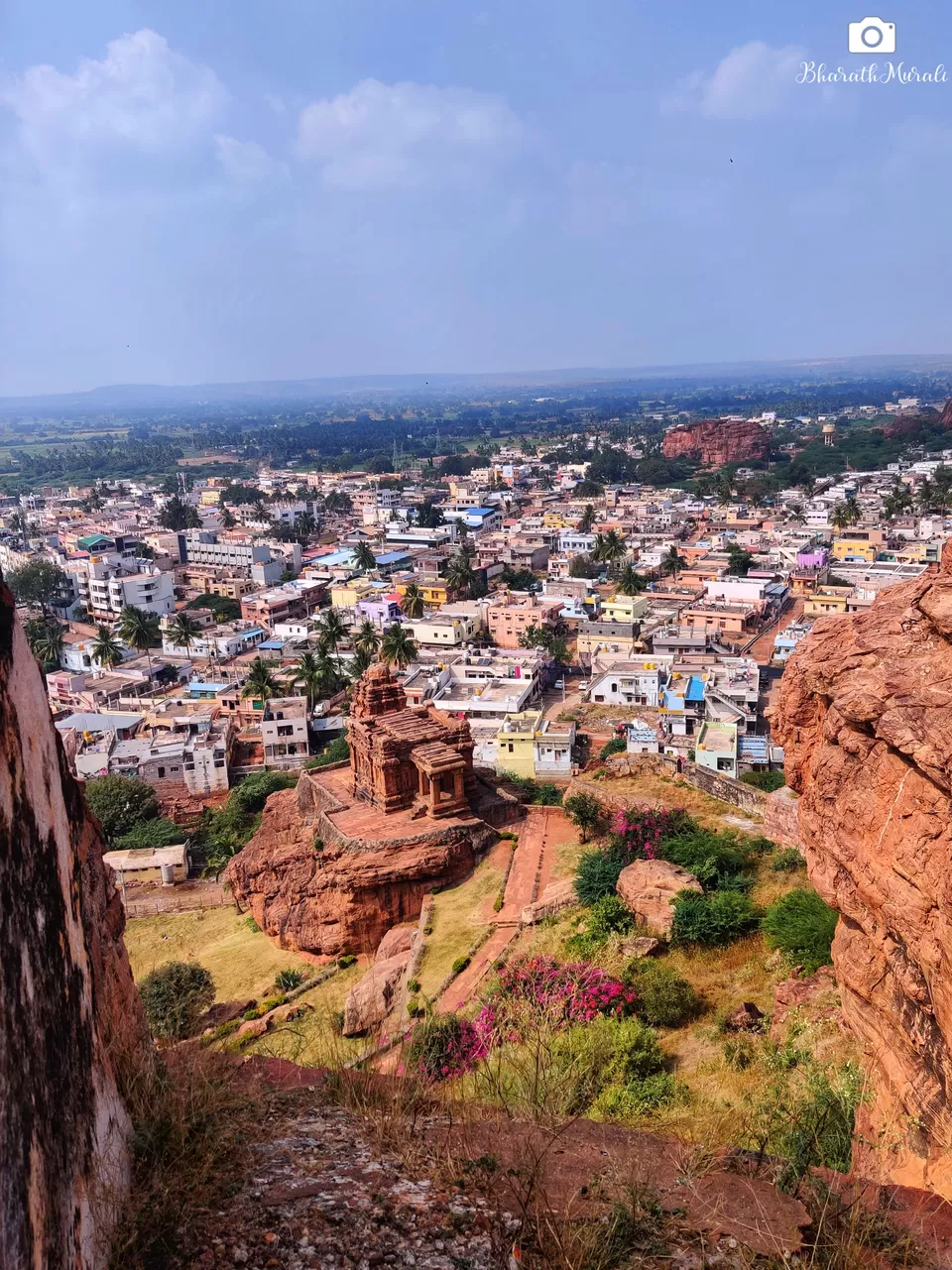 I had a good time. i climbed down the hill and went to have lunch near the Bus stand.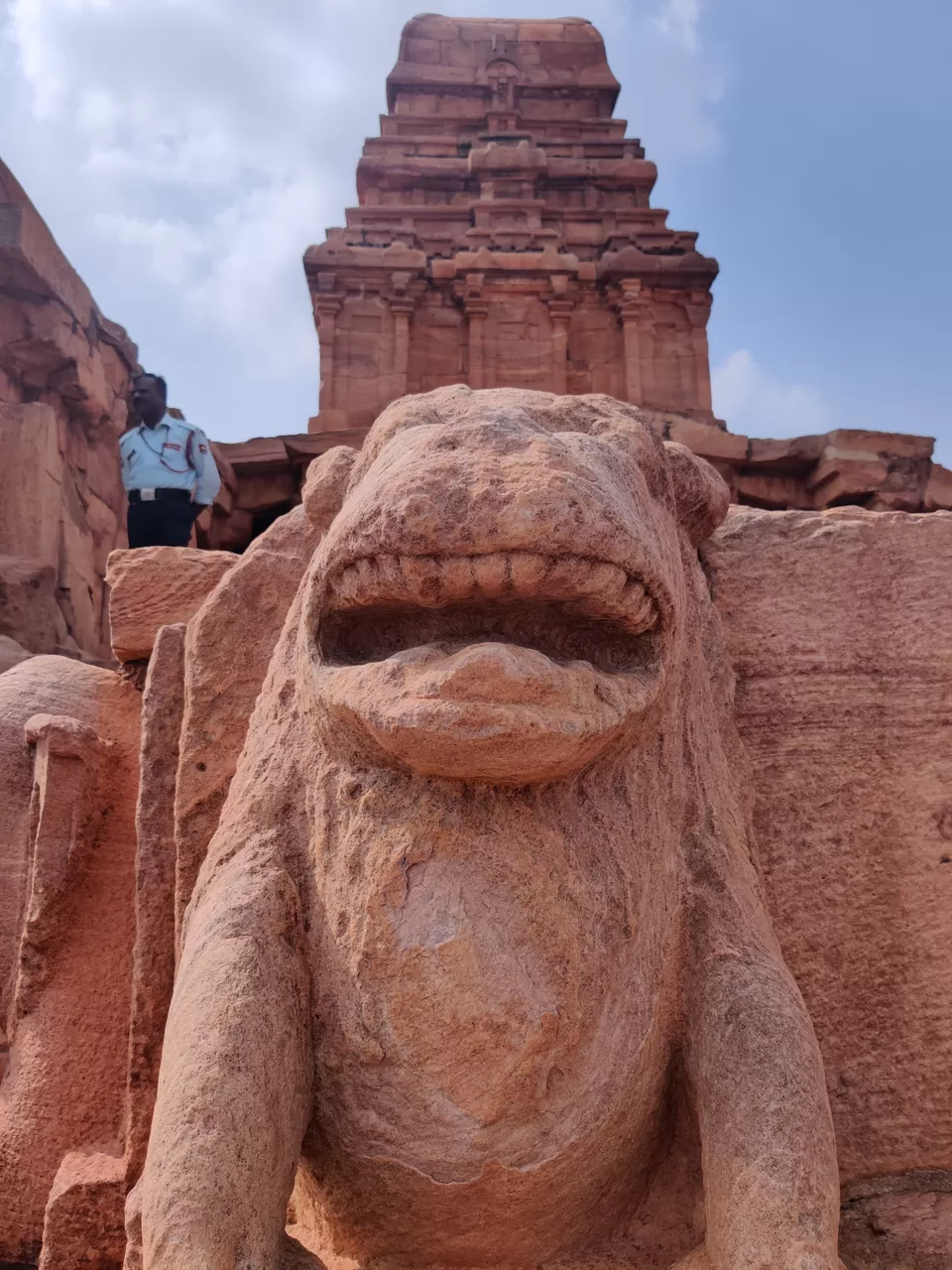 After lunch , at around 2.30pm i caught a share auto and headed to Banashankari which is just 5kms from Badami.
Banashankari temple is a famous place near badami.The original temple was built by the 7th century Badami Chalukya kings, who worshipped goddess Banashankari as their tutelary deity. I spent around 30 minutes in the temple. Usually this temple will be crowded during festivals and the Minimum time required to cover this place is 30 minutes.There is a big lake opposite to the temple but it will be dry if you go in summer.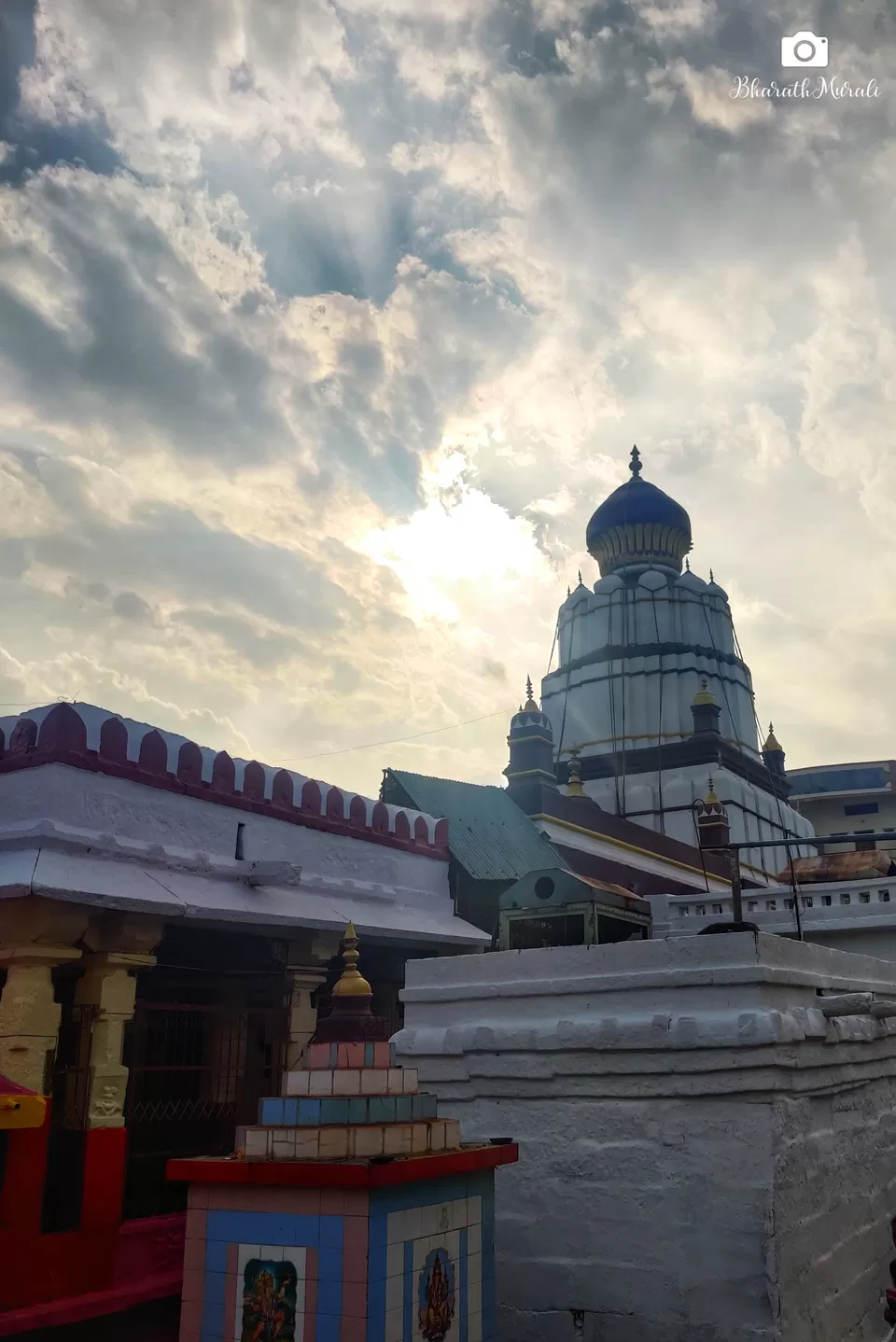 I headed back to the badami caves around 5pm and explored a few temples known as the " Boothnath Group of Temples". It was almost 5.30pm - Almost time for sunset. Watching and capturing the sunset at Agastya lake was one of the most amazing experiences i have had. It was like as if I was moving on a boat while watching the sunset.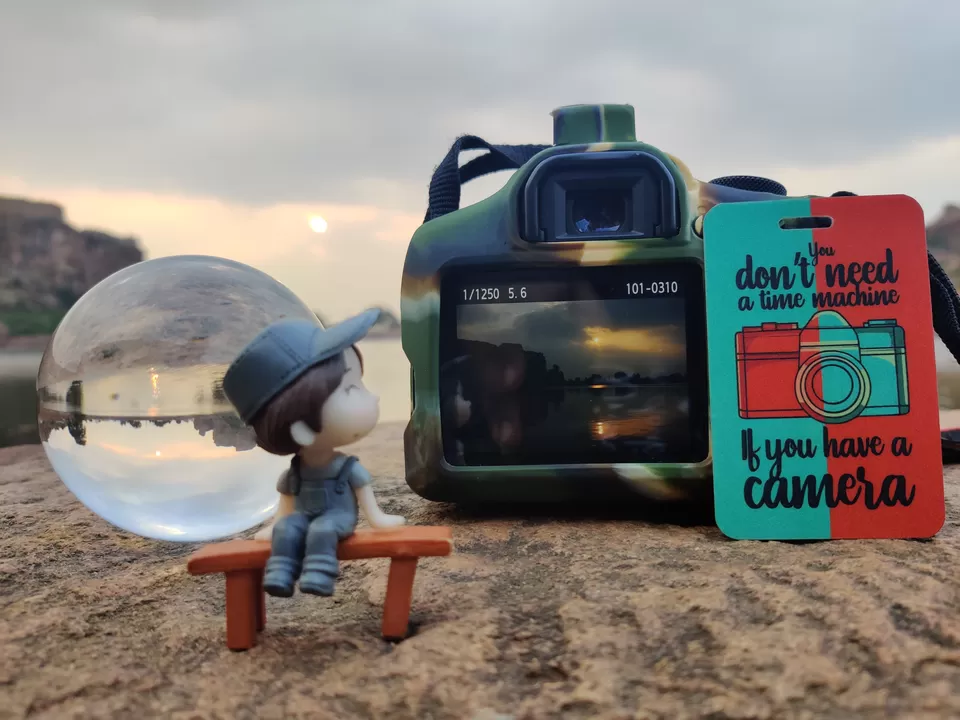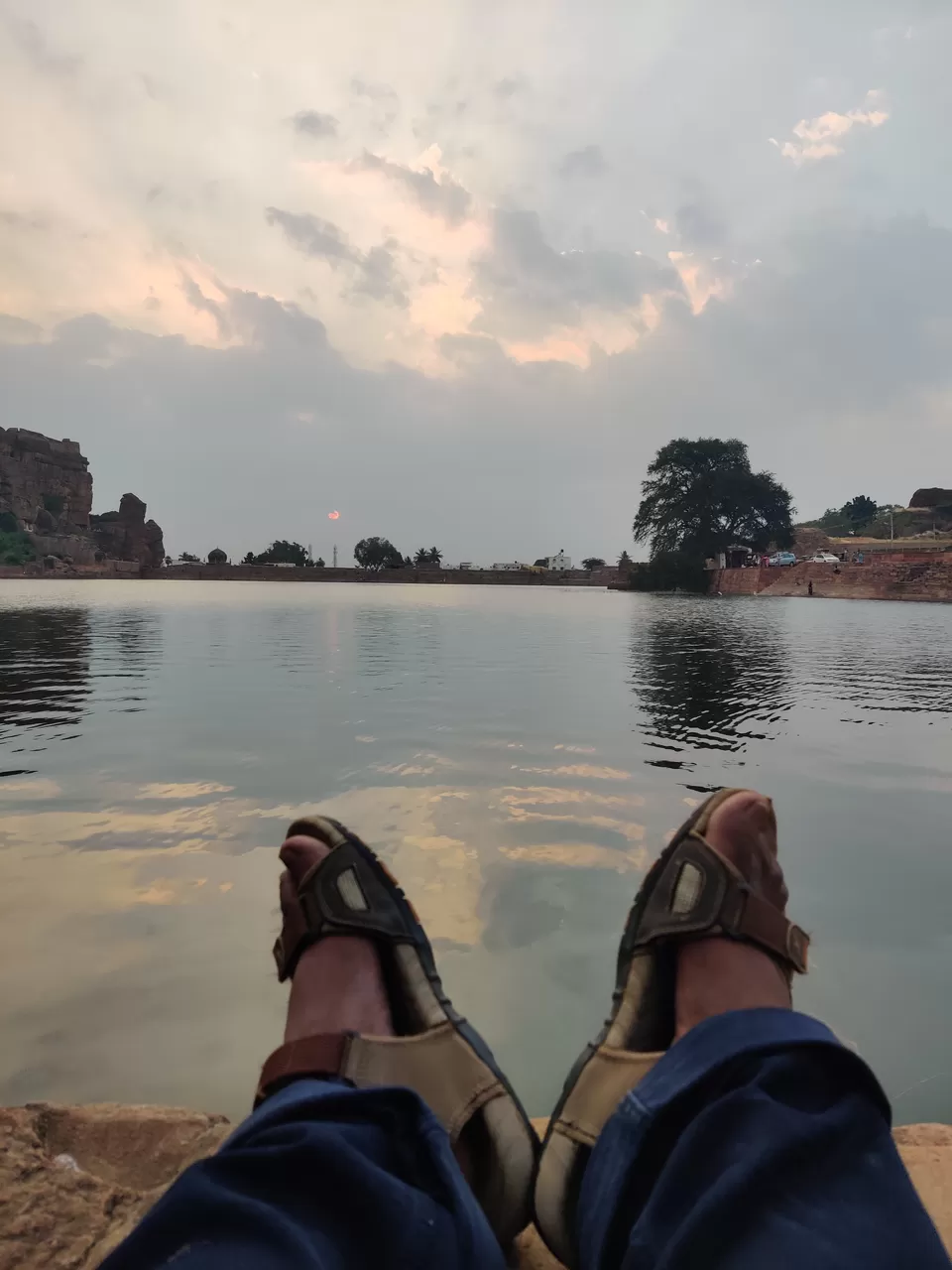 Met a friend ,original from Badami with whom i shared some photography tips.I returned to my friends house . Buses are available till 7pm from Badami to Bagalkot.End of Day 1.
Bagalkot -Amingad - Aihole -Pattadkal - Mahakuta -Badami -Bagalkot
Having explored Badami and Banashankari the previous day, there were still many places left to explore and i had only one day left. I enquired about the transport facilities and headed towards a place called Amingad. Amingad is a small village that connects Bagalkot and Aihole. The bus was easily available from Bagalkot to Amingad. But from Amingad, I had to wait more than an hour for the bus and later had to take a Rickshaw which usually carries vegetables. I would not recommend Public transport from Bagalkot to Aihole.
Reached Aihole -the Main point of attraction here is the Durga Temple. Knowing the Local language helps a lot -One of the security Guards there explained me about the place to me.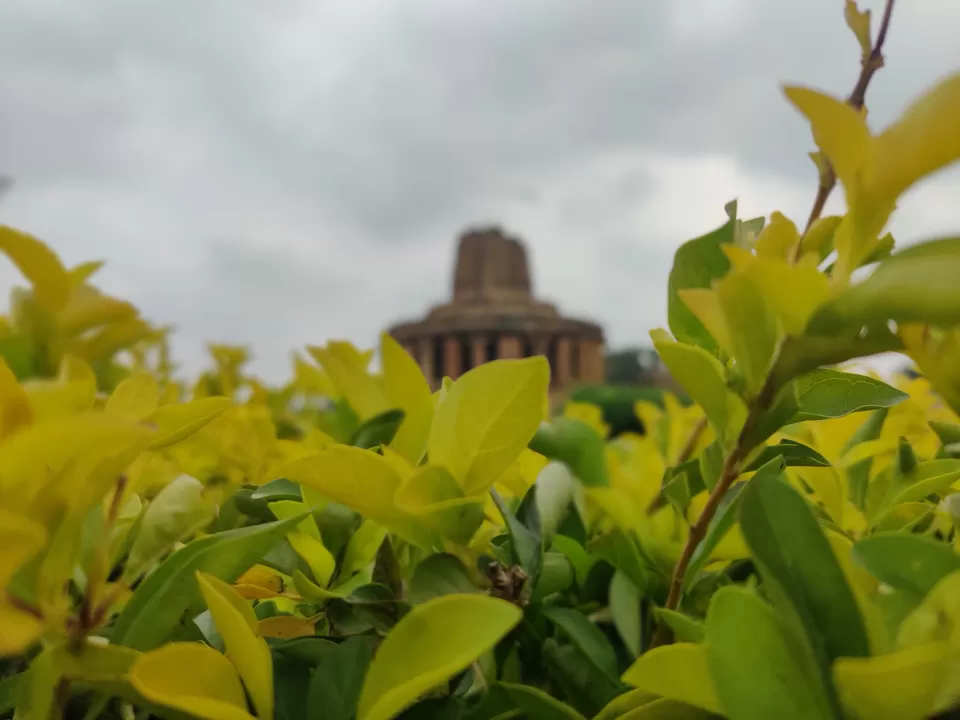 There is also a Museum in the Complex where old structures and belongings of the Chalukyan dynasty have been preserved . The Bus facilities are again poor at this place. Hence i had to go to the next place-Pattadkalu in Auto.
Do you know why these temples and sculptures were built during olden days?
It is said that Aihole was like a school,to build temples . Anyone could build their own temple as a part of learning this art . Hence you will see a lot of temples , be it partially constructed or destroyed ,while roaming around Aihole.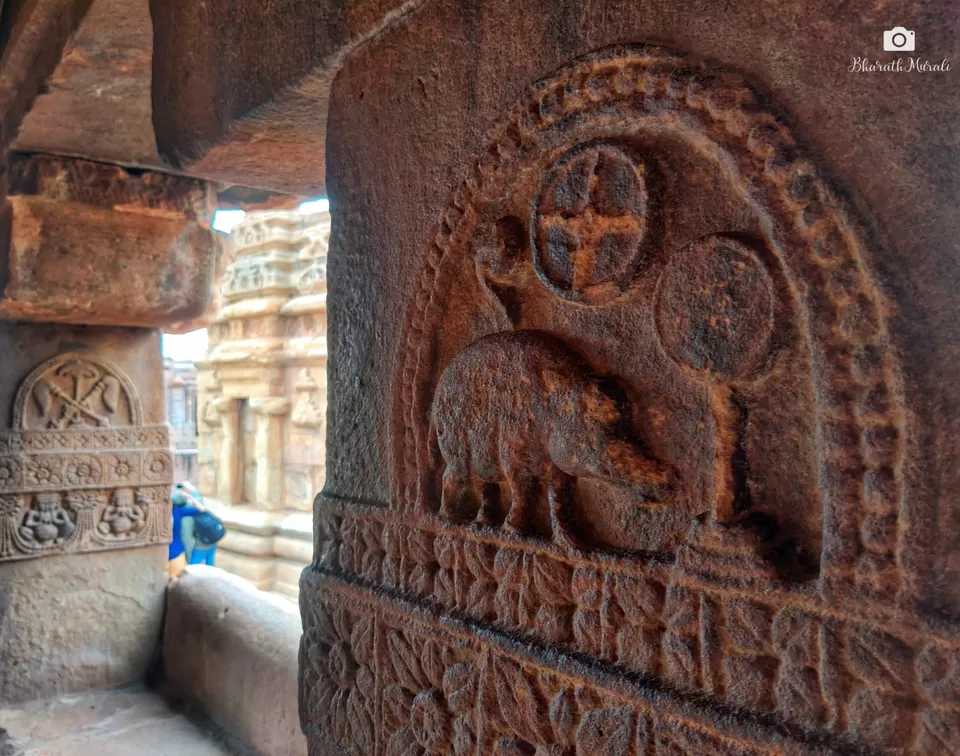 The Royal emblem of Chalukyas with Varaha(Boar), Shankha, Chakra and a mirror can only be found in Aihole.
The Pattadkal group of Monuments is Located on the left banks of the river Malaprabha and surrounded by pinkish and red sandstone hills, it is one of the famous places in indian history. There are more than 10-12 temples with beautiful architecture to in this complex.
These temples were used for coronation ceremonies -"Pattavishekham" of future kings . This is how the name Pattadakal came into being. Pattadakal slowly became the cultural capital of the Chalukyas. Some of the famous temples here are Virupaksha temple, Sankameshwar temple, Kasivisweswara Temple.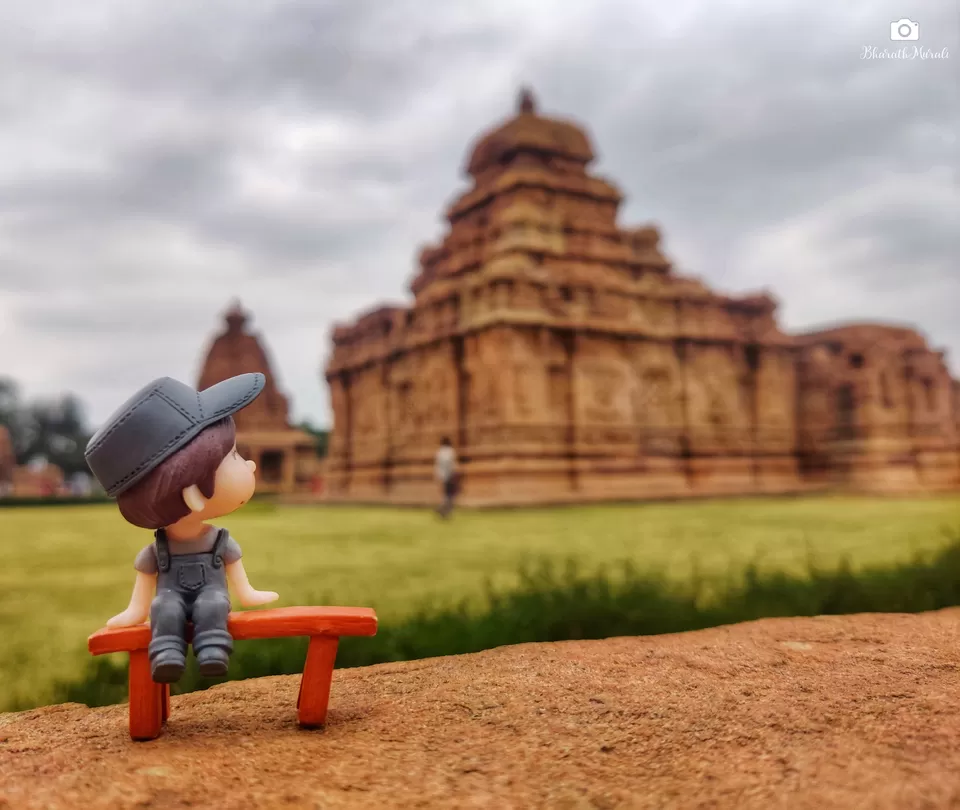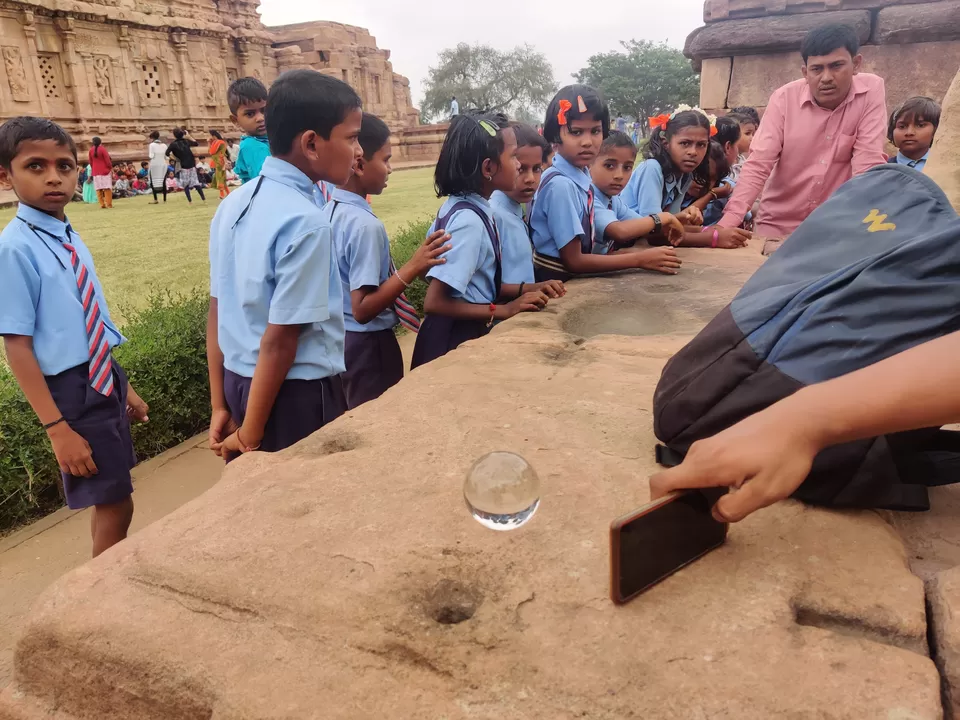 The Children here liked their pictures to be clicked and i had a fun time with them. This reminded me of my childhood days.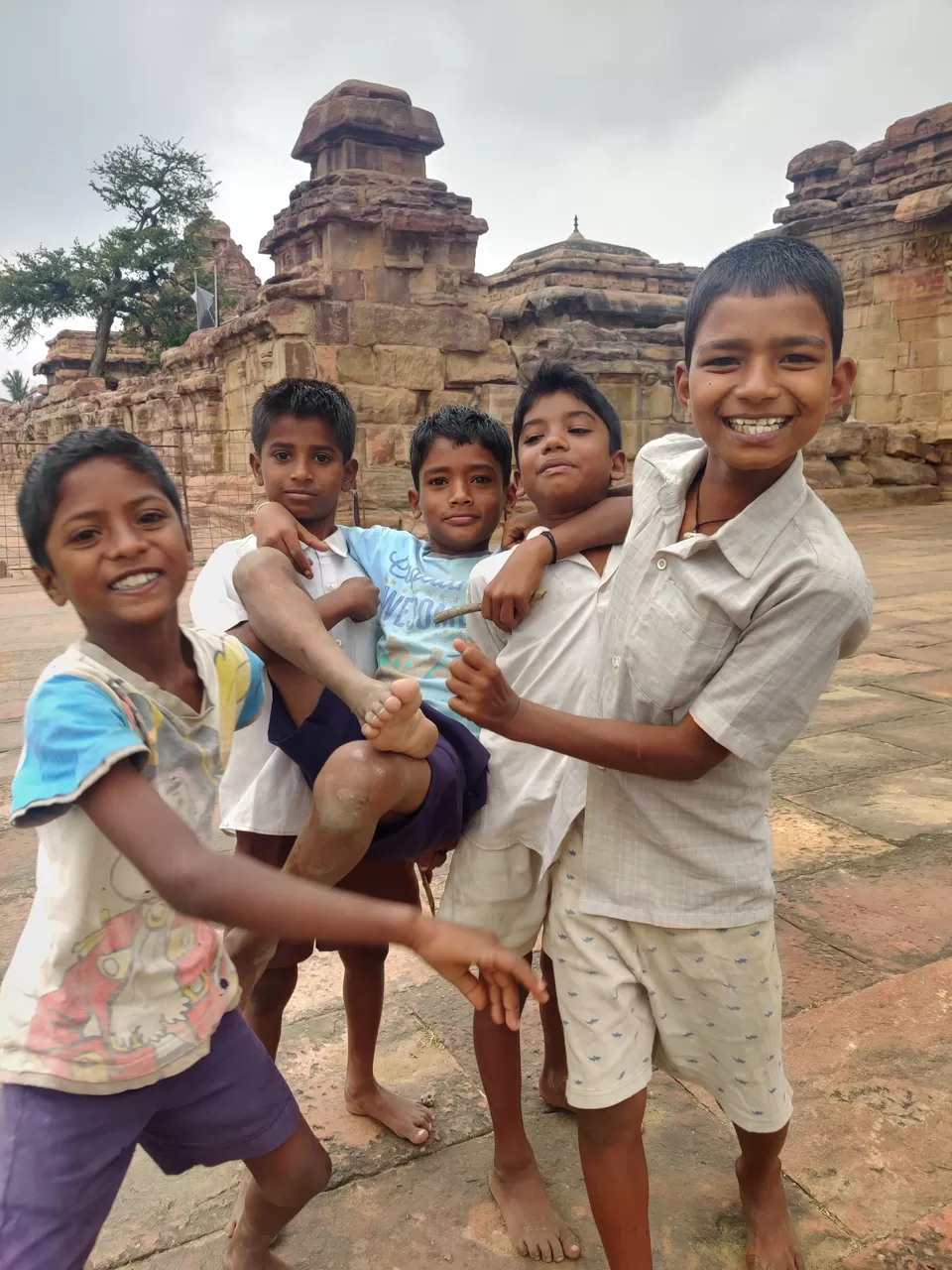 There are buses every 45 Minutes from Pattadkal to Badami, there are local autos also available. I boarded an auto to Mahakuta Village.I made new friends who shared similar Journey.I got off the auto and had to walk few kms before reaching mahakuta. On the way, Luckily , an elderly couple offered to drop me.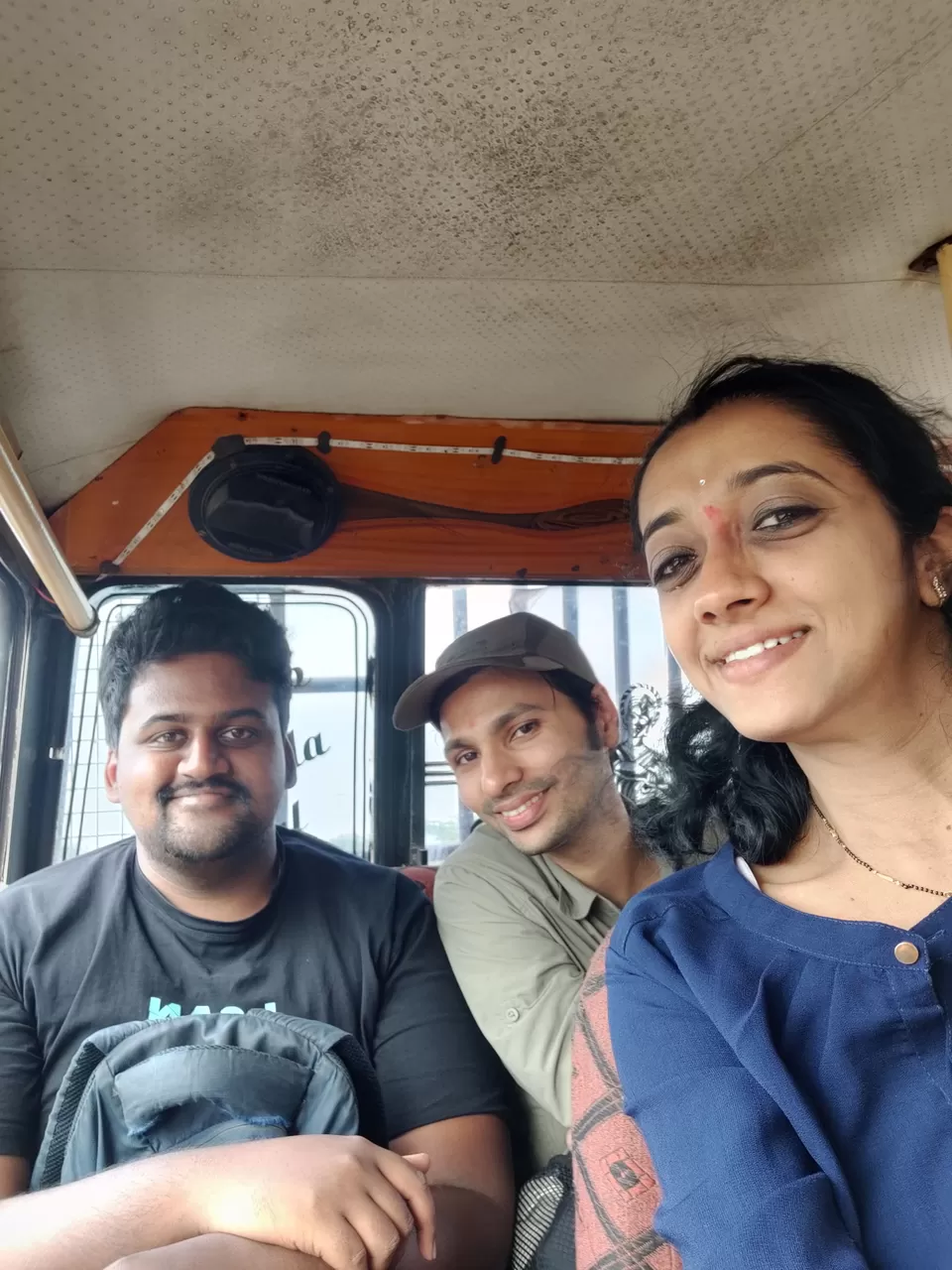 The Mahakoota group of temples is an important place of worship for Hindus and the location of a well-known Shaiva monastery. The temples are dated to the 6th or 7th century CE and were constructed by the early kings of the Chalukya dynasty of Badami.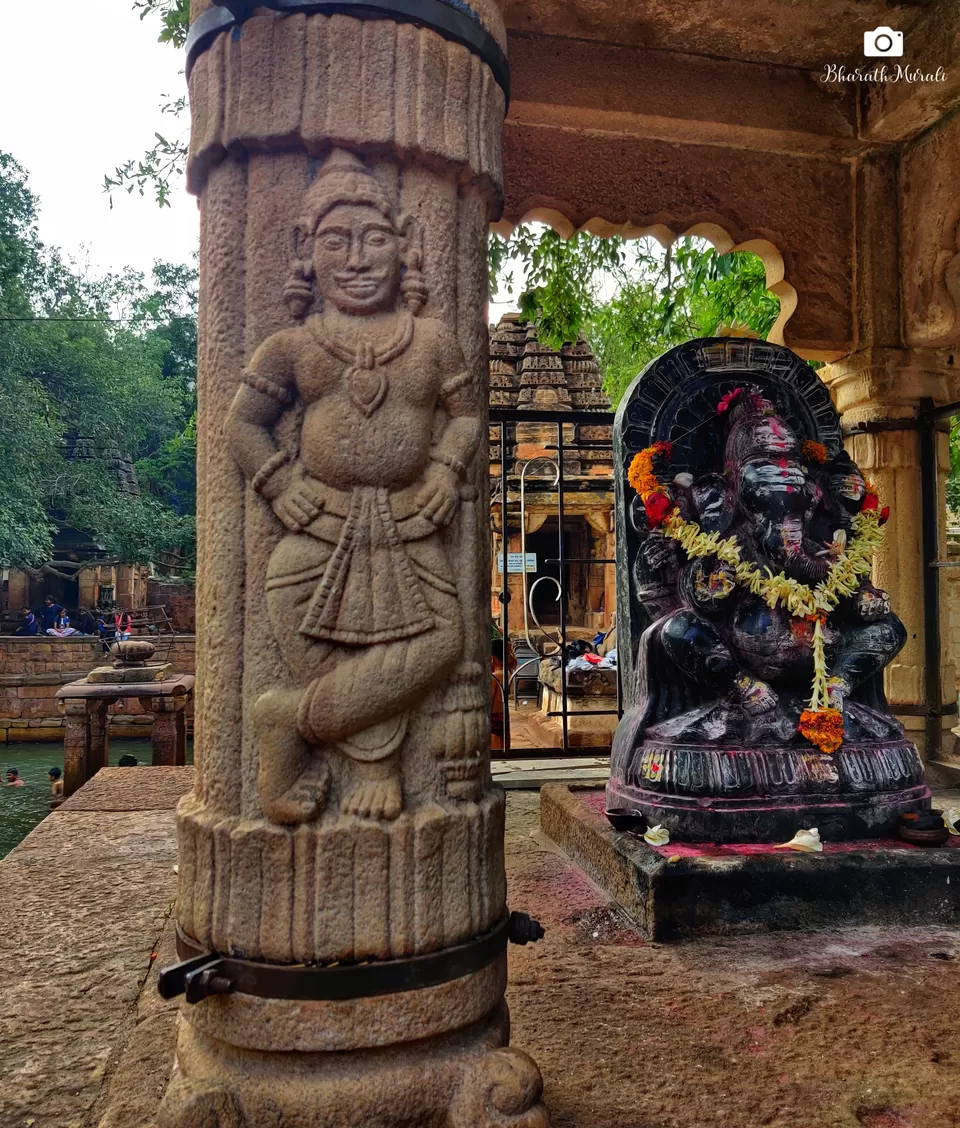 From Mahakoota i catched a shareauto to Badami. From Badami i left to Bagalkot.
An Amish Proverb says " Peace is seeing a sunset and knowing who to thank". There were lot of people who helped me in this trip and i am grateful for it.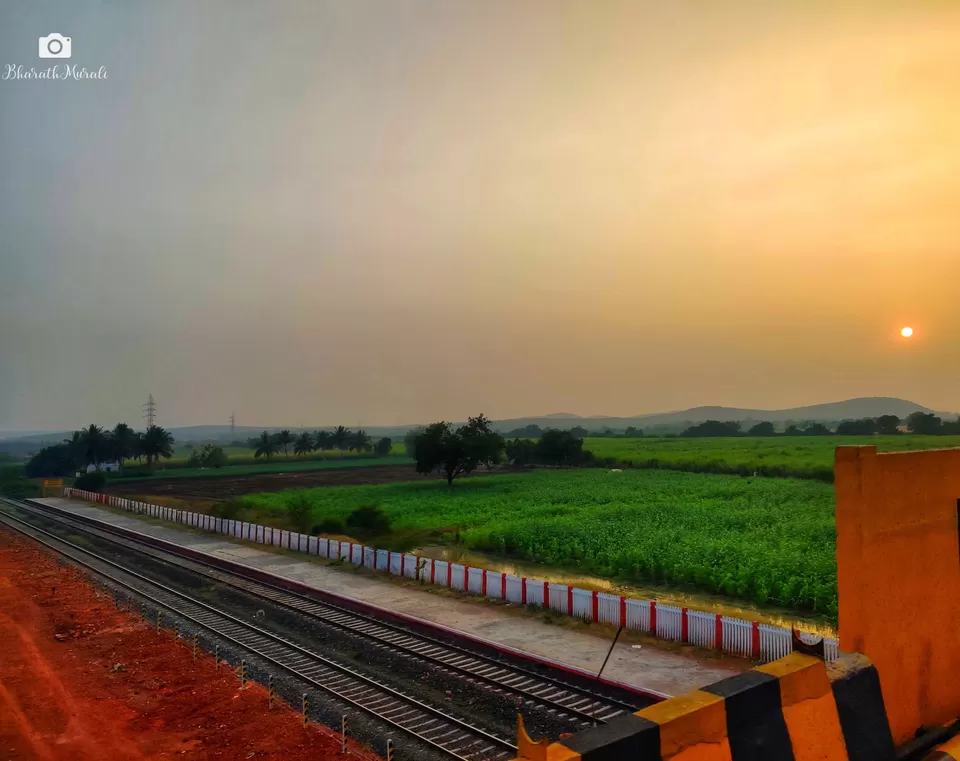 I caught a bus from Bagalkot,in the Night, and reached Bengaluru.
Visiting Hours and Tickets: 6.00am to 6.00pm (Banashankari Temple is open till the 9pm )
There is ticket fare for entry (50rs for each place) parking and as well as Camera(if you are carrying, approx 50rs ) in Badami, Aihole and Pattadkal.
Best time to Visit: October to January
Travel Tips:
Stay: Preferably at Badami which is easily connected to other places of interest.
Transport: Private vehicles when you are travelling with Family/Friends
Days: Three , so that you can rest.
Carry water bottles .Beware of monkeys.
For More pictures and Stories : Instagram handle @wander__n__Wonder.