Hello, I am writing this edition to share my trip to Western Chalukyan kingdom and the trip comprises the places of Bagalkot District in North-Central Karnataka.
Kudala Sangama - Aihole - Pattadakal -Mahakuta - Banasankari - Badami.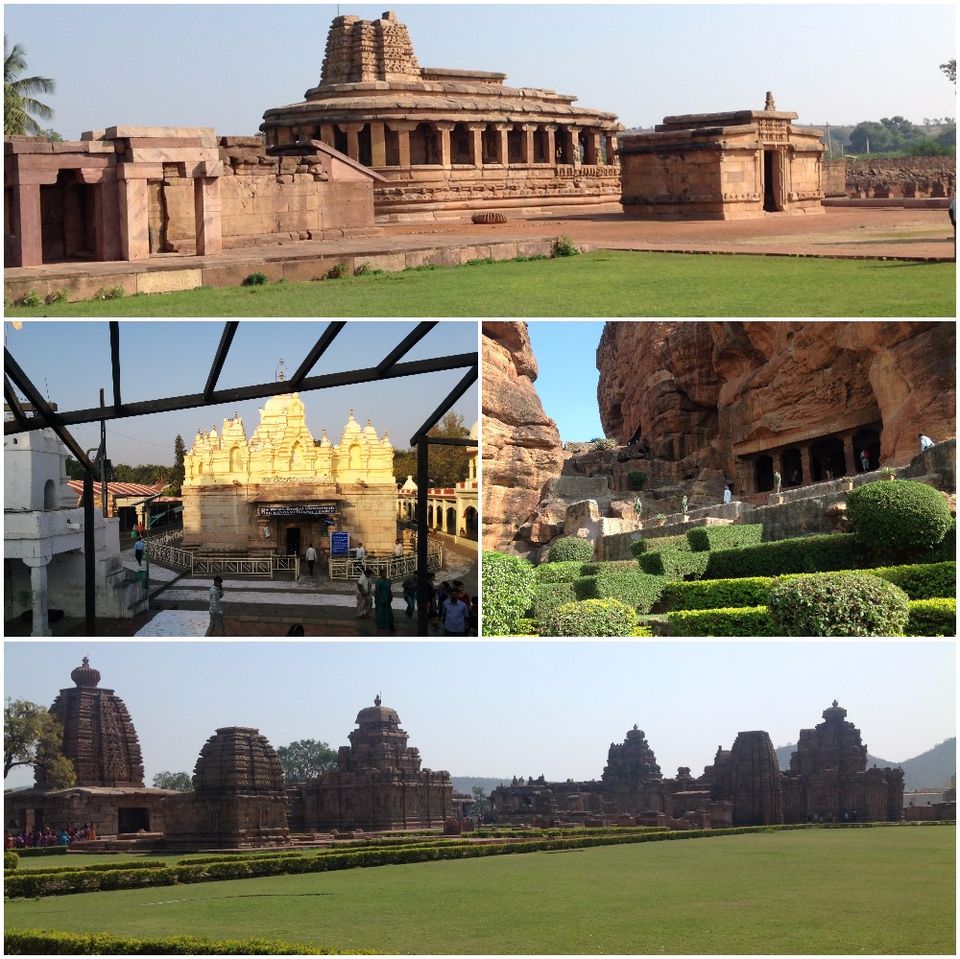 All these places were covered in single day. We have a started our journey by train which runs daily between Secunderabad to Hubbali at 3:45 PM. We have decided to reach Kudalasangama first and got down in Bagalkot which was around 50 km to Kudalasangama. Train reached Bagalkot by 4 AM. It was hard to get a cab in Bagalkot during that time.Only auto rickshaws were available at that time. One of the auto driver [Ravi -099802 16391] arranged a cab for us to roam all these places. If anyone was planning to start trip from Bagalkot, I would request to call him, so that he can arrange either auto or taxi. Our day started with a cup of tea near Old Bagalkot bus station and then started to Kudalasangama.
Kudala Sangama:
One of the holy places of Lord Shiva lies on the bank of Krishna river. Here Krishna joined with one of its tributaries Malaprabha river. Malaprabha river is the only river in India, which flows from South to North. We took a holy dip in the river and went to Sanganmeshwar temple. One of the attraction in the temple complex is the Lord Shiva Linga in the middle of the river opposite to the main temple entrance. Boat ride was available at this point but we haven't got a chance to take that boat ride.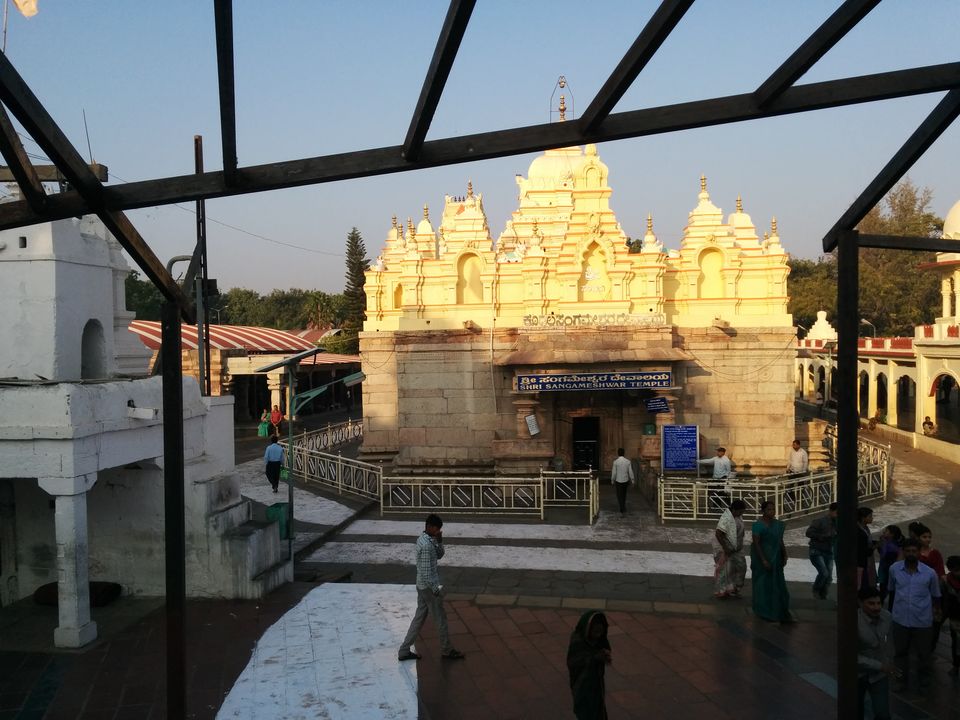 Aihole:
As per the old inscriptions, Aihole was earlier referred as "Aryapura". During the reign of Chalukyas, this site was considered as school of architecture. Group of temples which depicts about the different styles of temple art in India i.e. Dravidian vimana style, North Nagara style etc. The main attraction in the temple complex is Durga Temple. Indian Parliament design was implemented based on this Temple. One of the interesting thing caught to us during our visit, entrance door design of every temple in this region. Ladkhan temple is another attraction in this complex. There were two rock cut cave temples in this region. Don't forget to visit these cave temples. Reason I was telling, if you know about the features of this temple then it would be very easy to know about the cave temples of Badami. This cave was carved with beautiful pictures of Lord Vishnu and Lord Shiva. In all these places, you will find most of the statues of Lord Shiva with eight hands. There is another attraction close to this cave temple "Hucchimalli Gudi".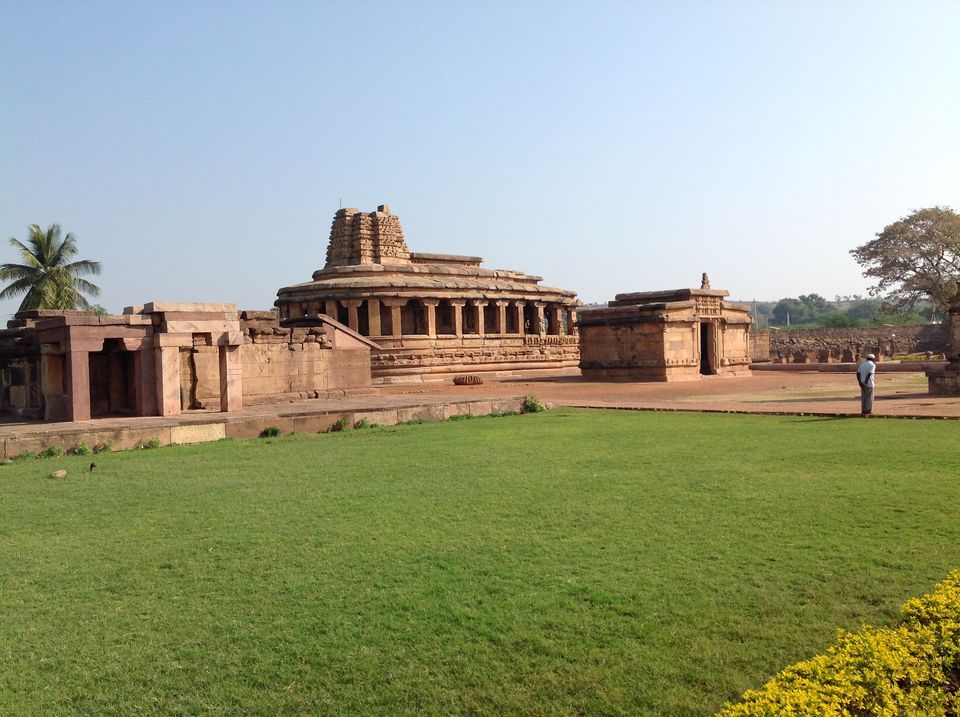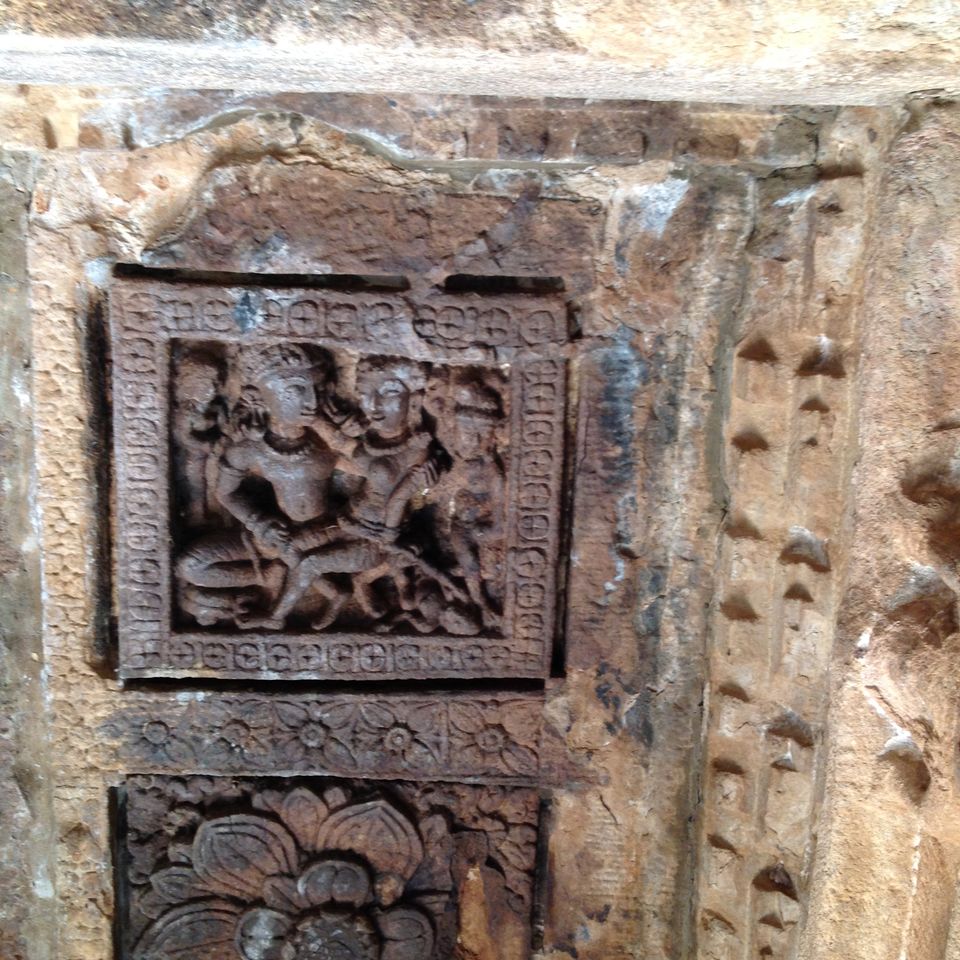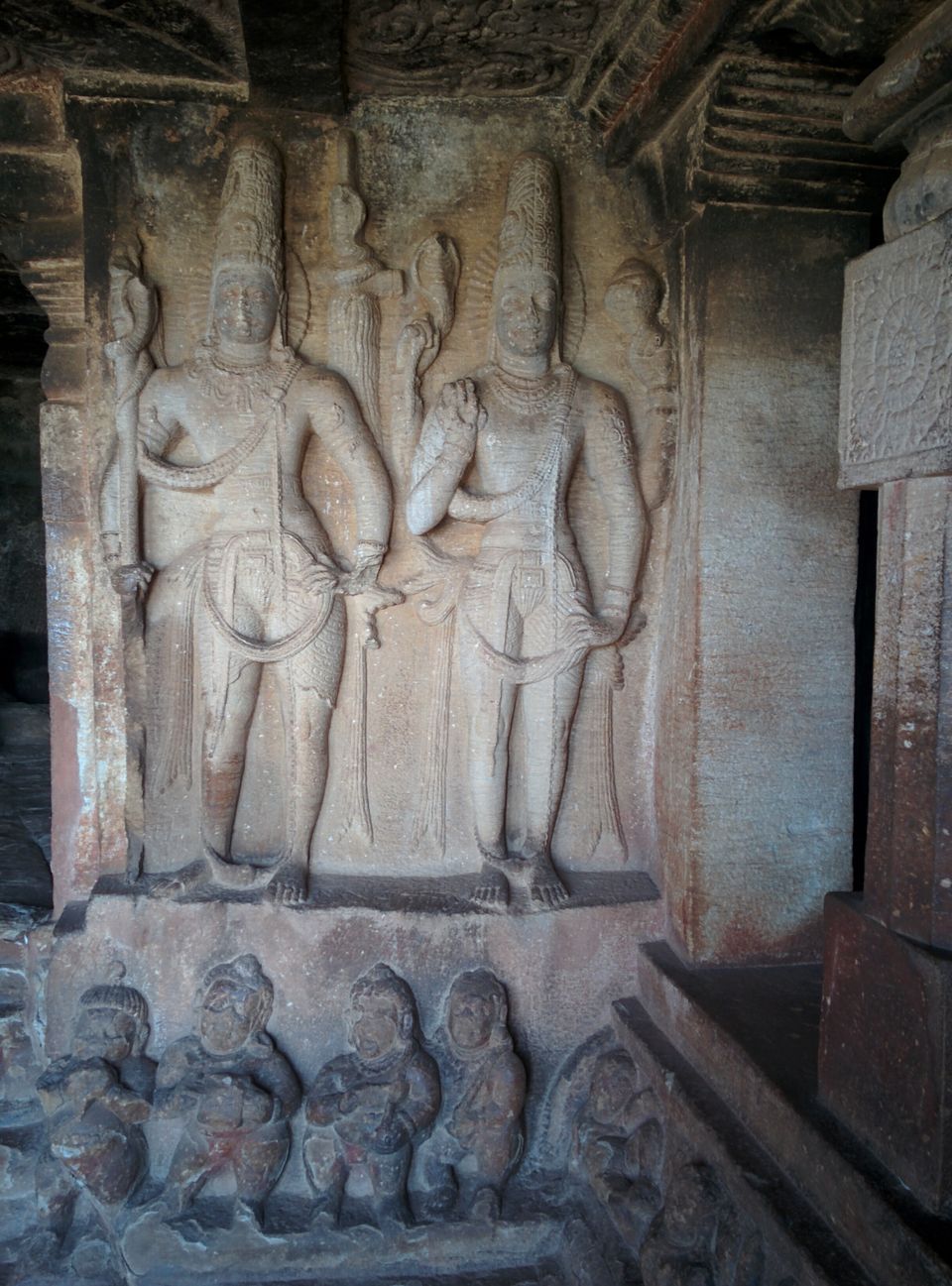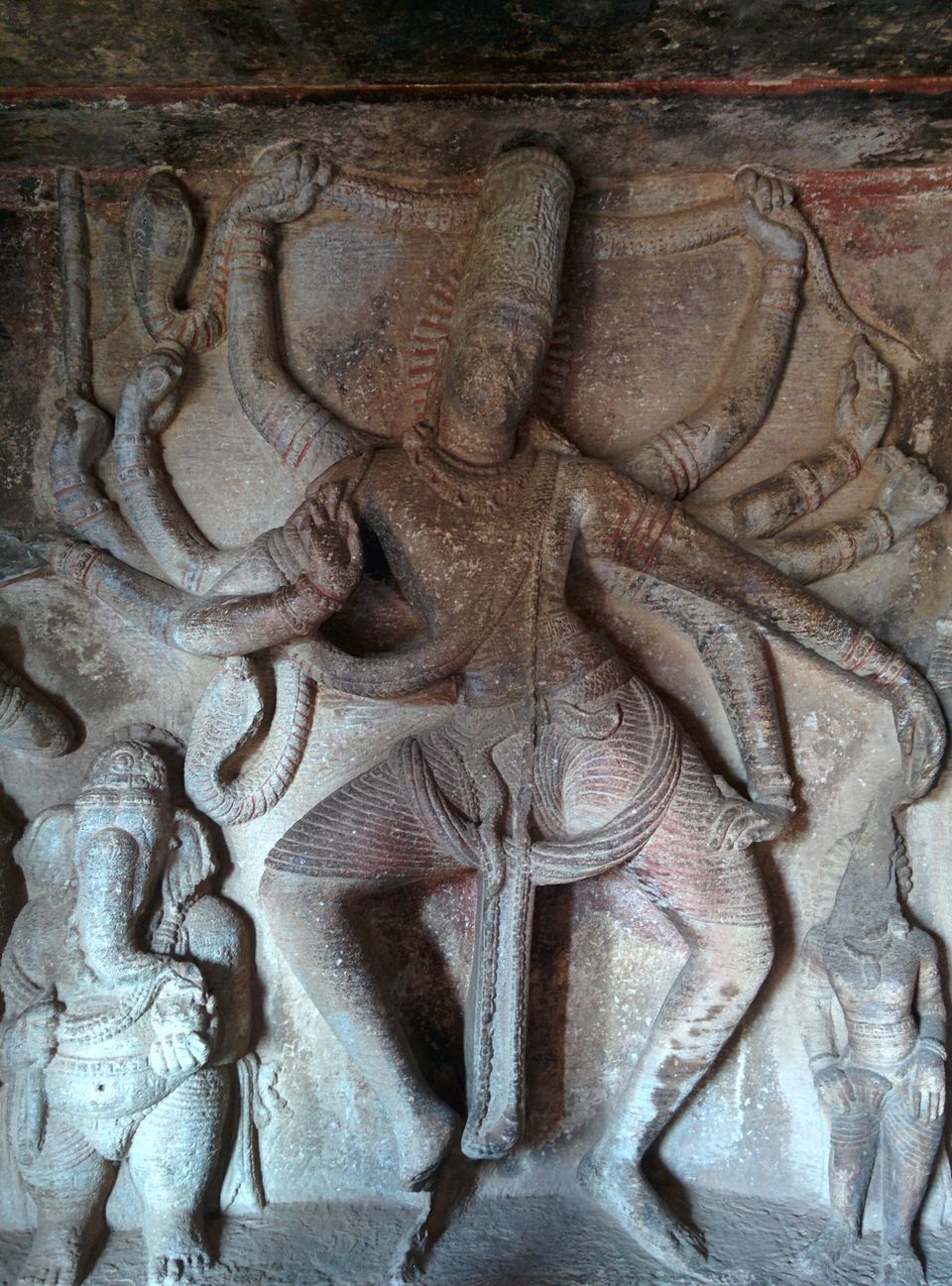 After completion of Aihole, we headed towards Pattadakal which was around 20kms.
Pattadakal:
One of the two UNESCO sites in the state of Karnataka, other one was "Group of Monuments in Hampi", which was inscribed in the sites list under Asia region in mid 80's. This region was called as College of Architecture. Pattadakal group of temples consists of 10 different temples [9 Lord Shiva temples and One Jain Temple built by Rastrakutas] which were constructed in architectural styles of north and south India (Rekha, Nagara, Prasada and Dravida Vimana). These temples reflect the various religious sects, four temples were built in the Chalukya Dravida style, four in the Nagara style of Northern India.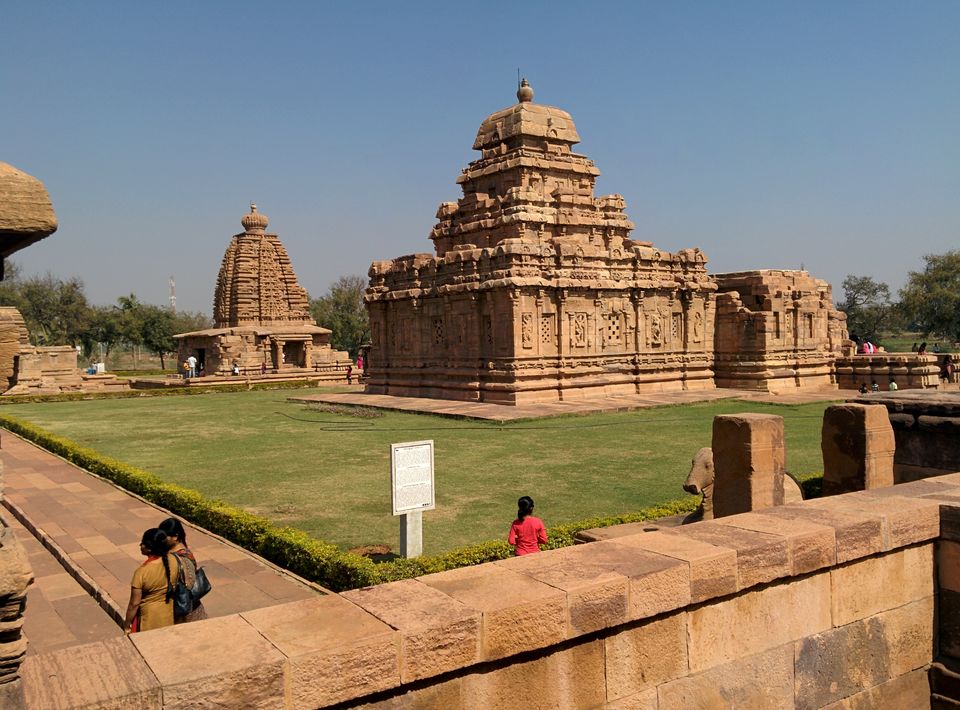 Out of 10 temples in that complex, only one temple receives offerings, "Virupaksha Temple" built by queen Lokamahadevi (Trilokyamahadevi) to commemorate her husband's victory (Vikramaditya II) over the Pallavas of Kanchi. There was a Victory Pillar present in this temple complex which constructed after the win over Pallavas. This temple is very rich in sculptures and nandi mandapa beside the temple complex. The temple complex exists beside the bank of Malaprabha river.The famous Kailasa temple at Ellora was built on the model of this temple. The Virupaksha temple itself is an exact replica of the Kailasa temple at Kanchi. Below are the list of temples resided inside the temple complex.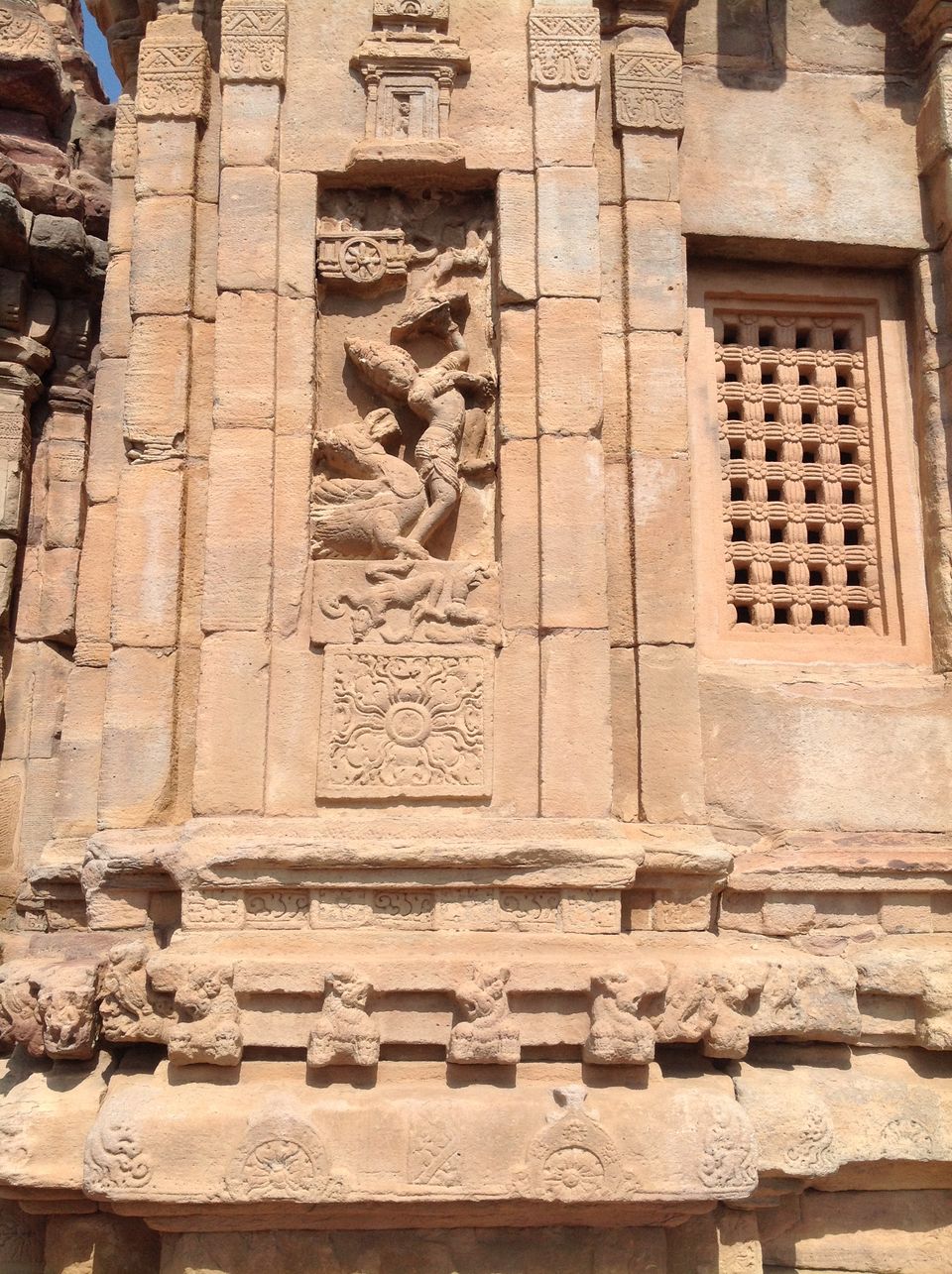 Papanatha temple
Kadasiddheshwara temple
Jambulinga temple
Galaganatha temple
Kashi Vishwanatha temple
Mallikarjuna temple
Chandrashekhara temple
Sangameshwara temple
Jain Narayana temple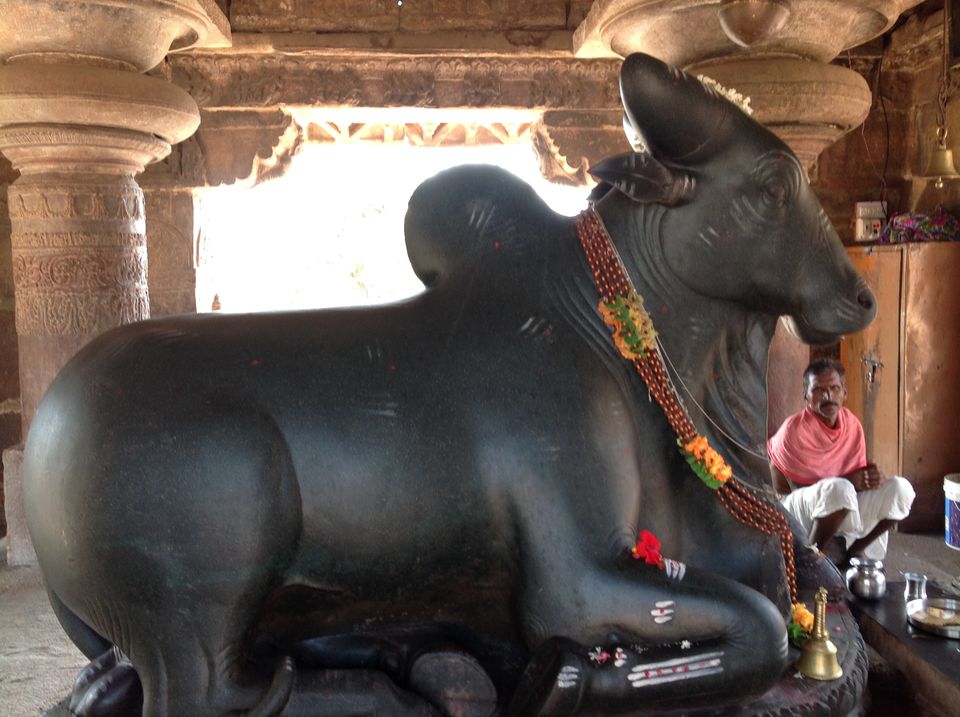 Below are the carvings on the pillars inside the Virupaksha temple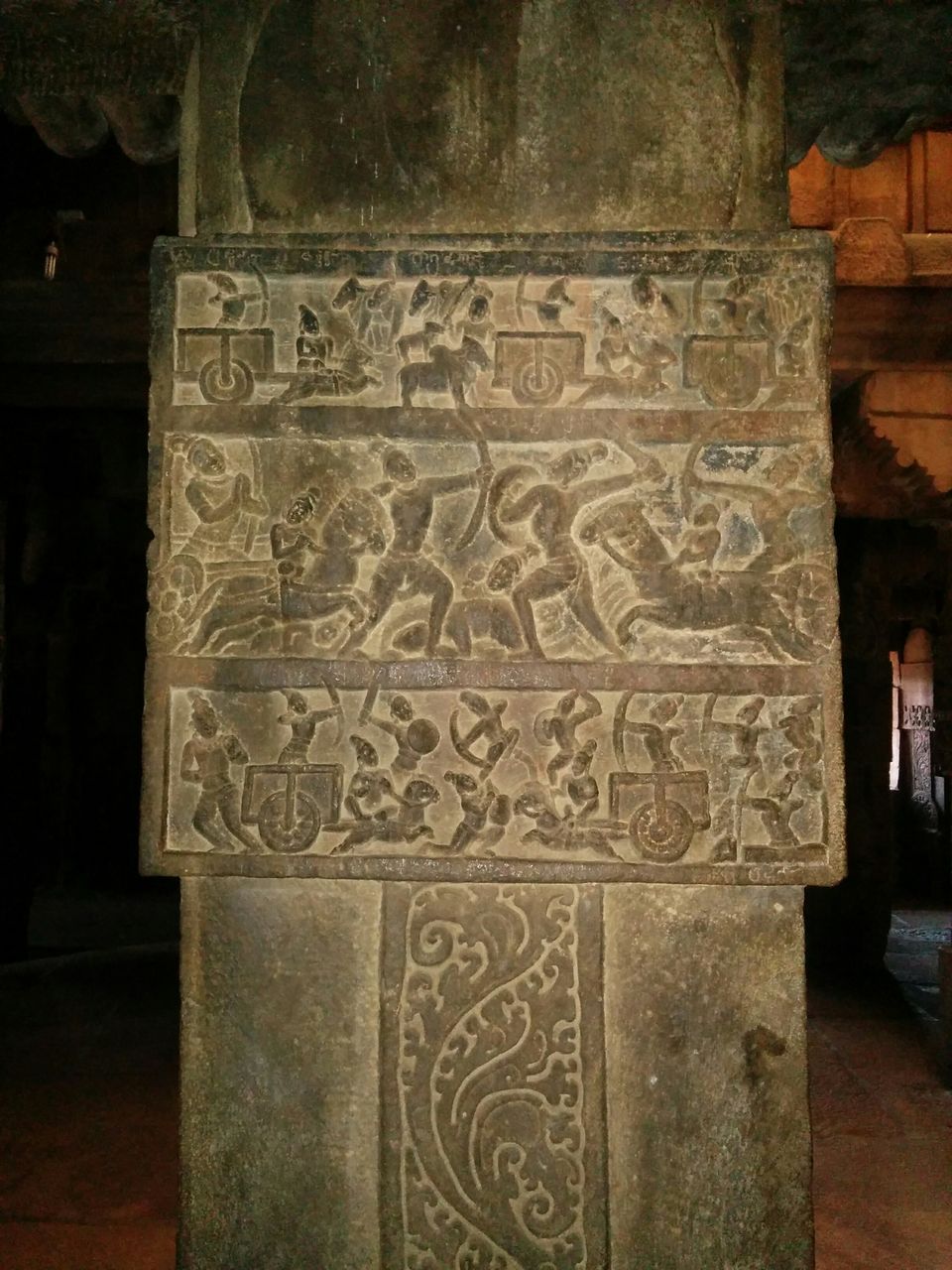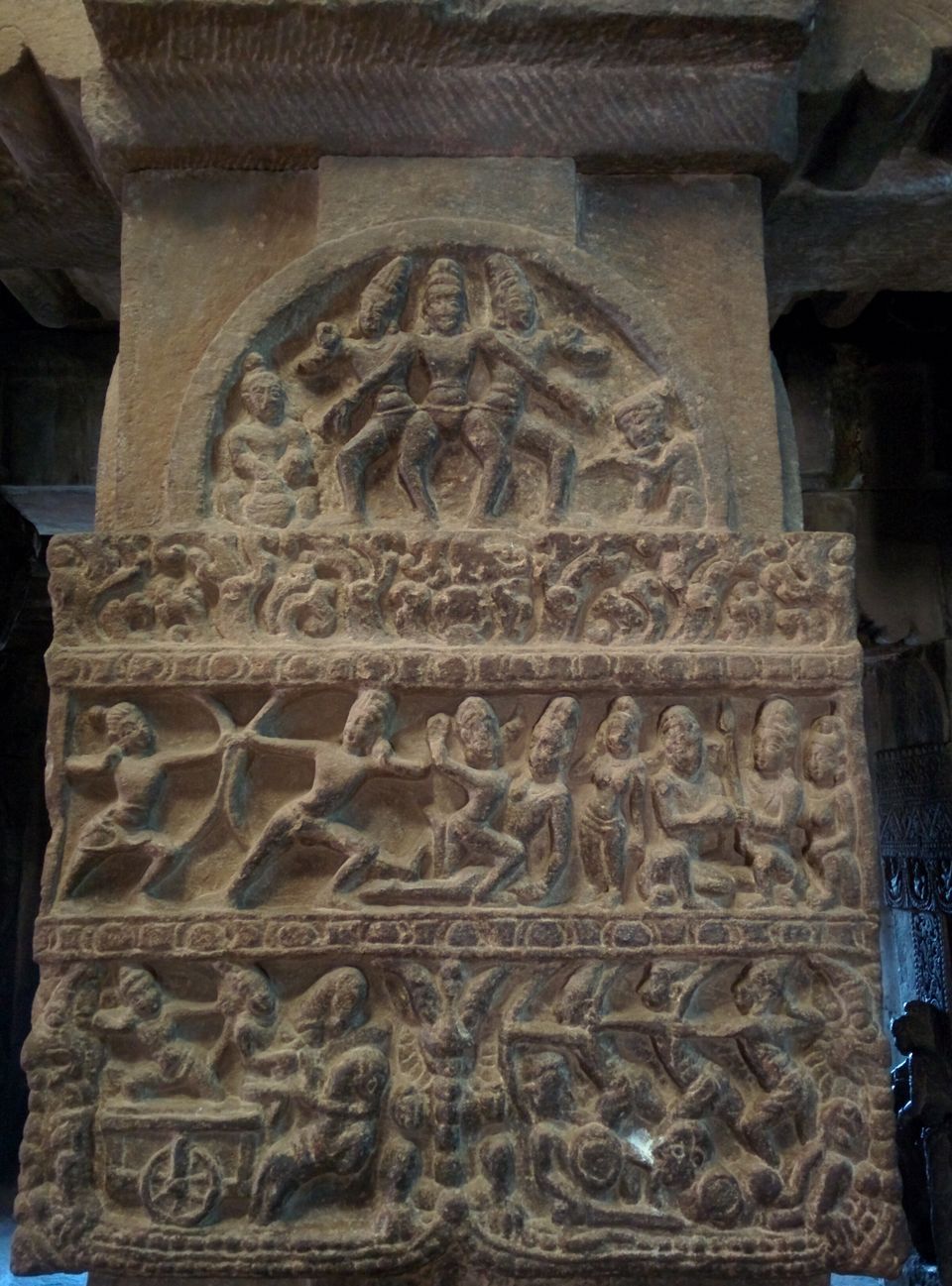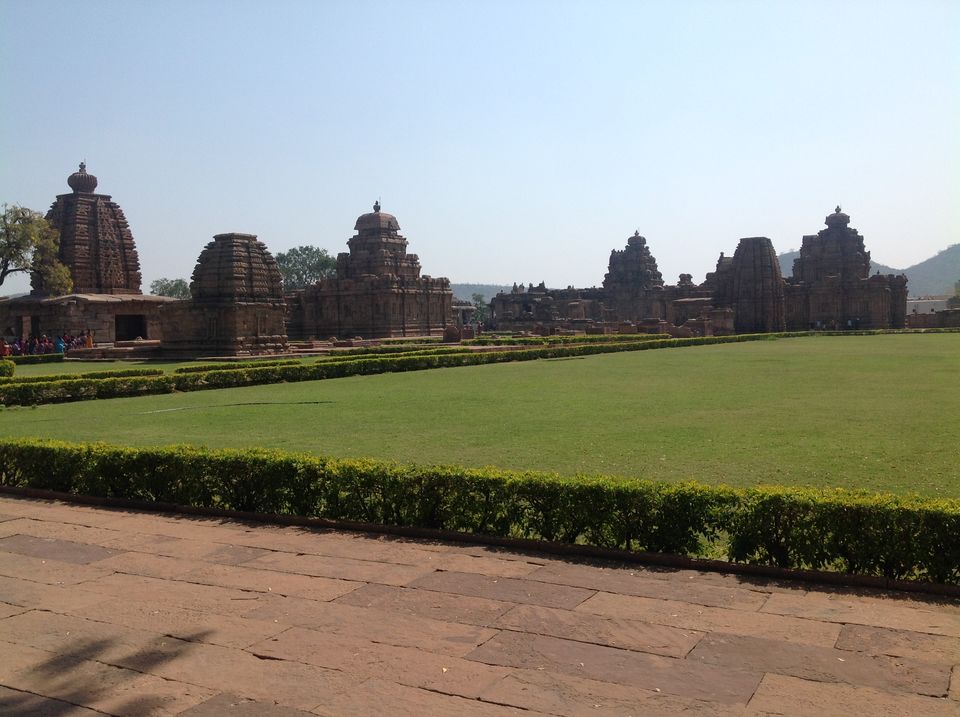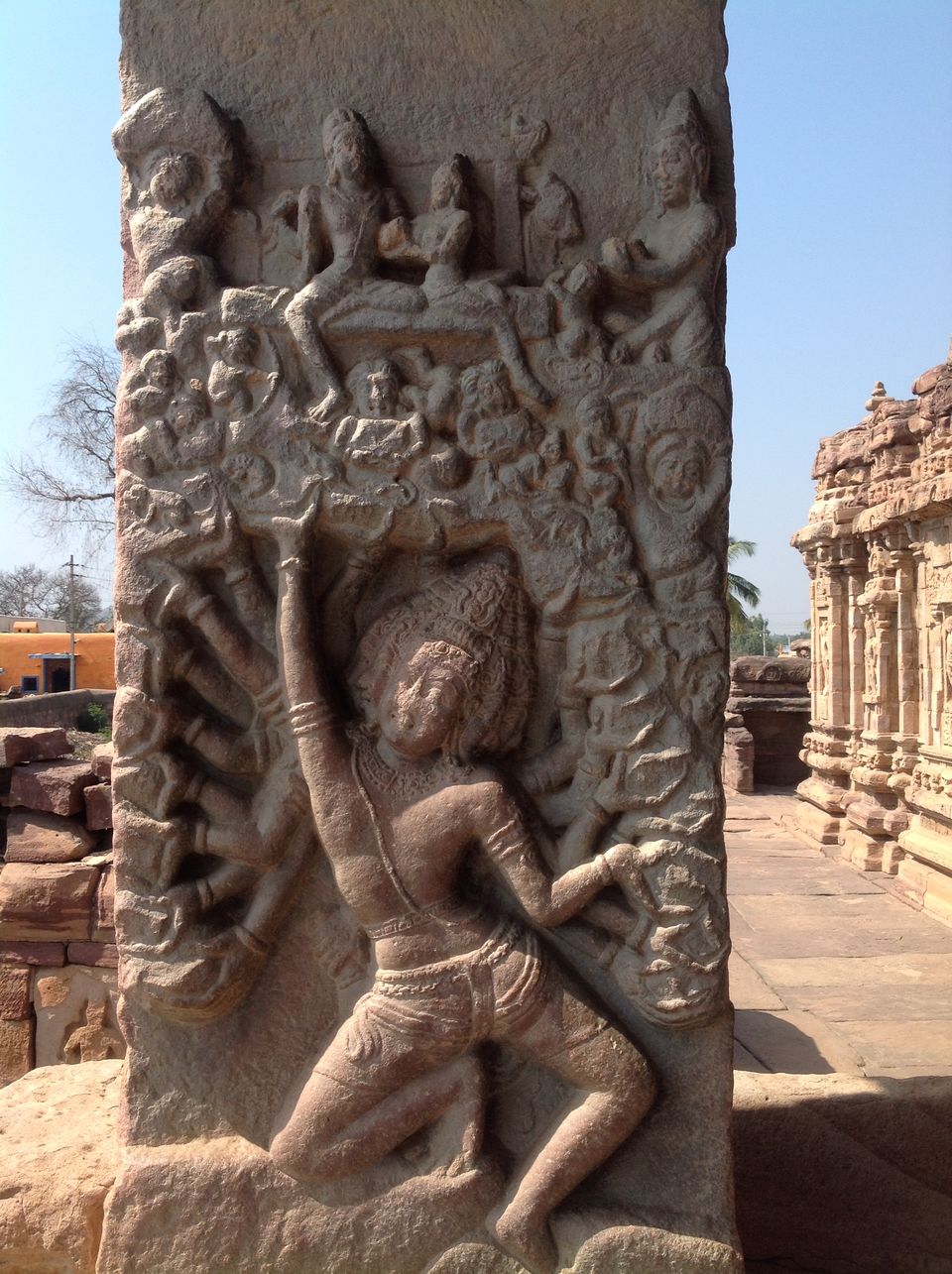 Mahakuta:
The Mahakuta group of temples located between Pattadakal and Badami. There was Lord Shiva temple in this temple complex and fresh water tank known as "Vishnu Pushkarini". Here the among several shrines in the complex, the Mahakuteshvara temple, built in the Dravidian style, and the Mallikarjuna temple are the largest. There is a small shrine in the center of the Vishnu Pushkarni tank and in it is a Shiva linga (universal symbol of god Shiva) called Panchamukha linga ("five faced linga"), one face for each direction and one on top.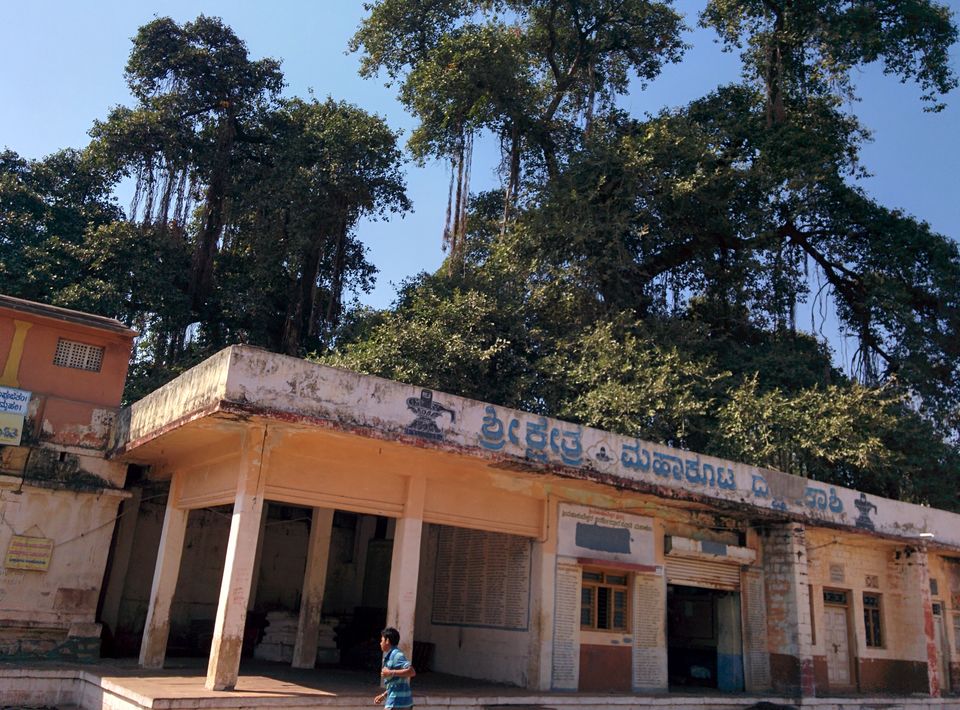 Banashankarri Temple:
One of the temples near Badami. Here Goddesses worshiped as Shakambhari, an incarnation of the goddess Parvati. During Chalukyas rule, this center was known for trade and commerce.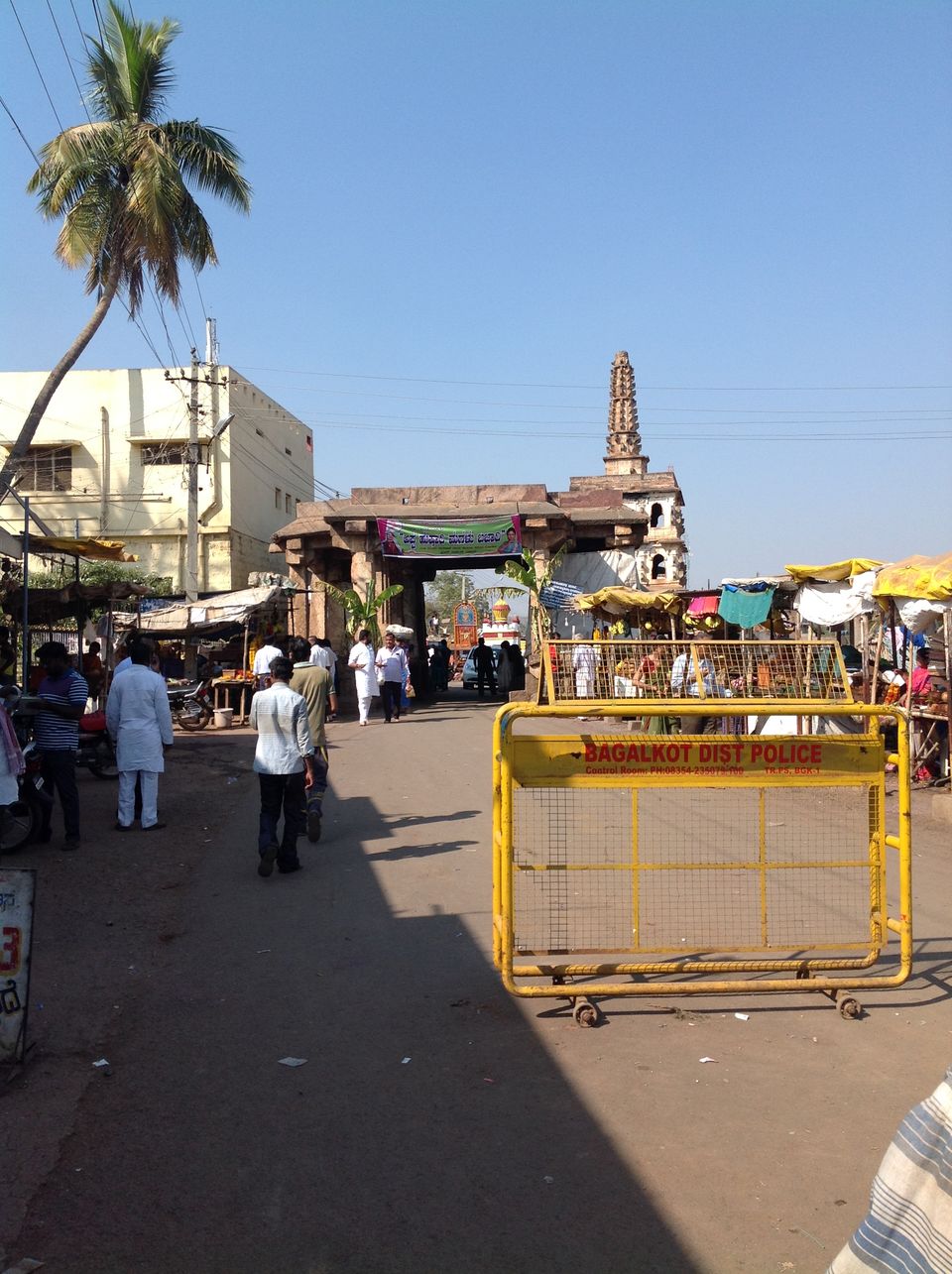 Badami Cave Temples:
Badami is a town in Bagalkot district of Karnataka state which was earlier known as Vatapi, Vatapipuri and Vatapinagari, the capital of Chalukyan dynasty in 6th Century. The town was famous for the largest caves temples in India All these caves temples are perfect example of Indian rock-cut architecture. The complex is the home of 5 cave temples which has the beautiful carvings of Hindu[Lord Vishnu and Lord Shiva] and Jain Tirthankara Parshavanatha and Bahubali.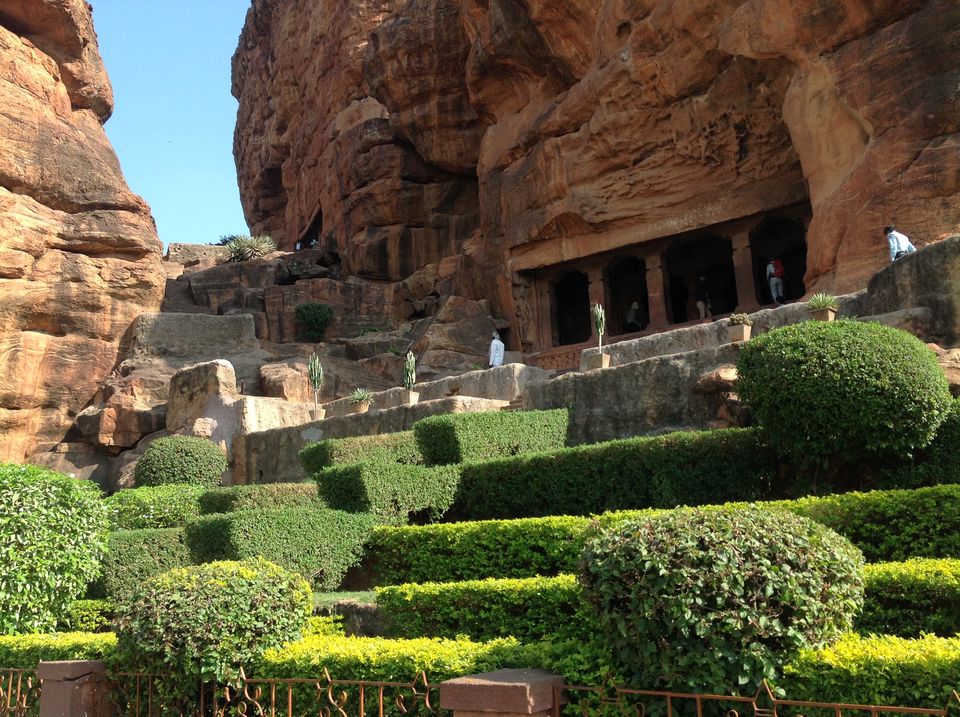 Cave 1: All the carvings belongs to the Hindu divinities and themes, a prominent carving is of the Tandava-dancing Shiva as Nataraja. Don't miss to see the ceiling in the mandapas, they have also beautiful carvings of Hindu gods.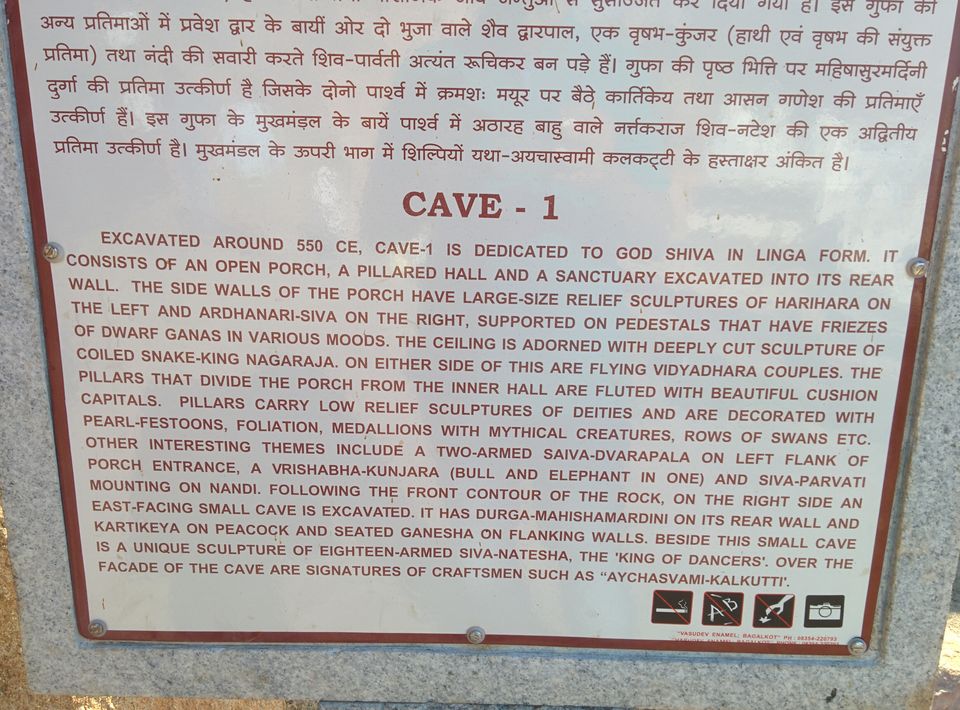 Cave 2: Most of the deities belongs to Lord Vishnu in different forms. The largest carving in Cave 2 shows Vishnu as Trivikrama (Vamana), with one foot on Earth and another directed to the north.The ceiling of Cave 2 shows a wheel with sixteen fish spokes in a square frame along with swastikas and flying couples.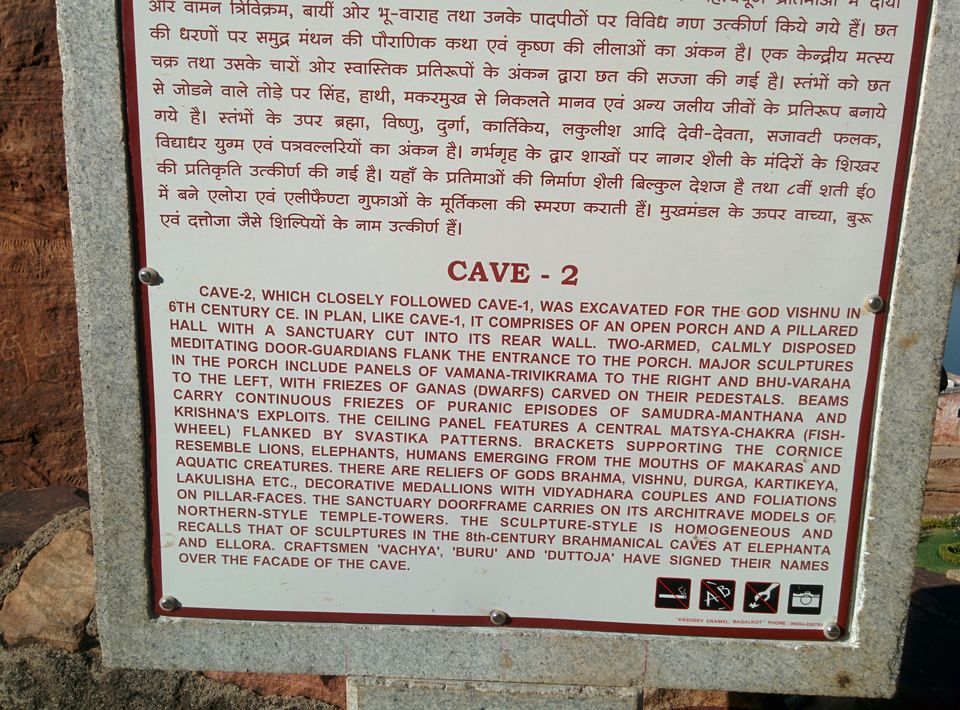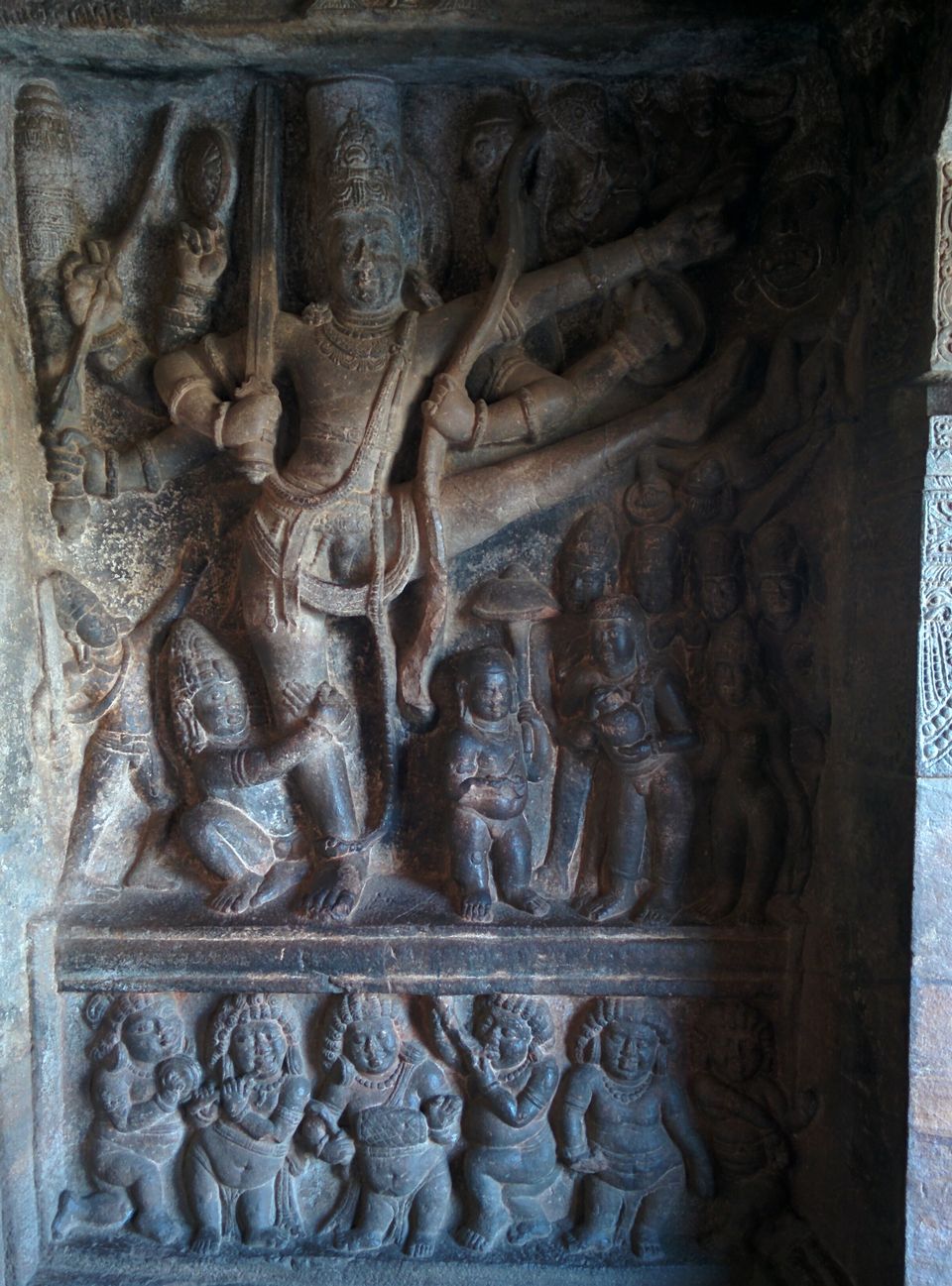 Cave 3: This cave is dedicated to Vishnu; it is the largest and most complicated carved cave in the complex. It has well carved, giant figures of Trivikrama, Varaha, Narasimha different forms of Vishnu. One of the carving depicts the image of both Vishnu and Shiva shown fused as one known as Harihara.The roof of the front aisle has panels with murals in the centre of male and female figurines flying in the clouds; the male figure is yaksha holding a sword and a shield. Decoration of lotus blooms are also seen on the panels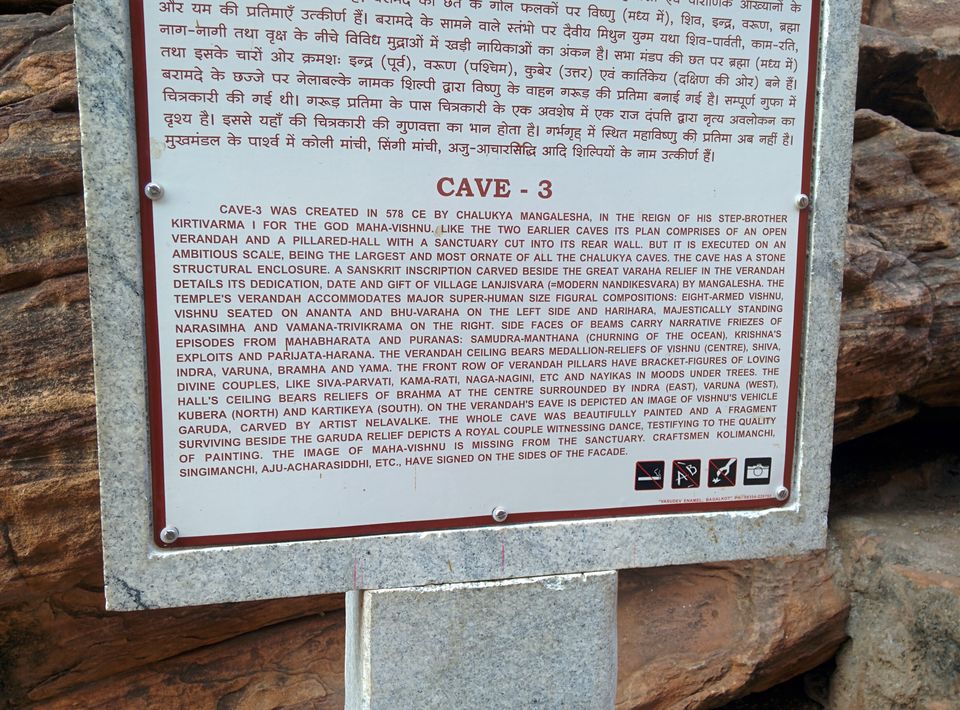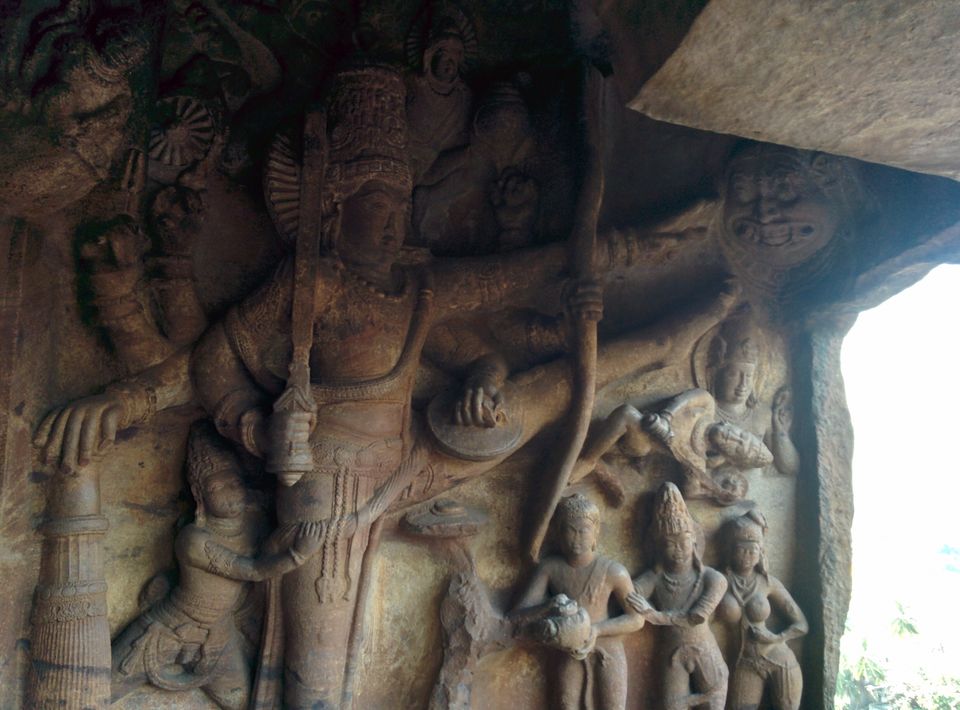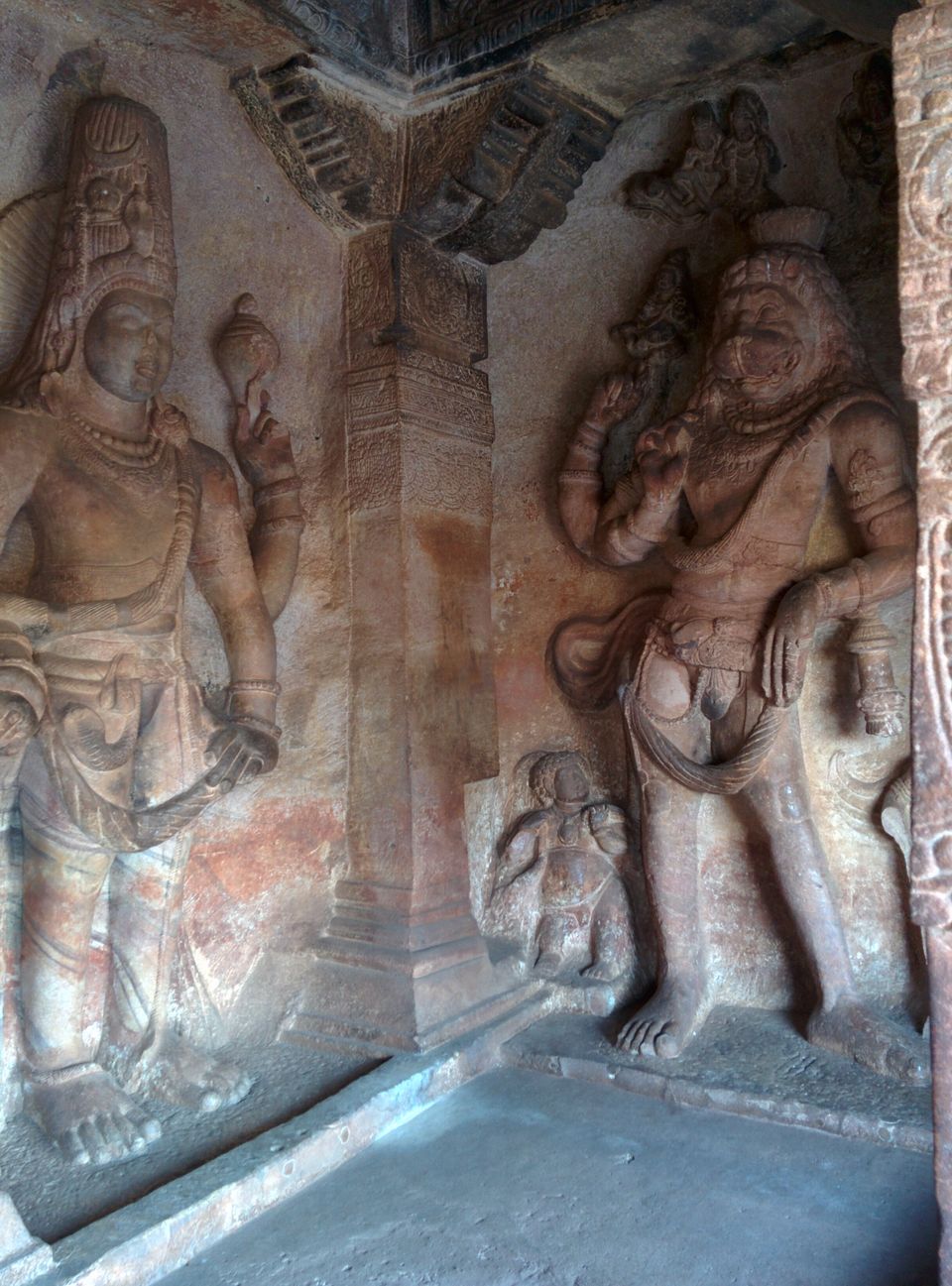 Cave 4: This cave has the carvings of Jain Tirthankaras. Few of them are Parshavantha and Bahubali deities.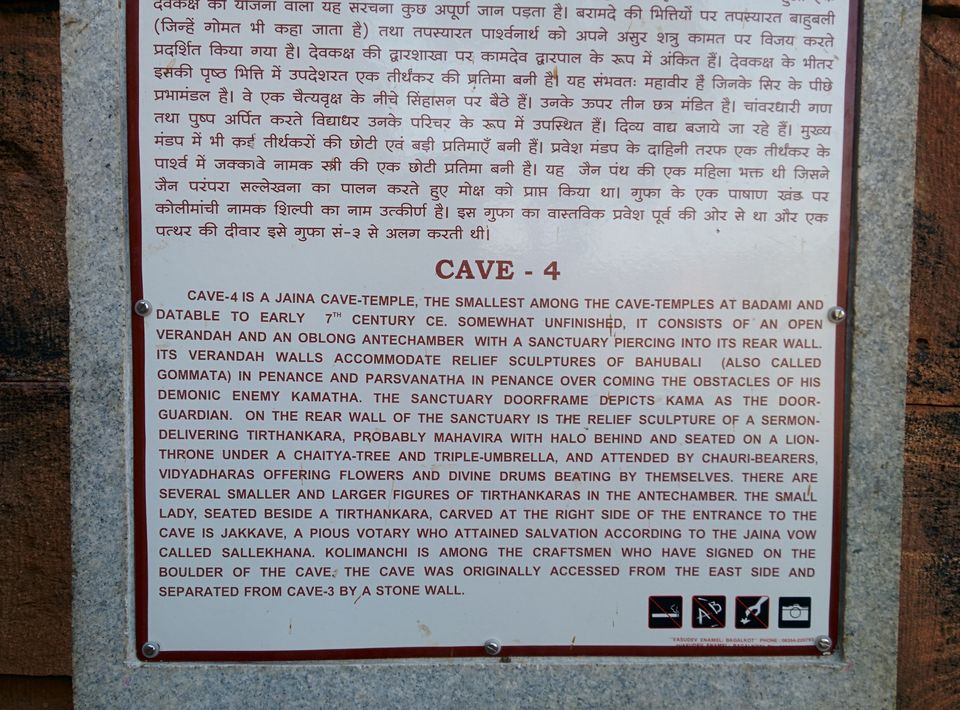 Cave 5: This cave was far away from the remaining four caves which has carvings of hindu gods.
We can find one artificial lake near to these caves, Agastya Lake.There are couple of hilltop temples of Lord Shiva known as Lower Shivalaya and Upper Shivalaya. There was a museum at the entrance where we can find ancient tools, statues of different deities found during excavation works . We can found a construction in this area where Tippu Sultan used to store his Khazana.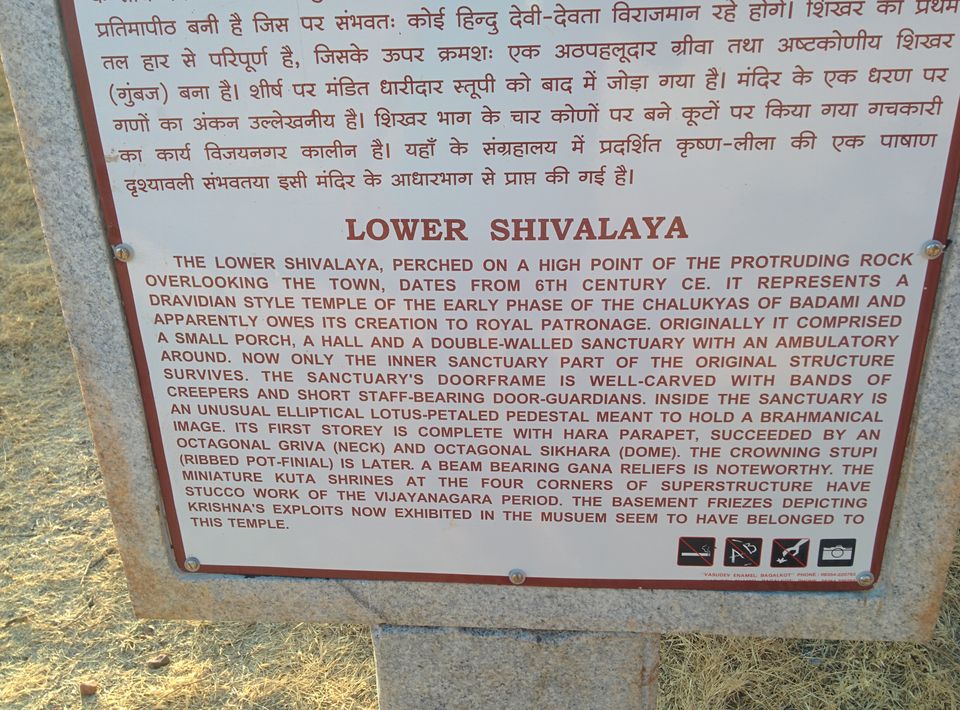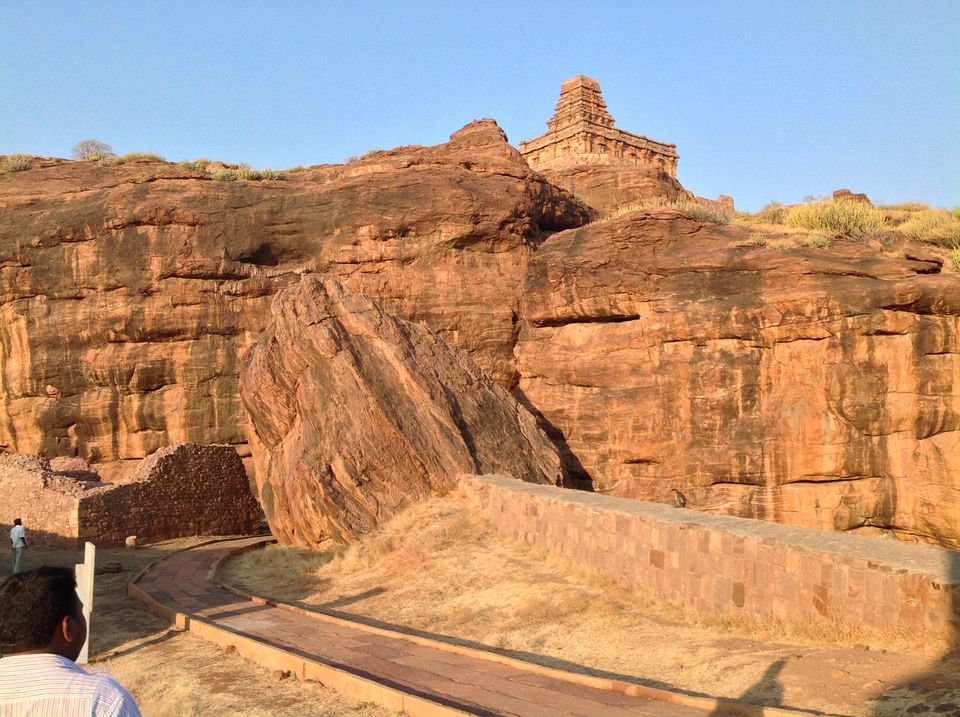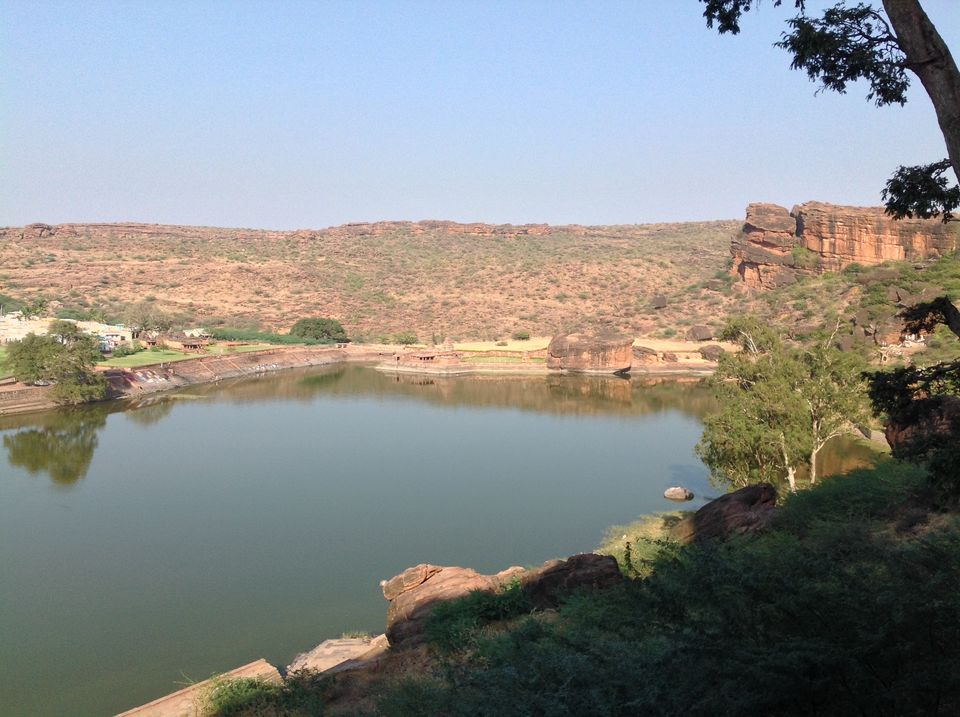 Best time to visit: October to March
Nearest Railway Station: Badami and Bagalkot
Nearest Airport: Bengaluru
We can reach Bagalkot by buses as well, there was halt at Bagalkot for the buses runs between Belgavi -- Hyderabad.