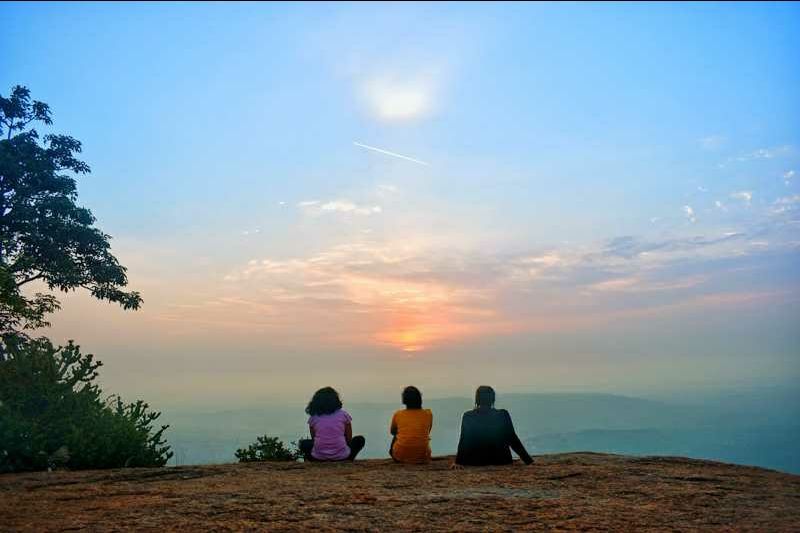 So it was friday morning I called two of my friends and asked what are their weekend plans. To my convenience they had no plans and planed for savandurga trek. I booled the tickets for the savandurga sunrise trek and kayaking at manchanabele dam through Events High. To my badluck it rained in the evening at Bangalore. The event manager called up and gave two other options for trek naryangiri or kuntibetta. Since we weren't introduce in these both we asked him to see if it's possible to conduct. Then he told we will conduct the trek only for your group. Then we were quite perplexed and worried. Because we were only 4 girls and my other friends from office were like it's night trek and not so safe to go without any gents in the team. But we thought to of giving it a chance. We took the right decision. We 4 girls and our trek guide had an amazing time at the hill. Our trrk guide was a college going guy who works part time as a trek guide. He told we get money and enjoyment so its fun!.
Savanadurga is a hill 60 km west of Bengaluru off the Magadi road. The hill is considered to be among the largest monolith hills in Asia. The hill rises to 1226 m above mean sea level and forms a part of the Deccan plateau. It consists of peninsular gneiss, granites, basic dykes and laterites. The Arkavathi river passes nearby through the Thippagondanahalli reservoir and on towards Manchanabele dam.
We started pur trek at 2.30 am in the morning from base and reached the top at 4.15am. Since it was a full moon day we enjoyed the moonllight. We did campfire and watched the first rays of sun.
Roamed around captured some good snaps and started to trek back at 7am. Now to descent it was a bit difficult since it rained last day tge rocks were a bit slippery. So its must you should have a good pair of shows. All of us sliped 2-3 times. And one of my friend got a cut in hand. But one has to be prepared for these things in trek. Reached the base back in an hour and had breakfast and enjoyed the rest half day in Manchanabele dam by playing water games.