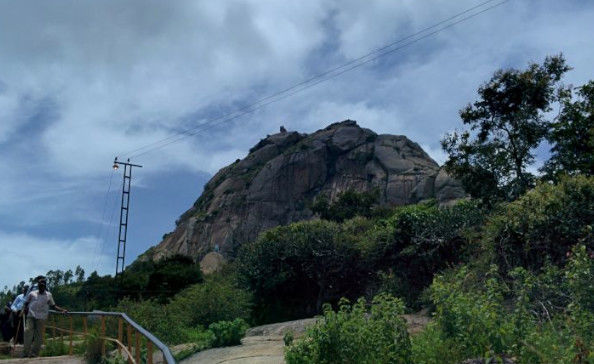 This beautiful little hike is around 1 and half hour away from Bangalore towards Tumkur. We left at 7.30 in the morning from Vijayanagar and we were at the base of the hill by 9.30 after a stop for breakfast.
The first sight of this hill is when you are driving towards the base and it looks incredible. Like a majestic hill rising high up above the others.
You start by climbing stairs upto a temple where you can see a huge nandi. From here your hike to the top officially starts. You will be climbing rocks laid on rocks as stairs, rocks carved into the boulders with bare minimal space left for legs and all this while fighting monkey menace. This will definitely be an adventurous hike.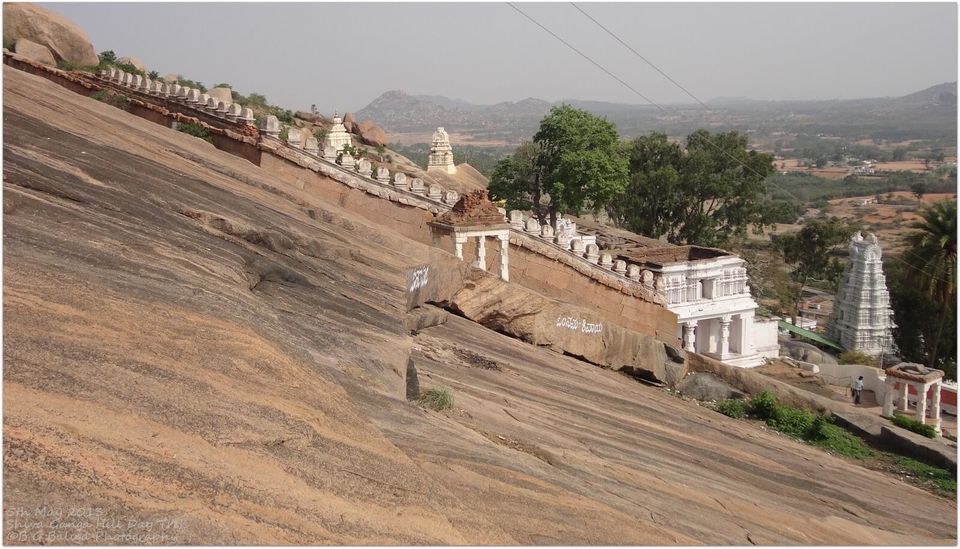 Food:
One thing you needn't worry about during this 4 hours hike(up and down) is food. There are numerous small stalls selling everything you might need during a hike. You have cucumber, corn, churmuri,chocolates, soft drinks and chass. You name it, they have it. So you should consider not carrying a bag filled with food for this trek. It also helps you stay safe from the monkey as they come and literally go through your bag at the peak for food. It isn't easy to fight them off.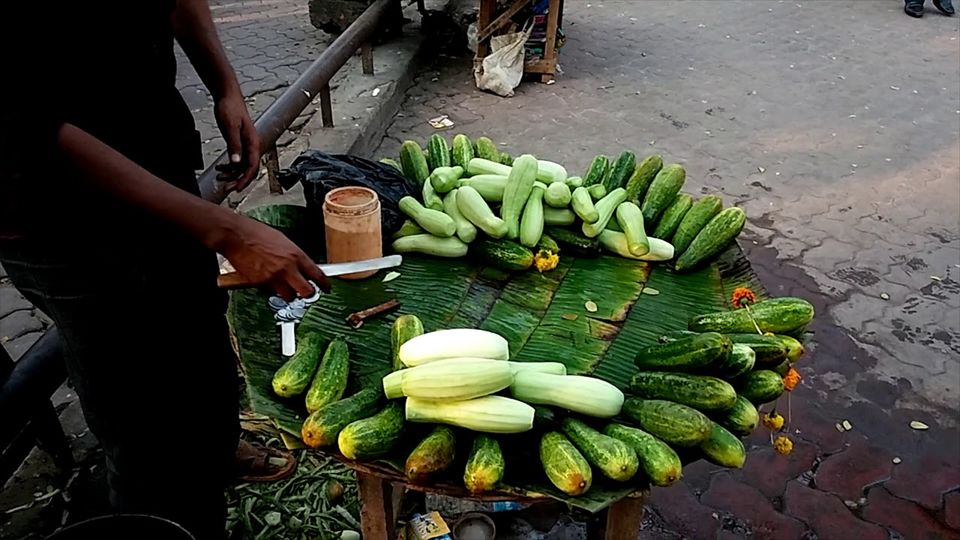 Energy:
This trek you will need minimal fitness, you should be ready to walk some steep stairs to reach the peak. You can take lots of breaks and you should make it with your basic level of fitness. It isn't the easiest of hikes but it can be done within 2 hours for sure. Make sure you carry one bottle of water and stay hydrated.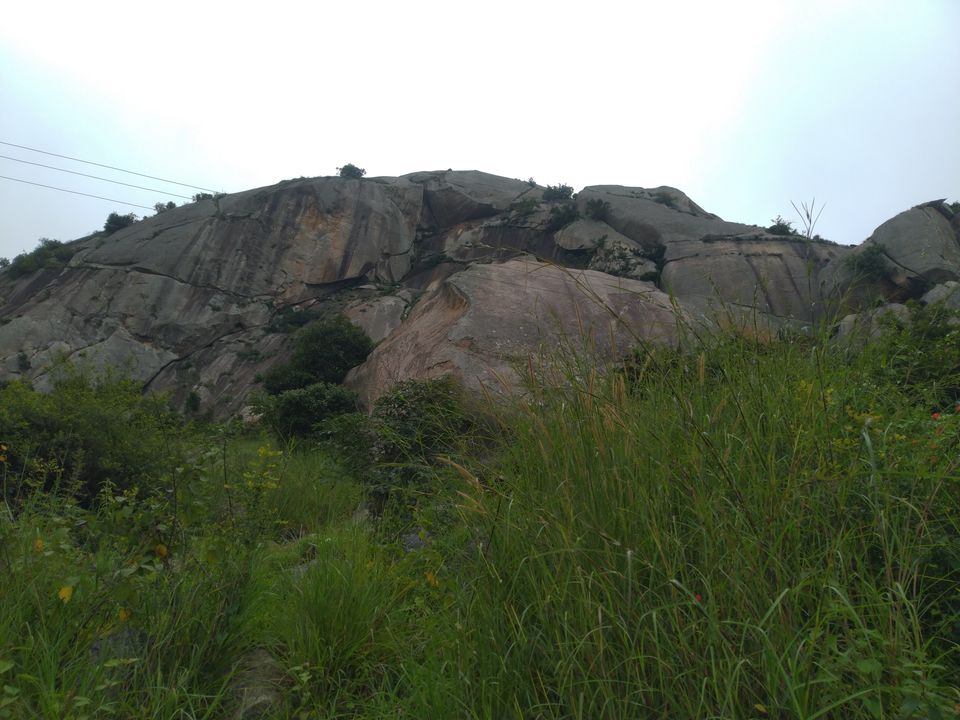 Monkey Menace:
One thing you need to beware of are the monkey's. They are waiting for you right when you have to to a steep climb to the peak, blocking the one narrow flight of stairs you HAVE to climb. They will try to attack you and search your bag for food. So be very careful. On the bright side they distract you from complaining about the actual tough part of the hike by making you concentrate of escaping their cluthes and making it to the top. So you make it through the toughest climb without sparing a minute to think about it!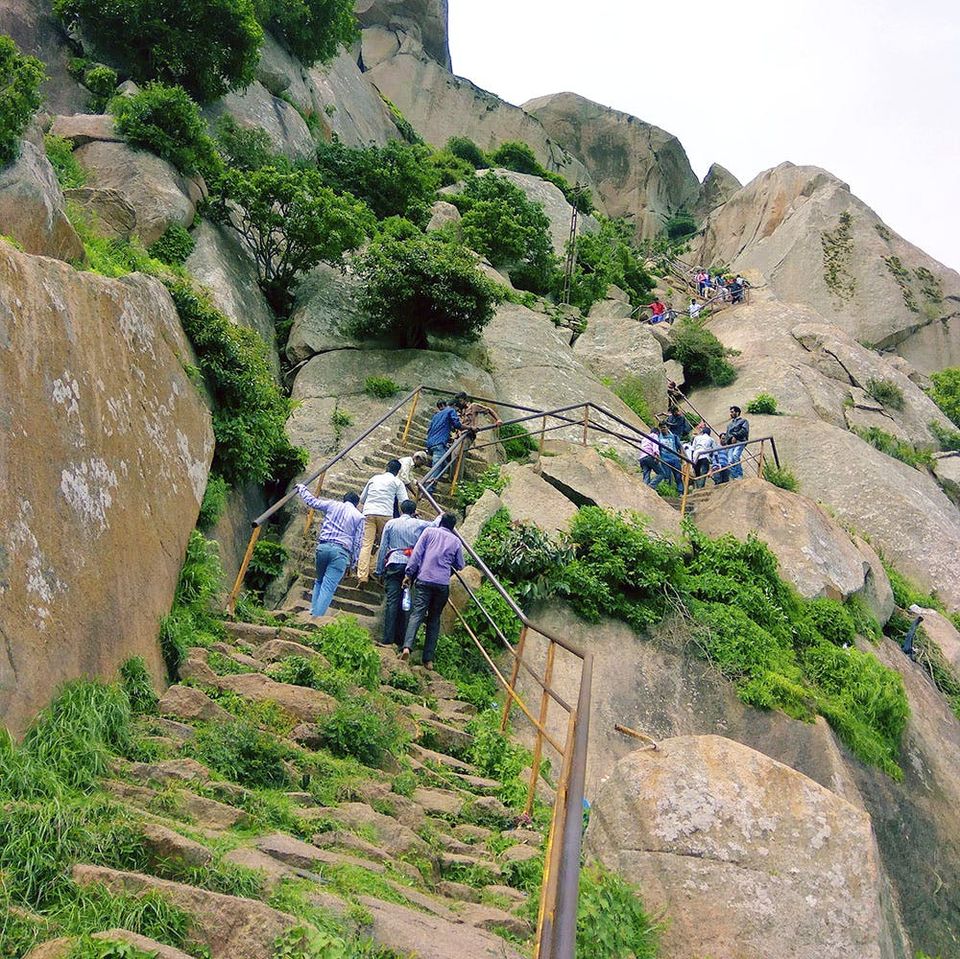 So the trek can be completed in 4-5 hours maximum with plenty of rest and some physical exertion on the top. Most of the slope is gradual and you can do it without much strain but the peak has a steep slope with railings to help you. On the whole an adventurous hike with a good view of the landscape form the top. The monkey hindrance is most definitely an added charm!