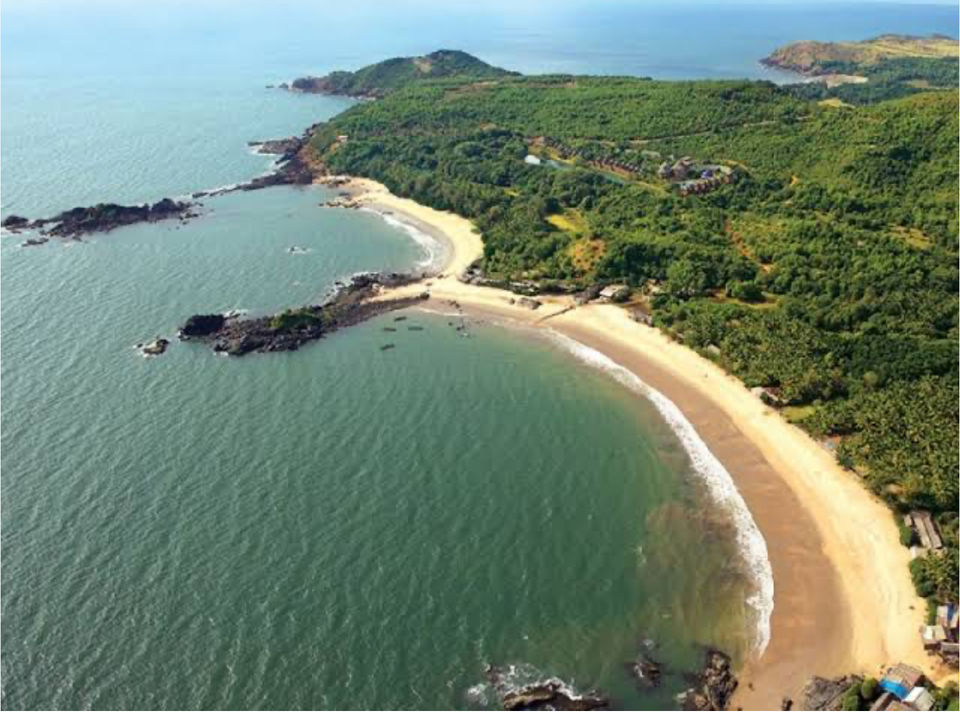 These beaches come under konkan coast which face the Arabian Sea. During monsoons they are furious, but after monsoons they turn into ideal places to visit. Long stretch coast, surrounded by lovely nature that each beach of Karnataka is a beauty on it own.
1) Panambur beach-
It is one of the must visit beach, 13km away from Mangalore where kite festival is very grandly celebrated. Panam means money, while ur means place so this beach is also known as money place. Camel rides, banana boat ride, surfing and parasailing are popular water sports done here. Carnival is the main attraction of this beach that coming December you could view lot of art and culture.
2) Half moon beach
One of the popular beach of Gokarna. The very name shows the beach is in half moon shape surrounded by rich plantations, jungle, rocks and trees. From any part of Gokarna you could reach this beach. There are numerous water sports done here that canoeing and swimming are popular besides night view of the beach that you could view the crescent shape especially on new moon days.
3) Karwar beach -
It is a scenic beach of Karnataka quite near to Goa, with thick and rich historical background. This beach was known as kawad beach surrounded by hills and landscapes. This beach has some things to do around. You could enjoy a trek and visit kurumgad, land stop by majali and devbagh beaches and trek to Guddalli peak- one of the loveliest beaches of Karnataka offering tranquility and peace.
4) Kapu beach
If you are visiting Udupi don't forget to stop by Kapu beach. This beach is between mangalore and Udupi filled with picturesque views. Sunrise is great here while there are panaromic views of this beach. It is a must place to visit for silence seekers, and quiet atmosphere.
5) Malpe beach
66kms away from Mangalore takes you to this beach. Filled with pristine white sand, pleasant weather and food shacks, from Udupi temple this beach is 6kms away. Spring zouk festival is very grandly celebrated here while rafting, jet ski, boat rides, kayaking are activity done. A popular sunset view beach while balarama temple and daria bahadurga fort are places around to visit. Seafood is very popular here besides most sweet coconut water.
6) Ullal beach
This beach is 12kmas away from Mangalore filled with panaromic views, serene atmosphere and lush greenery. Sport activities are popular here besides mouth watering food. Somehswara temple, Queen Abhakka's fort and small fishing villages enroute from Mangalore are places around to visit. If you are a nature lover this beach is for you while don't forget to click best sunset views.
7) Kodi beach
With one side filled with beaches waters, other side filled with land and third side stocked as an island, this beach is a delta point thereby naming it as a sangamam beach. Being a port popular picturesque, que point, water sports is very popular here. The sand are sinking type, and depth of the water is high that this beach is full of rocks, to climb sit and view the water. Surrounded by mangroves, seafood and toddy drink is very popular here.
Karnataka was also known as Karunadu bordered by Arabian Sea, Goa and Telegana, the history of this state is from Palaeolithic era the first ruler was Nanda empire. Filled with abundant nature Karnataka beaches have lot of nature beauty, casuarina and palm trees usually cover the Karnataka beaches, making it as a lovely must visit spot for water and a nature lovers, where you get to see light to light blue waters of the Arabian Sea.