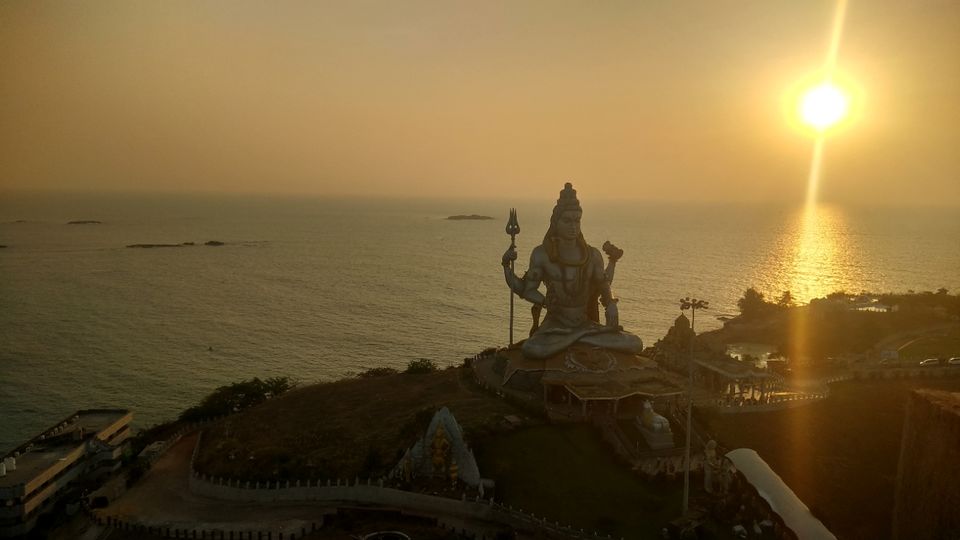 For most people, there is a fear which pushes us back from going for a solo trip. But believe me, the thing which you regret most after completing your first solo trip will be this same fear which pushed you back so long from getting some of the most memorable experiences of life.
So after more than a dozen of trips with friends and family finally I decided to do a solo trip. It was not an easy decision as I have to overcome my own fear first and then had to convince my parents. So after doing both of these successfully I decided to go solo to Gokarna and Murdeshwar. It was a 2 night and 1 day trip. The 2 nights I will be spending in trains and on the day I will visit Gokarna first and then Murdeshwar. That was the plan.
Gokarna and Murdeshwar are 2 famous beach tourist spots in Karnataka along the Konkan coast. My place is Thrissur in Kerala and there are lot of trains from Kerala passing through these places towards Goa, Mumbai, Gujarat side. But very few had stops in these railway stations. So I booked a sleeper class ticket in Kochuveli - Shri Ganganagar express for saturday, 23rd february 2019 9-50 p.m up to Kumta, a small town in Karnataka from where we get buses to Gokarna.
So at around 10 p.m train reached and I boarded and went to sleep with in half an hour as I already had dinner from home.
The next morning I woke up at 7 to the views of beautiful Konkan railways. It was so refreshing to see the greenish hills and villages all the way.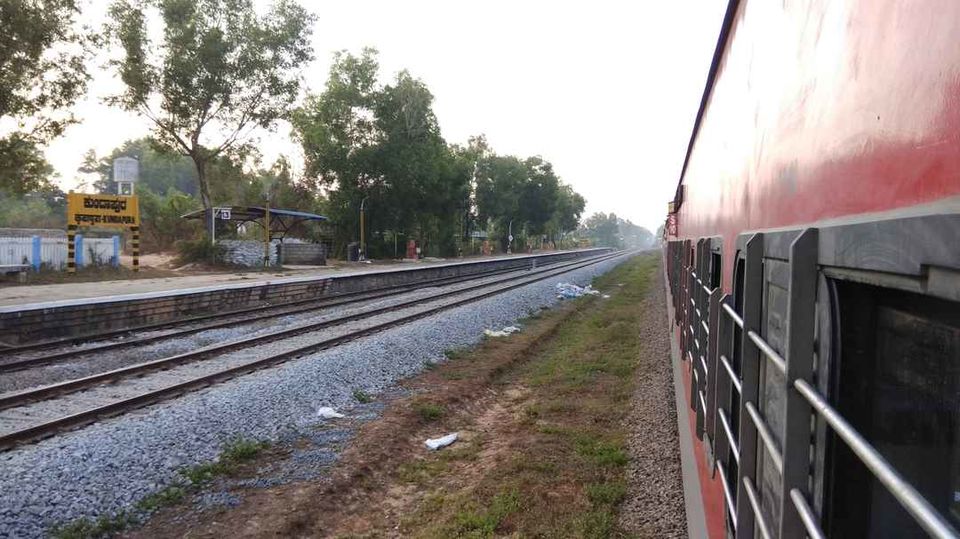 At around 8-30 a.m train reached at Kumta railway station. It was an small station without any crowd. There is a distance of 500metres from station to bus stand located at Kumta town. It was just a 10min walk through the village road with trees on both sides. After reaching bus stand i had breakfast from a small restaurant inside stand. I had ghee roast which tasted good. There was no much restaurants available around stand. So it is better to have food from restaurant inside the stand. Around 9-30 a.m i got the bus to Gokarna. The bus was not so crowded. It is about 30 km to Gokarna and it took around 1 hour to reach there. The road widening works of NH 66 were going on.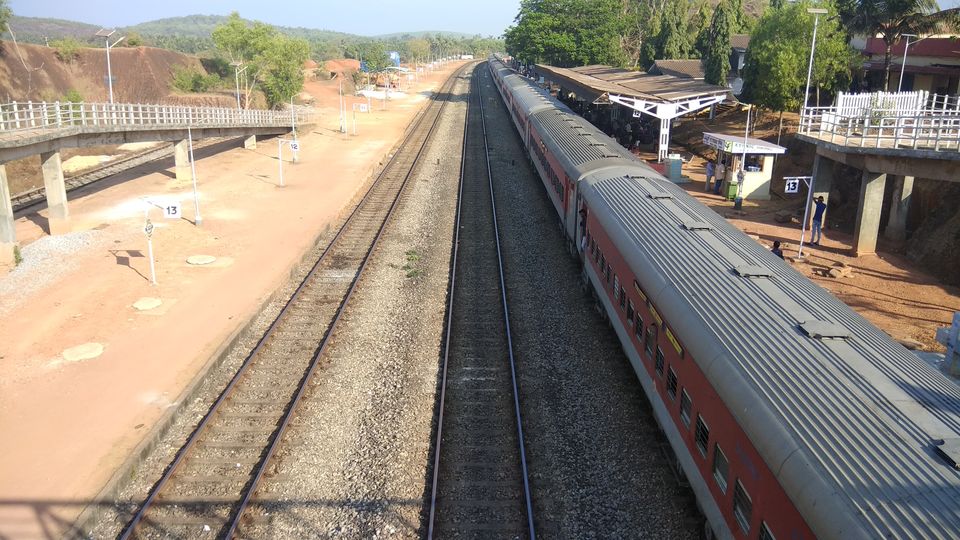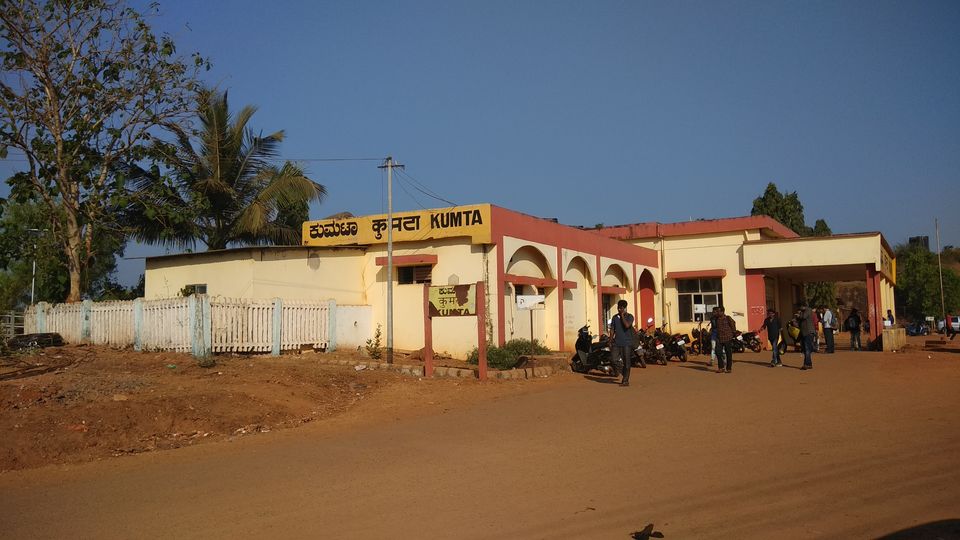 Gokarna bus stand is an small stand with buses mainly to Kumta and Ankola. After boarding the bus I started walking towards the famous Shri Mahabaleshwara swami temple through the streets of Gokarna. It was at a distance of 600 metre from bus stand. The climate was very hot and I was really tired of the continuous journey. But I am here to explore these places and all these tiredness are not gonna push back me from that. It was foreigners who visits Gokarna more than Indians. I could find a lot of foreigners just walking across the streets where there is not much things to see or do but just walk.
Finally I reached the temple entrance and entered to temple. It was very quiet inside and I loved to spent half an hour inside there which made my body and mind calm and cool.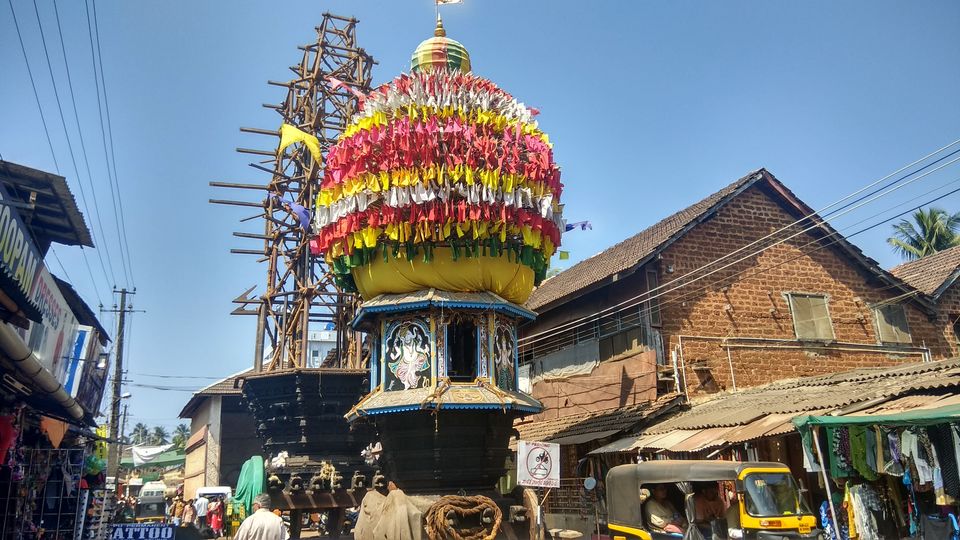 After that I went to Gokarna beach which was just 300 metres from temple. The beach was not much crowded and it was a beautiful and clean beach. The view of hills nearby makes it much more attractive.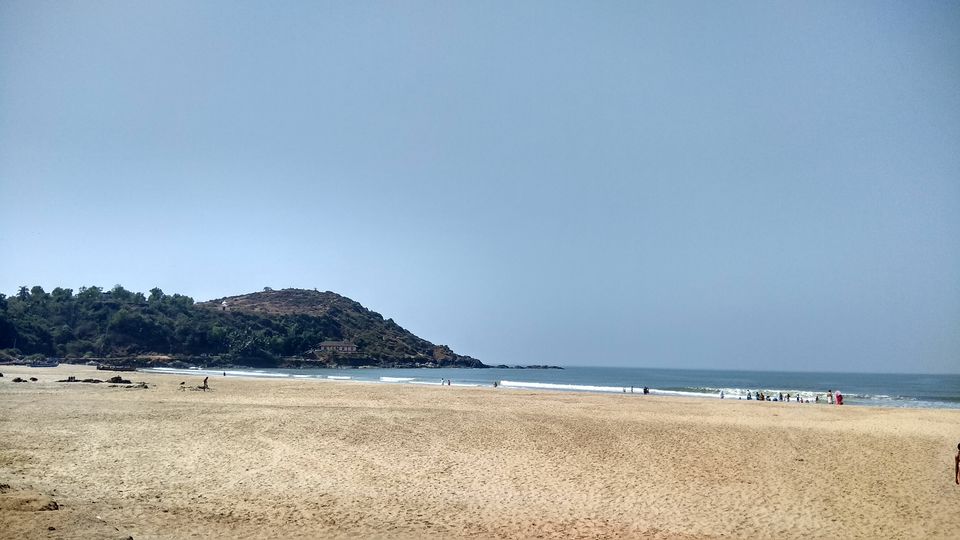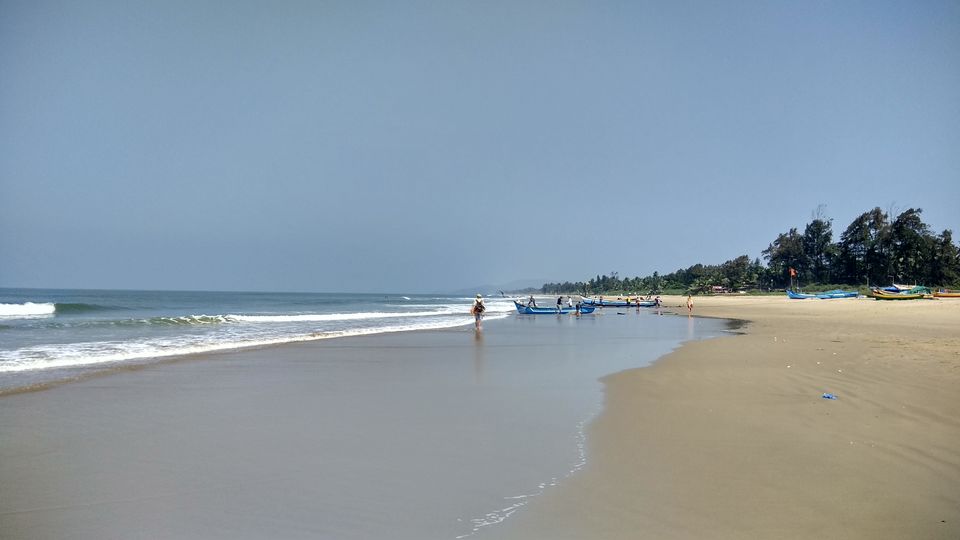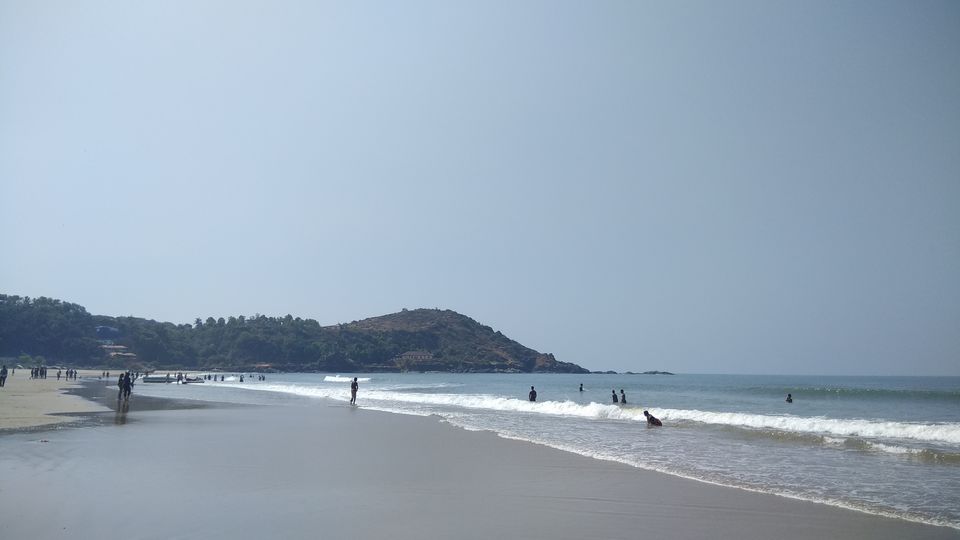 After spending 30 minutes there I decided to go to the most famous beach in Gokarna - Om beach. It was almost 7 km from Gokarna beach and I took an auto to get there. He charged me 150 Rs for the journey. The road to Om beach is passing through the hills on the side of sea with beautiful view of beach and green forests. There were some other beaches on the way like Kudle beach, but I decided to visit only Om beach since I hadn't got much time.
Around 12 o' clock I reached Om beach. We have to walk down a little to reach the beach. The beach got its name as the rocks around here makes the shape of om symbol. While walking down we can see a glimpse of that. The beach is much crowded compared to Gokarna beach. You can walk through the beach just along the waves touching your feet. It was so nice to spent some time there even if it was noon. There were few shacks there providing food at affordable price.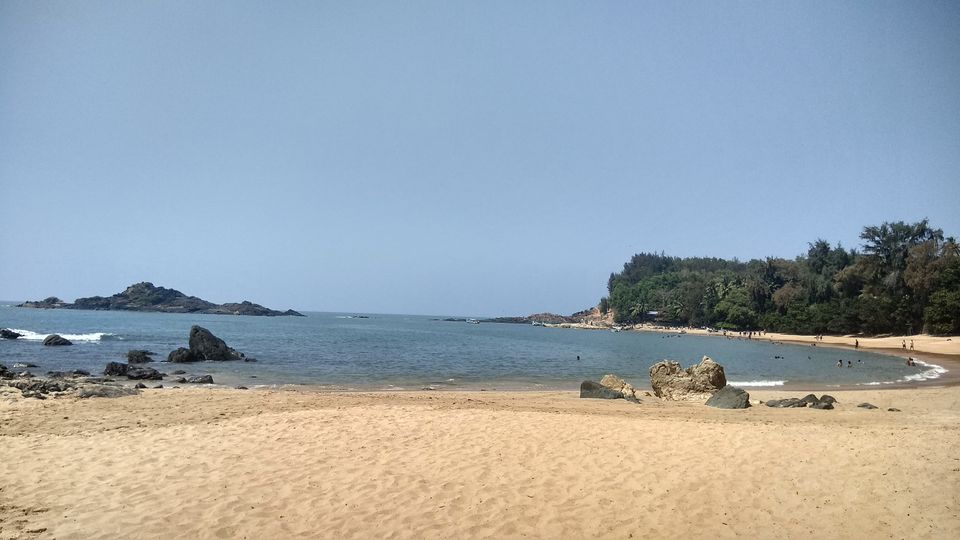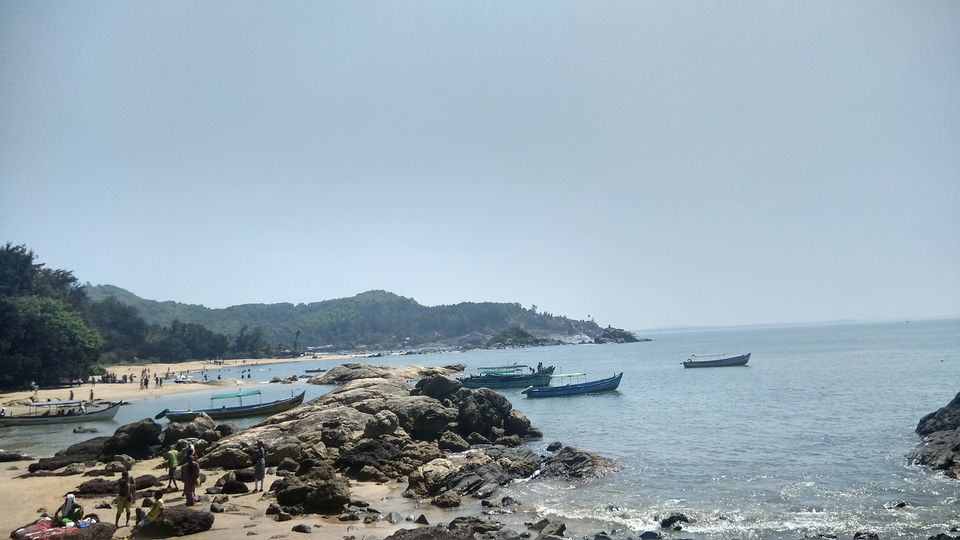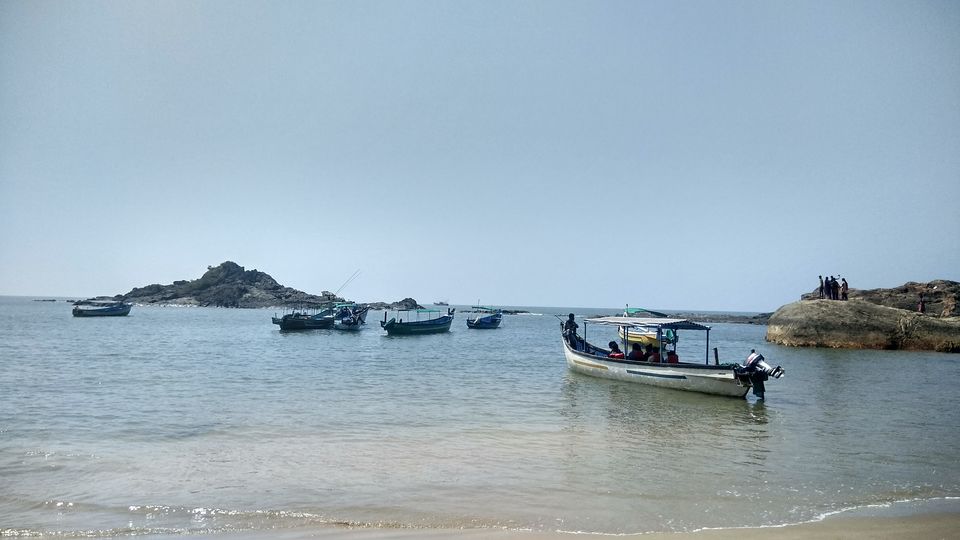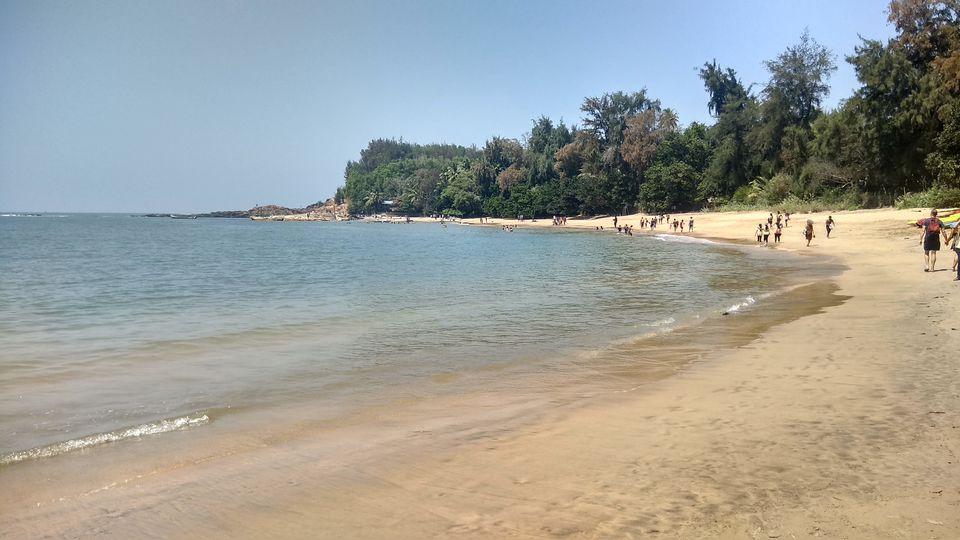 After spending around an hour there just relaxing by having a juice from a cafe and watching the waves, I returned to Gokarna bus stand to catch a bus back to Kumta. Near by bus stand I had lunch from om restaurant. The fish fry ordered was very tasty but the fried rice and mango juice was a disaster. At around 1-30p.m I got the bus to Kumta. I took a nap in the bus till I reached Kumta. After getting down from bus I walked to railway station to catch the Madgaon - Mangalore passenger train to Murdeshwar which comes around 3-30 p.m. The train came on time and it was crowded and I didn't got a seat but it was okay as it was only a 40 minutes journey.
Around 4-15 p.m I reached Murdeshwar railway station. It was a small station with very few trains stopping there. There were few auto rickshaws outside the station, which was on the side of NH 66. The auto charged 40 Rs to Murdeshwar beach which was around 2.5 km from station.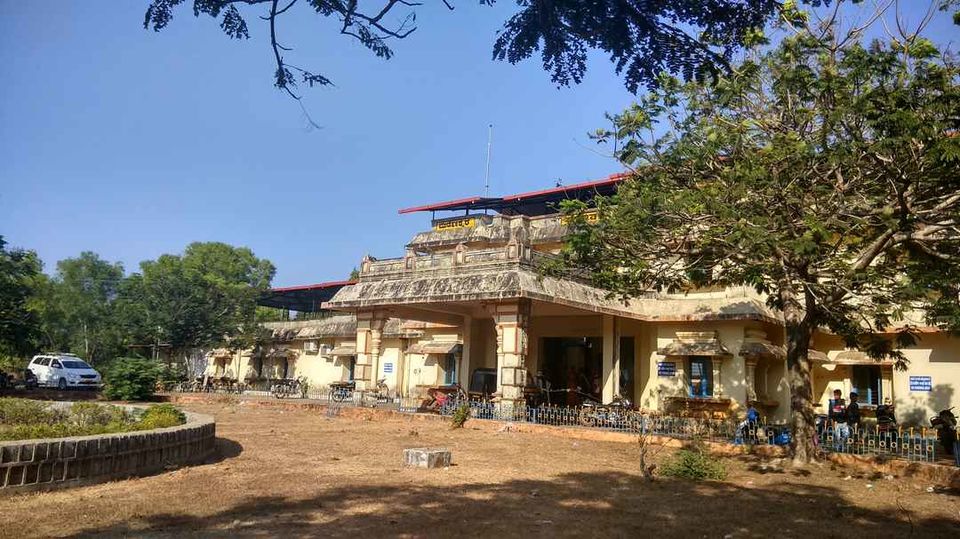 I reached Murdeshwar beach where the famous Murdeshwara temple with statue of Lord Shiva is situated. The place was very crowded as it was sunday. The view of statue from the bottom was stunning and the view of same from the temple tower, Raja gopura was much more beautiful. Raja gopura is an 20 storied building near the temple with an height of 237 feet. There is an entrance fees of 10 Rs to enter the tower and go up the top. This is an must do thing if we are visiting Murdeshwar. The view of Lord Shiva statue from top of Raja gopura at the time of sunset is one of the best view I had in my life. Also we get beautiful views of beach and Murdeshwar town from top.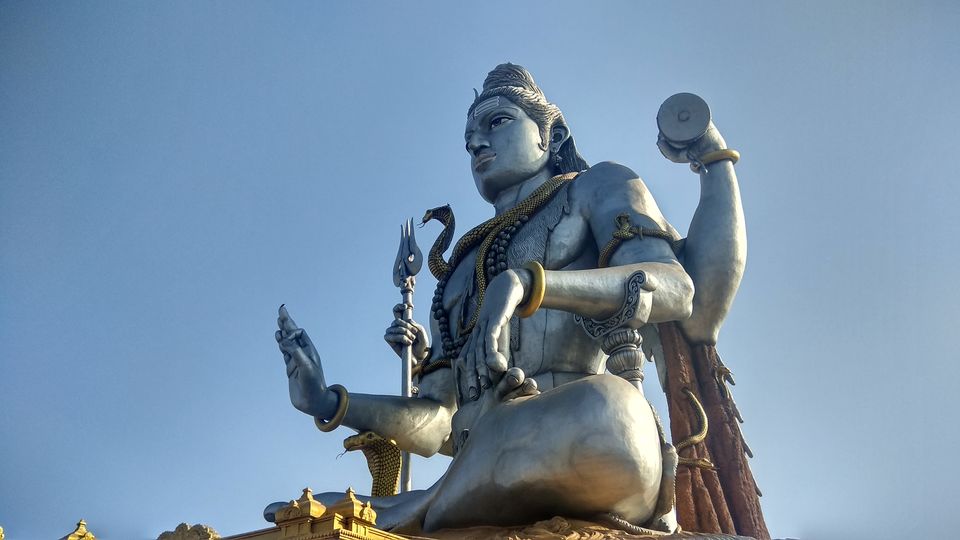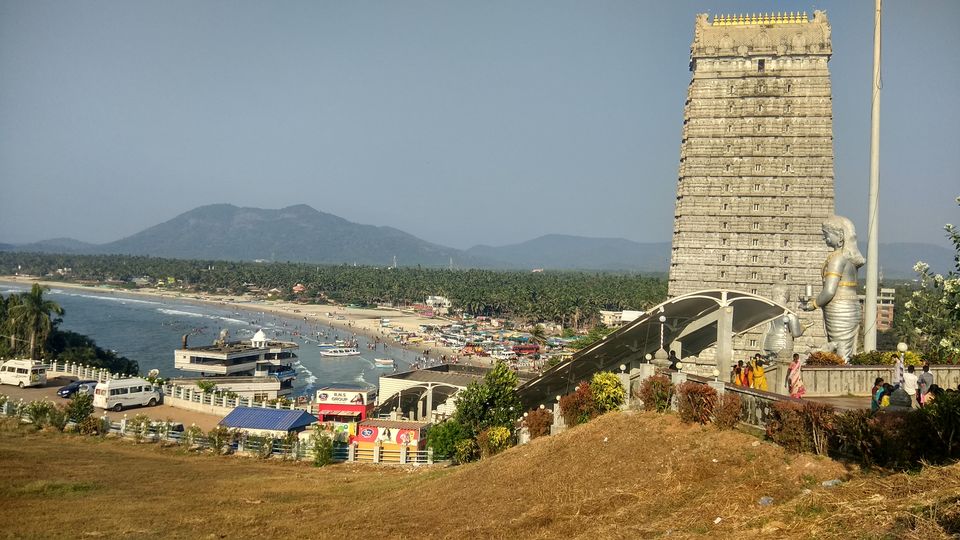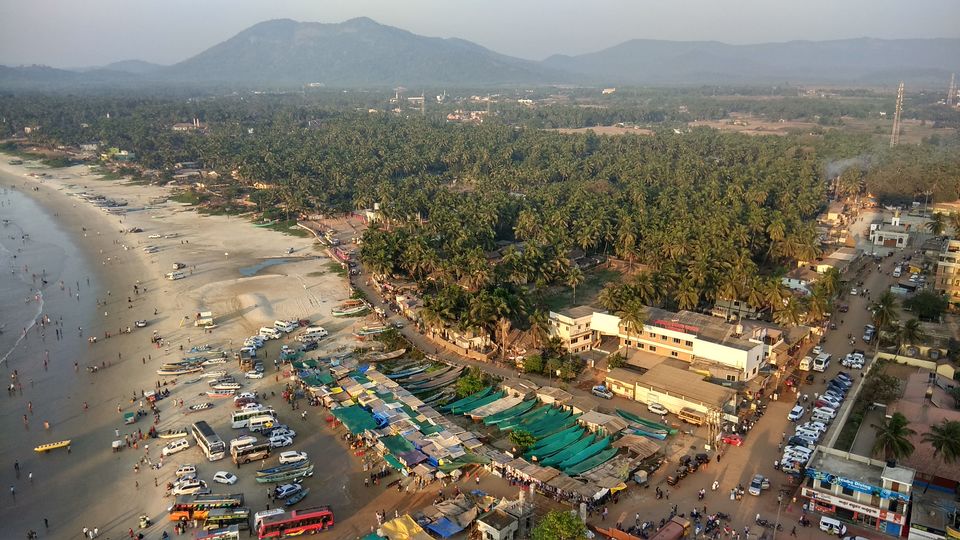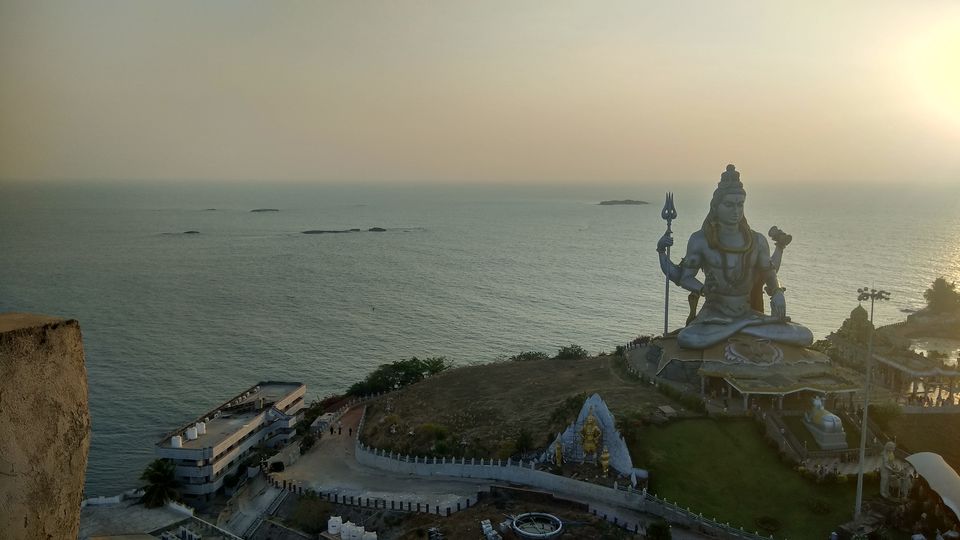 After spending around one and half hours at temple and Raja gopura watching the statue I went to beach. Beach had a lot of water activities available and it was so crowded. There are many small shops near beach providing snacks and a variety of fish fries at affordable price. I had 2 fish fries and it tasted really good. There were also some shops for local shopping.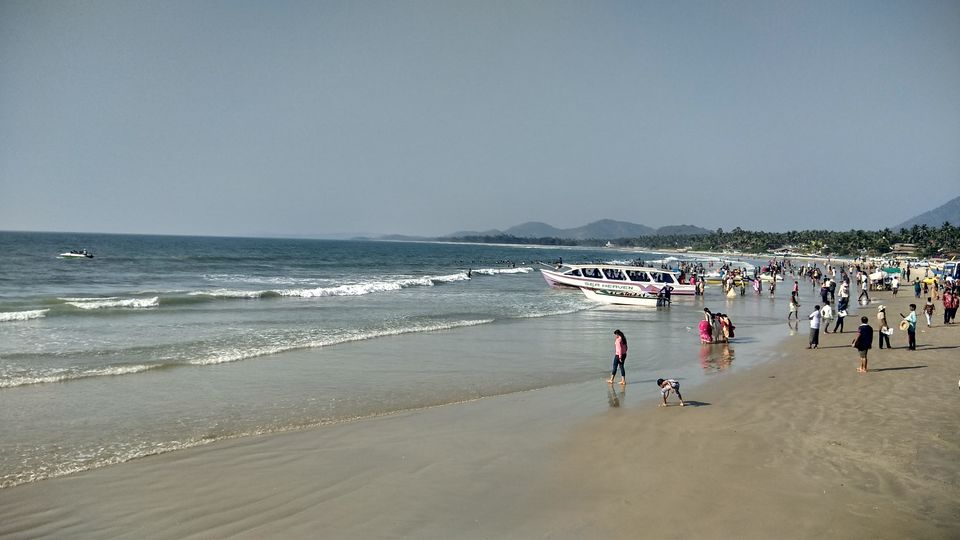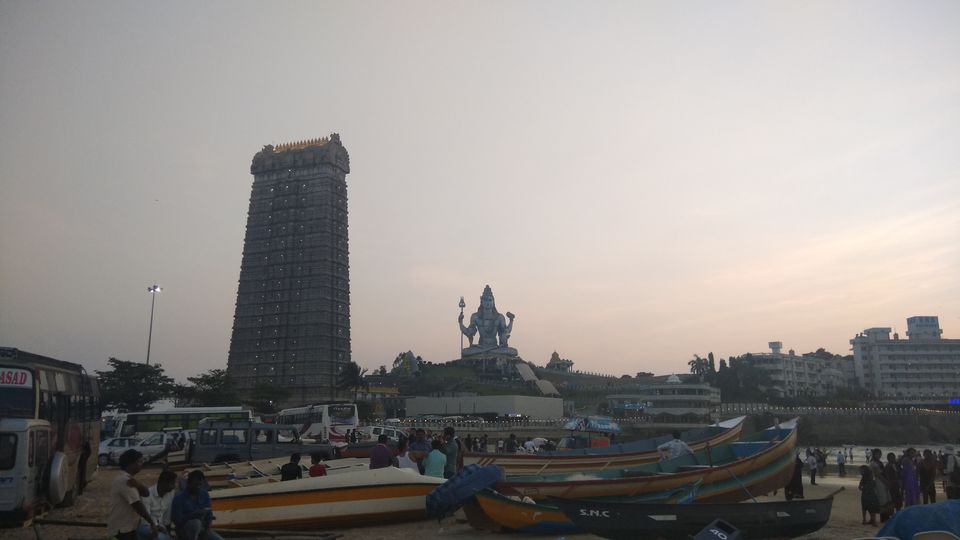 Around 7 p.m I got an auto back to the station. The return ticket was booked on Pune - Ernakulam Poorna express which reaches Murdeshwar around 7-45 p.m. The train was on time and after boarding I had dinner from train and then went to sleep. Next day morning 5-30 I reached back at my home after completing one of the best trips in my life with some unforgettable memories to cherish forever.