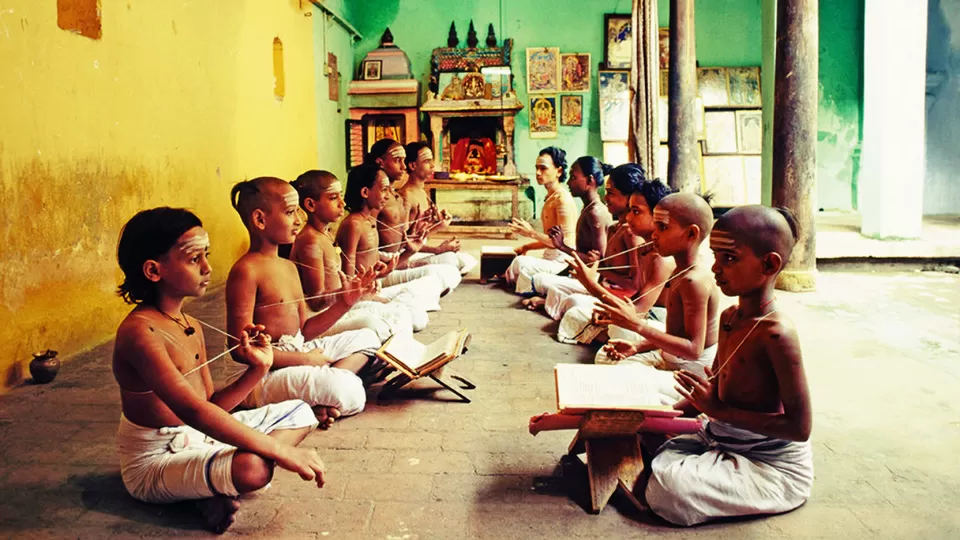 jyotishaamapi tajjyotistamsaha paramuchyate |
jnyaanam jnyeyam jnyaanagamyam hridi sarvasya vishthitam || 17 ||
(That is the light even among all the lights, and it has been spoken of as beyond darkness. It is knowledge, that which is to be known, and the goal of knowledge. It especially resides in the hearts of all.)
Set in the banks of Tunga River lays a town which is filled with the modest people who are always ready to spread the knowledge to each and everyone who comes there, and that is Mattur. Mattur has many more stories to tell other than being The Last Sanskrit Speaking Village.
Sankethi people are smartha brahmins who were settled in the border of Tamil Nadu and Karnataka, centuries ago they shifted inside Karnataka (then Mysore state) at three locations, Kaushika near Hassan, Bettadapura and Mattur-Hosahalli. Since earlier times the Sankethi people used to learn and teach Vedas and spread the knowledge and it used to majorly happen at Mattur. The people were so well versed with Vedas that they could easily communicate in Sanskrit as well, but the society used to think that Sanskrit is God's language and is old; therefore it should not be continued. That is when the King of Mysore declared Mattur as a Sanskrit village where the knowledge of Vedas would be spread to all the resident of the town as well as whoever comes to them to learn.
The giant statue of goddess Saraswati at the centre of a courtyard of a village school and the Sanskrit signboard outside the gate is the perfect prologue to this story. Children studying at the Mattur school in Shimoga in Karnataka are taught the Vedas once they turn 10 and all the students who come from the village speak Sanskrit fluently.
Many people around the world come here to learn Sanskrit, the Vedas and the culture. There are rooms provided for all these learners with a kitchen or they can stay with a family. Along with Indians there are many foreigners who stay there for a period of 3-4 months. There are other batches going on separately for young boys. They conduct online classes, through their website and skype calls as well. As a matter of fact they do not charge even a single penny for any of their classes. They believe that "Sharing Knowledge is an honour and not any kind of business where money has to be made out of it". There is a school in the town where they provide education for all the kids from nearby villages and the fee is a very minimal amount also here Sanskrit classes are conducted as part of the normal course. The Mattur School has one of the best records in the district and boasts of toppers year after year. The teachers at the school say that learning Vedas and the chanting have helped children with their memory and focus. The software engineers here say their training in chanting has helped them with their academics.
Mattur has produced over 30 Sanskrit professors who are teaching in Kuvempu, Bengaluru, Mysore and Mangalore Universities, besides there are many software engineers born in Mattur. Among the renowned personalities from the village are Mathoor Krishnamurthy of Bharatiya Vidya Bhavan, Bengaluru, Violinist Venkataram, and Gamaka exponent H.R. Keshavamurthy. "Sanskrit is a language that teaches you old traditions and values. It's a language of the heart and cannot die" says one of the professor's.
Everybody-men, women, children, literate or illiterate-freely speaks Sanskrit. Even the Muslim families speak Sanskrit without hesitation and as comfortably as is spoken by the Hindus. Their children are found in the streets reciting Sanskrit shlokas. Even while fighting and playing cricket in the grounds children freely speak Sanskrit. When one walks down a few places from the school where one touches the ratha veethi (car street) and graffiti on the walls what grabs the attention is: "Maarge swachchataya virajate, grame sujanaha virajante" (Cleanliness is as important for a road as good people are for the village). Yet another surprise is that many domestic articles at home are all identified with Sanskrit names – something very common in all homes in Mattur. So is the case with grocery stores, where all bottles and bags bear Sanskrit labels.
The people of Mattur follow and believe in their cultures, values and traditions and at the same time respect the cultures, values and traditions of other people and also give a helping hand if they are able to do it. Almost every house in this Brahmin village has an IT professional and many of them are working abroad. The Sankethis are proud of their culture and almost every NRI makes it a point to attend rituals and festivals back home.
The people of Mattur encourage educational tourism only: And the only condition they have is that whoever comes to learn should have passion and a vision, of not letting the language fade away (not turning it into a business). Even though there are many places which can be a good tourist attraction, they prefer to keep it for themselves and they have pretty valid reasons for that. Like littering, youngsters misbehaving in public places, government naming all those places under their name and due to that creating an issue for any reconstruction if required and the calm lifestyle they are having will be disrupted.
Some of the places which have the capacity of becoming a great tourist spot are, the bridge which connects Hosahalli and Mattur, the gardens, a man made pond surrounded by coconut trees.
It is one of the very beautiful town filled with immense knowledge to share and stories to hear!
The capacity to learn is a gift; the ability to learn is a skill; the willingness to learn is a choice!