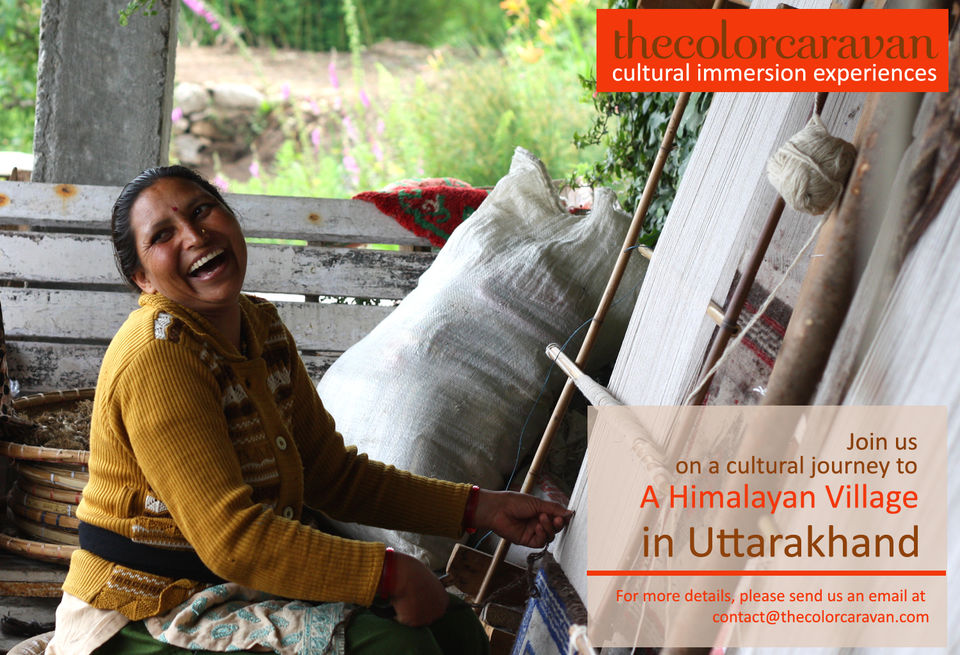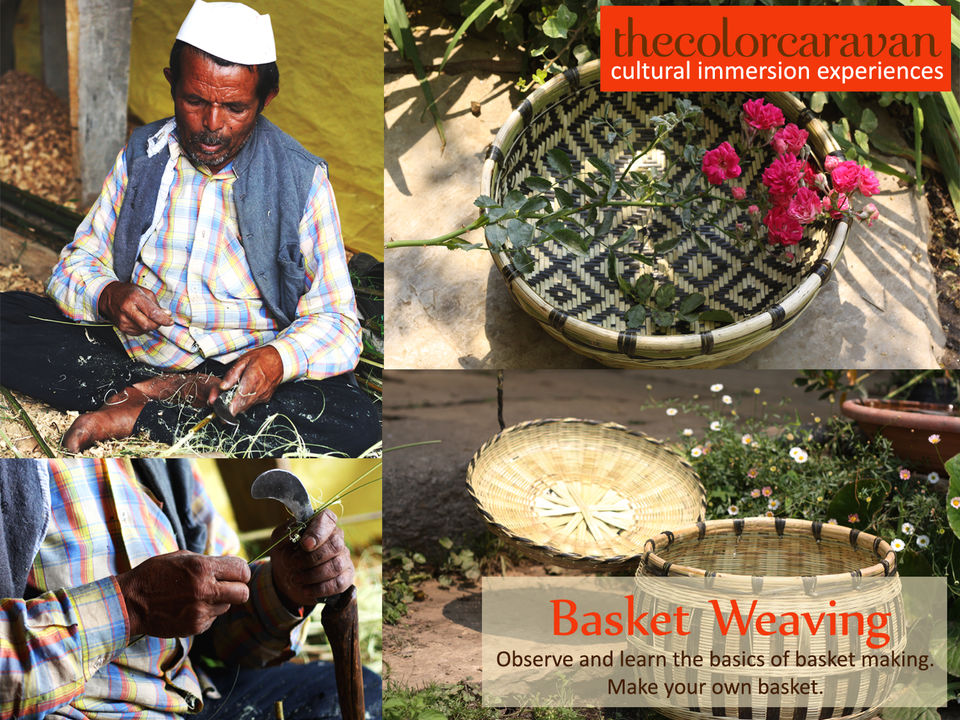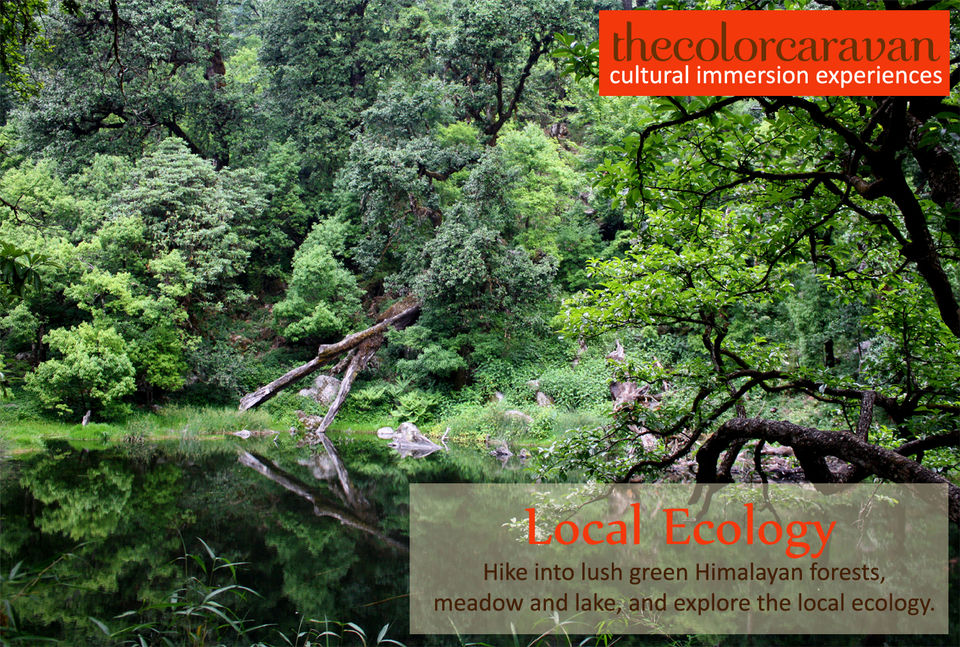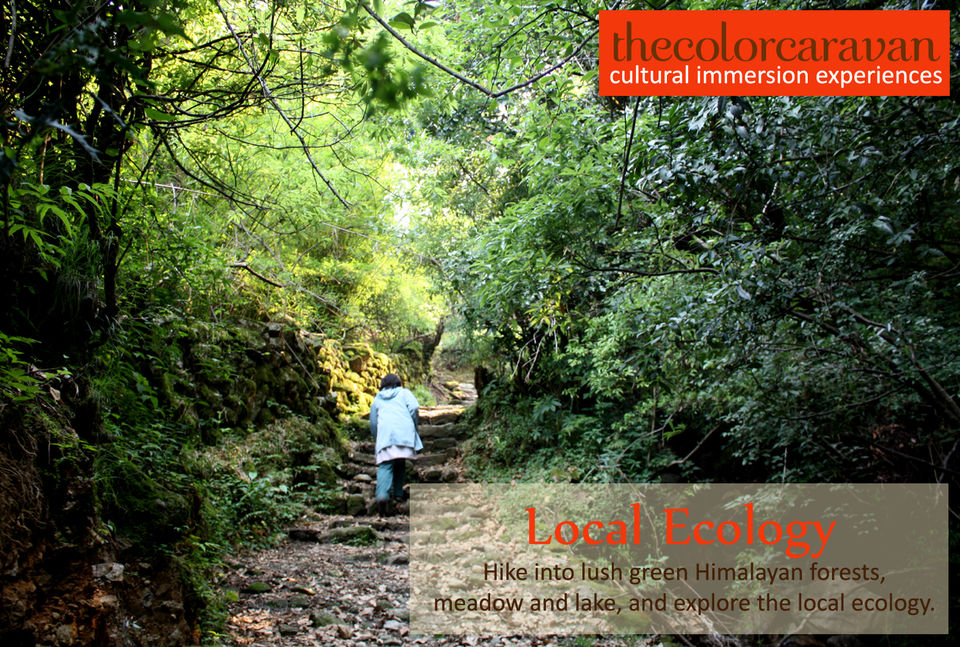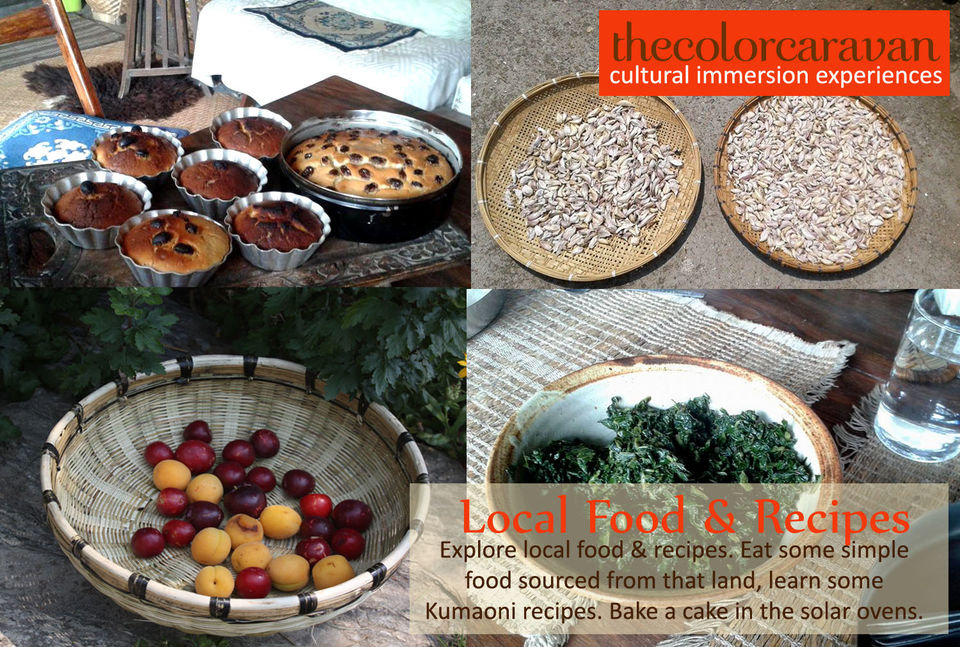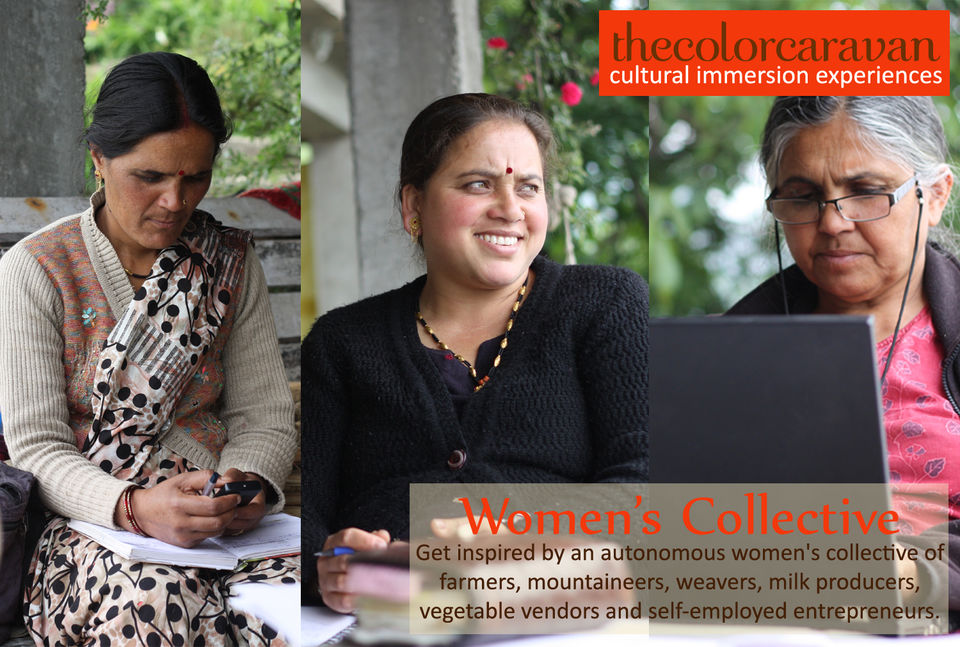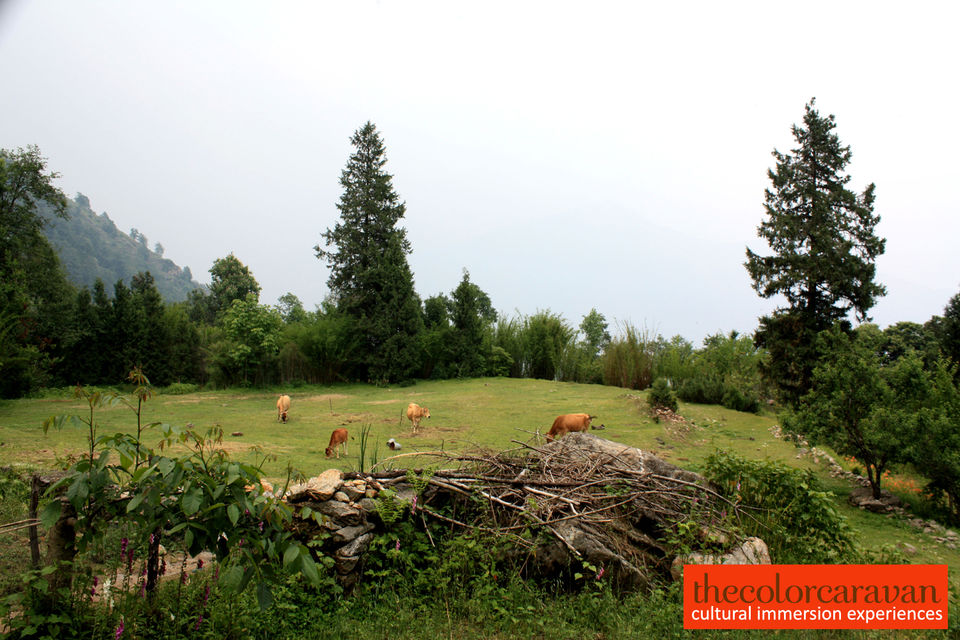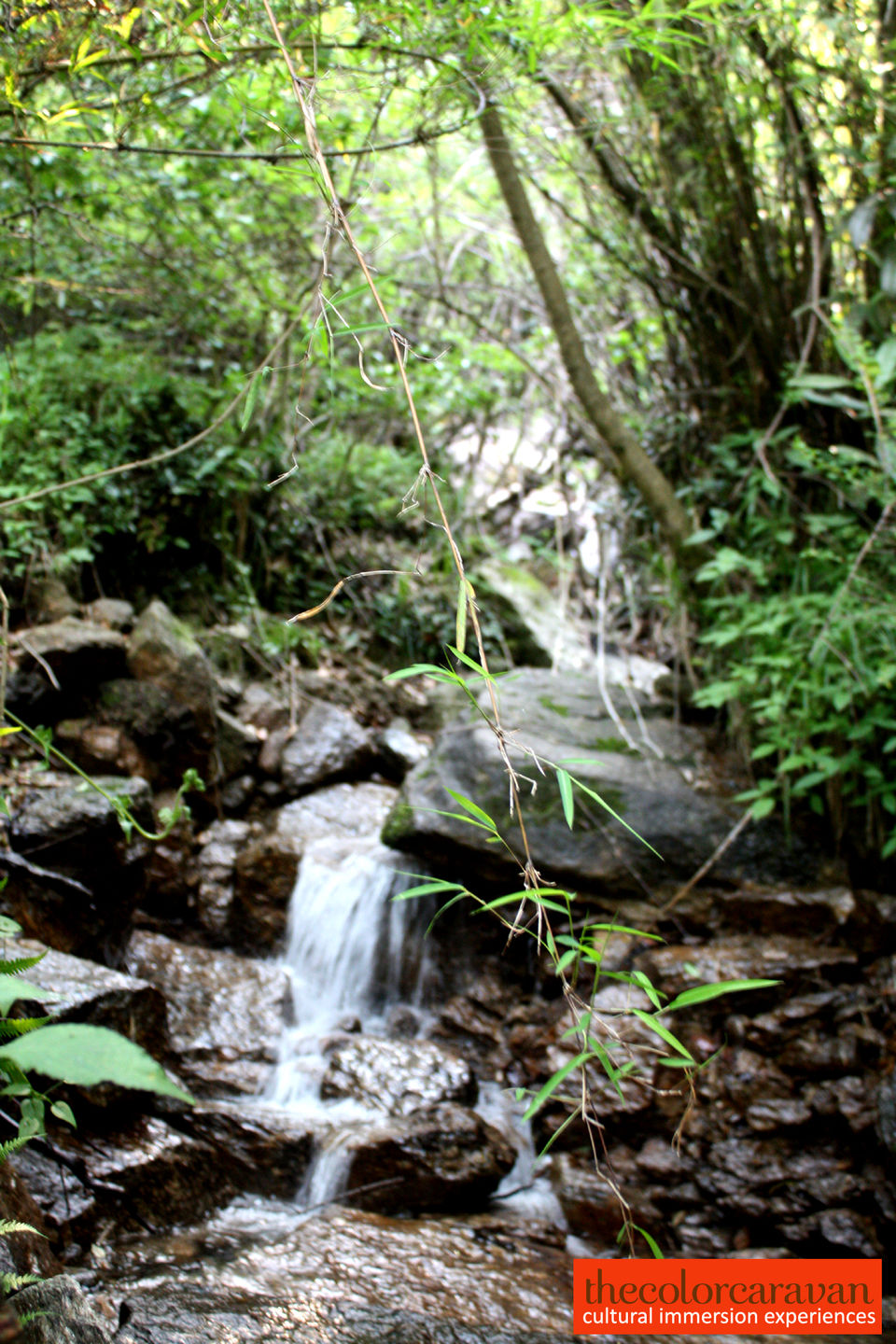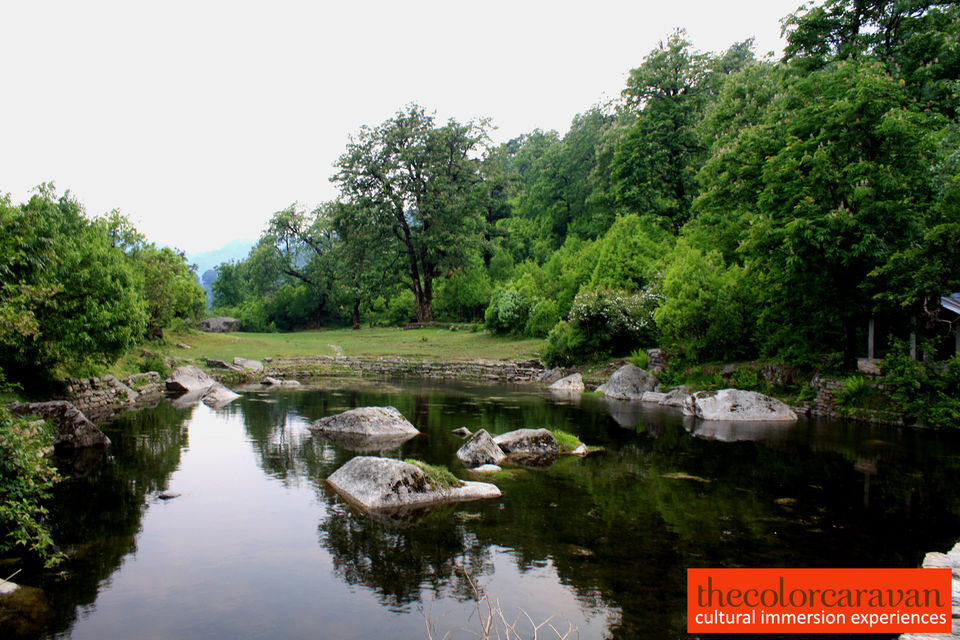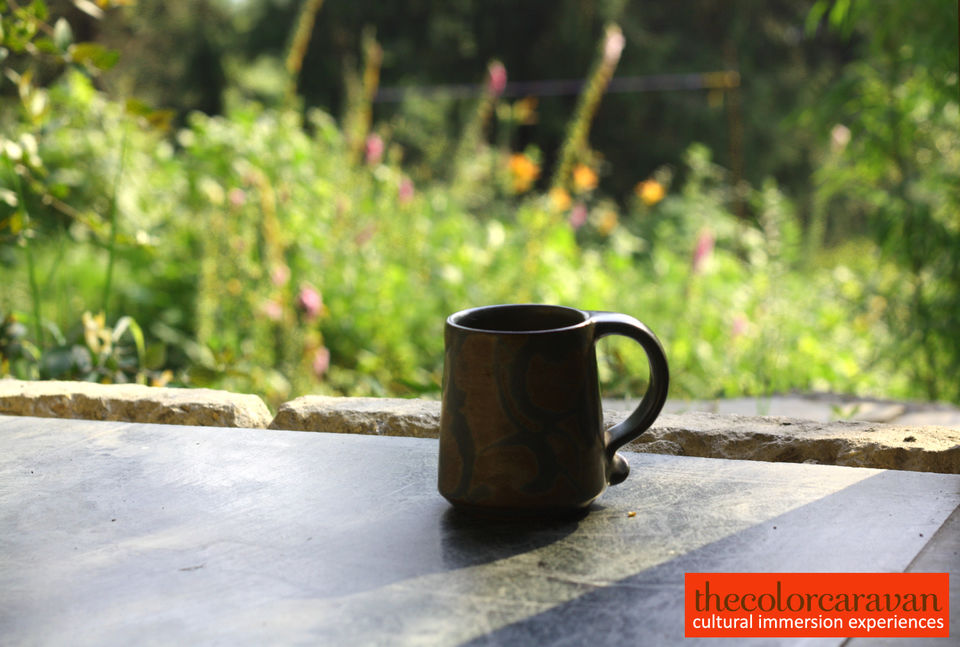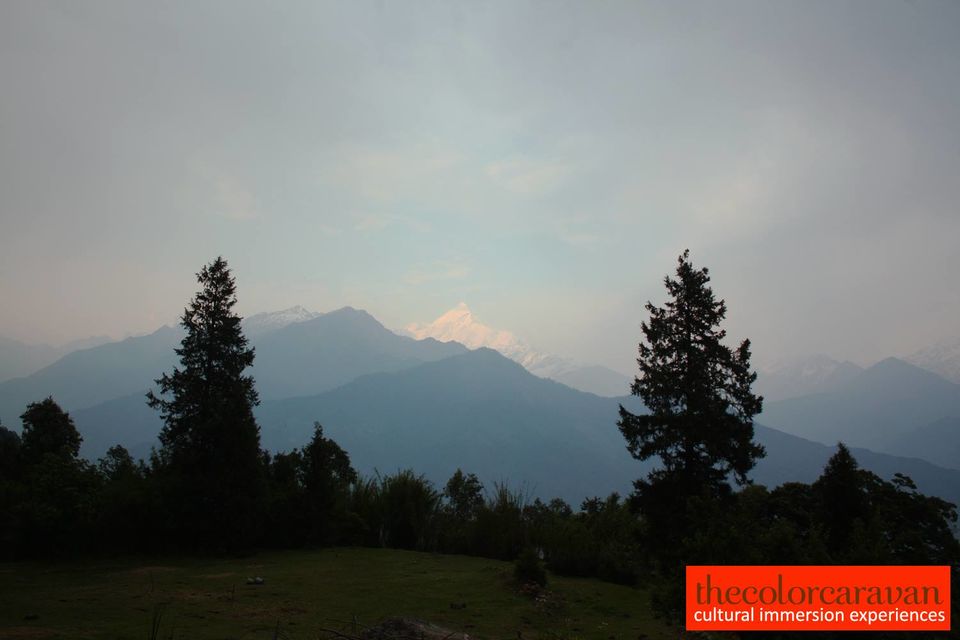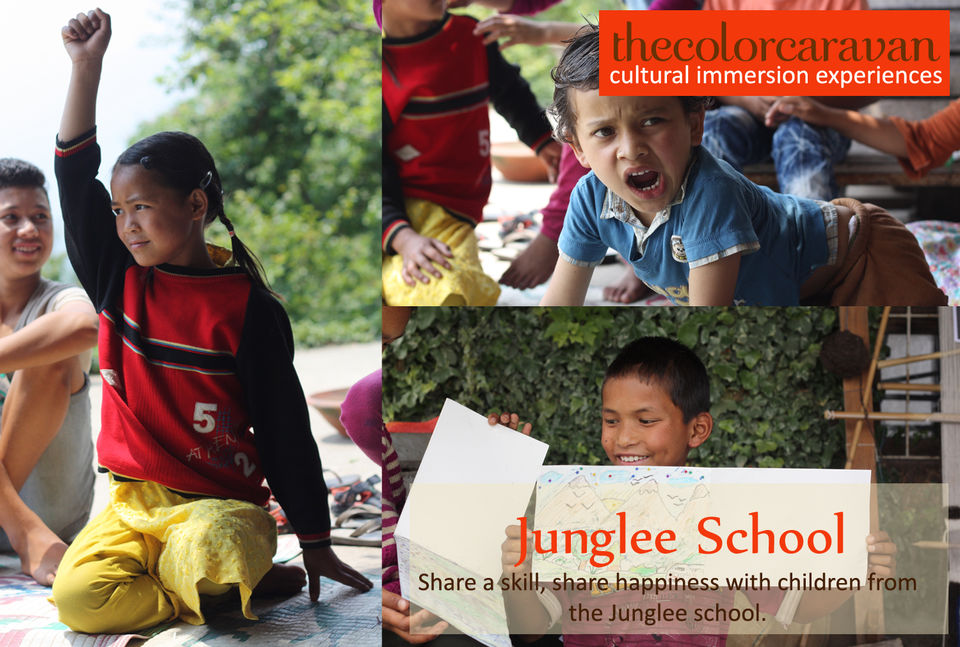 Come join The Color Caravan as we travel to a beautiful mountain village which has a backdrop of the snow capped Himalayas, a couple of lakes and its very own stream and a seasonal waterfall.
We will hike into lush green Himalayan forests, meadow and lake, and explore the local ecology. In the village, we will discover age-old Kumaoni traditions and crafts. And all this while staying with warm farming families who will look after us and share their lives with us.
We will talk to women who run an inspiring collective that is the change maker for that area. We will listen to local experts who have seen how nature is being slowly destroyed by our greed, but who also share happy instances of humans gifting back to nature. We will learn how this village doesn't produce any kind of waste. We will share happy stories and sad ones, cook up a storm, eat some simple food sourced from that land, learn some Kumaoni recipes and crafts, work with our hands – on the field or loom. We will sing and dance to the tunes of authentic Kumaoni music.We will sit back to watch life in slow motion.
We hope to come back with a better understanding of how to lead a more holistic lifestyle, which allows us to enjoy nature and not destroy it.
Highlights of the Journey
- Live in Rustic Homestays
- Craft Workshop: Basket weaving, Loom weaving, wool-dyeing with natural colors
- Organic Farming Experience
- Explore The Local Ecology
- Hike to Himalayan Forests
- Solar Cooking Experience
- Village Walks
- Explore Local Food & Recipes
- Discover Age-Old Kumaoni Traditions
- Experience the warmth of Kumaoni community
ITINERARY
Day 1
Reach Homestay by evening
Meet early at Kathgodam railway station and travel together to the village. It's a day long but a scenic drive. Reach the homestay by evening. Meet the hosts, have some tea, followed up with homemade dinner. Follow it up with a good night's rest, to wake up to birdcalls, and a view of the snow clad peaks right from your bedroom window!
Meals: Dinner | Stay: Homestay
Day 2
Explore local crafts and nature
After breakfast, meet the craftspeople.
Option 1: Basket weaving - Meet our local basketry expert, who weaves delightful baskets out of locally grown bamboo. Observe and learn the basics of basket making.
Option 2: Loom weaving, wool-dyeing with natural colors – conversations with the local kaarigars (craftspeople), where they give a brief orientation about their craft, show different looms, weaving techniques, and how they fit into the local landscape. Leave for a nature trail with a packed lunch.
Nature trail – explore the surrounding natural tracks and trails with a guide. Listen to bird calls and spot a few of the 326 bird species to be found in this valley. Picturesque surrounds are made for those picture perfect moments. End the nature trail with a walk to the women's collective.
Visit the women's collective – meet some inspiring women who have pioneered a self reliant, independent women's collective, which is enabling livelihood and reviving lost traditions of the area. End the day with dinner and conversation with your host – some of it through interesting English words picked up by your hosts, some hand gestures and lots of laughter!
Meals: Breakfast, Lunch (packed), Dinner | Stay: Homestay
Day 3
Crafting, cooking and communion with nature

Option 1: After breakfast, continue with basketry and make your own basket / continue with wool dyeing and weaving, dyeing a yarn for you to take. Take home with you more than just a memory.
Option 2: Meet the local farmers, understand the inter connectedness of the forest and the agricultural practices, the ecology of the region and take a crash course in natural organic farming. Plants grown here are similar to those grown in the Northern Hemisphere – you might find many familiar plants and herbs nestling amongst in the fields and on the forest floor.
Break for lunch, and carry on the food conversation afterwards with some solar cooking.
Solar cooking or cooking in wooden ovens – Learn the art of solar cooking. Watch and learn the art of cooking and drying vegetables to store, using solar ovens. Bake a cake in the solar ovens. Or you could also learn how to make the traditional relishes (chutneys) that are lip smackingly delicious.
Reward yourself for all the hard work with some tea, cake and conversation. Understanding the local ecology and environment.
We meet the experts of local ecology. People who have actively engaged with these mountains and have invested a lifetime to conserve and sustainably use the environment.
Dialogue, discussions and an understanding of the local ecology and what is being done to preserve this environment follow.
We encourage people to share ideas that help further these conversations and efforts. Meet our local heroes who are working so hard to ensure that we leave behind a livable, breathable space for the next generation. What else, but dinner and some introspection perhaps…
Meals: Breakfast, Lunch, Dinner | Stay: Homestay
Day 4
Nature walk & community work
After breakfast, leave for a day long nature walk. Look at nature through fresh eyes, try and do some bird watching, Walking in the beautiful Himalayan forests is a crash course in nature, and its verdant plant, animal and bird life. Return and visit the women's collective.
Women's collective – look at and buy locally grown food- both cultivated like rajma and millets or wild from the forest like oregano and understand nutritive and curative value of these gifts of the land. Or pick up the local wool and bamboo craft.
If time allows meet the children from Junglee School. A wonderful initiative that was originally started by a couple who chose to leave the city behind, and call the mountains their home. It is a unique school providing a holistic education to children not found at ordinary schools. The school is run by the children. Most children attending this school are enrolled in regular schools, and meet at the Junglee School over the weekend. They pursue arts and crafts, study the natural habitat, learn to identify bird calls, and also engage in active discussions on the change they see happening in their immediate environment. These children have attended some very interesting workshops, wherein travelers and guests have shared their rich experiences with these children – right from a month long kalaripayutu session to beat boxing to river tracking workshops.
So share a skill, share happiness with children from the Junglee school – a if you have a unique skill (photography, dance, music, art, storytelling, ), we encourage you to have a session with these amazing kids. You will be richly rewarded – with beatific smiles and deep conversations with some of the most enlightened and interesting children.
End the day with a community get-together and participate in the local song and dance – meeting most of the local hosts, we enjoy our last evening in this scenic landscape.
Meals: Breakfast, Lunch (packed), Dinner | Stay: Homestay
Day 5
Travel to Delhi/Respective Cities
After an early breakfast and we take leave of our hosts to travel back to Kathgodam, to catch the night train/bus to return to Delhi / our respective cities.
Meals: Breakfast
Group Size: 10

Price: 20,500 INR (Twenty Thousand, Five Hundred Indian Rupees) Per Person For a GROUP SIZE OF 10 PEOPLE. If the group size is less than 10 the price per person will go up.
PRICE INCLUDES
- Travel cost from Kathgodam to the village(which is a day long drive) and back to Kathgodam either in Bolero or Tempo Traveller.
- Accommodation in simple & comfortable homestays in the village for 4 nights.
- There will be 2 people to a room.
- All simple homemade meals (breakfast, lunch & dinner) as mentioned in the itinerary.
- For any other meals, please check PRICE EXCLUDES section.
- All handicraft workshops and cooking sessions including Solar Cooking experience and fee of the local experts.
- All village and forest hikes and fee of local guide.
- An informal session - discussions and an understanding – with experts of the local ecology. Fee of the local expert.
- Fee of the journey curator and facilitator.
Kindly go through the PRICE EXCLUDES list.


PRICE EXCLUDES
- Travel costs from your home city to Kathgodam and back are not included in the trip cost. You need to make your own travel arrangements from you
hometown to Kathgodam & back to your home city. We would be happy to help you with suggestions.
- Apart from the meals already mentioned in the PRICE INCLUDES section, any meals at
Kathgodam and on our way in or out of Kathgodam will be at actuals.
- Snacks, soft drinks, STD calls, laundry, etc.
- Tips
- Any other expenses of any nature that are not in the PRICE INCLUDES section.
- Any extra expenses due to delays arising from bad weather & unforeseen circumstances.
Note: As part of responsible travel, major part of the money that you pay goes directly to the local community that helps them in living a sustainable lifestyle. If you wish to give a tip to the village folk, please do not make it more than 10% of your overall trip cost.
CONTACT US
Please feel free to contact me if you have any questions.
To make a booking, please email. (customized option available)