If you're from Bangalore, chances are, this is your typical weekend getaway. If you aren't, if you haven't even heard about this place, this must belong at the top of your bucket-list places to see in India.
Coorg (or Kodagu, as it's known in the local language) is a rural district in Western Ghats in southwest Karnataka. It is actually a region comprising of various small cities such as, Madikeri, Virajpet, Somwarpet etc.
Coorg is one region that has something for everyone. If you like wildlife, you can head off to the elephant camps, national parks and wildlife sanctuaries. If you like culture, there are temples and monasteries to enthrall you. If you like trekking, there are three great treks available to Tadiandamol, Brahmagiri and Pushpagiri peaks that you can consider. Finally, if you just want to relax, you have a variety of options available near the capital town of Madikeri. And even if you enjoy none of this, you can always shop for homemade chocolates, wines and coffee.
I travelled with my friend to Coorg from Goa taking a train from Madgaon to Mangalore Junction and a bus thereafter from the nearby Padil bus stop to Madikeri bus stand. We had planned only a 2 day trip and wanted to see as much as possible in this short span of time. So relaxing at resorts or sleeping till late in hotel rooms were not on our minds.
We reached Madikeri after travelling through the night around 11 am. We had the famous Coorg pork chops for lunch at a restaurant called Taste of Coorg. Very recommended if you're a non vegetarian. Their staff had 3 ladies who prepared delicious homely food. After lunch we headed to Namdroling monastery, also known as the Golden Temple locally. We took a bus till Kushalnagar and then an auto to reach the place. There's really no better way to explain the experience over there than showing you the picture below.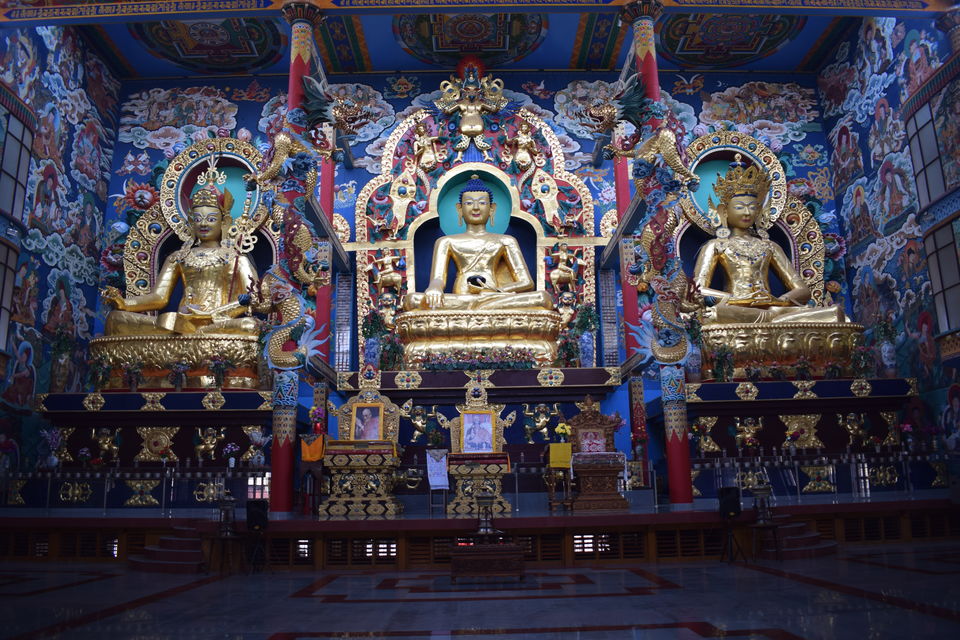 From there, we came back to Madikeri, picked up our scooty from Royal Brothers ( probably the only professional bike rental company in Coorg. Find them here ) and headed to Abbey Falls, about 6 km from Madikeri. On the way we also stopped for a small coffee plantation tour at a local resort.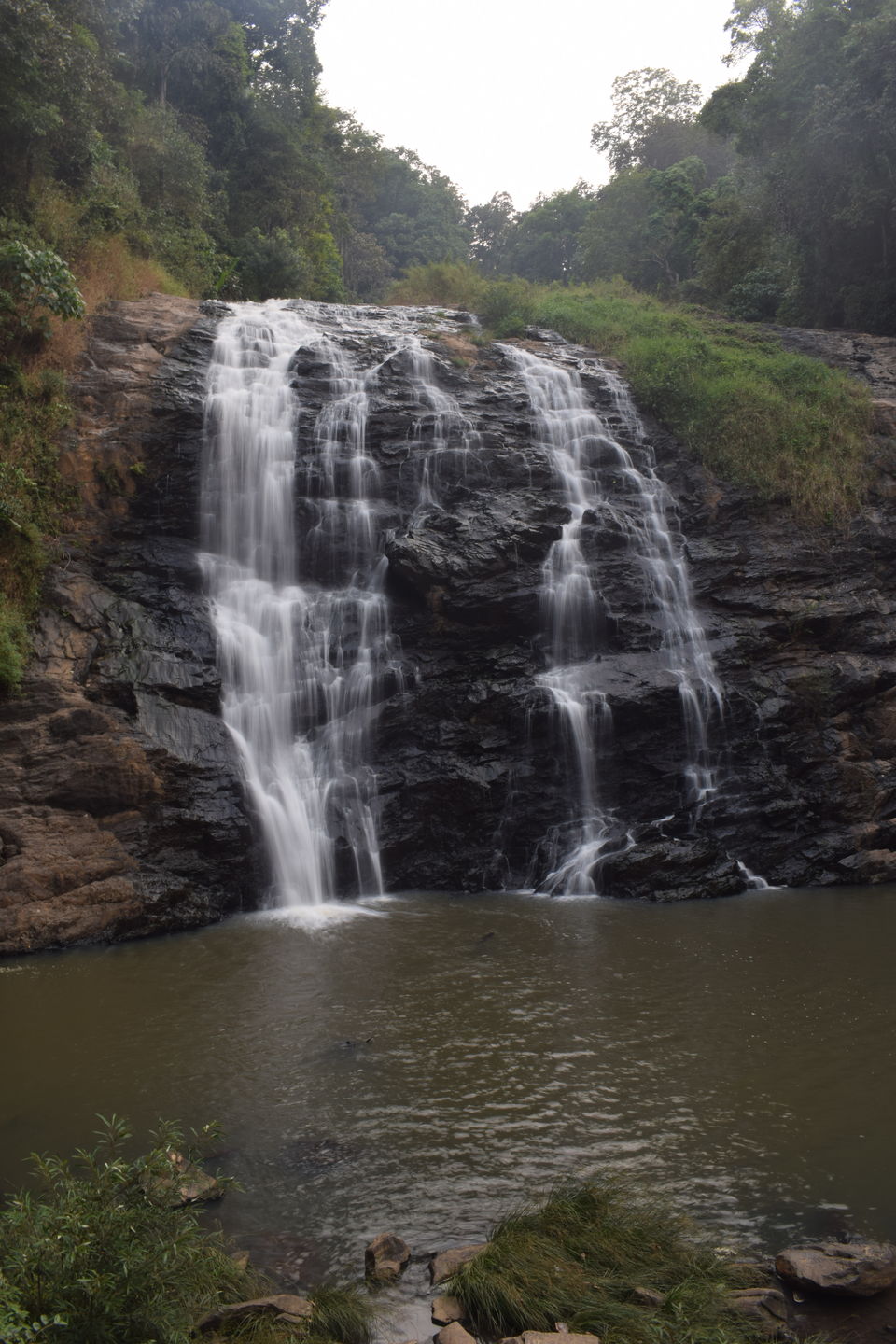 Then we headed to King's Cottage near the foothills of Tadiandamol Hills. It was almost a 2 hour drive from Madikeri to King's Cottage. The roads were in good condition but hardly any traffic, no streetlights, no inhabitation and no network. Only the moonlight to guide you, and Google maps, whenever it worked. Anyway, when we reached the place, the owner prepared a scrumptious dinner for us and all was well.
Next morning, we woke up at 5:30 am and started for the trek at 6 am. One side takes about 2 hours . The trek, is not very easy. And we did not find anyone throughout the trek. :P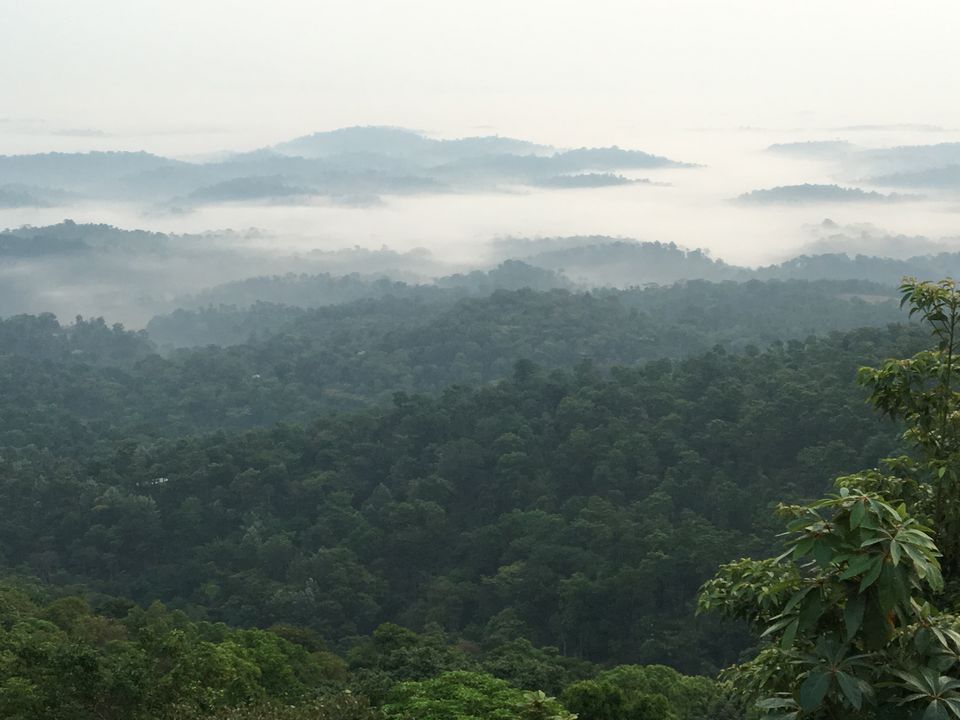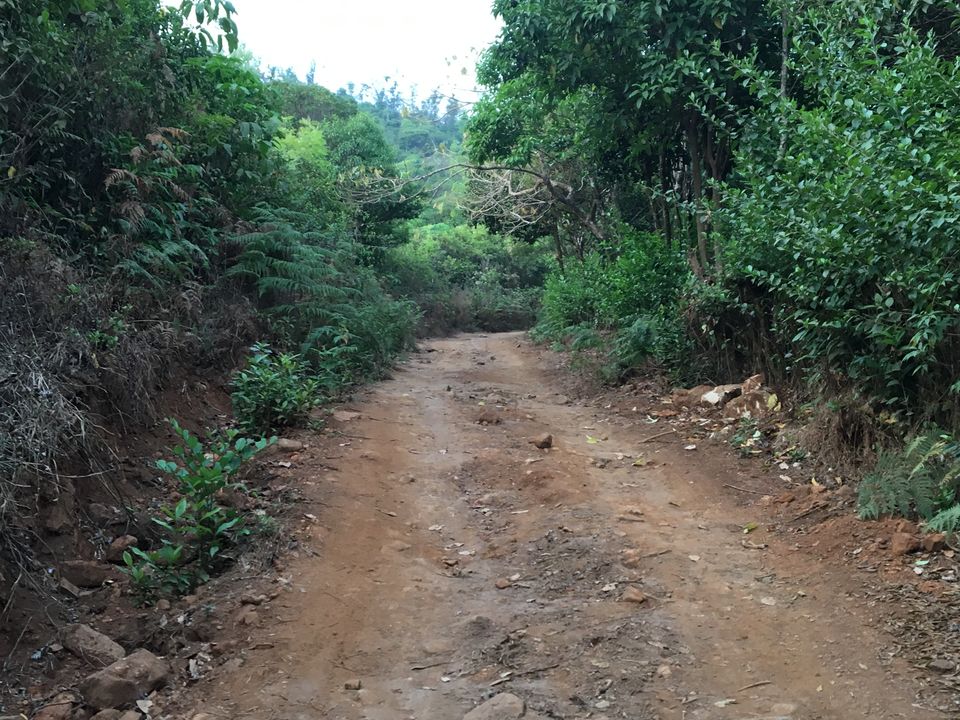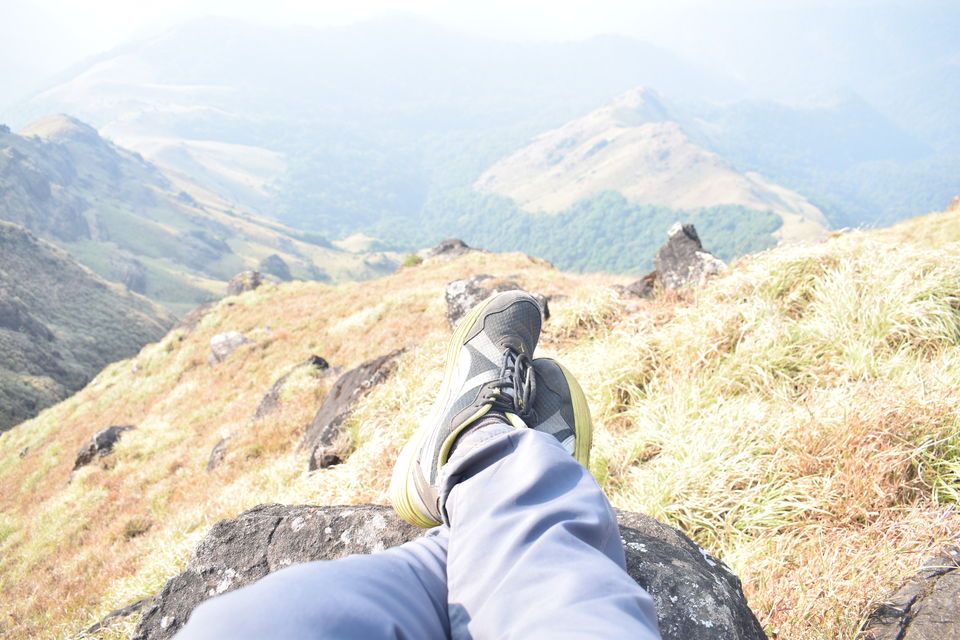 The trek takes effort, especially under the scorching sun. My friend had to give up a little distance from the top as the ascent became pretty steep at the end. Keep lots of water and snacks with you. The track goes through beautiful grasslands and forest areas. The view from the top is worth all the effort. You might need to keep an extra layer of clothing as it gets very windy at the top. Camping is now banned at the top, as far as I know.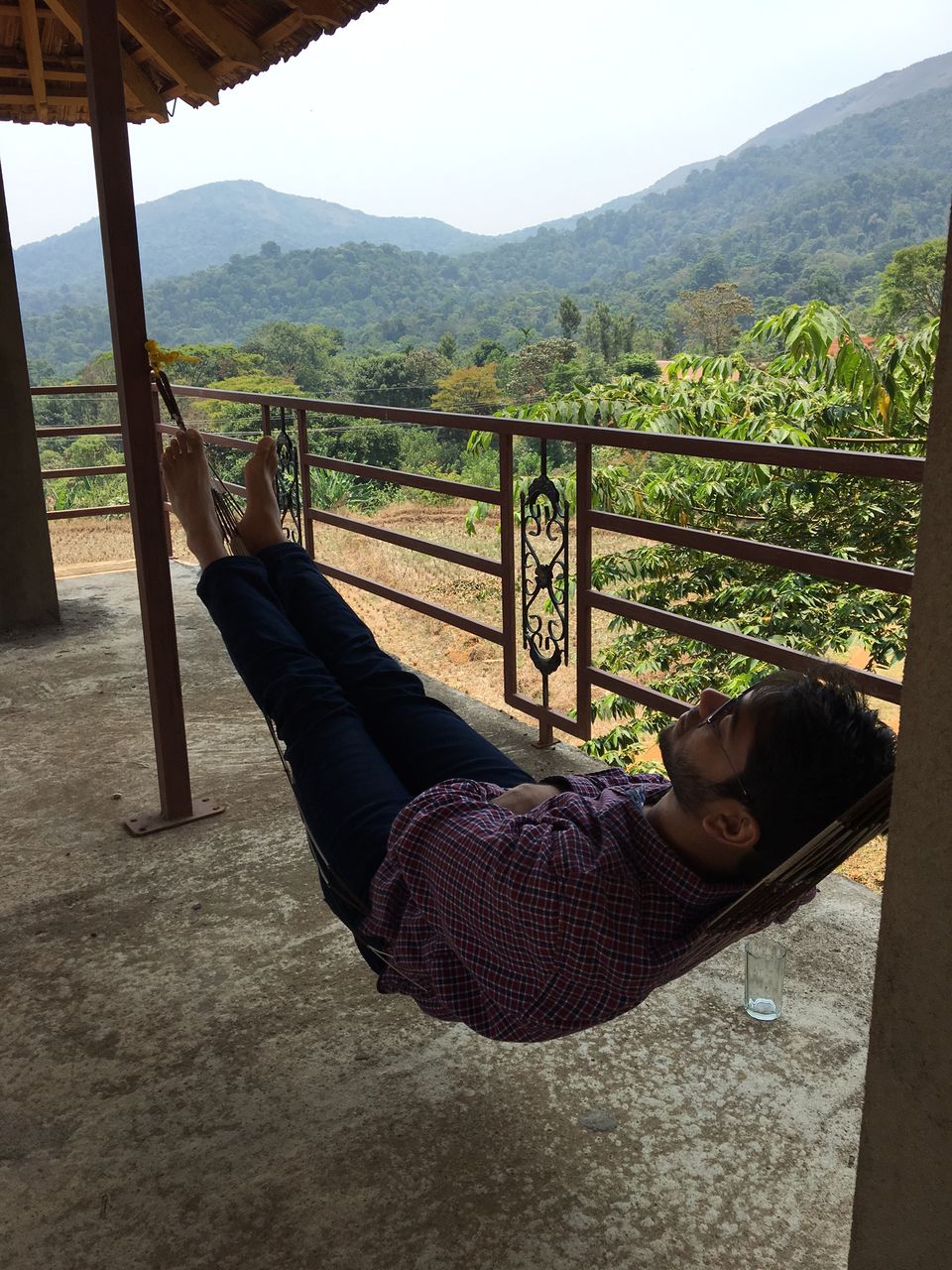 We reached our cottage at around 11 am. After having a good glass of lemonade and chilling in the sleeping net till about 12, we headed for Talakaveri temple. Talakaveri is the origin point of the river Kaveri. We had lunch on the way and also picked up a bottle of Coorg grape wine ( that we popped open in Mangalore station and also smuggled some in college, but that's a story for another day. ). Once at Talakaveri, do climb up the stairs to enjoy a view of the valleys and the coffee plantations from the mountaintop.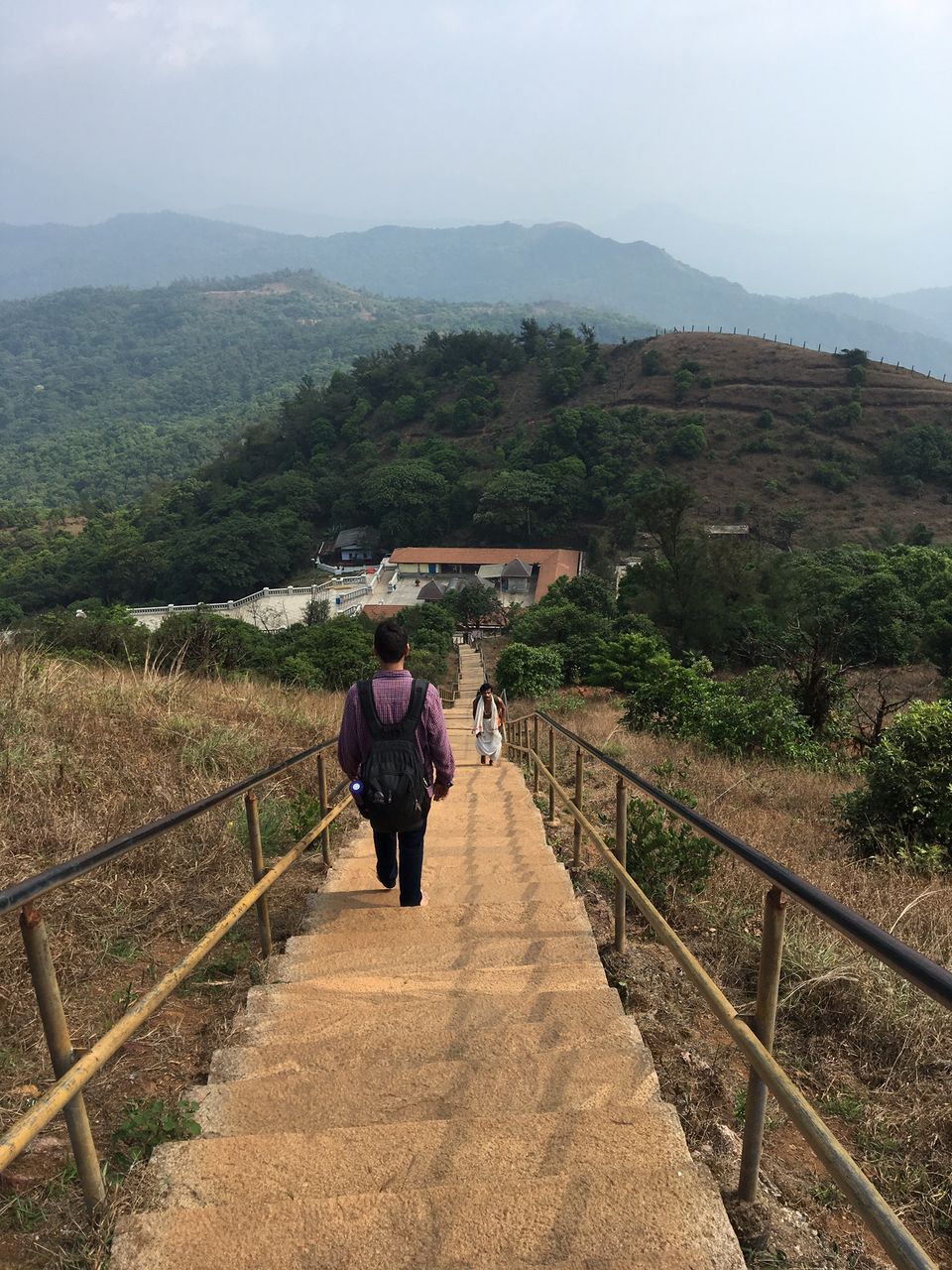 From Talakaveri, we went to Madikeri and headed towards Raja's seat in the evening. Raja's seat in Madikeri will give you a panoromic view of the district below and is by far, the most popular tourist attraction in Madikeri.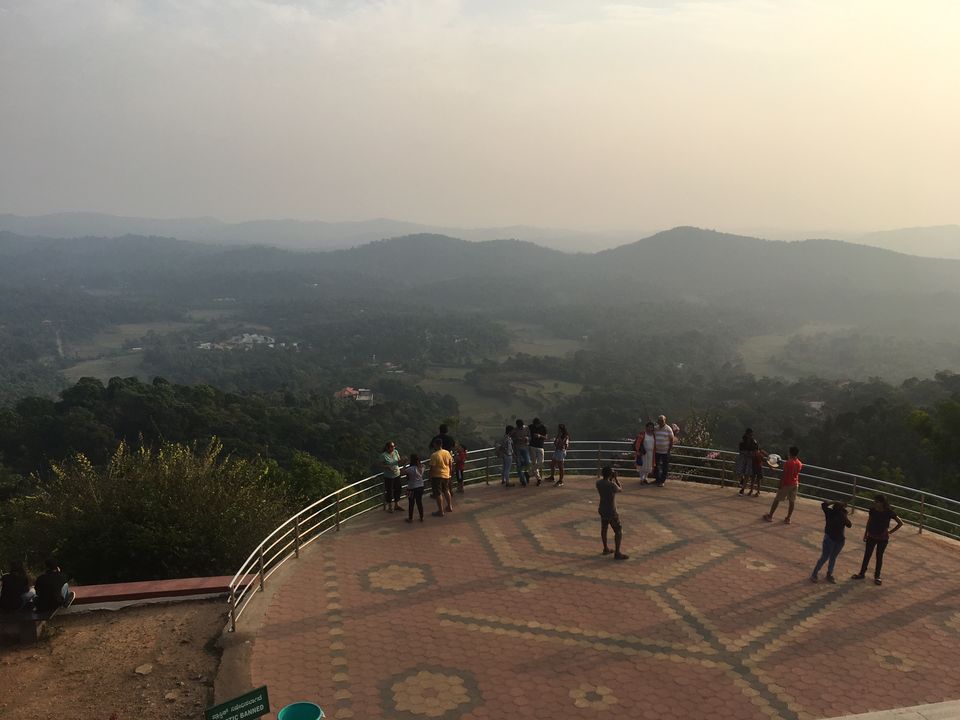 Then we returned our scooty and boarded the bus to Mangalore, picking up some homemade chocolates and coffee on the way. We reached Mangalore around 10 pm and went to the railway station. Our train, delayed by about an hour, started at 1 am and we reached college by 9 am.
Tips & Pointers:
1. Most of the attractions in Coorg are far away from each other. Own conveyance is the best option to travel, only option, in some cases. You can hire cars from Zoomcar or two-wheelers from Royal Brothers in Madikeri. You can head to www.royalbrothers.com for booking.
2. If you're looking to trek any of the peaks, try finding accommodation near the starting point and complete the trek by noon. King's Cottage was the perfect place in this regard. One room had enough space for 4-5 people. We were served dinner and packed breakfast on the day of the trek since there is no habitation near the place.
3. The most popular accommodation choices in Coorg are homestays. There are a lot of resorts and coffee plantations that offer accommodation at their place. Most of these are concentrated around Madikeri. Even if you aren't able to get an accommodation at a plantation, try going to one, talk to the owner, and you might get a tour of the site anyway. Coorg is one place where you can easily spend a week in one of the many resorts available.
4. Chocolates from Choci Coorg, near Madikeri bus stand are amazing. Slightly expensive, but amazing.
Message me if you want more info!
Frequent Searches Leading To This Page:-
coorg holiday packages, best offers on Coorg holiday packages, Coorg vacation packages, Mumbai to Coorg Tour Packages, Coorg Tour Packages with Price