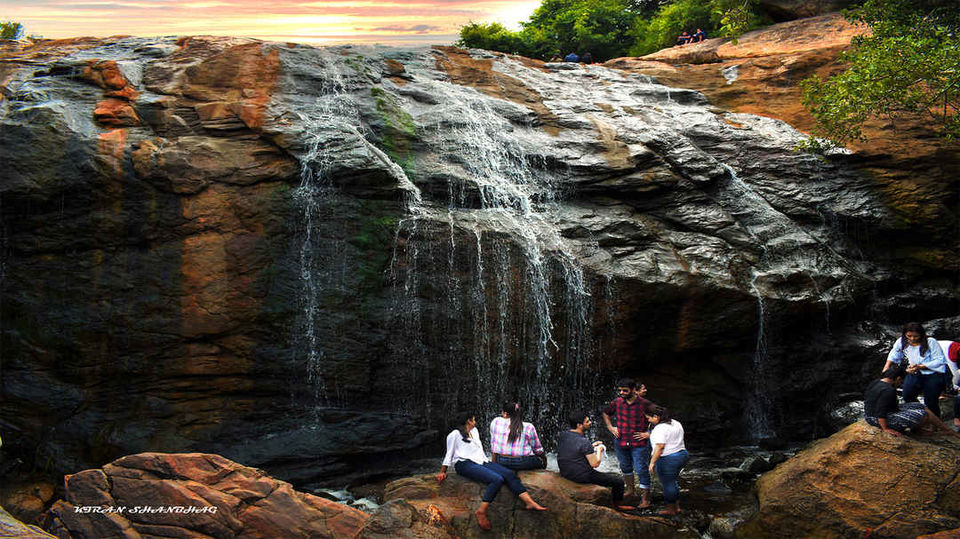 Thottikallu Falls - TK Falls
Thottikallu is a place near Bangalore off the Kanakapura road in the Bangalore Urban district which is famous for a falls called Thottikallu falls, more popularly known as TK falls. It is also known as 'SwarnaMukhi' water falls. SwarnaMukhi translates as 'Golden-Faced'.
Thottikallu fall is around 12 kms from Bannerghatts. Best visited during June - December. To reach Thottikallu falls, after cadabams on the right hand side you get a Sai Bakery. Take the road from there and its another 2 - 3 kms ride from there.
The moment you enter you will find a Muneshwara Temple on the right hand side. If you walk straight from the temple you will find 2 paths. If you go straight you will find an open field. You need to take the left side path to go towards the waterfalls. Once you take this path you will get a small stream and rocks on the left side. This spot here is really good for photography / photoshoots. The green trees and the stream with rocks make it a pleasant place to photoshoot.
This spot that you see above is a good place to take photographs especially with the green trees reflecting and the rocks make it a eye catchy spot for photography.
Once you are done with all the photography you can walk straight towards the falls. The best time to visit this is as early as possible in the morning preferably around 7 AM. The water reflect the orange shades of sun making it look like Golden Water. We missed the chance though. we reaced around 9 AM.
It is said that on the top there is a lake. And when this lake has more water flow it runs down through the giant rocks and creates a waterfall. The more the water flushes from the top the better sight of the falls.
You can also do some trek here and reach the peak.
Note:
1. Parking space is available for both Bikes & Cars. The early you reach the better parking space you get.
2. As of 24th oct 2021 there is no parking or entry fees.
3. At the entrance there are juice / snacks hawkers.
Location:
https://goo.gl/maps/DDR2oErwURtwVN4K7
*****DON'T FORGET TO SHARE AND SUBSCRIBE OUR BLOGS*****
Check out our Video: