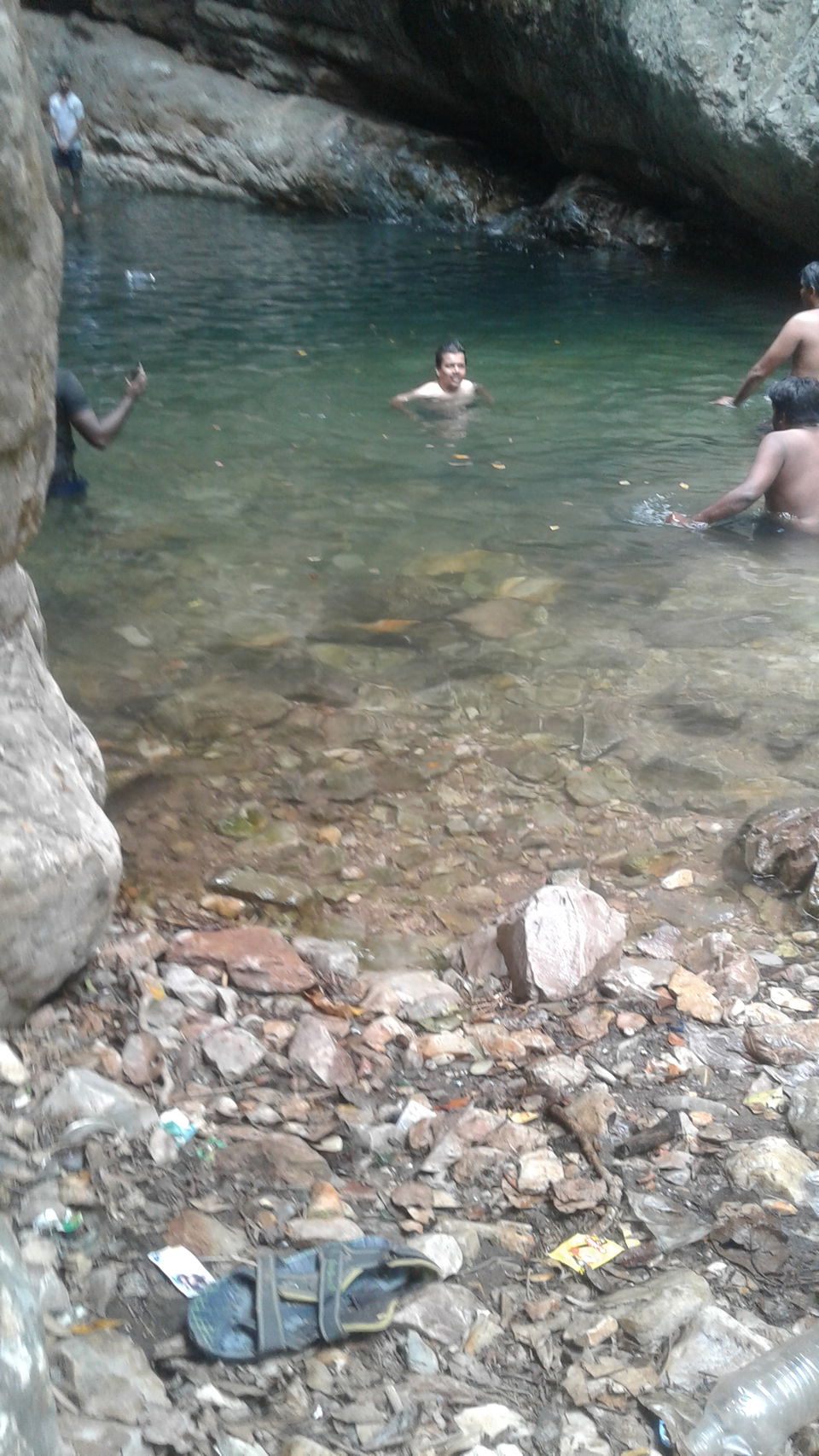 Tada Falls or Ubbalamdugu Falls is in Varadaiah Palem mandal of Chittoor District of Andhra Pradesh.It is Situated on the border of Tamil Nadu and Andhra Pradesh and is around 91 km from Chennai..
The Route is very nice and smooth as it is a highway.
So its nice long road trip. I would suggest you guys to go on a road trip by Car or Bike..you would really love and make sure you leave very early in the morning so that you would reach their and will have enough time to have fun.
Also if you guys cannot afford bike or car. Public transport is the best way.
However there is no direct buses to the Falls. Buses are available from Koyambedu Bus Stand, SETC Busno. 114(Sri Kalahasti) and 200 (Tirupati) drops you till Varadaiah Palem (the last human settlement on the way to TADA Falls) then take Taxi to Tada Falls which would cost around 500-600 INR.
By Car
To reach Tada, Cross the Padi junction in Chennai and take the redhills route and join NH-5. Drive for about 60Kms and you will reach Tada town. Before you reach Tada you will cross the AP checkpost. If you are taking taxis, then you will have to shell out permit tax here (Rs.250 for Indica and Ambassador) and it is pretty high for a Tata Sumo or Tempo Traveller. It might be cost effective to take 2 Indica's compared to a Tata Sumo.
Once you reach Tada, take the left which is right next to the bridge and you will reach Varadiah Palem. Ask the people for directions from here. You have to take a left turn to reach Tada falls and there are absolutely no indications at this point. You can reach this place from Kalahasti too.
Once You reach the Forest, at the entrance you will have to pay the fees of INR 200 for 4 wheeler and 50 -100 INR for 2 Wheeler.
It is exactly 20 Kms from the Tada to reach the base camp of the Tada falls. Where you can park your vehicles and start trekking. The only way to get around from here is on foot.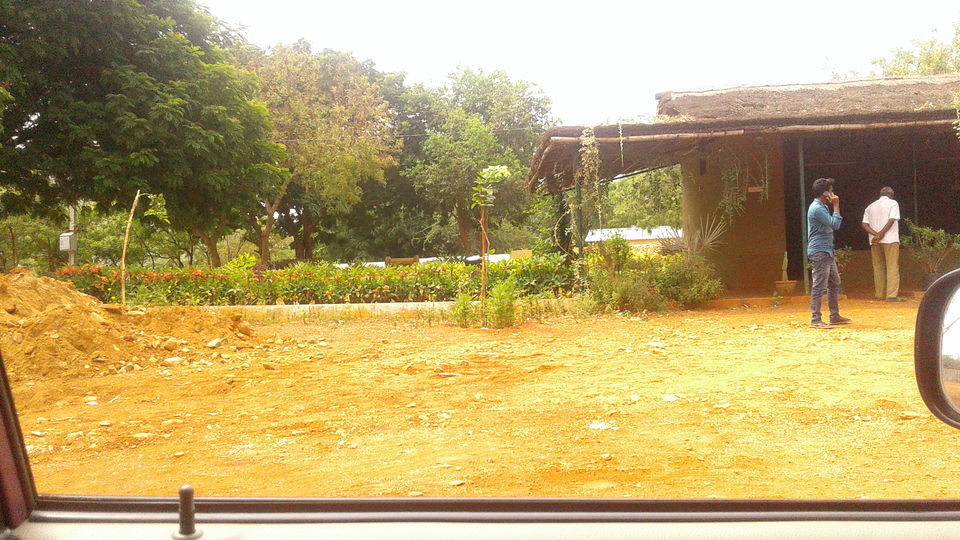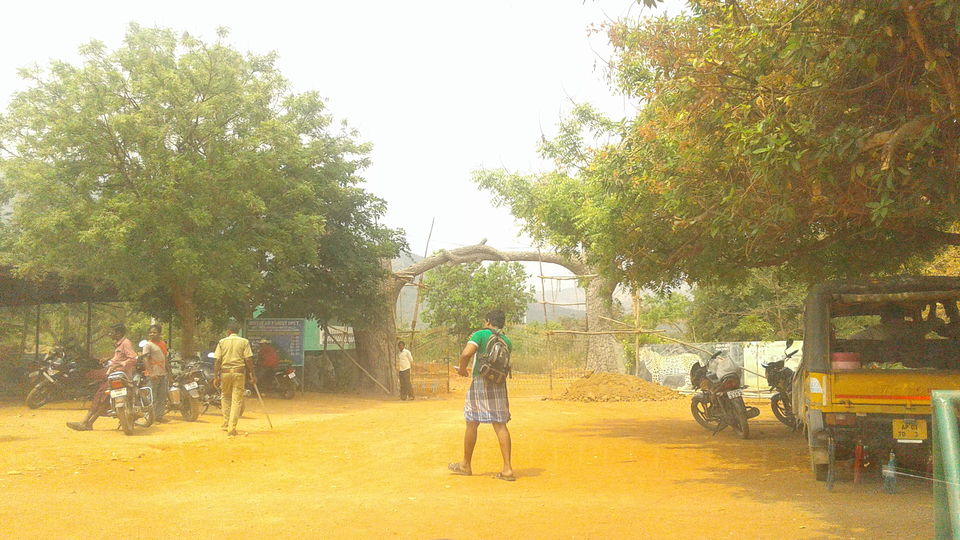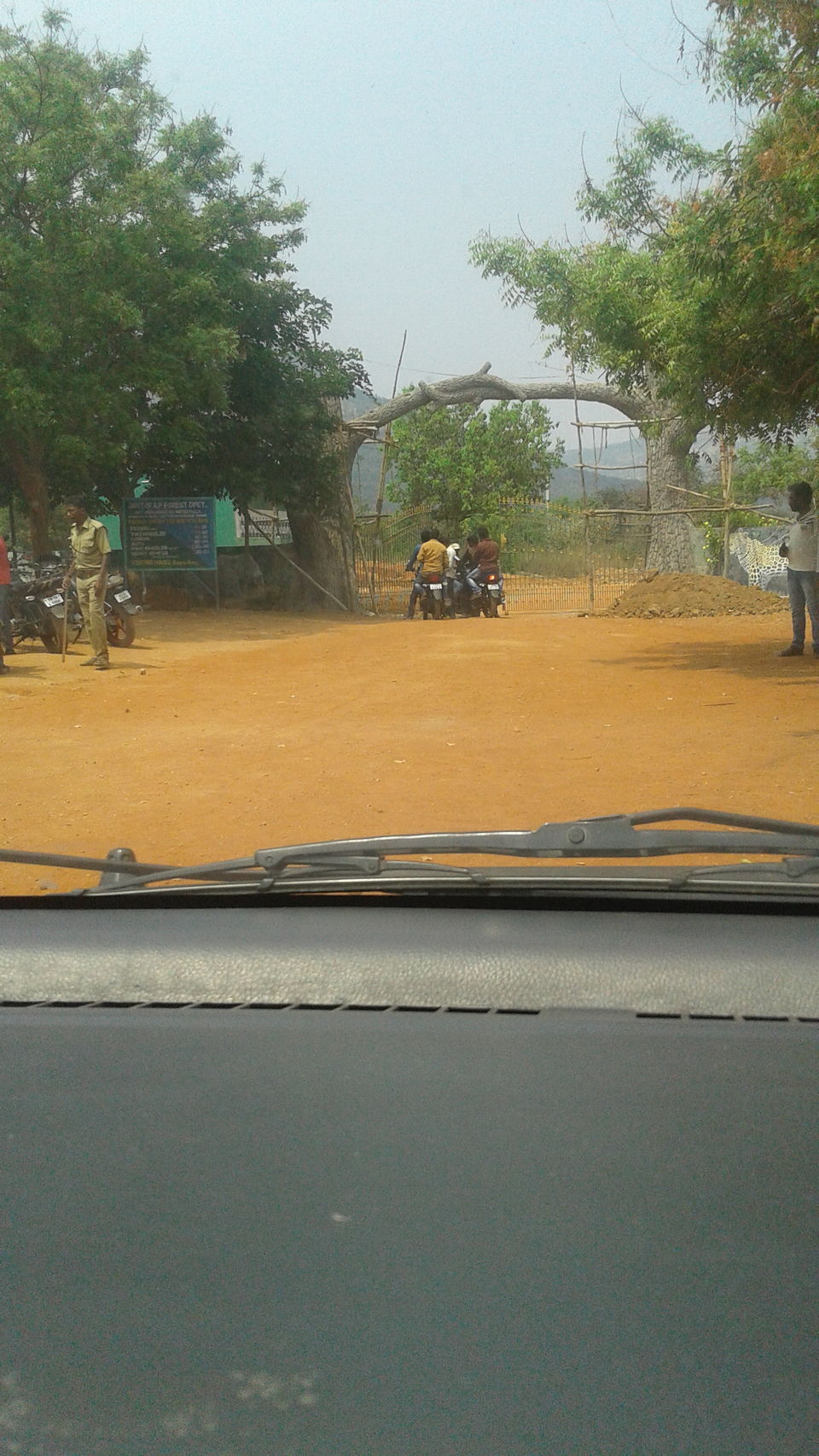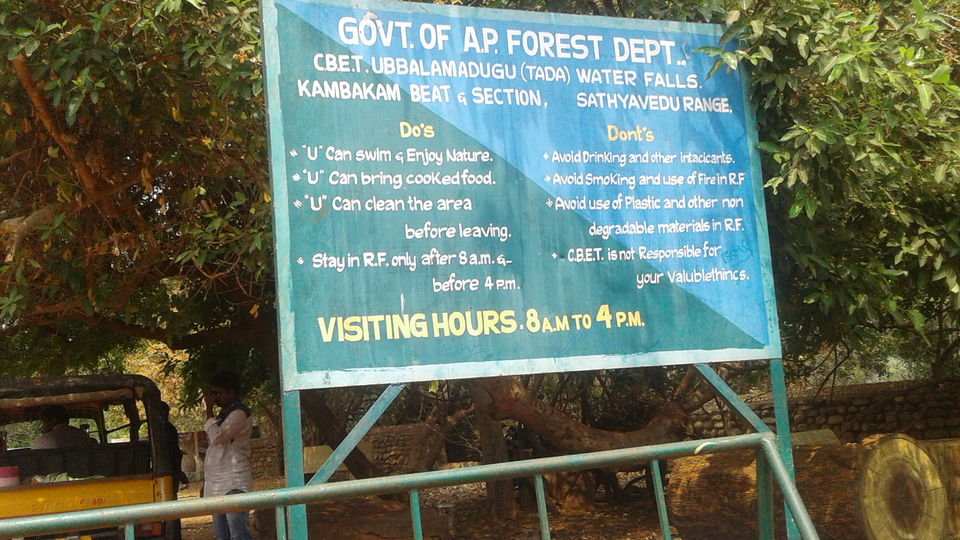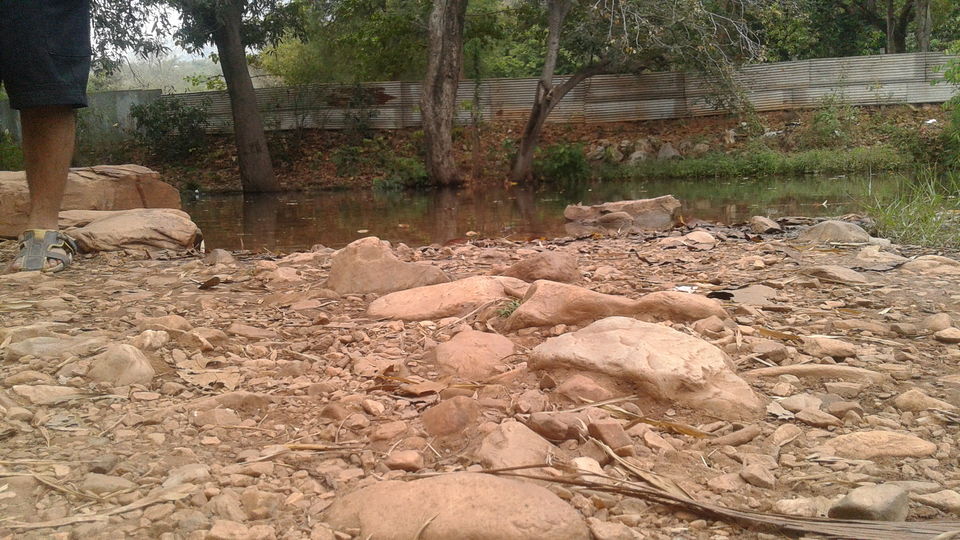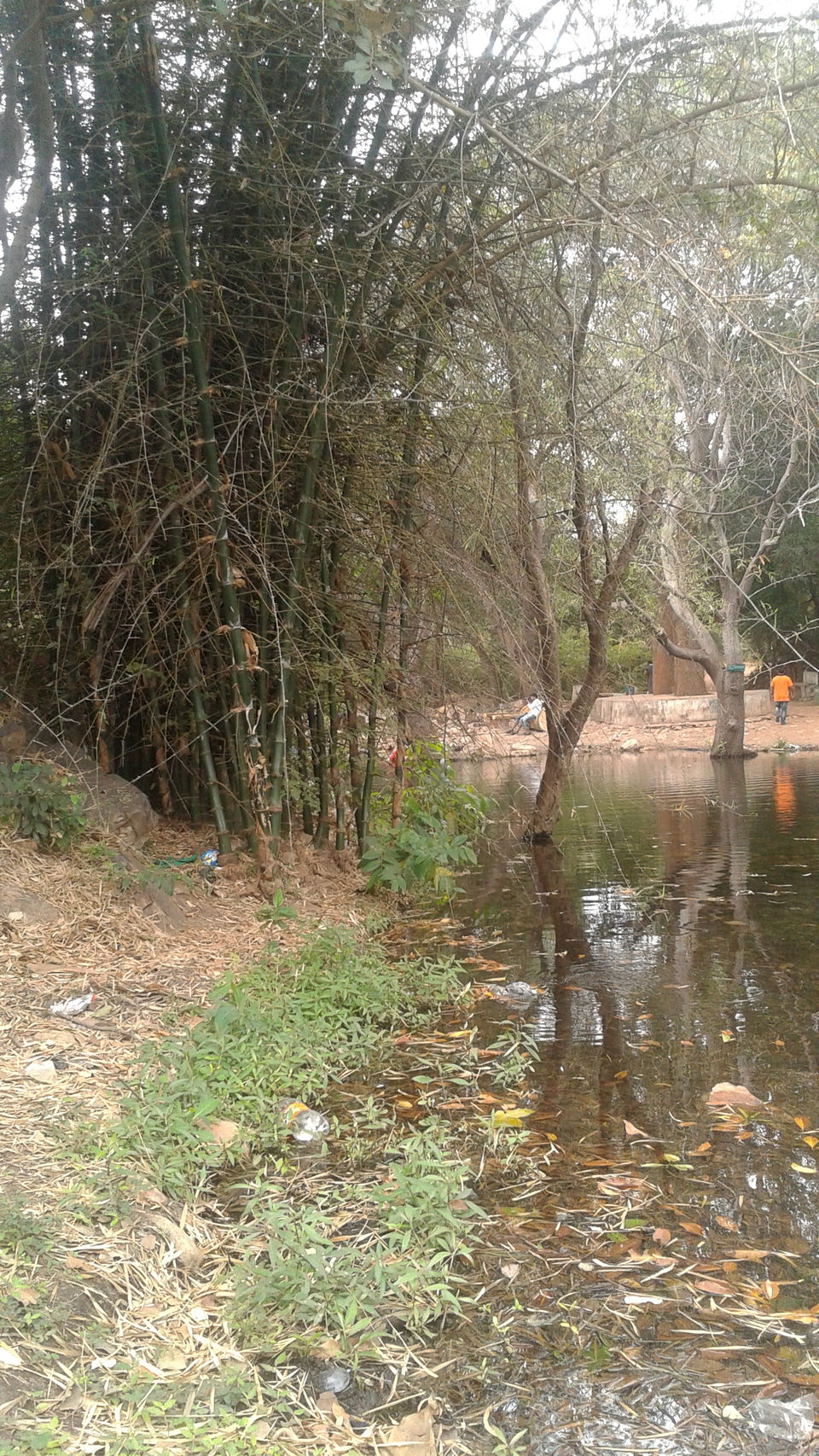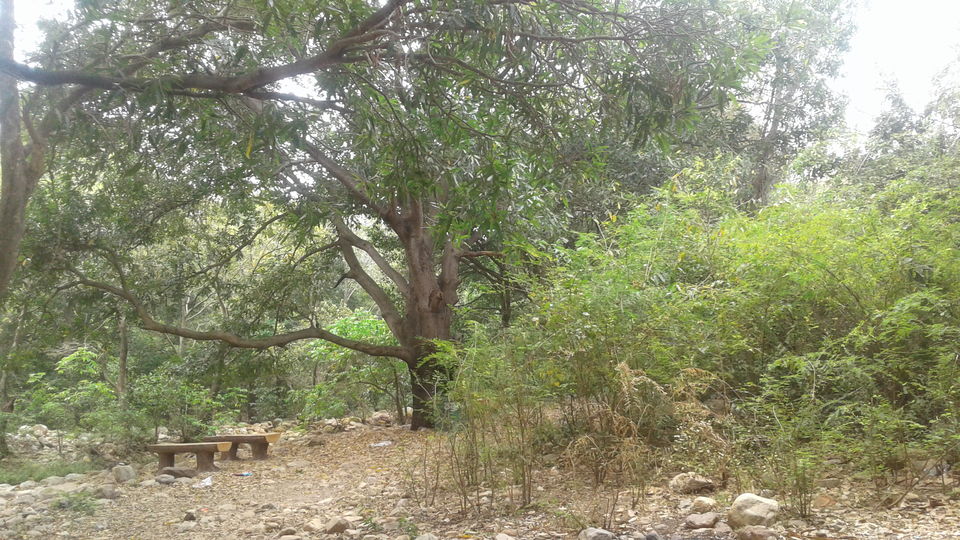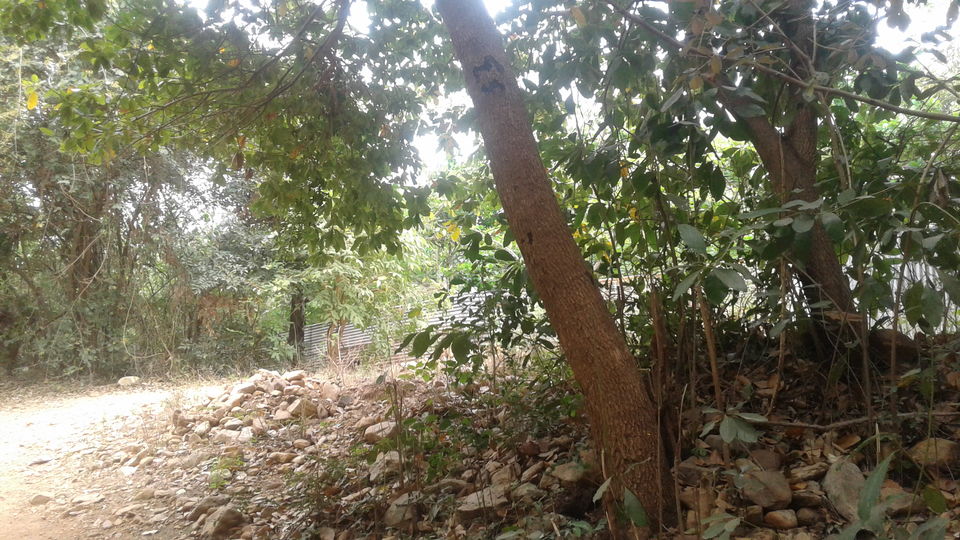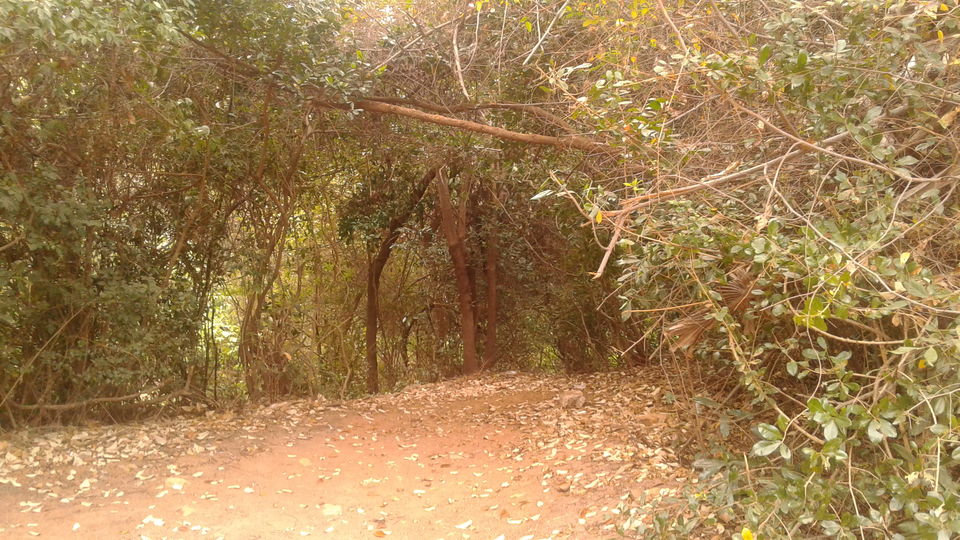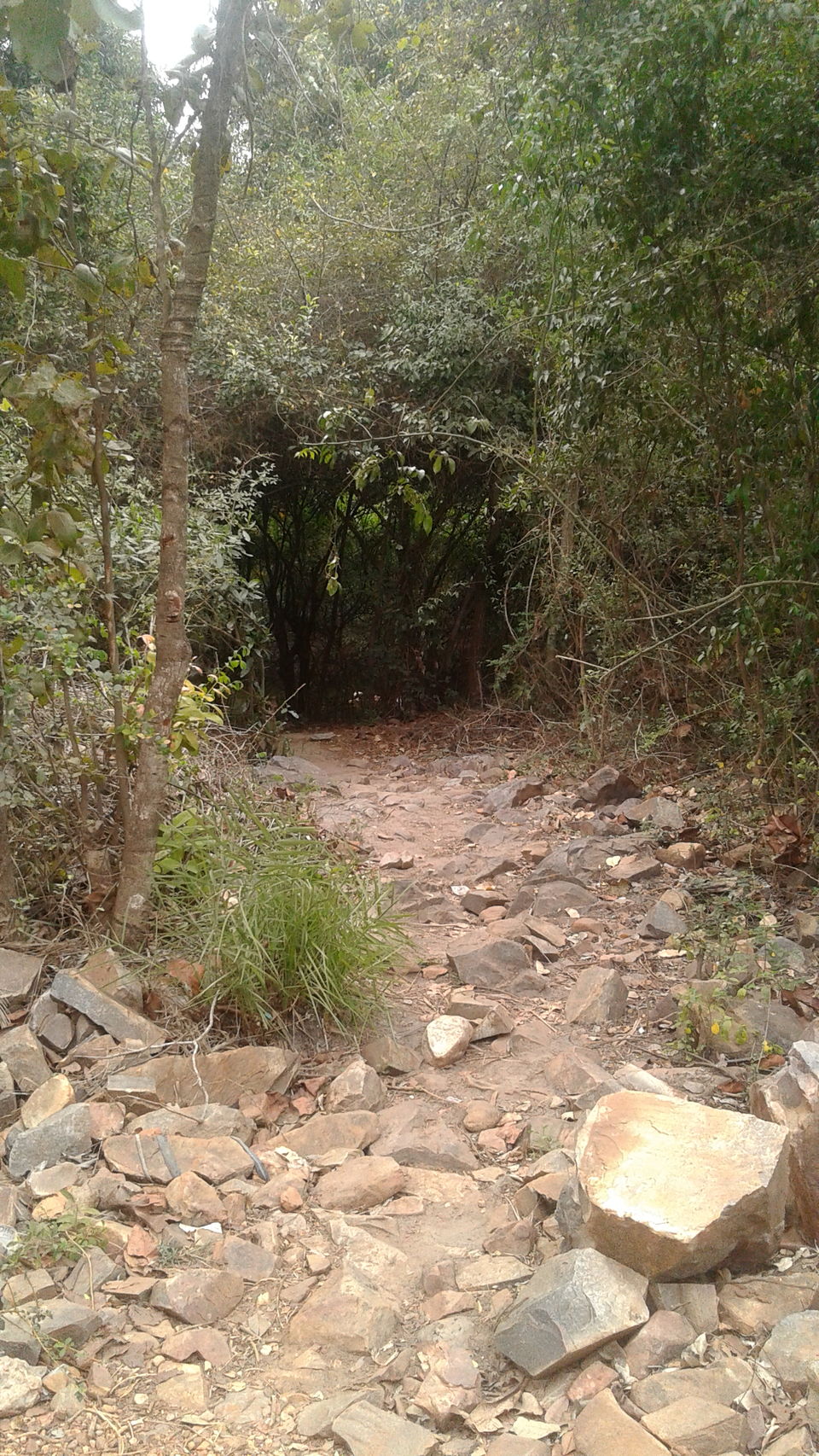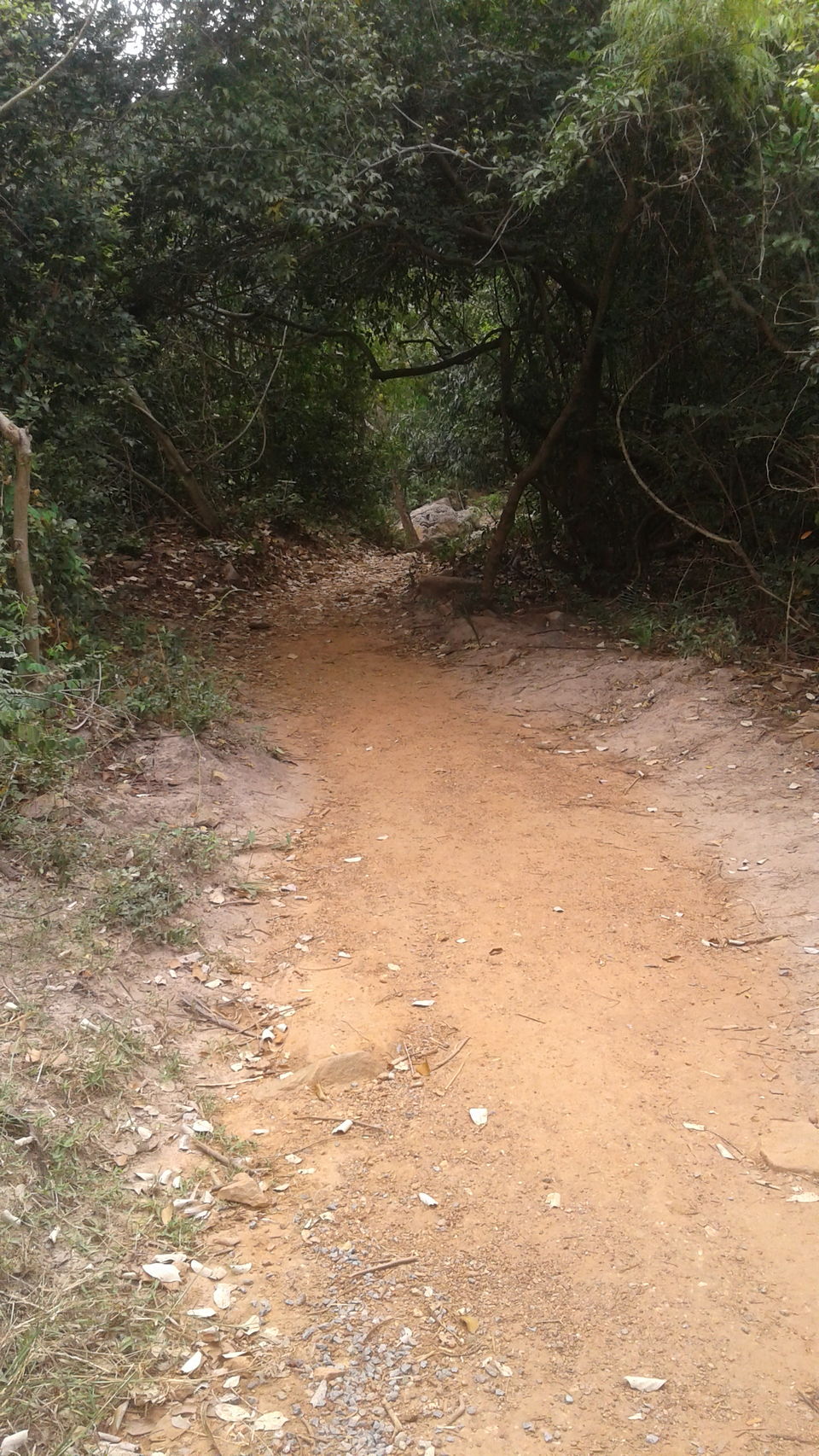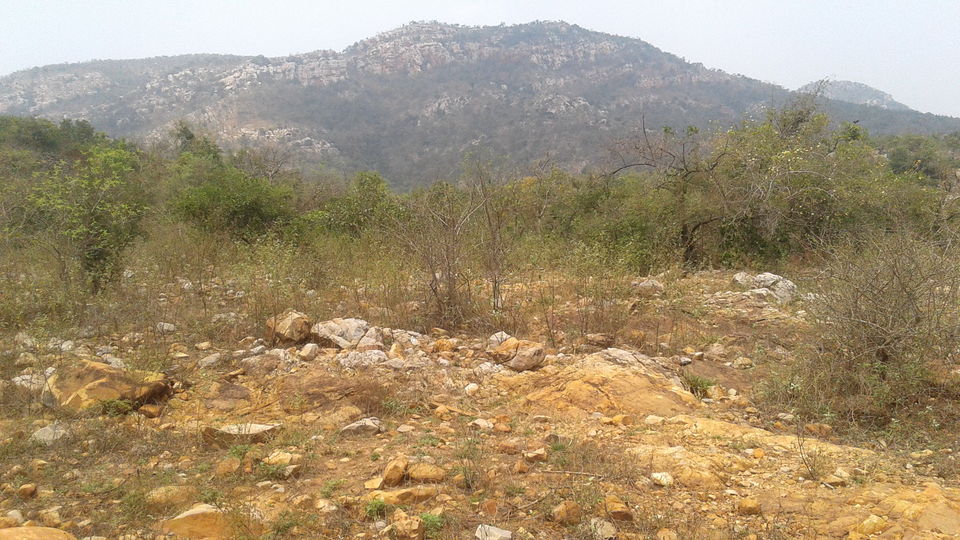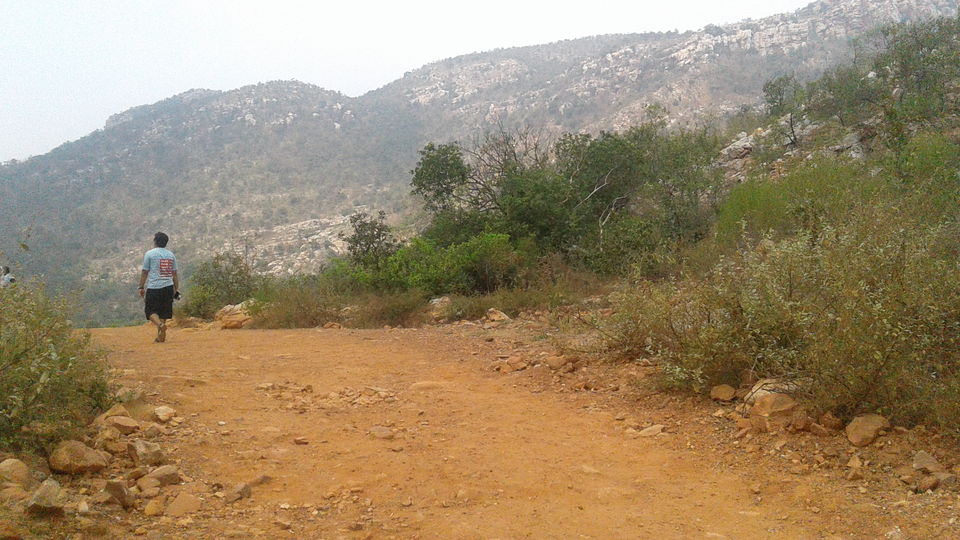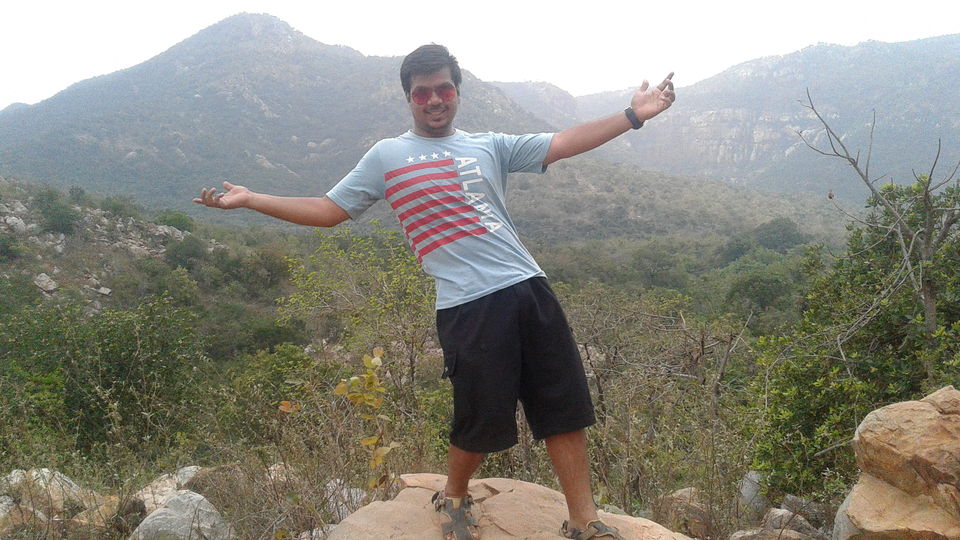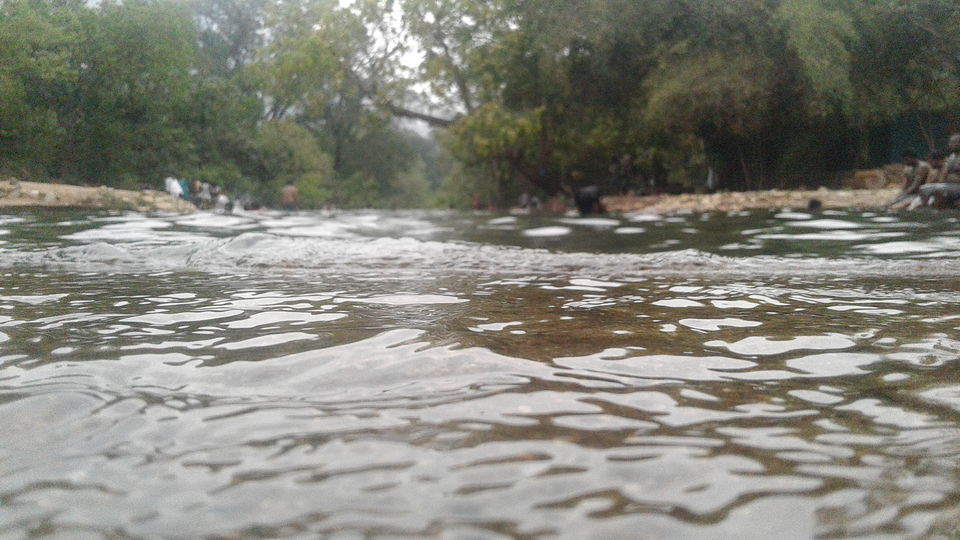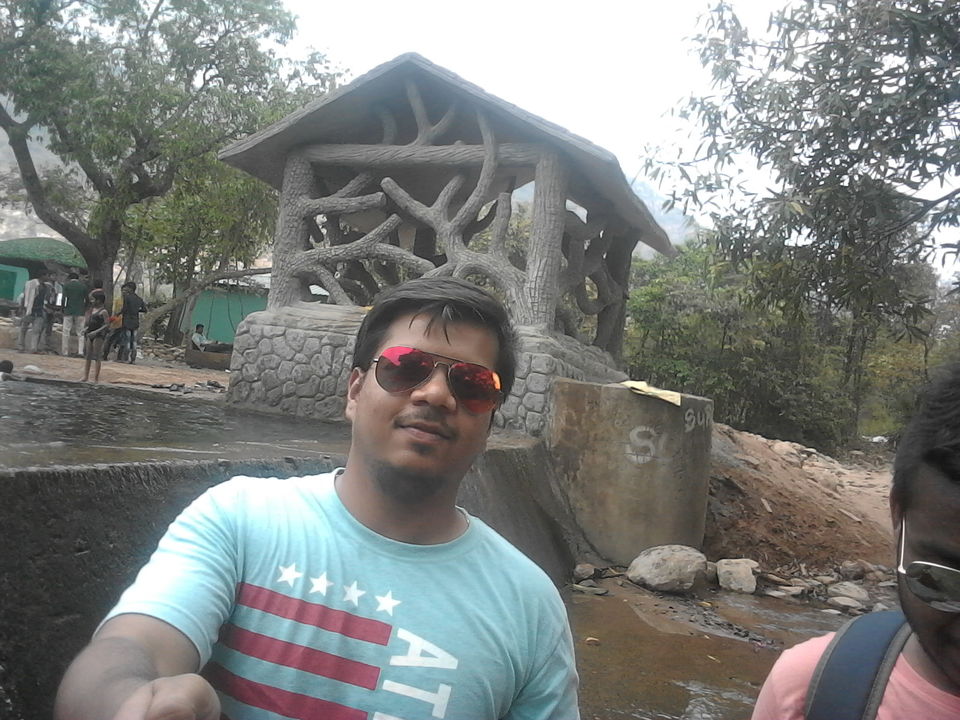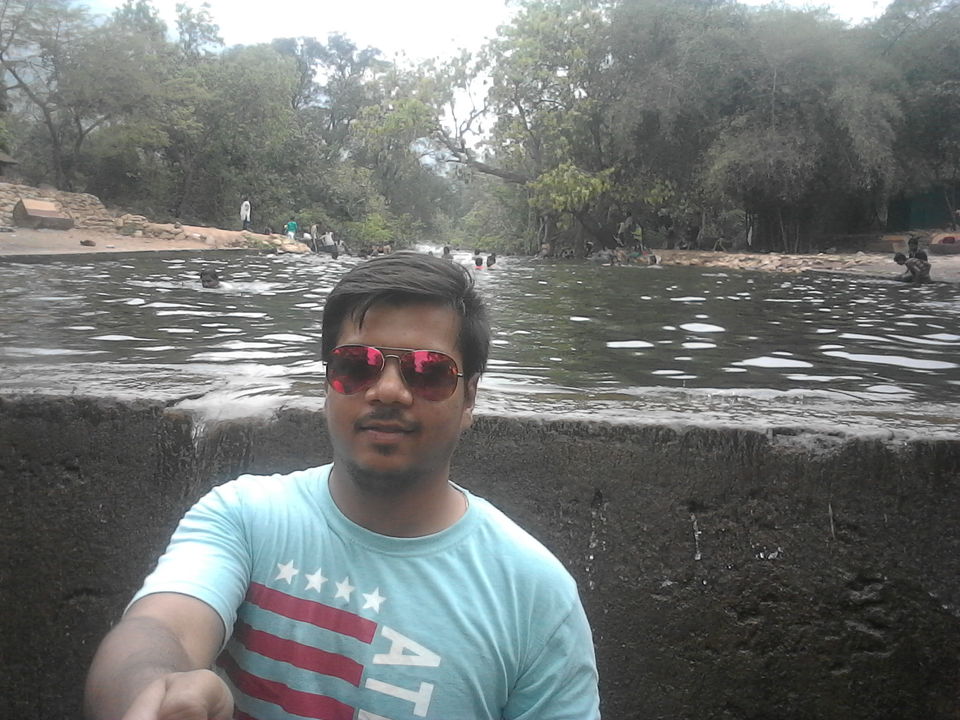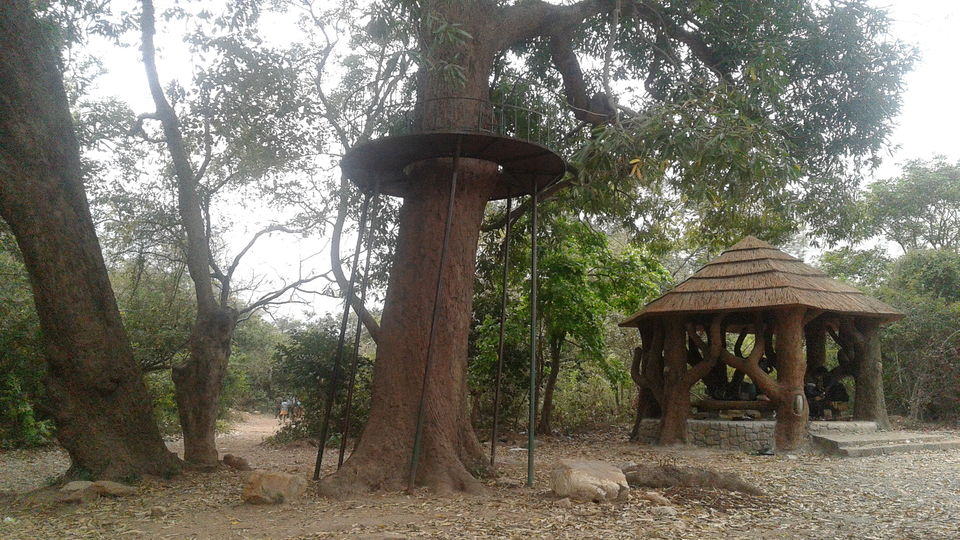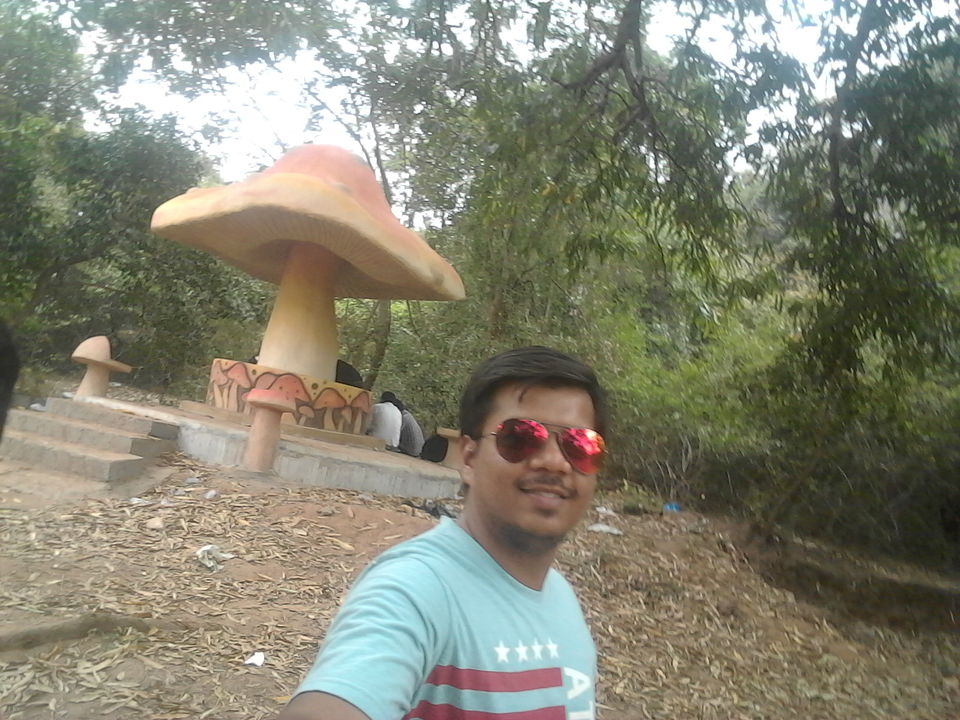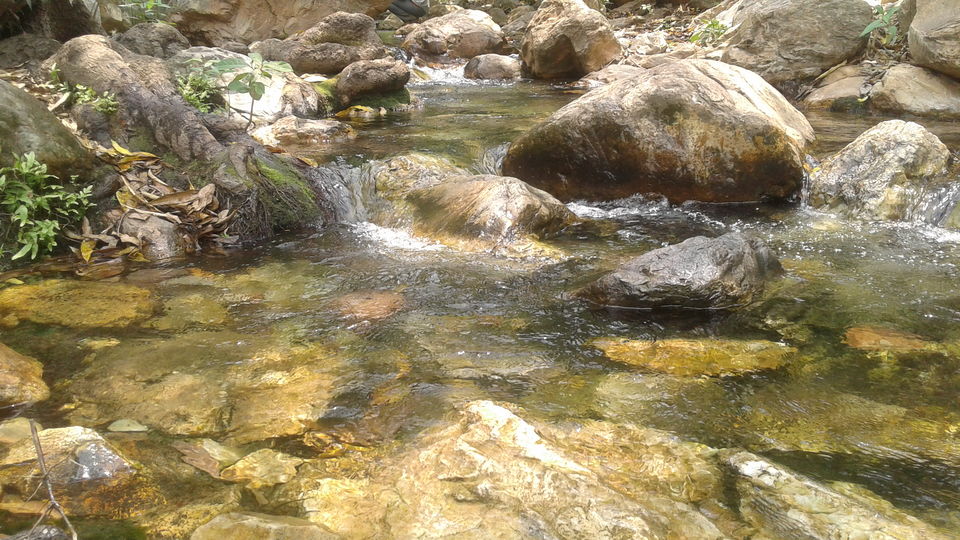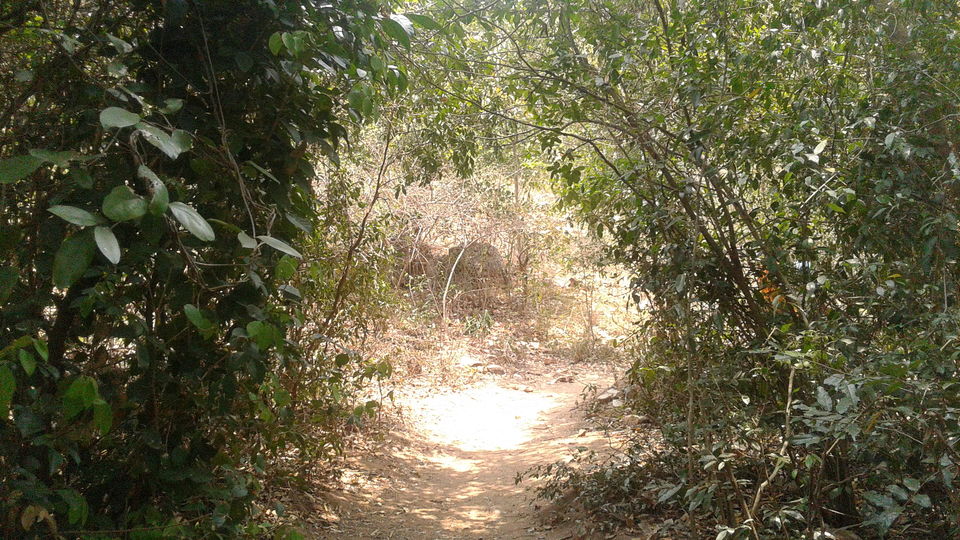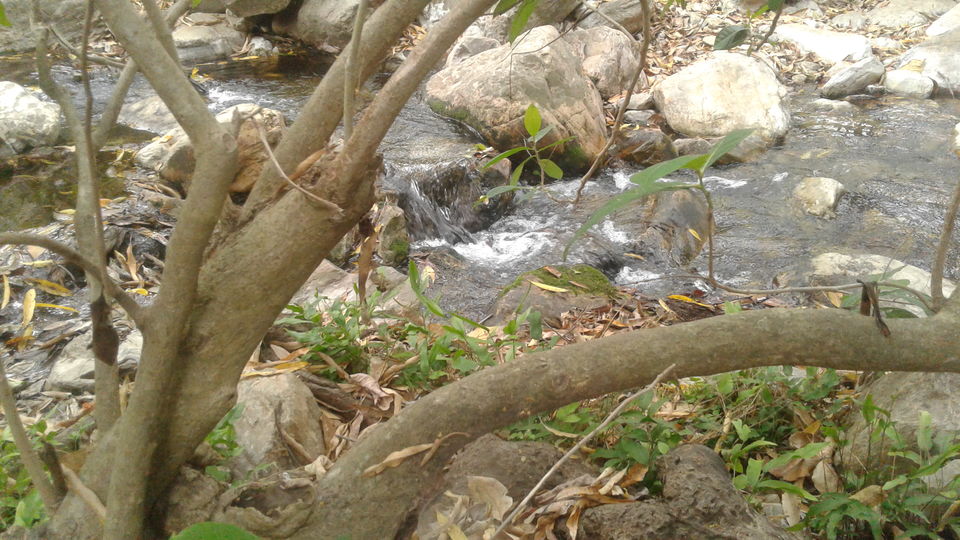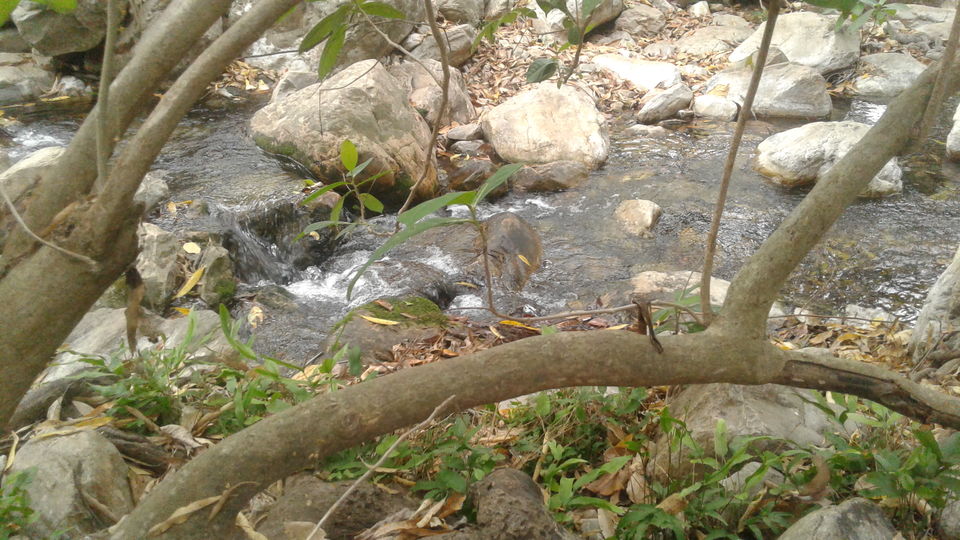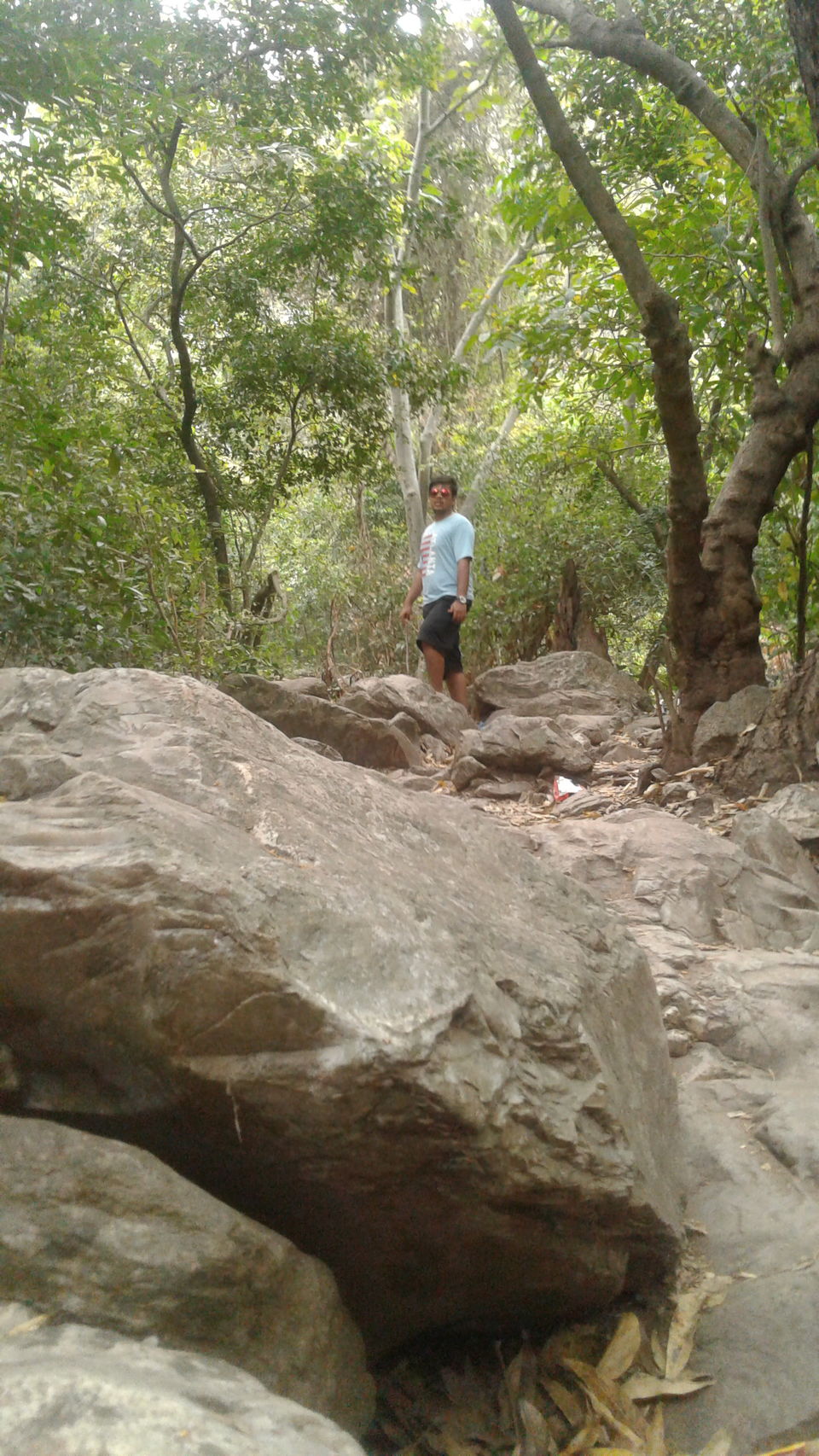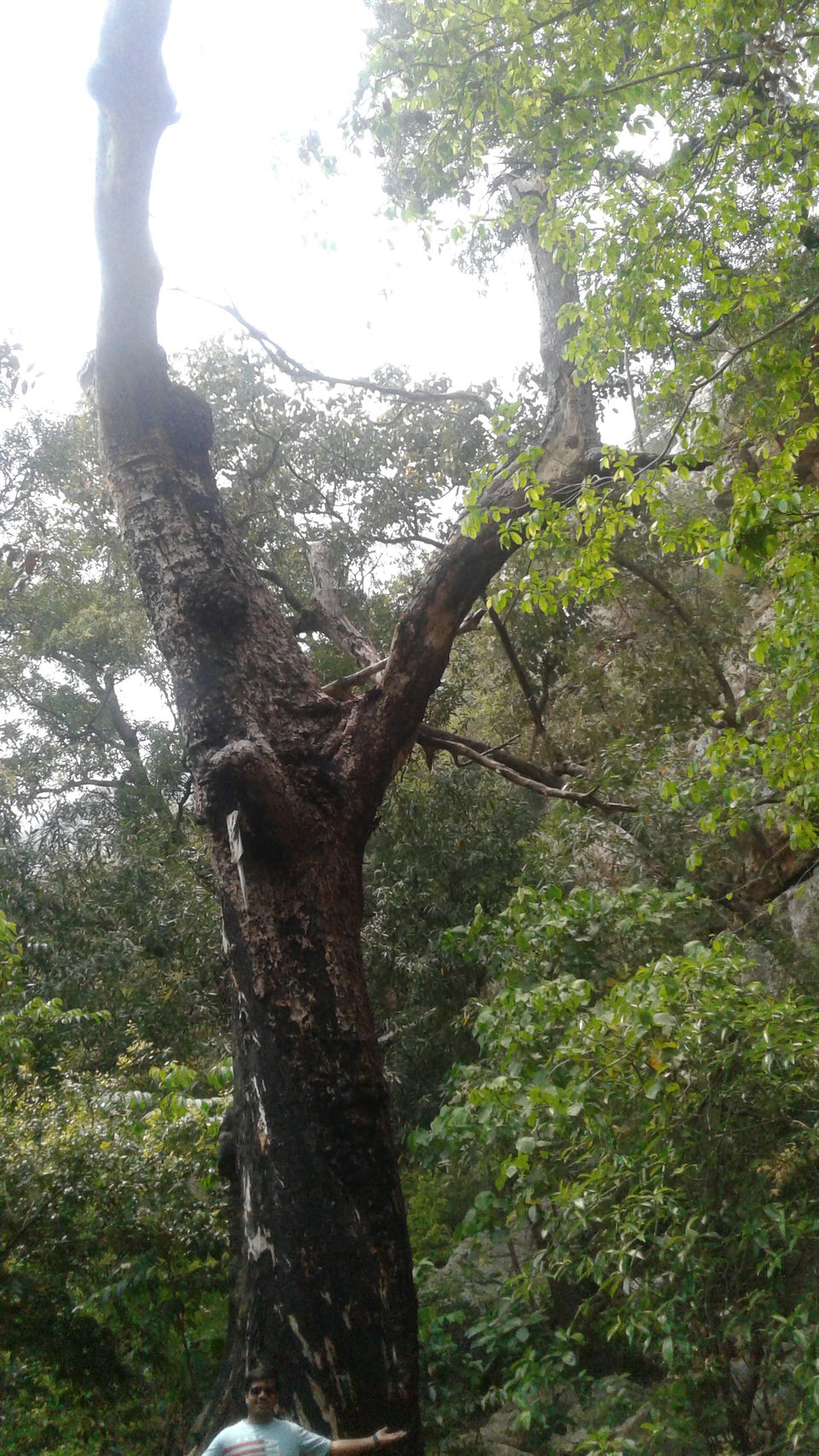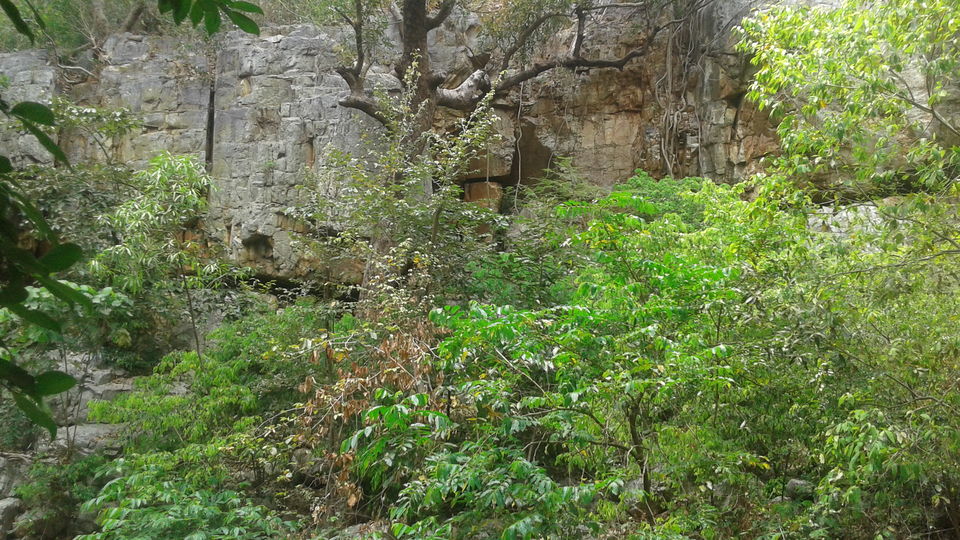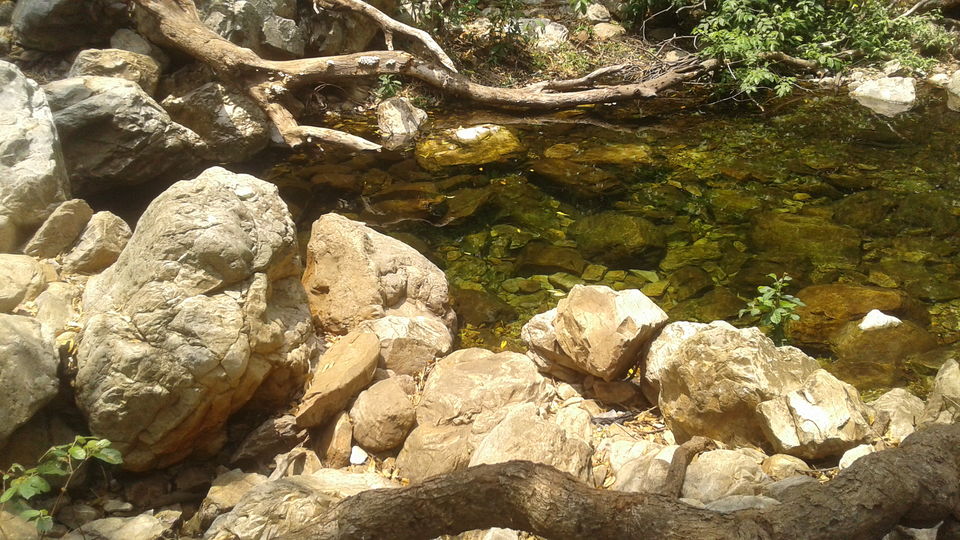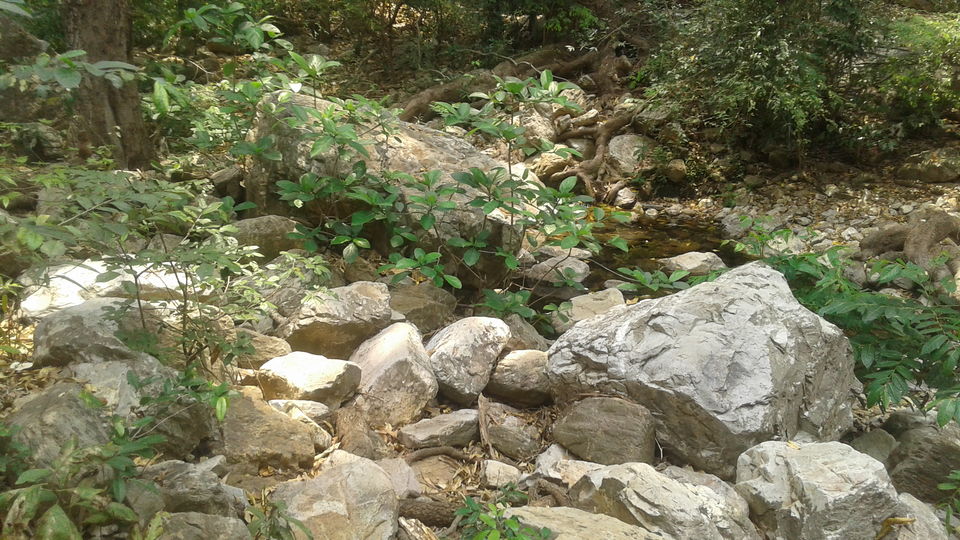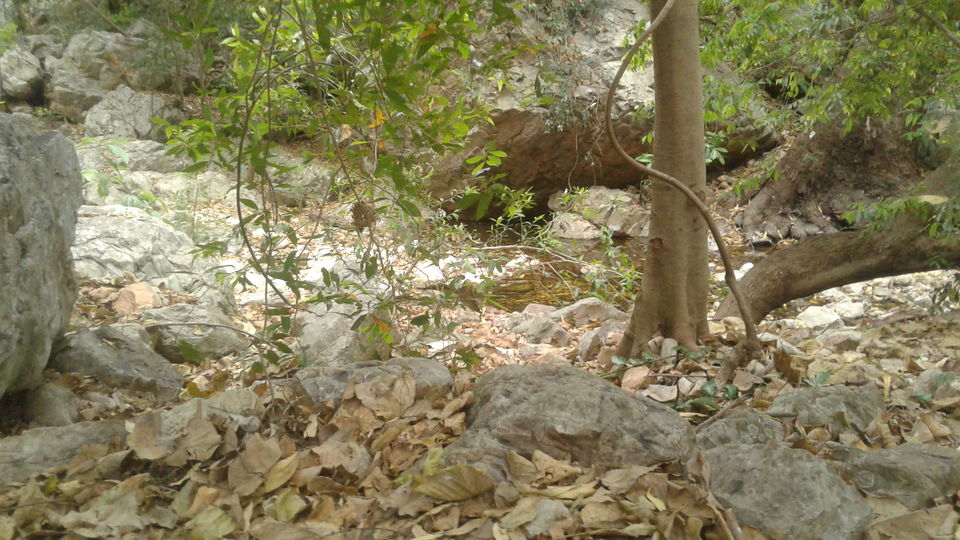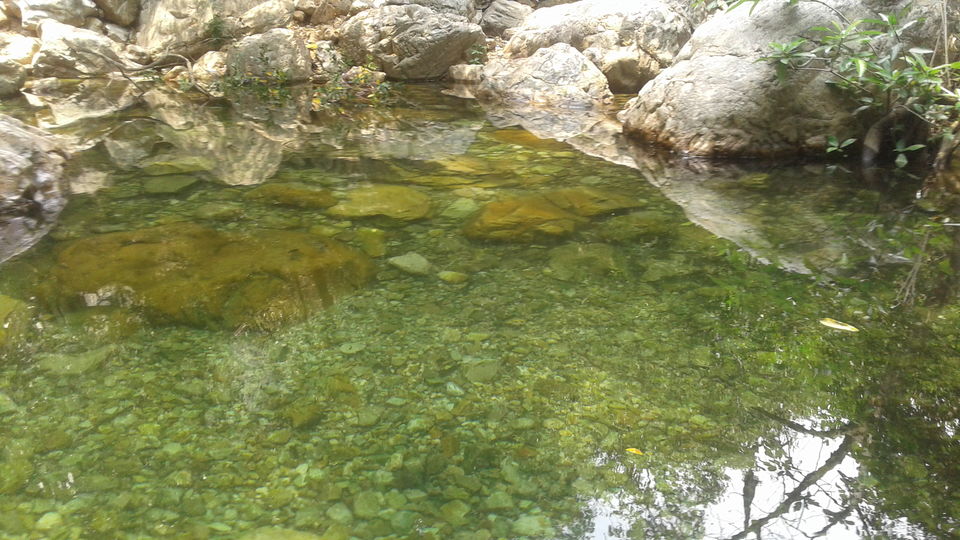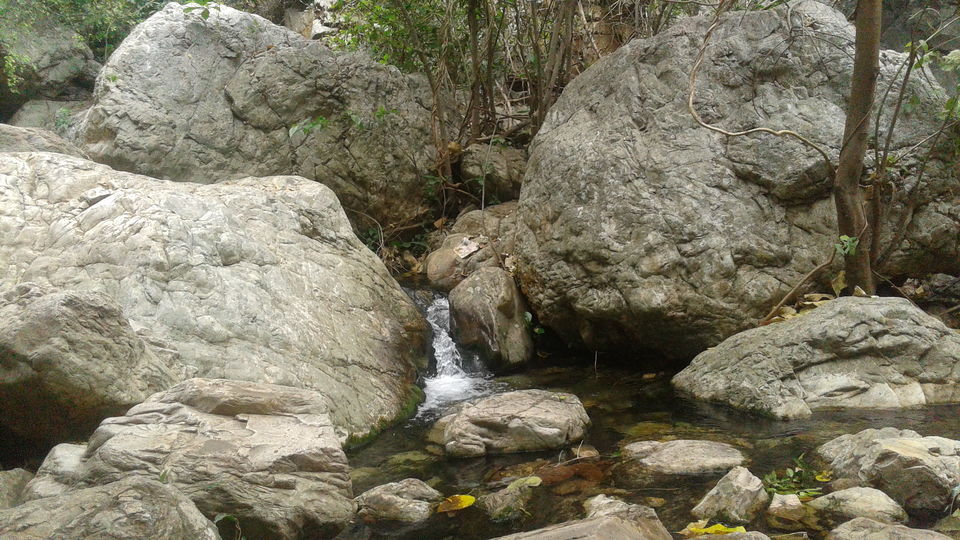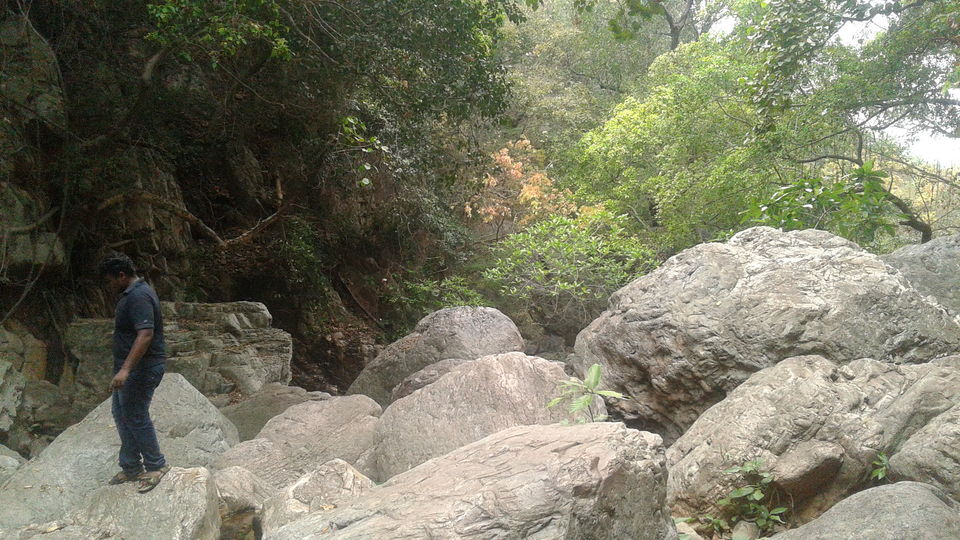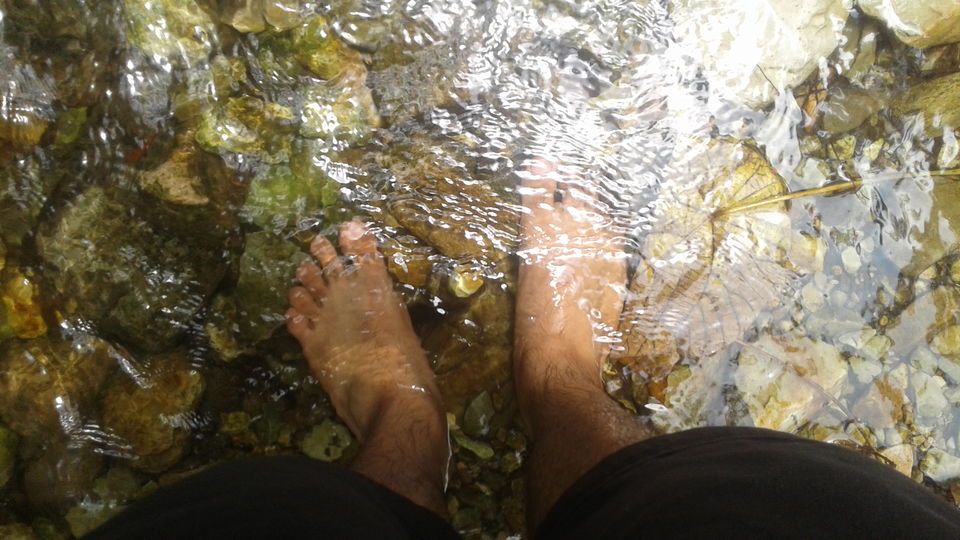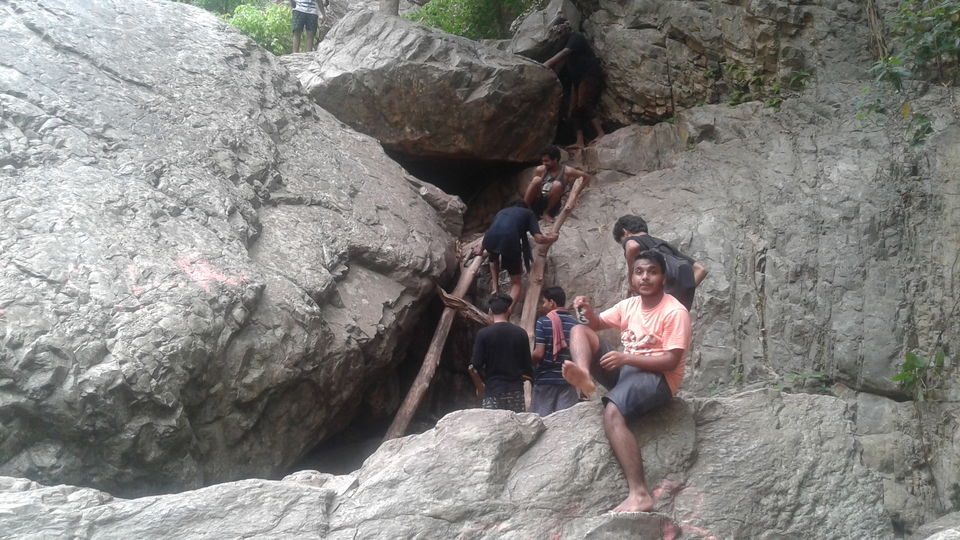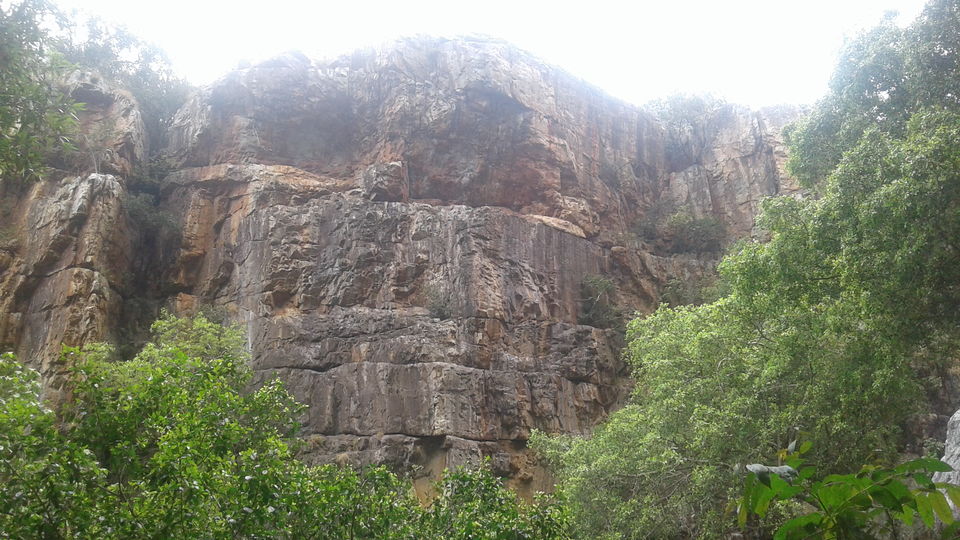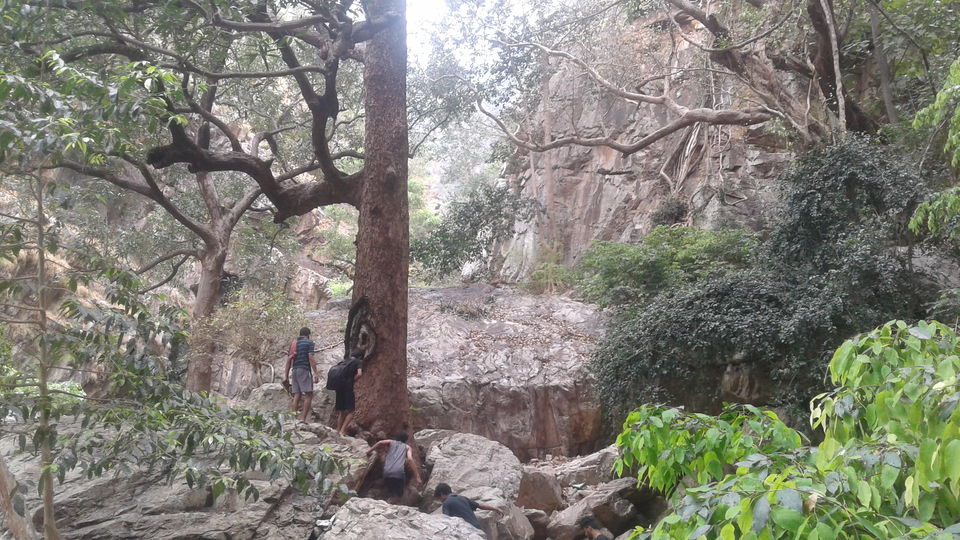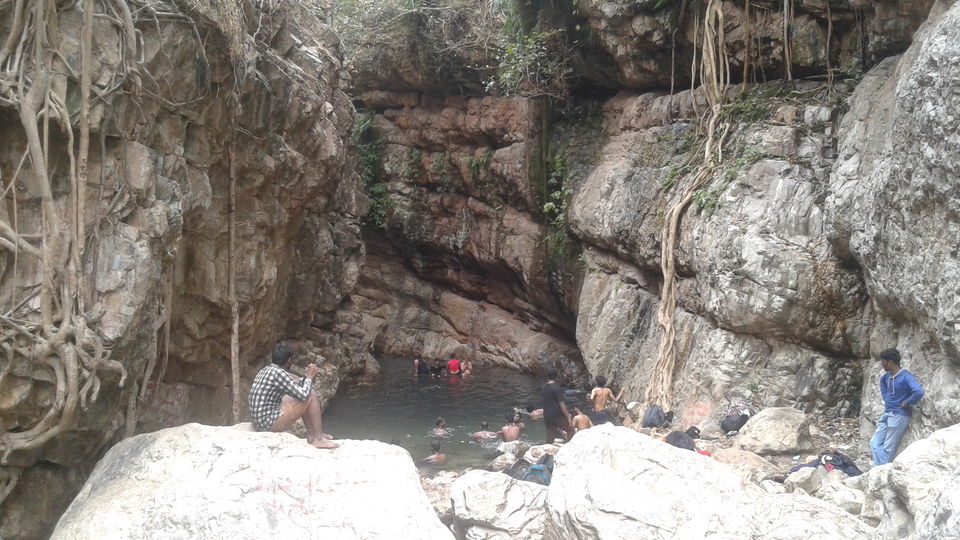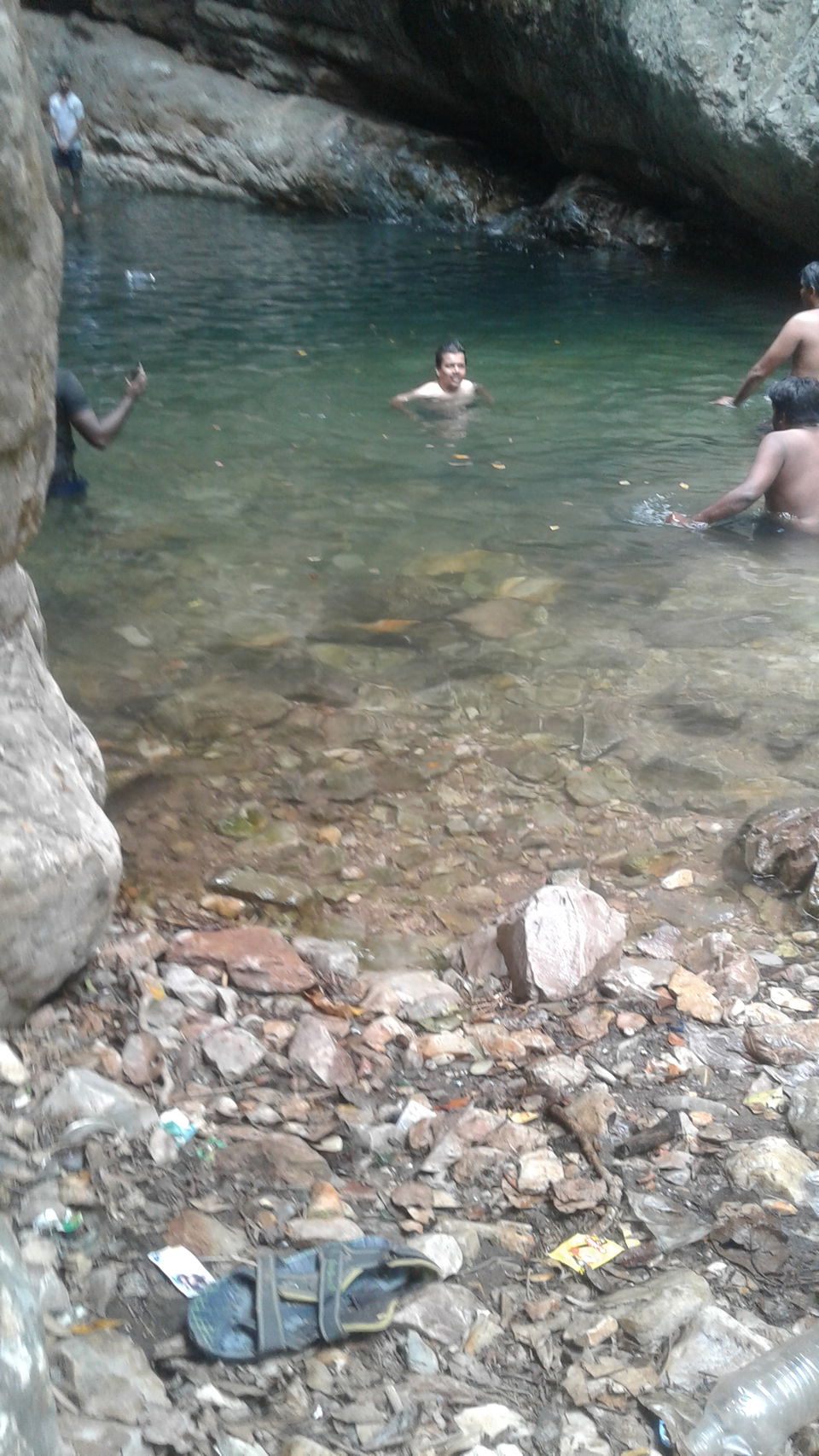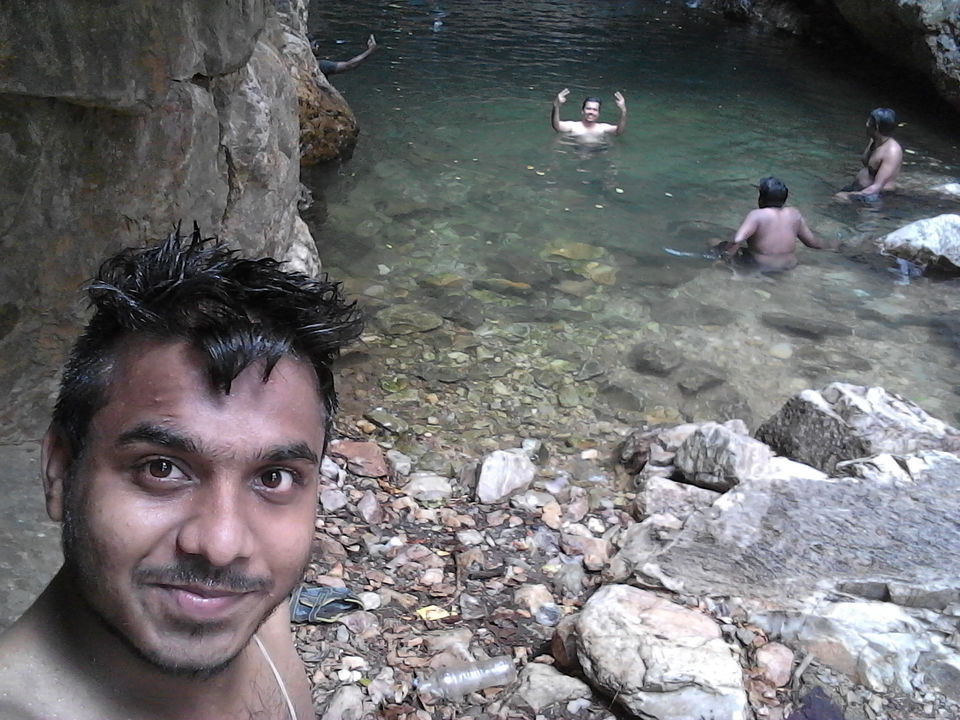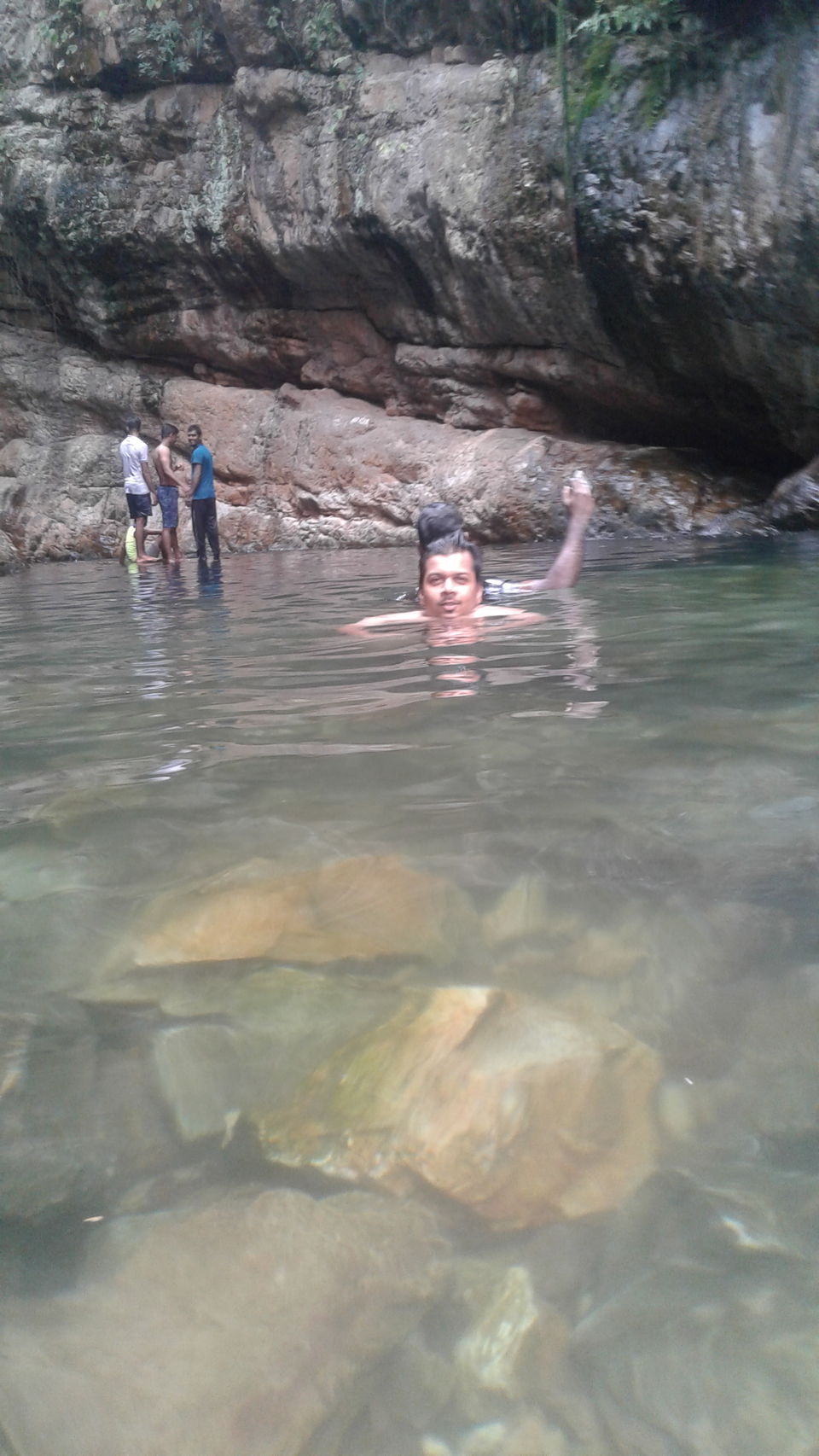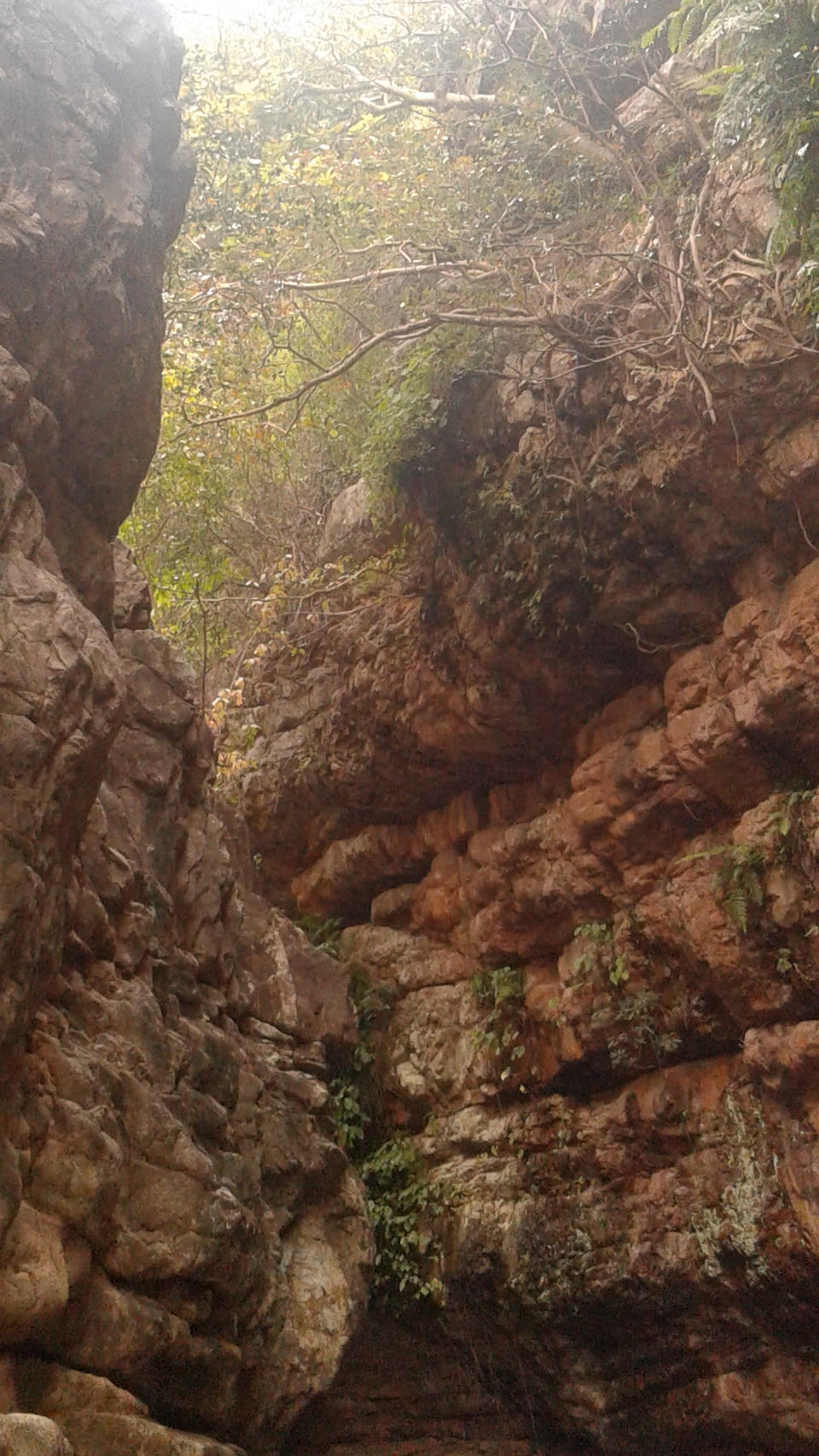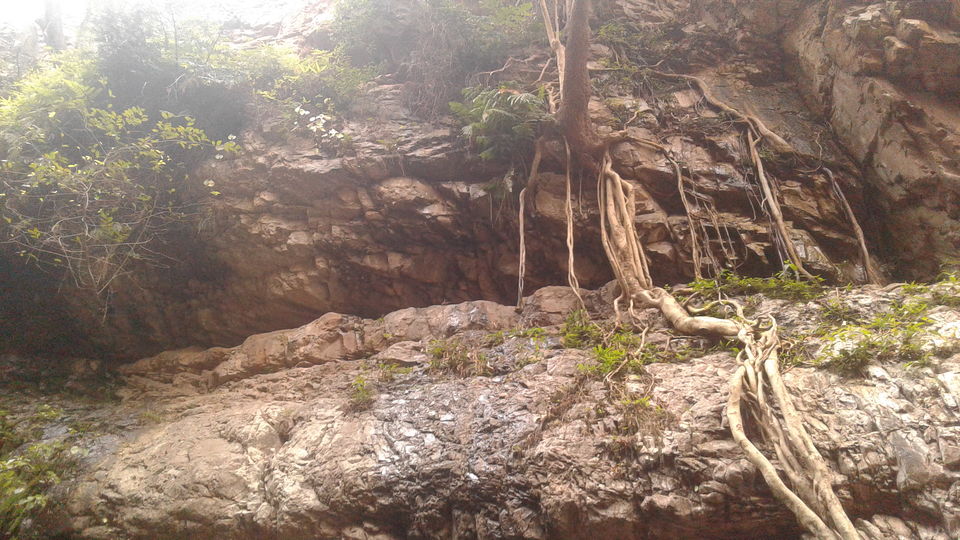 Camping and Trekking
Once you have reached Basecamp the trek begins. The total trek distance would be about 10kms to and from with nearly 4kms in real rocky conditions. From here the mud road begins and if you are on SUV or two wheelers, you can go for another 1km.
There are also man made pools at the base camp where you can enjoy especially if you are with your family.Its a good place to picnic there.
if not then keep walking ahead ...
Just after 150mts or so, we reached the place where we had to cross a water body. It was just a small stream.
A small word of caution: Don't get excited on seeing the water and get into it with your shoes on. It will become really tough to trek with wet soles.
Once you cross this small stream the walk continues till you reach a mud-path. Just follow this mud-path and you will first go up the hill and then down the hill. It is quite tricky to follow the path as in some places only rocks are seen and there is absolutely nothing to indicate a path.
Keep walking along the mud-path and you will cross another stream. Continue walking on the mud-path and around 30mins later you will reach a Siva Temple. This is the last place where you can sit comfortably and have food, if you haven't had any so far. You can call this BaseCamp 3, if you want to. If you don't reach the Siva temple within an hour and half of starting the trek, then you have lost your way. Use the time tested method of following the stream and proceed.
After this point there is no proper path and you have to rely on the direction shown people who are around the Siva Temple. You have to cross the stream and then look for a path. You will find a small clearing and this might help you on the way forward.
From here on, the trek starts to become difficult. You encounter rocks and millipedes on those rocks on the way forward. (Remember to listen for the stream from this point on. This would be very helpful.)
Some of the rocks are pretty big and it would help if someone who is a good trekker is around. You have to climb nearly 10ft at times and some of the formations are also difficult. There should be two falls, but only one is found during peak summer before the rains have started. Climb up the first waterfall and you will see a natural Pool,
Be careful though as to not go much further if you do not know swimming as it is deep, else you will enjoy and relax in that cold pool water.The feeling is amazing.
The Day is incomplete without a Camera to click the Crystal clear Waters and a joint to light!
The ideal time to visit Tada is between August-December when the sun is a little less intense. The worst time is March-June.
Keep around 2:30hrs for the journey back. It will be tiring, so give yourself ample time and also take rest wherever needed. Drinking water becomes a luxury and so you can fill the bottles from the streams. This trek isn't for someone who doesn't enjoy walking on the rocks.
You can take the same way back to reach Tada village from the Tada Falls. There on you can either take a bus, train or cab back to Chennai or Tirupati.