It was all started with our wish to visit Hampi together and we never knew that it was our last trip before lockdown!
We were looking for the right time to visit Hampi so that we can experience the actual beauty of the city of Heritage sites of stone monuments.
So far we had done many trips throughout the year and considering the budget trips we had brainstorming. After an agreement over a thought of a year-end trip, we end up with an agreement to hit Hampi along with Bijapur(Vijayapura) and Badami.
Decided!! And we started drawing the outline of the trip over a rough paper with dates, leaves, places to visit, hotels to stay, transportation, local transport, food budget, etc. (picture below).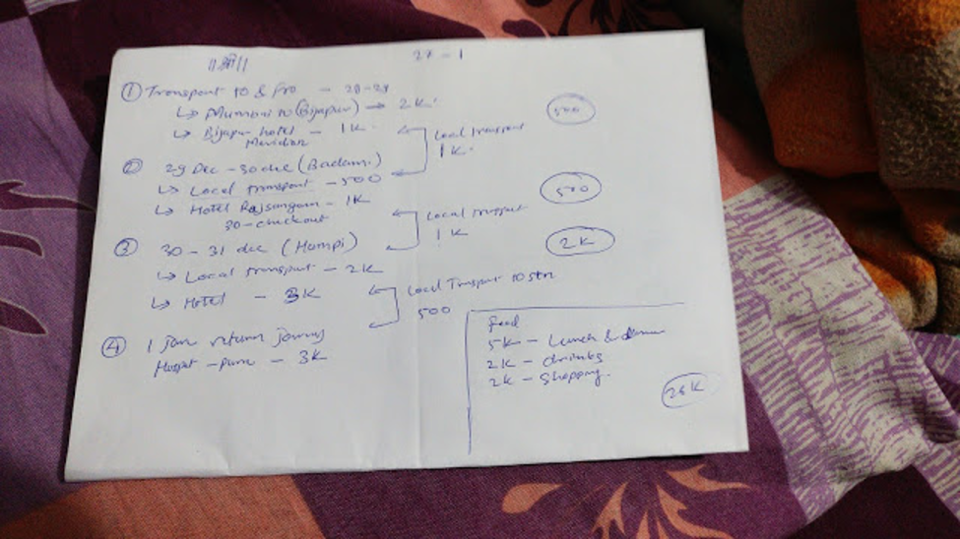 All I would say it's teamwork that we do always and share tasks. Of course, sometimes we may not be on the same page but in a relationship, this is the key element that how you accommodate or adjust each other's thoughts.
We initiated the sequence to cover these 3 cities in an adequate time which should leave us with the satisfaction of visiting. After a couple of combinations, we finalized a straight line i.e. Bijapur - Badami - Hampi.
Accordingly, we booked train tickets heading towards Bijapur. Bijapur is a small city that can be covered in a single day so we booked the train tickets for the next day to Badami. From Badami to Hampi (Hospet) we were not sure about the mode of fastest transport. But the final destination was Hampi so we booked the return ticket from Hospet (Hampi) to Mumbai by road with the well-known travels which were the fastest and budget mode.
So we were almost done with the transportation part. Now we started fetching hotels which should be nearby the monuments or in a prime location. As per our interest, we booked 4 different properties for 4 days within a budget less than Rs.1400 including breakfast. Now we are all set to pack our bags and go.
Finally, the day has come and we hop into the train which was on time and we reached Bijapur on time.
We caught an auto to Hotel and during the travel time, the auto driver placed his suggestions and offered his proposal for one-day sight-seeing with a minimal budget (600Rs). We took his number and let him go with an expectation our hotel might provide a more good deal. But the auto driver's deal was much better and we called him.
Day 1 (28-Dec-2019)
After getting fresh the journey started towards the City of Victory – Vijayapura (Bijapur).
We covered almost all signature monuments of the city such as Shivagiri Temple, Jamma Masjid, Anand Mahal, Mulukh Maidan cannon, Gagan Mahal, Jod Gumbaz, Taj Bawadi, Ibrahim Roza, Bara Kaman, and Gol Gumbaz. Looks like many locations in numbers but all can cover within 3 to 4 hours as these are nearby each other and at some placed minimal entry fees they charge (30-40Rs).
The giant sculpture of lord Shiva at Shivagiri Temple, scenic Ibrahim Roza and Gagan Mahal and mysterious ancient marvel Gol Gumbaz is must visit a location.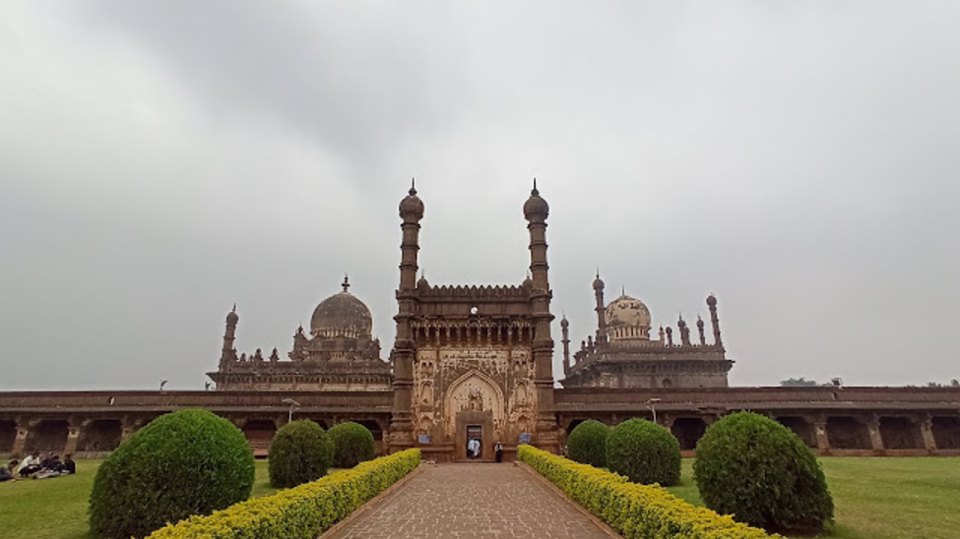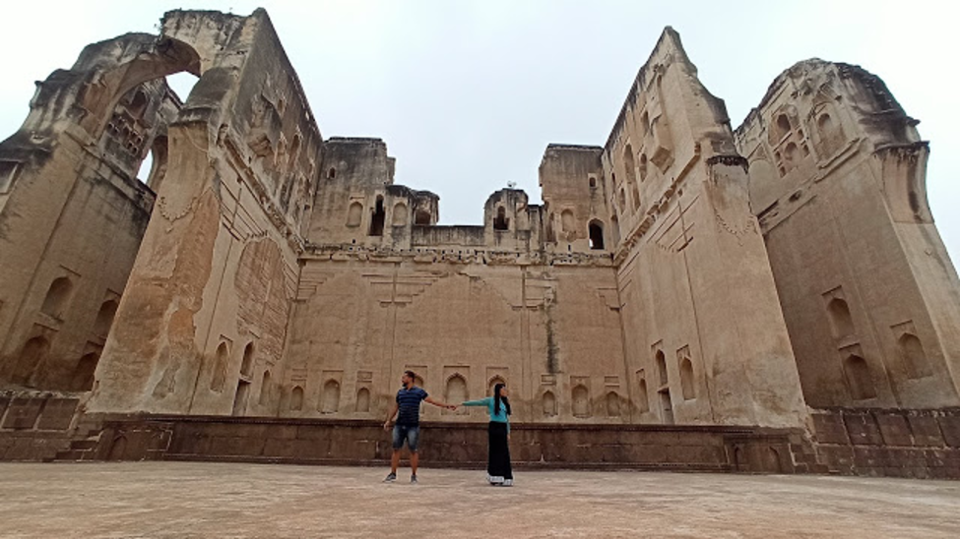 Day 2 (29-Dec-2019)
We checked out from Bijapur and caught the train towards Badami which was a 2hrs journey. Again we did the same exercise of sight-seeing budget bargain, which ends up with a day round trip with minimal cost (800Rs) to the City of Rock-cut structural Temples – Badami.
Here we started our journey late (1PM) due to train delay. So far we cover some signature places in Badami such as Aihole, Pattadakal, Ravanphadi, Agastya Lake, Bhuthanatha Temple, Badami Fort.
Badami is a pleasant place and we couldn't cover all in a single day as the distance between these places is quite long (approx. 20-25KM) and monuments are vast in size and space to explore full of it. Indeed had satisfaction what we covered was eye-pleasing and memorable.
Above mentioned all locations have their own history and rock-carved beauty that one should not miss seeing with naked eyes. We would suggest you keep your 2 days to explore Badami city and absorb its energy fullest.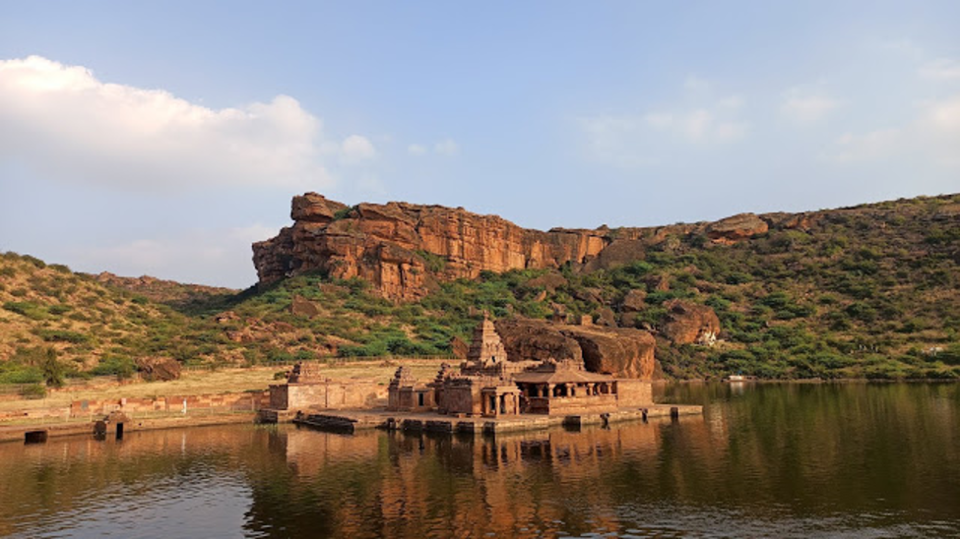 Day 3 (30-Dec-2019)
Considering the fastest and economy traveling mode we preferred to go by local bus from Badami to Hospet early morning. Hospet is the nearest prime location to Hampi from where you will get ample of options to stay, food, drinks, transport, etc.
Frankly speaking here the transport mode was economy but not at all even fast. As local bus stops at each and every bust stand on the way. It took us around 4 and half hours to reach Hospet (approx. 140 km). We would suggest you to choose direct transport instead of a local bus.
We observed, local Auto drivers were struggling to speak Hindi and rates for sight-seeing they quoted were dynamic and expensive.
Fortunately, one Auto-driver appeared from nowhere and agreed to give a good deal for 2 days round trip from the hotel to places at (1300Rs.) And yes, he could manage to speak Hindi and the journey begins to the City of World Heritage Sites – Hampi.
As we started late in the afternoon (2:30PM) we were left with a few hours to cover as many locations before sunset.
So far we covered Ganesh Temple – gigantic rock-carved Lord Ganesh Idol, Virupaksha Temple, Hampi Bazaar, Achutaraya Temple followed with short but unexpected rock climbing trek to Matanga Hill. Watching the sunset from Matanga Hill completed the Portrait of a golden shade of Hampi we never imagined.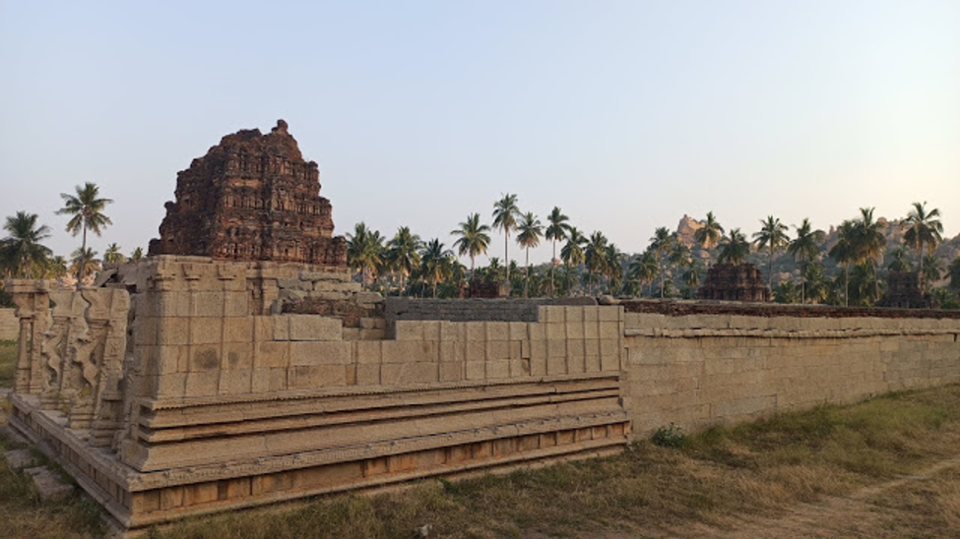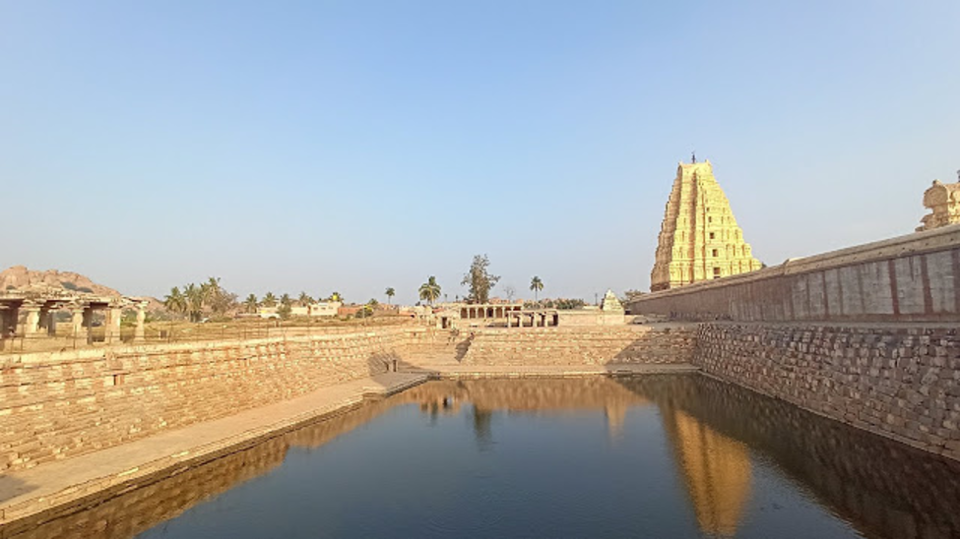 Day 4 (31-Dec-2019)
On this day we started an early journey to the signature heritage sites such as Vijaya Vitthala temple where the point of attraction was the Stone chariot. It's a walkable distance from entry point till Temple, also provide electric mini bus over a minimal charge of 40Rs. round trip. We would suggest you prefer a walk as you will get to see some more monuments on the other side of the road.
Later we covered some more places such as Pushkarani, Step tank, Lotus Palace, Elephant Stable, Hazara Rama Temple, Underground Shiva Temple, Ugra Narasimha, Badavi Linga, Sasivekalu Ganesh Temple, Kadalekalu Ganesh Temple, Hemakutta Hil, Hippie Island.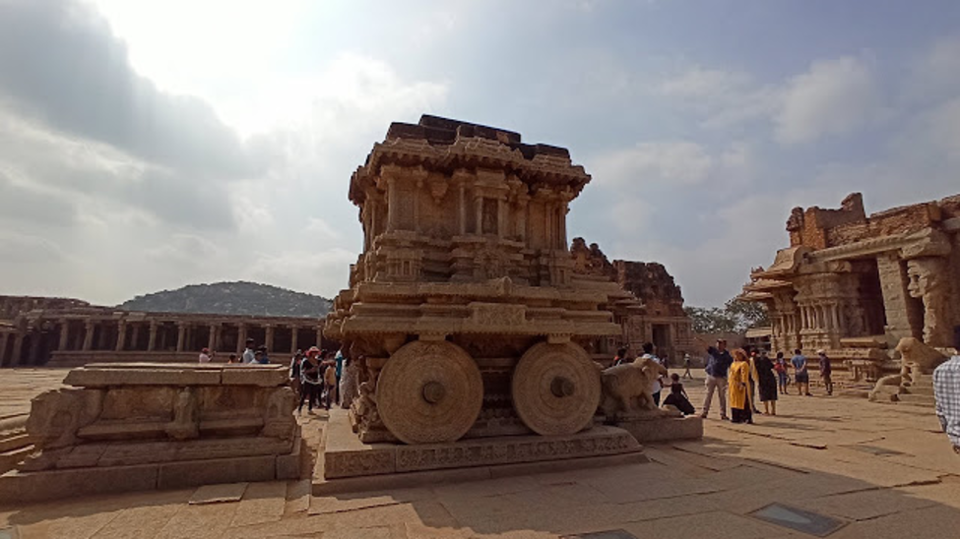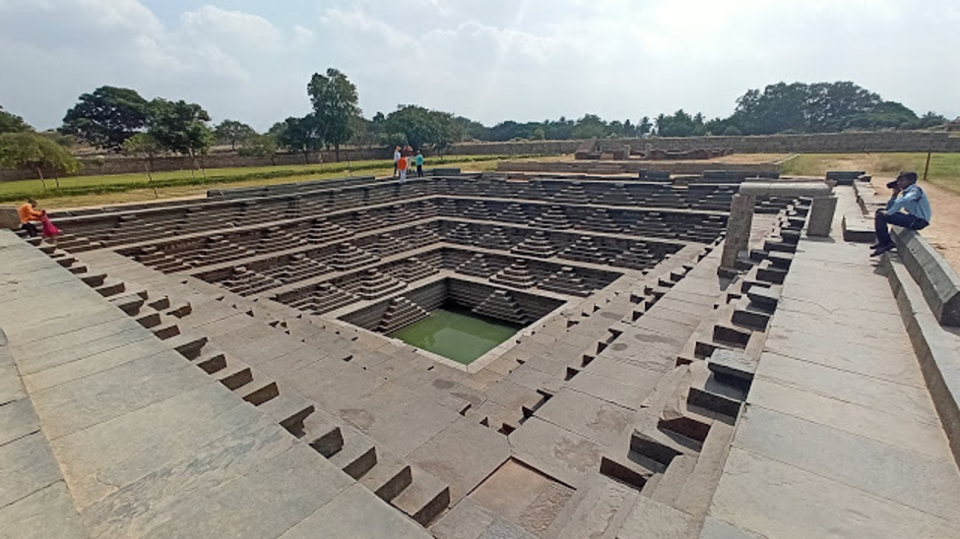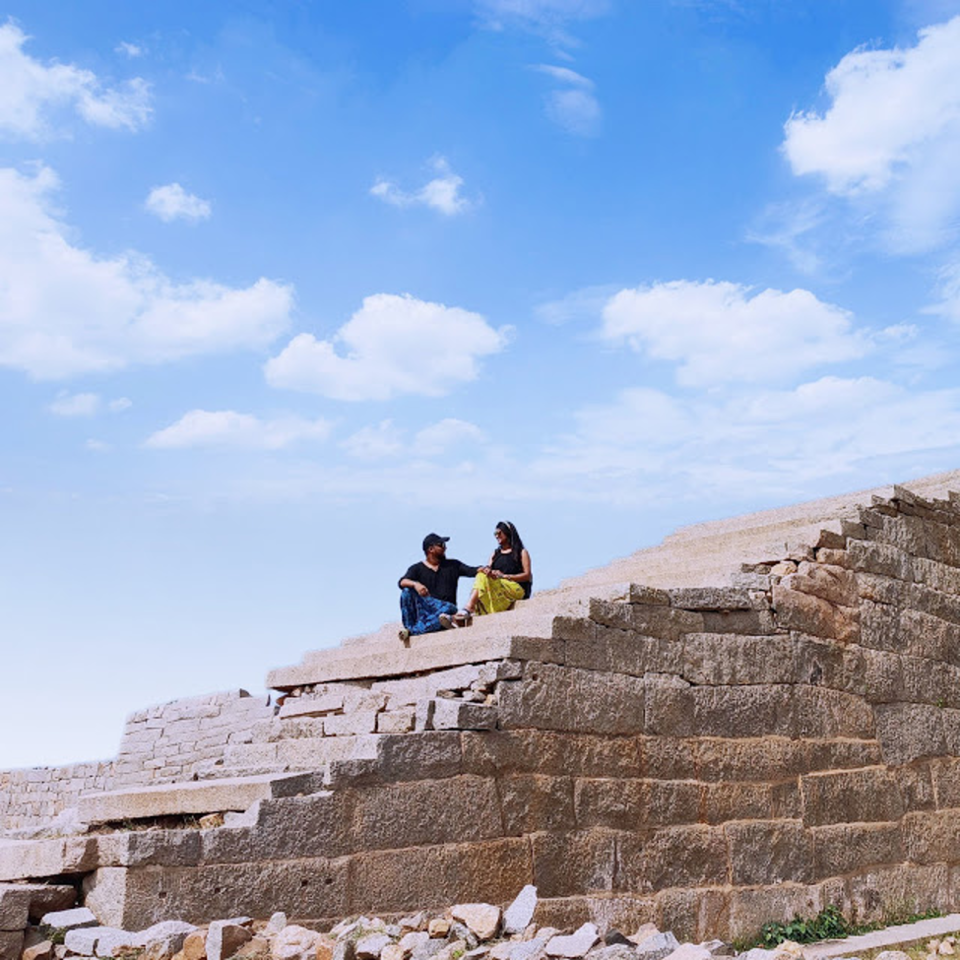 This is all about our Year-end trip, which was full of adventure and memories, and yes it was pocket-friendly too. We managed to accommodate all expenses within 17K-18K without compromising on food and stay. The food options are ample and cheaper which will leave you with fully satisfied stomach ????.
You will find too many restaurants, stalls on the street which serve testy food if you are not fond of hygiene. We would suggest you try Biryani Kushka, Gol Bhajji, Kerla paratha, Rasam Rice.
The idea behind writing this blog was you to understand the way of planning and executing a 4-5 days trip on your own. The places we visited you can also fetch from the internet, but the sequence and the right time to visit matters a lot. We are not saying that we are good planners as we also failed sometimes but we learned and we loved to share our experience with you.
We hope things will be better soon and we will be ready to fly again!
Keep Rocking! Keep Roaming! And make memories for a lifetime!