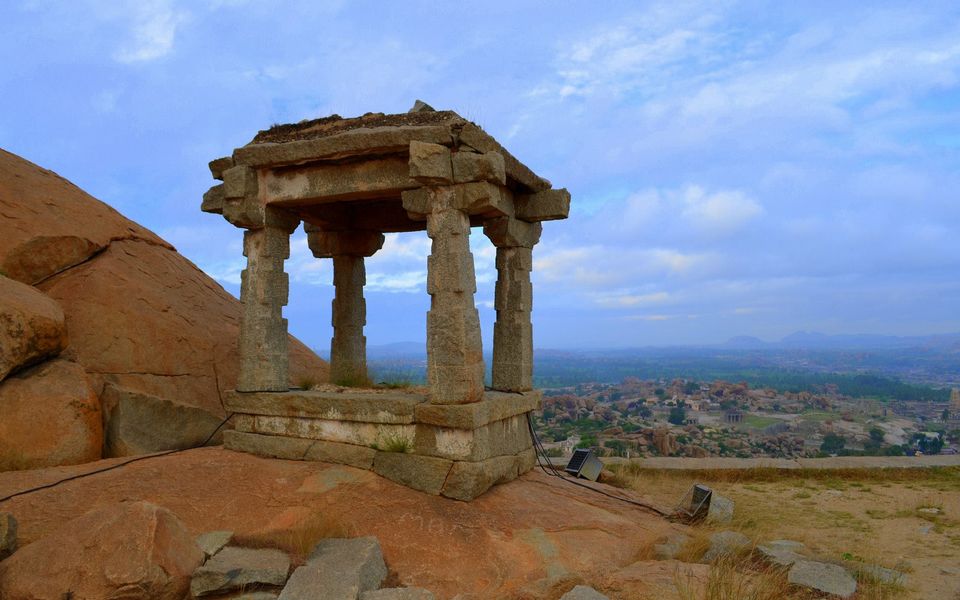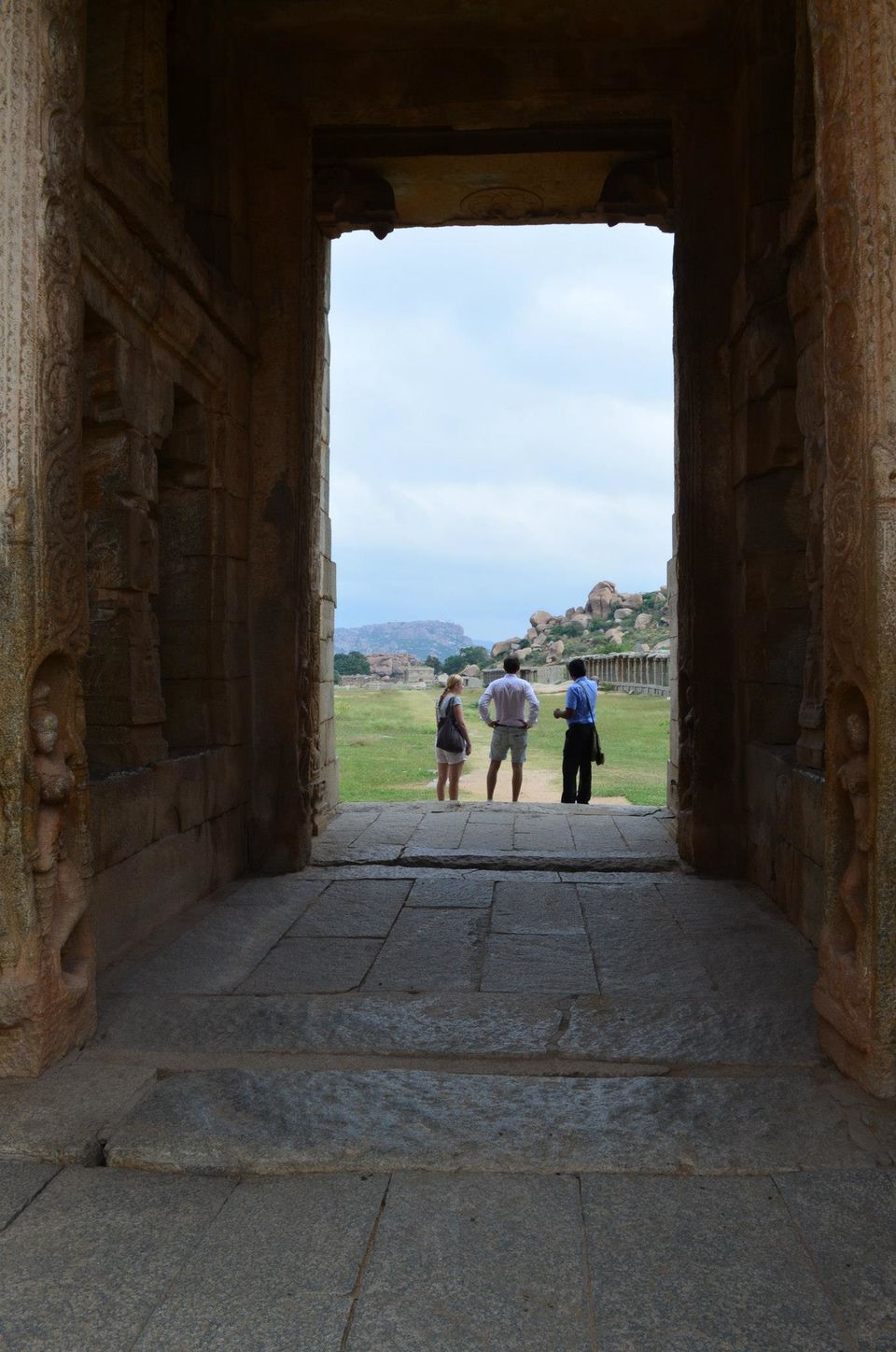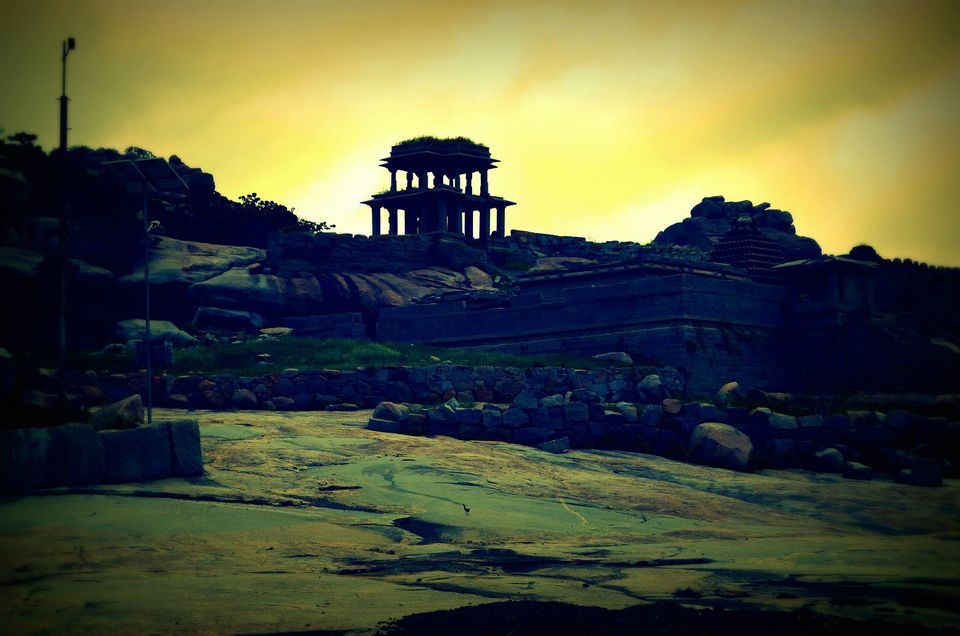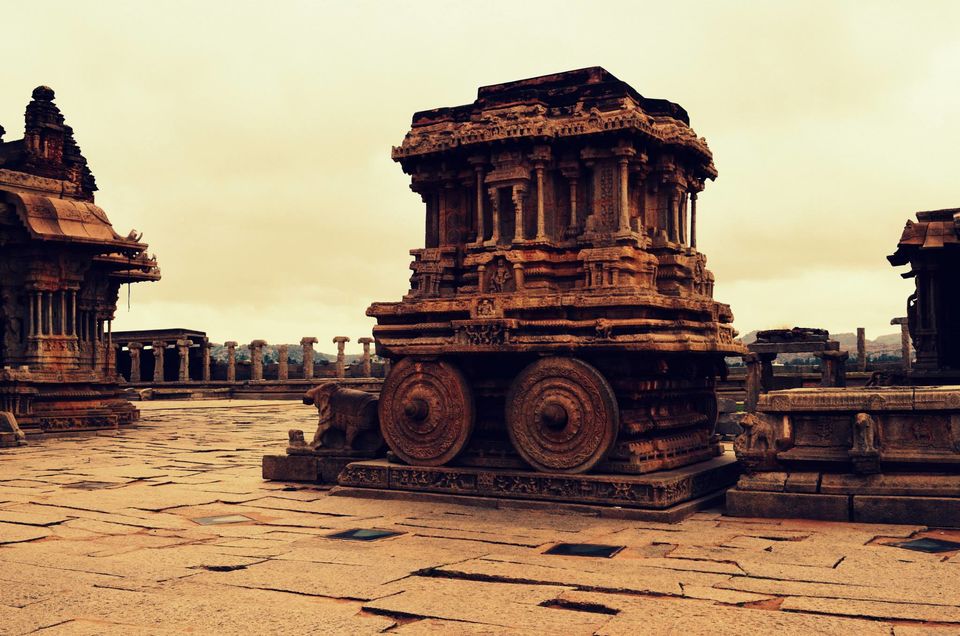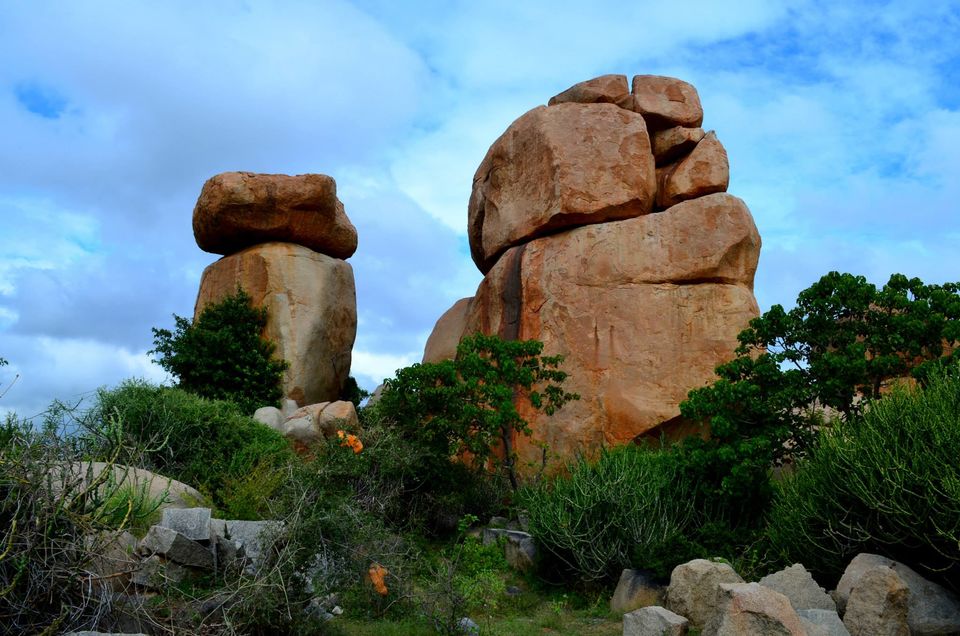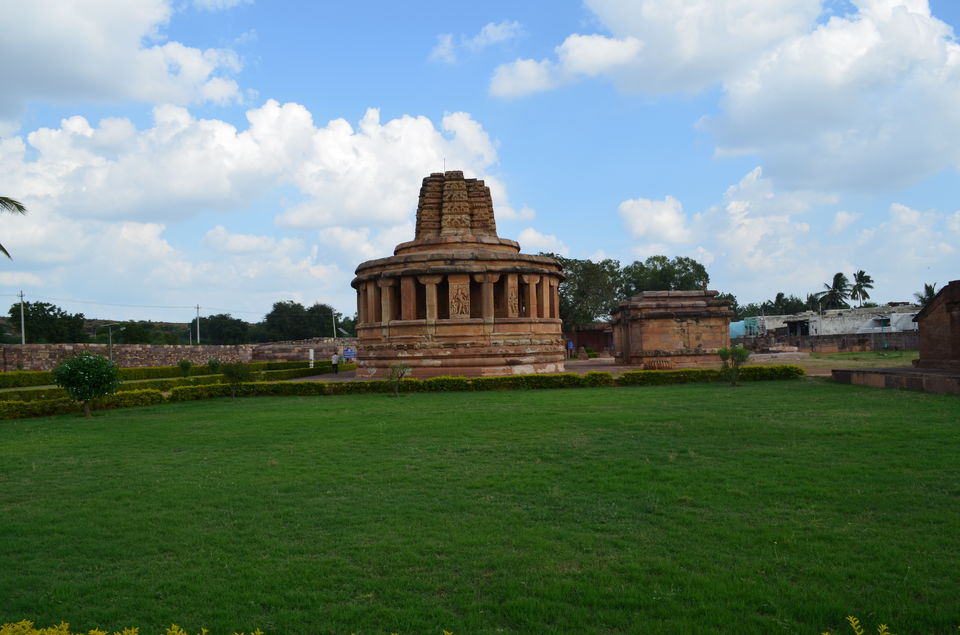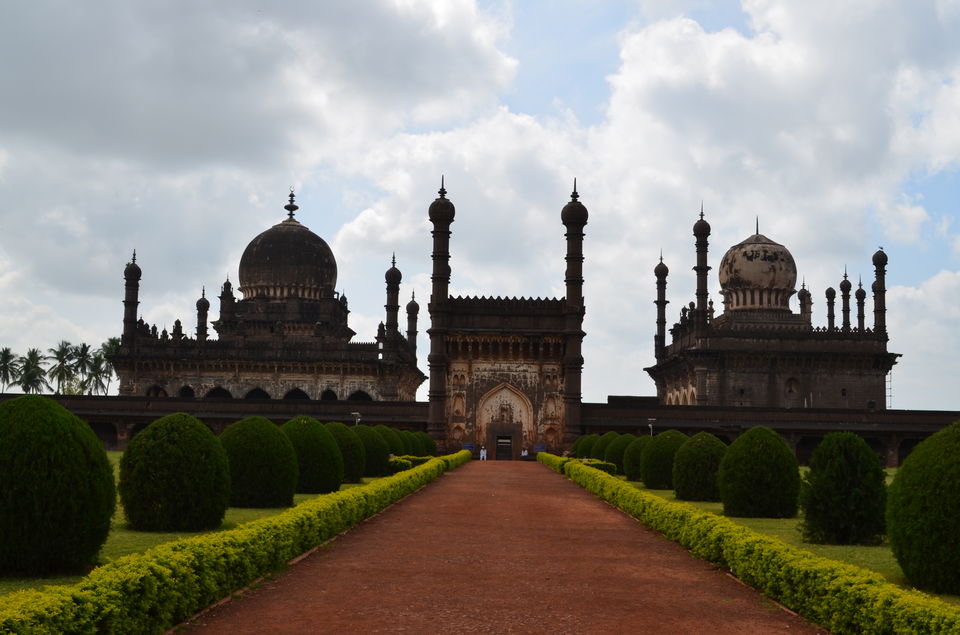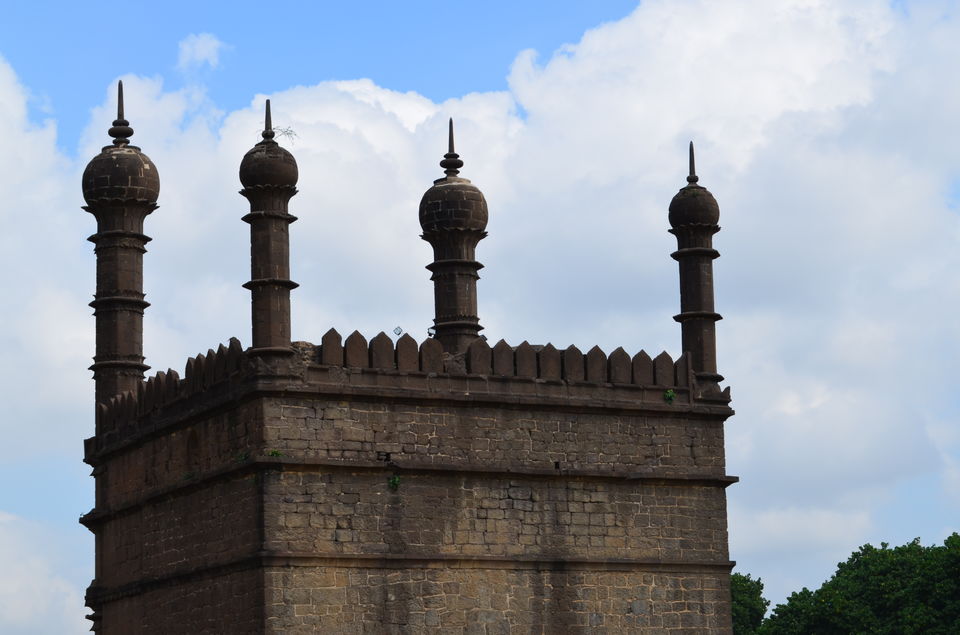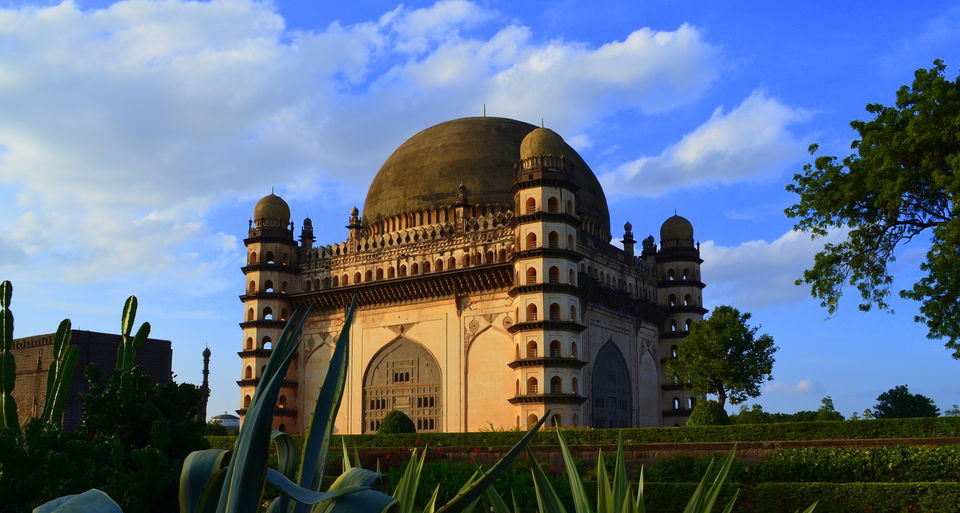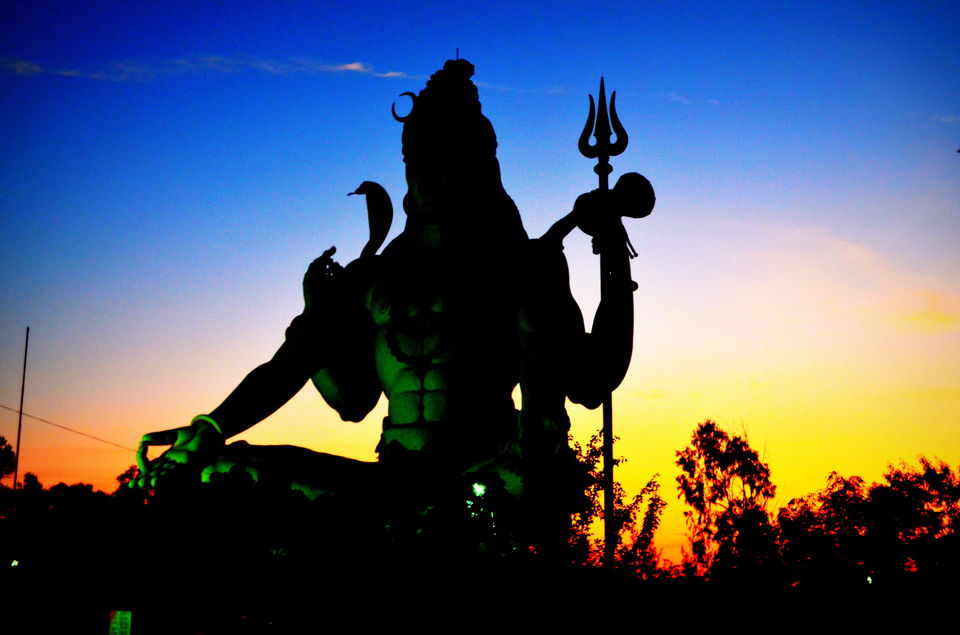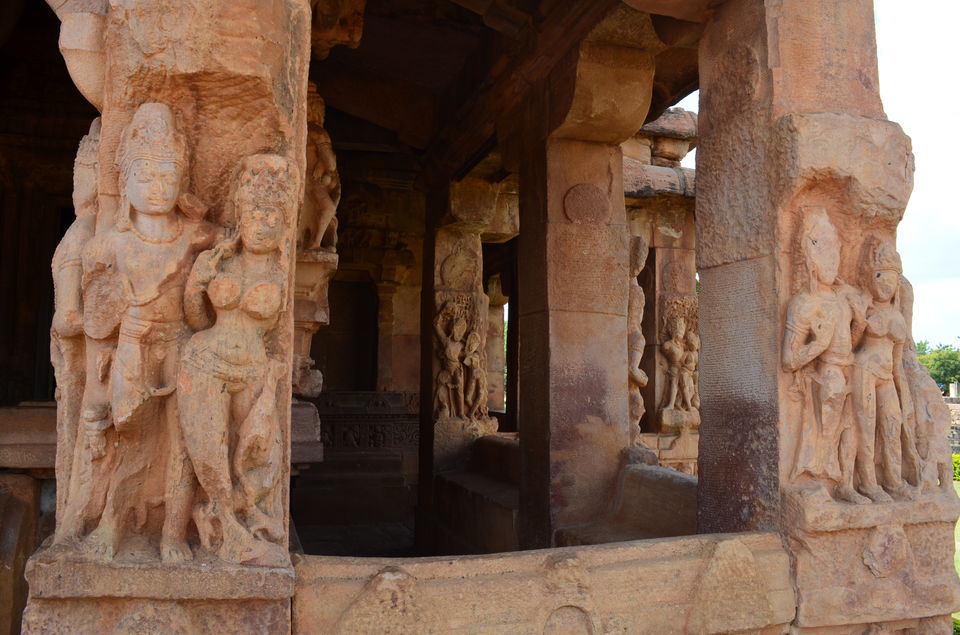 A solitary Walk through Heritages of Karnataka - Part 1
The feeling that traveling bestows, lies above any comfort and happiness. It teaches me more than any text book could ever do. Every place has a story to tell, and I want to reach everywhere to listen that stories. The wind dancing with the foreign trees, blowing in that newest place, gushes from the window slit of bus you never boarded before, with a co-passenger you'll probably never see again, I just wish the road never end, I just wish I keep going on.
This time it was the call of Architectures of Ancient India which my heart couldn't defy. The places to go are abundant but time in hand is limited. Thus, in this trip I took over Mostly the extravagantly rich ruins of enchanting Chalukyas dynasty, the ruins of most flourishing kingdom of Vijayanagar, and some of Adil shah's magnificent engineering, all situated in Karnataka, India.
Few key points:
Type: Solo
Starting city: Bangalore.
Places covered: Bijapur, Badami, Pattadakal, Aihole and Hampi.
Transportation type: Public
Number of Days: 4 days
Month of Travel: November
Temperature: Moderate hot
Language: Managed with Hindi
Studying the travel availability from bangalore and local transport among different places I've listed in my itinerary I decided the sequence as Bangalore, Bijapur, Badami, Pattadakal, Aihole and Hampi. After several researches on internet eventually, I planned this sequence of progression. I just have two tickets booked for me. Bangalore to Bijapur in Basava Express and Hospet to Bangalore in Hampi Express. Rest all "On the spot" and unreserved. :D.
Well, so now let's start a solitary amble through Heritages of karnataka. I will try to cover the travelling means from different places and not much of details of the places I will cover because you will find abundant infos about the places on internet.
Day 1: Bangalore to Bijapur: It's an overnight journey from Bangalore to Bijapur. I opted railways for this journey. The Basava Express has the perfect timing, leaves Bangalore at 5:00 PM and reaches Bijapur at 10:00 AM.
Day 2: I woke up to a new place among new people. As anticipated my train reached Bijapur at 10:00 AM. My plan was to cover all the places of Bijapur today and early morning tomorrow leave for my next destination. Thus, first thing I did was headed towards bus stop in a shared auto from Railway station. Bus stop is around 3 KM from the railway station. Shared auto charged me Rs. 10 for that. At the bus stop, which is really big and maintained, I inquired about the bus to badami from Bijapur. Unfortunately there was no direct bus. I had to go place named Kerur and from Kerur to Badami. The good thing was that the buses start leaving from Bijapur 5:30 A.M. onwards. In the vicinity of Bus stop, there are many hotels, I checked in one just opposite of the bus stop for tonight. I had following list of places to be covered in Bijapur.
From the time you step in Bijapur your eyes is caught by the magnificently situated Gol Gumbaz at the right of Railway station. Based on the location of all these places I planned the traversal as Ibrahim Rauza, Malik-E-Maidan, Uppali Buruz, Barah kaman, Jumma Masjid, Gol Gumbaz and Shivgiri Temple. From my hotel I left at 11:00 AM, hired an auto for Ibrahim Rauza. Such a serene place it was. Clean, maintained, beautifully built. WOW. I ambled around and took lots of photographs in my DSLR. They charge you an entry ticket priced at Rs. 25.
From there, I knew Malik-E-Maidan was walkable so kept asking people and walked through the unknown streets. Malik-E-Maidan and Uppali Buruz is just 200 metres away. At the top of Uppali Buruz, I met an old man who offered me his knowledge and importance of this very place in return of some cash. I sat next to him and gave all my ears to his voice. As, I descended from Uppali Buruz there was a Horse Cart (Tonga) waiting for a family who hiked to Uppali Buruz just after me. The rider offered me a ride to Barah kaman along with the family at much lower cost to which I readily agreed. Barah kaman is an unfinished masterpiece. It's literally huge. There I met a security guard and bunch of college students who happily educated me about the place, its name and importance in history and in return ask me where I came, why I travel alone, etc. I had my lunch in that area and from there boarded a bus for Jumma Masjid, situated almost 2.5 KM away. Well, I knew a bus would take me there because the security Guard at Barah kaman said me that. Jumma Masjid was another masterpiece in archive. Silent, gigantic and pious. Many people would take afternoon nap on the huge extended floor of the mosque.
After that I left for Gol Gumbaz in an auto for 30 bucks. Stayed longest at this place as the place won't let me leave. Beautiful monument placed beautifully in a maintained garden. I Left the place when it was almost the time for sun to gradually hide itself behind the red horizon. As i stepped out of gol gumbaz, i was surrounded by horse cart riders, offering ride to Shivagiri, explaining me how awestrucking that place is. I negotiated the fare with one of the rider for to and fro journey, as you don't get any means to return from there. I asked him to wait for the time I would wish to stay there and then drop me to my Hotel. With leisurely ride on the horse cart I reached Shivagiri, the gigantic statue of Shiva is visible from miles away. I sat there unleashing all my exhaustion seeing the beautiful scene of sun setting beside the Statue of shiva, as if Shiva took over sun bit by bit. I was left perplexed with the sight, endless red sky in the background gradually besieged by the dawn and a tall and handsome Shiva stood in front like a savior, like a messiah. Whole day's exhaustion was replenished by the energy of the sight. I left the place when it was already dark and the street ahead was without streetlamps, filled with melancholy silence, fuzzy surrounding and the ceaseless sound of the wooden cart revolving on the newly tarred road. My first day of trip ended in much contented way as the horse cart reached the bus stop, near which I booked my tonight's stay.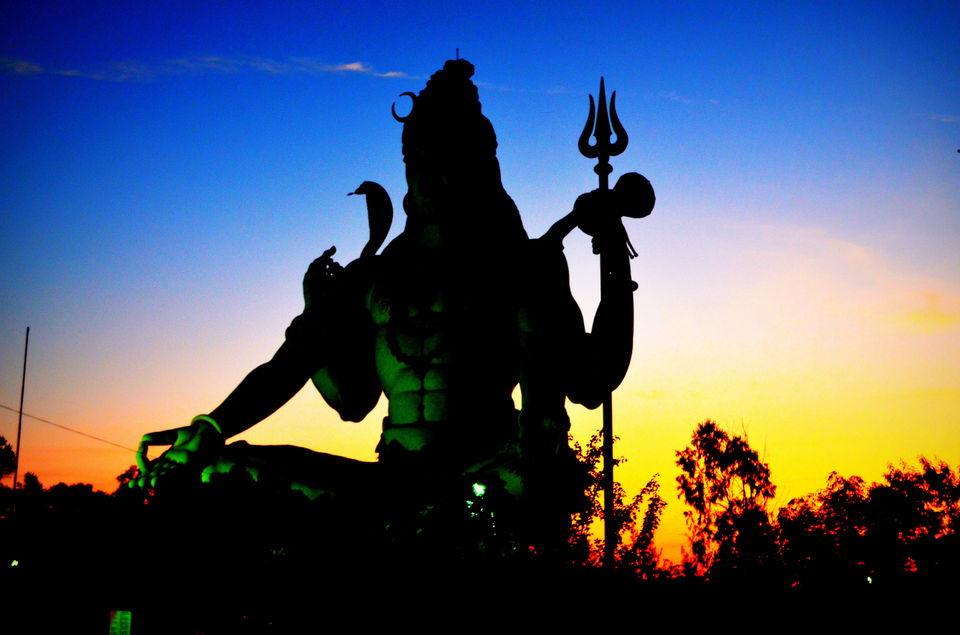 Har Har Mahadev.
Before retiring for the day, I scheduled tomorrow's trip and its progression.
Day 3: At 6:00 AM I made myself available at the Bus Stop and boarded the bus for Kerur. Its 120 KM and approx 2 hours ride from Bijapur roads being good. On either side of the road runs a sea of sunflower gradually catching up the rising run on the firmament. It was an amazing, amazing journey and I wrote this on the way to Kerur.
Red maroon horizon stretches in far,
a clear blue sky above,
dancing sunflowers runs along the street,
through Window slit cold breeze shove.
A regional music goes on in bus
I don't understand but I don't mind...
I am lost in nature, talking to self
I'm listening to song tuned inside.
I reached Kerur by 8 AM and had to wait for 20 minutes before the bus for Badami arrived. Badami is 24 KM away from Kerur. Meanwhile, I had a cup of local tea and a packet of Britannia cake I carried along with me. It was roughly an hour journey through the country side. Gradually the barren lands and agricultural fields transformed into roofed houses, Facades advertising hotels – heralding my destination. Initially I had planned to return Badami after touring Pattadakkal and Aihole and stay for the night in badami and make forward journey to Hampi next morning but interacting to different locals at the Badami bus stop I changed the plan. I planned to land myself in Hampi tonight, so I started covering places in Badami. I had following list of places to be covered in Badami.
Badami Cave Temples,
Agastya Lake,
Bhuthanatha Temple
Before starting for the places I confirmed the timing of bus leaving for Pattadakal. It was at 11:00 AM, which leaves me with 2 hours at Badami. I started with Cave Temples; it is situated at almost a KM from bus stop so I started walking towards it. The fineness of sculptures on and inside the cave will leave you awestruck. And beside that the tranquil Agastya Lake holding the beautiful reflection of cave will take your heart away. I couldn't move from the place until suddenly I remembered the bus timing for Pattadakal. Giving "Bhuthanatha Temple" a miss, I rushed to the bus stop in an auto-rickshaw. Bus for Pattadakal, situated at approx 18 KM away left at 11:00 AM. It dropped me to the Pattadakal heritage site before it was noon.
Pattadakal heritage site is a huge space spreading in an area twice of international football ground beholding one of the finest arts one can ever see. Whatever pattadakal is famous for, resides in this site. You don't have to travel anywhere else. Chola Architecture at its best. In front of the site you have few shops selling eateries. Now, Aihole is 12 KM away from Pattadakal but communication is a big problem, just 2-3 buses in a day. I waited for sometime at the pattadakal bus stop which is just opposite to the site but found no sign of bus. I asked to the local people and security guards at the temple site and learned that there's no bus at this time. Finally came an auto. I talked to him and negotiated for the trip to Aihole. Unlike Pattadakal, in Aihole temples are scattered in an area of 7 KM, knowing this fact, I negotiated with the auto driver for going Aihole, covering all the temples and eventually dropping at Aihole bus stop. We both agreed at 200 bucks and I left for Aihole.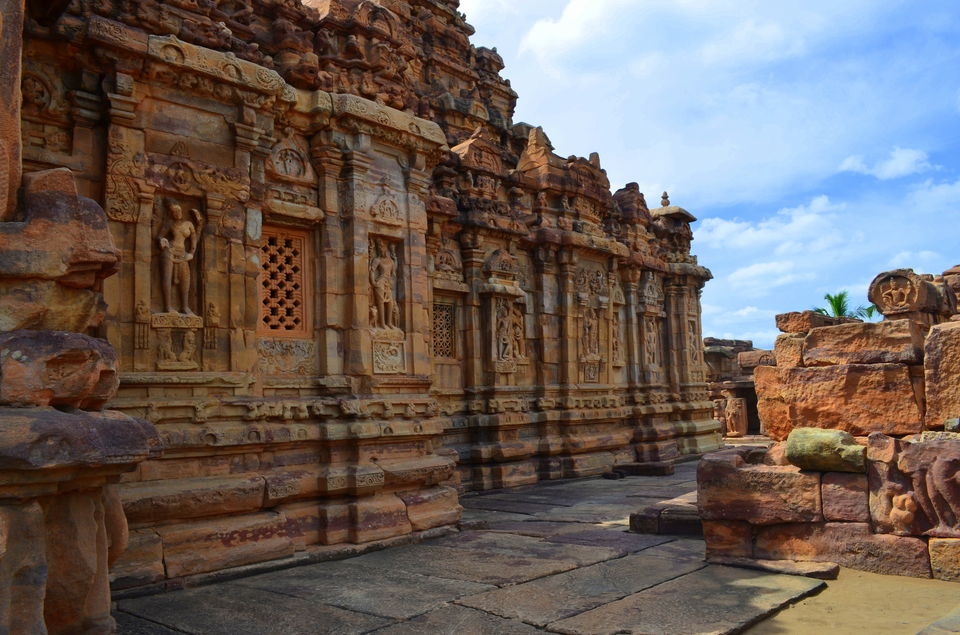 "Aihole is considered a School of Architecture, Badami a Degree College, and The University of architecture is Pattadakal." – Wikipedia
Beauty of Aihole is what makes my heart suffer wanderlust. I travelled to many temples in and around Aihole and finally stayed at main temple for longest. Apart from temples we can see remnants of once a civilization flourishing history in Aihole.
Now my next destination is Hampi. Talking to many people about how to go I finally followed as: Aihole to Amingad(13 KM) to Ilkal(30 KM) to Hospet(91 KM) to Hampi(13 KM).
I left Aihole at 4:00 PM and reached Hospet at 8:00 PM. From Hospet to Hampi buses runs frequently but only until 7:00 PM, post which the frequency is almost zero. I waited for an hour and eventually hired an auto to reach Hampi, clogged in darkness except the mighty Virupaksha temple which was visible due to the light placed at top of it. I managed myself one room for tonight near the temple. I had no advanced booking. There are many lodges available in that area. I checked in, got fresh and headed out for my dinner. Almost all the restaurants were closing by this time but I found one. The strangest thing I noticed was the number of Non-Indian tourists is many folds higher than Indian tourists. I had my dinner with few Russian folks and returned to my hotel.
Day 4: According to the plan for the day I made last night I needed to start early morning.
I left my hotel by 6:00 AM, walked towards "Matanga Hill" by asking people I met on the way for direction. First thing in the morning I had planned to hike "Matanga Hill", capture some shots of sunrise. I reached to the base of the hill but could not find the way to top for quite some time. Then I heard people talking and I followed the direction. Matanga Hill is not like normal hills, it is actually muster of rocks one over another, which make it difficult to hike. However, as the height is not very high it is not a dire task. Reaching the top will make all your risk worth. Entire Hampi is visible from the top of the hill. The mighty Virupaksha Temple, visible at the centre, Hampi Market Area, way to vijaya vittala temple, thin Tungabhadra River segregating the whole area and on the other side of the river we can see more hills and one of them having temple at the top, stairs of which are marked with while paint making it visible from distant far. I was not sure about going which place first, but the view from Matanga Hill helped me in doing that. After I descended from Hill, I walked towards the back of Matanga Hill along the old Hampi Market Area and Achyutaraya Temple. From there I walked towards Vitthala temple asking people for direction, it is almost a kilometer walk on the bank of Tungabhadra River. Vitthala temple is one of the most magnificent attractions of Hampi, being stone chariot a part of it. After spending almost an hour there, I leisurely ambled on the bank of Tungabhadra and walked towards the center of Hampi, towards Virupaksha Temple. Bus stand is located near main temple, virupaksha temple, so is so small market area. I had my breakfast, bought a map of hampi and started with second side of Hampi, first being Matanga Hill and area behind it (Vijaya Vittala Temple, Old Market Area, Monolith Bull, etc). Starting from bus stand I walked to various temples in the adjoining area like Hemakuta Hill Temples, Sasivekalu Ganesha Temple and Kadalekai Ganesha. Walking further for 200-300 meters we have Statue of Ugra Narsimha, huge Shivlinga and Krishna Temple. After that we've few more places situated at 3 KM from here. I started walking because the adjacent areas were so beautiful. I kept walking and asking people for direction, and reached to Underground Temple of shiva which they said was results of most recent excavation. Moving Further on we reach Elephant Stables, Lotus Palace, Stepped Tank, and huge area where ruins of once a flourishing civilization left scattered. My last place of visit was Queen's Bath from where I hired an auto and return to Bus stand. Visited Virupaksha temple and had my lunch. This completed my 2 parts of Hampi. I am left with the third and final part which is situated on the other side of river Tungabhadra. Well, this logical partitioning of Hampi is solely done by me for easier and best traversal.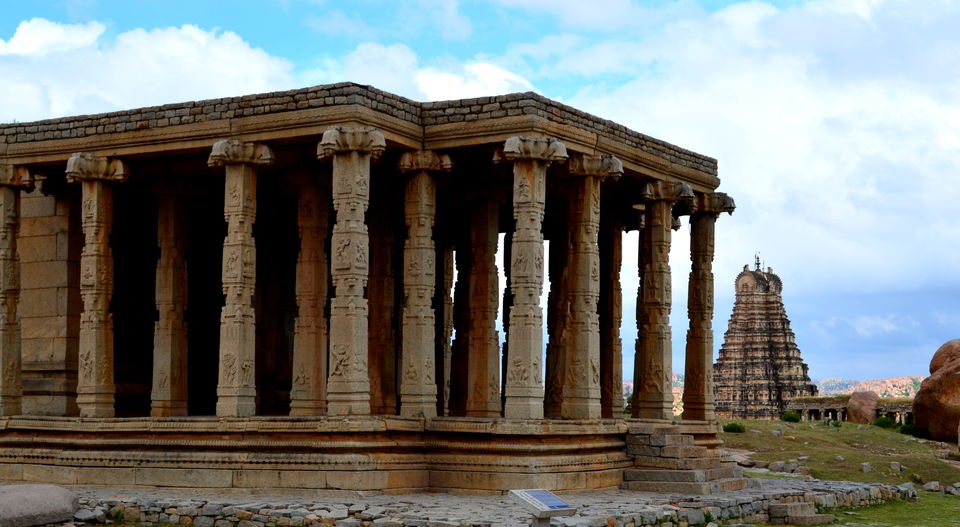 To cross the river you have motor boat that waits on either side and starts as is gets full passenger. Getting ticket for Rs 10, I boarded the boat got to the other side of the river Tungabhadra. This part of Hampi is completely different than the other. It has small market selling souvenir, having restaurants, giving bykes and cycles on rent. Apart from the local folks the ratio of Non- Indian and Indian tourists would be 10:1 almost. That's right, you hardly see Indian faces. I walked a little and asked which way goes to Anjani parvat or Monkey Temple. People showed me the directions but also appended the information that it is 7 Km away. Well that leaves me with no option of walking and therefore I rented a cycle for 50 bucks. The road was not very great but the surrounding was. Well that drive me to keep riding the ups and down of the hilly terrain. At places, I had to get down and pull the bicycle. In between falls a village, I forgot the name and after that the Anjani parvat, a temple of Hanuman situated at the top of the hill. There were 200 stairs painted in white that leads to the temple. After cycling all this way I was too tired to hike 200 stairs, but I did, coz will power is always greater than muscle power and it drove me to rise. On top of the hill, wind was strong and scenery was killer. Such an amazing view it was, long fields and then the river and on the other side temples and Matanga Hill, Beautiful enough to blow away your exhaustion in just a moment. I stayed there for some time observed completely in the view that stretched until horizon. After I descended people said there's one more point 3km away from this temple, that place is called sabri asram. I started my ride again towards Sabri ashram. There's a new temple made and old Sabri Ashram renovated, inside which was Lord Rama's Footprints. I had no idea about the mythological importance of this area until a vendor selling coconut water appeared and showed interest in telling me the history. I happily embraced the opportunity and he started. Well, this part of Hampi was Kiskindha, a place where Bali lived, according to Ramayana. Having fair knowledge of the scripture I could follow everything he said. That was really amazing to know. He also said me that there are other places worth visiting like the one in which Bali held his brother sugriv as captive. Dearth of time forced me with humble denial and with a heartfelt gratitude I requested him permission to leave and I started my return ride. From Sabri Ashram to the bank of River Tungabhadra, the path is mesmerizing; I wished that to never end. Anyways, I returned to the shop where I rented Bicycle, returned his bicycle with a big thanks. Boarded boat to cross the river, it was already getting dark. I was exhausted, every ounce of energy unleashed, I reached my hotel, grabbed my bag and headed towards bus stop. I boarded the bus to Hospet Railway Station at 7:00 PM, my returning ticket for Bangalore being booked in Hampi Express which leaves at 9:00 PM from Hospet. The last thing was, train came delayed by 3 hours. That's the end of this trip but it injected more and more of wanderlust into me. See You with some other trip details.