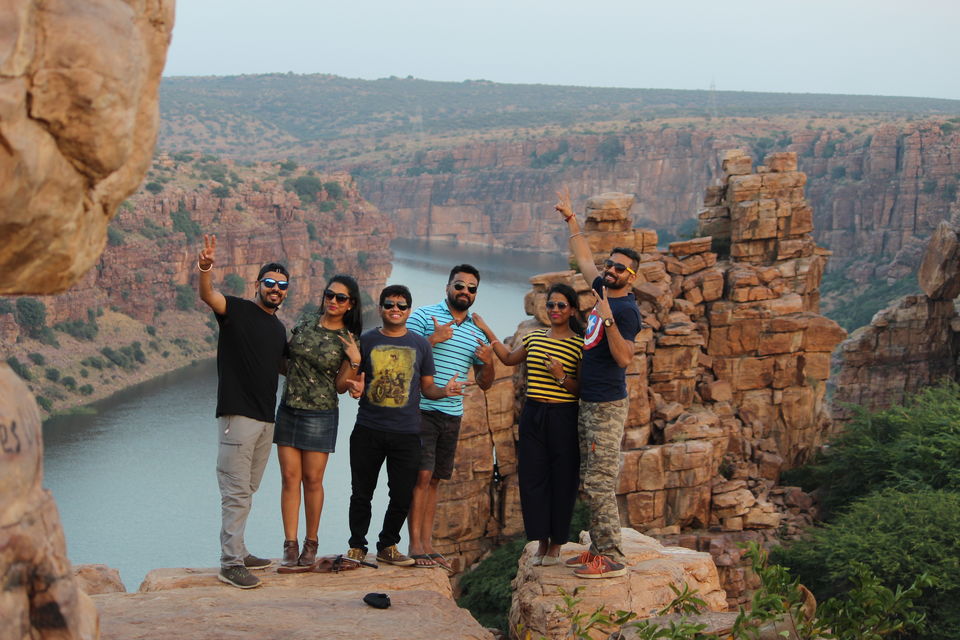 One fine day when I was bored in the office, I asked one of my colleague to plan a trip for Hampi (bucket one). He was also excited as Hampi was in his bucket as well. We asked some of our friends/colleagues and decided to make plan for our memorable trip. Finally we six friends able to make it as per plan. Within a day or two we searched a lot on internet and planned a perfect itinerary for our long weekend (5 days) trip (Mumbai-Gandikota-Belum Caves-Hampi) that too in low budget. We started on 20th Dec-17 and returned back to Mumbai on 25th Dec-17. As 25th Dec-17 (Monday) was public holiday and we took two days leave so we got five days for our trips. :)
How to reach Gandikota from Mumbai?

There are many options like Bus, train, cabs and by air. We choose by air, as we booked ticket 2 months before so we got it at around Rs. 1950 per head from Mumbai to Hyderabad.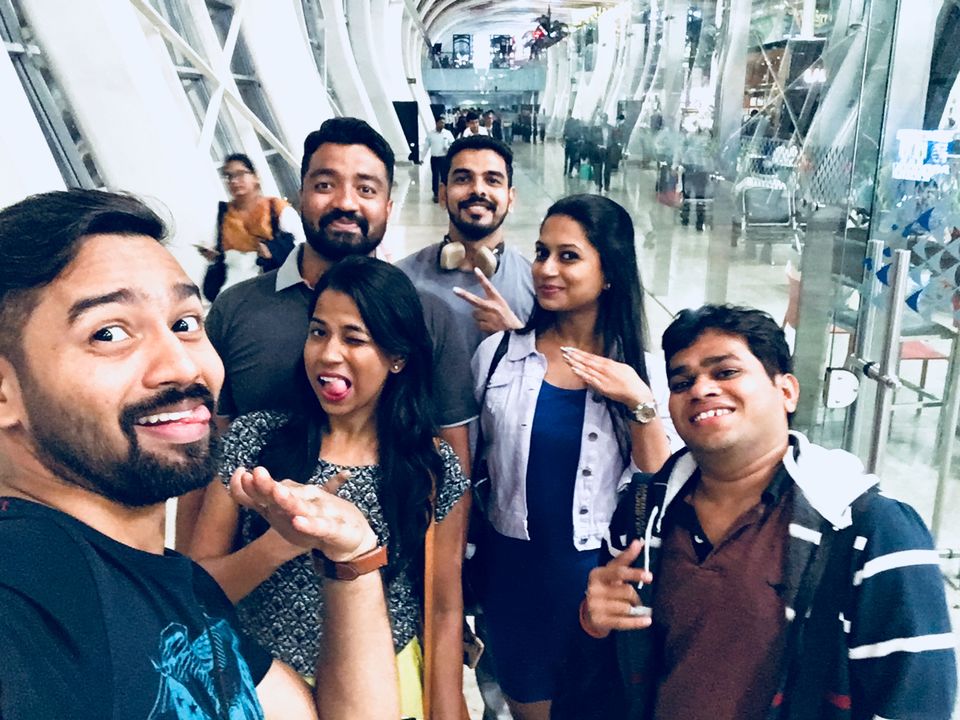 We reached around 9 PM at Rajeev Gandhi Hyderabad airport and took a cab from there to Hyderabad house hotel which is at a distance of around 7 km. At the airport, we observed that cabs were charging too much for a shorter ride. We looked around and booked a cab for six people which charged us Rs. 100 for a short distance of 7 km. As there was no direct transport to Belum caves, we booked an APSRTC bus online from Hyderabad house hotel (pick-up point at 11 PM) to Tadipatri (destination at 7 AM) at a cost of 250 per head.
In the morning we booked a hotel for 2-3 hours to freshen up at a cost of Rs 600. We chose a local shop for breakfast where we got deliciously famous south Indian dishes like Idli/Dosa/Medu Vada. After breakfast, we headed towards Belum caves by APSRTC bus.
It took us 1 hour to reach Belum caves from Tadipatri by APSRTC bus that charged as around Rs 20 per person.
The entry fee is Rs 65 per person and it closes by 5 PM, so plan accordingly. There is one canteen outside the caves where you can get some snacks/ice-cream to eat. The caves are approximately 1 km long, the lighting and wavy curves inside it make the journey much interesting. It took us around 2-3 hours to explore inside and around it. There is also one big Buddha statue which is so beautiful.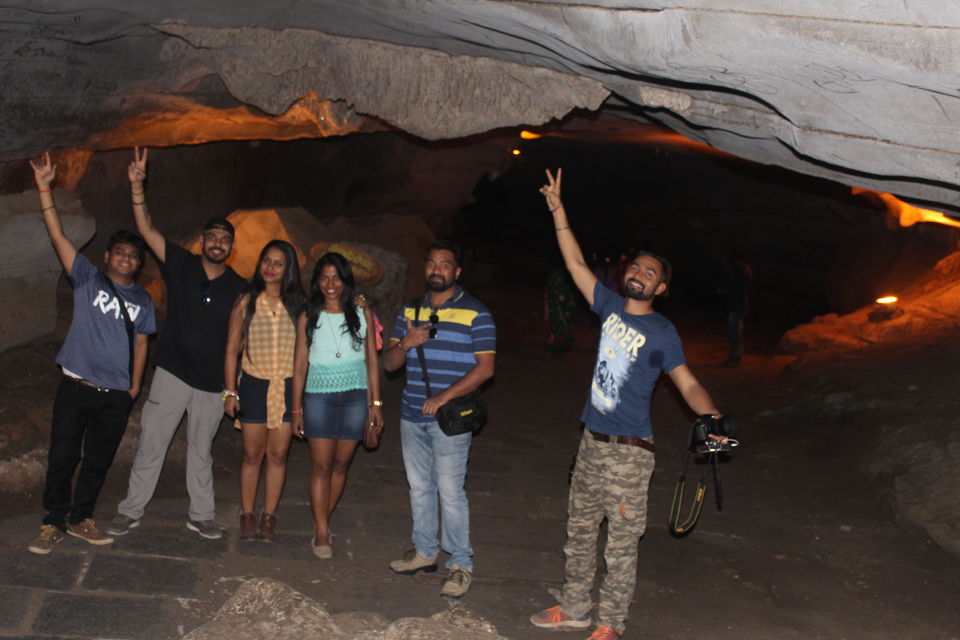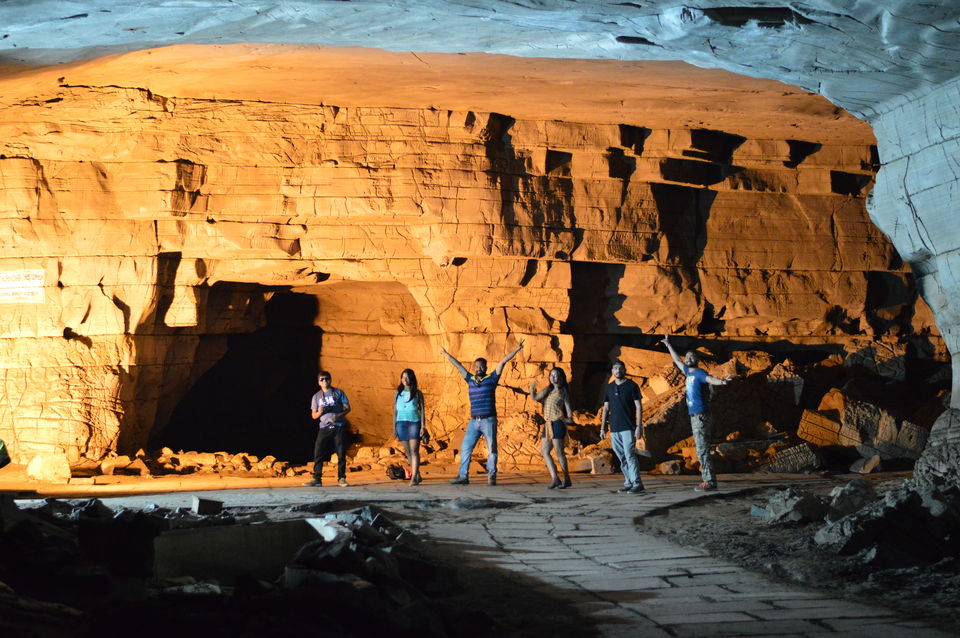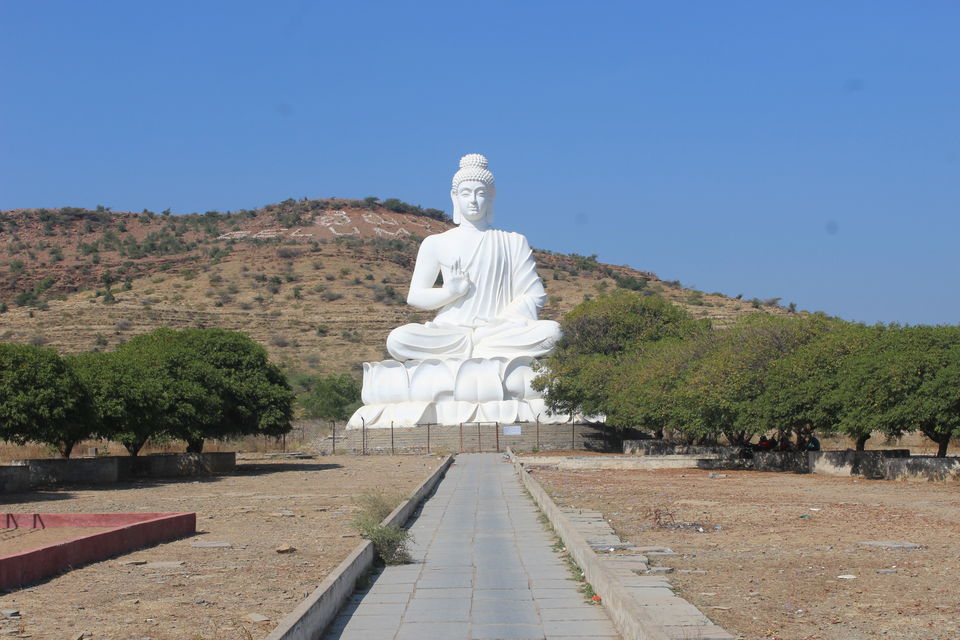 At around 2 PM we started for Jammalamadugu by state transport. It was very difficult to pronounce it at first but one gets used to it while on the trip. After having some snacks and without wasting time we booked auto rickshaws for Gandikota.
Gandikota
On reaching at Gandikota village we searched some locals for food, although there is a government resort outside the fort area, we opted for local food.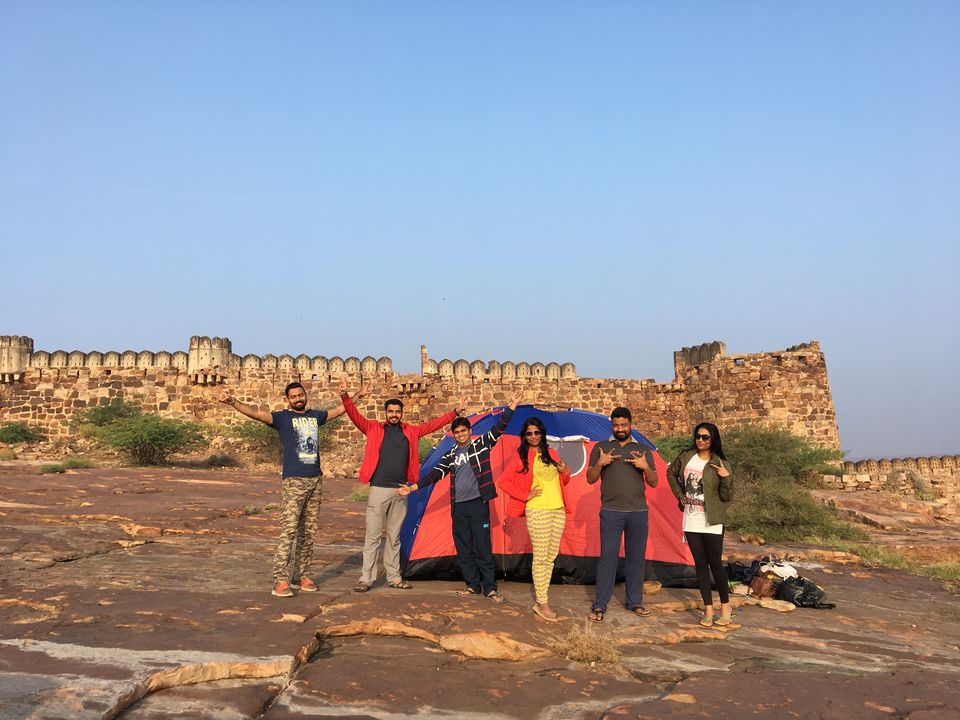 Here we met a college boy (Mohammad) who could understand Hindi. Since it was a village, it was very difficult for us to interact with locals as they don't understand Hindi/English. He arranged for our food and suggested a very good place for setting up the tent that was nearby canyons.
It was a great experience sleeping under the sky in a fully dark area, where nothing was visible after switching off the lights. Before sleeping we shared each other's life stories, some horror one for fun though. It was around 1 AM and we decided to sleep as we had to wake up early in the morning to see the sunrise.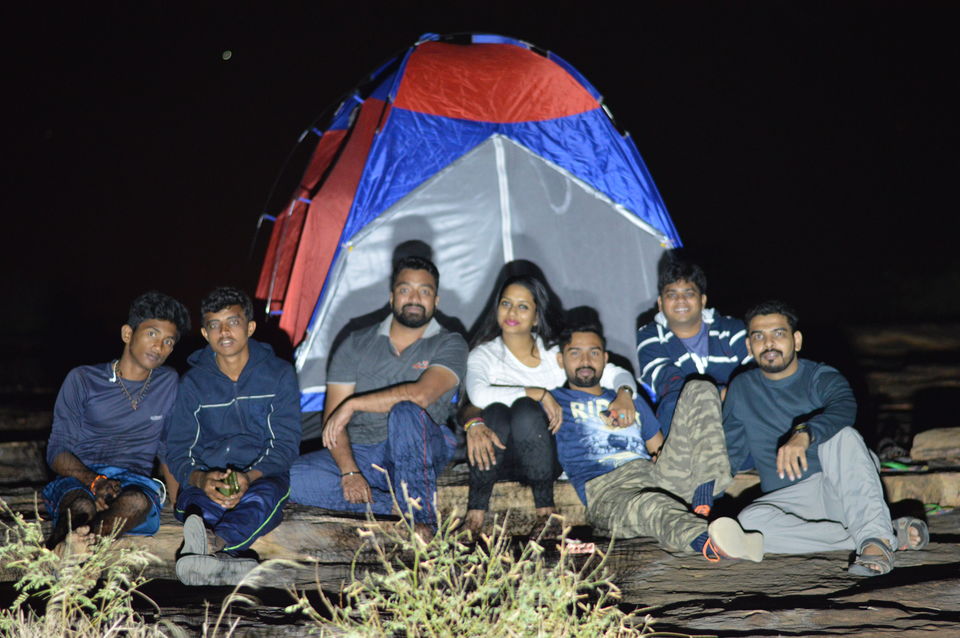 That was a very beautiful morning; we woke up with this view.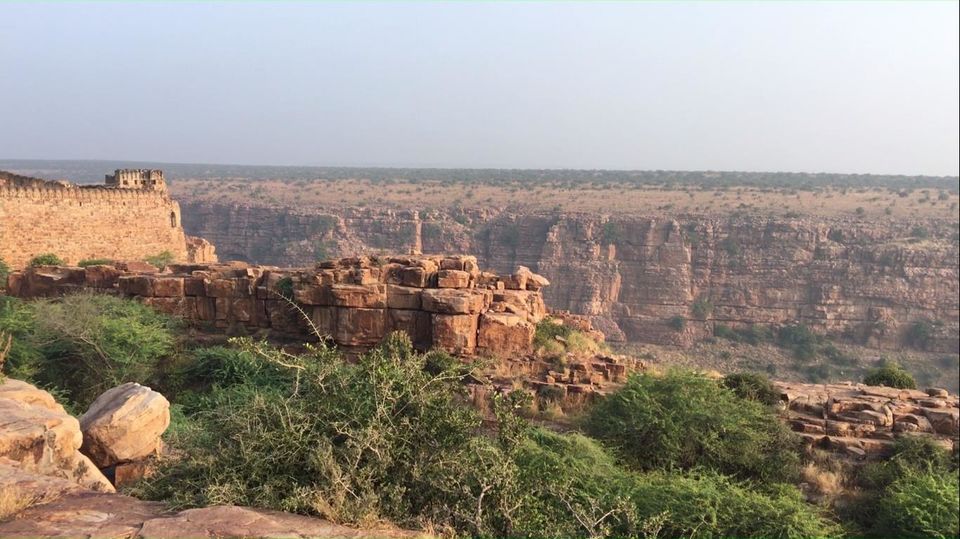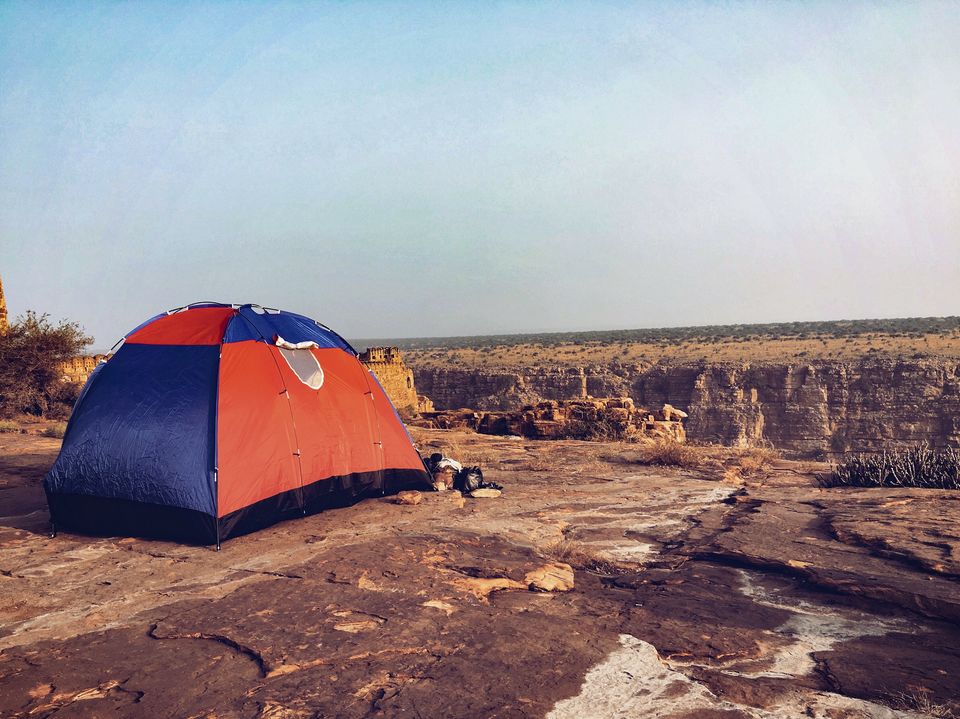 In the morning, we lit the camp-fire as it was too cold there, and had fun. The boy and his family were so helpful; they offered us dinner and lunch and allowed us to rest for sometime in their house in the afternoon. After an hour of rest, we explored places in and around the fort. It took us around 2-3 hours to explore the marvelous structure in and around the village along with the canyons.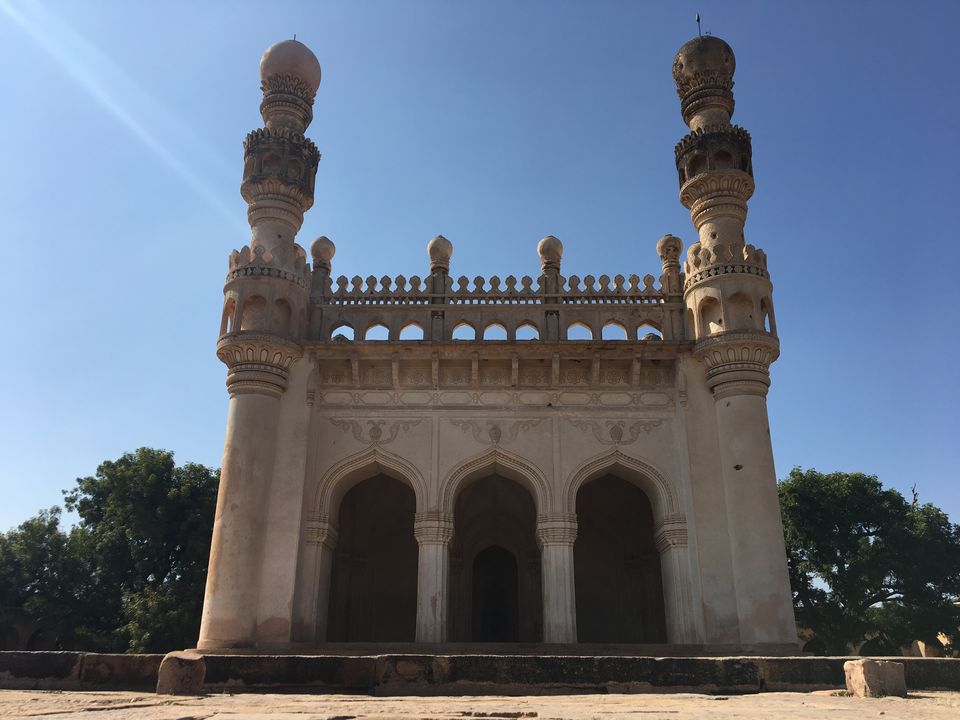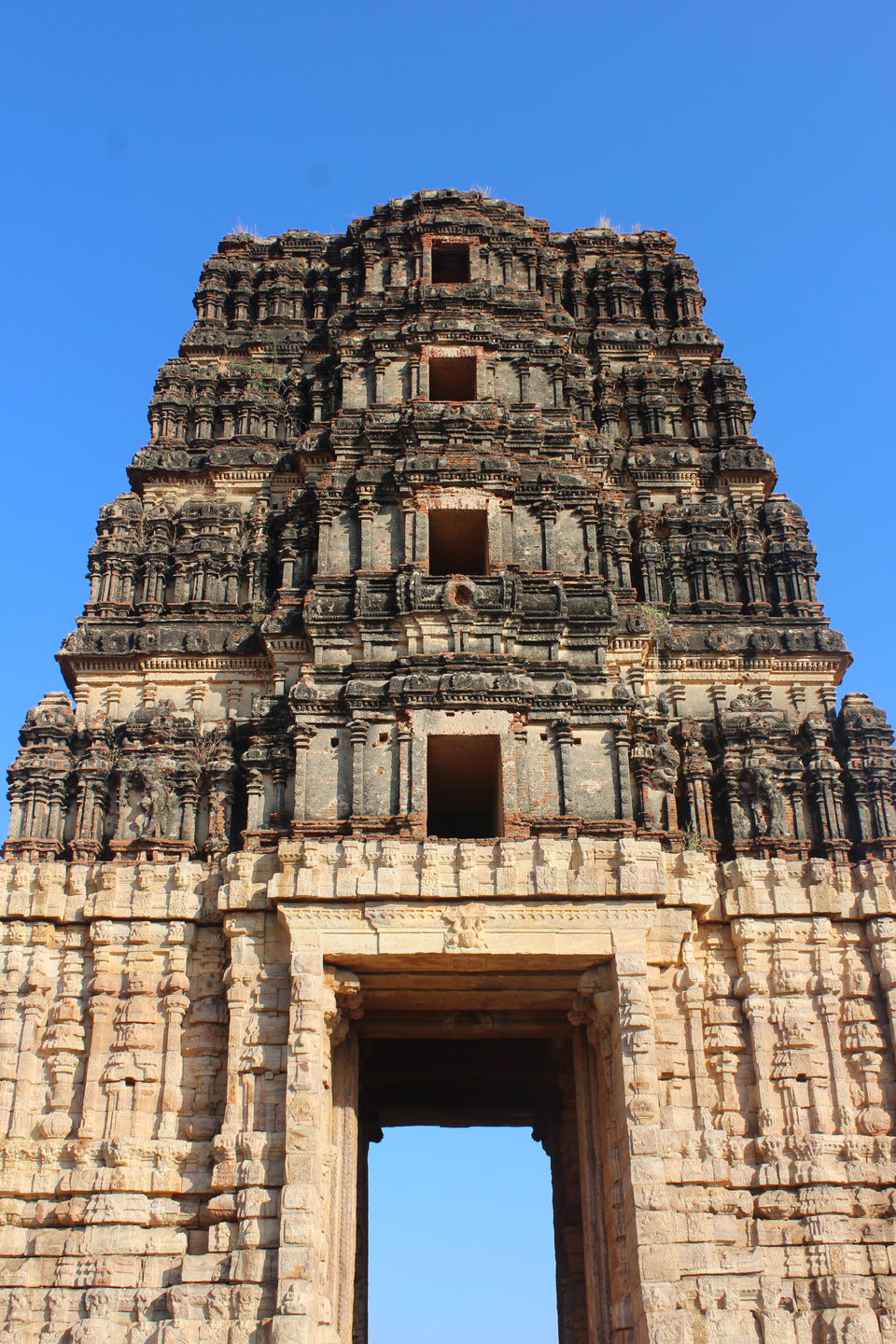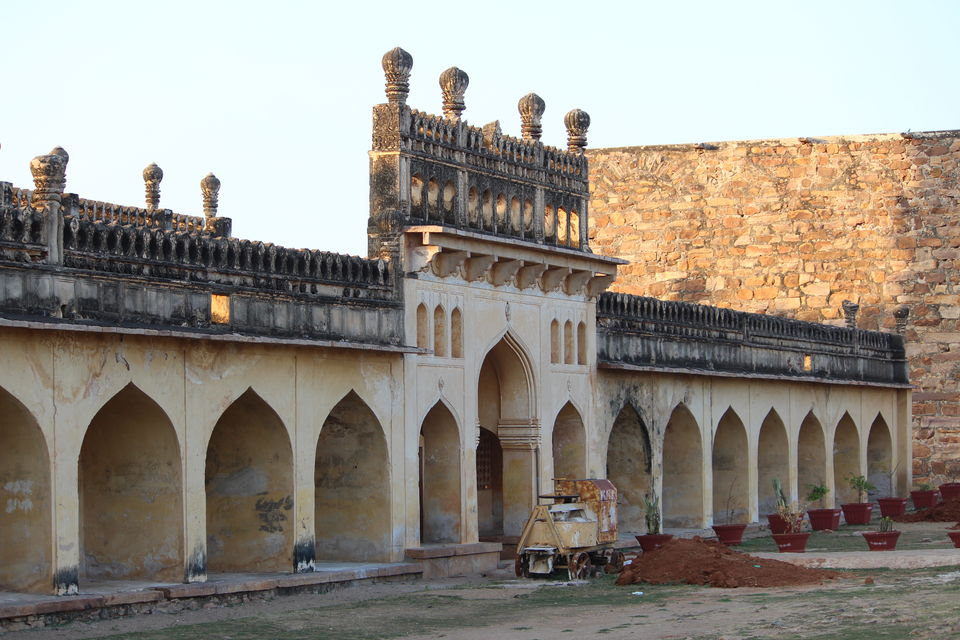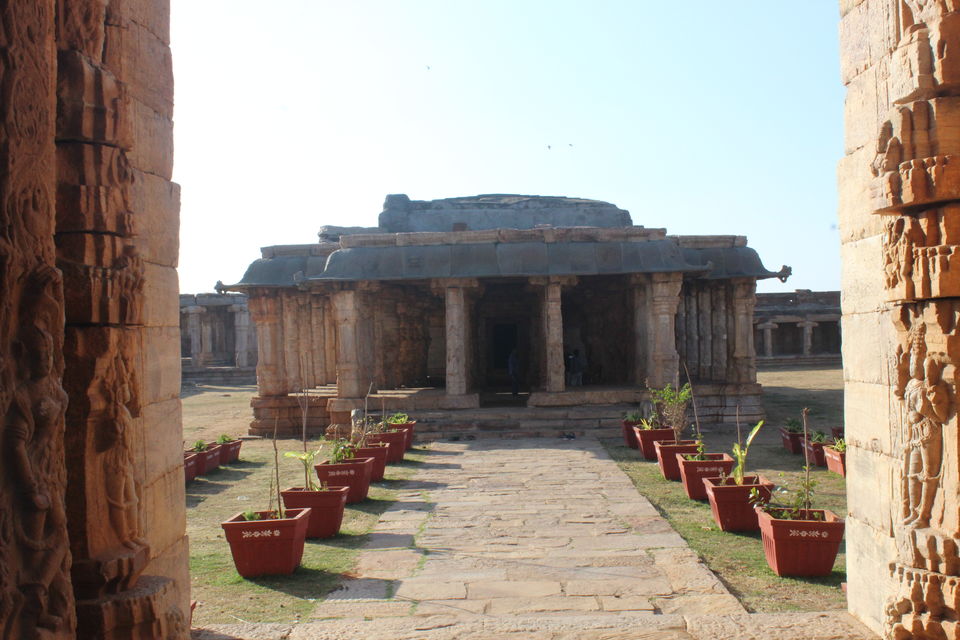 Now it was time to head towards Hampi. We took a local bus at 7 PM from Gandikota to Muddanuru. At Muddanuru(9 PM), we had a train for Hospet (05:30 AM) which is the nearest station to Hampi.
Anegundi: Offbeat side of Hampi
It was 6 am in the morning when we reached Hospet; had breakfast and tea at a local shop, and without wasting time we moved towards Hampi on an auto rickshaw. Hampi is around 12 km from Hospet. During the auto journey, we came to know that Hampi is divided into two parts by the Tungabhadra river - on one side, it was Hampi and on the other side, it was Anegundi where you will not get any commercial restaurants and hotels.
As we didn't book a hotel in Hampi, we went to the other side of the river and booked rooms for two days. In order to cross the river, there were some boats which were handled by the locals and they used to charge Rs 20 per person from 10 am to 6 pm; however, they charge you a lot around Rs 100 if you chose to cross the river outside that window.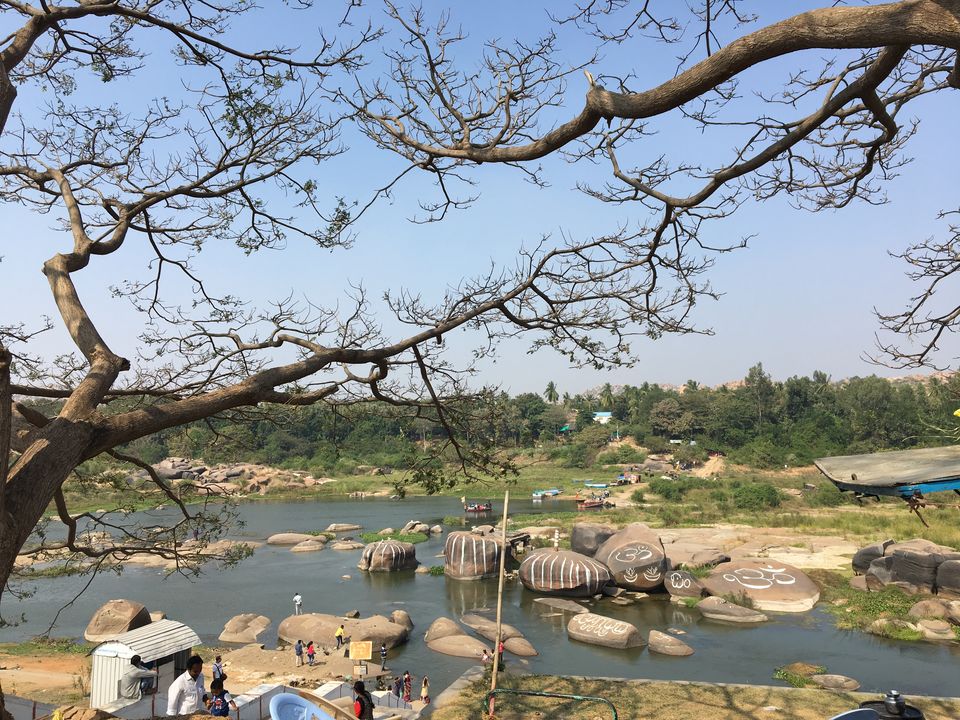 Once you reached other side of the river, you will feel like you are in Goa. so many foreigners roaming around just like you see in Goa. As we all tired we rested for two three hours there in rooms.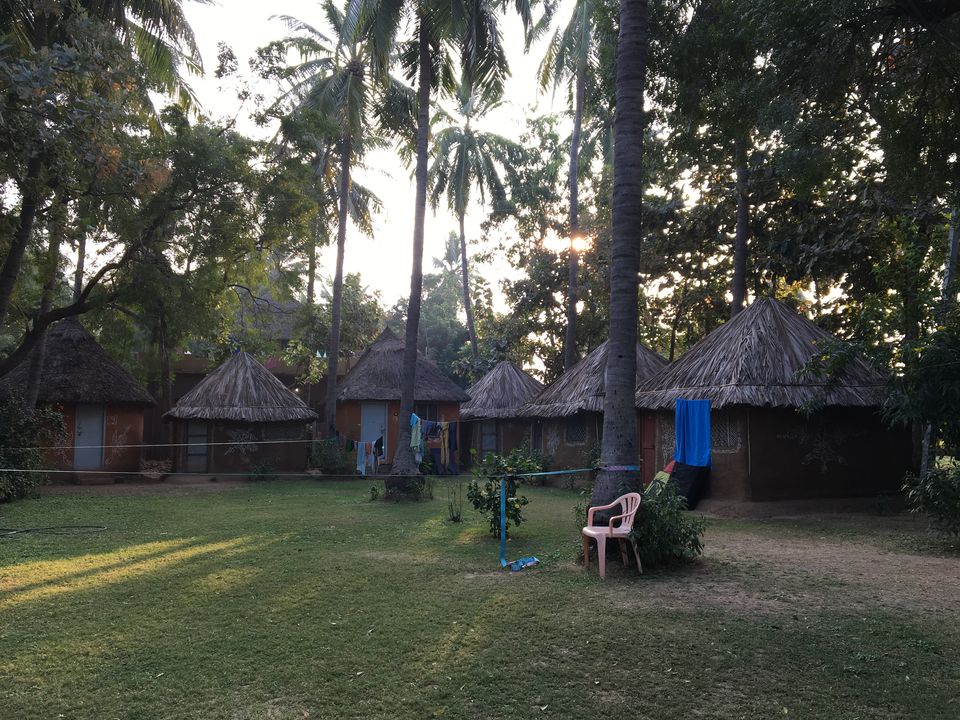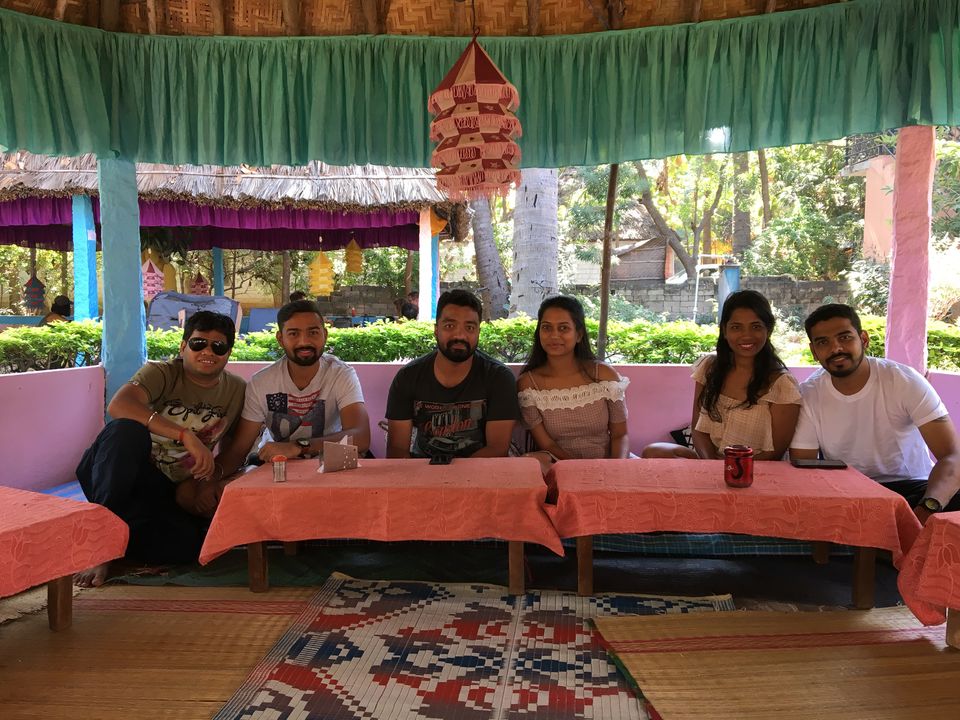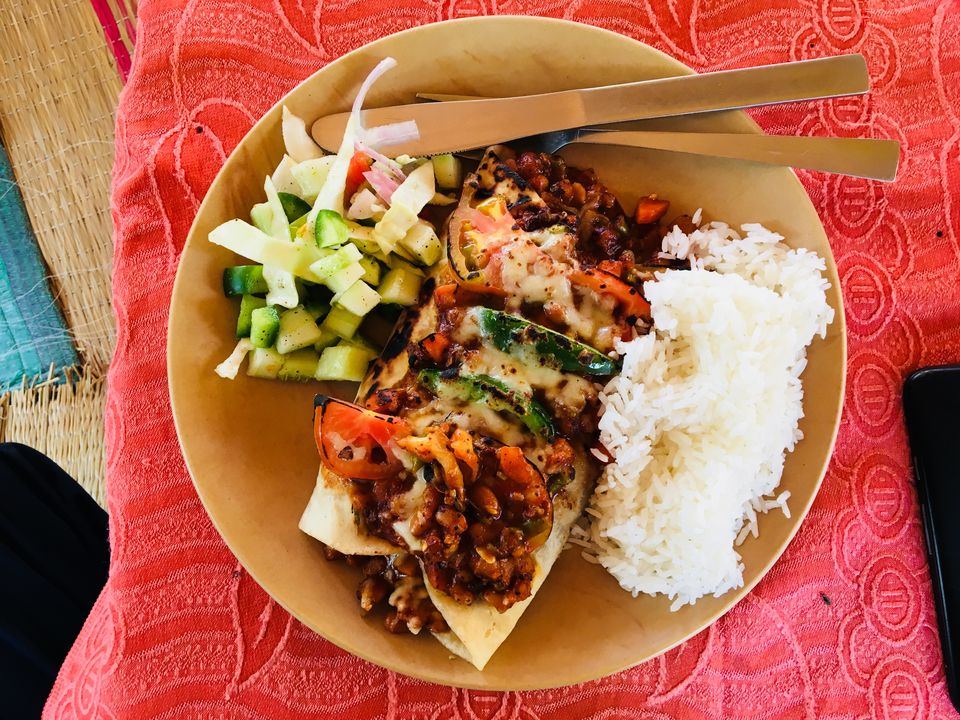 After having brunch we hired few bikes from the restaurant and started exploring Anegundi. There is a dam on Pampa Sarovar. This is one of the Sarovar that finds its mention in the Hindu epic Ramayana as the place where Shabari, a devotee of Rama, waited for the arrival of Ram. We had a lifetime experience of coracle ride. In the beginning, you will be frightened by looking at the coracle, though it was a good experience riding it.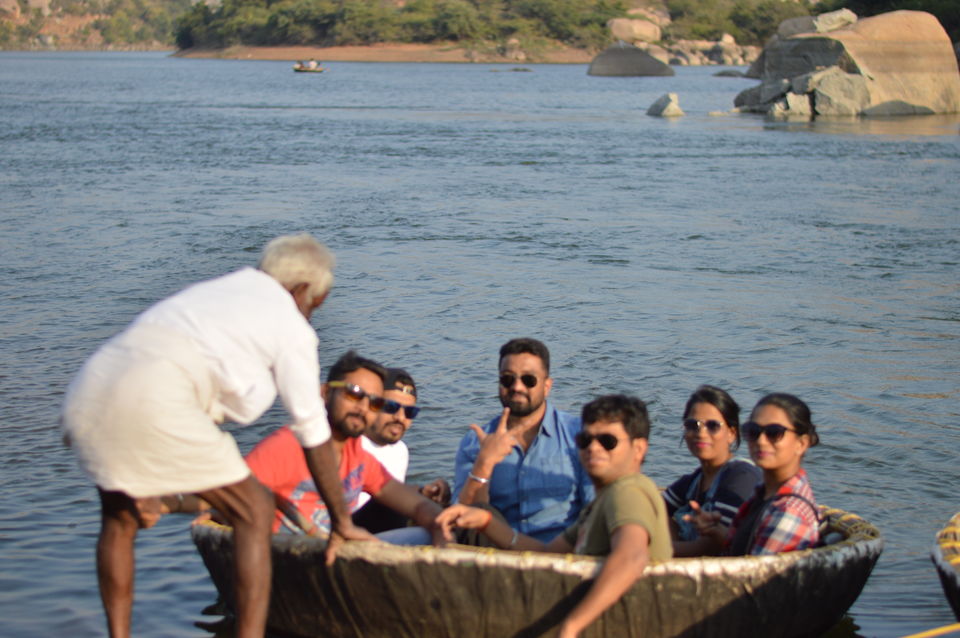 Chintamani temple:
Explored Chintamani temple with the guidance of a local boy who told us some stories related to the temple and the place. He also told stories about Sugreev and Bali fight and in which Ram attacked Bali from behind the rocks. He mentioned that these were the rocks and temples where Ram used to do meditation when Seeta was kidnapped by the Ravan. It was evening and we moved back to our hotels.
Hampi: The beautiful town of ruins and stories
In the morning, we did some yoga with our foreigner friends, and after breakfast, we headed towards the other side of the river called Hampi where you can see the old monuments and temples. Many of them were vandalized by different emperors. Hampi was the kingdom which was ruled by 23 empires, some of them ruined Hampi's magnificent architectures and monuments. From the other side, we booked auto rickshaw to cover these temples as they were at a distance of 3-4 km from one another.
Virupaksha temple: The temple is dedicated to Virupaksha, a form of Shiva. It is part of the Group of Monuments at Hampi, designated as a UNESCO World Heritage Site.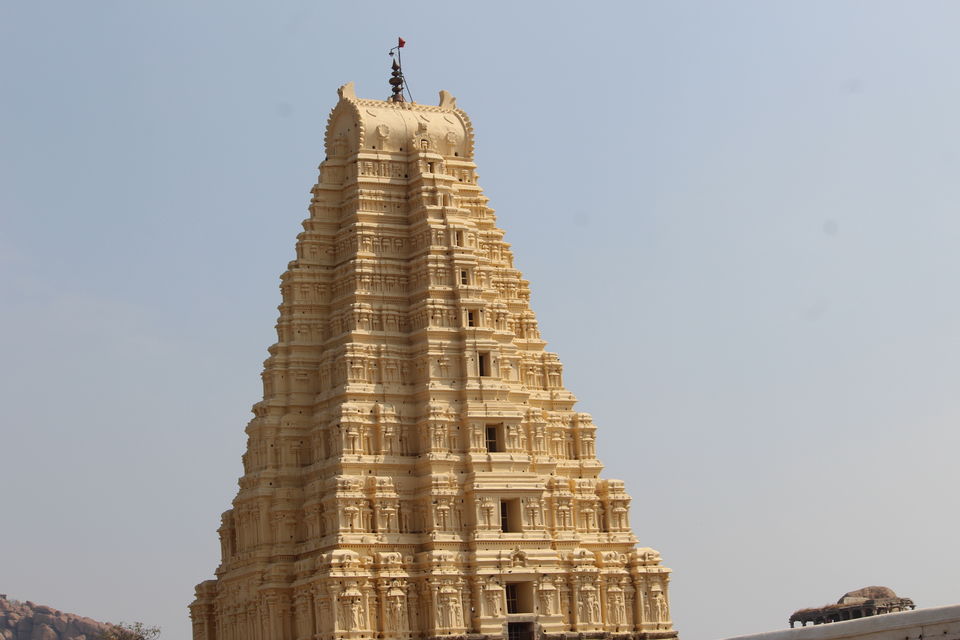 Vitthal temple: It is the most artistically sophisticated Hindu temple in Hampi, and is part of the sacred center of Vijayanagar.

Stone Chariot: One of my mates took this photo. There are a total of four stone chariots in the country, this is one of them; rest are at Konark and other places.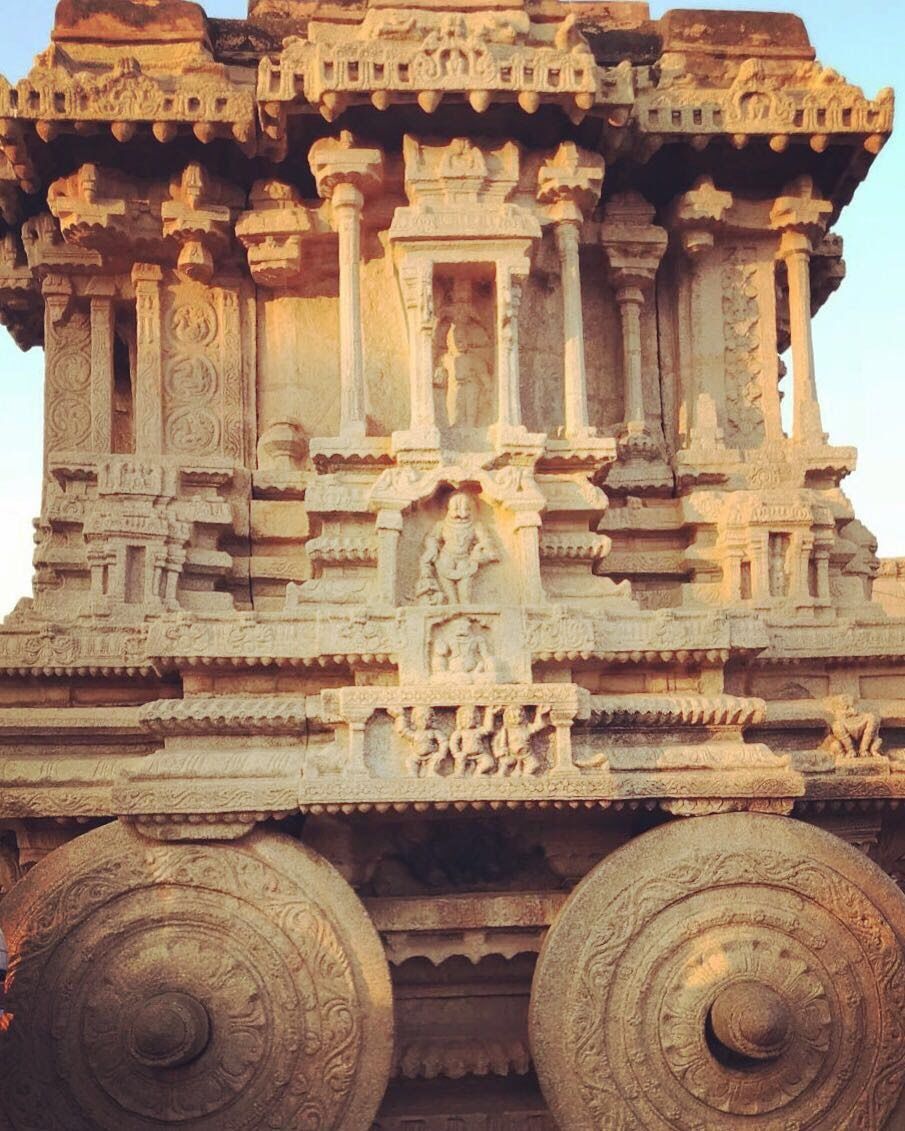 Narasimha temple: The Lakshmi Narasimha statue is one of the most imposing sculptures found in the ruined town of Hampi. The specialty of the sculpture is that it is the largest monolith statue in Hampi.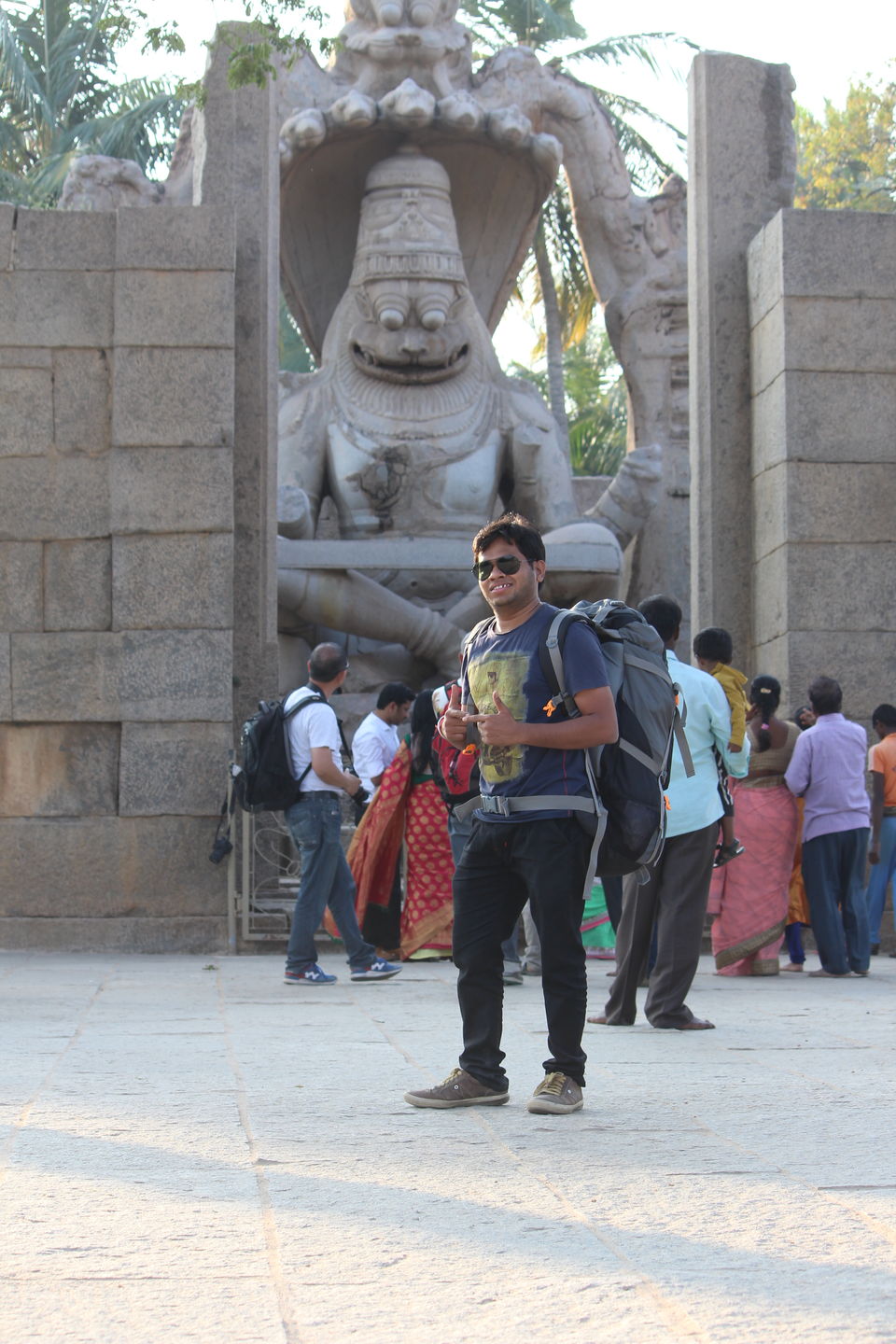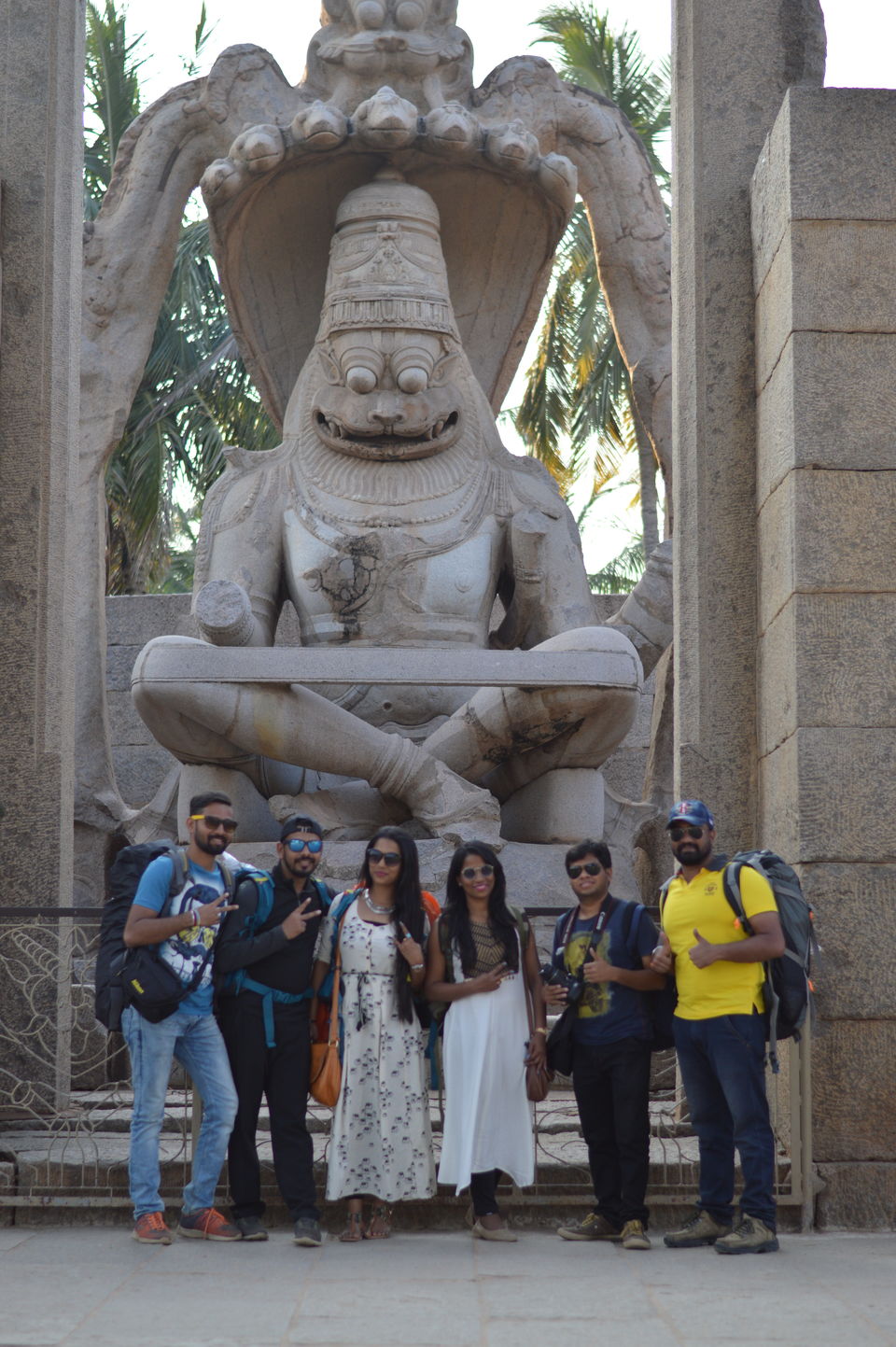 Other attractions in Hampi: Lotus park, Queen's Bath, Ganesh temple, Krishna temple & Krishna bazaar, and Archaeological Museum.
On the last day we covered other temples and monuments in Hampi and then we moved towards Hospet, as we needed to catch the bus to Mumbai.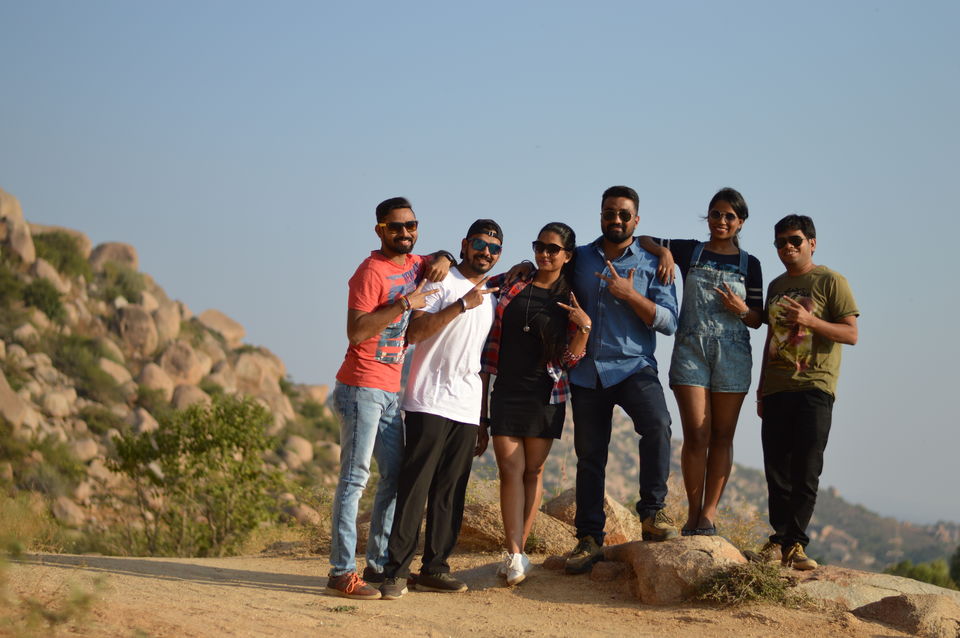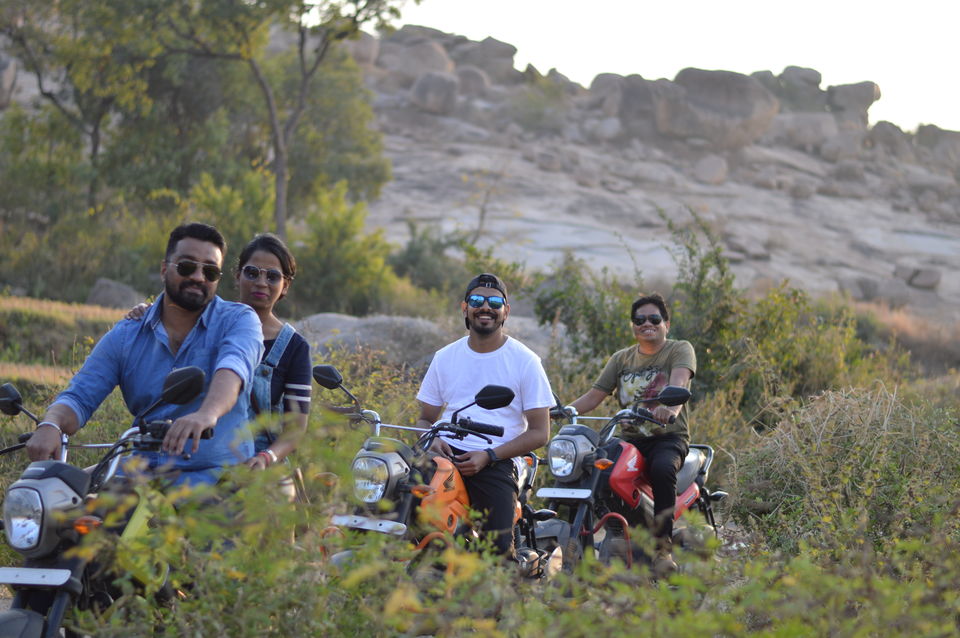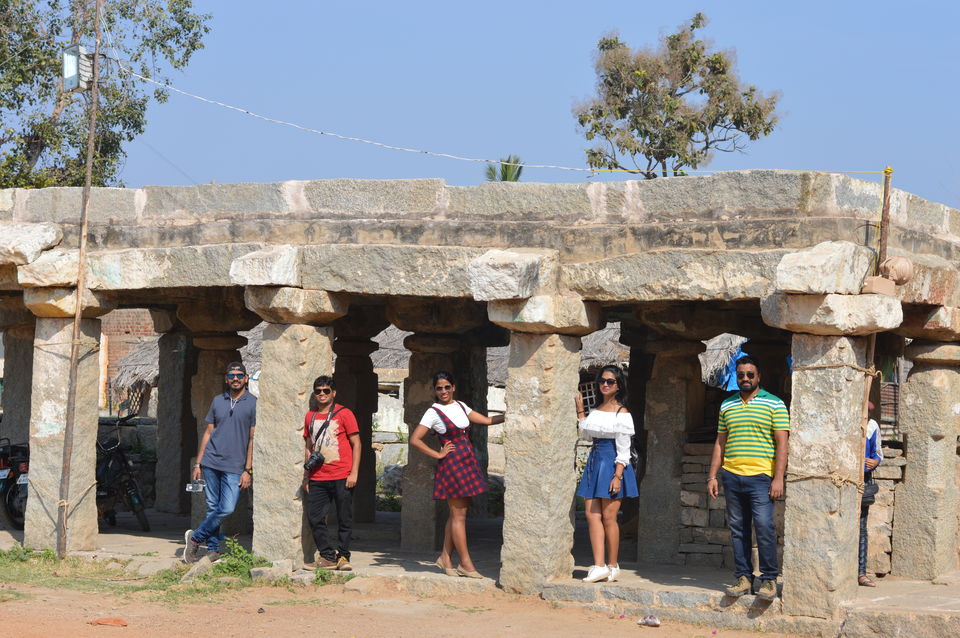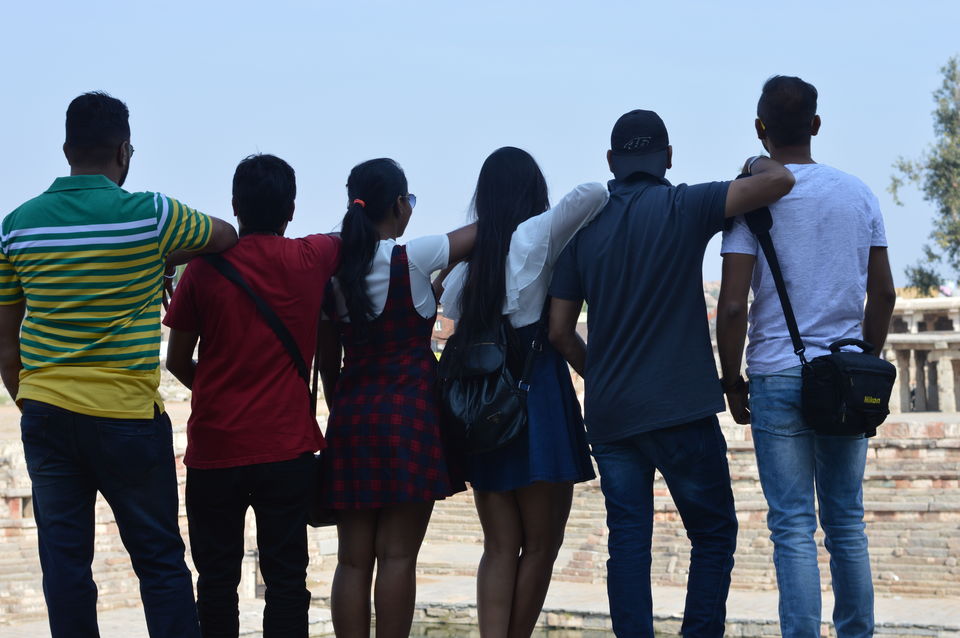 Overall expense:
We were a group of six people and since we had planned it 2 months before, it made the trip relatively cheaper to us.
Mumbai to Hyderabad : 1950 rs by flight
Hyderabad to Tadipatri : 250 rs by APSRTC
Tadipatri to Belum caves : 30 rs apsrtc bus
Belum caves to jammalamadugu: 30 rs APSRTC bus
jammalamadugu to Gandikota : 50 rs
Gandikota to jammalamadugu to Muddanur: 100
Muddanurto Hospet : 180
Hospet to Hampi : 20 rs
Hampi to Hospet : 20 rs
Hospet to Mumbai : 2200
Around 2000 spent on our food expenses.
Happy Travelling :)