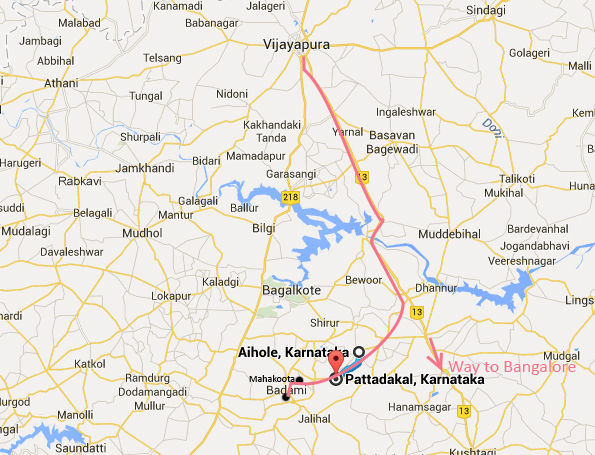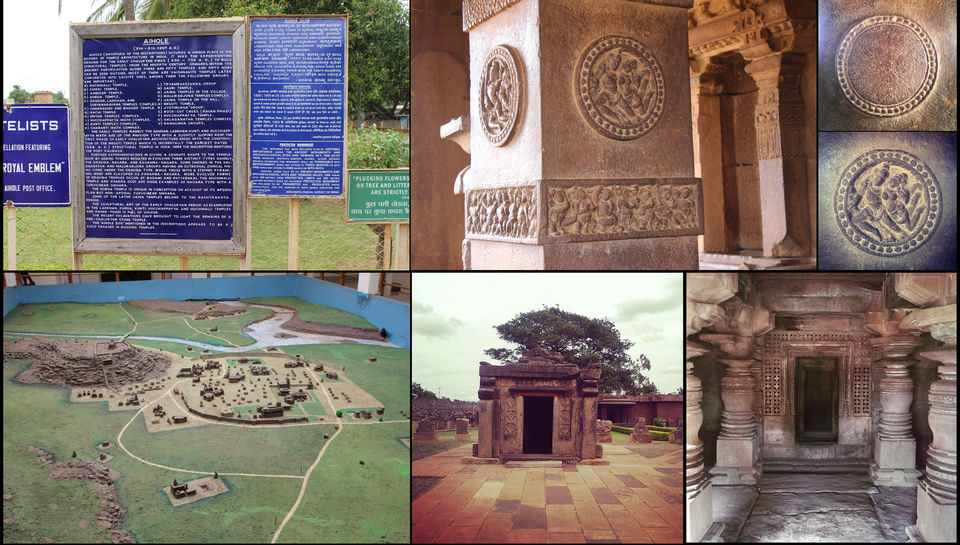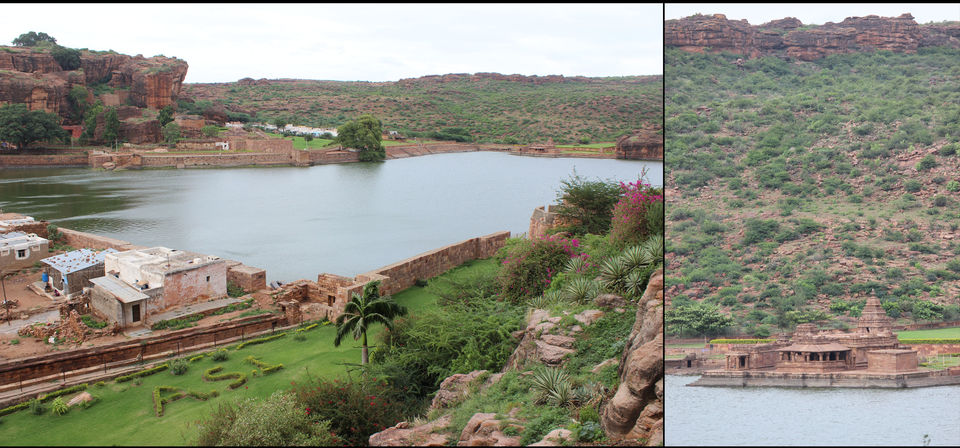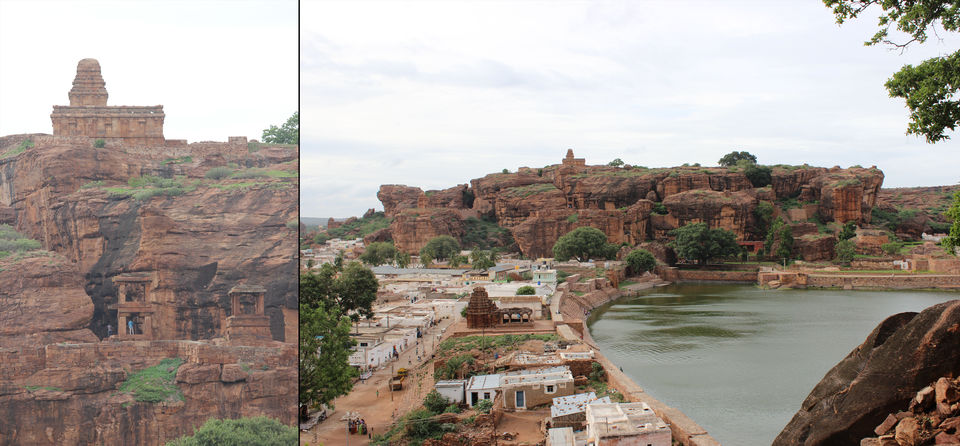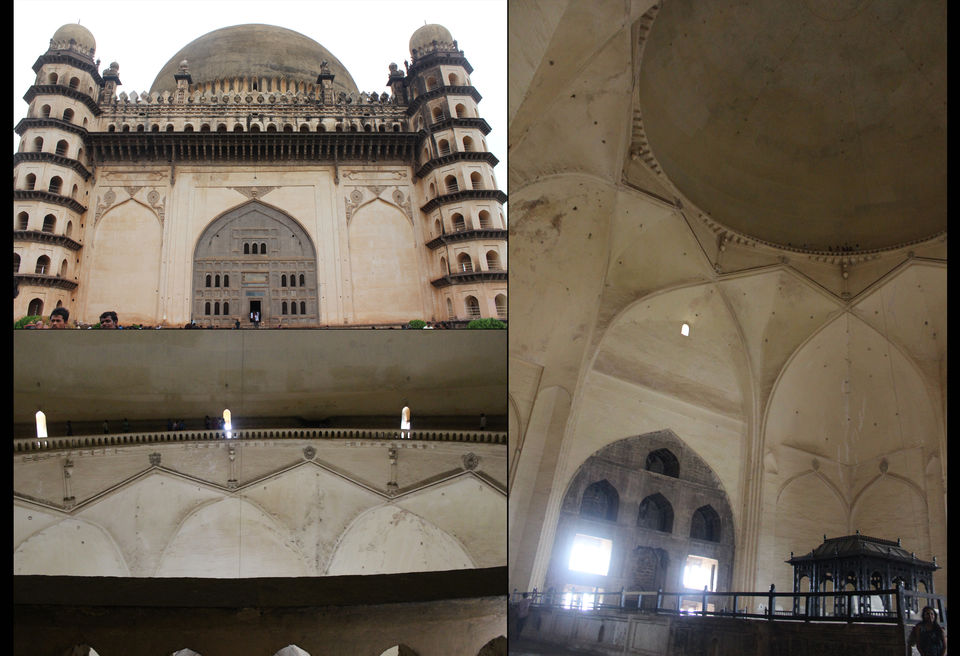 We started on a Friday evening from Bangalore Kempegowda Railway Station boarding the Bijapur Express. Enjoying various food items and lots of chatter we all reached Badami right on time in the morning at about 8 am. At the Badami Station, it was quite simple to find a 6-seater auto ride to the Mayura hotel (only Govt. run accommodation in Badami). The ride was Rs.100/-, we asked the same auto guy to ferry us around the different heritage sites for whole day and back for a price of Rs.2000/- He agreed.
We were allowed an early checkin by the hotel staff, each room for 3 costing Rs.1500/-. We got ready and after a hearty breakfast at their restaurant, headed for our day long ride. We first went to Mahakoota. Surprisingly a non-touristy spot, relatively empty, we spent a nice 2 hours enjoying the silence and perfect photography spot.
Next we drove to Pattadakal, a UNESCO heritage site, very well-maintained and clean campus. Hiring a guide was not much fun, as may be the stories told were just not as interesting. We skipped lunch as we had to cover Aihole and then Badami also by evening.
On reaching Aihole, I was really disappointed to see the dilapidated condition of this once seemingly beautiful village. This site has lots of old buildings in crumbling condition, but only a tiny portion made into a tourist attraction. Rest as you will notice, is plain ignored. Lot of the village crowd looks unemployed and poor, if thought of, they could make this a very nice heritage village with enough jobs for all.
After Aihole, we had to reach Badami to view the sunset. It was 5 pm, and we rushed to climb up the Badami Caves. On climbing you will notice the opposite side having a beautiful hill with many more mandapas. It seemed like a better idea to watch sunset from there. We ran! asked our auto guy to drive asap. Reaching the top of this little hill, the view definitely was breathtaking, and calm breeze to top it off.
On getting down, we walked to the end of the tiny lake, where we relaxed for and enjoyed the sight of beautiful temple at the foot. Now all we could think of was food, so we headed back to the Badami hotel.
Next morning, we boarded the same Bijapur Express at 8 am to reach Bijapur. The train was slightly delayed, and we reached Bijapur at 11:30 instead of 10:30.
In Bijapur, our first choice to stop was at Gol Gumbaz. This is a grand structure, supposedly less known in metro-city traveler circuit, but a huge prominence amongst local tourists. It was flanked with people. Hiring a guide is most recommended, as there is a lot you will never figure out in this place unless you are told. Specially the architectural and scientific knowledge that was applied in building this amazing monument.
There are many places to see around Bijapur, and as a big warning, please go there after doing research about all places, possibly their locations too. The locals are least helpful and the auto-guys exceed in being highest degree jerks than the ones you will find in Bangalore. It seems the locals have no idea about the historical monuments of this town.
You can check out the following in Bijapur:

Gol Gumbaz

Jod Gumbaz – a twin dome, but its basement is flanked with homeless people beside the durgah

Jami Masjid – could be missed, if you have seen Jama Masjid in other bigger cities like Ahmedabad & Delhi ofcourse.

Ibrahim Rouza – this place is worth visiting, it was thankfully less crowded and it was raining a lot, so we had enough time to click many pics. Google tags pic of this place with a wrong name. Research a little more.

Baarah Kaman – 12 unfinished arches. This place also can be missed, though it has great history and story behind it, nothing much to see

Malika-e-Maidan – Looked like most tourists chose to miss this place, however would suggest to visit it, it has nice view of the city and serene little garden. With a small cannon, that has a water body for the firing guy to run and hide his ears to escape the sound of cannon fire. The caretaker of this place is a ex-military man, who insists on telling the history behind this place – which is very informative. Apparently this place was a gift by the King to one of his queens.

Asar Mahal – is a garden and unfinished kind of building, an auto guy duped us by saying it was Sangeeth Mahal.
We were recommended Sangeeth Mahal by the Hotel guy, who insisted it was 8 kms away outside town. However, girls were almost disinterested to even argue or find out about it from anyone, so we allowed a Auto guy to fool us by driving into a near by lane to a mundane kind of heritage building. Yes, I'm not very proud of us.