With a plunge of 253m, Jog Falls is India's second highest plunge waterfalls. Located in the Uttara Kannada district in the southern Indian state of Karnataka, this is one natural marvel that one must not miss.
I had the opportunity to visit the falls in the beginning of February 2017. This isn't the best time to visit the place though, keep reading to find all the relevant details.
As I was preparing for the journey, I had to skim through a lot of websites and nowhere did I get a proper explanation. So here, I've summarized everything to make it easier for all those looking forward to visiting the falls.
About the Falls:
There are many places from where one can view the falls. There are 4 viewing galleries which are located right opposite and almost at the height of the Jog falls.
Jog Falls Viewing gallery 1
View from 1st Gallery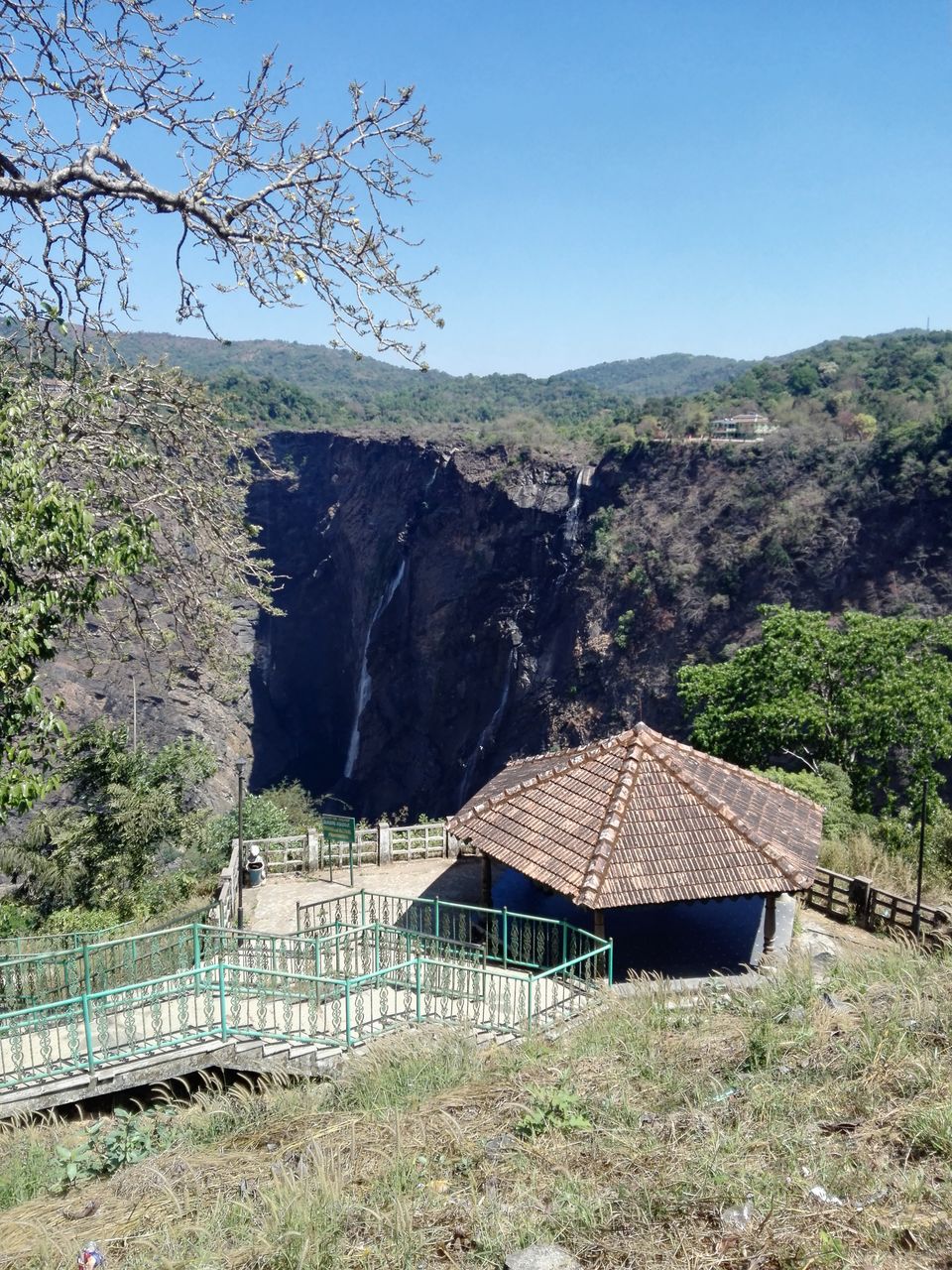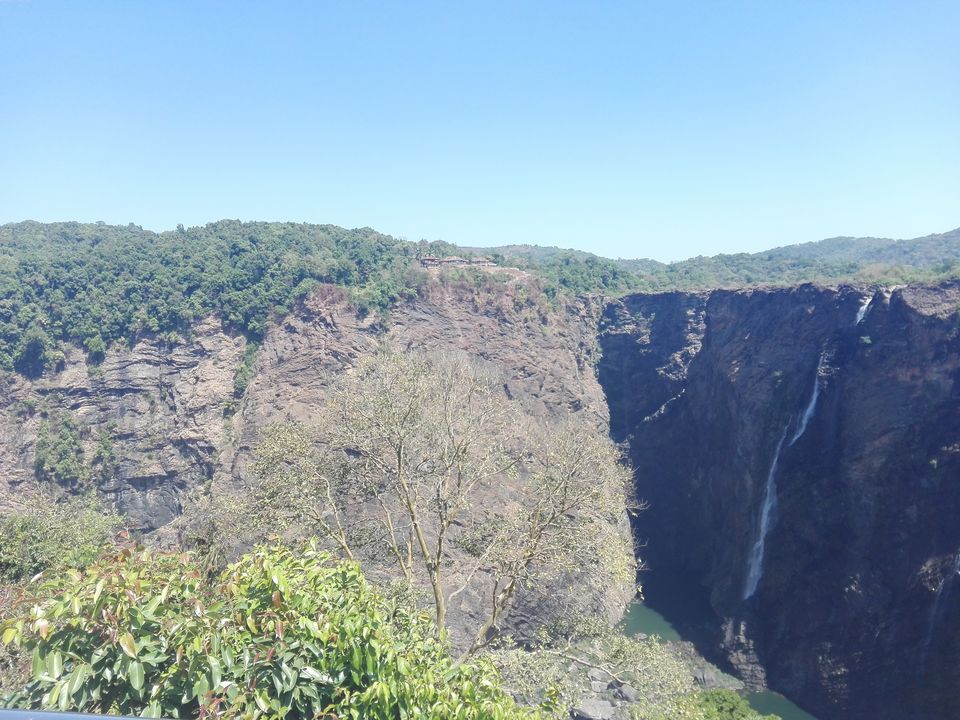 View from 3rd viewing gallery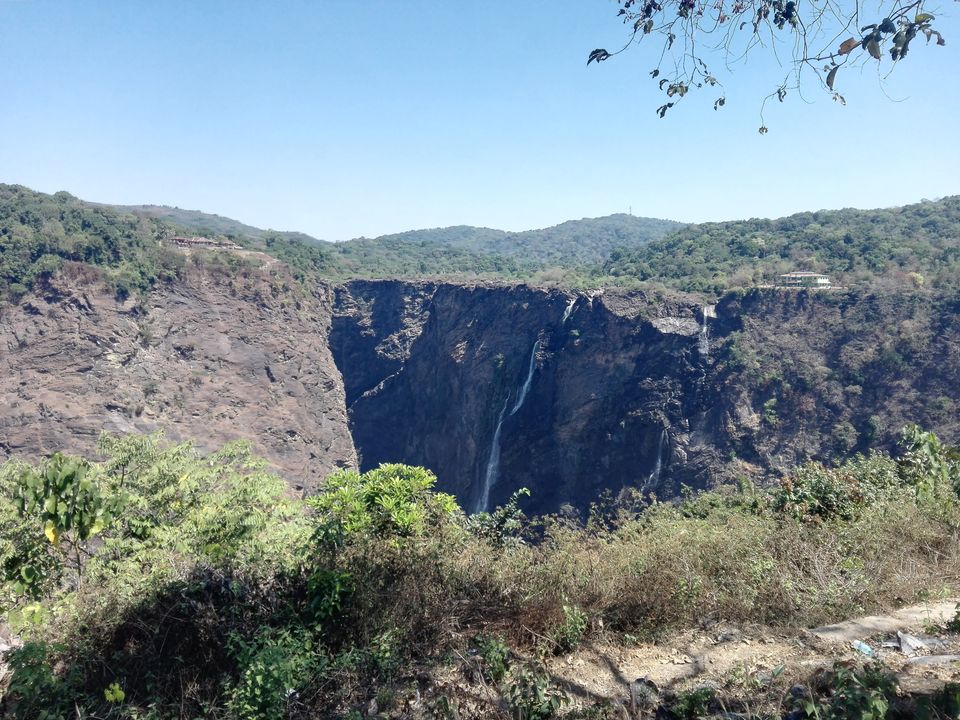 The fourth viewing gallery is at the base of the waterfall. Yes, you read it right. You have to descend 250 meters to get to this view point. The government has made proper staircase for this to make our descent easy. The view from this point is breathtaking, you can see the Jog falls in all it's magnificence from here.
Steps to base of Jog Falls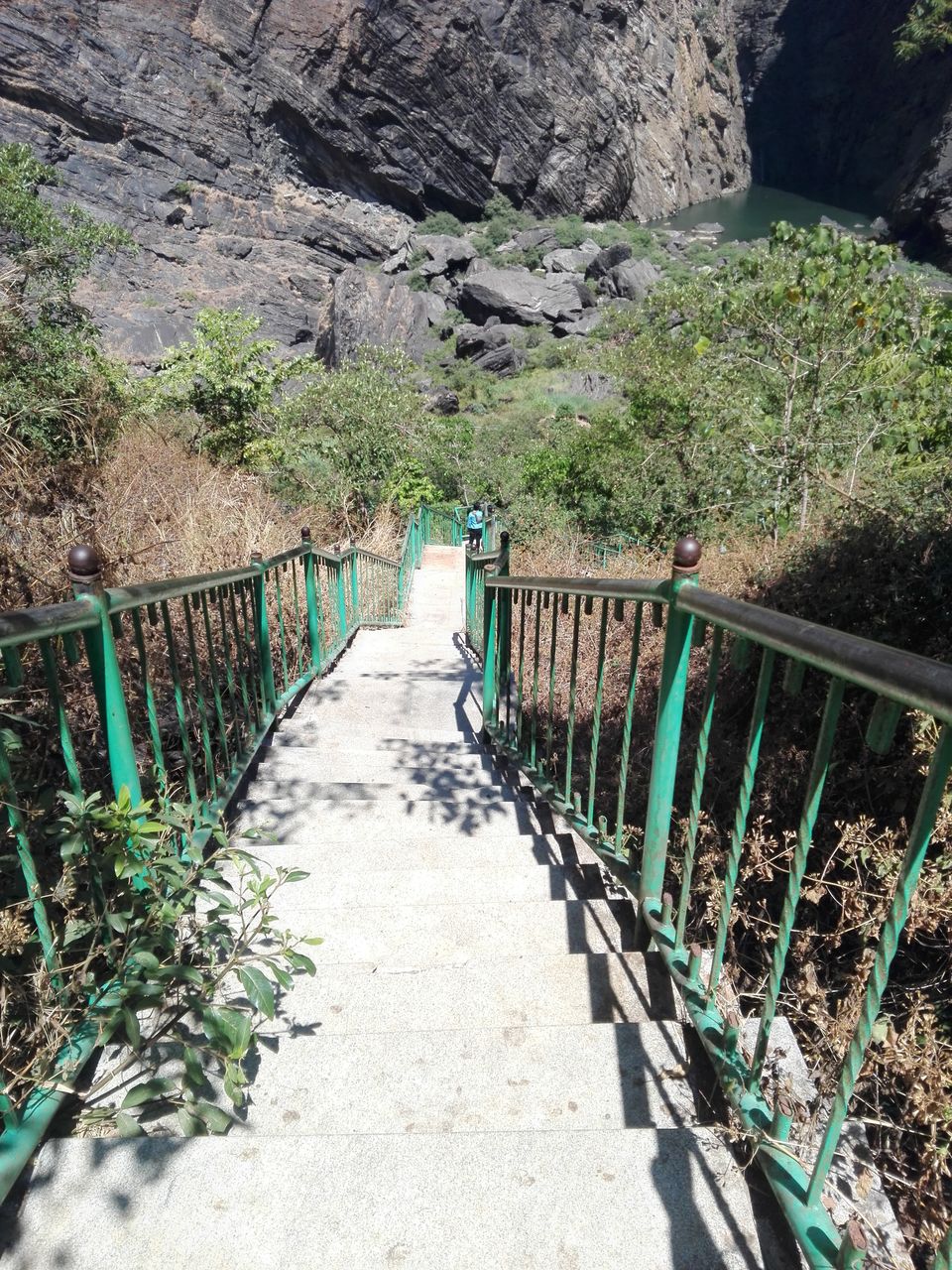 The descent to base of waterfalls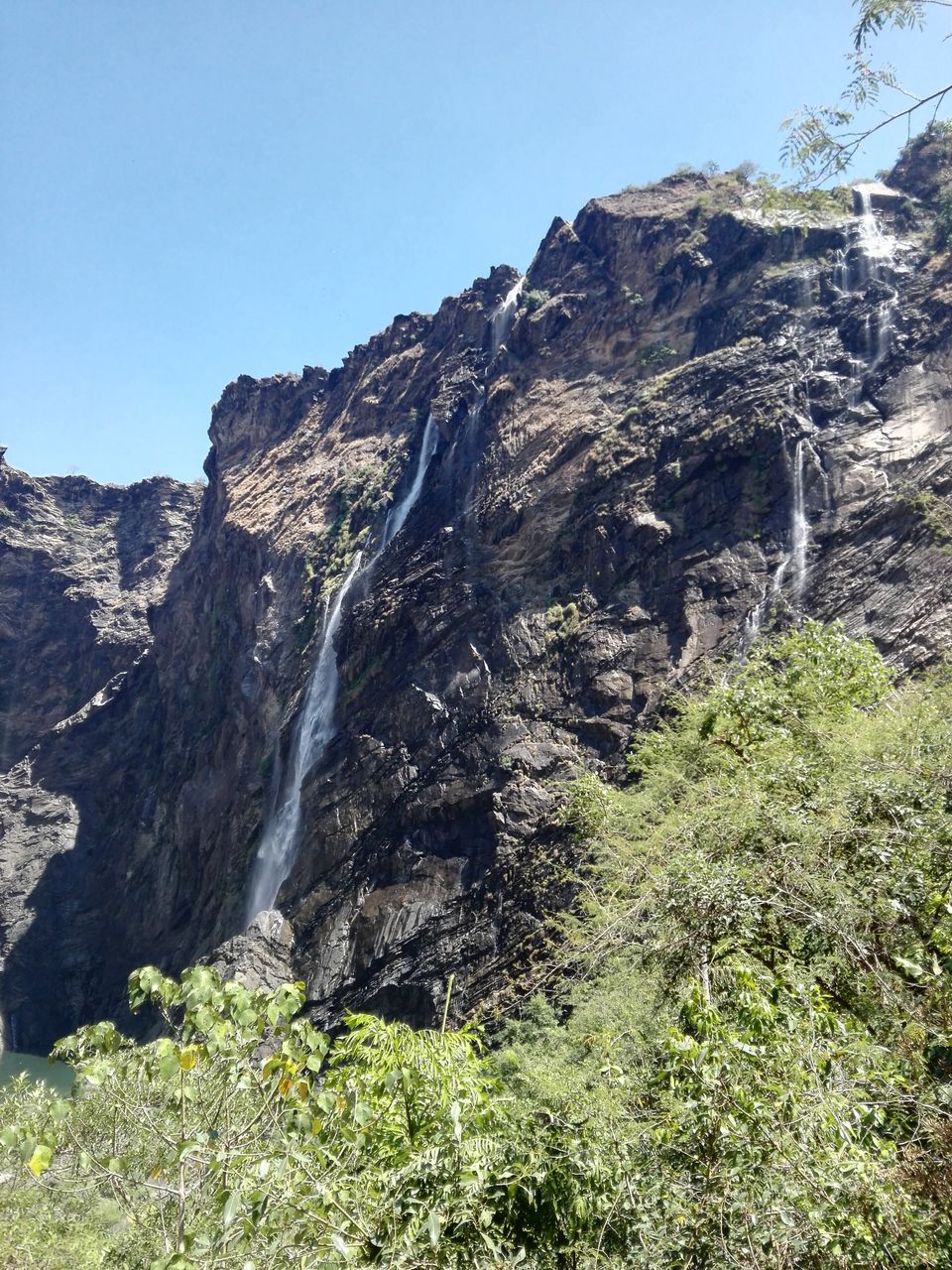 View from Jog Falls base viewing point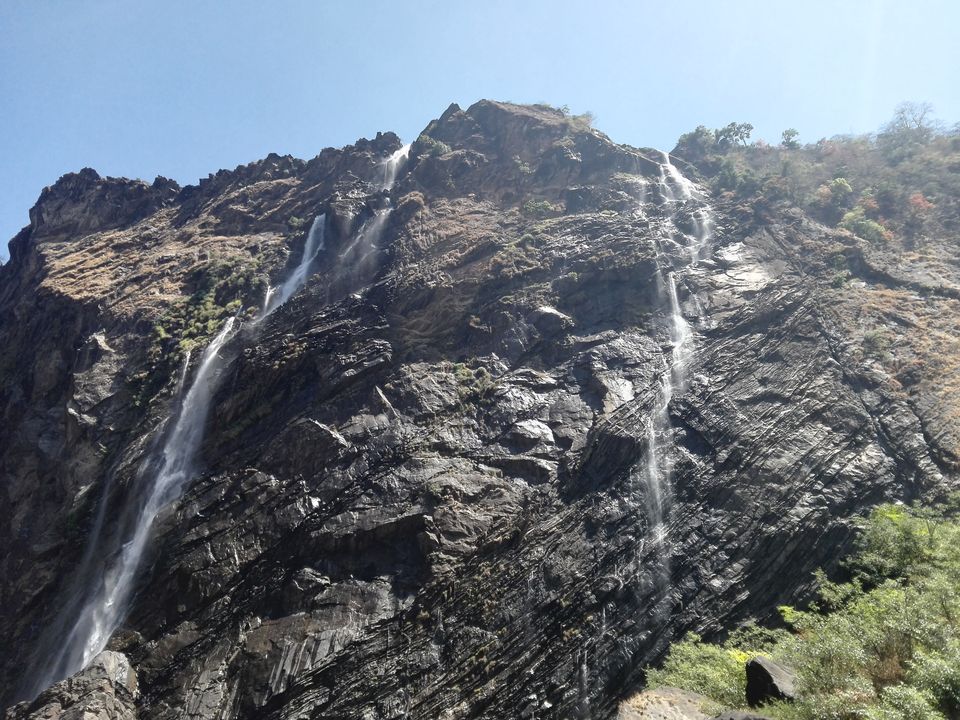 View from base of Jog Falls
PS: ONLY descend if you can climb back up. The descent is a long one, consisting of 1400 steps and it's a LONG and tiring way back up, specially during noon. Depending on how fit one is, it can take anywhere between 20 minutes to more than an hour to climb back up.
Although the water wasn't much during my visit, I was treated to see rainbow form in the falls.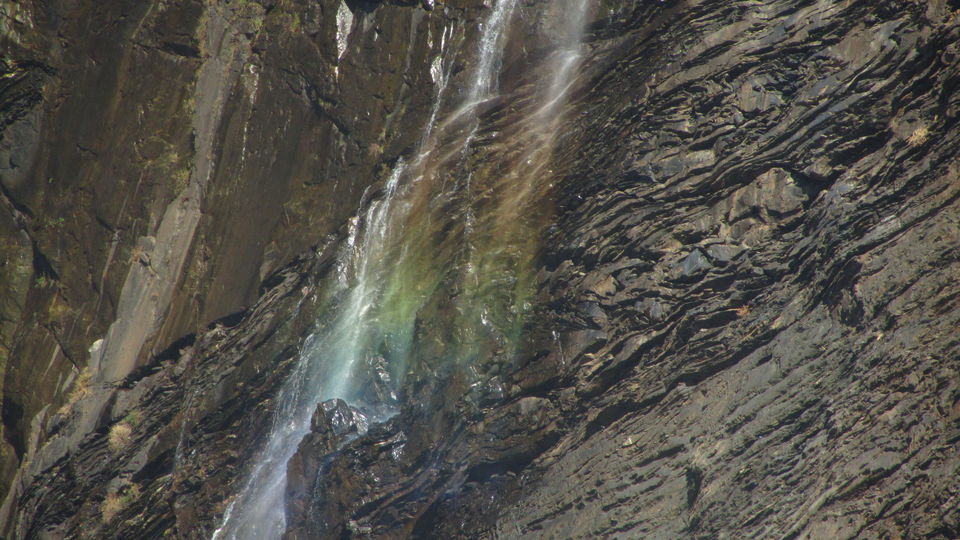 Rainbow in Jog Falls
All in all, it's a treat to watch water fall from 250 meters height.
Entry Fee:
For Indians: Rs.5/-
For Foreign tourists: Rs.50/-
How to reach Jog Falls?
Airport: Closest airport to Jog Falls is Hubli which is located at a distance of 130km. The falls is connected to Bangalore by direct buses as well. Which in my opinion makes it a better airport to reach.
Rail: The closest railway station is Sagar which is 30km away from the falls. The other station, which is well connected is Honnavar which is 66km away but falls on the Konkan railway and has a lot of trains passing through it. The Konkan railway itself is a treat to travel by and hence this was the route I chose to travel by.
Road: This is the most important part. I searched at a lot of places and even on KSRTC websites and help desk, but everywhere I got an answer that either one has to hire a cab or come to Jog falls from Sagar and that the bus connectivity there is very poor. But well, this is NOT true. Jog falls is well connected to Honnavar as well. There are buses that take you from Honnavar to Jog falls, the travel time is around 1.5 hours. For the return journey, there are buses passing from Jog falls towards Honnavar at 3:15PM, 4:20PM and 6:30PM. One can easily travel by these buses as they are mostly empty.
There are buses which directly link Bangalore to Jog Falls, one can find them on www.ksrtc.in .
Apart from these, there are private buses and autos as well which run on the route. If one is looking for a comfortable ride then one can hire a cab from Honnavar, Murdeshwar, Bhatkal, Sagara for roughly Rs.1000-2500.
Best time to visit?
The best time to visit Jog Falls is in the monsoon season from August to October. As the falls are seasonal falls, this is the time when the water is maximum and one can see the falls in all it's magnificence.
Places to eat?
There is a restaurant called "Mayura Gersoppa" operated by KSTDC and one can find decent food here.
Public utilities
Free pure drinking water refill stations are available as well for the tourists.
Clean toilets are available as well.
Hotels and Guesthouses:
For those looking to spend the night in the proximity of the falls, there are Government guesthouses available here and a couple of other private ones as well.