Jog Falls, also known as Gerosoppa Falls, is a spectacular waterfall located in the state of Karnataka, India. It is one of the highest waterfalls in India, with a height of 829 feet (253 meters). During monsoons, one can see a breathtaking view of the falls with rainbows coming every now and then. The waterfall is formed by the Sharavathi River, which flows through the Western Ghats and drops down in four distinct cascades known as Raja, Rani, Rocket, and Roarer.
Jog Falls is situated in the Shimoga district of Karnataka and is surrounded by lush green forests and hills, making it a popular destination for nature lovers and adventure enthusiasts. It is one of nature's splendid masterpieces and is situated in the dense evergreen forests. The effect of these striking falls is enhanced by the wild and beautiful region around it which is covered with plenty of abundant vegetation. This waterfall drops directly down without streaming on the rocks.
There are several viewpoints and observation decks around Jog Falls, where visitors can get a panoramic view of the waterfall and its surroundings. The most popular viewpoint is the Watkins platform, which is located on the opposite side of the falls and offers a stunning view of the waterfall and the valley.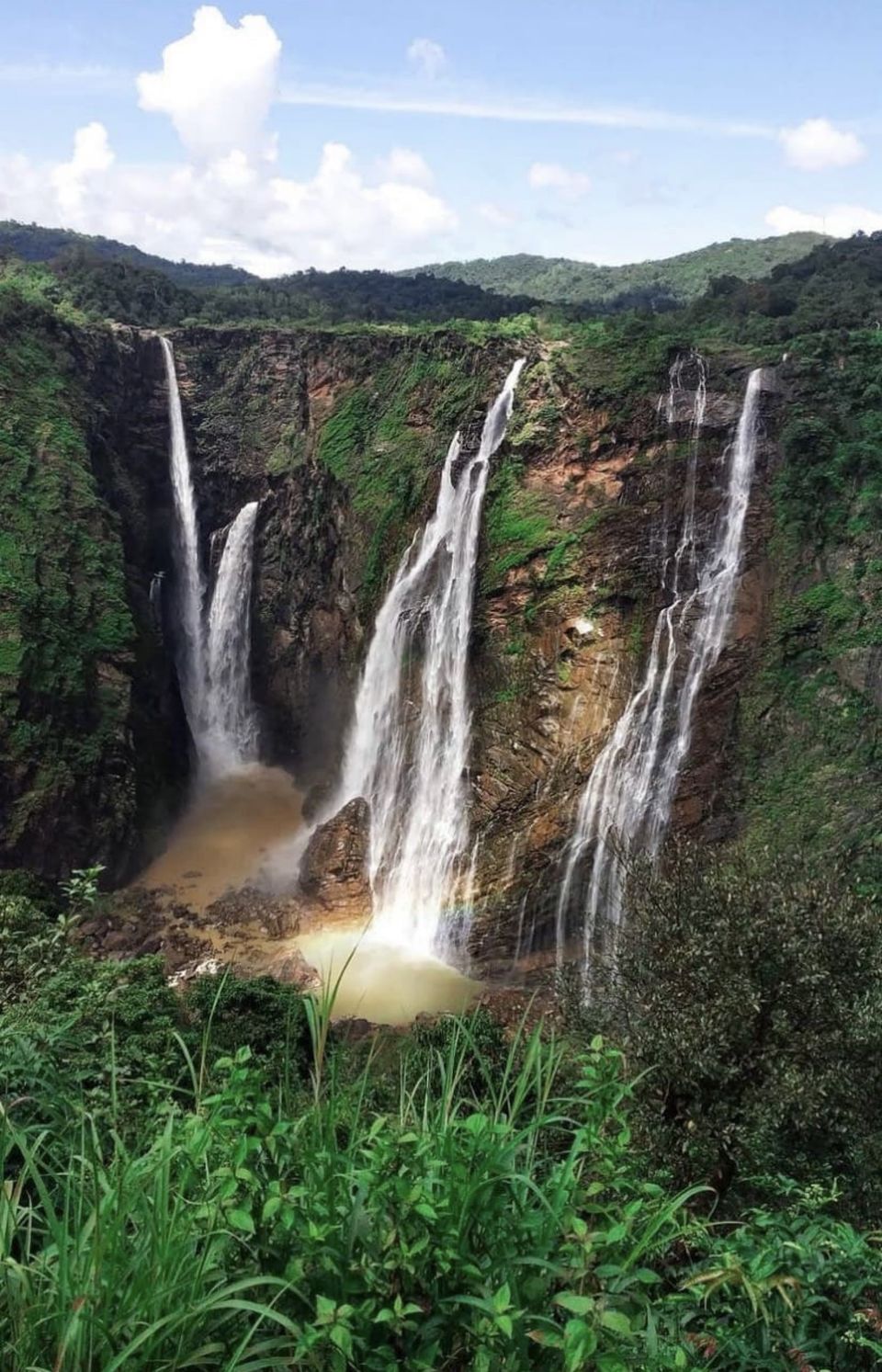 Reasons to Visit the Falls:
View the Majestic Waterfalls: There are two open viewing decks from where the visitors can see the waterfalls ( one is located near the main entrance and parking area whereas the additional one near the inspection bungalow
Hiking: During the season, tourists can go down 1400 steps to the base of waterfalls and view the beauty and sound of nature at its best
Activities at Sharavathi Adventure Camp: For visitors who are fond of activities like taking a nature walk, watching different kinds of migratory birds, kayaking, coracle ride, and much more, then Sharavathi Adventure Camp which is operated by Jungle Lodges & Resorts is the place for them. They offer day packages which include meals as well as activities.
More details:
Best Time To Visit: The Best Time to experience Jog Falls is between August – December.
How To Reach Jog Falls:
By Air: Mangalore International Airport is the closest airport located 219 Kms away.
By Train: The nearest railway station is Talaguppa Railway Station ( 20 Kms )
By Road: One can drive from Bangalore to Jog Falls which is 411 Kms
Places To Stay: The best place to experience Jog Falls is the Sharavathi Adventure Camp, operated by Jungle Lodges & Resorts and opens up an opportunity for you to get up close and personal with nature.
Apart from the above mentioned, there are multiple hotels in and around Jog Falls ranging from budget to luxury stay options. Multiple homestays are available as well for visitors to experience an authentic Malenadu (Western Ghats) stay.
Nearby Attractions: In addition to the natural beauty of Jog Falls, there are also several other attractions in the area that are worth exploring. These include the Linganamakki Dam, which is a popular spot for boating and fishing, and the nearby Sharavathi Wildlife Sanctuary, which is home to a diverse range of flora and fauna. Honnemaradu ( 20 Kms ), Keladi ( 35 Kms ) are some of the attractions that can be visited along with Jog Falls.
Overall, Jog Falls is a must-visit destination for anyone traveling to Karnataka and is sure to leave visitors mesmerized with its beauty and grandeur.