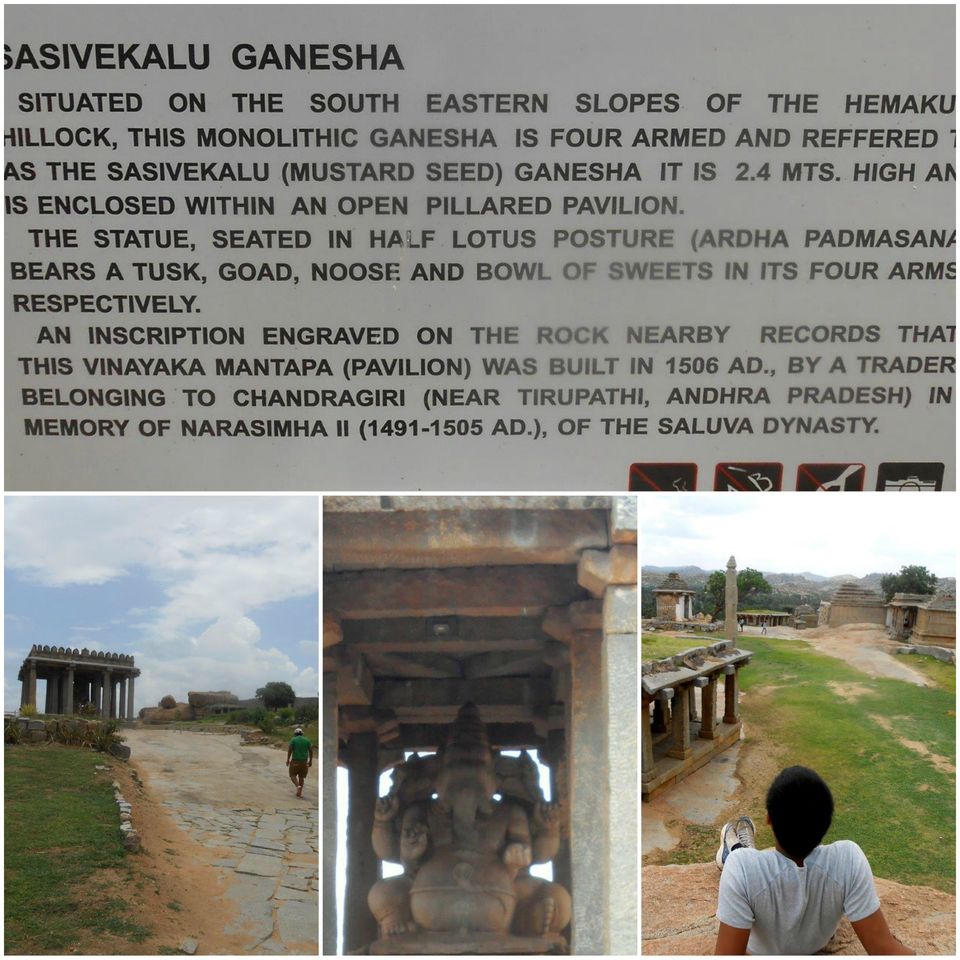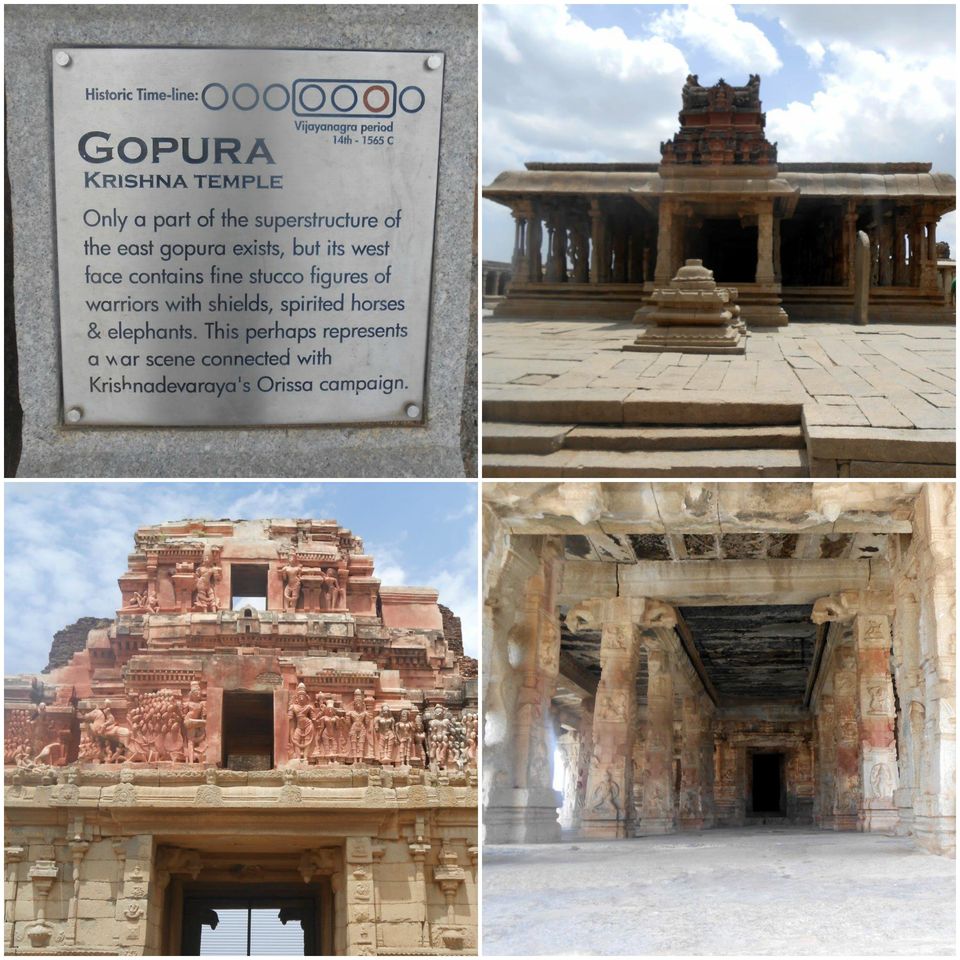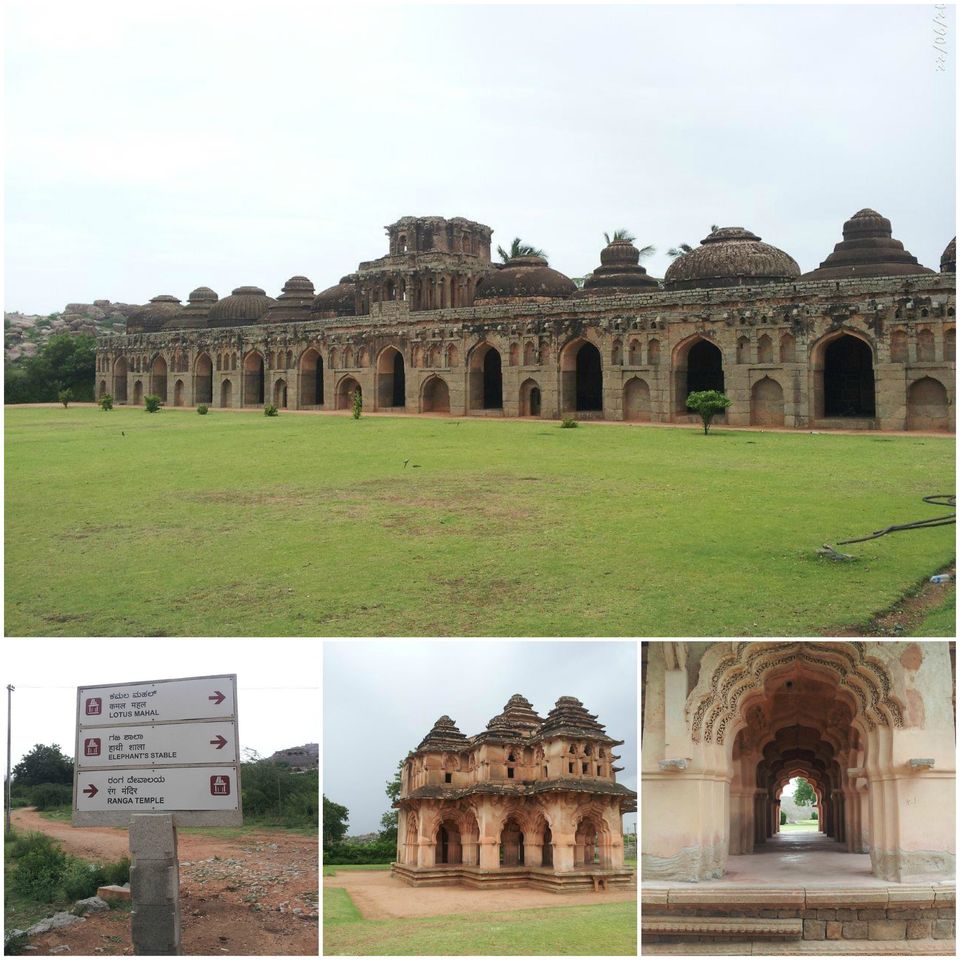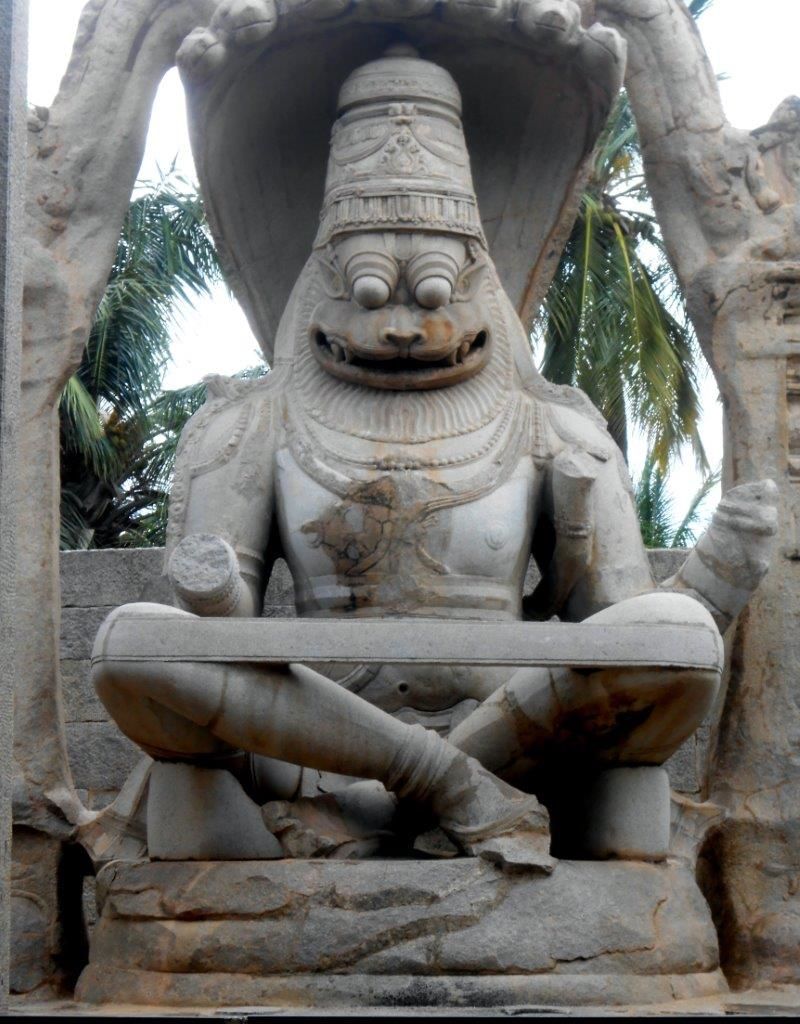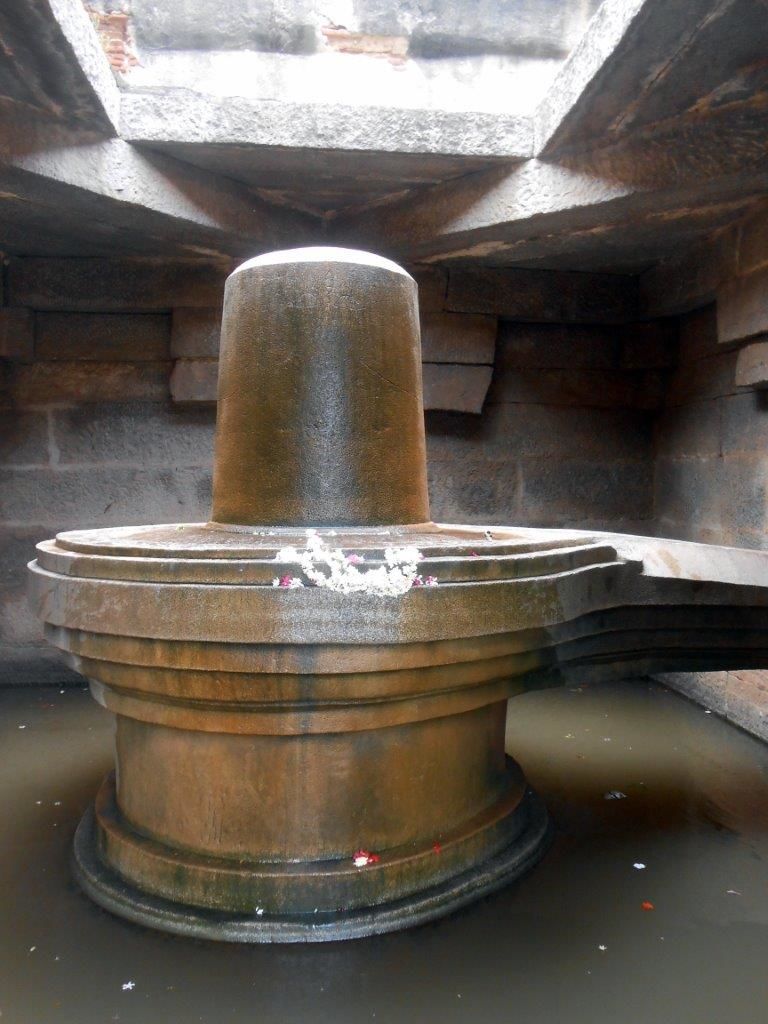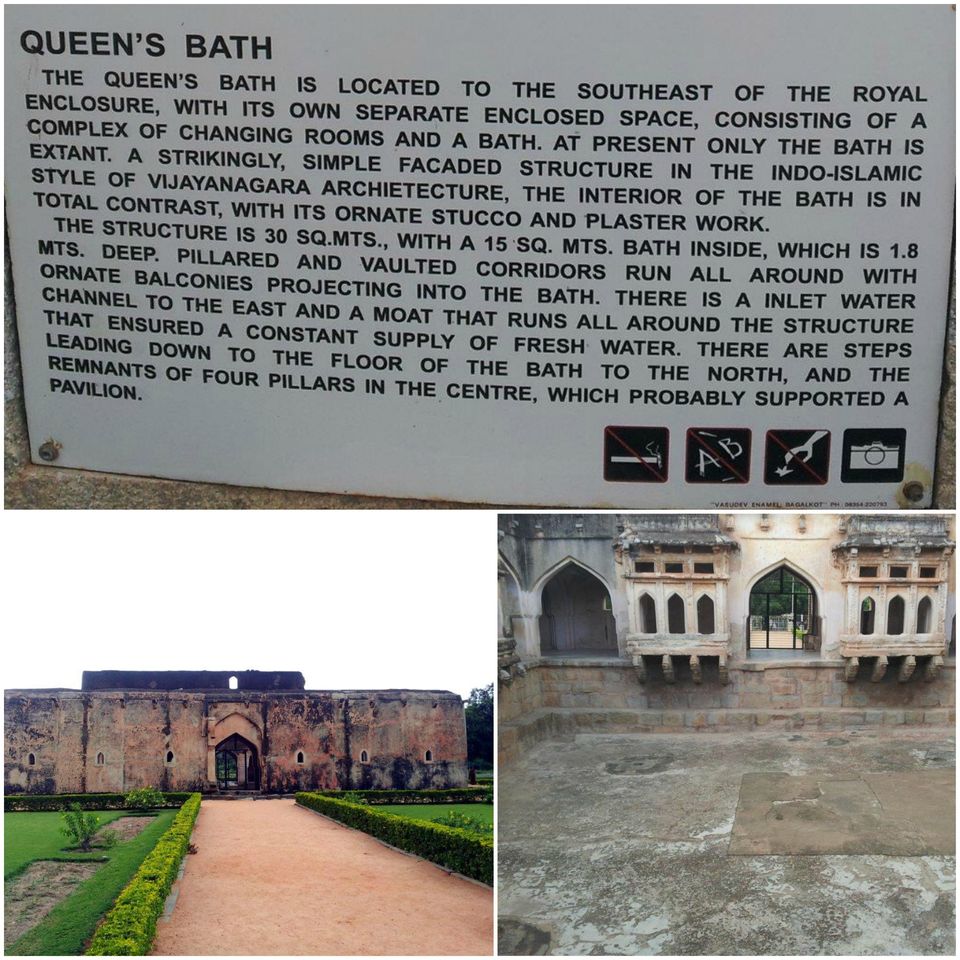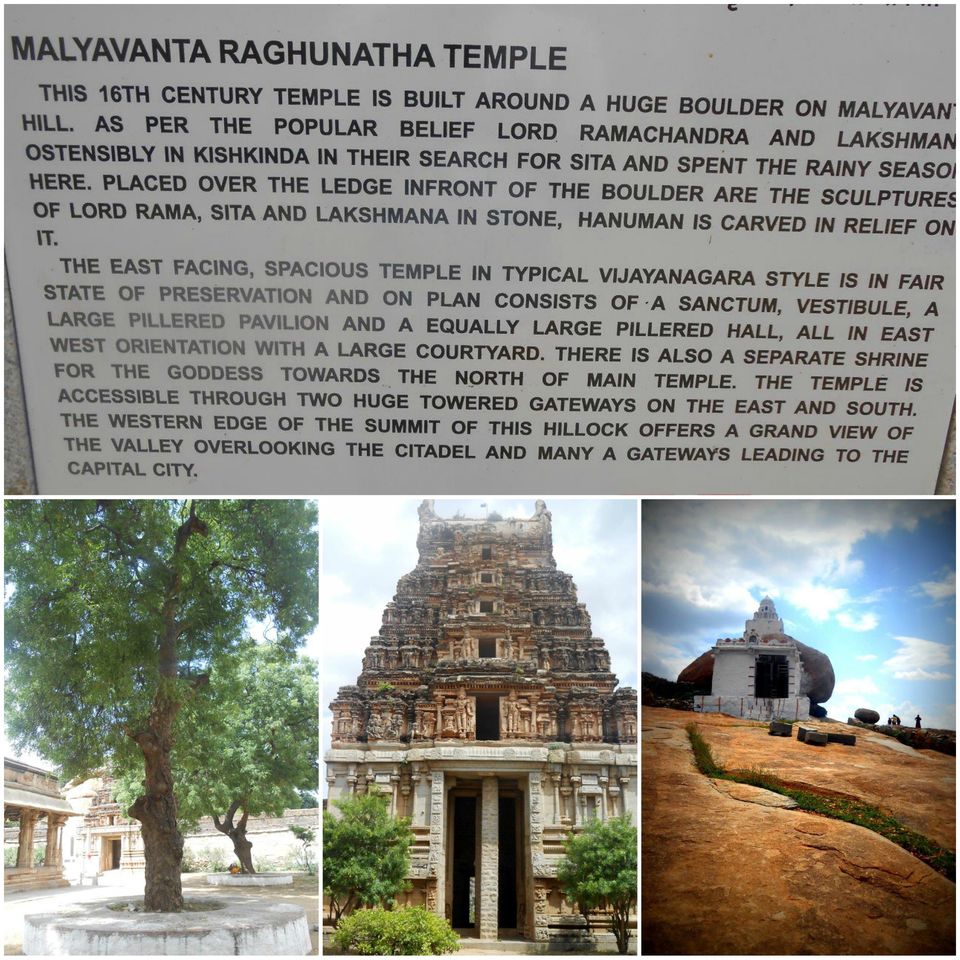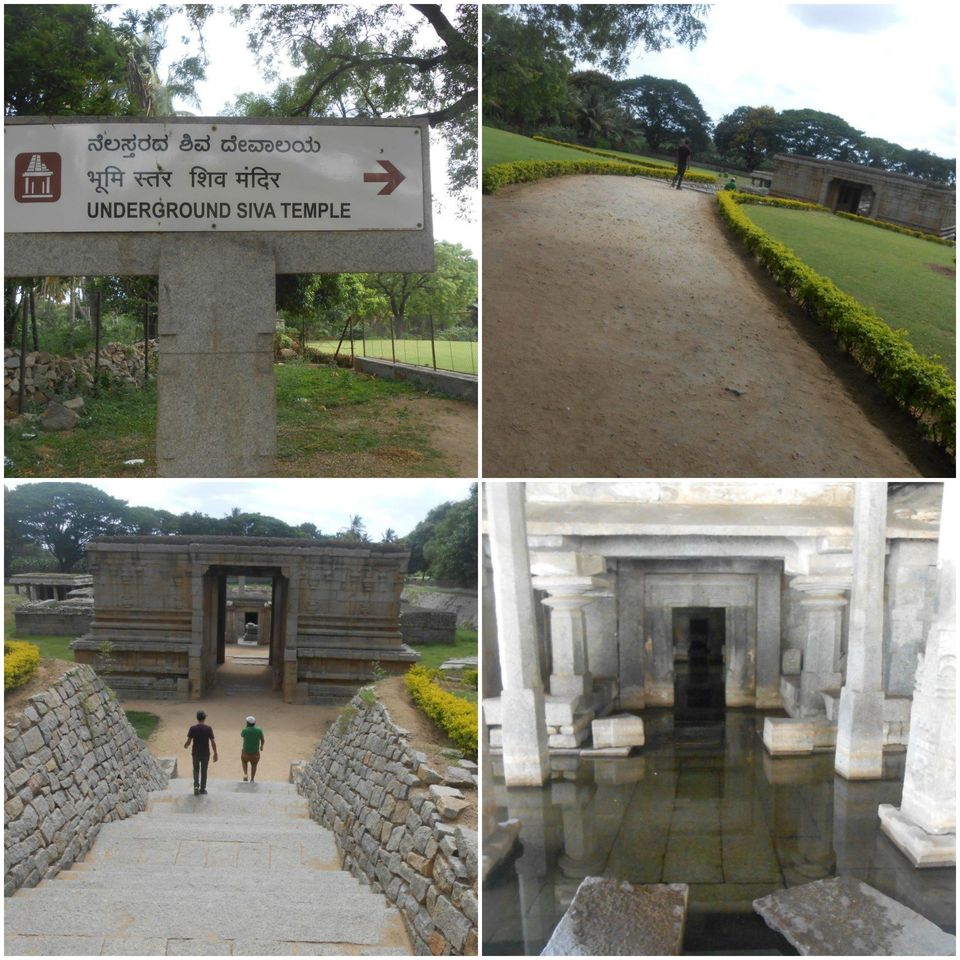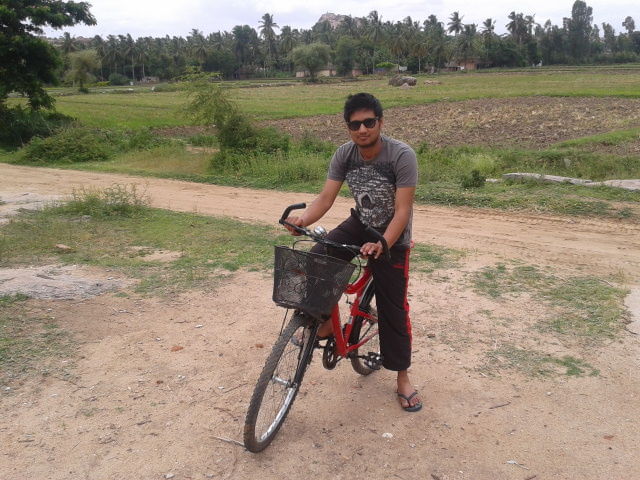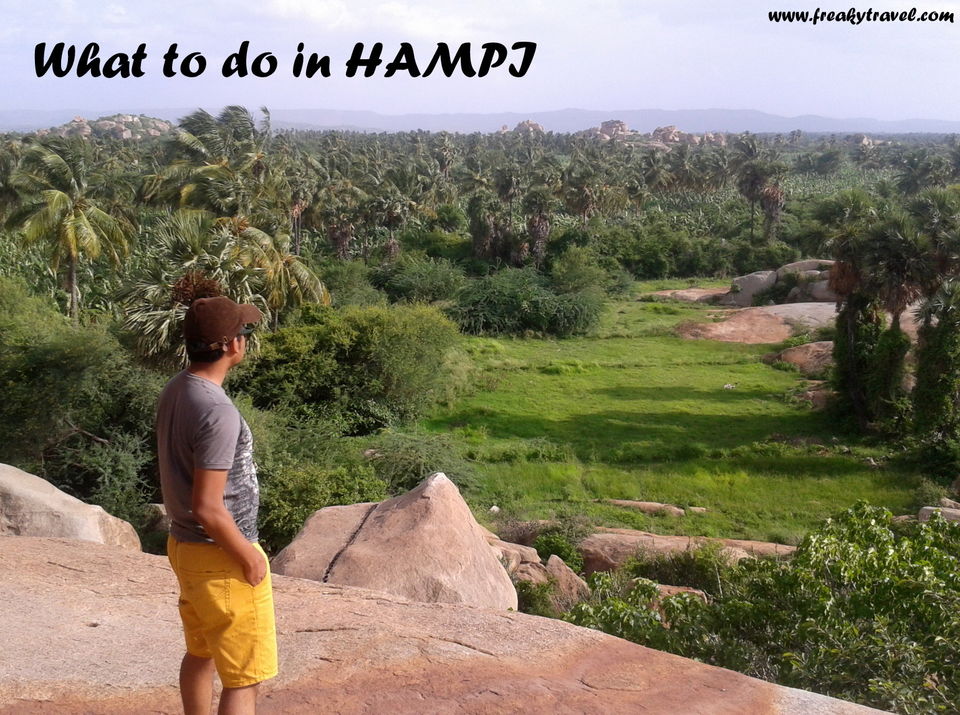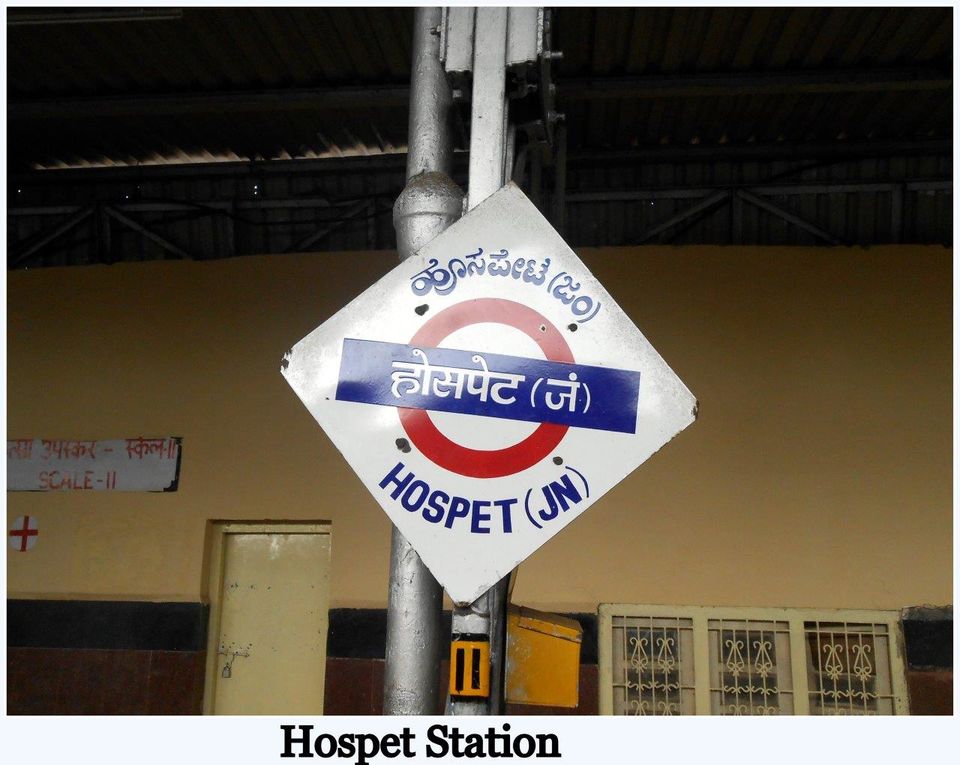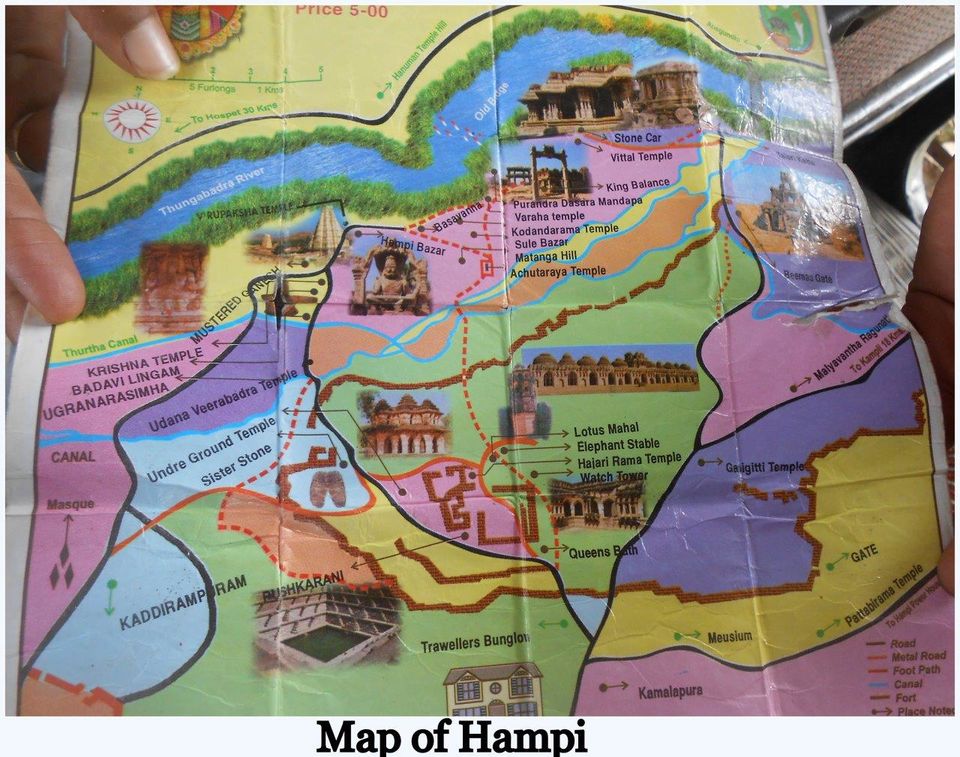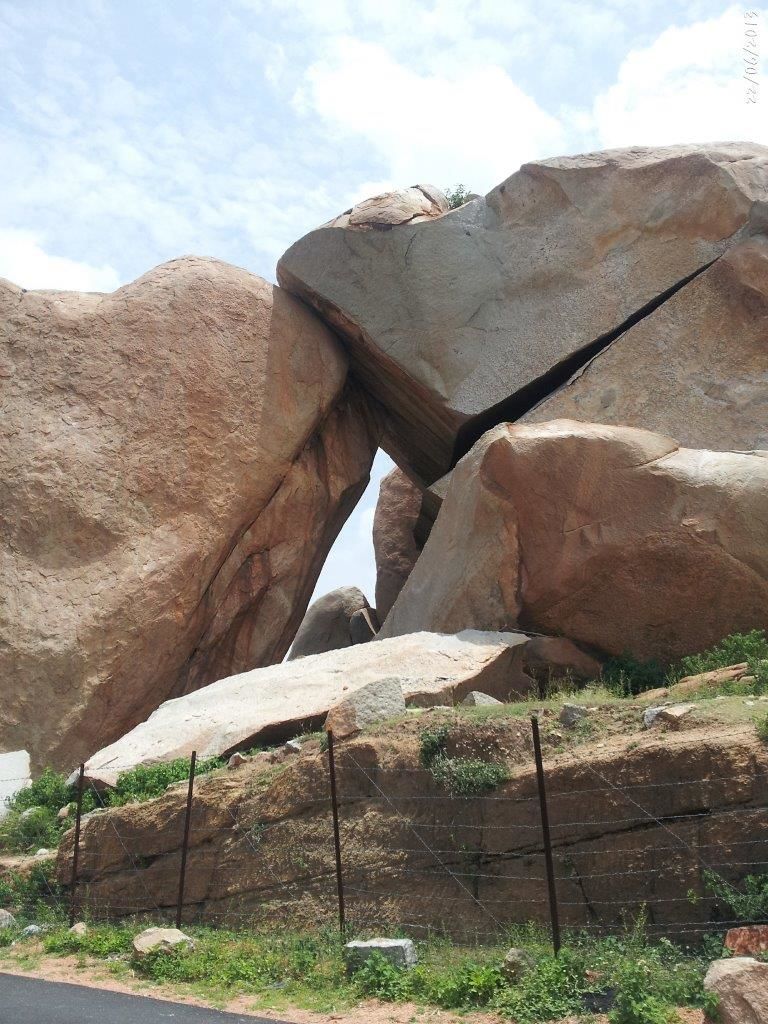 1) Vittala Temple
This is one of the best Sculptures of Hampi. Here battery operated vehicle is available to travel inside, 30 Rs per head. First and the most imp, please hire a guide if you want to know the in and out of it. If you did not hire a guide, then place is of no use to visit and it becomes boring. The guide here normally charges 200-300 Rs. This is one of the best sculptures of Hampi. The front part of the temple Phalapuja Mantap and the Kalyanmantap were built by Krishnadevaraya in 1513 after his expedition. The architecture is fabulous. You will find full Ramayana stories carved in the rock of the mainstay of the temple. It took us 2 hrs to get the insight of the Temple. The temple is built on a polyhedron foundation.
The monolithic pillars have been subtly sculpted. In front of the tabernacle is the world famous Stone Chariot. It also has an interesting story. It is built of rough Quartz. In this Chariot picture of Soldiers, hunters, etc. have been depicted. There is one pillar on the right side as you go into the temple, you will discover the different musical instrument sound. Just tell your guide and he will show you. Overall, I will say it's the MUST VISIT PLACE in Hampi.
2) Queens Bath
It is a beautiful edifice built of Mortar. It is a mix of Hindu and Muslim style of Architecture. It is 8 foot deep. There is a channel for water to flow in from outside. There are 4 outlets for water to flow out.
3) Sister's Rock
Along the way to Vittala Temple, you will visit the two huge boulders lean on to each other. This site is a natural Creation. The report states that the two sisters turned into stone after making a disparaging remark about Hampi.
4) Hajara Rama Temple
The temple is adjacent to the castle. The cause is not vindicated, it could be that it is located so close to the palace and the royal family offered worship here. Krishanadevaraya built it in 1513 in the memory of his outing. It is replete with engravings of Yoga Postures, gods, goddesses and Dashavatar.
5) Mahanavami Dibba
It was an amazing Place, same as that shown in movie RDB. The Platform is 80 sq ft in area and 22 feet in high. It was built by Krishanadevaraya in the retention of his conquest of Orissa.
5) Lotus Temple and Elephant Stable
The first single is the Lotus temple and the Latter one is the Elephant Stable. If you will go straight inside from Lotus Temple you will find Elephant Stable. The ticket that you purchase in Vittala Temple is also applicable here, no need to buy the tag.To the northward of the Mahanavami Dibba a fort with high wall is found out-Lotus Mahal. It is Two Storeyed building build of Mortar, very cool even in hot summer. Maybe at that place was arranged for water to run through here. Elephant Stable is meant for the Royal Elephants, 11 such staples are here. Altogether these are interlinked with low doorways. The roof is domed shaped. The nearby building is said to be quarters for guards.
6) Matunga Hills
It is an excellent place for trekking. At first some steps are there, but afterwards that no steps only huge rocks are there, so if you all are interested in trekking then must see this space.
Now the day came to an end, came back to hotel around 4:30 pm.
Then around 5.30 pm, I thought to go somewhere, then to waste time. So we decided that we will go to Hanuman Mandir.
7) Monkey Temple (Hanuman Mandir)
As proposed by foreigners, they simply have given the name Monkey Temple. We conducted an Auto, he billed us 100 Rs for to and fro Journey. It was about 5 km from Shanti Guest House. We got to within 20 minutes. We reach there around 6 pm. It was just about 600 steps to reach the temple on top. It was amazing, as we were getting up. Steps were taken to clear the arrears. But one thing I was so amazed of being how they managed to establish the steps it was genuinely appreciated. Somehow we made out to turn over and guess what, it was dark by then, only few tourists were at that place. The view from the top was fantastic!! . The temple was clean and comfortably kept. It was now 7 pm dark. After spending 20 mins on top we again began to run. Please, if it is dark, advice to pack a torch it is necessary.
8) Sasivekalu Ganesha
Proceed straight from here and you will see the awesome view. It's a must visit spot for photographers. It was really a great experience. We spend there almost 1 hr by sitting idle and looking at the view. It was really refreshing.
9) Gopura Krishna temple
Just a percentage of the superstructure of the east Gopura exists, but its west face contains fine stucco figures of warrior's with shields, spirited horses and elephants. This possibly represents a war scene connected with Krishnadevaraya's Orissa campaign. The sculptures were amazing. Its carving was the ultimate in red stone.
10) Malyavantha Raghunatha Temple
If we proceed farther along the road to Kampli, the hill that appears on the left is Malyavantha hill. The temple at the peak of the hill is Raghunatha Temple. It's a belief that God Ram and Lakshman on their expedition to find Sita spent the rainy season here. That is why the Temple is famous and everyone who come Hampi visit this Temple.
11) Underground Siva temple
It is near to the Raghunatha Temple. But we were disappointed because we didn't find any Photo or Idol, it's only the debris that we find which signifies that sometimes some temple was here.
12) Badavi Linga
Moving towards Kamalapur from Krishna temple, we see this Linga. This is the Biggest of all the Lingas in Hampi. This gorgeous Linga is made of dark rock. It is about 12 foot. in height. Its inner sanctum in water since a canal passes through this temple. We also saw this big one for the first time.
13) Lakshmi Narasimha Temple
First time in my lifetime I have experienced such a large idol of Narasimha. It is just near to Badavi Linga. It is the biggest idol in Hampi. Its height is 22 Ft. This was carved by a Brahmin during Krishnadevaraya's regime. Invaders broke this idol. Behind the head is a serpent with its hood open. Though the statute has no temple now, but there must have been some temple in the yesteryear.
14) Virupaksha temple
This temple is close to Hampi Bazaar. One can say that this is the starting point of Hampi. Inside the temple one Tower is there, 165 ft. high the breadth is 150 ft. and the length is 120 ft. It is called "Bistappaya Tower". Nobody knows who made it or when it was made. It has been renovated many times. It was also renovated by Krishanadevaraya in 1510. The premises are paved with rock. The temple has two columns and two compounds. The second column is the Raya tower, Krishanadevaraya built it at the time of his investiture. On crossing this you will be in the second compound where there is a flag post and a lamp post.
The temple in front of the tower gate is that of Lord Virupaksha. Lord Virupaksha is also called Pampapati. This is the oldest temple in Hampi. Some part of this temple were built by Harihara the first. Krishnadevaraya's built a stage for public gathering.
This was the final destination. We were at once very much exhausted and feeling very hungry too. Then we got to a mango tree restaurant. Now it's about 5 pm. We took an auto and went straight to Hospet.
The whole journey was amazing and it was fun. – Gautam Modi