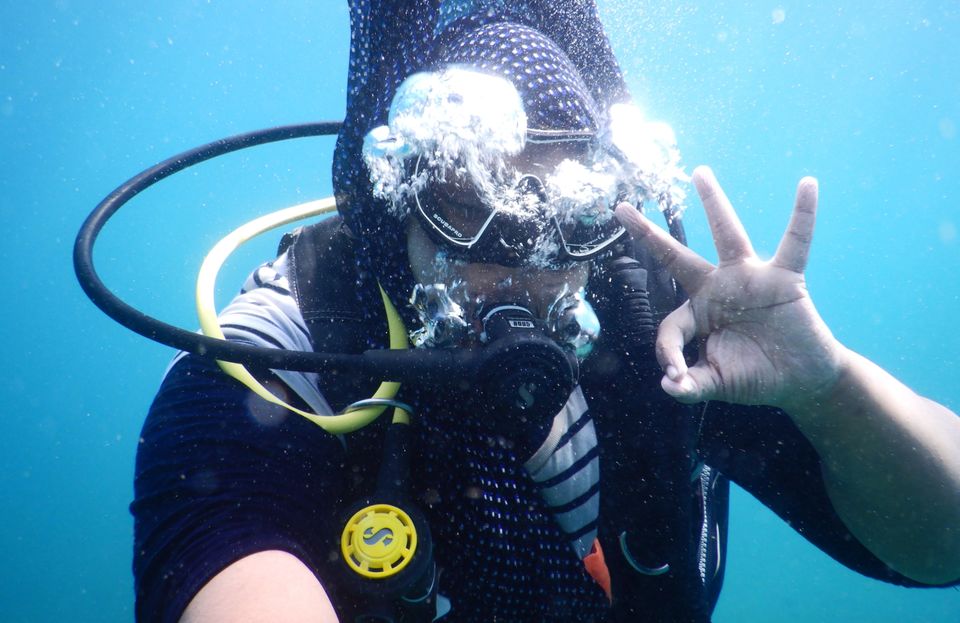 This trip is all about my first dive experience. Like most of us even I had few dreams listed down in my bucket list. Even if not all of them, I always try to accomplish little by little. So let's get back to the story.
It was just 6 months since I moved to Bangalore for work and I wasn't able to travel much. I wanted to do something really interesting and started reading blogs about the places in Karnataka where I can for a day or a weekend trip. That is when I got to know about scuba diving in Netrani Island, Murudweshwar. This really excited me so I read more about it and to my surprise most of the reviews were quite impressive. It is when I decided, Scuba it is. So I contacted one of the Scuba organizers there called Netrani Adventures for more details. They said it was Rs 5000/head for a 30 mins dive. Pretty reasonable. Still I had double thoughts, should I go or not go. But after few days I made up my mind and paid the advance. 'Yaaay, Fahmida you're gonna SCUBA DIVE' My mind kept shouting. I couldn't repress my happiness!
I had booked my dive for 9th of December do my next task was to book the to and fro buses. KSRTC is always my first preference especially Airavat (to sleep like a baby). I booked my tickets and I was all set. 7 days to goo.
And the day has arrived. I packed my luggage with an extra pair of clothes, Gopro and all other essentials. It was a Saturday night and I knew it would be difficult to get cabs. My bus was at 9.30 from Majestic bus station. I stayed at Madiwala so I started booking cabs at 7.30 itself. After an hour and multiple cancellations I decided to take bus. And guess what, bus was dawdling. There was no one to blame except the Bangalore traffic. I started panicking as I was almost sure that I am gonna miss the bus. Just in a while driver called asking "Yellidhira madam? Bega banni"
I had no other option left in front of me than to be patient and wait. And when I was 10 mins away, he called again saying that they left. I was literally in tears, all my dive dreams started fading away.
I finally reached the terminal after so much of hustle and to my luck there was an NWRKTC ordinary bus to Bhatkal. Bhatkal is just 30 mins away from Murudeshwar with good connectivity so I decided to take that bus. Even though the journey wasn't so good, I managed to reach Murudeshwar well ahead of my reporting time. Yes, I am proud of myself ❤️
After having breakfast from a near by hotel I went to their office to report and complete the application. There were many others too who had come from different parts of South India. We were asked to change and get ready. We had to use the paid common washrooms there and it is a mess with a looot of devotees who came for the Shiva temple visit. We dropped off our luggage in their office and headed towards the beach. Netrani island is 1 hour boat ride away from Murudeshwar. We boarded and started moving. Even though they told you need not know how to swim I was a little scared. They gave a briefing on the basics, how to use each part, how to breath, how to clear water from the masks, and also they made us do it in the boat. The water started getting clearer as we went closer. After more than an hour, we reached Netrani. We are not supposed to enter the island but can sit in the boat or snorkel around.
We were around 20 people in 2 boats. They started taking people on by one. Each one had an instructor to guide. I tried to build confidence and waited for my turn.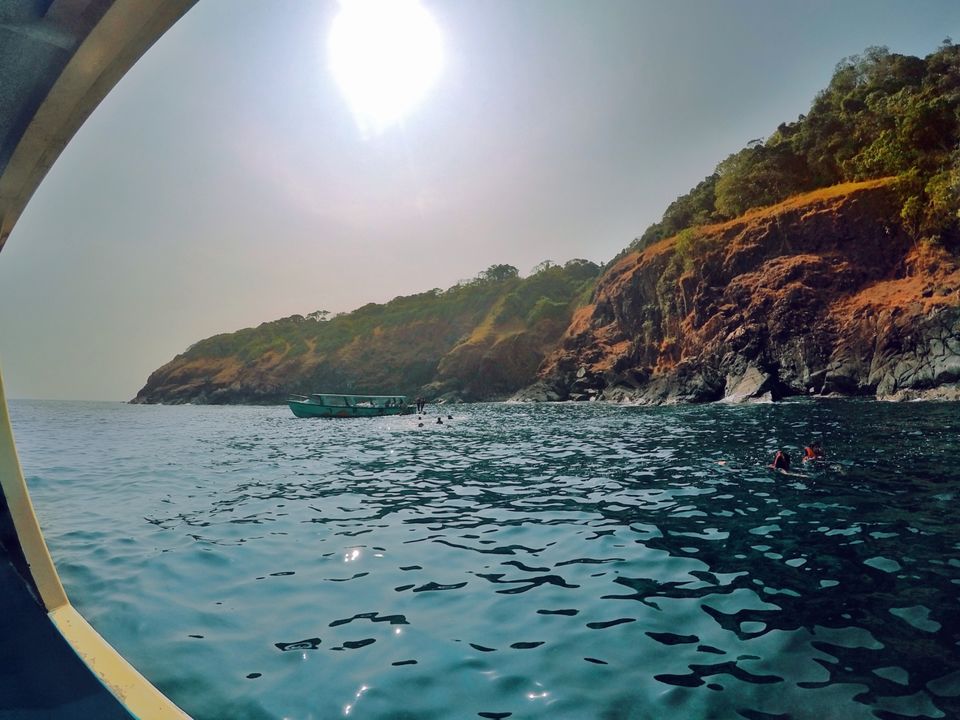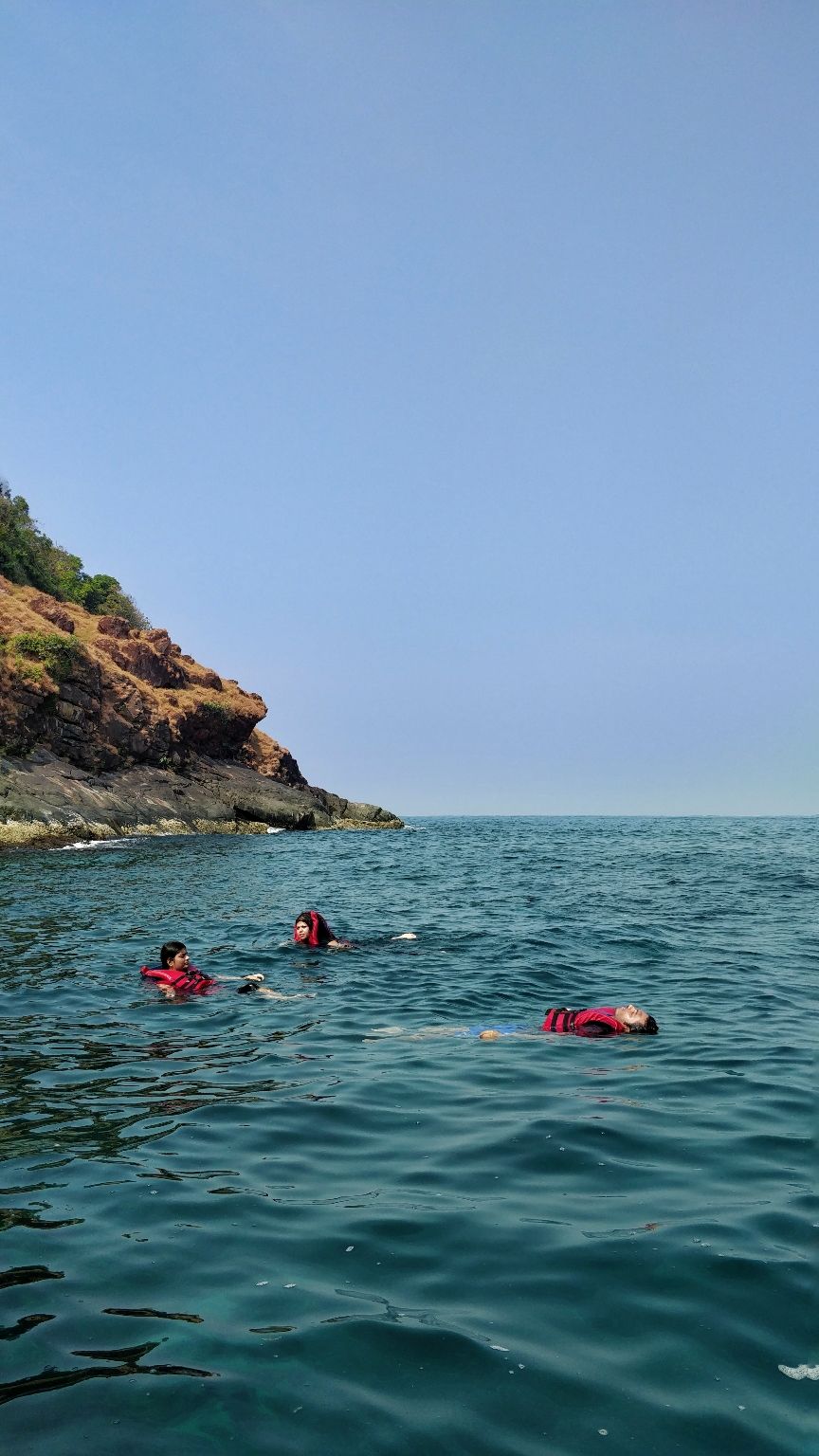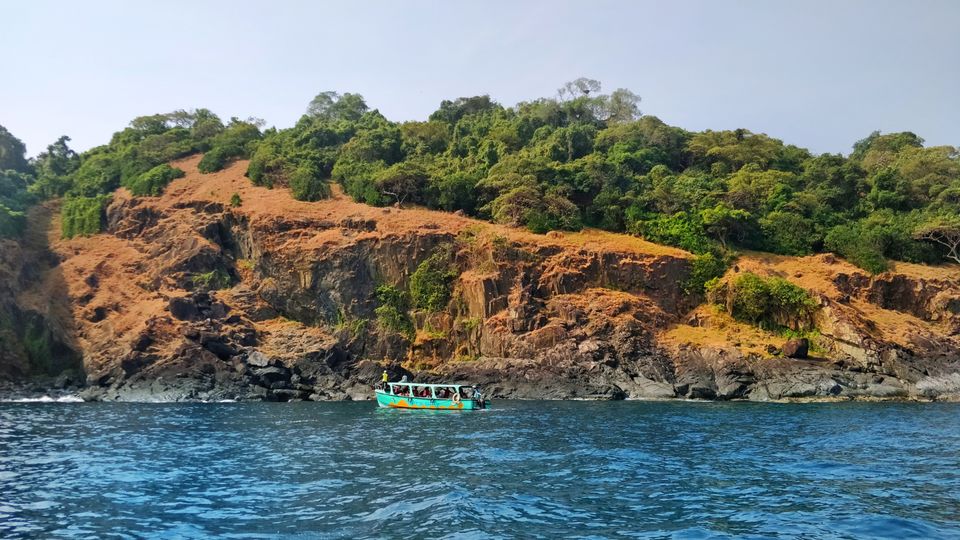 After an hour or so, they asked me to come. I wore the oxygen tank, and other equipments. We were made to roll off backwards after sitting on the deck and I was super scared. That's how it should be it seems, it helps to keep our masks and regulators intact. I was finally ready. I sat there anxiously and there I go 3..2..1 BLUM! in to the water. I still remember the 360' flip. It was crazy! But then from there on, it was fun and I started enjoying every bit of it. I got a trainer and he asked me to simply move around and practice by dipping my face in the water and breath. He also taught me some underwater signals. When I became very comfortable in the water, he said we'll start the dive. So he slowly started deflating my lifejacket and we started sinking down. It was already so beautiful. All I could see was blue water with fishes around. As we went little more deeper, I started getting terrible ear ache because of the pressure difference. Tried equalizing and it didn't help so I asked him to take me up, so he inflated and booom, up we are. I felt better. Then again we went down. We went deeper and deeper and oh my god! What a world it is there underneath. Clear water with n number of coloured fishes, the quietude that prevailed within and how light we felt there. I wished if my life was this peaceful. I never felt this tranquil before. I can't just stop talking about how it was. Miraculous would be an understatement.
After some exceptional time there and clicking pictures we came up. I snorkelled for sometime and went back to the boat. And when even everyone came back, we started our return journey back to Murudeshwar. We were all tired and there was nobody who didn't fall asleep. After reaching back, got changed and spent some time around near the beach and temple. Had dinner and by 7.30 I left for Bangalore with a feeling of accomplishment. Even though this may not be the perfect place to dive, but trust me it was worth it and I have always felt contented when I strike of the little dreams of mine. I will do this again, maybe somewhere else just to see how different the worlds underneath are.