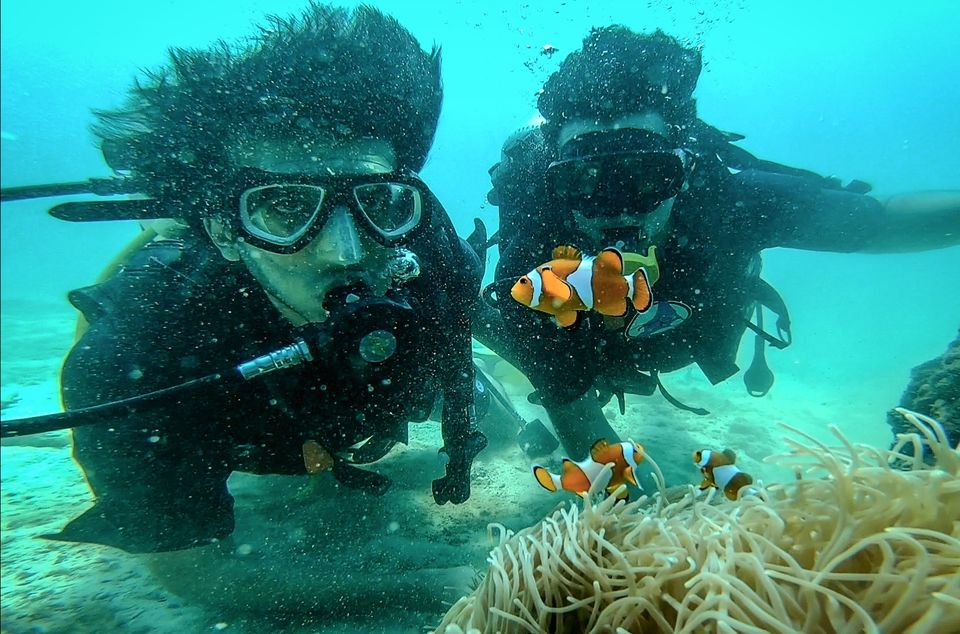 Here is my scuba experience in brief.
Dive 1, 8m depth!
When the trainer was explaining a few rules and signals to take care of while being underwater, I was constantly looking at the ocean. Not thinking whether I should do it or not but just imagining how would I feel when I will be in water, floating like a fish and seeing the world inside an ocean, something that I wanted to do since a long time.
It was my turn. Ishaan and I were supposed to go together with one of the instructors, an ex navy person aged 49. Yes, 49! I sat on the edge of the boat, held my regulator, kept one hand on my head and in next second I was in water. Stable on water, lying down straight looking up, the trainer was explaining how to go in now. I could feel my heart beating fast and my ears fell the pressure as I went deeper. Following what the instructor had told us, I popped my ears often, until I felt comfortable to explore the underwater sea. I was now looking at this limitless greenish blue ocean in front of me, a few fishes touching my feet and beautiful coral reefs, some 3-4m away from me on the bed. But I did something wrong, bit the regulator a little too hard and water started coming in from one of the sides of the regulator inside my mouth, choked a little, coughed and the next second, the regulator came out of my mouth. A panic situation when I was almost about to touch the bed of the ocean. Signaled my instructor to take me up as quickly as possible while I was panicking and he got me up. We realized that there was a cut on the left side of regulator. He changed the regulator to the other once before we went again and then it was totally fine. In next few minutes I was enjoying the calmness of the ocean and the feeling of nothingness inside water, breathing slowly like we do in Yoga, as the instructor had told us.
And once I had a functional regulator with me, Ishan and I din't stop. For the next 30 odd minutes we were in water. It was all green. We saw fishes, snakes and eels and a lot of coral reefs. Everytime we were close to the bed, we were a little scared that something might bite us or we will get some scratch from the corals. After some 10 minutes or so, I got comfortable and started taking pictures using my @gopro hero 7. I had a floaty attached to it so I dint have to worry about losing it in water. While I was taking a few videos and photos of Ishaan and I, I got this picture of @thatrc200guy doing it like a pro!
Dive 2, 12 m depth
In the second dive we went upto 12m(40ft). A very comfortable dive into the water from the boat, an exchange of mask to avoid water near the nose and 5 min of proper training by the new trainer later, I was freely doing it by myself for a good 15-20 minutes. The instructor wasn't holding me for that time and that was the best few minutes of my experience. We went around a huge limestone to see huge corals and tons of fishes swimming together.
The scene inside water was beautiful and wanted to stay there for long.
After this beautiful experience in Krabi, the next place I want to do scuba is Great barrier reef and I shall do it soon! :D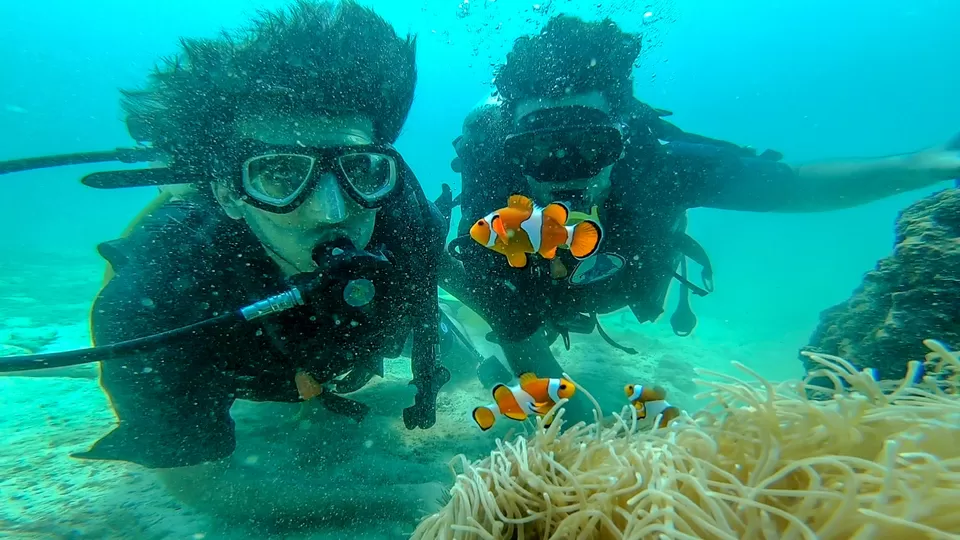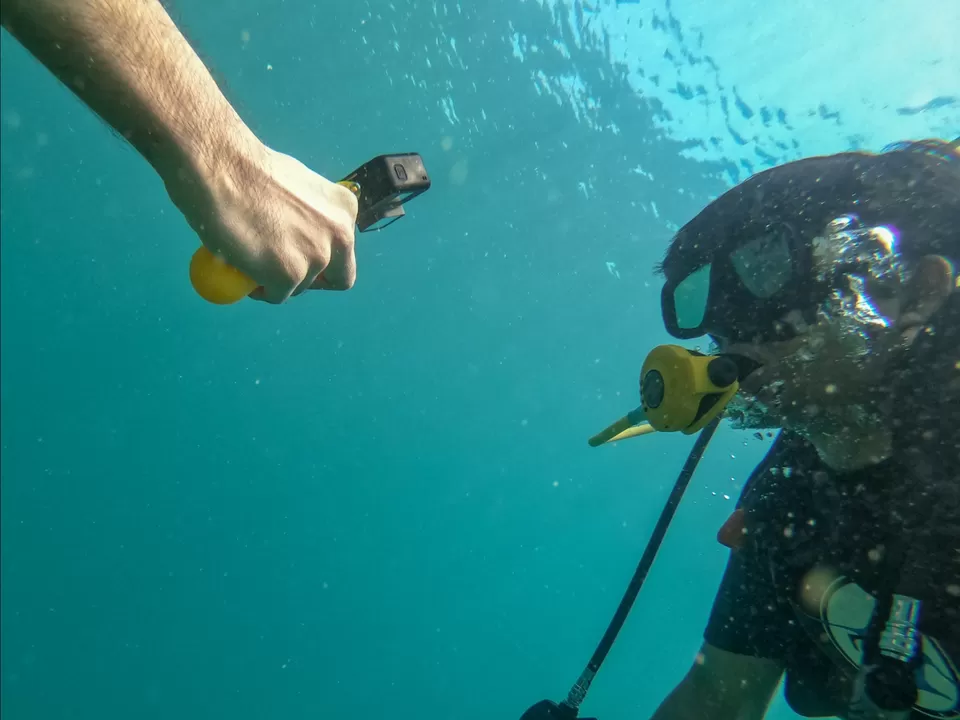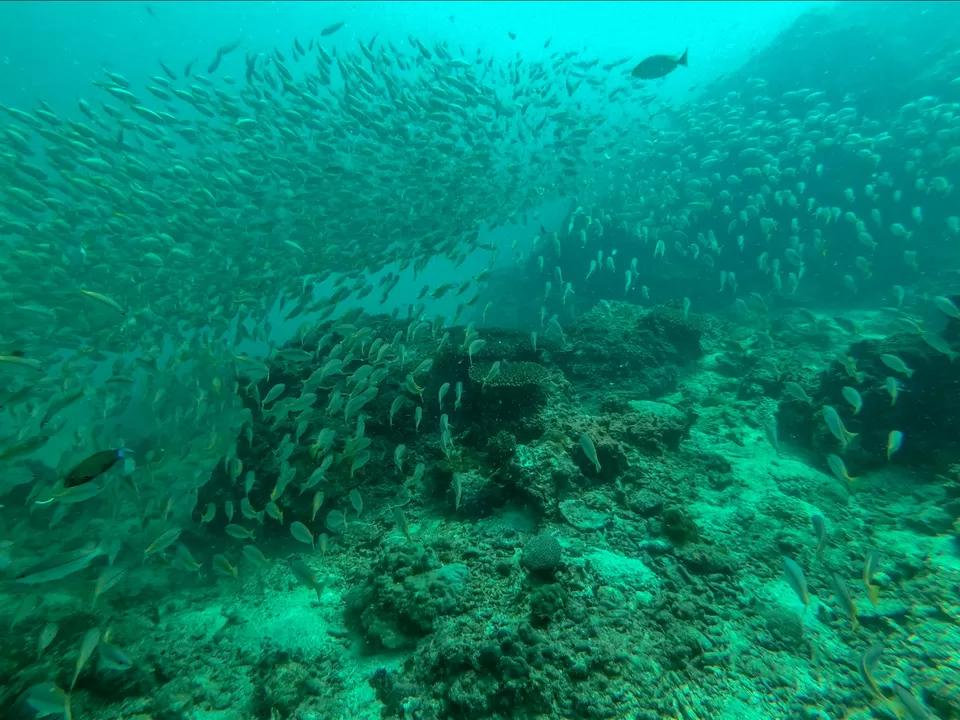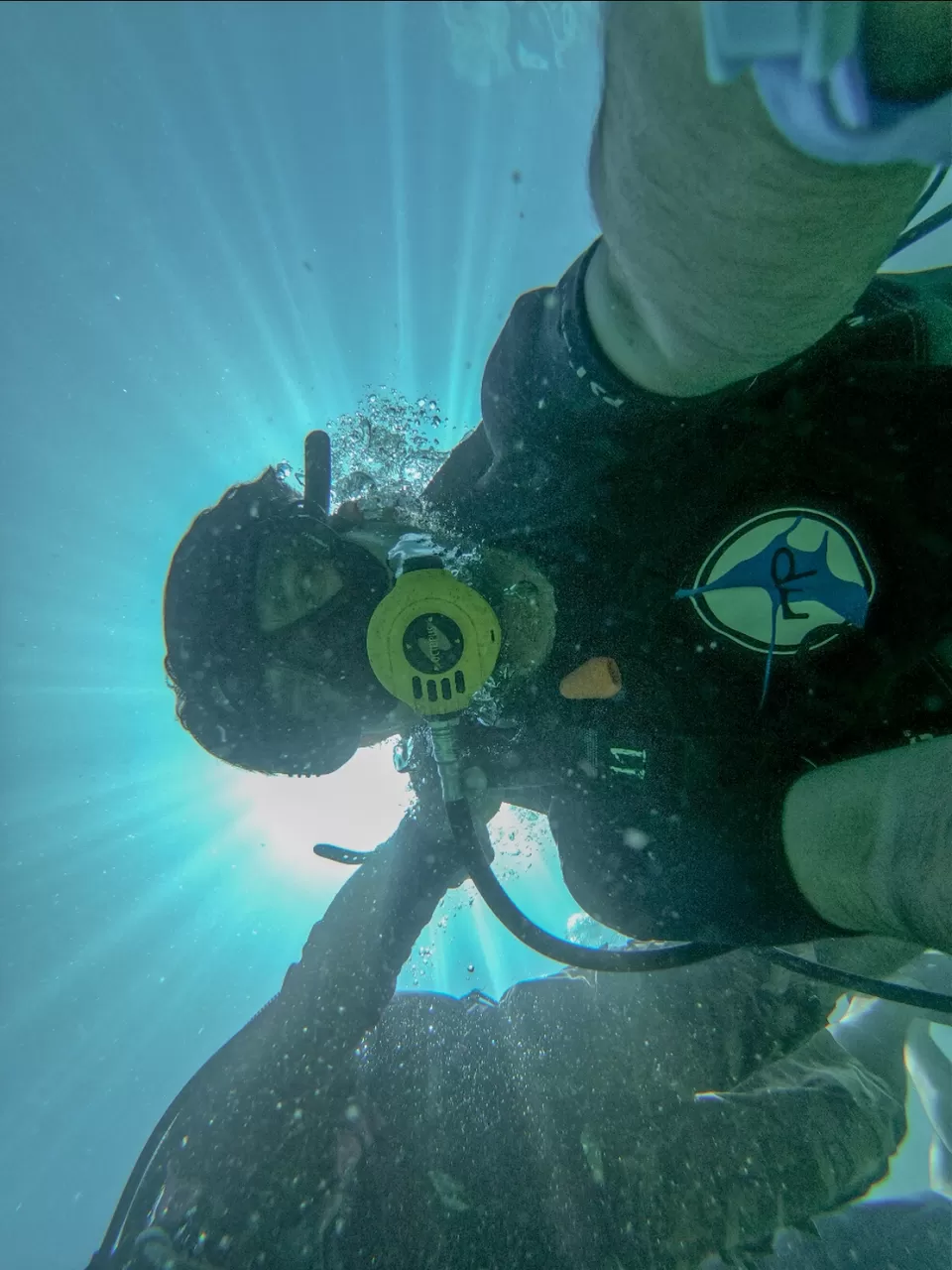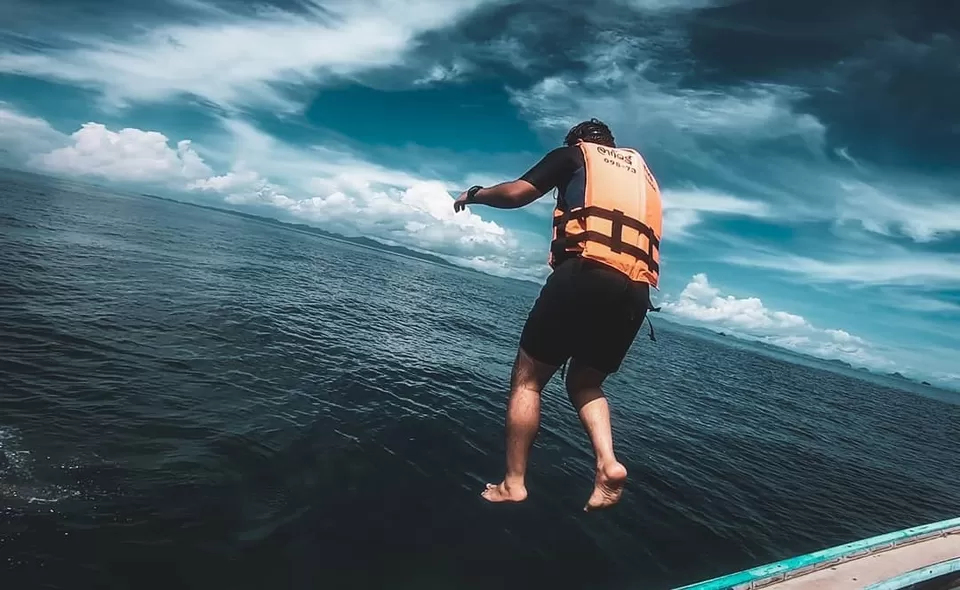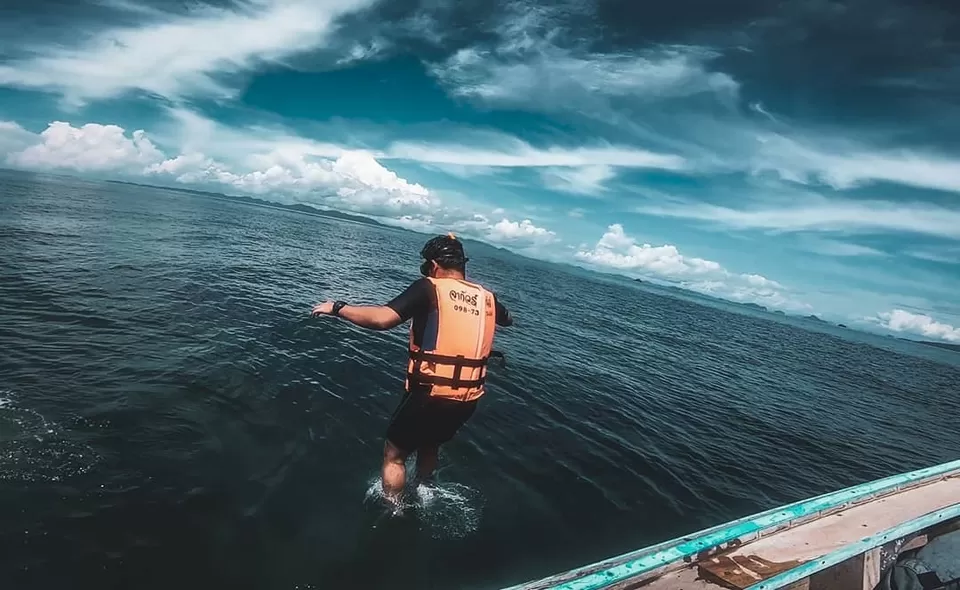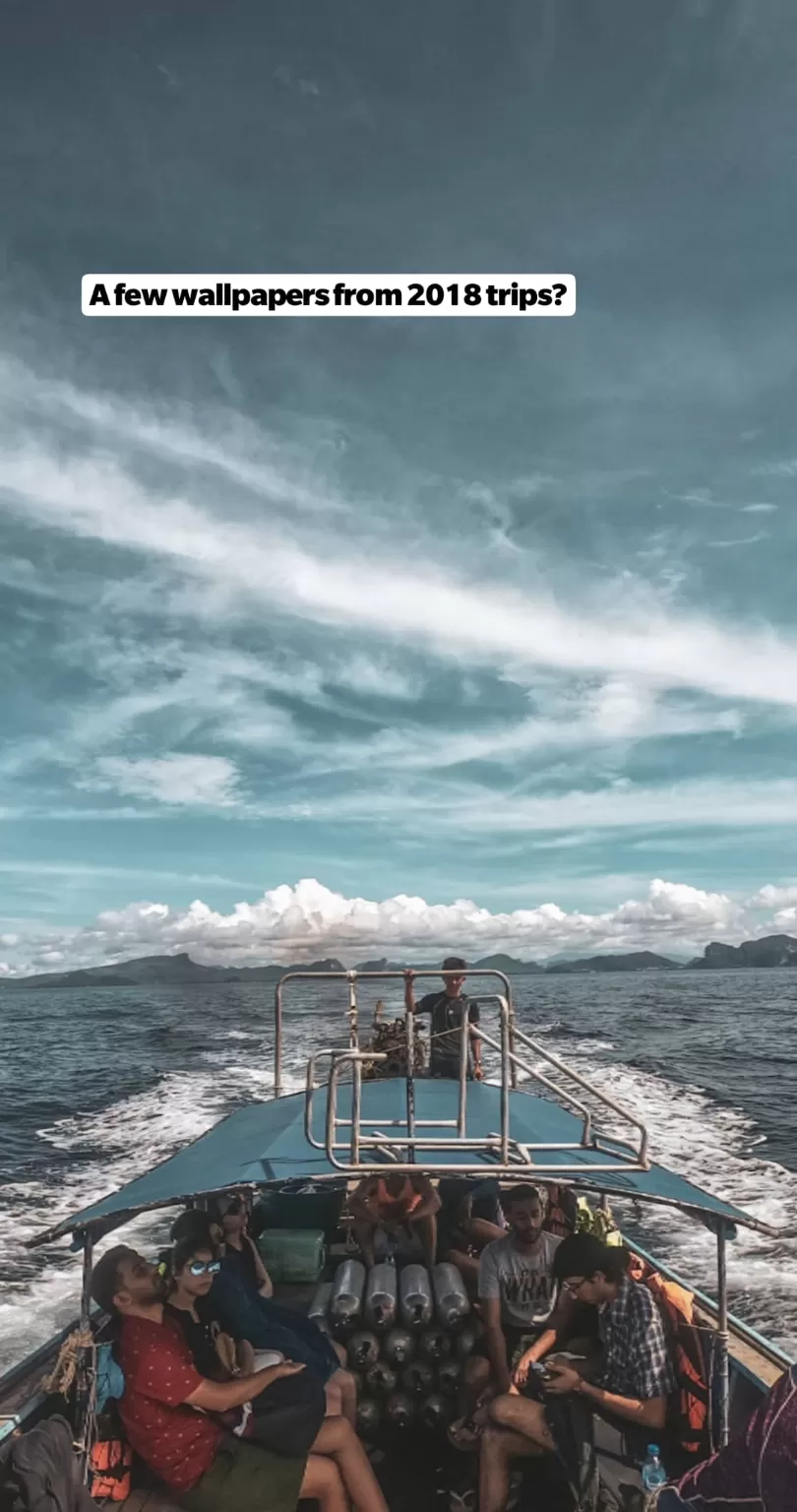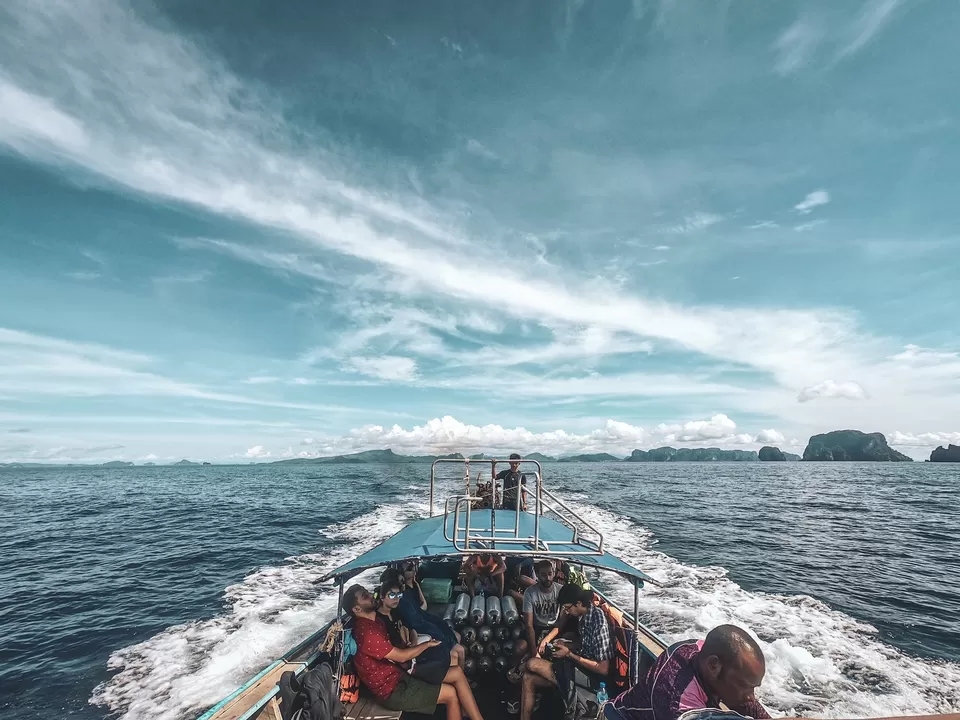 Everyone has a bucket list or a wish list which they really want to get done with at the earliest. I started checking things off a little late. On my list, scuba diving was always in the top 5 and I had a brilliant opportunity of visiting Thailand while coming back from Japan in October 2018.
My 3 days were planned well in advance and I dint want to go to Pattaya or Bangkok. I talked to 2 of my friends, one of them is working in Bangkok and another one in Singapore. All 3 of us were on board for scuba and so we planned on visiting Krabi and Phi-Phi.
On the first day, we visited the Pha Nang and Railey beaches, did a small hike till the view point on western Railey and on the second day we did snorkeling and obviously scuba dived, some 20kms away from Krabi.
Here are few of the pictures from day 1 of my trip.